Published April 6, 2023 / Updated April 7, 2023
Feeling Overwhelmed at Work? These 10 Strategies Can Help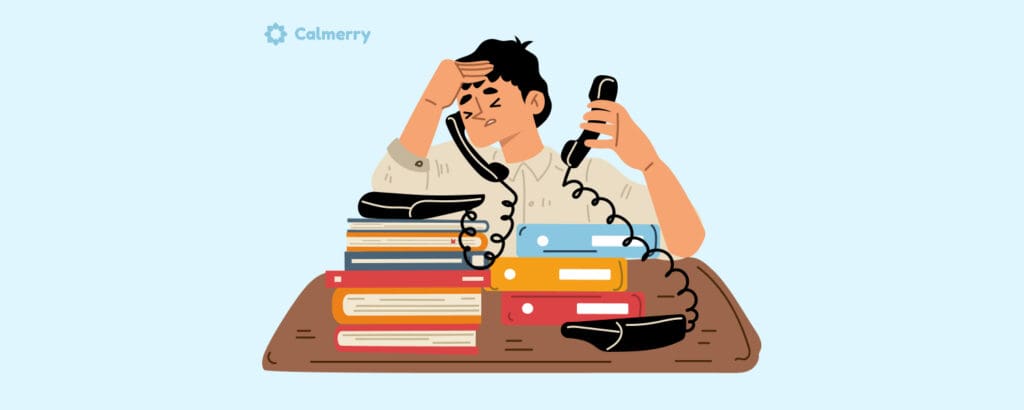 Reading Time:
6
minutes
It's hard to be satisfied with your job and enjoy your life when you feel overwhelmed at work.
More and more people experience burnout due to heavy workloads, insufficient rewards, and lack of employer support.
Keep reading to find out what to do when work is overwhelming.
How to stop feeling so overwhelmed at work
You don't have to be passionate about what you do for a living, but it doesn't mean that feeling overwhelmed is a healthy part of your working life.
If you've stumbled upon this article hoping to find some coping skills you might relate to the following:
Experiencing anger and frustration more often than usual
Fear of going to work
Physical and mental exhaustion
Worsening mental health
Sounds familiar? The good news is that you can do a few things to improve your situation. No one deserves to feel this way.
Here's how not to get overwhelmed at work:
Prepare a self-care plan
Take advantage of breaks at work to practice relaxation techniques. Going for short walks, stretching, or even a few minutes of guided meditation can help you feel much better.
When things feel too much, leaving the pressuring environment, even for a few minutes, is a great way to clear your head. Going outside, or even to a bathroom, to take a few deep breaths can make you feel less anxious.
Still, taking a break is not always possible. Perhaps you're working in a high-pressure environment, or the day is too fast-paced for you to catch a moment for yourself, even when you feel overwhelmed at work.
There is still something you can do for yourself in such circumstances. You can try positive affirmations – motivational phrases that can help you cultivate self-love, such as:
I got this
I'm good enough
I trust my judgment and abilities
Although they may seem like self-evident truths to you, it's the vocalization that makes the difference. Try repeating them in front of the mirror before you go out and recall them when feeling stressed, and you'll see the difference this small gesture can make.
Have something to look forward to after work
If you work long hours or have a high-pressure job, you might feel like what you do for a living is the most important part of your life. Becoming so absorbed in our work can have a strong, often negative, impact on our well-being.
For example, you might feel disappointed or distraught when you make a mistake or don't achieve the desired results.
Consequently, you can become easily frustrated and overwhelmed as you try to "catch up" by working even harder.
The key here is not to make your work the be-all and end-all of your life. Maintaining a proper work-life balance by having something simple to look forward to when you get home can shift your attitude towards a more positive outlook.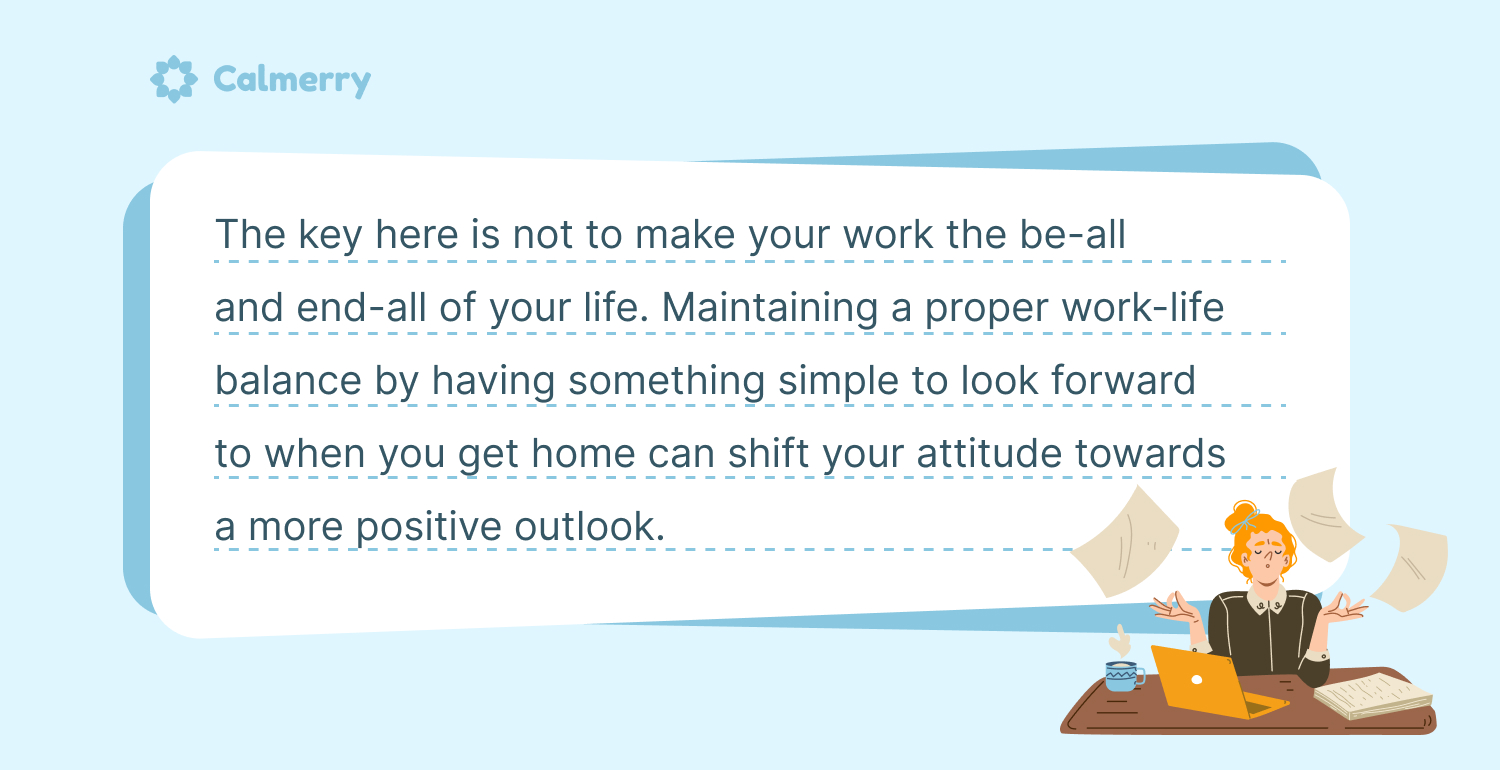 Even something as simple as watching a movie, calling a loved one, or treating yourself. Thinking and visualizing those activities in times of stress can boost your mood and help with relaxation when other relaxation techniques are impossible.
Make friends with your co-workers
It's common to be overwhelmed at a new job: the environment is unfamiliar, and you might worry that you won't handle the workload. But the solution isn't to become more competent; it's to make friends with your co-workers.
Talking with someone you trust when dealing with negative emotions can make you feel more supported and more likely to enjoy what you do.
Results from the International Social Survey Program survey show that workplace relationships are one of the factors that improve job satisfaction.
Alternatively, you can reach out to a non-work friend during a break.
When you have someone to confide in, dealing with obstacles and looking on the bright side is easier.
Break down tasks into smaller goals
One of the best ways to get organized at work when overwhelmed is to ensure that your goals are as specific and time-bound as possible. For example, a plan that looks like this:
Do research (1 hour)
Reply to emails (30 minutes)
Create a PowerPoint presentation (2 hours)
Is more doable than something abstract, like "finish the project by Monday." Not having specific goals can make the problem feel bigger than it is. That compels us to procrastinate (as we feel we cannot handle the task), directly contributing to feeling overwhelmed and hindering productivity.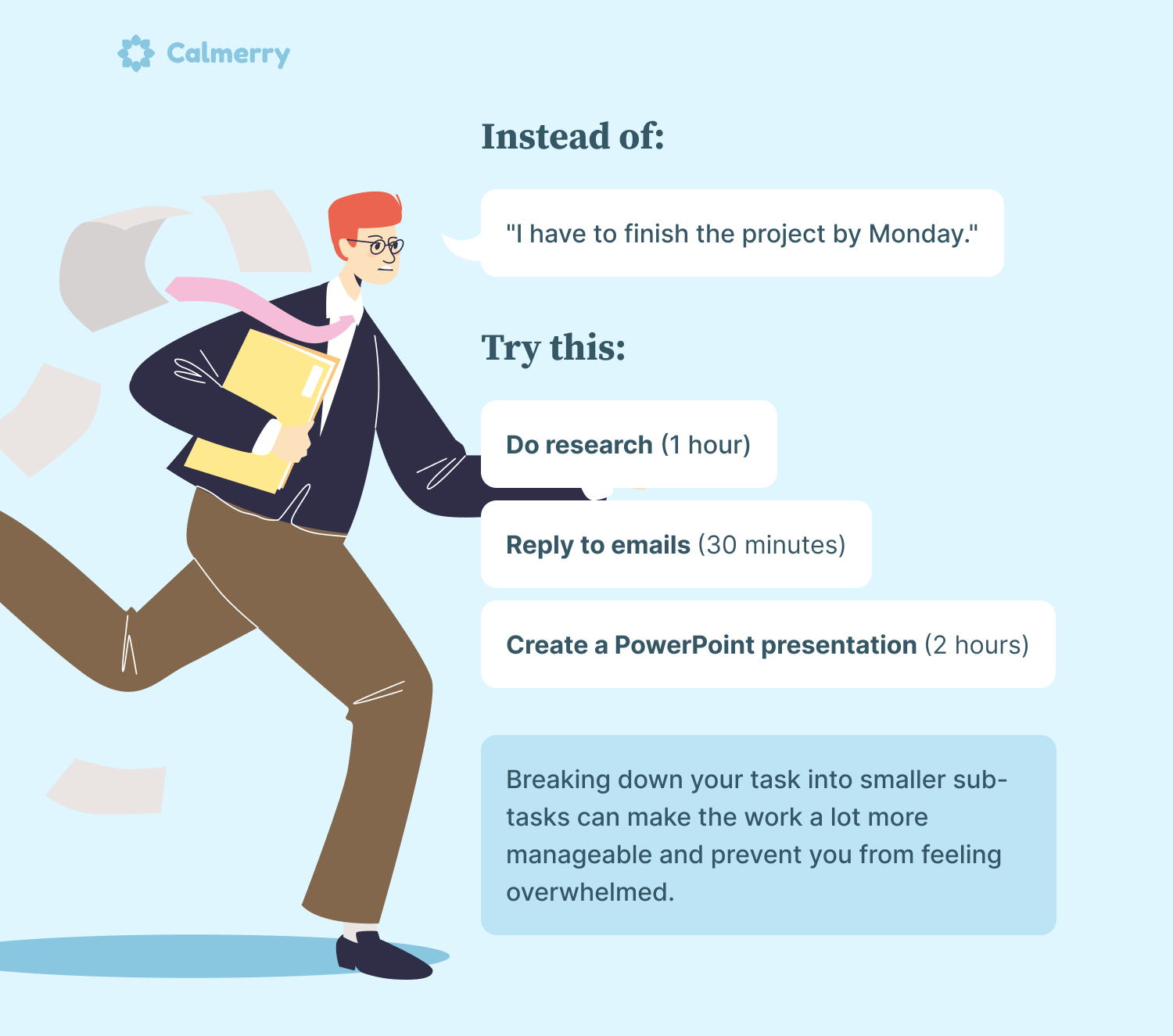 Knowing how much you can do in a given day is also important. If your job requires you to take the initiative and plan the work day by yourself, it might be difficult to stay productive without becoming overwhelmed in the process.
Many people forget to set realistic goals and feel bad when they can't meet their expectations. If you think setting the bar too high is the cause of your work exhaustion, consider keeping a journal where you write down the tasks you completed and didn't. It will help you organize your schedule better in the future and feel more satisfied with how much you can achieve.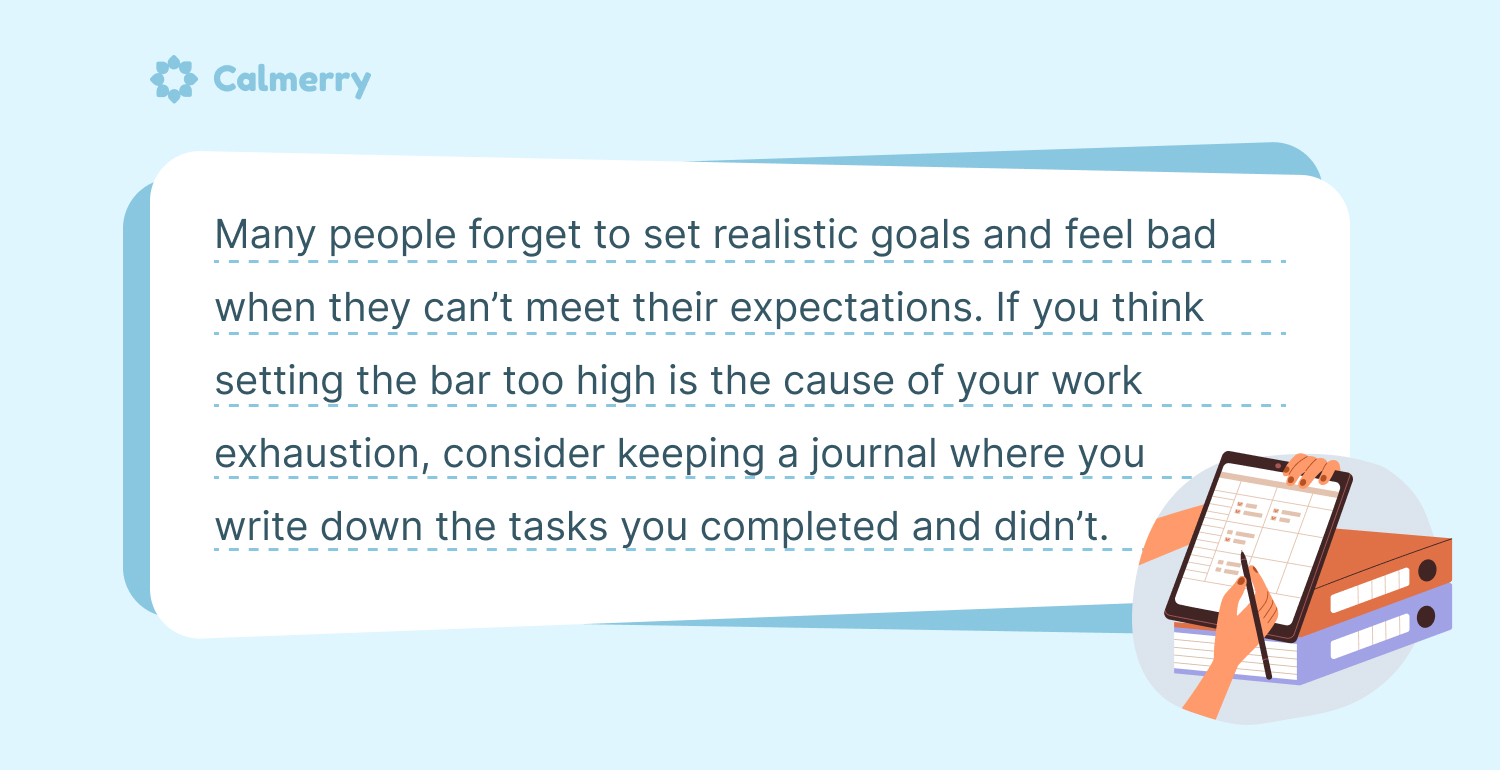 Find the right distractions
Checking your phone in-between completing tasks might give you a dopamine rush, but it's not the right aid to help you get through the workday. When you get distracted by social media, your productivity drops. Eventually, you might feel even more overwhelmed because you can't meet deadlines.
Instead, consider preparing a playlist that boosts your mood and play it repeatedly to feel more positive during work or breaks.
Treat yourself with kindness
People who are trainees and do entry-level jobs can be even at a higher risk of burnout than those who have worked in their field for years. They tend to pressure themselves to succeed even if they're new to the trade and not expected to know everything.
However, working hard means nothing without self-compassion. If you focus on what you did wrong and never congratulate yourself on success, your self-esteem might suffer because it's impossible to be perfect all the time, and you'll lose all the motivation. Even the most competent people don't always achieve desired results.
To be kind to yourself, remember you're allowed to make mistakes. You can also list everything that went well on your way home to get your mind used to focusing on the positives.
Find ways to ground yourself in the present
In 2012, healthcare professionals who suffered from work-related burnout were asked to join research to improve their well-being. The participants were trained in four mindfulness practices:
Body scan. Scanning your body for signs of tension
Mindful movement. Focusing on the present moment instead of letting your mind wander
Walking meditation
Sitting meditation
They were also taught how to apply the principles of mindfulness at work. Upon completion of the study, participants experienced an improvement in their mental health and a reduction in emotional exhaustion.
If you feel overwhelmed with work more often than not, it's a sign that you're burned out and might benefit from using mindfulness techniques to relax.
For example, when stress prevents you from completing tasks, try to ground yourself in the present by focusing on what you can see, touch, smell, and hear.
Talk to your boss
Sometimes it's not you, it's them. Even though you might be doing your best and sticking to a self-care plan, some workplaces set you up for failure by not providing adequate support and overwhelming you with too much workload.
If you're struggling, it's always worth talking to your boss to see if they can change your schedule. If you get on well, you can even suggest improvements that benefit the rest of the employees and improve the workforce's mental health.
Consider therapy
Talking to a boss might not be an option for everyone since many people fear getting laid off if they speak up. Sometimes, making adjustments at work won't be enough if the person has been feeling burned out for a long while.
When your mental health suffers, it's always a good idea to speak to a professional counselor; they can teach you better coping skills and help you understand what led you to feel overwhelmed in the first place.
It's best to consider therapy sooner than later because a prolonged burnout might turn into depression.
Subscribe
to our mental health digest
Let us support you on the way to better mental well-being. Get expert tips and insights on mental health delivered to your inbox monthly.
Consider an alternative career route
If you've tried to improve your situation, but you're still feeling overwhelmed at work, it might be a sign that the career isn't for you.
That is okay and completely normal: according to current statistics, an average person changes careers 5-7 times during working life. Sometimes it's worth stepping back to make room for better things.
Concluding thoughts
Feeling overwhelmed at work is a common issue, but it doesn't have to dictate your life.
By implementing self-care plans, mindfulness techniques, and seeking support from co-workers, you can regain control and improve your work-life balance.
Remember, it's essential to prioritize your mental health and well-being. If all else fails, don't be afraid to explore alternative career paths that align better with your values and lifestyle. Finding the right balance and environment will lead to a happier, more fulfilling work life.
Сheck your mental well-being for free: