Published April 11, 2023 / Updated April 12, 2023
What Is an Open Relationship? 7 Open Relationship Rules to Make It Work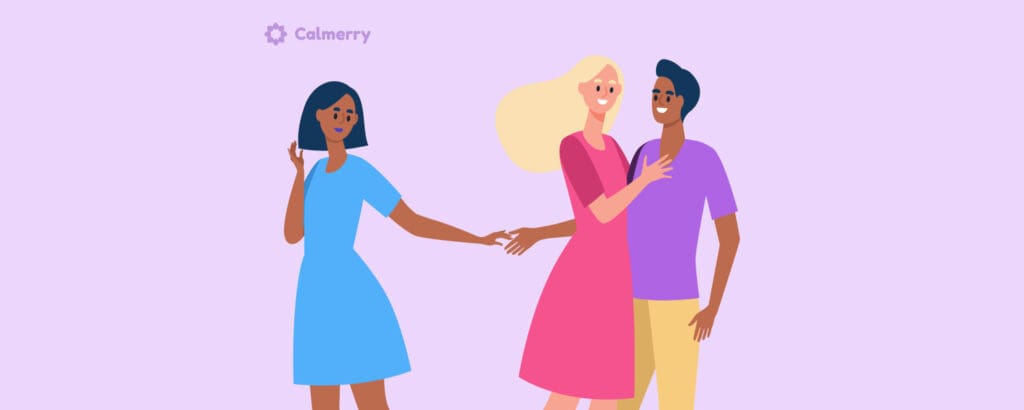 Reading Time:
6
minutes
You've probably heard of open relationships. And maybe you're also curious about what it's all about but feel uncomfortable too. You're not alone. Sex and sexuality tend to be one of those still somewhat taboo subjects that people find hard to talk about.
Open relationships carry a lot of stigma. Many people perceive them as less stable or satisfying than monogamous ones, despite research to the contrary. Many couples in open relationships report satisfaction levels similar to those in monogamous ones. Some couples find an open relationship to be a healthy choice for them.
Suppose the idea of an open relationship is something you and your partner are considering. In that case, it's important to fully understand what you are committing to and how to avoid the obvious and not-so-obvious pitfalls.
So, what is an open relationship, and can it be a healthy relationship? This post explains what you need to know and the seven rules for making it work.
What is an open relationship?
Not surprisingly, there are a lot of misconceptions about what an open relationship is and is not. After all, open relationships are not mainstream, although is it the same as swinging? What's the difference between polyamory vs. open relationships? Is it the same as having a threesome?
First and foremost, an open relationship is a consensual and non-monogamous relationship between partners (known as primary partners).
Based on an agreed-upon set of rules, each partner is free to date other people and, yes, even engage in sex with others (often referred to as secondary partners). Typically, partners don't socialize with each other's secondary partners and may not even know them.
Open relationships, while still the exception, are becoming more popular with more people open to the idea. It's estimated that about 4% to 9% of American adults are engaged in some form of open relationship. A 2021 survey found that about a quarter of Americans are interested in pursuing one.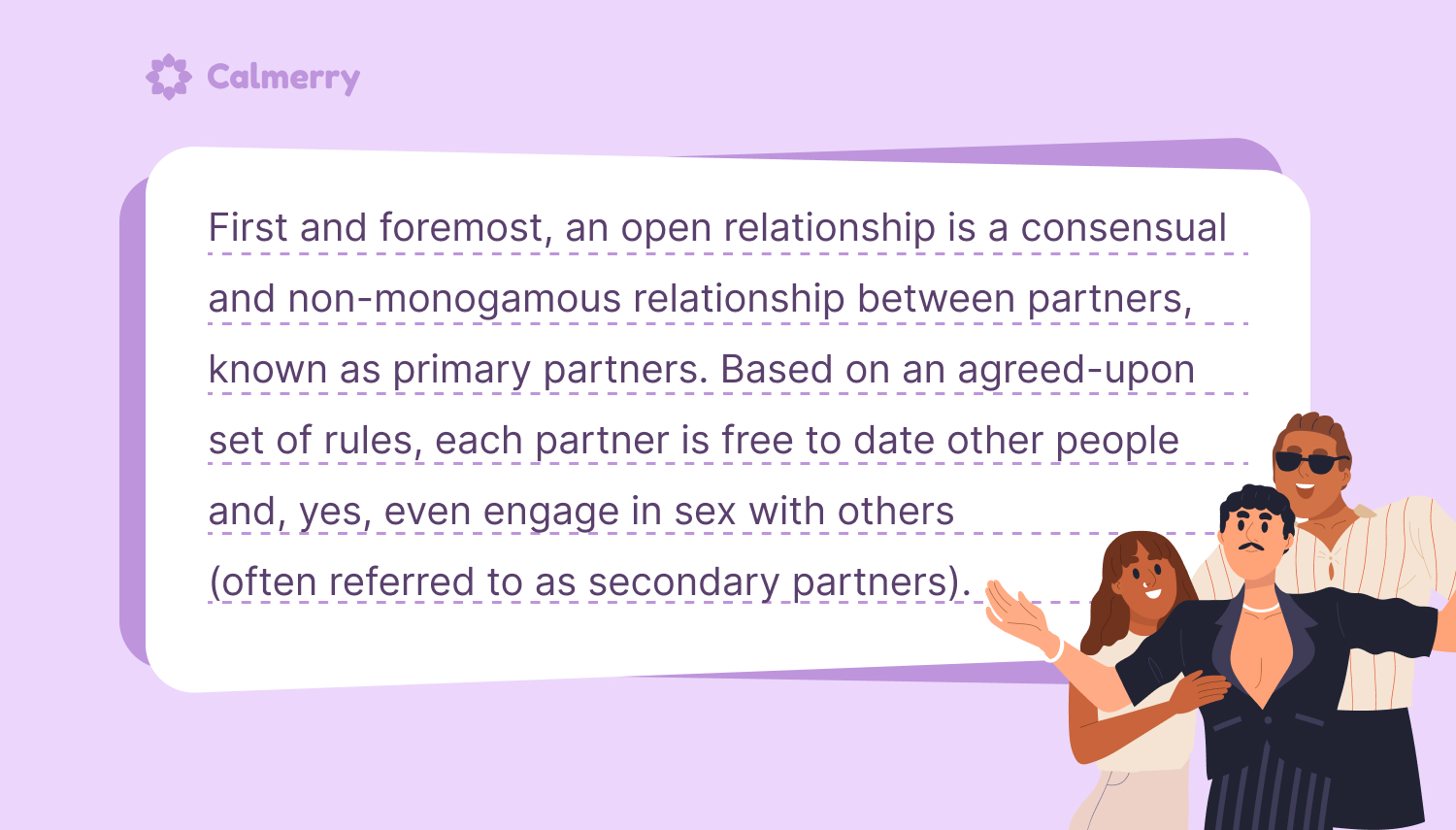 An open relationship requires mutual consent and an agreed-upon set of rules for behavior. Open marriage may not be healthy if trust or communication issues exist, a history of infidelity, or relationship abuse.
The other thing to note is not every multi-partner relationship is an open relationship. Here are a few examples of non-monogamous relationships and how open relationships compare with them.
Swinging vs. open relationship
Contrary to popular belief, an open relationship is different from "swinging". Swinging is an activity that involves couples having sex with other like-minded couples solely for the purpose of sex. The partners know each other, but extramarital sex only occurs within specified swinging situations.
Polyamory vs. open relationship
Polyamory, sometimes called "poly," is a term used to describe relationships in which the primary and secondary partners know each other and may even socialize together. Some partners even choose to form extended family-like groups known as polycules.
And, of course, infidelity is not an open relationship, despite being cited as the reason for stepping outside the relationship.
Subscribe
to our mental health digest
Let us support you on the way to better mental well-being. Get expert tips and insights on mental health delivered to your inbox monthly.
What you need to know before you open your relationship
Any time you bring someone new into your romantic relationship, it changes its dynamic. How it changes depends on the couple and how prepared they are. The stakes are high.
Open relationships require considerable trust and commitment between partners. Breakdowns can signal trouble.
The idea of bringing someone into your relationship may sound exciting, but it is not without risks:
Jealousy – At its core, jealousy is rooted in feelings of inadequacy and insecurity. You have to be sure you are ready to share your partner intimately.
Self-esteem impacts – Sometimes, the reality of seeing your partner happy with someone else is more than you expected. It can leave you questioning your own self-worth and undermine your confidence.
Unexpected feelings – You may think you're emotionally prepared for an open relationship. Seeing your partner with another person or your being with someone new can evoke strong emotions you may not have even been aware that you had.
Unexpected events – Despite best practices and precautions, sometimes the unexpected happens. STIs or unplanned pregnancies are practical risks of having multiple partners. How you would handle the unexpected is an important part of the discussion before you open your relationship.
Benefits of open relationships
Despite the risks, there are many benefits to open relationships. Some of the benefits include:
Relationship satisfaction – people in consensual non-monogamous relationships report high satisfaction in needs, relationships, and sex.
Lower levels of loneliness
Lower psychological distress
Less jealousy – people in healthy open relationships can experience compersion, which is happiness from seeing their primary partner happy.
Greater emotional intimacy – increased feelings of closeness and emotional connection can come from sharing your feelings and needs.
Opportunity to explore sex and sexuality more openly without hurting your partner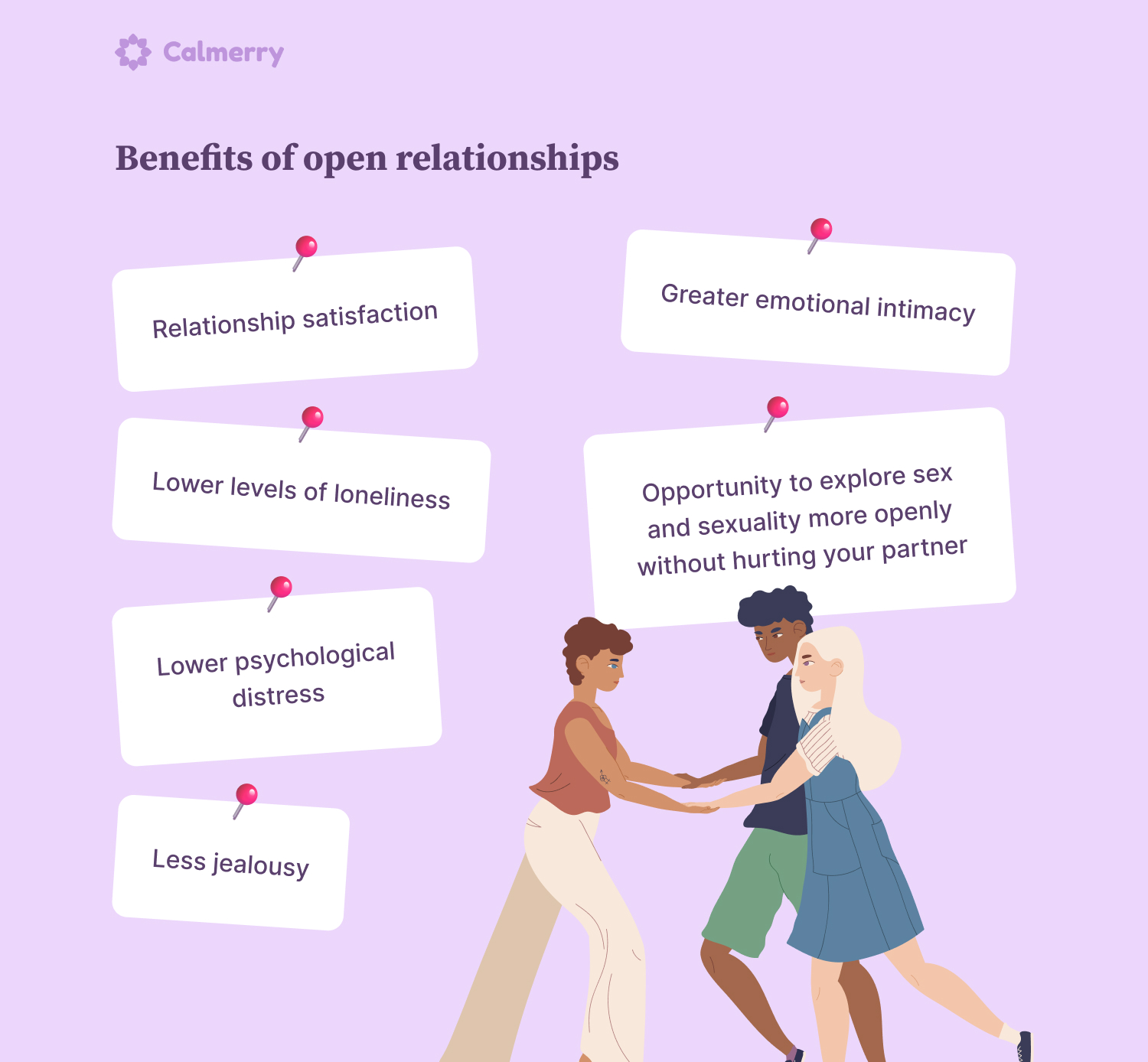 7 open relationship and marriage rules
While some statistics point to a higher divorce rate for open relationships, other evidence supports the idea that healthy open relationships can be as successful as more conventional ones.
While there is a lot of debate about the pros and cons, still, the success of an open relationship is rooted in having a mutually agreed-upon set of rules and boundaries for the relationship. And they are also following rules that each partner is committed to following.
Anytime you change your relationship, it's important that both parties understand what's at stake. It's important that the change is consensual and that you both understand the open relationship rules and just what they mean.
If you're considering opening your relationship, you need to know what to expect. While every relationship is unique, here are seven open marriage rules to consider.
Honesty is the best policy
Before you bring someone new into your relationship, take time to honestly talk about and consider what opening up your relationship could mean – the good, the bad, and the unexpected.
How do you really feel about sharing your partner in this intimate way?
What do you want the new relationship dynamic to look like?
What's off-limits? What's acceptable?
Remember, honesty here really is the best policy. Don't assume your partner is on the same page or has the same idea of what the relationship will look like. Whatever rules you set, be ready to follow them.
Consent mutually agreed upon
Mutual consent is a critical component of any type of sexual relationship. Consensual means that each partner fully agrees with acceptable behaviors and boundaries for them.
If you or your partner are not in full agreement, it sets the stage for relationship crises and constant conflicts. Not surprisingly, one-sided non-monogamous relationships tend to fail at a high rate.
Give priority to your partner (primary partner)
Spend quality time with your spouse (primary partner). Even though you both may be seeing others, making time for each other is important, especially if the goal is to enhance your relationship.
Set emotional boundaries
Just as you need sexual boundaries, you need to set emotional ones too. These are the boundaries that extend beyond sex and more towards social interactions.
Emotional boundaries help you both feel comfortable beyond the sex. For example, is it OK to know each other's partners? Are overnights or dates allowed?
Set sexual boundaries
Exploring your sexuality is often a reason for opening a relationship, but you and your partner may have different ideas of what that means. What is allowed?
It's also important to consider safety in the decision-making process. Are there practices or even partners that are off-limits?
Respect the boundaries you set
Trust is the foundation of any relationship, and open ones are no different. You and your partner need to know that you are each staying within your set parameters. Broken trust can leave you feeling hurt or angry with your partner.
Of course, these are only some of the rules you might have. It's up to you and your partner to set your own rules and expectations.
Communication is a key
The key to any healthy relationship is improved communication. Keep the lines open and check in often. If feelings or situations come up, talk them through.
Honest, open communication is reassuring. It helps to keep anxiety and worry in check, and fosters trust that you have each other's best interests at heart.
Therapy can be helpful if you choose to open your relationships
The key to any healthy relationship is finding the one that is right for you and doing the work needed to keep it thriving. Deciding to open your relationship isn't something to take lightly, and even asking for what you want or need isn't easy, even when your partner is open to the idea. One or both of you might even be unsure what you want or need.
Try online therapy in Calmerry to help you define and create the desired relationship.
Therapy can help you sort it all out. A trained couples therapist can help you explore these issues more privately, safely, and without judgment space.
Сheck your mental well-being for free: