Published April 22, 2022 / Updated April 15, 2023
5 Ways to Turn Stress Into Positive Stress and Productivity Fuel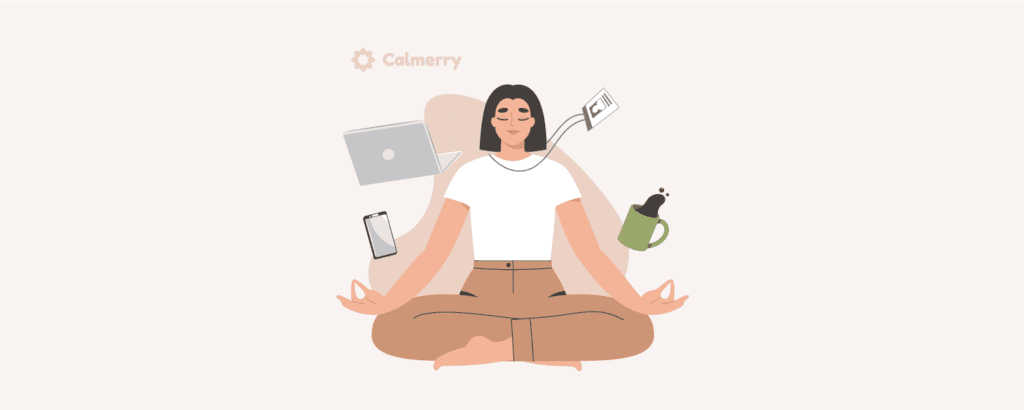 Reading Time:
7
minutes
You know those feelings — that tightness in your chest, muscle tension, the racing thoughts, and the general feeling of unease. Stress can indeed feel unpleasant and cause damaging physical and emotional effects on the body. And you probably heard that you should avoid it at all costs. But the thing is, not every type of stress is bad.
While it's true that too much stress is harmful to your health, science proves that a moderate level of stress can be positive and serve as a productivity fuel.
To turn stress into an asset, let's learn to recognize the difference between negative or counterproductive stress (distress) and positive or productive stress (eustress) and find out how it can work for you.
Eustress vs. distress
Stress is unavoidable because it's a healthy body reaction to challenges or demands we encounter daily.
Yet, stress can be bad or good, depending on different and very personal factors: the source and nature of a stressor, availability of your inner defenses, your resilience, and other vital mental health skills that help you to respond to the stressor, and how it affects you ultimately.
For example, for one person, paragliding might be terrifying and paralyzing. For another, it might be a fun challenge and a boost for growth.
As you can see, not every stress will hurt your well-being. Therefore, it's important to recognize negative and positive stress to manage it healthily and reap its benefits.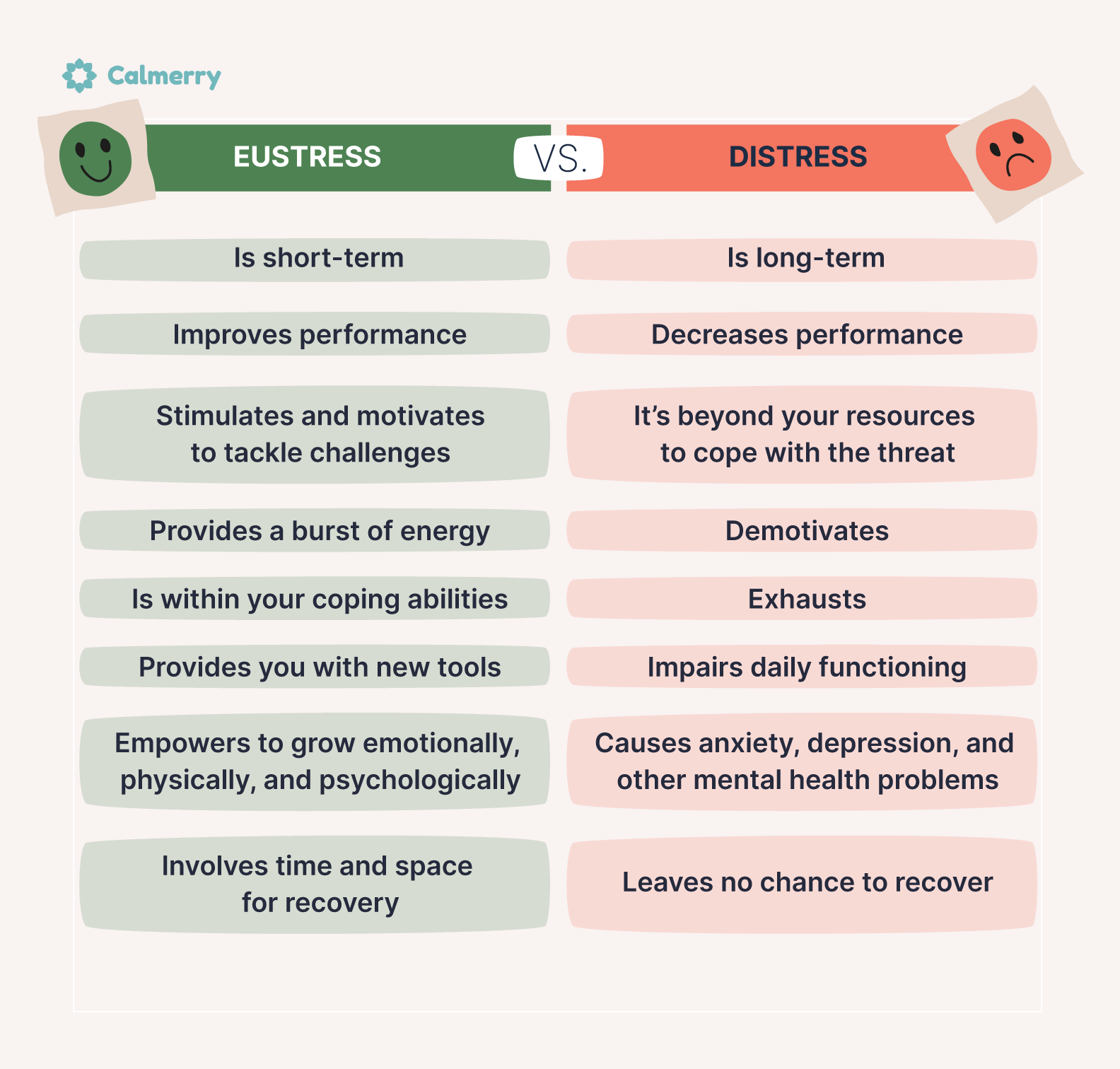 What is distress?
Unlike eustress, distress is an all-consuming, counterproductive, and debilitating type of stress. It leads to emotional and physical overwhelm because your internal resources are insufficient to cope with a distressing experience.
The difference between eustress and distress can be illustrated through the words "challenge" and "threat":
Challenges make you tense, but you consider them as opportunities and have the power to cope with them.
Conversely, protecting yourself from the threat or danger can wear you out and affect your well-being.
Distress is a cause of poor work performance and productivity and can result in chronic stress, anxiety, depression, and burnout.
Negative stress is common. In the 2021 Stress in America survey, more than 8 in 10 Americans (84%) reported feeling at least one emotion associated with prolonged stress in the last two weeks.
So if you're feeling overwhelmed by stress, seek help from a therapist who can navigate you to get back on track. They can provide you with the tools and resources you need to manage your stress and live a healthier, happier life.
What is eustress?
Eustress is a positive type of stress that promotes adaptation and motivation and stimulates the development of new ways of interacting with the outer and inner worlds. It encourages you to move forward in your life and grow.
In fact, eustress is our usual companion in everyday life, but we don't always know how to recognize it. You can find sources of positive stress in almost all areas of life. For example, eustress occurs when you're:
Falling in love
Going on a first date
Performing art
Competing in a game
Playing sports
Challenging your senses with something unusual
Going through major, positive life changes (retirement, marriage, relocation, becoming a parent, changing career path)
Working on an important project or demanding task
Learning or trying something new
Setting challenging but realistic goals around your interests and passions
Going on vacation or traveling
Getting a job promotion or pay raise
Any event or novelty that pushes you out of your comfort zone can be a source of eustress. It causes mild elevations in stress hormone levels, a feeling of "butterflies in your stomach," sweaty palms, dizziness, and increased heart rate. Once the stressor is gone, you feel pleasant excitement, thrill, fulfillment, satisfaction, and inspiration to take on the challenges, move on, and show your best.
Yet, positive stress can turn negative when it gets overwhelming and persistent.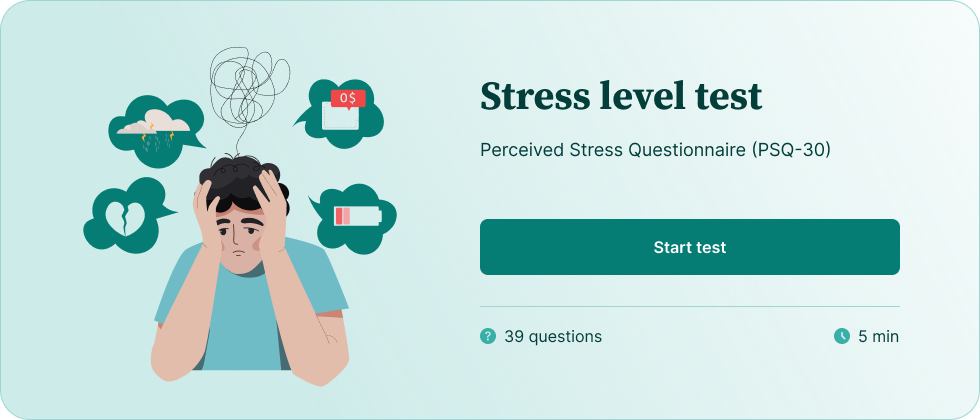 5 ways positive stress pushes you to new heights, by science
A growing body of evidence suggests that short-term, good stress you experience in different aspects of life can actually provide mental, emotional, and physical benefits. Let's discover them.
1. It helps perform better (and faster)
A certain level of stress is necessary for optimal productivity. According to "The Yerkes-Dodson law," there's an empirical relationship between performance and mental arousal (stress). The idea is that you need a certain level of motivational energy (arousal) to excel. For example, when the deadline is approaching, your stress level increases. It may explain why you may get most of the work done close before the due date.
Conversely, at low levels of arousal, you can experience a lack of motivation and delay the tasks until the last minute. But when the level of stress becomes too high, positive stress turns negative, and performance decreases.
However, defining your optimal level of arousal greatly depends on the task complexity and type.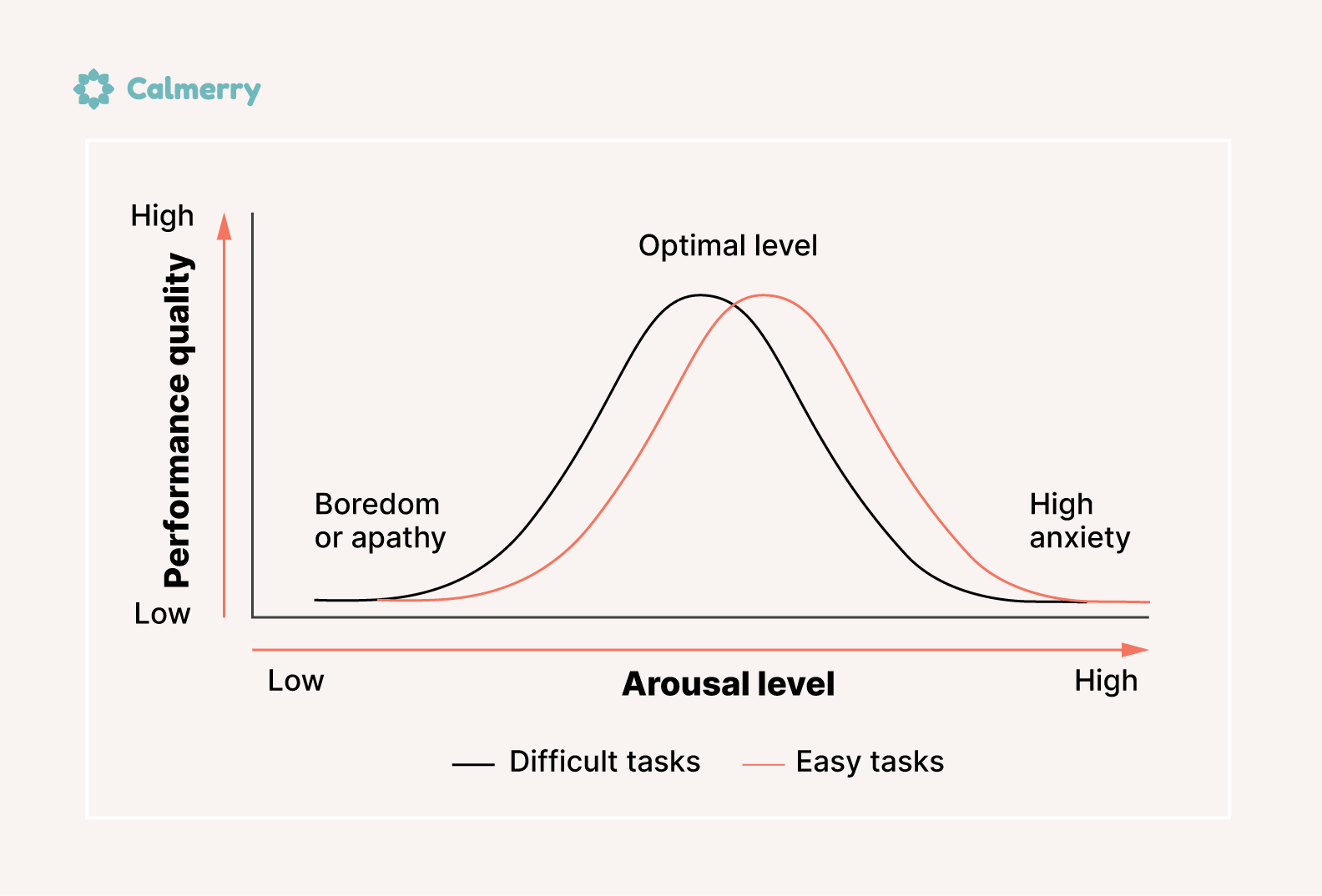 Secondly, small increases in cortisol and adrenaline (the stress hormones) have energy-enhancing and agility-boosting effects on your body that you need to face the challenges. Positive stress helps to release and channel that energy into tackling the problem head-on.
So, moderate stress may help improve performance and productivity unless it's not prolonged and is within your mental and physical resources.
2. It improves cognitive performance
Good stress can improve cognitive processes, resulting in heightened memory, increased attention and focus, and boosted problem-solving. The brain also processes information faster when you're under moderate, positive stress.
Did you notice that you're better able to learn and retell information right before the exam, important meeting, or public speaking? That's the point. This is because facing a challenge physiologically and mentally stimulates you to "get together" — to concentrate your resources on imminent demands ("cognitive tunneling") and take a proactive approach to deal with the stressor.
3. It leads to proactivity and self-growth
Healthy stress can be a great motivator to push yourself to grow, change yourself for the better, and get ready to tackle future challenges.
According to the study, positive stress at work leads to proactivity and initiative-taking. When you face a difficult but exciting task, shoot for promotion, or strive to achieve goals, you become more active in getting the skills and knowledge needed to meet demanding requests. Also, you become proactive in feedback-seeking for further enhancement.
4. It may reinforce resilience
Some studies describe such a phenomenon as a "stress-related growth" linked to the development of mental toughness and improved awareness.

This promotes better confidence and a sense of more control of the situation. Eventually, repeating adversities may feel less taxing than the first time.
Contrarily, very high levels of stress may impair your coping capacity.
5. It helps build and deeper social bonds
During a stressful experience, have you ever had an urge to be near your colleagues, friends, or family? If so, that is because acute stress may also lead to prosocial behavior or a "tend-and-befriend" response, encouraging greater cooperation, compassion, care, trust, sharing, support, deeper social bonding, and friendliness.
Being under pressure, we usually respond with "fight or flight," becoming cranky or hot-headed. However, since stress naturally leads to a sense of vulnerability and loss of control, it can provide an opportunity to experience deeper social connections. It serves as an important adaptive response for collective coping and survival.
Turning stress into your powerful ally
The stress you experience facing your challenges can be a driving force for taking action, performing at your best, and growing. It may encourage you to work through experiences instead of avoiding them. But it's not always the case. All in all, stress usually feels unpleasant and off-putting, however positive it may be. That's why we tend to "avoid it at all costs," missing the opportunities it offers to our advantage.
But what if there was a way not only to manage acute stress healthily but make it work for you? Here's what you can try:
Validate and welcome the stress you're experiencing
Think of this response as an indicator that you care about something rather than a cause for panic you should ignore or suppress.
Attempt to see a stressor as a challenge instead of a threat

For example, you can feel nervous before public speaking, and that's okay. Your anxiety is valid, but this event isn't life-threatening and won't last forever. You have the power to overcome it, whether using relaxation techniques or learning to manage anxiety and stress with the help of a therapist.
Switching perception helps focus more on overcoming the challenge rather than obsessing about your emotions and feelings.
Be in tune with yourself and acknowledge when you've had too much
There's a fine line between enhancing and debilitating stress. But checking in with yourself, practicing mindfulness, noticing your bodily reactions, and improving self-awareness can help embrace your real stress level.
Discover your potential and optimum
Evaluate the resources you have to meet the challenge and remind yourself of your strengths. Pay attention when you're doing your best to define the optimal point for your best performance.
Adopt the "stress-is-enhancing" mindset
Research shows that shifting your stress mindset and looking at it as a growth opportunity can decrease symptoms of depression and anxiety, increase energy, and improve overall life satisfaction.
Subscribe
to our mental health digest
Let us support you on the way to better mental well-being. Get expert tips and insights on mental health delivered to your inbox monthly.
Don't let stress take over your life
Life is what it is — full of worrisome and stress-inducing events. It's impossible to remove stress from our lives altogether. Instead, we should direct our efforts to recognize "productive" and "counterproductive" stress and find ways to make it work for us.
To do so, it's important to check stress levels and keep it from taking over your life.
Remember that stress, if left unchecked, can quickly become overwhelming and debilitating. A productivity fuel can turn into a major roadblock that prevents reaching your goals.
Therefore, we recommend talking to a therapist on Calmerry whenever you're on the "eustress-distress" spectrum. This will help you understand how stress affects you, learn to identify stressors, find healthy ways to respond to them and cope with feeling overwhelmed. Let's harness stress and discover that inner driving power to live our lives to the fullest!
Сheck your mental well-being for free: