Published January 13, 2022 / Updated June 2, 2023
Out of Fuel: What Is Emotional Exhaustion, and How to Recover?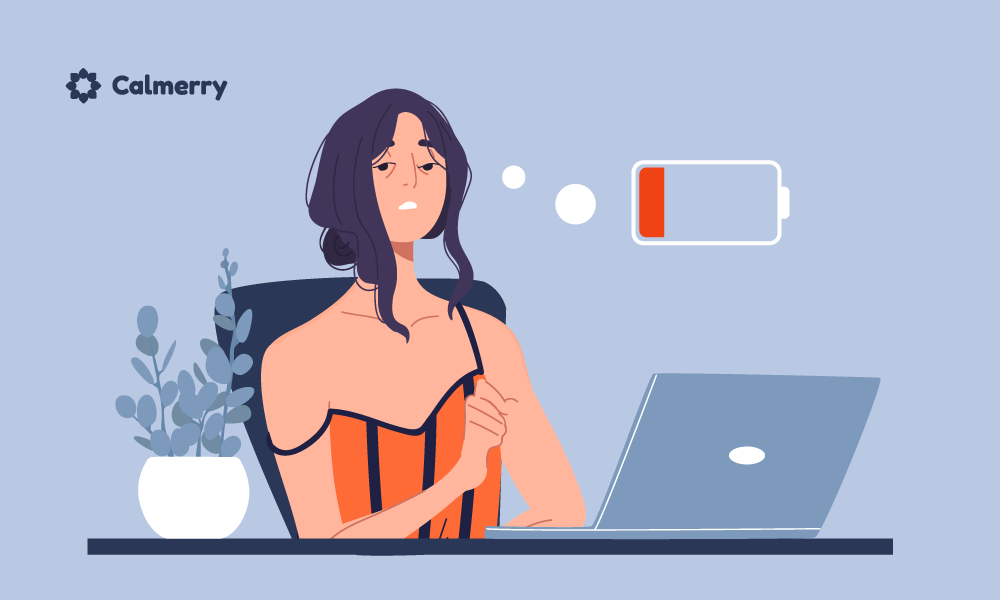 Reading Time:
8
minutes
When you reach the point of emotional exhaustion, you can feel drained, tired, down, lacking energy, and have difficulty coping with everyday tasks. Eventually, it comes to the point when you hardly feel any sense of accomplishment.
Emotional exhaustion can occur when you experience excessive stress that builds up over a prolonged period. It's one of the first warning signs and symptoms of burnout.
Anyone can become emotionally exhausted, and when it's severe, it can affect your work and personal life. It often takes people by surprise, especially when it's their first time experiencing it.
Emotional exhaustion can be very distressing, but it becomes easier to cope with and prevent when you know what triggers it and how to manage stress.
This guide will look at the symptoms, what causes emotional exhaustion, who's most at risk, and how to recover.
What is emotional exhaustion?
Emotional exhaustion is often described as a state of being mentally and physically exhausted due to long-term stress or a period of intense exertion. This can be caused by factors such as work overload, financial worries, relationship issues, loss, anxiety, depression, set unrealistic expectations, lack of sleep, chronic illness, unhealthy habits, or the care of another person – or the combination of many life stressors.
It is important to note that emotional exhaustion is not just limited to periods of stress. It can also be caused by things such as a single traumatic event, long-term difficulties, or simply having too much on your plate.
Though not always easy, recognizing when you may be emotionally exhausted is the first step in working towards solutions that help navigate your state and recover.
Signs and symptoms of emotional exhaustion
Emotional exhaustion can cause various mental, emotional, physical, and behavioral symptoms.
These symptoms can range from mild to severe, depending on how emotionally exhausted you are. Emotional exhaustion tends to build up gradually over time and can eventually lead to complete burnout.

That's why it's important to learn to recognize the signs of emotional exhaustion so you can stop it in its tracks in the early stages whenever it arises.
Here are some of the main signs and symptoms of emotional exhaustion to look out for:
Cognitive issues: Brain fog, difficulty concentrating, forgetfulness, confusion, memory problems, lack of creativity, and shortened attention.
Mood changes: Anger, pessimism, cynicism, irritability, anxiety, depressive episodes, panic attacks, lacking motivation, apathy, or hopelessness.
Physical symptoms: Headaches, feeling weak, dizzy, or fatigued, heart palpitations, appetite changes, and stomach problems.
Sleep issues: Trouble falling asleep at night, waking up frequently, oversleeping the next day, and difficulty getting out of bed.
As a result of these symptoms, your work life may be affected in the following ways:
Poorer work performance and colleague relationships
Struggling to meet deadlines at work
More absences from work
Less enthusiasm and motivation for work
Negative attitude towards work
Feeling overwhelmed by tasks at work
Procrastinating and taking longer to complete tasks
Your personal life may be affected in the following ways:
Struggling to keep up with personal responsibilities
Isolating yourself socially
Increased temptation to use unhealthy coping methods like alcohol or junk food
Falling out or getting angry with others more often
Feeling negative or bitter about your personal life or future
Low self-esteem and confidence
Finding it harder to connect and interact with others
Common causes of emotional exhaustion
While a certain amount of daily stress is expected and can help motivate us to get things done, when stress becomes excessive and constant, it can start to cause us harm.
Emotional exhaustion is the result of prolonged, chronic stress in your work or personal life. When it begins to accumulate, you can find yourself feeling emotionally worn out and drained. Your brain just can't handle any more stress and pressure.
The exact causes of emotional exhaustion can vary, as what some people find stressful may not affect others. Also, stress affects everyone differently as people have different tolerances and coping mechanisms.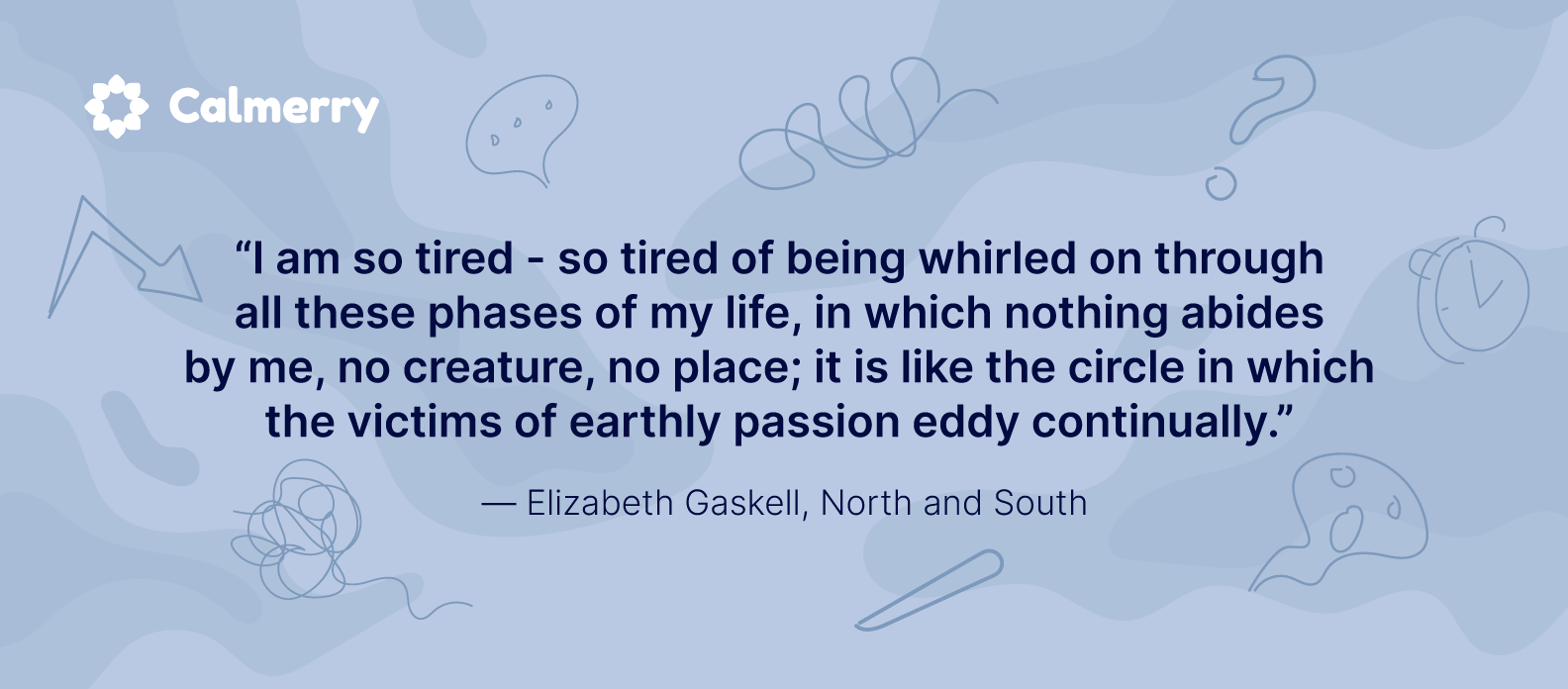 Nonetheless, here are some of the most common causes of stress that can lead to emotional exhaustion:
Work stress: Working long hours, working in a toxic environment, doing a job you dislike, and having a high-pressure or demanding role.
Financial problems: Struggling to pay the bills, living in poverty, homelessness, and debt.
Significant life events: Death of a loved one, caring for a friend or relative, separation or divorce, being bullied or abused, moving house, and having a baby.
Health issues: Living with a severe injury or chronic illness.
Too many responsibilities: Having more responsibilities than you can handle, neglecting self-care, and trying to do multiple things at once.
Some of the main risk factors
While anyone can become emotionally exhausted, and any source of stress can cause it, certain factors can make some people more susceptible than others. These include:
Being a perfectionist
When people set unrealistically high standards for themselves, it puts them under a lot of pressure. In addition, it also makes it nearly impossible for them to have a positive outlook on anything they achieve.

This combination of increased stress and an overly negative, critical view of oneself due to perfectionism can be an emotional drain that eventually leads to exhaustion.
Neglecting self-care
Self-care is all about maintaining your physical, mental, and emotional well-being. Therefore, you could be more vulnerable to emotional exhaustion if you neglect self-care by not eating well, exercising, getting enough sleep, etc.
Also, those who use unhealthy coping methods like alcohol and drugs are putting themselves at greater risk.
Lack of mental health skills to cope
Emotional exhaustion doesn't happen overnight. Stress builds up gradually until the adverse effects become severe. Therefore, those who are more emotionally aware and able to spot the signs of stress early can take steps to protect themselves before it becomes a crisis.
Knowing the difference between healthy and unhealthy coping strategies and constructive and unhelpful thoughts can help you manage stress and emotional exhaustion and prevent other mental health disorders.
Experiencing loneliness
Loneliness is about feeling alone rather than being alone, as people with friends and family can still experience loneliness, just as socially isolated people can.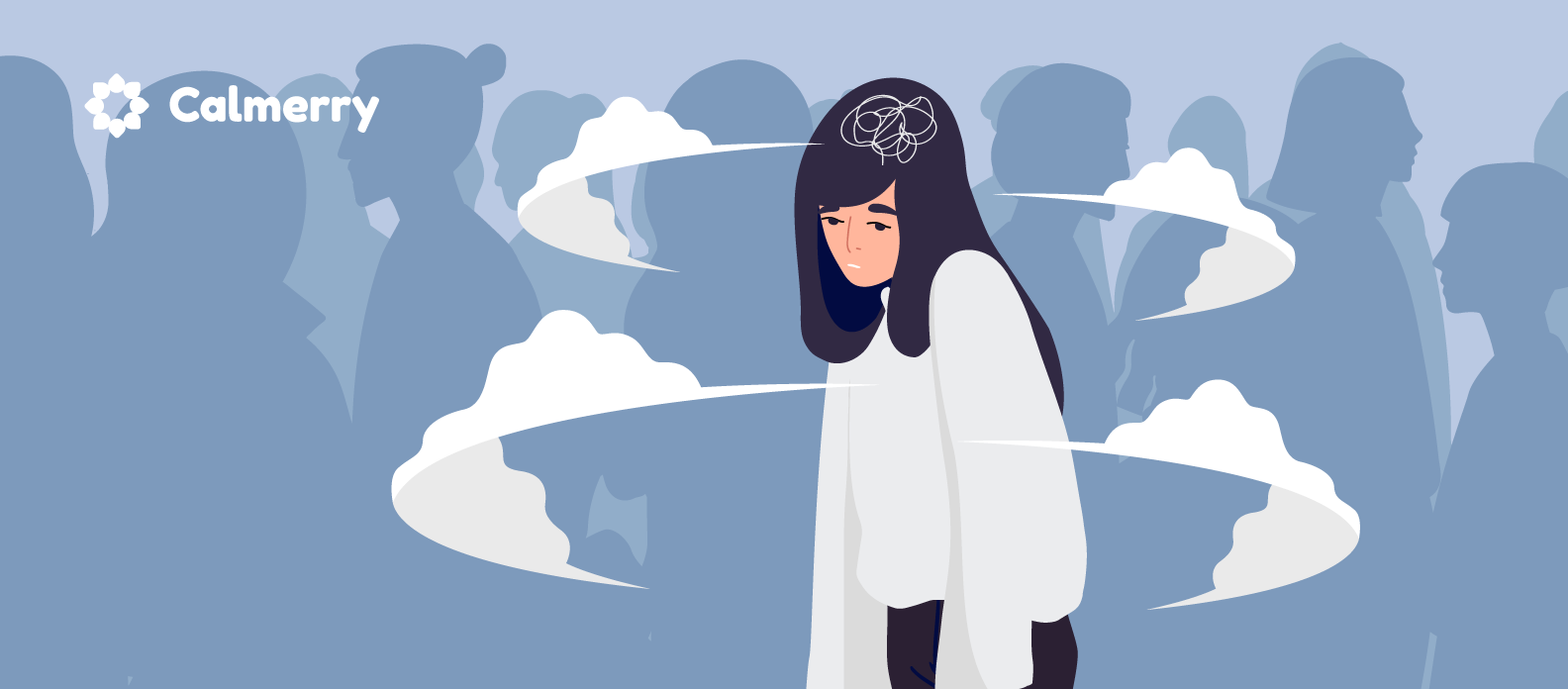 If you feel like you don't have anyone to share your feelings with or turn to for emotional support, you may be more susceptible to emotional exhaustion. That's because trying to handle all of your problems alone or keeping your feelings bottled up can increase stress and anxiety.
Is emotional exhaustion the same as depression?
Experiencing emotional exhaustion, although debilitating, doesn't always mean that you're dealing with depression. While the two can often be intertwined, it's important to differentiate them.
Emotional exhaustion can present itself as both a depressed mood and having very little energy or drive, which easily aligns with symptoms of depression. And emotional drain can be a risk factor for depression if left unaddressed. On the other hand, depression is more than feeling overwhelmed. It's an ongoing serious condition that requires help from an experienced mental health provider to recover.
But no matter what your experience is – no problem is too small to take it seriously and get help. Seeking out the right kind of support will go a long way toward helping you restore balance and create a healthier outlet for your emotions.
How to deal with emotional exhaustion
If you're wondering how to cope with emotional exhaustion, this section should offer some solutions. We've listed seven ways to relieve emotional burnout and prevent it from happening in the future. The main thing is to focus on your needs and prioritize your physical and mental health.
Remove or minimize the stressor
An obvious strategy for coping with emotional exhaustion is to remove what's causing you excessive stress. But this isn't always possible. Also, it's not always clear what the exact causes are, so try making small changes before drastic ones. Disconnect from toxic people in your circle and set healthy boundaries.
If you believe your job is your primary source of stress, you may want to consider moving to a new department or asking for more flexible hours before quitting. Likewise, if you're struggling to keep up with daily tasks, consider delegating or asking for help before dropping them altogether.
Develop a healthy lifestyle
Living a healthy lifestyle can reduce stress and help you treat and prevent emotional burnout.
Here are some ways to stay healthy:
Eat a balanced diet full of fruits, vegetables, fish, nuts, and whole grains. Avoid ultra-processed food.
Get at least 150 minutes of exercise per week.
Set aside time to do things you enjoy – they will brighten your mood.
Get outside in nature.
Get between 7-9 hours of sleep per night.
Cut out alcohol and drugs.
Make sure you always have time for yourself and your loved ones.
Practice meditation or mindfulness
Meditation and mindfulness exercises can help alleviate the symptoms and causes of emotional exhaustion. Regular meditation can improve concentration, decrease mind wandering, reduce stress, improve mood, and boost self-compassion.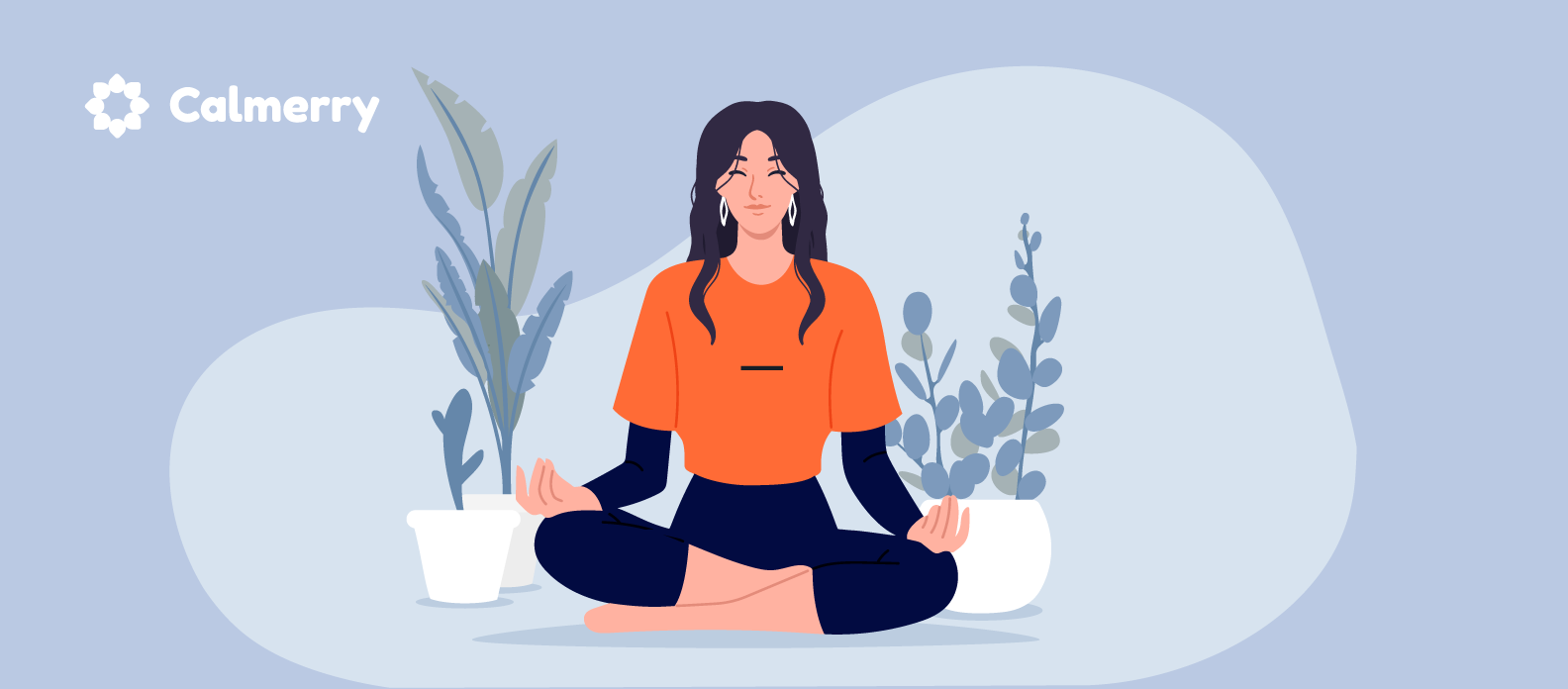 Also, meditation and mindfulness can improve sleep, especially when practiced at bedtime, as it helps relax the mind and body.
Reframe your thinking
Changing how you think takes some time and practice, but it can help if your current thought patterns are contributing to emotional exhaustion. The first step is to learn to identify unhelpful or anxious thoughts that cause unnecessary stress or put you in a bad mood.
The next step is to begin replacing them with more helpful narratives. To reduce stress, work on being kinder to yourself, letting go of any perfectionist tendencies, and being less critical of yourself and others.
Subscribe
to our mental health digest
Let us support you on the way to better mental well-being. Get expert tips and insights on mental health delivered to your inbox monthly.
Focus on one thing at a time
When we try to do multiple things at once, it causes stress and makes us feel overwhelmed. And even though it can seem like you're getting lots done, it can actually make you less productive.
So instead, stick to a routine, dedicate at least 30 minutes of distraction-free time to each task, stay organized, don't be afraid to say "no" to requests, and avoid procrastination. All of these things will reduce stress, boost productivity, and help prevent emotional exhaustion.
Learn how to delegate
We all have a natural tendency to want to take on and do as much as we can. But it's important for our emotional well-being and mental health to learn how to ask for help and delegate tasks. Knowing how and when to delegate can relieve us of the burden of trying to do it all ourselves, which can lead to exhaustion.
Delegating tasks allows you to divide your responsibilities between different people, allowing you to take a break from resource-demanding activities while ensuring that they are still being taken care of.
Accepting help from others is freeing and empowering and will make you feel more in control. With a little bit of practice, you'll be able to manage your tasks better, allowing you to stay emotionally balanced and focused on your long-term goals.
Seek support from friends and professionals
It can be tempting to isolate yourself when you're emotionally tired, but this may worsen the problem. Instead, consider your loved ones as your support group. Spending time with friends or family and sharing your feelings with them, or just having fun together, can help relieve stress and make you feel better.
Likewise, joining a club or being open to making new friends can help lift your mood.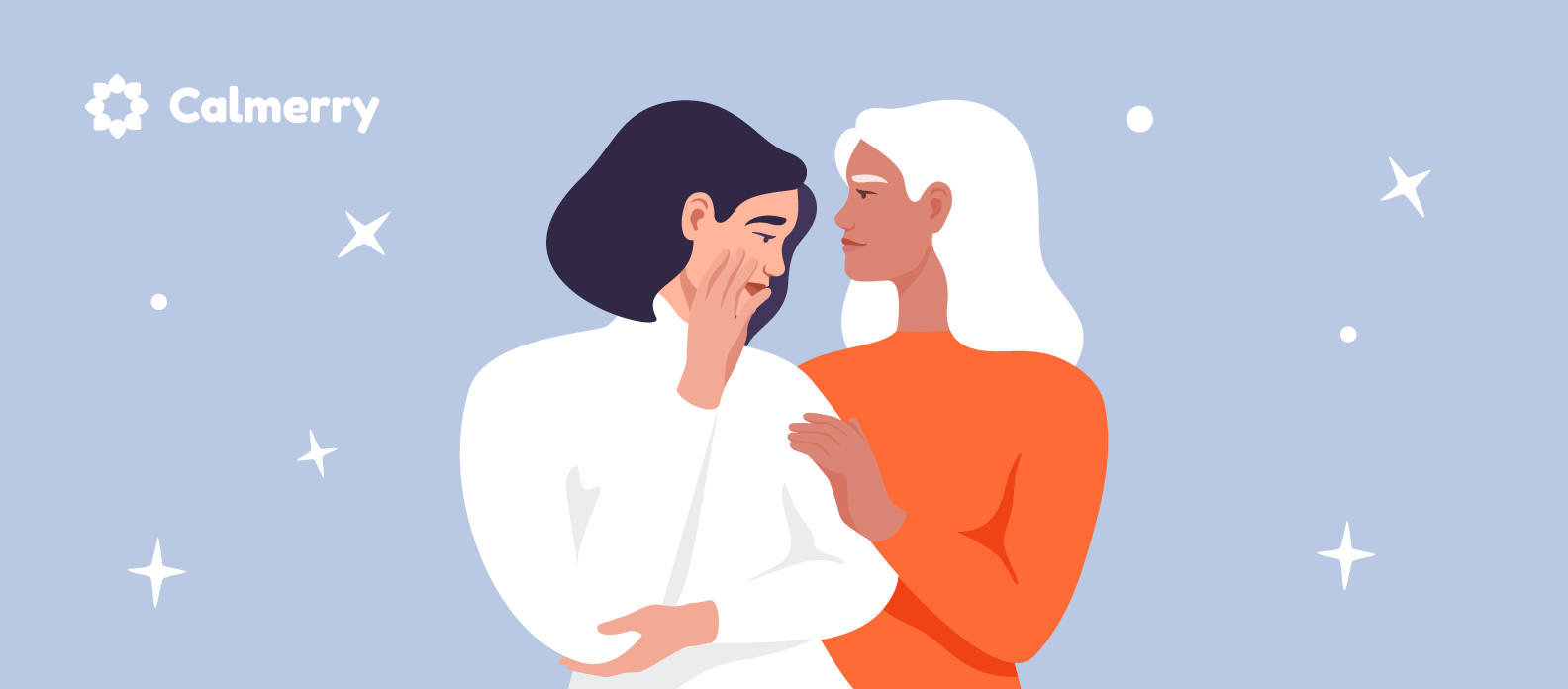 And remember that self-help may not be enough, so another option is to reach out to a professional and book a therapy session. You can share your experiences with a therapist in a confidential environment, and they can help you treat symptoms of emotional exhaustion more effectively and teach you healthy coping strategies.
Final words
Emotional exhaustion can creep up on us until we reach a point where we feel completely overwhelmed and can no longer find hope and positivity in our situations. The symptoms can be very distressing and affect our work and personal life. Fortunately, when you learn to recognize the signs and apply some of the stress management techniques explained above, it can help you recover and keep it at bay.
While being emotionally exhausted is not immediately life-threatening, long-term chronic stress can eventually take a toll on your physical and mental health, so you shouldn't ignore it. If you believe you are suffering from stress and emotional exhaustion, our licensed online therapists at Calmerry are ready to work with you to help you rebuild your emotional energy.
Сheck your mental well-being for free: