Published March 9, 2023 / Updated March 11, 2023
How Alcohol Affects Your Emotional and Mental Well-Being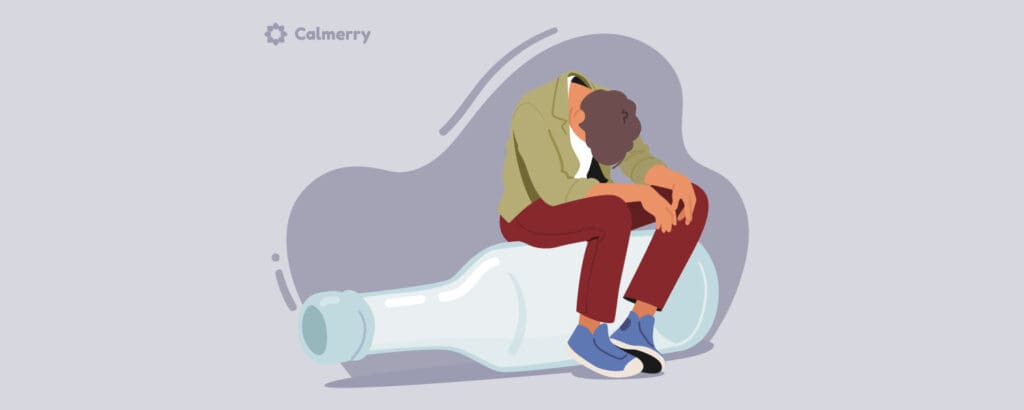 Reading Time:
7
minutes
The effects of excessive drinking on physical health are widely known. Yet, it's also important to remember that alcohol misuse can take its toll on mental and emotional health, too.
Among other things, heavy drinking impacts mental health to such a degree that it can lead to (or worsen) depression and anxiety.
In today's article, we will explore the impact of alcohol on mental health and delve into developing improved coping strategies. Additionally, we'll discuss the importance of seeking help, considering beneficial resources like online therapy if you believe that alcohol use is adversely influencing your well-being.
How does alcohol affect the brain?
First, let's take a short trip into neuroscience and how alcohol affects the brain. As a substance, alcohol can either be a stimulant or a depressant, depending on the dosage. At low doses, it stimulates, and at higher depresses.
These states cause certain effects of alcohol on emotions. While a person is intoxicated they can become overly friendly or aggressive. If a person drinks too much, then, they can become drowsy or even lose consciousness.
Even short-term alcohol use leads to impairments in attention and executive functions, which include planning, short-term memory, and self-control.
If a person develops an alcohol addiction from excessive drinking, these effects can become long-lasting.
Long-term alcohol abuse leads to damage in the frontal lobes of the brain, which results in problems with judgment and decision-making, as well as emotional and behavioral problems.
So, alcohol addiction doesn't just make a person dependent on the substance, but it can have a lasting impact on how a person's brain functions and reacts to stimuli.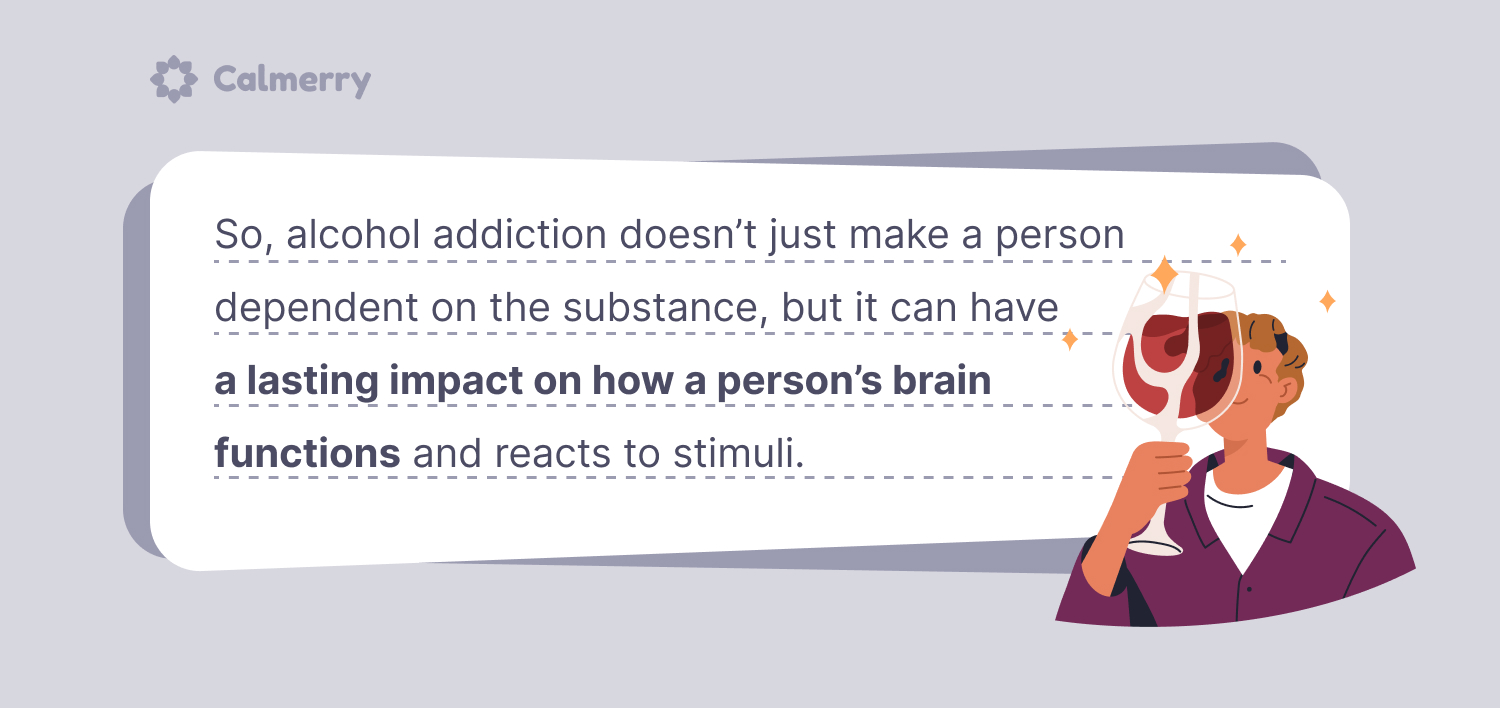 This means that there are substantial emotional consequences of alcohol use and we are going to look at the most common consequences in just a moment.
Common effects of alcohol on emotions and mental health
Alcohol and anxiety
Does alcohol cause anxiety? Or does anxiety causes alcohol abuse?
In one of the studies, about half of the participants with an alcohol use disorder had an anxiety disorder. There is evidence that some people may consume alcohol as a method to cope with anxiety. Over time, this can lead to the development of alcohol addiction.
Yet another study suggests that in most cases, anxiety develops before a person develops an alcohol addiction. This means that alcohol misuse doesn't necessarily cause anxiety; instead, alcohol can become a way of coping with anxiety and other negative emotions, including stress.
It's true that alcohol can offer a brief respite from anxious thoughts, but that feeling is fleeting and dangerous. As tolerance to alcohol builds up, a person needs to drink more and more to reach the same effect, resulting in alcohol addiction.
From the provided evidence, we can determine that it's more likely that anxiety comes before alcohol use disorder. The latter, then, is used as a coping mechanism for anxiety.
At the same time, if a person decides to abruptly quit alcohol, they will experience withdrawal symptoms, anxiety included. That is because alcohol misuse causes dysfunctions in the brain's stress-regulation system, ultimately resulting in alcohol dependence.
Alcohol and depression
Studies show that depression is common among people diagnosed with an alcohol use disorder. In fact, people with alcohol dependence are 3.7 times more likely to also be diagnosed with depression.
As is the case with alcohol and anxiety, the relationship between alcohol and depression is bidirectional.
On one hand, alcohol acts as a depressant in high doses, which negatively affects mood regulation. Alcohol, by itself, can lead to feelings of sadness and hopelessness. Prolonged use of alcohol can impair a person's judgment and put a strain on their personal relationships and finances. Losing control over one's life can contribute to feelings of depression.
On the other hand, people who already have depression may use alcohol as a form of escapism to cope with their negative feelings. While providing fleeting relief, the long-term consequences of alcohol use can only worsen the symptoms of depression.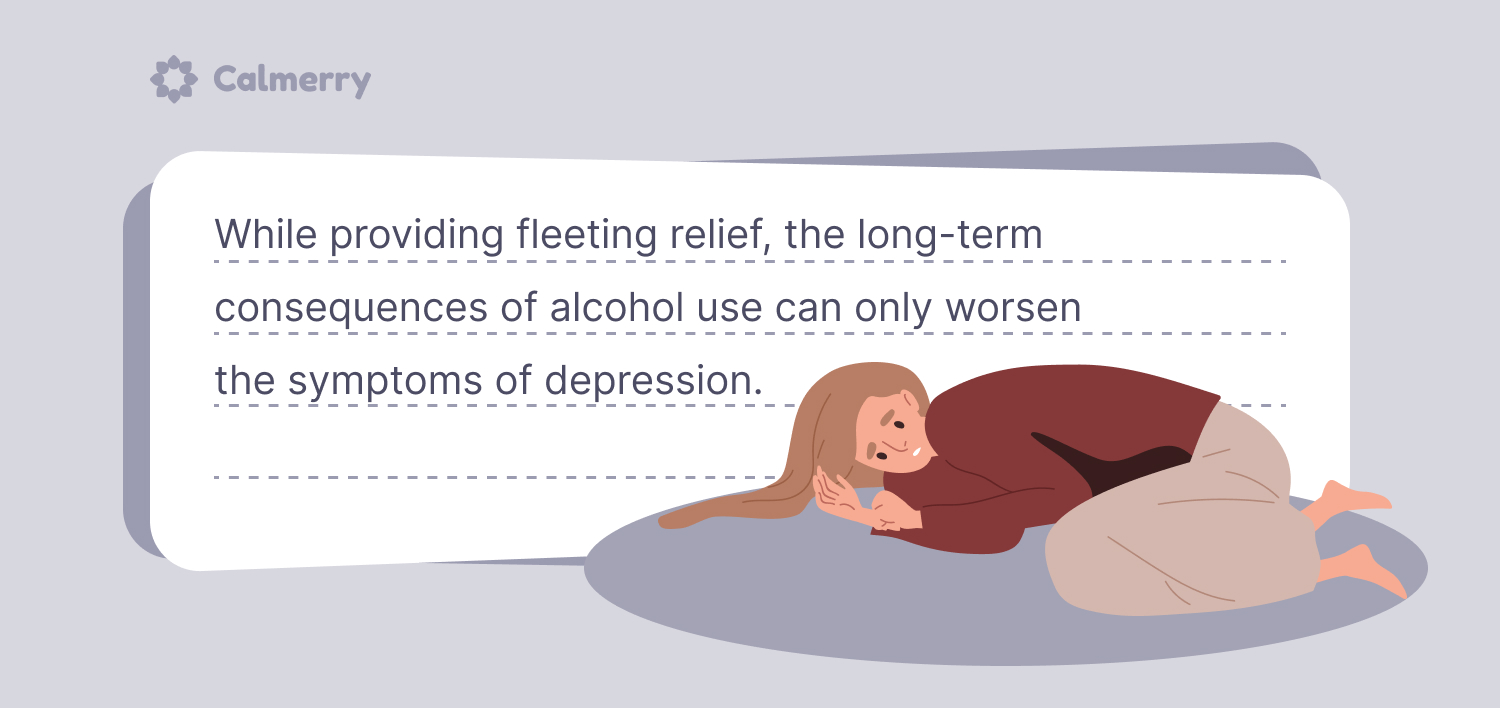 Other emotional consequences of alcohol
Beyond mental health conditions like depression and anxiety, alcohol can lead to a variety of emotional problems. For example, anger and alcohol may go hand-in-hand for some people.
Alcohol intoxication is linked to aggression, violence, impulsivity, and difficulty regulating emotions. Research suggests that the loss of inhibition that comes with alcohol consumption can increase the risk of domestic abuse in some people. Alcohol can make it difficult to control emotions like anger, increasing the likelihood of aggressive outbursts.
Even if a person doesn't engage in violent behavior, alcohol intoxication can make it difficult for them to manage their emotions, leading to mood swings or extreme emotional reactions. A person may be especially offended by a perceived slight when under the influence of alcohol, and they can appear overly emotionally reactive to those around them.
Alcohol and sleep
Alcohol can also interfere with mental health functioning by reducing sleep quality. Studies have consistently shown that even moderate alcohol consumption reduces REM sleep. Heavy drinking is associated with reduced sleep quality and increased time spent awake after falling asleep.
These disruptions to sleep patterns are also why alcohol addiction is linked to insomnia, as those with alcohol use disorder will experience fragmented sleep. At the same time, people who are withdrawing from alcohol are also more likely to experience sleep disturbances.
When alcohol consumption interferes with sleep quality, a person may experience related mental and emotional health consequences. Lack of sleep can lead to excessive fatigue, problems with memory, difficulty paying attention, lack of motivation, mood disturbances, and difficulty with maintaining relationships.
Coping without alcohol
If you're struggling with the mental and emotional effects of alcohol, it's important to develop healthy strategies for coping.
Reducing your drinking will likely improve your psychological well-being and your overall functioning.
If you're not sure how to get started, the following strategies can be helpful:
1. Make time for self-care
Self-care strategies, such as preparing healthy meals, incorporating exercise into your routine, and practicing relaxation techniques, such as yoga or deep breathing, can reduce your stress levels and improve your mental health functioning. When you care for yourself, you won't feel as compelled to turn to alcohol as a form of stress relief.
Mindfulness practices, such as meditation, are another great way to become more attuned to your body's wants and needs. By focusing on the present, you can have a better sense of your triggers for alcohol consumption and take a proactive role in resisting them.
2. Participate in hobbies that don't involve drinking
Sometimes, alcohol consumption becomes a method of dealing with boredom and passing the time. Rather than centering your leisure time on alcohol, find hobbies that don't involve drinking. You might consider joining a local sports league, participating in a garden club, or playing cards with friends.
3. Develop strategies for dealing with cravings
When you're trying to cut back on alcohol use, you may experience cravings, especially if you've been a regular drinker. It's helpful to develop a plan for how you will address cravings so that you know what course of action to take when cravings hit.
You might arrange to call a supportive friend, take a walk, or spend a few moments meditating when faced with a craving.
4. Don't quit abruptly, take the journey step-by-step
Moderation is important in all things, quitting alcohol included. While quitting "cold turkey" (i.e abruptly) can be a sound strategy for some, it is not one that is suggested by healthcare professionals.
With prolonged use, both your mind and body become dependent on alcohol. Abruptly stopping can thus be challenging and emotionally taxing, as you may experience the following psychological symptoms
intense cravings for alcohol
mood swings
anxiety
depression
In severe cases, sudden alcohol withdrawal can also cause dangerous physical symptoms such as
seizures
tremors
hallucinations
high blood pressure
delirium tremens (DT)
On top of being potentially life-threatening, these symptoms can be quite scary and unbearable, causing an individual to relapse and become even more dependent on alcohol, as they do not want to re-experience those symptoms again.
That is why it's important to take things slow and, if you're unsure about how your body will react, consult your physician on a proper way to proceed.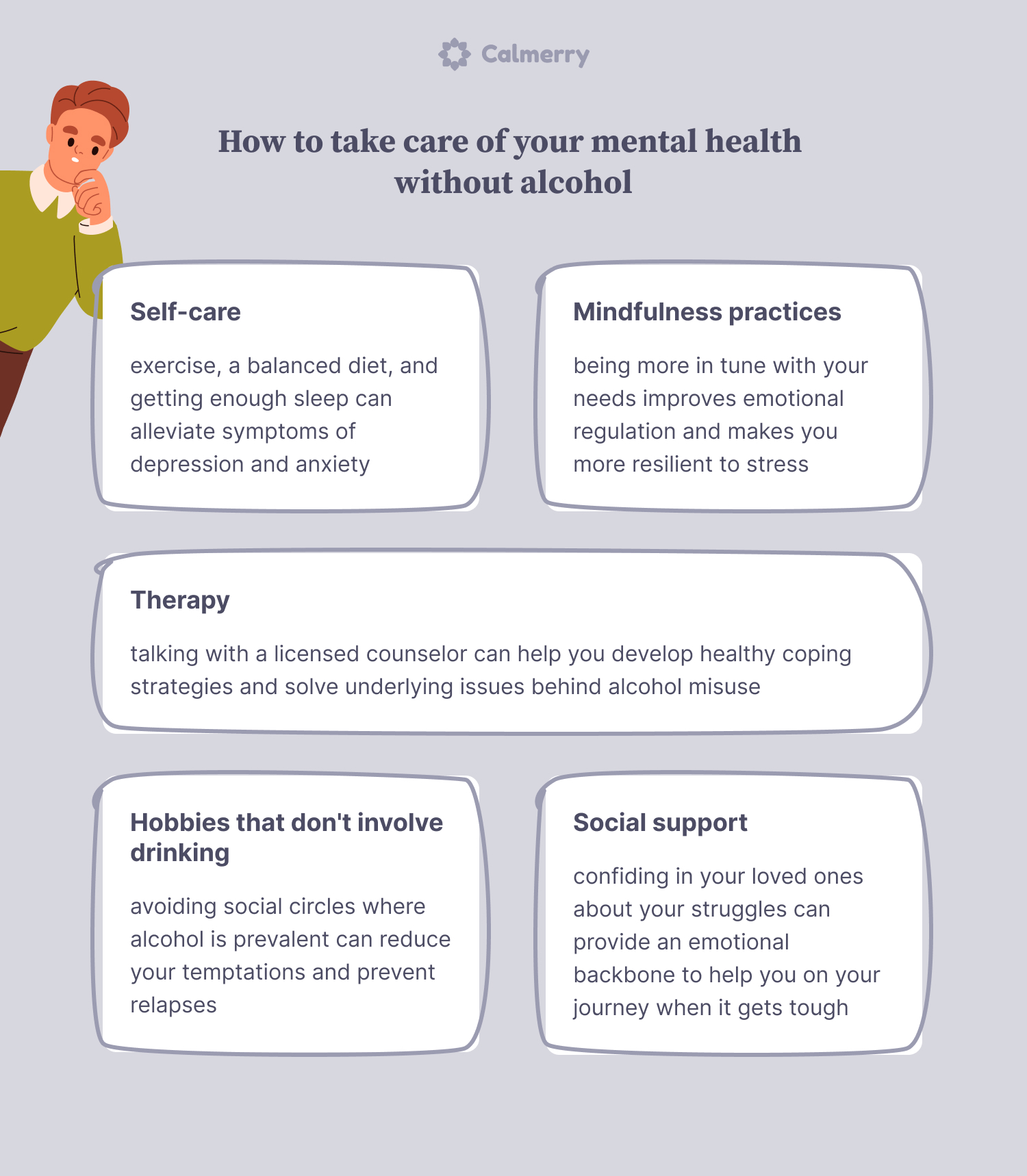 5. Seek social support
Addiction can make people feel isolated, as they become shunned by their social circle because of their behavior. Nonetheless, while it can feel difficult to rebuild those connections, having a strong support group, and someone to talk to, can be a very important part of your journey, and make you feel less solitary.
Seeking treatment for alcohol addiction
The mental and emotional effects of alcohol can make it difficult to stop drinking on your own. If alcohol has begun to cause serious consequences, including mental health problems, you may have an alcohol addiction. When alcohol causes dysfunction in your daily life and worsens your mental health, it's time to seek treatment.
If you've been using alcohol to self-medicate a mental health problem, chances are that the condition has grown worse as you have become addicted to alcohol. Similarly, it's also possible that new mental or emotional health symptoms have arisen as your alcohol consumption has increased.
Whatever the case may be, therapy for addiction is warranted when alcohol consumption is damaging your psychological well-being. Talking with someone about your triggers for drinking can help you to overcome the effects of alcohol addiction and develop healthy coping strategies.
At the same time, we would suggest consulting with your physician before starting therapy, depending on the severity of the alcohol misuse disorder. In some circumstances, they may prescribe a detox therapy that you may need to undergo before starting therapy.
Subscribe
to our mental health digest
Let us support you on the way to better mental well-being. Get expert tips and insights on mental health delivered to your inbox monthly.
Online therapy can be a good place to start your journey as it provides security and privacy to start therapy from the comfort of your home. At Calmerry, we match our clients with counselors based on your survey, which means that we can find a therapist that specializes in treating substance abuse disorders.
Regardless of the path and the platform that you're going to take, we would like to wish the best of luck to everyone who is reading this and is suffering from alcohol misuse. Recognizing the problem is the first part of treating it, and we wish you all the strength you need to go through it.
Сheck your mental well-being for free: