Published March 24, 2022 / Updated March 23, 2023
Setting Free: How Therapy Can Help You Overcome Drug and Alcohol Addiction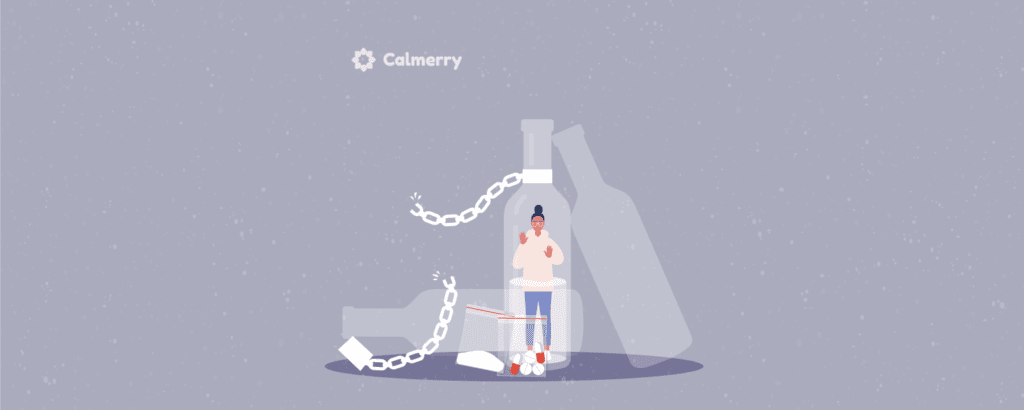 Reading Time:
8
minutes
Over 2% of the world population has an alcohol or illicit drug addiction, which is more common in men. It's a complex, chronic disease that becomes all-consuming and disrupts the normal functioning of your brain and body. The psychological aspect of addiction is as serious as physical dependency.
Drug and alcohol abuse can affect many aspects of a person's life. Not only does it negatively impact your physical and mental health, but also the way you think, feel, and act. It can cause strain in your personal relationships and work life as well. Although breaking a drug and alcohol addiction is tough, it can be done. In this article, we discuss how drug and alcohol addiction is treated and talk about effective therapy modalities that can help you make lasting changes.
Causes & risk factors for addiction
Addiction is still a relatively new concept, and the question of what causes and defines it remains somewhat unsettled. The more research is conducted into the psychology behind addiction, the more complex this question becomes.
When researchers first started investigating what caused addictive behavior, they believed that addiction was a part of the addict's character. People who developed drug and alcohol addictions were considered to be morally flawed or lacking in willpower. But later, addiction started to be seen as a chronic disease that changes the brain structure and function, not a choice or personal failing.
Today, we recognize that addiction hijacks the brain through a series of changes starting with recognition of pleasure and ending with a drive toward compulsive behavior. Currently, it's the most widely held view of addiction among scientists.
Almost all of us may become addicted to a substance because we like the way it makes us feel. Still, research has shown that some people are more susceptible to falling prey to addiction than others. Initial drug use has long been considered a voluntary act, but now, behavioral psychologists point out that isn't necessarily the case.
So why do people get addicted to drugs? There isn't a single cause of drug addiction, but psychologists believe that at the root of addictive behavior is some form of emotional stress, and there are no healthy coping mechanisms to overcome that problem. For many people, drug or alcohol addiction is a sign of a serious problem they may not even be aware of, and this requires long-term counseling and therapy.
Although scientists don't yet understand why some people become addicted while others don't, the causes and risk factors may include:
Genetics, such as a family history of substance abuse
A current mental health diagnosis
Exposure to heavy advertising of substances such as alcohol
Easy access to alcohol or drugs, especially at a young age
A history of domestic violence, abuse, or neglect
Traumatic brain injuries that affect its functioning
Living with chronic pain and fatigue
Why overcoming addiction is so difficult
Drug addicts develop physical dependence on drugs. They physically feel that they need them to avoid the uncomfortable symptoms of withdrawal, to feel good, and to get through their day. As a result, they lose control over their actions and prioritize drug use over everything else that used to be important in their lives – friendships, families, employment. Many of them realize they have a problem, but that happens when drugs or alcohol may have already seized control.
Addiction is not a choice, a moral problem, or a weak character, and it's more than a physical dependence on alcohol or drugs. It's not enough to have good intentions or willpower to break an addiction because it leads to changes in the brain, which make it very hard to quit. And the more alcohol or drugs you've taken, the more disruptive it is to your brain.
Alcohol or drugs can disrupt the pleasure/reward circuits in your brain, so you are hooked into wanting more and more. Addiction can also send your emotional danger-sensing circuits into overdrive, so you feel stressed and anxious when you're not using addictive substances.
Moreover, drug and alcohol addiction can damage the prefrontal cortex, the essential decision-making center that should help you recognize the harmful consequences of using addictive substances. As a result, even if people realize that the price of taking drugs may be extremely high, they still take them.
Since addiction is a disease that has so many dimensions, most people can't be cured when they simply stop taking drugs for a few days. Changes in brain structure and function persist long after drug use has ceased. As a result, drug and alcohol abusers are at risk of relapse even after long periods of abstinence and in spite of the potentially devastating consequences.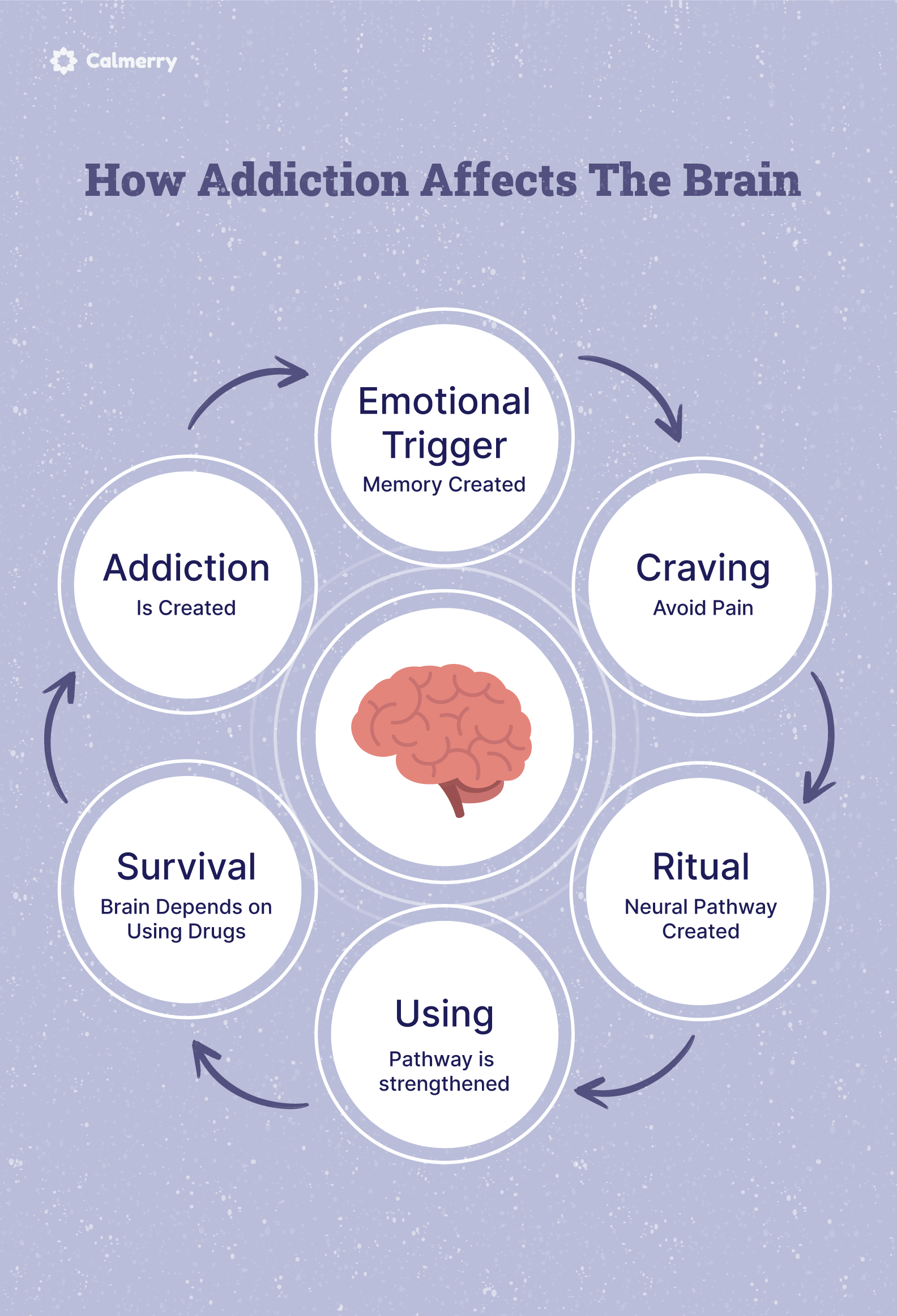 How addiction works
Addiction interferes with functioning of the reward system, which releases the neurotransmitter dopamine, a chemical that makes us feel good when we do something enjoyable. Dopamine reinforces our brain's association between certain things and feelings of pleasure, driving us to seek those things out again in the future. Dopamine also interacts with another neurotransmitter, glutamate, and takes over the brain's system of reward-related learning.
Drugs cause the brain to release mass amounts of dopamine, giving you a sense of a "rush" or "high." Then they prevent the brain from reabsorbing the dopamine, making the pleasurable experience last unnaturally longer.
After a substance wears off, the brain struggles to regain its normal chemical balance that results in a hangover, or withdrawal, from a substance. The side effects may include irritability, anxiety, nausea, and vomiting. And the desire to experience euphoria again prompts people to continue seeking an addictive substance.
As you continue using a substance, this actually changes the brain's chemistry to the point where normal healthy activities, for example, having sex, making art, or eating favorite foods, don't produce the same amounts of dopamine that they used to. That's why it's common for addicts to lose interest in hobbies and other things they once enjoyed.
Over time, the brain receptors of an addicted person become overwhelmed, and the brain develops a tolerance. It adapts and produces less dopamine as it naturally does or eliminates dopamine receptors. These changes actually make the sought-after substance less pleasurable, and people who develop an addiction have to take more of the desired drug just to feel normal.
This creates further withdrawal and leads to a physical dependency, creating a vicious cycle that can be extremely hard to break. The brain's motivational center also becomes reorganized, and using the substance becomes top priority. An addicted person loses control over their behavior – the urge to take the substance will be irresistible. This can result in health issues, losing a job, and relationship problems, among other things.
The role of therapy
Drug and alcohol addiction is a disease and it can be managed successfully just like other chronic diseases. But you should keep in mind that addiction is typically a chronic disorder that is characterized by occasional relapses. That's why a short-term, one-time treatment is usually not sufficient. For many addicts, it's a long-term process with multiple interventions and regular monitoring.
There are different evidence-based approaches to treating addiction. The treatment can include medication, psychotherapy, for example, cognitive behavioral therapy or contingency management, or their combination. For most people with substance use disorder, the most effective treatment is a combination of medication and individual or group therapy. A recovery plan is unique to each person's specific needs and may include different strategies outside of formal treatment.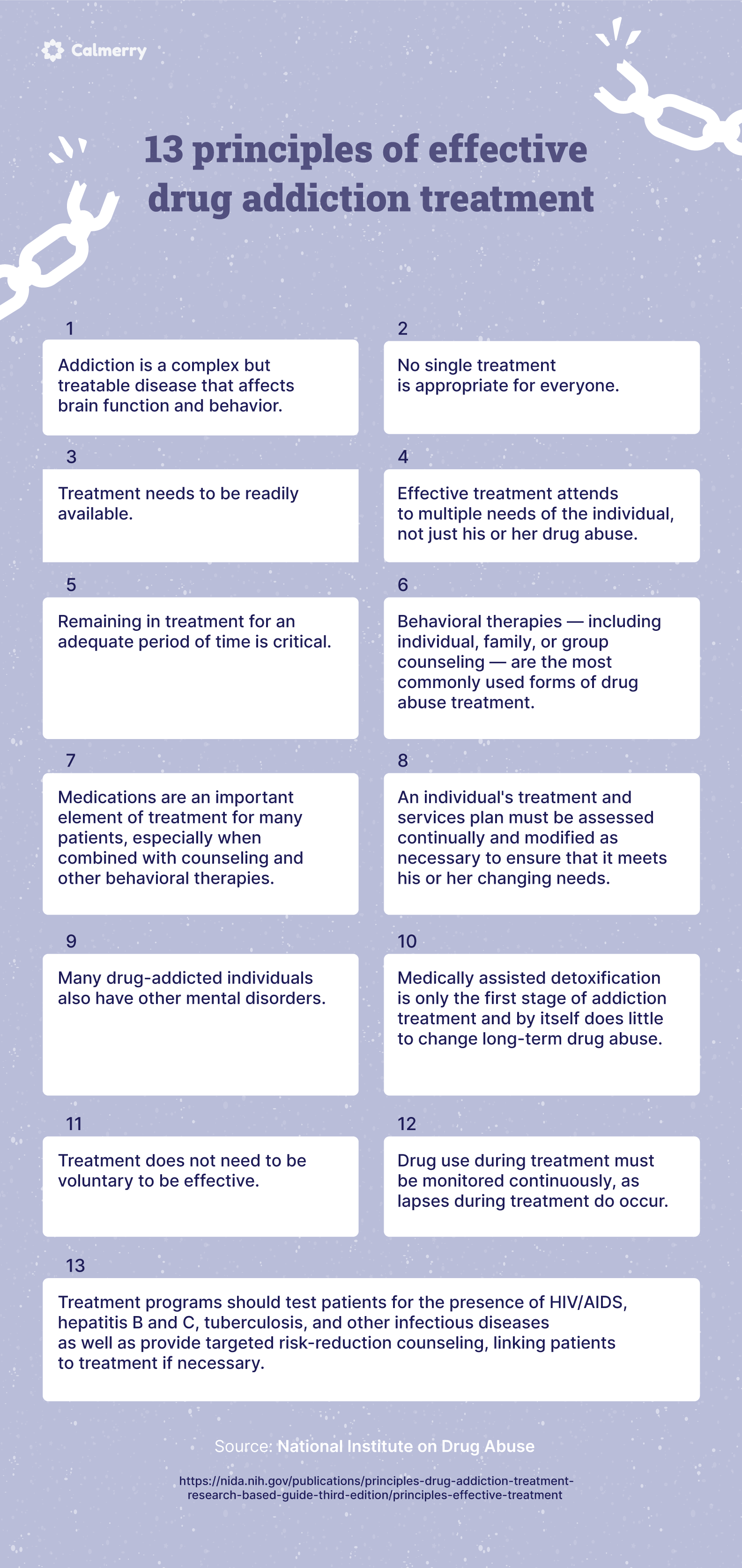 The first stage of addiction treatment is medically assisted detoxification. It can manage the acute physical symptoms of withdrawal and is an important element of treatment. But it can't help change long-term drug abuse. Even after detoxification, a person can be susceptible to relapsing because their brain was affected by prior repeated use to such a critical degree. Detoxification is just the start of a long process through which you'll learn to manage cravings and avoid relapse.
Psychosocial treatments that promote behavior change are now considered important components to any comprehensive treatment program. Therapy is the most commonly used form of treatment for substance abuse and dependence that can help you achieve long-term abstinence. Here is why.
Therapy can help motivate patients to participate in treatment and offer strategies to cope with drug and alcohol cravings
It teaches effective ways to prevent relapse and helps you deal with relapse if it occurs.
A therapist can help you work through unresolved emotional problems that may be leading you to use alcohol and drugs, such as past trauma, abuse, or grief
Psychotherapy can encourage you to be honest, expressing yourself without fear of judgment, and help you develop communication skills
A therapist can assist you in repairing damaged relationships, acting as a mediator, and help you improve your parenting skills.
Many people who use drugs and alcohol may also have other mental disorders, such as depression, anxiety, and bipolar disorder. A therapist can help you identify, understand, and manage these co-occurring conditions.
Types of therapy to overcome addiction
There are many types of therapy available to effectively treat addiction. Let's take a look at the most popular approaches supported by research.
Cognitive behavioral therapy
CBT is a widely used solutions-oriented approach in addiction treatment. CBT focuses on identifying the negative thoughts and maladaptive behavioral patterns that play a part in addictions and replacing them with positive thoughts and behaviors. Cognitive behavioral therapy has been shown to be very effective in helping people overcome different kinds of addictions.
A therapist can help you develop coping skills that can last a lifetime. You'll learn how to recognize cravings early, identify risky situations, avoid them, and prevent relapse. You'll also learn how to change your behavior to make a positive change in your life. CBT can be combined with medication and other types of behavioral therapies to produce even more powerful effects. The skills you learn through CBT for addiction can be used to address co-occurring mental health disorders as well.
Motivational interviewing
Motivational interviewing is a brief client-centered counseling approach that aims to evoke rapid and internally motivated change. It addresses your ambivalence and resistance to change and focuses on empowering you to make a change in behaviors that may prevent you from reaching your goals. This technique helps increase your readiness to change, set direct goals, and stay motivated to achieve them.
Usually, MI is combined with other therapy modalities and is useful for people who are less motivated or ready for change. The practice involves structured conversations with your therapist that help you increase your motivation to overcome substance abuse. It provides you with a supportive space to explore your particular situation and incorporates 4 basic principles in therapy:
Rolling with resistance
Expressing empathy through reflective listening
Developing discrepancy between a patient's goals or values and their current behaviors
Developing self-efficacy and optimism
Contingency management
Contingency management is an evidence-based treatment approach based on principles of behavior modification. Research has demonstrated that interventions based on contingency management principles are highly effective in promoting abstinence from drugs, especially alcohol, stimulants, opioids, marijuana, and nicotine. Using this method, therapists provide tangible incentives to reinforce positive behaviors and encourage patients to stay off drugs.
Rewards may include offering clinical privileges, cash, or even restaurant vouchers for each clean drug test. And although such rewards might seem small, studies have shown that carefully structured contingency management programs can help people who suffer from addiction stay clean.
Dialectical behavior therapy
DBT focuses on acceptance and change and can be adapted for many substance abuse cases. It teaches people how to regulate their emotions to reduce the self-destructive behaviors that derive from extreme, intense emotions. This method focuses on 4 skill sets that include emotional regulation, distress tolerance, mindfulness, and interpersonal effectiveness.
Dialectical behavior therapy works to reduce cravings and help clients avoid situations or opportunities to relapse. It helps people find emotional balance and learn healthy coping skills. During sessions, clients learn to live in the present instead of dwelling on the past, manage emotions and distress in healthy ways, and practice honest communication.
Family therapy
Therapy may also involve family members to help them develop a deeper understanding of substance use disorder, learn more about how to support their loved one's recovery, and improve overall family relationships. This approach can be very helpful with teens and young adults and improves their chances of recovery.
Family therapy addresses not only drug and alcohol addiction but other co-occurring problems, such as family conflict, child mistreatment, depression, and unemployment. Studies reveal that family therapy helps achieve lower relapse rates and results in increased happiness in the family.
Subscribe
to our mental health digest
Let us support you on the way to better mental well-being. Get expert tips and insights on mental health delivered to your inbox monthly.
Final word
Addiction is a chronic, relapsing illness, but it is treatable and can be successfully managed. With the right treatment, it's possible to recover and lead a healthy life. Still, you should keep in mind that overcoming drug and alcohol addiction is a process that requires time, patience, and empathy.
There are a number of different treatment options that can be effective. Some of the most strongly supported evidence-based behavioral treatments for substance abuse include CBT, motivational interviewing, and contingency management. Research suggests that online therapy can also be effective for treating substance use disorders and other addictions.
Because addiction impacts each person differently, there is no one-size-fits-all approach when it comes to recovery. No one method works for everyone, so it's important to consider the options and find an approach that works for you.
Try Calmerry therapy
Сheck your mental well-being for free: