Published January 26, 2022 / Updated March 16, 2023
8 Tips for Setting Goals in Therapy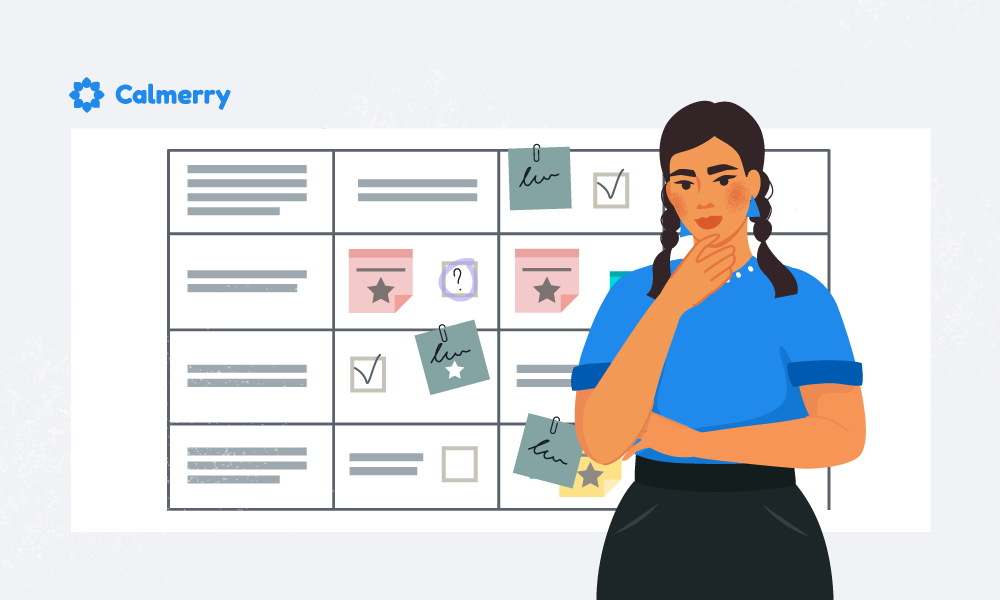 Reading Time:
5
minutes
If you've ever been in therapy, chances are you're familiar with the question, "What brings you here?" Simple and straightforward on the surface, this can also be one of the most complex and baffling questions.
Collaborative goal setting can break this question down into concrete terms by delineating what you want to be addressed in therapy. When used in time-limited therapeutic approaches such as cognitive behavioral therapy, solution focused therapy and motivational interviewing, it has the potential to increase a client's motivation, strengthen the therapeutic alliance, improve treatment outcomes and reduce the number of sessions needed.
When therapists don't set goals
There are certain therapeutic approaches, such as depth psychotherapy, where goal-setting might not make sense. While treatment goals are often symptom-focused, in these modalities symptoms are considered surface-level indicators of deeper issues to be discovered and worked through.
For example, in Jungian analysis, the goal of individuation is already baked into the treatment. Individuation is a process of developing an ongoing relationship between your conscious mind, your unconscious, the collective unconscious and your environment. You might explore how you react to challenges, how you manage complexity and most importantly, be willing to commit to hearing the snippets that arise from your unconscious, whether it be through dreams, sensations, images, experiences or events. Setting therapy goals may interfere with this process because if your goal is to reduce a symptom, you might bypass the deeper issue that the symptom is signaling.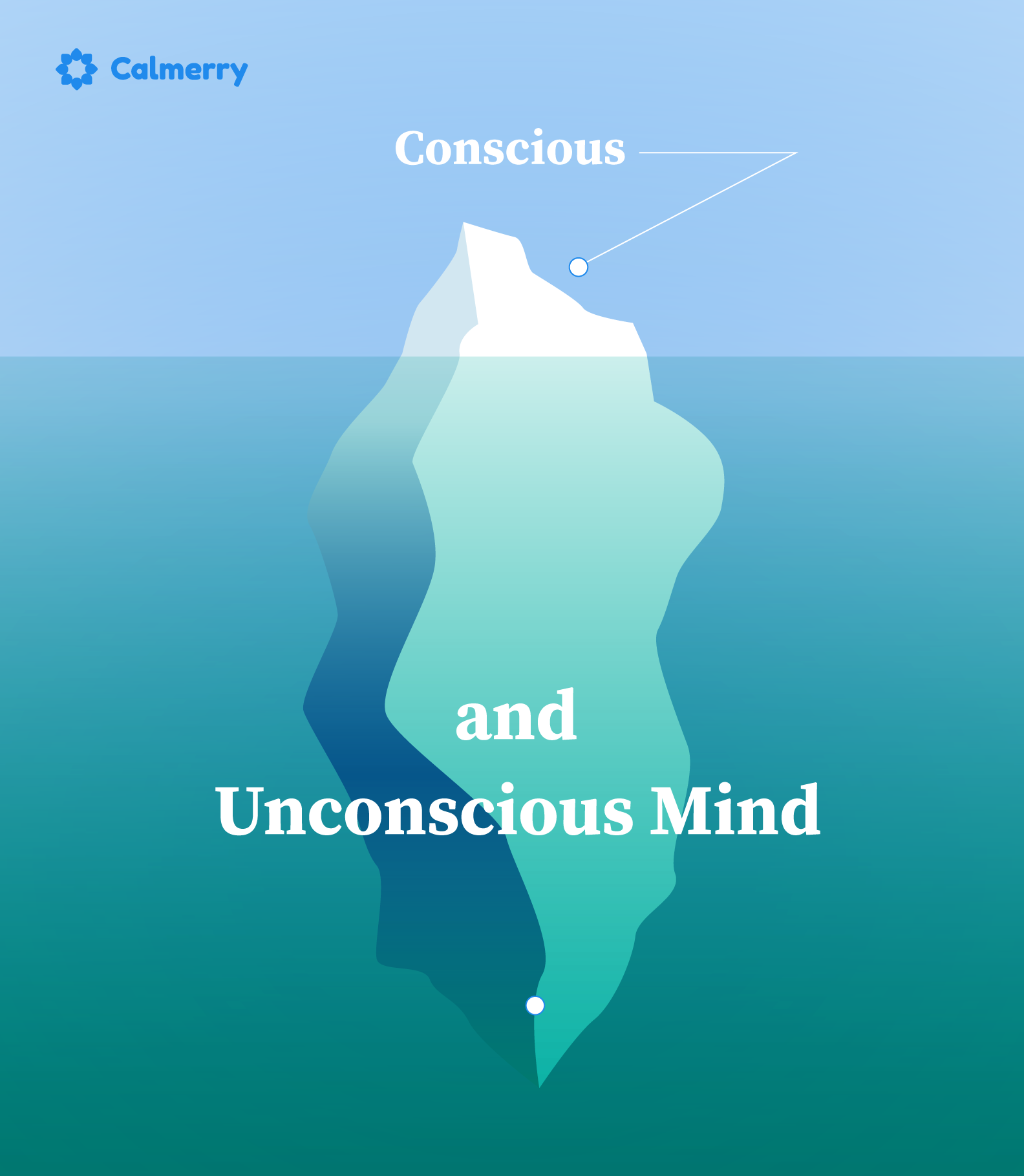 What are therapy goals and objectives?
Some therapists will work with you to set broader level goals that align with your values. They'll then support you in breaking that goal down into concrete objectives that will help you reach your overarching goal.
For example, a person's goal might be to improve their self-esteem. An objective towards this goal could be to identify one thing each day that they are proud of. This could be anything from getting out of bed or brushing their teeth, to taking a walk, or doing something that they were reluctant to do.
Another person's goal could be to become more assertive. An objective towards this goal would be to speak up at least once a day in professional meetings or class discussions.
How to set goals in therapy
Goals may revolve around several themes including:
Developing coping strategies
Reducing symptom intensity
Discovering more about who you are
Practicing mindfulness
Improving sleep
Increasing self-esteem
Addressing challenging dynamics
Processing past trauma
Changing harmful habits
Improving communication skills
Learning to set boundaries
Below are eight tips that can guide you through the process of setting goals in therapy.
1. Set goals from the get go
One study of more than 700 adults found that people perceived more goal clarity when treatment goals were developed at the start of treatment and in collaboration with the therapist. It was also shown that regularly checking in on and adjusting goals can have a positive impact on treatment.
2. Brainstorm
If you're stuck, think about as many reasons as you can for why you started therapy. They don't all have to be true; it's a brainstorm. You can also ask your therapist to give you a prompt such as:
What changes would you like to see in your life?
What's going well for you?
What are you tired of?
What's on your bucket list?
Is there any specific issue that prompted you to start therapy?
Consider which answers strike a chord with you and delve deeper. See what you can find.
3. Get specific
You might first think that the answer is right in front of you. You want to feel better, less lonely or get unstuck. While it's important to be in touch with these feelings, they're a bit too vague to know exactly how to work towards them. Consider the difference between these two goals:
I'll do my best to connect with people
I'll reach out to one friend or acquaintance per week for 6 weeks
With the "do your best" goal, how would you know if you've achieved it?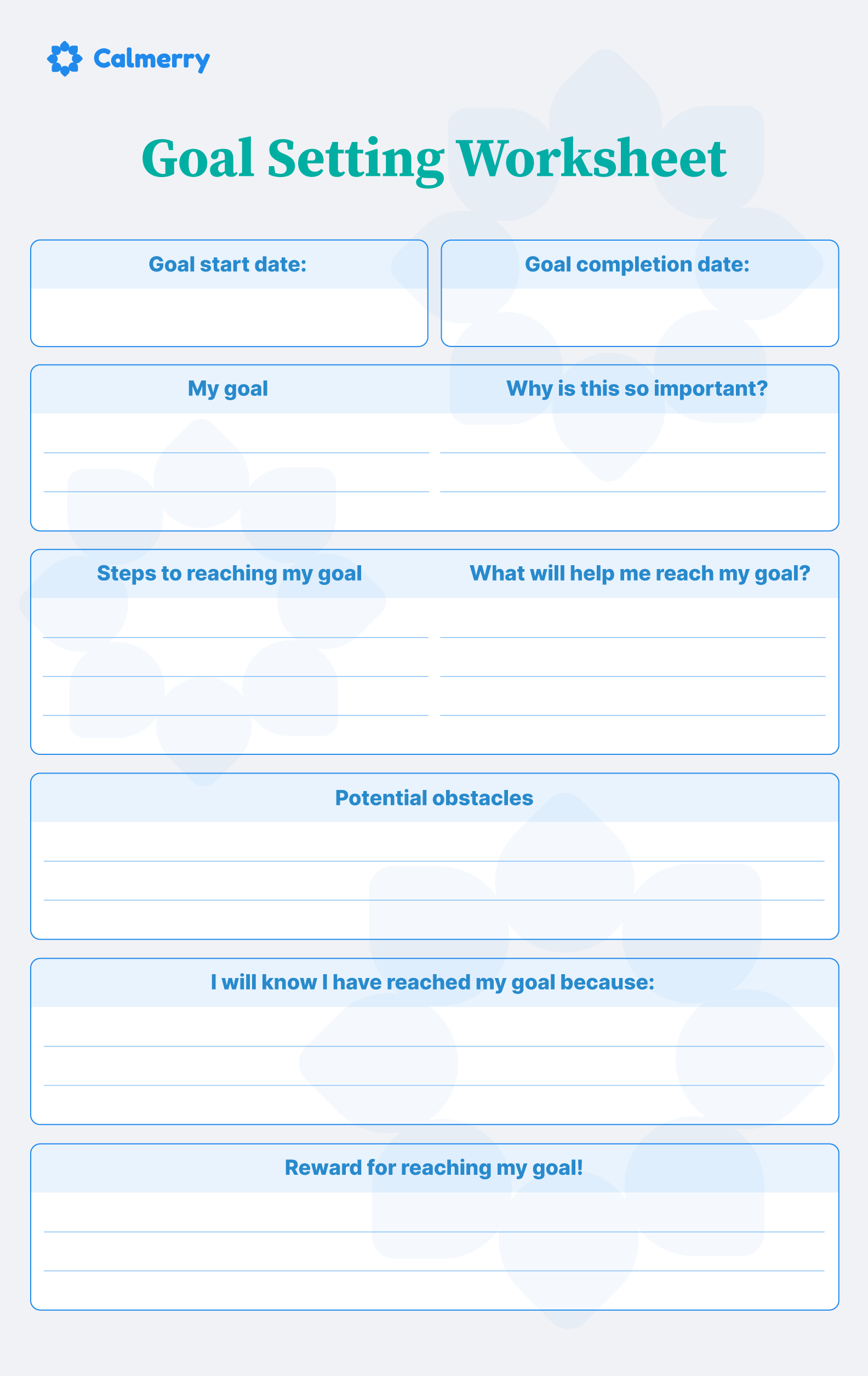 4. Focus in
It's possible that there's a lot in your life that you'd like to work on and you want to do it all at once. You might be having serious problems at work and at home. Your harmful habits could be affecting your health, your finances, and your relationships. And maybe you're having trouble getting on track with anything.
Work with your therapist to get more clarity on where you want to start and what you can address.
5. Think in positive terms
Consider whether there is a way to frame your goal around what you do want rather than what you hope to avoid. For example, rather than developing a goal around not sleeping in as much, think about creating a goal that focuses on when you want to get out of bed each day.
6. Follow a structure
If your goals are too vague or abstract, it's hard to know if you're actually reaching them or even what you can do to move towards them. Developing goals within the SMART framework is a potential solution to this. The SMART acronym stands for:
Specific: Identify what your goal exactly is and where it will take place.
Measurable: Make sure there is a way to measure your progress and know when the goal has been achieved.
Achievable: Ask yourself whether it's actually possible to meet the goal.
Relevant: Consider whether the goal fits with your overall values.
Time-bound: Formulate a clear timeline for completing the goal (or smaller pieces of the goal). If it's a repeated behavior, make a plan for when and how often.
For example, instead of setting a goal to be healthier, you might say "I plan to go on a 30 minute bike ride three times per week."
Another acronym that you can consider using is GROW. This stands for:
Goal: Define what it is you want, and identify how you'll know when you've achieved it.
Reality: Be sure that you have a good chance of being able to reach your goal.
Options & Obstacles: Consider your options for reaching your goal. What obstacles will you face?
Way forward: Develop a plan to move towards your goal.
7. Be kind to yourself
Change is not easy and often doesn't happen overnight. Take care of yourself as you embark on this journey and be patient. If you get off track or experience a setback, know that it's a normal part of the journey. See what you can learn from it and consider adjusting your goal if it is too difficult to do it all at once.
Subscribe
to our mental health digest
Let us support you on the way to better mental well-being. Get expert tips and insights on mental health delivered to your inbox monthly.
8. Collaborate with your therapist
If your therapist sets all of your goals for you, there's a very low likelihood that you'll achieve them. You also probably won't feel very good about yourself. That said, your therapist can absolutely support you in developing goals that fit within your larger value structures and long-term hopes.
A meta-analysis reviewing studies between 1978 and 2017 found that when a client and therapist are able to find consensus around therapy goals, treatment outcomes may improve. In addition, further research indicates that goal setting may be most effective when it is done and tracked in collaboration with another person.
Think of your therapist as a resource who can check in with you regularly and support you in adjusting your goals as they shift and change over time. If you haven't made goals but would like to, talk with your online therapist and they'll work with you to formulate goals that make sense for you.
Try Calmerry therapy
Сheck your mental well-being for free: