Published September 27, 2022 / Updated March 23, 2023
Decisions, Decisions: What Type of Therapy Is Best for Me?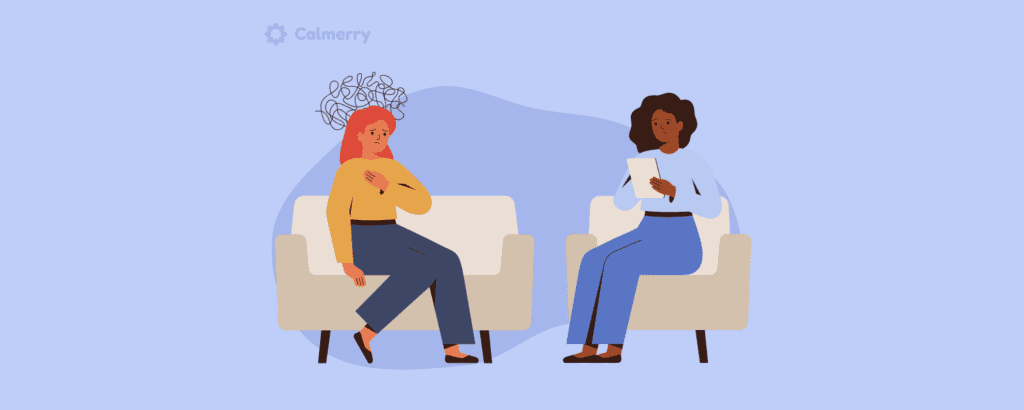 Reading Time:
13
minutes
You've made the decision. You're going to start therapy. Easy enough, right? It is until you start your search.
If you've done a search for "therapy", you've probably been overwhelmed with the many approaches and types of therapy available. Some of them you probably recognize. Others are new to you. Honestly, reading down the list of therapy options looks like a bowl of alphabet soup.
You're left wondering, "What does it all mean? What type of therapy do I need?"
If this sounds like you, you're not alone. The fact is, the American Psychological Association maintains a list of psychological treatments that includes at least 90 evidence-based therapies, but the list is not all-inclusive. Some estimate that there are 100 or more therapies and approaches to choose from.
As with most things, there's more than one way to access and engage in therapy. There's no "one way" to treat depression or anxiety, PTSD, or other mental health issues. To help you make sense of the alphabet soup, we're breaking down the most common types of therapy and therapeutic approaches so that you can be in the know!
What does therapy look like?
When you think of therapy, you might think of sitting in a therapist's office or lying on a couch recounting your childhood for weeks on end. While that might have happened in days gone by, therapy today is very different. In the therapy world, we've come a long way!
It could involve talking with someone, whether in person or through various virtual platforms, making the therapeutic process more flexible and tailored to your unique needs. How you access therapy, and what form it might take, is driven in part by your needs and what you might be seeking help for.
Individual therapy
These are sessions between you and a therapist. It's the traditional 1:1 psychotherapy that you'd expect. This is the type of talk therapy most people recognize and seek out.
Couples therapy
These sessions involve the two partners and the therapist. The focus is on the relationship and the issues that bring you to counseling. It's sometimes referred to as marital therapy, marriage counseling, or couples counseling. It's usually conducted by a therapist who is specially trained in addressing couples/relationship issues.
Family therapy
Family therapy involves sessions with the therapist that include family members, most often parents and their children, often including members of blended families such as stepparents, stepchildren, and other significant family members. Family therapy focuses on improving family dynamics and communication and is conducted by a therapist trained in family therapy approaches.
Group therapy
Group therapy sessions involve several clients who share similar issues meeting with a therapist over the course of weeks or months. Issues are addressed collaboratively in the group. Group can be found in therapeutic settings of all kinds and is often used as part of treatment for addiction.
Whether it's individual, couples, family, or group therapy, you'll find that there are a number of therapeutic approaches to therapy. Each has its own theoretical foundations and degrees of effectiveness.

Subscribe
to our mental health digest
Let us support you on the way to better mental well-being. Get expert tips and insights on mental health delivered to your inbox monthly.
The most common types of therapy
With so many types of therapy, it can be kind of confusing when you're trying to understand the differences and what might be the best choice for you. Here are some of the most common types of therapy you're likely to encounter:
Cognitive behavioral therapy (CBT)
Perhaps the most widely used and most researched therapeutic modality, CBT is based on the idea that our thoughts influence feelings which in turn influence behavior. Difficulties arise based on inaccurate or negative ways of thinking. When you change your thinking, you can change your behavior.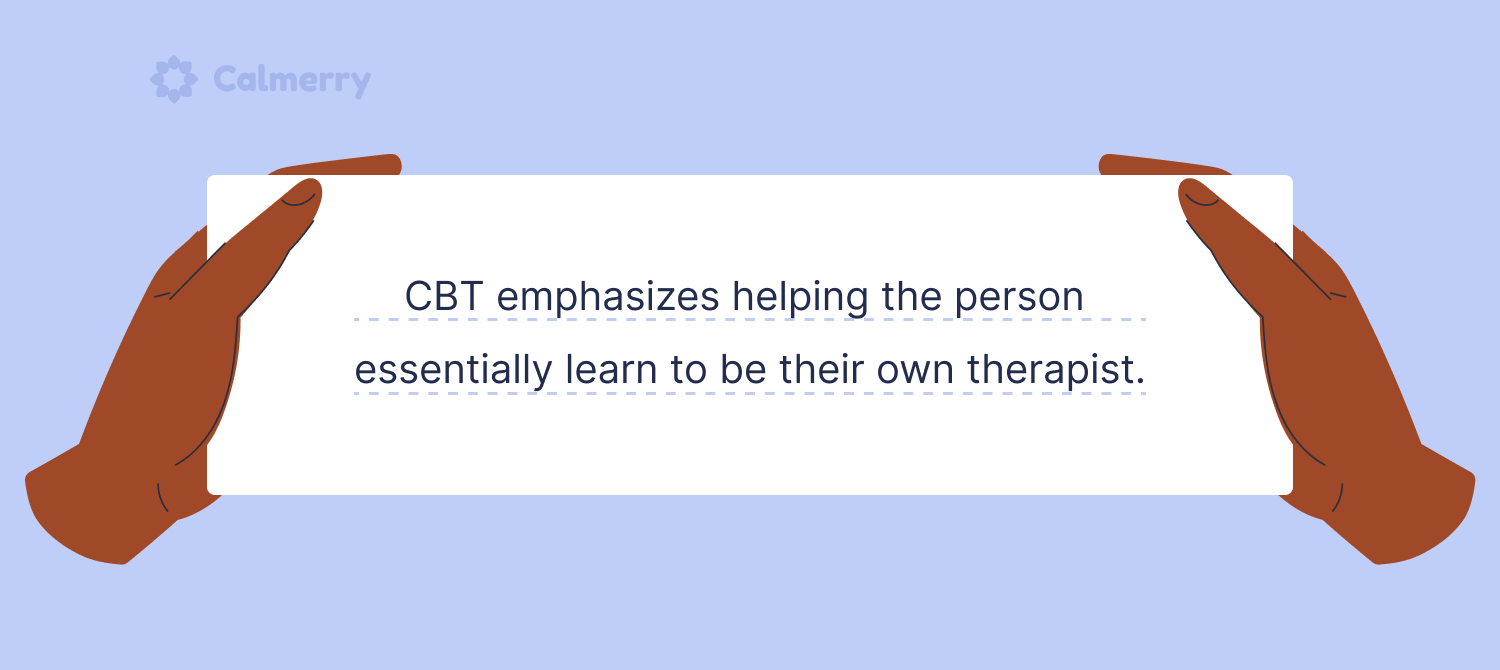 Cognitive Behavioral Therapy (CBT) is one of the most effective approaches in the therapy world, and for good reason:
CBT has been proven to be highly effective for a number of issues including anxiety and depression, addiction, marital issues, and even severe mental illness.
CBT is easy to apply. CBT emphasizes helping the person essentially learn to be their own therapist. Using specific exercises in session and as "homework", the person learns new ways of thinking and coping with their stressors.
Dialectical behavioral therapy (DBT)
Closely related to CBT, Dialectical Behavioral Therapy (DBT) was originally developed to treat Borderline Personality Disorder (BPD). It is based on the premise that some people experience their emotions quite intensely. In order to regulate those intense emotions, they tend to react in impulsive and sometimes harmful ways (e.g., self-harm, suicidal behavior).
DBT focuses on teaching behavioral skills in mindfulness, distress tolerance, interpersonal effectiveness, and emotion regulation to help people learn healthy ways to manage their emotions and create healthy relationships.
What makes DBT unique is that, unlike CBT, DBT brings together two opposing concepts in therapy – acceptance and change. There is a focus on both the acceptance of a person's experience balanced with the work needed to change problem behaviors. DBT is a highly structured, intense form of treatment. It involves a blend of individual and group therapy as well as prescribed homework.
You might be thinking that CBT and DBT sound an awful lot alike, and you wouldn't be wrong. They do have quite a bit in common and are both widely accepted as effective, evidence-based treatment options.
One thing to note about CBT vs. DBT however: while they do share some things in common, they are distinctly different therapies:
Focus of therapy:
CBT focuses on identifying and changing negative thought patterns that influence behavior.
DBT focuses more on the balance between acceptance and change.
Time in therapy:
Of course, time will vary for each person but in general:
CBT, being solution-focused, is often completed in weeks (about 12-24 weeks) as opposed to months or years. CBT is generally conducted 1:1 with the therapist.
DBT involves weekly individual sessions with your therapist and group therapy sessions. DBT is a highly structured approach that requires the completion of modules. That can take months or in some cases, even years.
Who:
CBT has been shown to be highly effective in the treatment of issues including depression, anxiety, phobias, and PTSD.
DBT is the treatment of choice for those with BPD, self-harming behaviors, and suicidal ideation. It may also be helpful in the treatment of trauma-related disorders including PTSD.
Many therapists are trained in both CBT and DBT. They can help you determine whether one of these therapeutic approaches is right for your needs.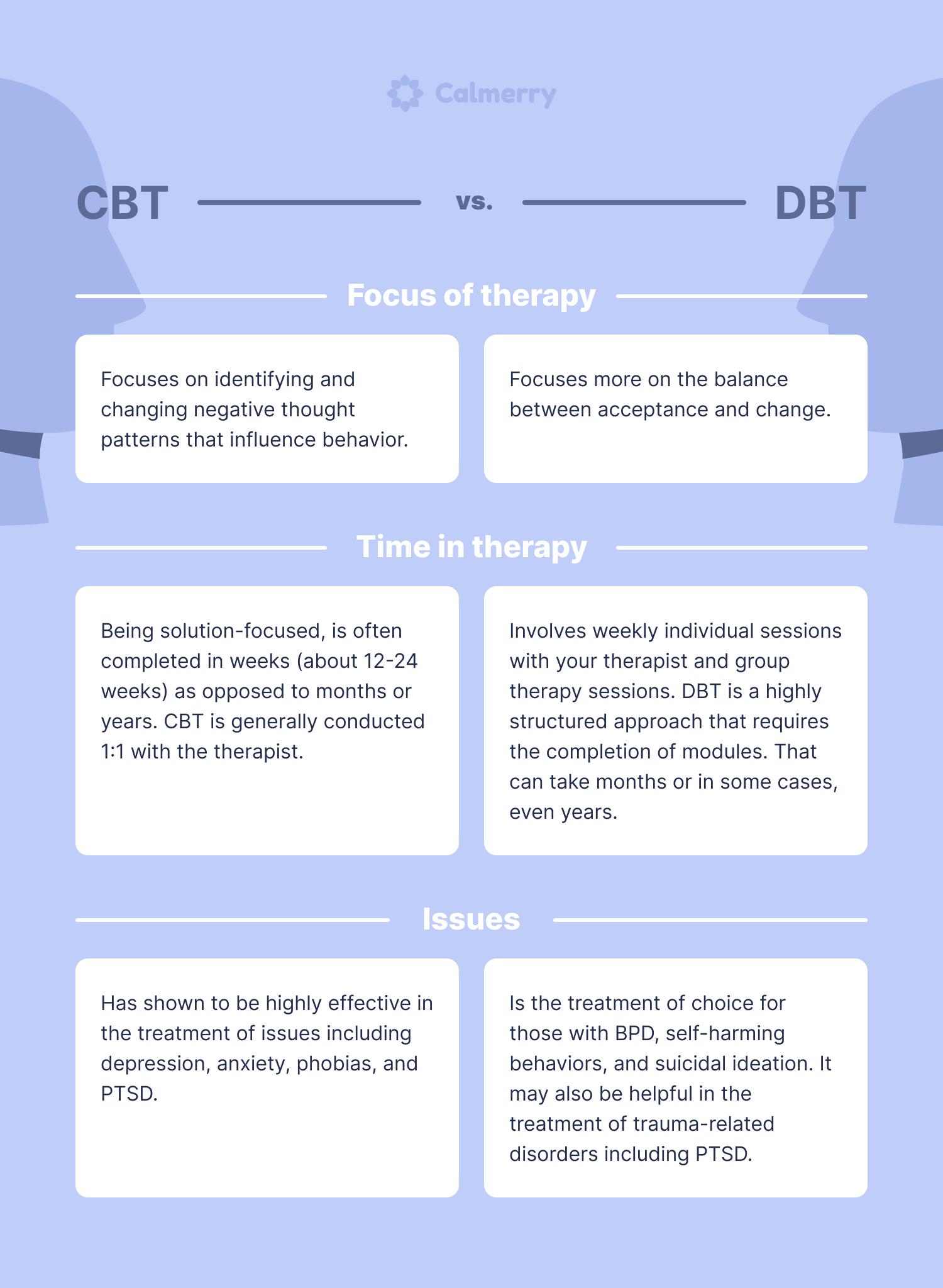 EMDR
According to the EMDR Institute, EMDR (Eye Movement Desensitization and Reprocessing) is a form of psychotherapy originally developed to help people who have experienced trauma heal from the emotional distress that results from those experiences. Recognized as a highly effective treatment for PTSD, EMDR works by accessing the brain's information processing system.
Highly trained clinicians use specific procedures that activate the natural healing process resulting in the reduction of symptoms. Unlike traditional talk therapy, the insights and gains are the results of the client's own emotional processing and less on talking through issues.
In addition to trauma, EMDR has also been shown to be effective in treating phobias, anxiety, depression, OCD, chronic pain, addictions, and other distressing life experiences.
Psychoanalysis and psychodynamic therapy
Psychodynamic therapy is a type of therapy that focuses on self-understanding and the "why" – why you feel the way you do or do the things you do. What are the deeper issues behind your thoughts and behaviors?
If psychodynamic therapy reminds you of Sigmund Freud, you're not wrong. Psychodynamic therapy has its roots in Freud's psychoanalysis. The goal of psychoanalysis is to bring the unconscious to conscious awareness to better understand yourself and the things that shape your thoughts and behavior.
Today's psychodynamic therapy has evolved from its psychoanalytical beginnings and is more than just talking about your childhood for hours on end.
Psychodynamic therapy is now recognized as an effective, time-limited, evidenced-based therapeutic approach. It can be used to treat a wide variety of issues including depression, anxiety, panic and stress-related physical ailments.
During sessions, you're encouraged to say whatever comes to mind, a process known as free association. While it can seem odd at first, verbalizing what comes to mind can help you and your therapist identify important wants and needs, fears, and concerns.
As you work, you'll explore emotions, patterns of behavior, defensive or avoidance behaviors, relationships, and more. It's like following the breadcrumbs from past to present. The goal is to help you work through past issues and learn to make mindful choices. It places you in control of your decision-making and not relying on past influences or patterns.
Humanistic therapy
Humanistic therapy is not one single "therapy" but a therapeutic approach that emerged from humanistic psychology's recognition of the innate goodness of people and their capacity for positive change. Humanistic therapy is a more holistic approach, focusing on the person as a whole and their potential for change, addressing issues through personal growth.
It has shown to be effective for a number of mental health and interpersonal issues with changes sustained over time.
Types of humanistic therapy include:
Client-centered therapy
Sometimes referred to as person-centered therapy, this approach recognizes the client as an equal partner in the therapeutic process. It rejects the idea that the therapist is the "expert" on the client's inner experiences. Working together, healing and change occur through the therapist's support, care, and concern.
Gestalt therapy
Gestalt emphasizes what's known as "organismic holism," the importance of being in the here-and-now and accepting responsibility for themselves. The focus of therapy is on the client's perceptions of their experiences, understanding context, and how they interpret the meaning.
Some of the techniques you've probably heard of include the empty chair and role-playing. Gestalt sometimes incorporates creative arts such as painting or drawing to increase mindfulness and learn how to process the experience in the moment.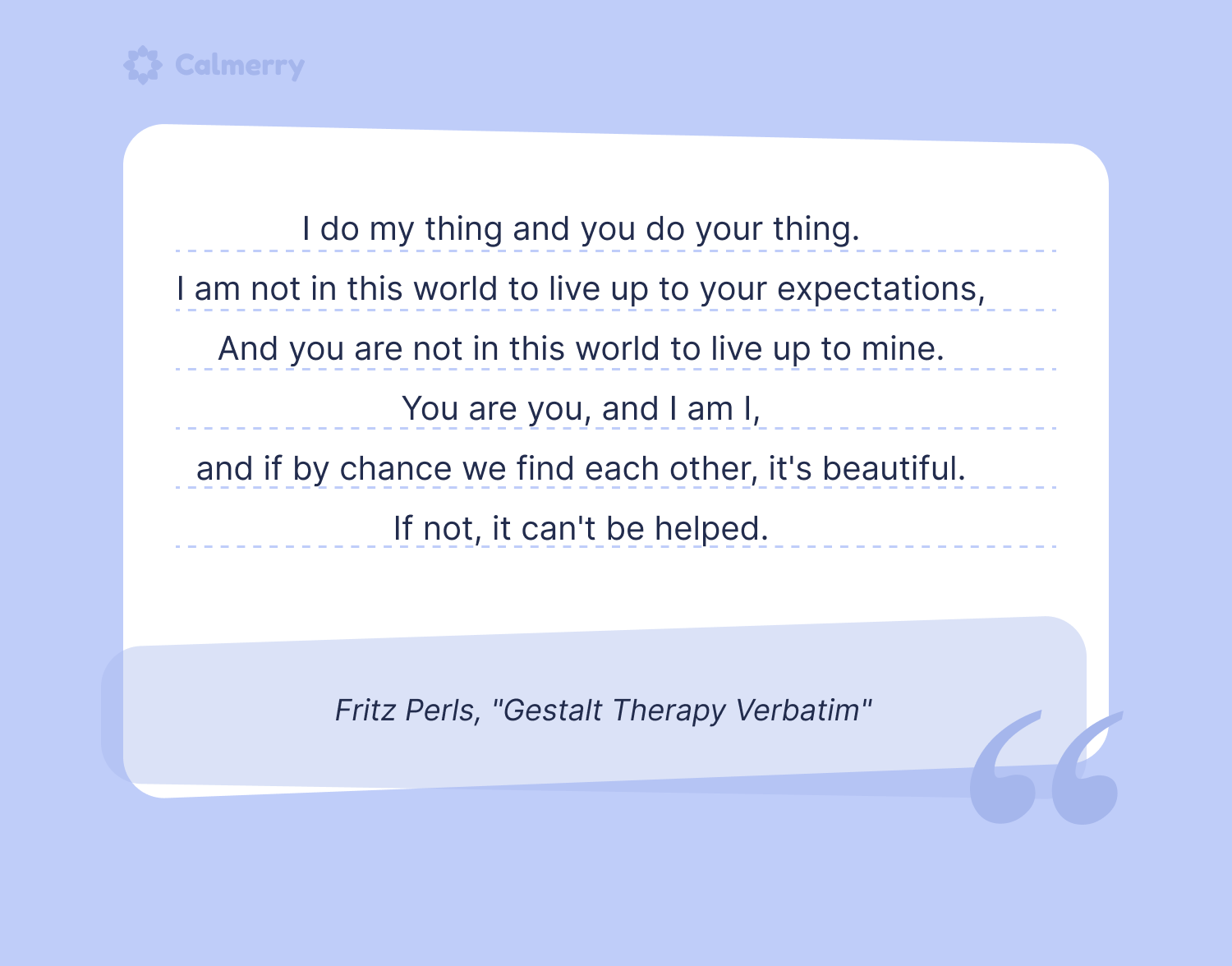 Existential therapy
This approach is somewhat more philosophical and focuses on self-determination and the search for meaning in their world. Existential therapy works by helping people to find meaning in their lives and take responsibility for making changes that bring meaning and fulfillment.
Family therapy
Family therapy, like many other therapies, is not a one-size-fits-all type of therapy. The overall goal of family therapy is to improve the family's functioning through effective communication and problem-solving. There are several types of family therapy that can be used, depending on the family's issues and the therapist's theoretical orientation.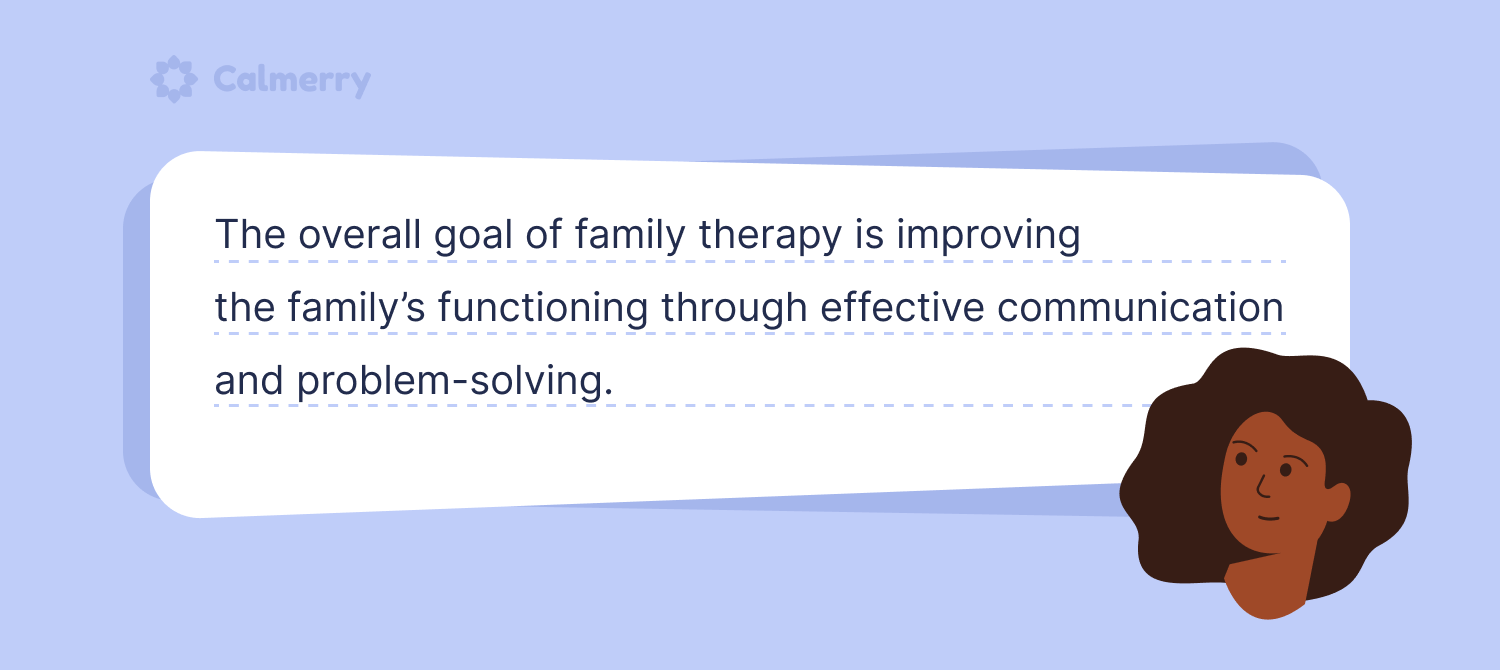 Family systems therapy
This popular approach is based on the idea that a family is essentially a system made up of individuals, each with their own strengths and needs, that ideally work together. When families are in conflict, the system is out of balance. An analogy often used is that of a mobile you would find over a baby's crib.
When you touch any one piece, the entire mobile moves. Family is the same way. What one person does affects the system. The goal is to learn to work together to create a healthy, balanced system. As such, the therapist works with the whole family rather than just individual members to create constructive, systemic changes.
Functional family therapy
This type of therapy is an intensive, family-based intervention generally used to help high-risk youth and their families dealing with issues such as substance abuse, conduct disorder, truancy, and related family problems. The goal is to help families learn how to manage issues effectively and safely in ways that make sense for that family.
Psychoeducation
For some families, a loved one's mental health issues can be confusing and leave them wondering how best to help. Family therapy can help to educate loved ones on how best to help and how to manage the challenges that a particular issue may present.
Psychoeducation for families can take place in any number of settings and formats and is a common component of many treatment programs such as treatment for addiction.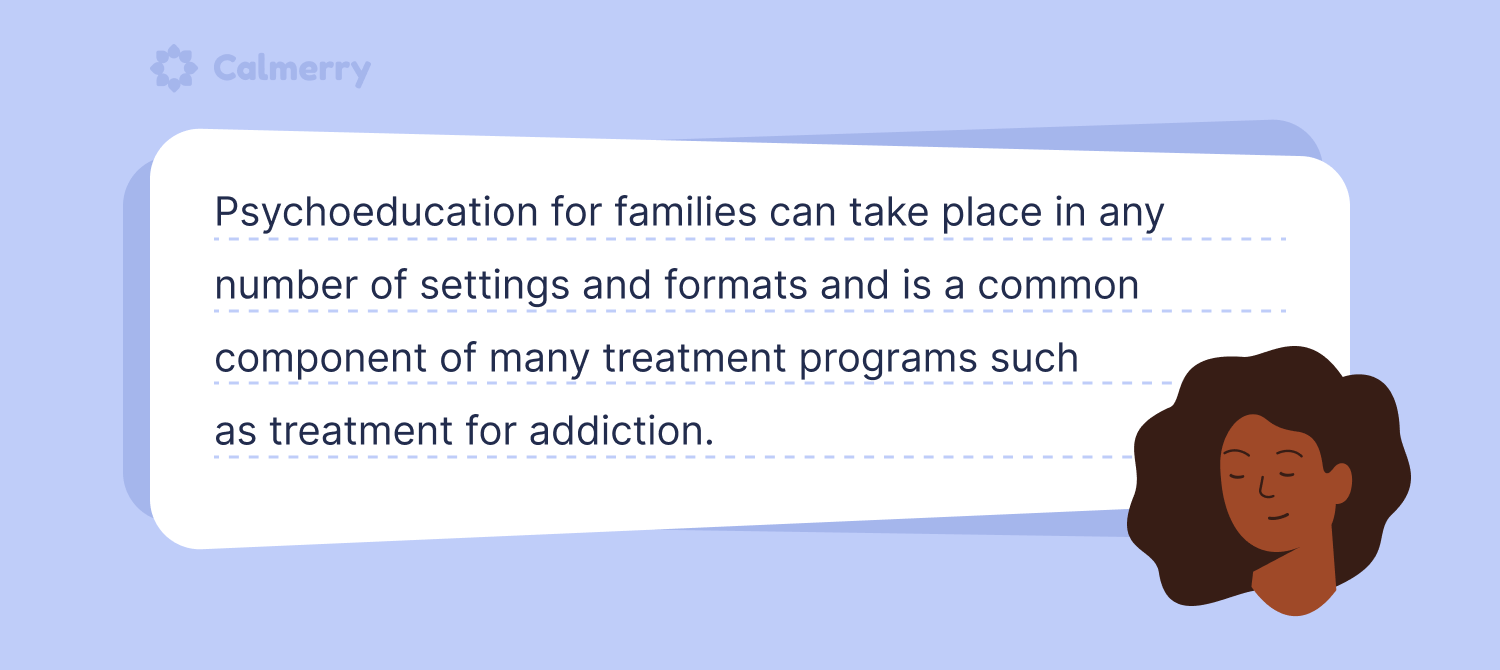 Group therapy
Group therapy has many uses in the treatment process. Depending on the issue, group may be the primary source of therapy. Most often, group therapy is used as a part of an overall treatment plan. For example, group therapy is an integral part of the DBT protocol. It is also used extensively in higher levels of care such as inpatient care, rehab programs, and day programs.
Group therapy can help people with issues such as social anxiety, PTSD, depression, grief and loss, addiction, stress management, and many other issues. Sometimes, it can even help if you're already in individual therapy.
Many of the therapeutic approaches and types of therapy can be incorporated into group. The types of therapy for groups that you might find depend on the setting, the purpose of the group, or the therapist's training and approach. Some may be more CBT-based while others utilize more psychodynamic strategies. Still, others may be more humanistic/person-centered.
Some of the most common types of therapy groups include:
Psychoeducational groups
These groups are generally used to focus and educate group members about a particular issue and help them find ways of coping that are healthy and helpful. These groups are found in many settings and focus on a variety of issues. They are often used as part of treatment programs to help families understand what's happening and how they can help their loved one as they transition home.
Skills development groups
As the name implies, these groups are used to help participants learn skills they need to cope with their mental health or addiction issues. They can be similar to psychoeducation groups but are more skill-specific and focus on strengthening the participant's cognitive and behavioral abilities needed for good decision-making.
Cognitive behavioral groups
These groups utilize the principles of CBT to help participants identify negative patterns of thinking and restructure the way they think. Doing so allows them to create more productive ways of thinking that allow for better decision-making.
Support groups
These groups are generally self-help, person-centered type groups but can be therapist-led too. Support group members give and receive unconditional support. Participating in a support group can help someone learn how to cope while engaging with others with similar experiences.
Interpersonal process groups
Based on psychodynamic therapy, these groups are designed to help participants work through or "process" thoughts and reactions that come up during their time working with each other. As the group is working together, each person is taking on new roles, learning to be flexible, and finding effective ways of interacting and communicating. It's a powerful space for learning, personal growth, and empowerment.
Of course, there are many, many more types of therapy – play therapy, couples therapy, acceptance and commitment therapy (ACT), and applied behavior analysis (ABA) just to name a few. The APA maintains a great list of therapies that might be a helpful resource.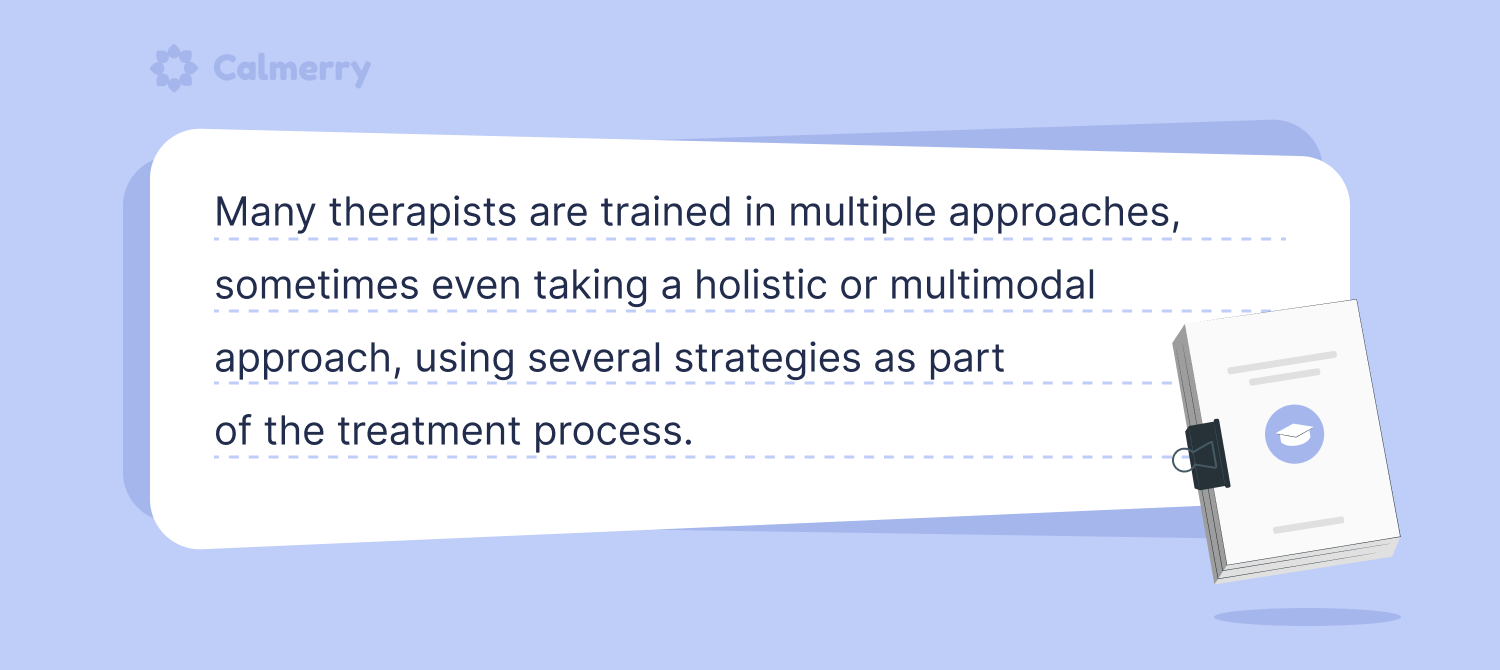 One thing to remember about all of these therapeutic approaches and modalities is that they can sometimes work in tandem with each other. Many therapists are trained in multiple approaches, sometimes even taking a holistic or multimodal approach, using several strategies as part of the treatment process. In this way, the focus tends to be more on treating the whole person rather than simply focusing on just symptoms.
So, with all the therapeutic options, approaches, and modalities, how do you choose?
What type of therapy is best for me?
You might think that choosing a type of therapy simply means picking one that sounds good. Actually, there's a lot more to it. Just as there's no one-size-fits-all, there are certain individual needs that guide the types of therapy that might be best for you.
The types of therapy that might be right for you depends on a number of things:
Presenting issue – Some approaches work well for some issues and not others. For example, EMDR works exceptionally well for trauma-related issues such as PTSD. DBT is the preferred approach for people with BPD. This is true for most any approach. It's never a one-size-fits-all even if it "sounds good".
Preferences – Some therapeutic approaches, like CBT and DBT, rely on a lot of work between sessions (homework). Other approaches are very directive while some are more client-driven, like client-centered therapy. Not everyone will do homework. Others don't like too much talking. Some people prefer an approach that is more skills-based or brain-based like EMDR.
Ability – Some people do well with talk therapy and are able to explore issues in depth. Others may need or even prefer something more behaviorally-based or brain-based. This can be a combination of preferences, cognitive abilities, maturity, and more.
Age – Age and maturity level are important factors. For example, a young child is generally not cognitively mature enough to engage in talk therapy. Play-based therapy or even behavioral or skills-based therapy may be more appropriate. Likewise, a mature adult struggling with memory issues may struggle with talk therapy but may do well with techniques that focus on retention or recall.
The best way to determine what therapy might be best for you is to meet with a therapist who can assess your needs and preferences. They may be able to meet your needs, or they may recommend another therapist or program that can.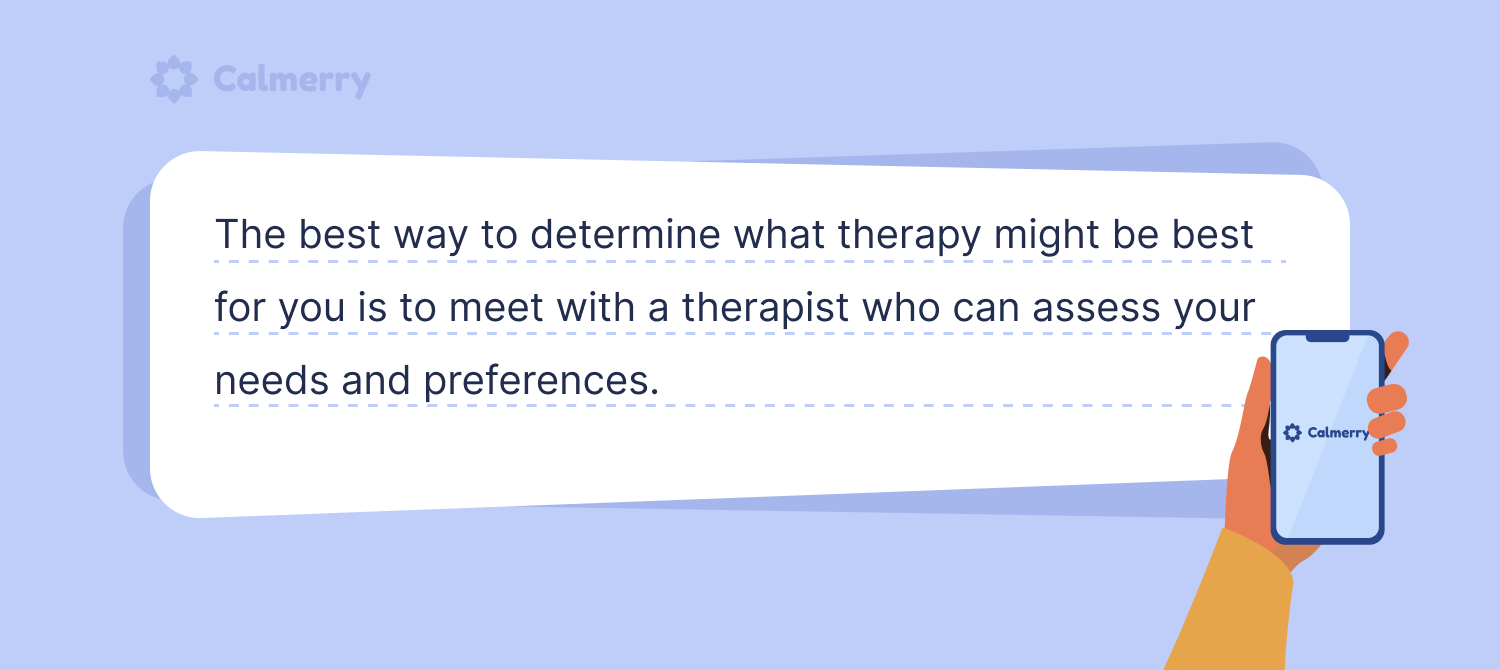 In-person or online?
Historically, therapy was conducted in an office setting with your therapist. Technology, and more recently, the pandemic, have paved the way for online options that make accessing therapy easier than ever.
The biggest question most people have is, "Is online therapy effective?" According to the latest research, the answer is a resounding "yes!"
Online therapy has been successfully used to treat any number of issues including depression, anxiety, trauma and PTSD, couples issues, family issues, and more. Many of the most common types of therapy have been successfully used in an online format.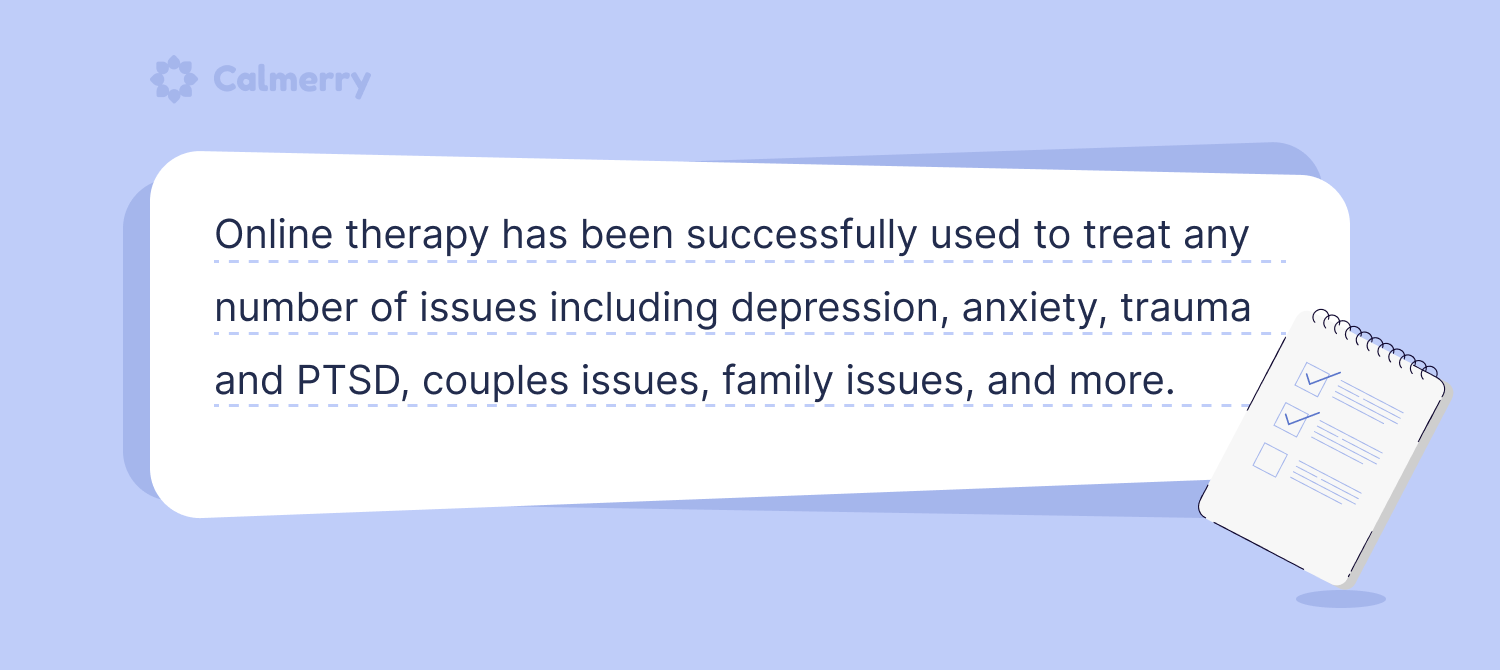 Some of the advantages of online therapy include:
Convenience – You're busy! Seeing your therapist online, you can schedule when it works for you, and you avoid the traffic hassles.
Cost-effective – Online therapy is generally less expensive than in-person sessions. If you have insurance, online therapy is covered by many insurance plans.
Comfortable – Online therapy lets you see your therapist from the comfort of your home or office. This can be especially appealing for someone struggling with anxiety and going out in public.
Accessibility – For someone with limited mobility or located in a remote or underserved location, online therapy can be a viable alternative to the stress of traveling to an office.
As with anything, online therapy is not a one-size-fits-all, nor is it appropriate for every person or situation. This is where having an assessment completed with a licensed therapist can help you to determine the best treatment plan to meet your unique needs.

When you're ready…
There are so many options for therapists and types of therapy to choose from. It can be overwhelming, and you may not even be quite sure exactly what the problem is. That's ok.
Sometimes, we just know that things aren't going the way we'd like, and we want help to sort it all out. That's when a therapist can help. A Calmerry therapist can assist you in making sense of it all and offer personalized options that align with your needs and preferences.
When you're ready to reach out for help, do so knowing that you have options and that a trained therapist can help guide you through the process of finding the treatment that is right for you. Once you're armed with knowledge, you can choose the path to wellness that feels just right.
Сheck your mental well-being for free: