Published September 16, 2022 / Updated March 10, 2023
8 Tips for Building a Healthy and Happy Blended Family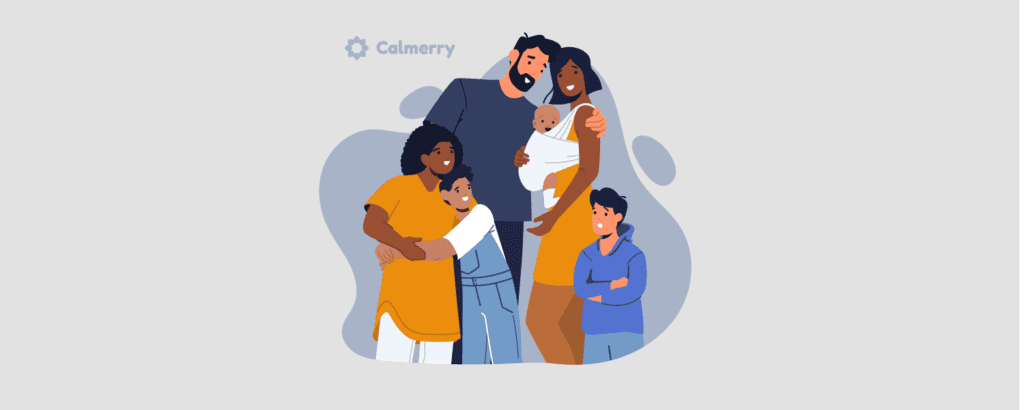 Reading Time:
6
minutes
With National Stepfamily Day approaching on September 16, many families may be celebrating their amazing, blended family. But creating this type of family takes time and perseverance and can come with its own difficulties.
Wherever you are in your journey, we'll cover our 8 tips to help you create a harmonious, happy family.
What is a blended family?
A blended family is sometimes referred to as a stepfamily. This type of family forms when you and your partner form one unit with the children that one or both of you have from your previous relationships.
This means that one or both of you takes on a stepparent role to the children. And if you both already have children, then your children become stepsiblings to each other.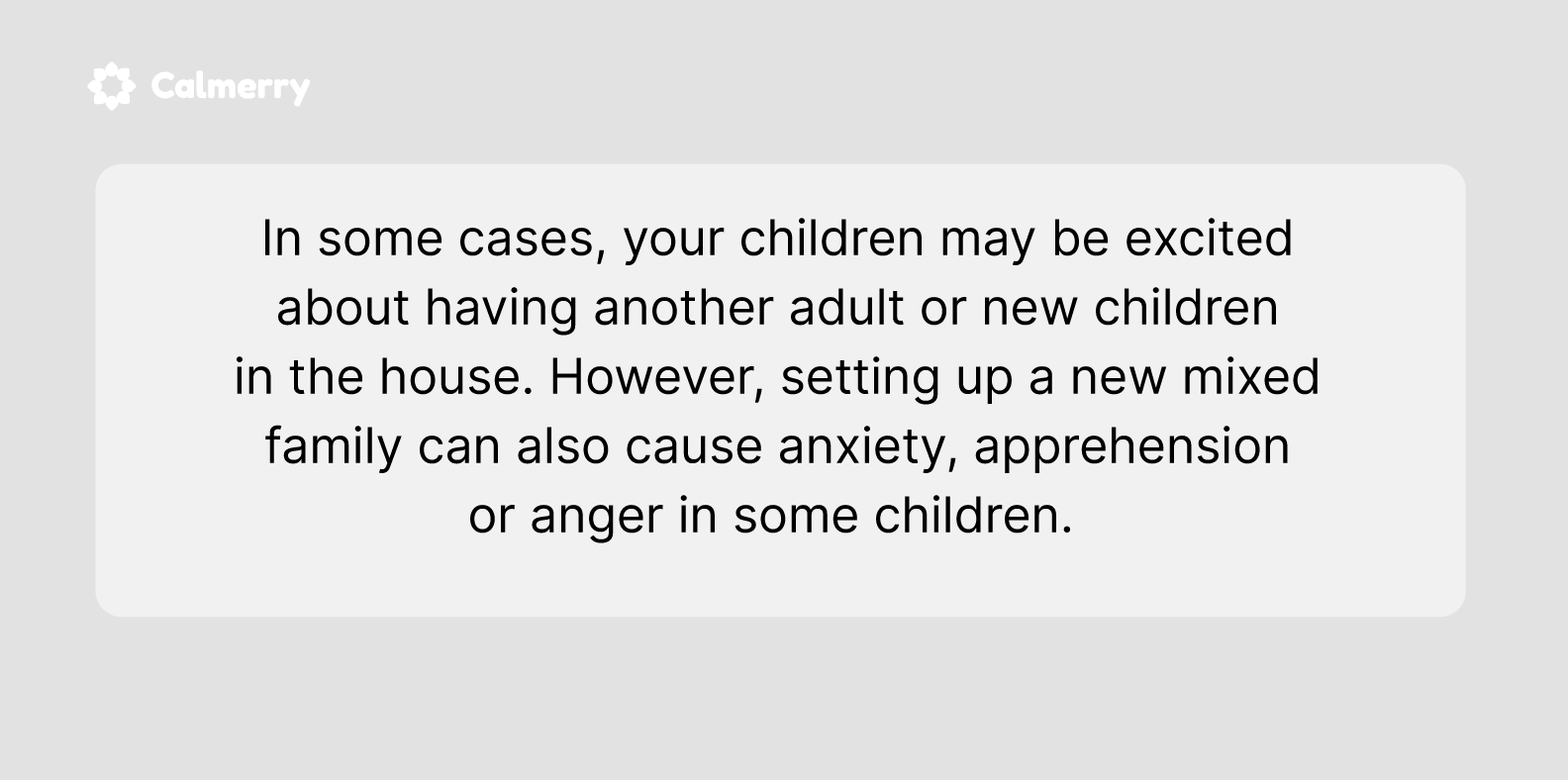 A new relationship may form after a breakdown in your previous relationship led to separation or divorce or following the death of your previous partner. You can take on a stepparent role whether you are remarried, cohabiting, or simply in a relationship together. And your children may move between different houses, for example, going to stay with their other biological parent, or they may spend all their time with you.
A blended family can also form if a new half-sibling is added to the family. For example, you may already have two children from a previous relationship and then give birth to a baby with your new partner. Your children all share the same mother but have different dads. Alternatively, a child might be adopted into the family.
In some cases, your children may be excited about having another adult or new children in the house. However, setting up a new mixed family can also cause anxiety, apprehension, or anger in some children.
This is especially true for children who may feel that another adult is taking their parent's attention away or that they are being asked to live with other children who they do not know or, in some cases, do not like.
Furthermore, research has shown that older children and adolescents may worry about their sense of belonging in a blended family. This can lead to painful emotions and stressful family conflicts.

Subscribe
to our mental health digest
Let us support you on the way to better mental well-being. Get expert tips and insights on mental health delivered to your inbox monthly.
How common are blended families?
Limited data is collected in the USA regarding mixed families, but Pew Research Center estimates that around 16% of children are living in blended families.
This is categorized as a household in which there is a stepparent, stepsibling, or half-sibling. You may be surprised to learn that this figure had remained fairly stable since the 1990s when around 15% of children lived in a blended family.
Common blended family issues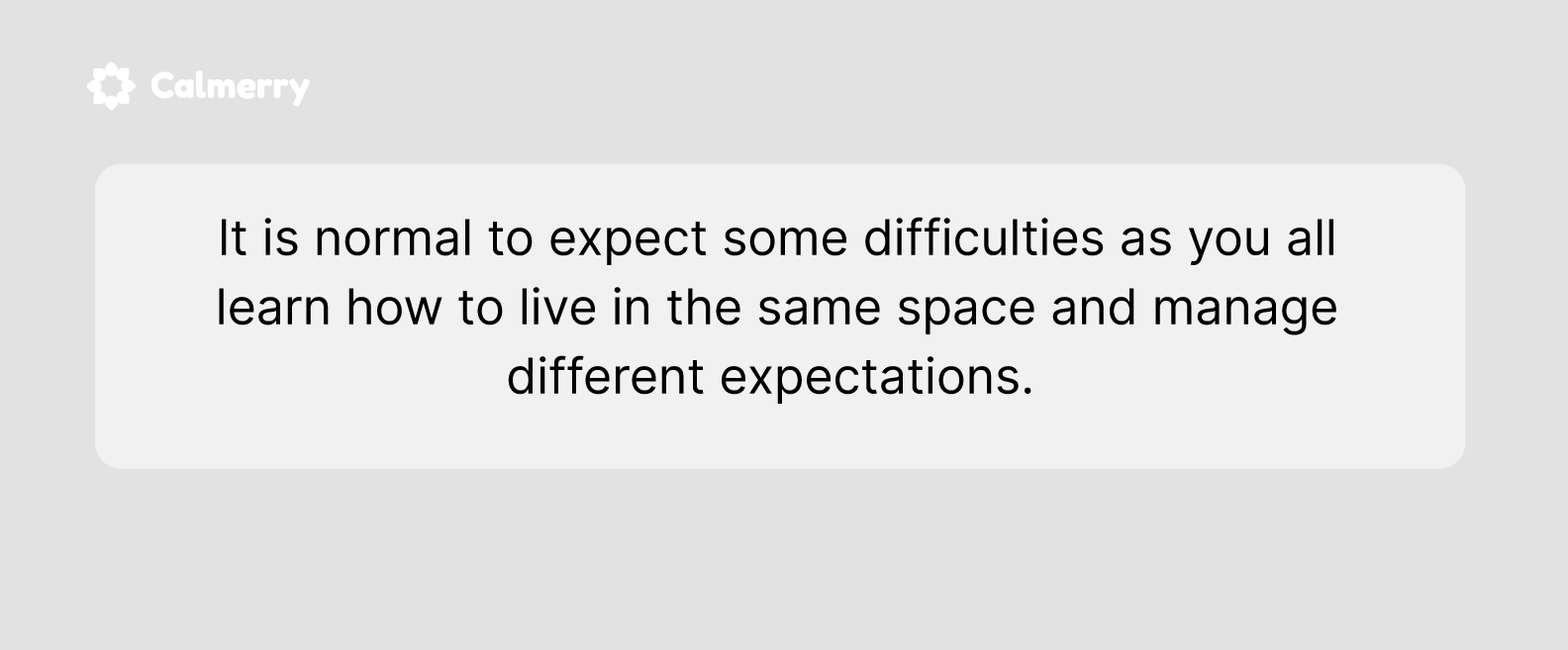 Some blended families gel immediately, with both children and adults getting along well from the start. However, this is unusual, and it is normal to expect some difficulties as you all learn how to live in the same space and manage different expectations.
This learning curve occurs for adults and children alike, and you may find that common teething issues include:
Different parenting styles
Children resisting a stepparent's discipline
Disagreements between step-siblings
Breakdowns in communication
Lack of respect from children
Not immediately loving your partner's children
Feeling inexperienced as a parent
Age differences between children make it hard to do things as a family
Not having enough quality time as a couple
Children feel threatened by new members of the family and act out
8 secrets of successful blended families
In all families, you need to be committed to being respectful, making time for each other, up-holding boundaries, and working on your relationships.
In a blended family, this is even more important because a bond may take longer to form. And both children and adults may face additional pressures, including emotional difficulties or personal turmoil around the new situation.
However, there are some steps you can take as a stepparent to build a healthy and happy blended family.
1. Decide on parenting styles
Step-parenting is not without its challenges. But it will be far easier if you and your partner agree on how best to parent.
Before you live together or get married, and before your new partner becomes significantly involved in the care of your children, have a frank discussion of how you manage emotions, behavior, schoolwork, independence, screen time, financial allowances, and your kids' social lives.
If you can align your styles now, you will be more effective as a parenting team. And your kids will know what is expected of them and where they stand with both of you.
2. Set family rules
Once you have discussed parenting styles, you may find it useful to set boundaries with all the children in your family. Depending on the age of your kids, you could get everyone's input on family rules and then place an agreed list on the fridge.
Combining children from two homes or families may mean they have different ideas of what behavior is acceptable or how much freedom they should be allowed.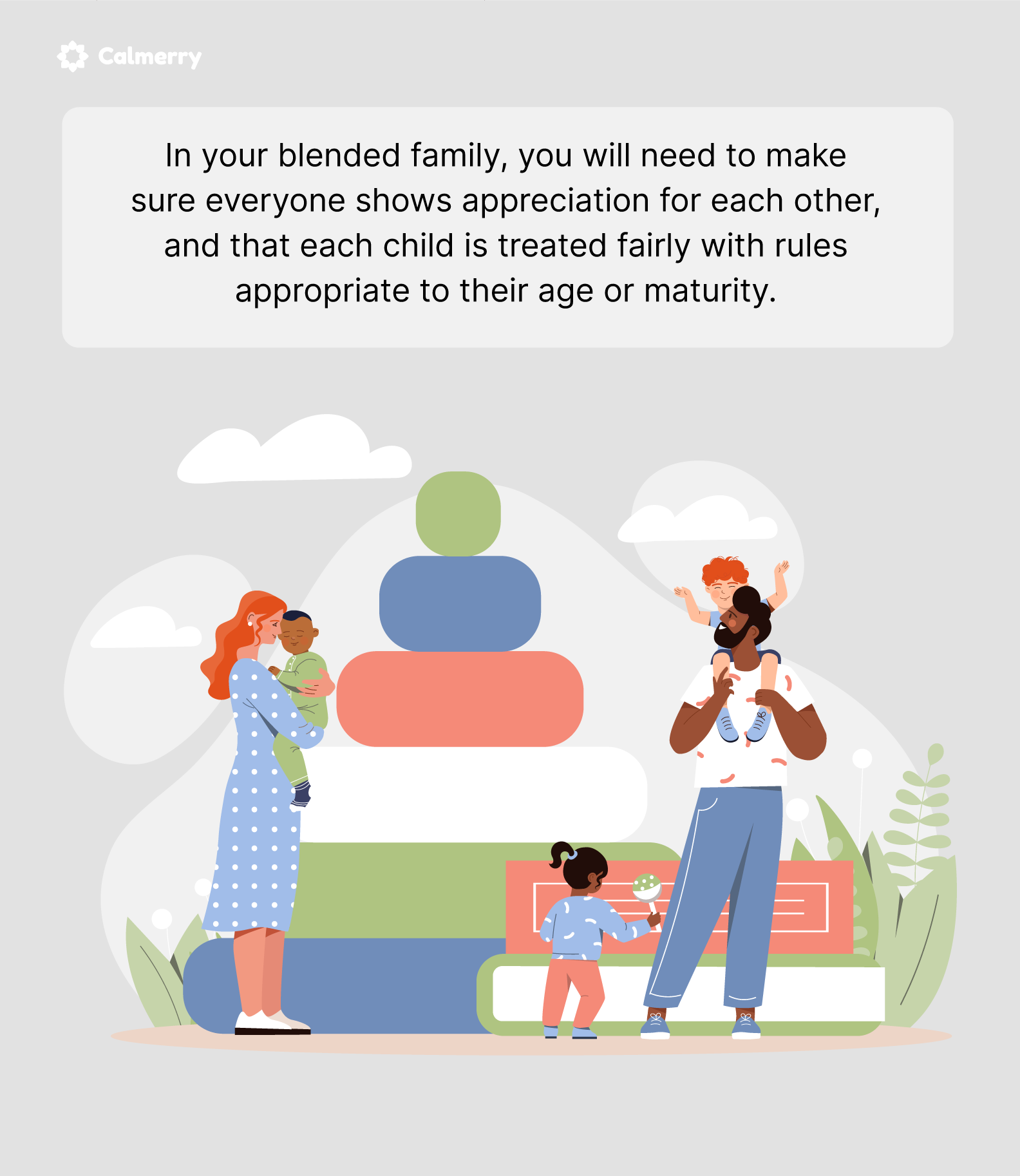 3. Focus on loving unconditionally
To feel safe and secure, children need to know that you love them no matter what.
Regardless of what is going on in your new relationship or the co-parenting relationship you may have with an ex-partner, make sure your children (both biological, step, and adopted) know how much you love and value them.
4. Build positive relationships
If you are new to a stepparenting role, think about how you can develop relationships with your stepchild.
If they are keen on music, can you take them to a concert or listen to their favorite band in the car? If they want to play soccer, set up a goal in your backyard. When they want to learn makeup techniques (and are old enough), be the one to teach them or point them in the direction of great YouTube tutorials.
Think about what your kids are interested in, and use it to develop a new bond with them.
5. Ringfence quality time
Family life is busy, but try to set aside quality time that you spend with each child individually or altogether as a family. This might include family walks, trips to the theatre, shopping days, or movie nights at home. You may also enjoy making new family traditions together, especially around holiday periods.
Doing things as a family helps to strengthen relationships so that everyone feels more secure.
6. Be patient
As with adult relationships, it will take time to develop new relationships with children. They may resist having a stepparent or express anger or frustration at the new family dynamics.
Take the pressure off for a while, and then try again. In time, children will start to explore the new family set-up and may be more open to your attempts to build a relationship.
7. Stay civil with your ex
If you co-parent with an ex, it can be hard to remain civil when they seem intent on pushing you to your limit. However, you may find that your own mental health is improved by trying to remain civil rather than matching any poor behavior.
The same is true of your new partner's ex. Even if they push all your buttons, stay calm and don't rise to the argument if you can avoid it.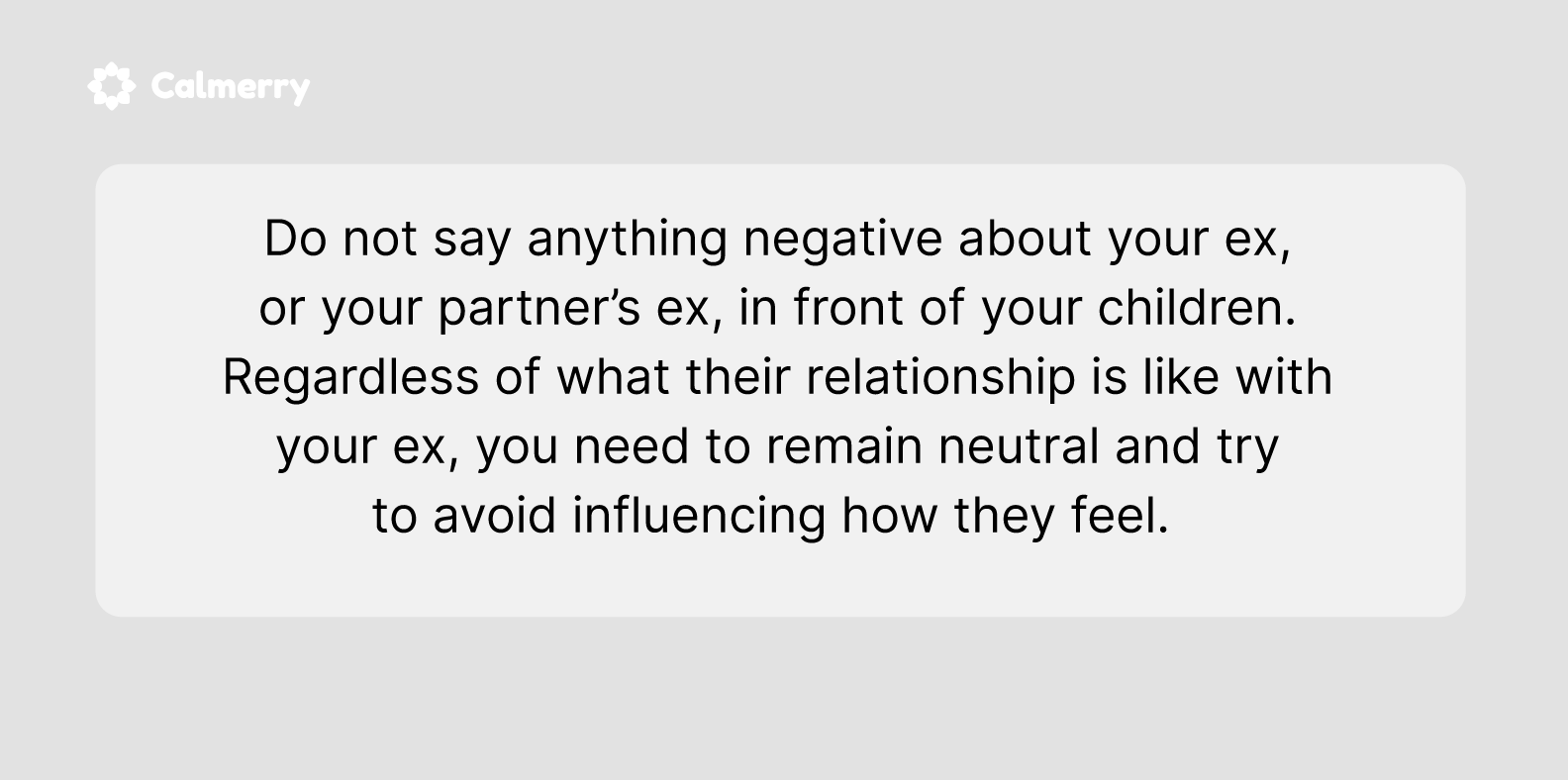 Even if they speak badly of their other parent, you can simply support them in talking about their feelings rather than agreeing with what they say. This may be a true test of your willpower, but it will benefit your relationship with your child greatly in the long run.
8. Invest in self-care
As a parent, it can be easy to forget about yourself and focus only on your kids. And this is especially true for stepparents who may feel they have to work extra hard to excel in their new role. Sadly, this can lead to burnout.
So, don't forget that it's important to take time for yourself, too. Spend time with your friends, journal the highs and lows of life, exercise, eat well and make sure you book some online therapy sessions to talk things out with a professional. If you're facing challenges in your personal relationships, consider online relationship counseling to navigate those complexities with expert guidance.

Final thoughts
Being part of a blended family can be a happy, exciting experience, especially if you take time to build relationships slowly, put boundaries in place, and ensure every child knows they are loved unconditionally.
Even in the best circumstances, you may feel overwhelmed as a stepparent. Many women and men benefit from talking to a therapist about how they are feeling. And having support from a professional can help them form a successful blended family. In Calmerry, we connect individuals with licensed therapists, offering a convenient and flexible solution for those who may find it challenging to attend in-person therapy sessions.
Сheck your mental well-being for free: