Published November 25, 2021 / Updated March 20, 2023
Not Only a "Turkey" Day: 5 Ways to Make Thanksgiving not About Food but Family Relationships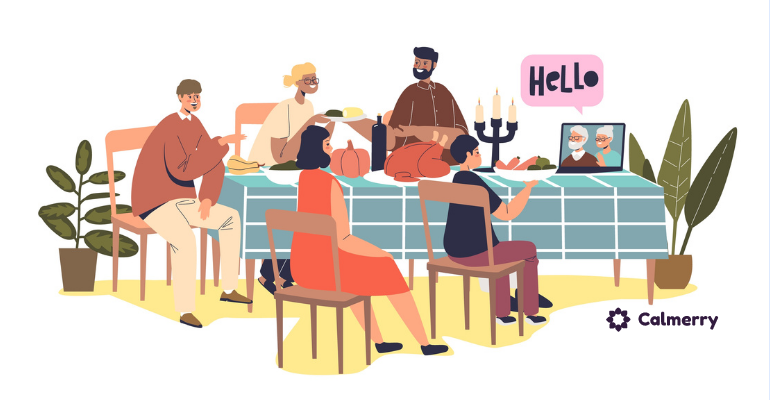 Reading Time:
6
minutes
Roast turkey, homemade cranberry sauce, stuffing, and pumpkin pie… It's time for the biggest dinner of the year! Food is a big part of what makes a Thanksgiving party a feast, and the celebration often revolves around the delicious dinner.
But when we're focused on feasting and passing dishes to the people we're with, we can miss out on warm and valuable experiences to remember. Thanksgiving should go beyond the food-only meaning!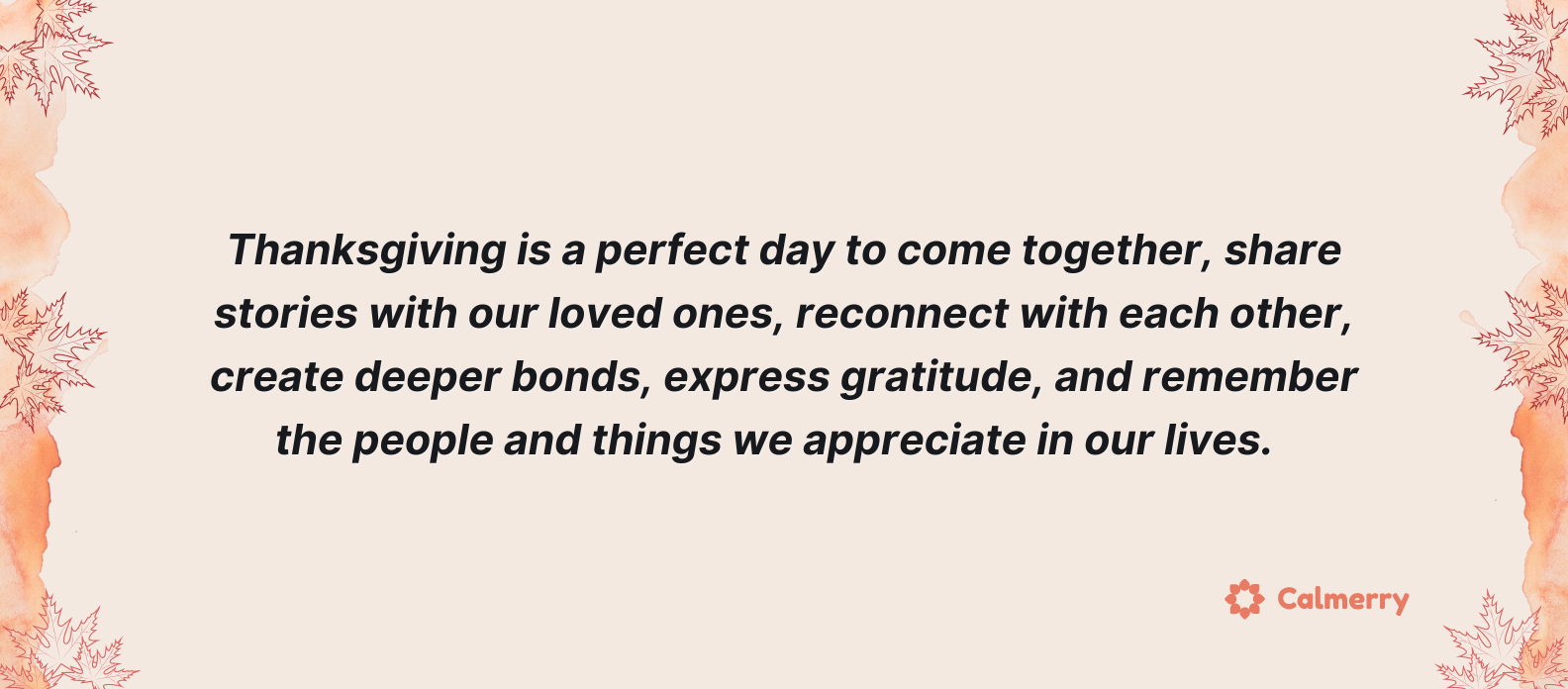 Unfortunately, it's easy for this notion to get lost in the flurry of planning, cooking, cleaning, traffic jams, eating, and yes, — even the arguing that comes with family gatherings.
This Thanksgiving, try to save yourself from hours of bickering at the table about whether you should have brined the turkey or deep-fried it. Here are the 5 best ways to celebrate Thanksgiving Day by getting less into the food and more into enjoying family relationships and building stronger connections.
1. First, save yourself the trouble of Thanksgiving dinner preparation
Thanksgiving dinner preparation takes a lot of time and effort. For the host family, cooking and serving can be so stressful and physically draining that it leaves little energy for being fully emotionally present and enjoying the celebration itself.
Actually, spending all that time in the kitchen preparing a big feast for everyone to eat more than is humanly possible is unnecessary. It's especially true during COVID-19 times, with partly-remote celebrations in front of Zoom screens. So, to save time and energy (and money!), focusing on prioritizing your needs and appreciating the moments of the Thanksgiving gathering is a good idea.
Cook smarter — not harder. For example, you can:
Tell your guests beforehand that you're going to organize a small-scale dinner. Don't be afraid of defining your limits and not reaching someone's "banquet" expectations.
Choose a potluck-style Thanksgiving meal to help you shoulder the burden of cooking. Invite everybody to bring their best dishes.
Invite your children, family members, and/or friends to join in on the preparations to make the process fun for everyone and less stressful for you.
Buy ready-made meals.
Go out and have a Thanksgiving dinner at a restaurant. It's okay if you don't want to cook anything — even your best roast turkey — and then face a mountain of dishes. Consider this an act of good self-care.
2. Remember that Thanksgiving is about giving thanks
On a day when food and dinner conversations tend to take the spotlight, it's easy to miss the true meaning of the holiday — giving thanks and practicing gratitude. While being thankful and being grateful may sound synonymous, gratitude reveals a much deeper perspective on how and what we appreciate. Besides, it's highly beneficial for our well-being and promotes healthier relationships with others and ourselves.
So today, pause to reflect on the good in your life, giving thanks and gratitude to your loved ones and yourself.
Yep — to yourself! Whether you're visiting your family, celebrating Friendsgiving, or you're single on the Big Day — it's important to practice self-gratitude. It's one of the most fundamental ways to feel good about yourself. Moreover, making it a life-long habit and keeping a gratitude journal can greatly improve your mental and physical health.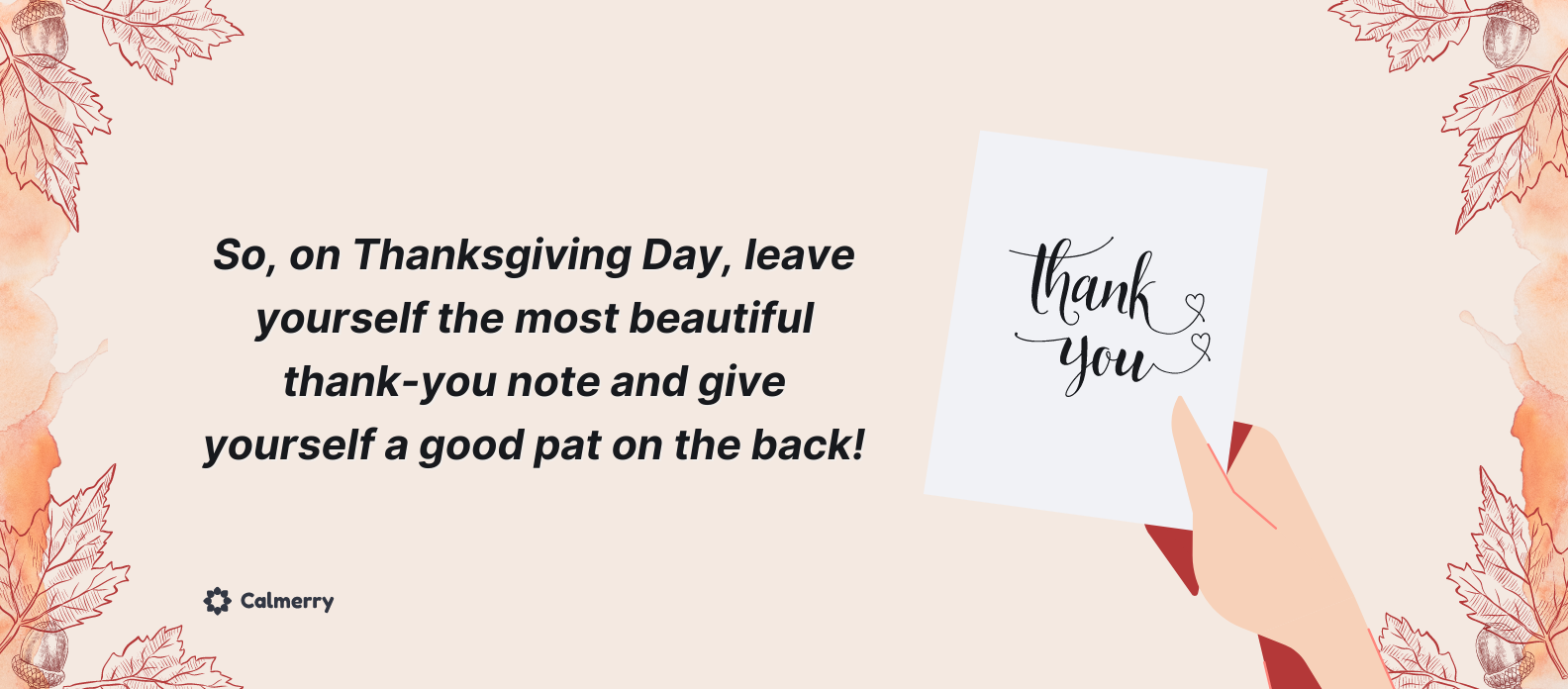 It's easier to jot down what you're thankful for and explore your feelings in Calmerry's free reflection bot Coa.
3. Find creative ways to express gratitude to your family members
Expressing gratitude in front of everyone can be a tough task. Maybe you have a lot going on, there are some family issues and you don't feel emotionally safe, or you're too shy to show love and respect publicly… Whatever — it's okay. Don't be hard on yourself.
There are some stress-free ways to thank your loved ones and make this a joyful process that involves everyone:
If you host, you can ask your guests to prepare heartwarming compliments about each person on the guestlist beforehand. Then, collect them on personal cards so that your guests will sit down and find a list of lovely appreciative comments about them.
Write and exchange anonymous or signed Thanksgiving messages during the gathering. Think about the people around you and thank them for making a difference in your life. Give best wishes to those who lift your spirit and warm your heart. Mail the messages to your guests the following day or, if they're not too personal, and everyone's fine with it, you can read them aloud to foster a sense of connection between family members and boost their mood.
Create and decorate a virtual or physical board where everyone can leave their thank-you notes. Then, save this board, make copies of it, and share it with your loved ones online for the positivity of thankfulness to be available year-round!
You can borrow some of these thank-you ideas to express your gratitude. 🙌🏼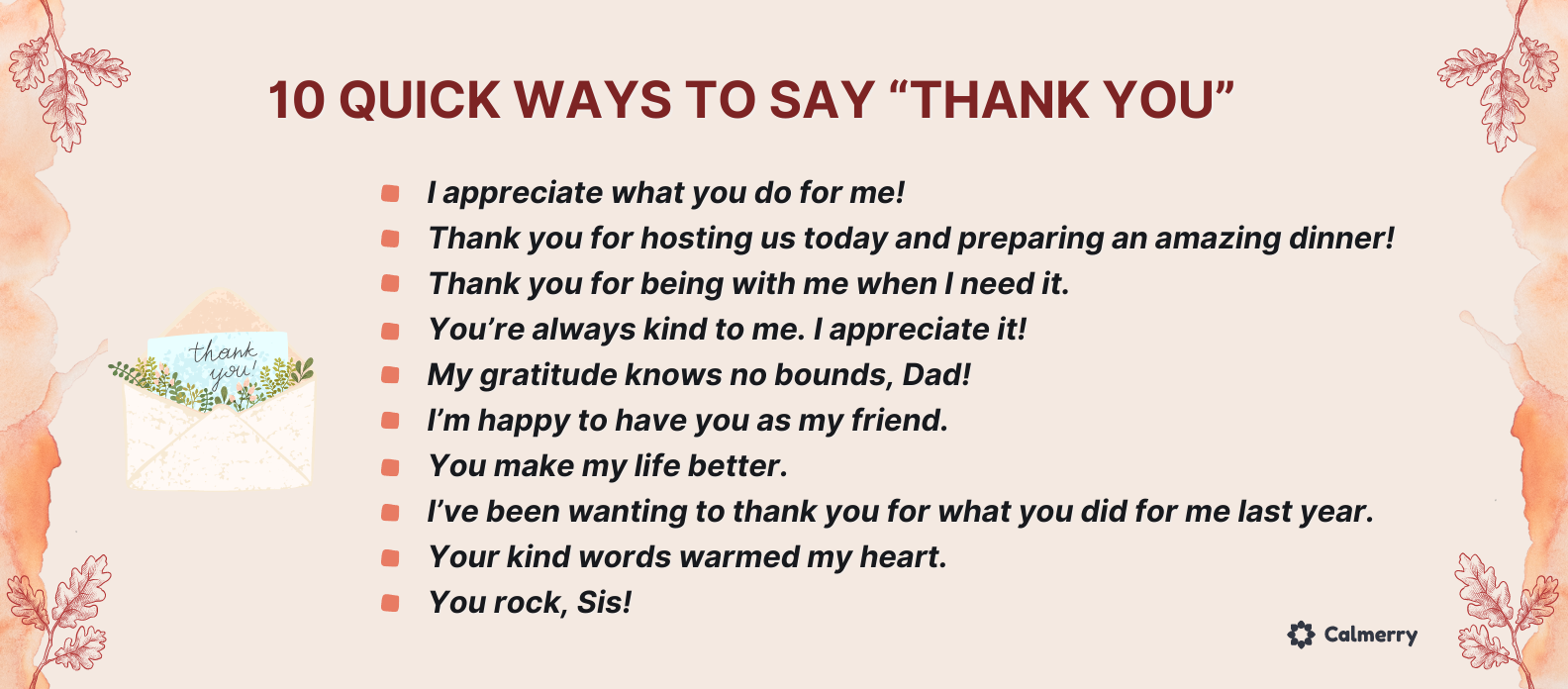 4. Do something fun but different from usual
Your Thanksgiving celebration doesn't need to be centered around food, football, Macy's Thanksgiving Day Parade, and mindless scrolling of social media feeds. Instead, finding some other meaningful activities to provide you all with a sense of connection, love, and happiness will make the holiday absolutely amazing and memorable!
By doing something fun, you all may enjoy spending more quality time together and get emotionally closer.
Decorate a cornucopia
Play some board games
Dance
Make glittery Thanksgiving cards
Share favorite family stories
Look through a family photo album
Go for a post-dinner walk
Take a themed group photo
Organize an ornament exchange
Volunteer at a local shelter together or support a charity online
5. Learn to survive tough family convos
Thanksgiving Day is a wonderful time for bringing family together. But for many, family get-togethers can be stressful. Unfortunately, tough dinner conversations can create room for tension, confusion, misunderstanding, judgment, violation of your personal boundaries, disrespect, and bringing up sensitive issues you don't want to discuss.
Does your uncle get way too personal about your private life? Do you feel that a pleasant Thanksgiving evening always turns into a toxic political battle? Do you want to bury your head in mashed potatoes while your relatives argue about vaccinations?
Taking the time to set ground rules for your Thanksgiving family dinner is a good way to ease everyone's mind and create a healthier and safer atmosphere for sharing. All in all, today is a perfect chance to focus on sharing love, support, kindness, and respect for each other.
Additionally, here's the guide to surviving tough family convos this holiday:
Be prepared
Think about the things that might make you stressed, anxious, or angry. Set yourself a "worry time" (10-15 mins) to reflect on how you'd react to them, what emotions you'd experience, and how to avoid confusing situations.
Subscribe
to our mental health digest
Let us support you on the way to better mental well-being. Get expert tips and insights on mental health delivered to your inbox monthly.
Set boundaries
Keep in mind that you don't have to engage in any discussions if you don't want to. And you don't have to answer questions or share the details others want to get out of you.
Also, if you don't want to take part in some activities, or you're tired of unasked-for help or advice, or something makes you feel uncomfortable, you can always politely decline. Saying "no" won't hurt. It may be helpful to note that, by saying "no," you don't reject a person — you just decline certain activities you don't want to engage in and stay assertive with your needs.
Have an escape plan
Spot the emotional and physical cues telling you that you need a break. It's always a good idea to take a pause and find little escapes for yourself if you feel overwhelmed by stressful situations or just from being around so many people. Sneak off to another room to find some solitude, go for a walk to recharge, or think about how you can leave the Thanksgiving celebration early.
Take care of yourself
Like any holiday, Thanksgiving can be both joyful and stressful. And you can be so busy taking care of others that you can forget to take care of yourself. So whether you feel overwhelmed, depressed, or anxious, or everything seems out of control, or it's hard to find gratitude, pay attention to your feelings and emotions.
Take breaks when you need them, and treat yourself with the same love you give to your friends and family.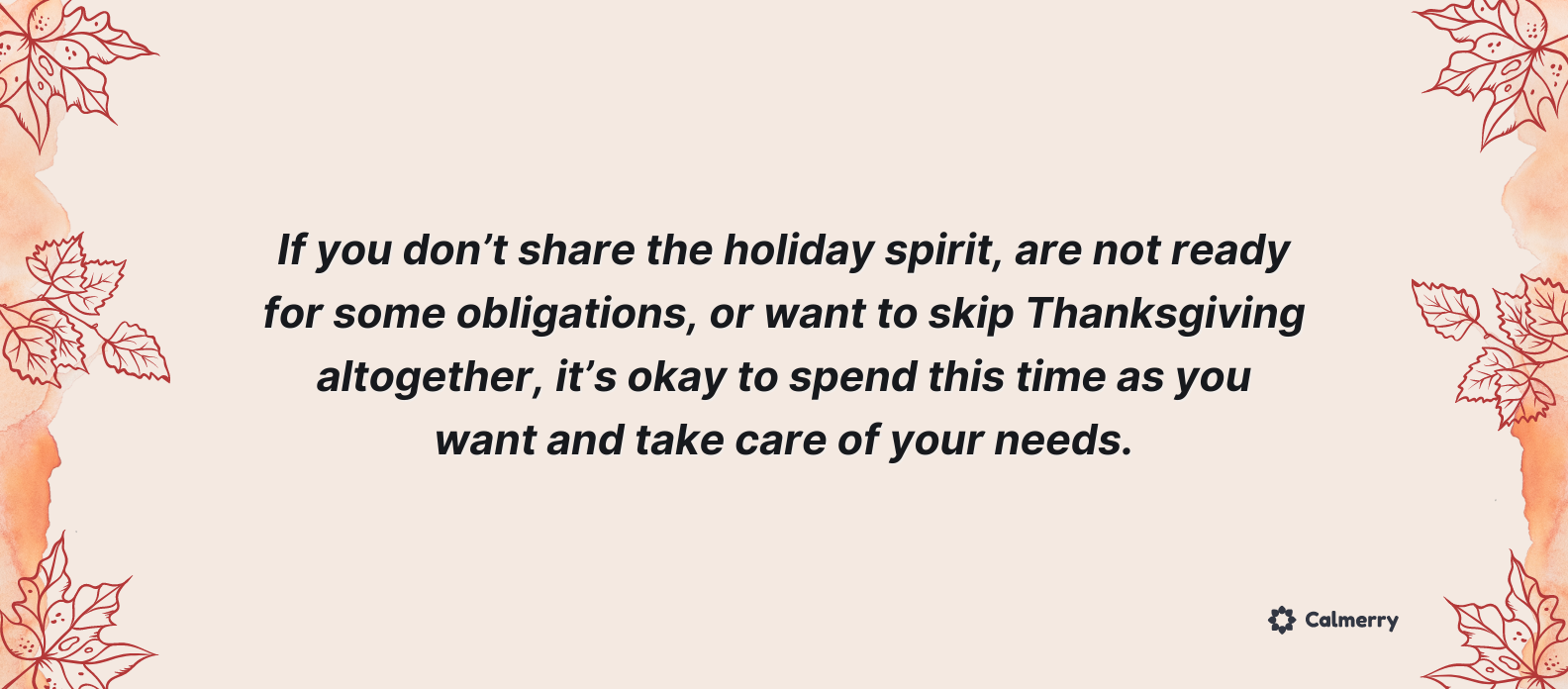 Also, talk with your therapist about how you feel. They can help you learn how to navigate difficult family relationships, how to find more energy for yourself, and how to rediscover the joy of an upcoming holiday season.
Happy Thanksgiving Day!
Сheck your mental well-being for free: