Published July 10, 2022 / Updated March 20, 2023
Dating a Married Woman? Here's How to Cope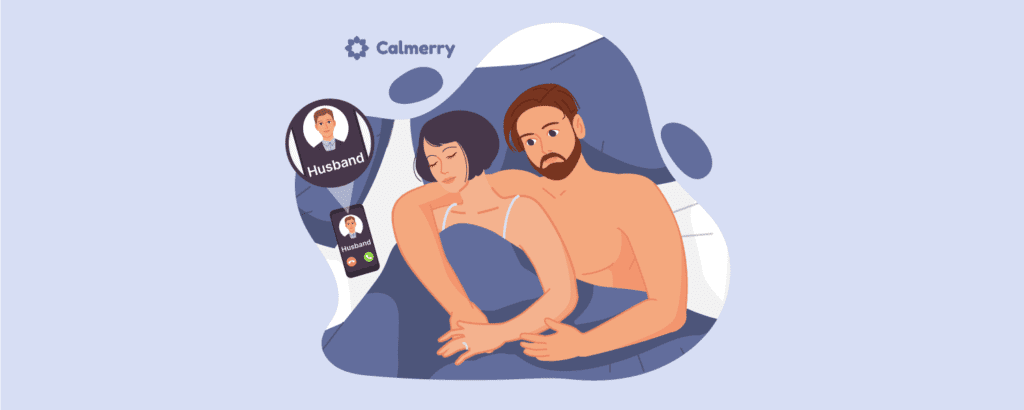 Reading Time:
6
minutes
It's unlikely that anyone plans on falling in love with someone who is already in a committed relationship, but life isn't always perfect, and you may find yourself in love with a married woman. Such a situation can leave you completely torn because, on the one hand, you have strong feelings for this person, but on the other hand, you know the relationship just isn't right.
Below, find some tips for dealing with your emotions when you find yourself in a relationship with a married woman.
Recognize that you're not alone
It's easy to beat yourself up when you fall in love with a married woman. Perhaps you have strong moral values, and you promised yourself you'd never become involved in an affair. Or, maybe the married woman in your life lied about her relationship status or convinced you that her marriage was on the outs so you'd feel less guilty about pursuing something with her.
Whatever the case, it's helpful to understand that you are not alone. According to research conducted in the United States, 16.3% of people have had sex outside of their marriage at some point during their lives, and 3% of the population has extramarital sex within the course of a year. These figures do not take into consideration the percentage of people who engage in emotional affairs, which can involve ongoing flirting, texting, or meeting up without any physical intimacy.
The fact that affairs are relatively common does not mean that it's okay to continue dating a married woman, especially if she intends to stay married and is being dishonest to her partner about her relationship with you. But knowing that you are not alone can help you to recognize that falling in love with a married woman can happen, even to good people.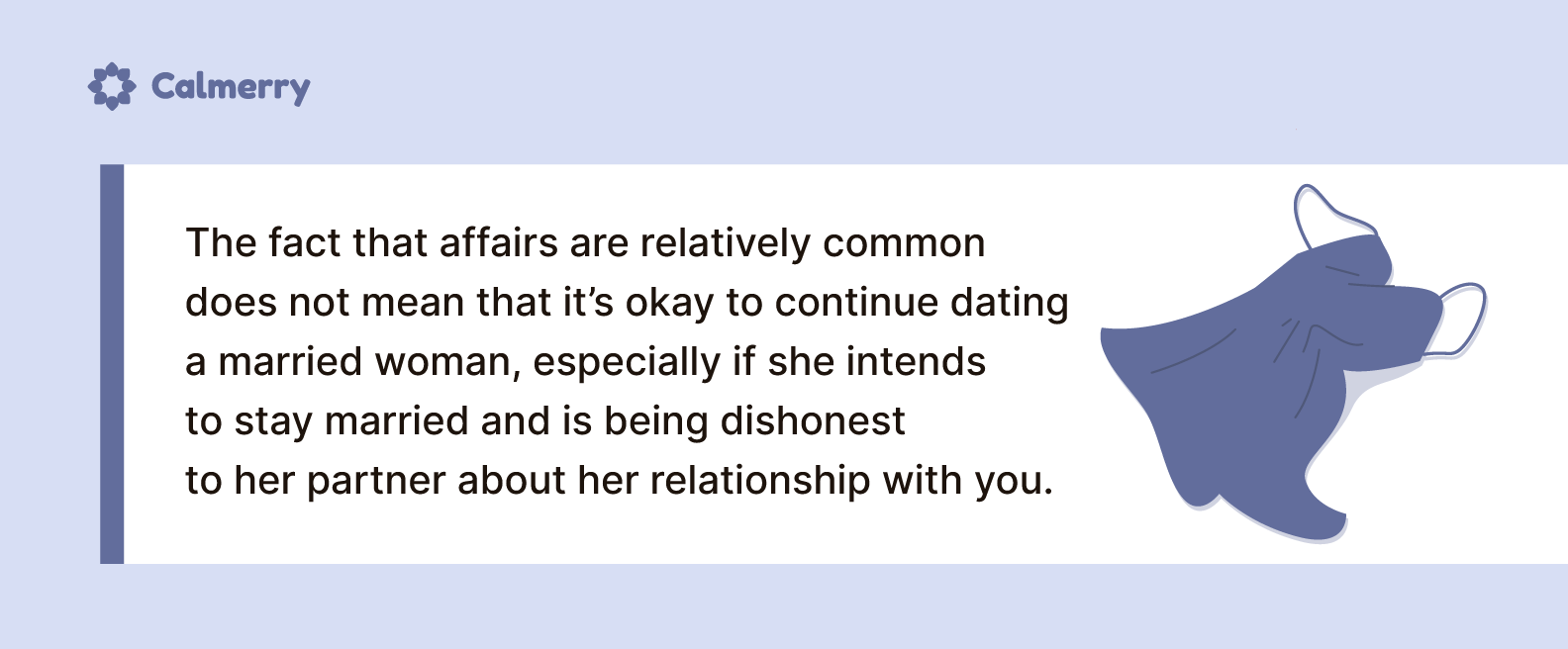 Reasons to let go
You probably already know this, but there are numerous reasons that a relationship with a married woman is dangerous. Not only does the relationship show a lack of respect for the woman's husband, it also has the potential to destroy a marriage and family, especially if there are children involved.
Beyond the fact that dating a married woman can ruin a marriage, you have to consider that this relationship is likely to lead to heartbreak for you. It is unlikely that a married woman will tear apart her family and put herself through the financial devastation that occurs with divorce.
Beyond that, remaining in a relationship with someone who is married comes with significant stress, as the partnership will have to remain secret. Furthermore, you'll never be able to introduce her to your family, take trips together, or enjoy the holidays together like you'd be able to in a conventional relationship with an unmarried partner.
How to stop loving someone who is married: 5 tips
If you're ready to move beyond your feelings of love for a married woman, there are some things you can do to make the process easier. Consider the tips below.
Realize that your feelings are fleeting
Sternberg's Triangular Theory of Love argues that there are three components to love: passion, intimacy, and commitment. Passion involves intense, powerful emotions and a strong desire to be with another person. Feelings of passion are strong in the beginning stages of a relationship, and they tend to decline over time.

When feelings of love are reciprocated, passionate love can lead people to feel extremely euphoric. While this type of love can be elating, the reality is that affairs, which are fueled by passion, can make you feel as if you have found the love of your life.
In reality, these intense feelings are fleeting because the passion will eventually fade. Realizing that you won't feel this strongly forever can help you to move on from being in love with a married woman.
Furthermore, the secrecy involved in an affair with a married woman can add to the passion in the relationship, making you feel as if you've found your soul mate. If you were to have a committed, monogamous relationship with this person, chances are that some of the excitement would fade, and you would realize you weren't truly in love; you were just infatuated.
Be realistic
When you have strong feelings toward someone, you may convince yourself that the relationship is going to last forever. This can lead you to continue dating a married woman and pouring more time and effort into the relationship, even when you know it's not right.
Remind yourself that this relationship isn't likely to work out long-term, and your fantasies of ending up together probably will not come to fruition. Once you come to terms with this, you'll have an easier time coping with the fact that the relationship isn't worth it, and you need to move on.

Do some soul-searching
If you find yourself dating a married woman, this means that, on at least some level, you have decided to settle for someone who isn't available. You've accepted a relationship in which you can only meet in secret and will never have the satisfaction of building a life together.
If you're willing to subject yourself to this type of relationship, it's probably time to explore the underlying issues that have led you to fall in love with a married woman. Perhaps you struggle with low self-esteem and do not believe that you deserve a more fulfilling relationship. Or, maybe you fear commitment and simply like the thrill of being with someone who cannot be in a committed relationship with you.
Whatever the reason, if you're dating a married woman, getting to the root cause behind your attraction to someone who is spoken for can help you to move on and choose more fulfilling relationships in the future.

Understand that she doesn't love you
Research suggests that people who are dissatisfied in their marriages are more likely to have affairs. You may think that the married woman in your life loves you, but the fact that she is still actively married suggests that she does not.
In many cases, a married woman who is dating outside of her marriage is trying to fill some sort of void. You're simply making up for something that is missing in her marriage. She may tell you that she loves you, but she is simply feeling infatuated with you based on the distraction you provide from her marriage.
If she were to divorce her husband and commit to you, chances are she'd eventually find something she was unhappy with in your relationship. Given the fact that people who are unfaithful in one relationship are three times more likely to cheat in the next relationship, you may also become a victim of her infidelity.
Subscribe
to our mental health digest
Let us support you on the way to better mental well-being. Get expert tips and insights on mental health delivered to your inbox monthly.
Set boundaries
If you've fallen in love with a married woman and you'd like to move on, you have to set boundaries. This means you may have to cut off all contact with her. If you're involved in a relationship, you'll certainly have to discontinue things.
If you work together, you'll have to stop swinging by her desk to chat during the day, and you're probably better off blocking her number from your phone. If the two of you must continue to have some form of contact, you will need to be sure that she is clear on the boundaries between the two of you (i.e., no flirting, no going to lunch together, and no discussion of personal matters).
Over time, with diminished contact between the two of you, your feelings will fade, and you'll open yourself up to finding a more fulfilling relationship with someone who is available.

The bottom line
Despite good intentions, you may have mistakenly fallen in love with a married woman and found yourself in a situation where you're dating someone who is off-limits. If this is the case, finding a way to move on is typically the best option.
Engaging in an affair with someone who is married is likely to lead to heartbreak, not only for you but also for the husband and children of the woman you're dating. Even if she does love you and ends up leaving her marriage, the long-term outlook for relationships that begin with an affair is bleak.
When you've made an effort to move and still cannot figure out how to stop loving someone who is married, you may benefit from working with a therapist. If you'd like to receive help from the comfort and privacy of your home, online therapy could be a suitable option for you.
During therapy sessions, you can process your emotions and address some of the underlying issues that have attracted you to a married woman.
Сheck your mental well-being for free: