Published February 3, 2023 / Updated March 20, 2023
Dealing with Loneliness or Grief This Valentine's Day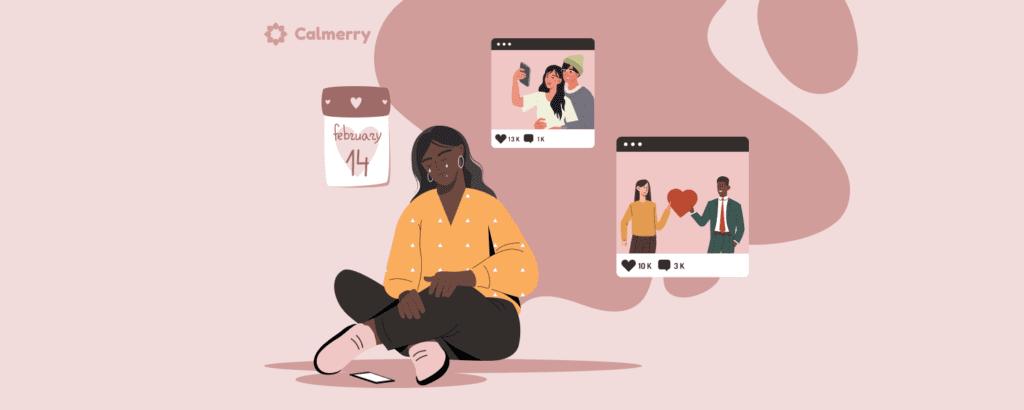 Reading Time:
6
minutes
For many people who celebrate Valentine's Day, it's just another prompt to spend quality time with their significant other, from something as small as exchanging cute little cards all the way up to a perfectly-planned proposal.
Though Valentine's Day is meant to be a time to celebrate togetherness and our love for one another, for countless people, it can become an unwelcome reminder of the loss of a loved one or a general feeling of isolation and loneliness that can make the period around this celebration a waking nightmare.
Whether or not you're spending Valentine's day alone, seeing love hearts plastered in every store window and getting constant reminders from your phone can be enough to get anyone down in February.
In today's post, we'll take a closer look at how loneliness and grief can affect people on Valentine's Day, and some of the most effective ways to cope with these feelings this year.
When you're dealing with grief this Valentine's Day
If you're working through the stages of grieving, being surrounded by Valentine's Day messages of love and togetherness can feel particularly scathing.
Though it may not be possible to avoid the reminders of an international "couples' holiday," there are still various ways you can make it easier for yourself to be brave in the face of your loss.
Don't be afraid to "cope ugly"
Our first recommendation for anyone experiencing grief during Valentine's Day is to stay in touch with your feelings and don't behave in a certain way just because it's expected of you.
George Bonanno, a renowned clinical psychology professor who specializes in grief and post-traumatic growth, has long advocated the positive effects of "coping ugly," meaning behaviors that may seem unhealthy or counterproductive on the surface but actually work wonders for the people who use them.
Many people struggle with knowing how to support a grieving loved one, but don't let societal expectations dictate the way you cope.
Whether it's cutting off contact with your friends for a while or trying a new pastime that's completely new to you, trusting your instincts and embracing coping strategies that seem strange or unconventional could make being alone on Valentine's Day a very different experience.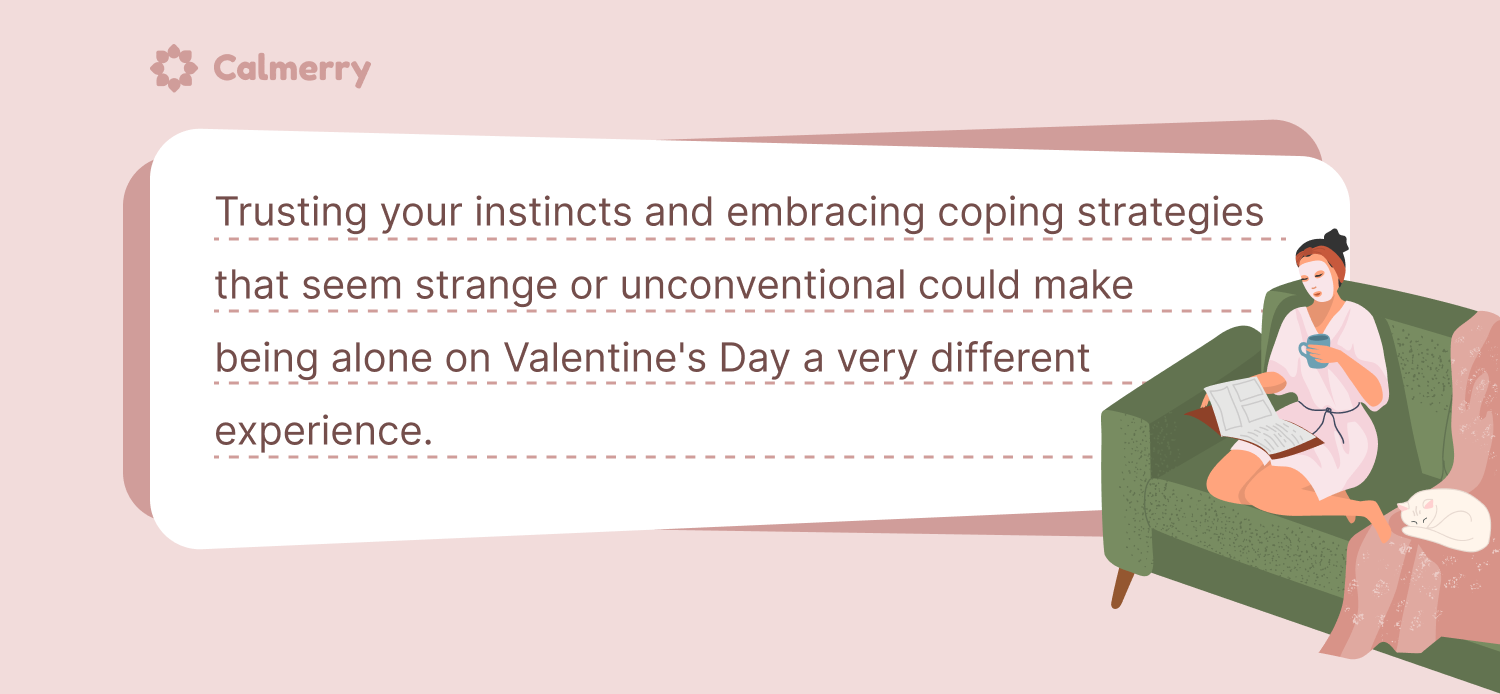 Make time for journaling
Valentine's Day can often mean that your friends and family are all booked up and unable to keep you company. If this is the case, try setting the time aside for a session of journaling.
Journaling is an increasingly popular method of stress relief. It can also provide a practical way to better organize your thoughts when you're dealing with complicated grief, and feeling so overwhelmed by the constant barrage of emotions that you can't think straight.
Whether you're scribbling in a notebook, using the Calmerry journaling tool, typing into a google doc, or even making an audio recording of your thoughts and feelings, journaling allows you to effectively make time for your own emotional needs. It can provide better insight into how you're handling and responding to your grief.
Be your own date
It's been said that grief is love with nowhere to go. If you're feeling especially lonely this Valentine's day, it may be high time to practice some self-care and try to counteract the physical toll that grief can have.
Many bereaved people report feeling physically exhausted when they're wrestling with their emotional pain. This can often be worsened by bad physical habits stemming from the psychological strain of grief, such as poor-quality sleep, a lack of exercise, or poor eating habits.
If you're experiencing grief and constantly feeling drained, then making a point to give yourself the kind of physical TLC that's missing from your life could be the ideal way to make this year's Valentine's Day that much easier.
Valentine's Day for singles – what to do if you feel lonely
Even when you're not experiencing grief or recovering from a similarly distressing event in your life, simply being single when you're surrounded by Valentines-themed marketing campaigns and overly sentimental music can be enough for anyone to feel extremely lonely.
If you can feel this experience looming on the horizon, here are a couple of pointers on what to do on Valentine's Day if you're alone and worried about how it could impact your mental well-being.
Take a break from social media
The overuse of social media has been associated with a higher incidence of anxiety, depression, and other mental illnesses.
When these more generalized risks are combined with the glaring FOMO caused by a flood of sickly-sweet couples' posts around Valentine's day, it becomes obvious that it may not be the best time to be active online if you're feeling lonely.
Though it can be hard to break a scrolling habit, making a point to log off and unplug from your social media feeds can be an excellent way to counteract the feelings of anxiety and isolation that can come from being single on Valentine's day.
Removing social media from your day-to-day can be a great way to prompt yourself into tackling projects and tasks that you've been putting off or spending more quality time with your friends and blood relatives.
If you don't feel like you can cut it out completely, then try adjusting your relationship with social media by:
Stopping screening Valentine's Day hashtags
Making a conscious effort to scroll past overly romantic posts
Using screentime settings on your phone to limit your social media use
Pausing your most-used social accounts
Talk to other singles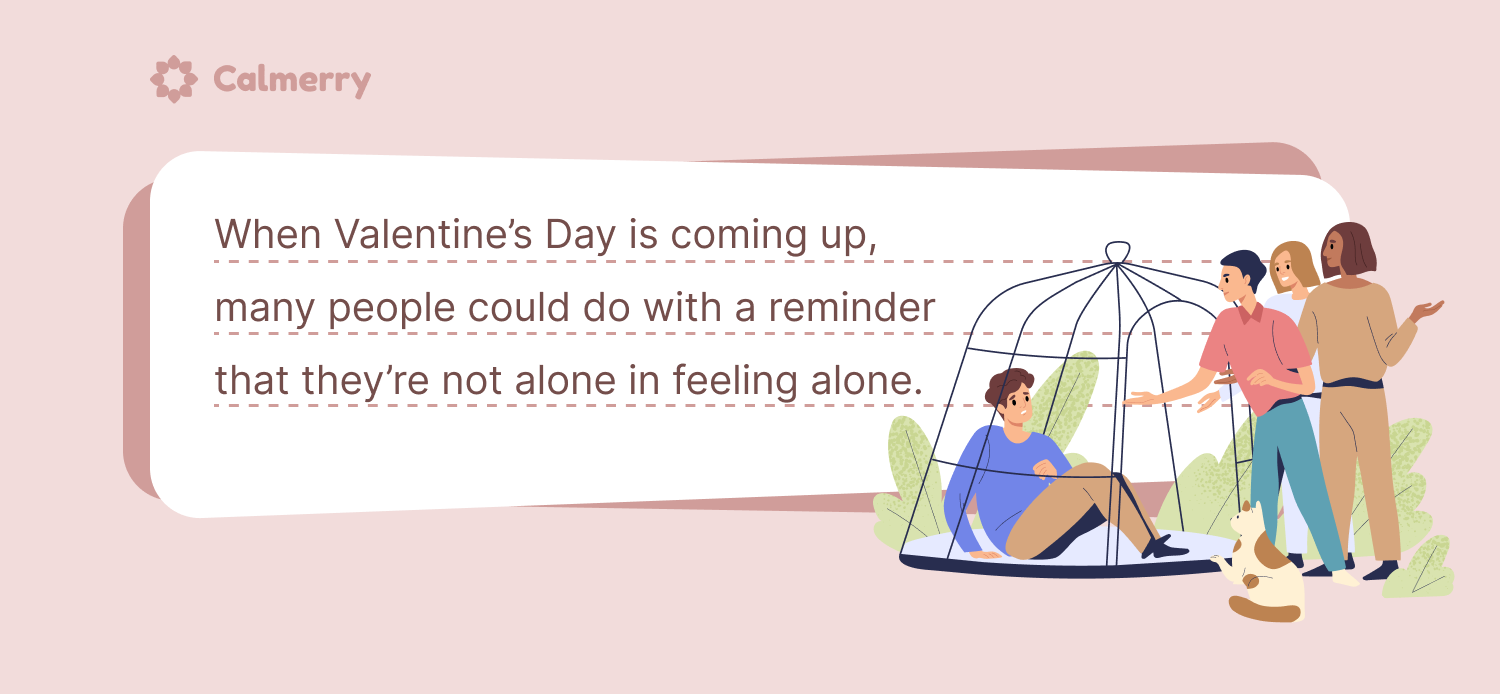 Whether it's your friends, relatives, or even complete strangers, talking to other people who are experiencing Valentine's Day as a single can be a fantastic way to legitimize your own sense of disenfranchised grief. It can give you some perspective by reminding yourself just how many people feel lonely on Valentine's Day.
When Valentine's Day is coming up, many people could do with a reminder that they're not alone in feeling alone.
Reaching out to people you know who may be in a similar spot can function as a kind of informal, improvised talk therapy where you can explore each other's feelings and flesh out some legitimate considerations many singles have during Valentine's Day.
For example:
Is it okay to feel sad on Valentine's?
How much of my loneliness comes from comparing my life to others'?
Am I practicing enough self-love?
What does "single and happy" look like to me?
Whether you take the opportunity to have a serious exploration of these topics or simply make it a casual get-together, the sense of belonging and confidence you can get from your social support network can often be the perfect antidote to the Valentine's Day blues.
And remember that your therapist can be one of the strongest parts of your social support network.
Avoiding Valentine's Day pressure when you're in a relationship
Knowing what to do on valentines day alone is challenging enough. But even when you're in a loving relationship, many people can feel isolated, overpressured, or anxious.
If you're experiencing these worries or uncertainties in the run-up to the 14th, here are some mental health pointers for you and your partner.
Try not to worry about gifts too much
Valentine's Day and gift-giving seem to go hand in hand. But it's important to distinguish gift-giving as a genuine act of love from the more commercialized and saccharine form that we're bombarded with every February.
If you experience anxiety over making decisions in your day-to-day life, the huge array of options that Valentine's Day ads throw at us can feel completely overwhelming.
In fact, studies have shown that people who are presented with an excessive number of options can find that these situations exacerbate their anxiety. They can even feel less satisfied with their choices when compared to decisions made from a smaller selection of options.
To avoid piling more stress onto your Valentine's Day experience, we recommend communicating with your partner openly and early.
By discussing your budget and expectations honestly, you'll be able to gain some much-needed perspective on the tricky topic of buying your partner gifts and hopefully avoid being your own worst critic when you exchange gifts.
Don't compare your experience to other couples'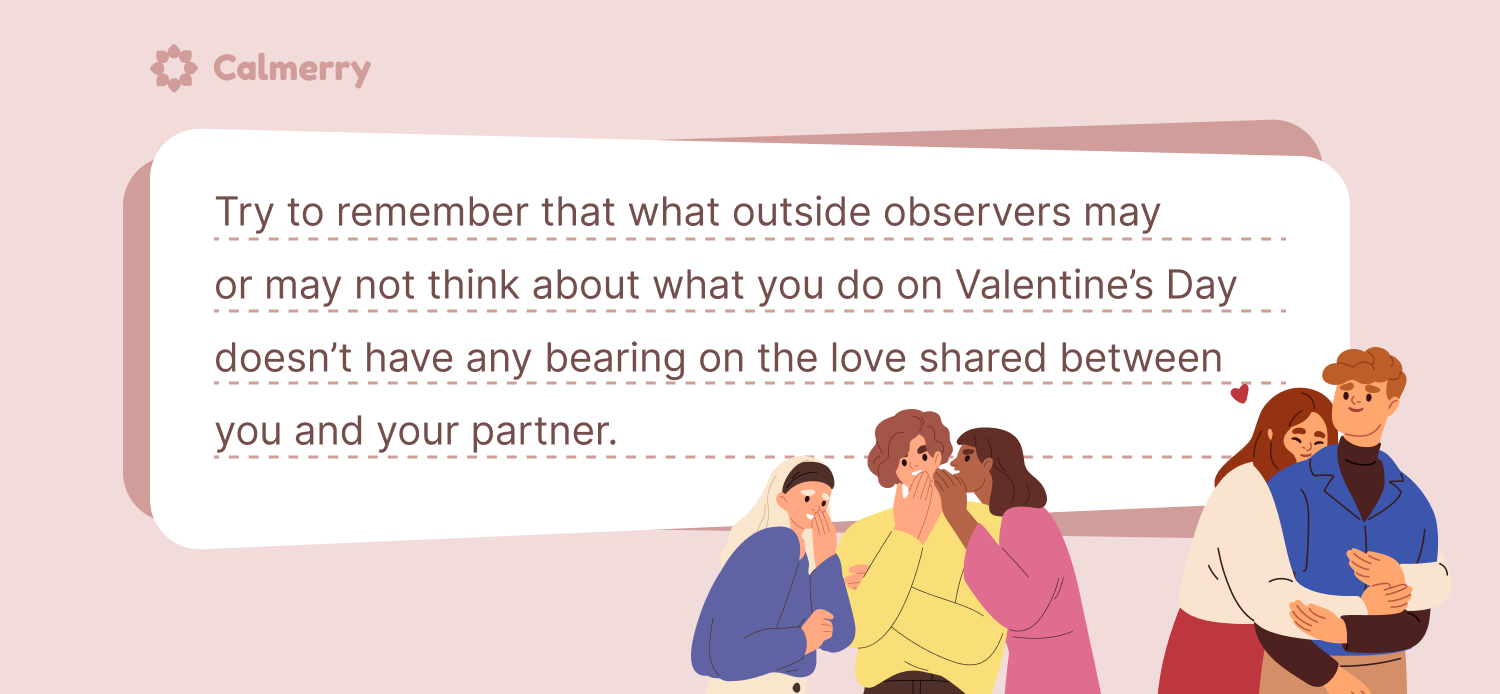 Whether it's intentional or not, Valentine's Day can bring up feelings that you're in competition with other couples.
This is especially true when we're constantly exposed to ads and social media posts that imply your gifts or gestures reflect your commitment to each other and push you to work towards a picture of the "ideal" relationship.
Try to remember that what outside observers may or may not think about what you do on Valentine's Day doesn't have any bearing on the love shared between you and your partner. And feeling like you have to match some arbitrary ideal will only ruin an otherwise special occasion.
Again, the most important part of avoiding unfair comparisons is communication with your partner ahead of time.
By putting your cards on the table early on, you'll make it easier to avoid reading into your partner's speech and behavior and ensure a more positive experience for both people.
Subscribe
to our mental health digest
Let us support you on the way to better mental well-being. Get expert tips and insights on mental health delivered to your inbox monthly.
Make your Valentine's Day about you
Dealing with grief, loneliness, or other, more complex emotions around Valentine's Day can be difficult and distressing.
However, by making a conscious effort to put this holiday in perspective and adjust your expectations to your own situation, you can look forward to a Valentine's Day that's right for you.
For further support with your mental health or to find out more about our online grief counseling, be sure to check out our online therapy services and other resources today.
Сheck your mental well-being for free: