Published October 18, 2022
How to Maintain Vulnerability in Therapy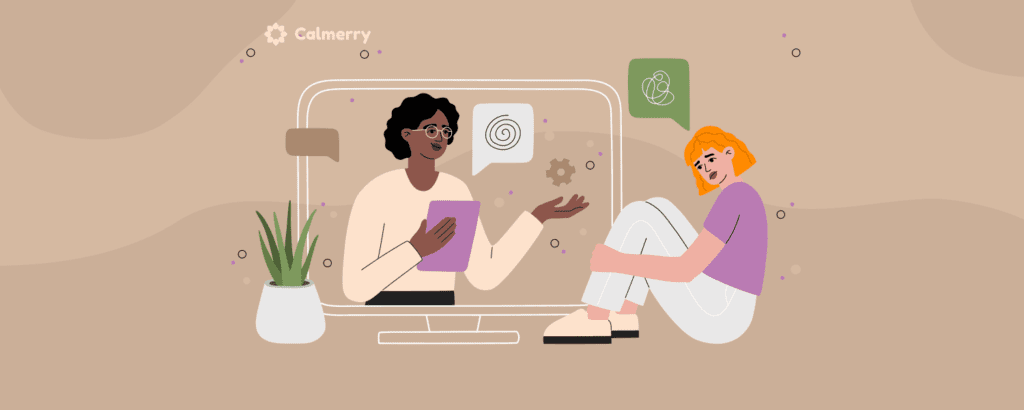 Reading Time:
5
minutes
Before going to see a therapist, people may have some fear of reaching out for help. They worry about sharing their deepest emotions with someone new, and they may worry about being judged or sharing embarrassing information during a therapy session.
So, does therapy make you vulnerable? The answer is that yes, attending therapy requires a certain degree of vulnerability. Ultimately, opening up to a therapist helps you to heal and overcome whatever emotions, trauma, or mental health issues brought you to therapy in the first place.
If you're struggling with the need to be vulnerable in therapy, there are some strategies you can use to make the process easier.
What does it mean to be vulnerable in therapy?
Before learning about strategies for overcoming a fear of vulnerability, it's important to understand what it means to be vulnerable with your therapist. A recent report in the Canadian Medical Association Journal described vulnerability as a situation in which someone could potentially experience physical or emotional harm.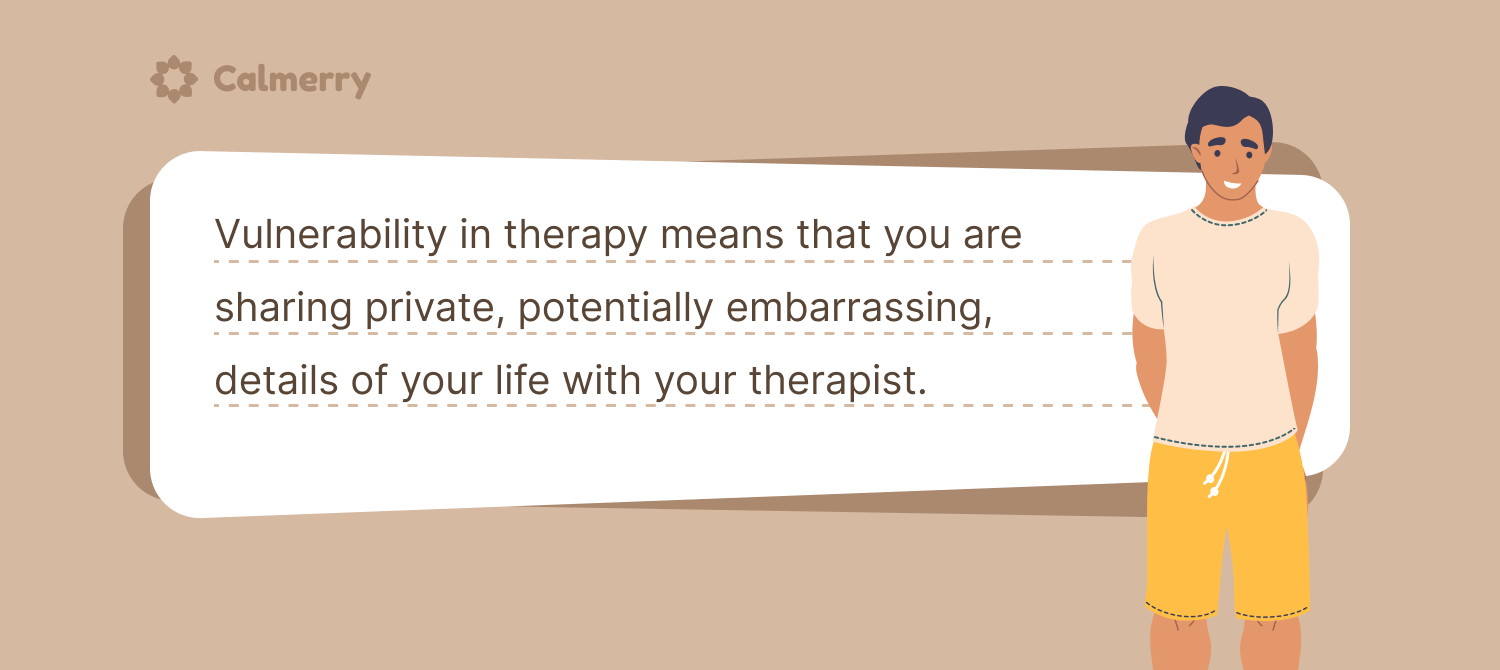 So, what does vulnerability mean when it comes to therapy? In therapy, being vulnerable means exposing aspects of yourself that could be emotionally challenging to share with others. Vulnerability in therapy means that you are sharing private, potentially embarrassing, details of your life with your therapist. Doing so makes you vulnerable because it opens you up to judgment from others.
While being vulnerable can be a challenge, the ability to show vulnerability is actually a strength. Furthermore, it is through vulnerability that we can reach true healing.

Subscribe
to our mental health digest
Let us support you on the way to better mental well-being. Get expert tips and insights on mental health delivered to your inbox monthly.
Learning to cope with feeling vulnerable after therapy
Feeling vulnerable is a natural response to opening up in therapy, and it's important to maintain a certain degree of vulnerability so you can explore your emotions and experience the growth that comes from working with a therapist. That being said, it can be uncomfortable to maintain your vulnerability during therapy sessions.
If you're struggling with feeling vulnerable in response to therapy, the following strategies may ease some of your discomfort.
Remember the role of your therapist
It's natural to worry about opening up to a stranger, but you may be more comfortable if you remind yourself of your therapist's role. A therapist or counselor must create positive working relationships with clients in distress, and this is achieved primarily through strong interpersonal skills.
Therapists are able to facilitate strong working relationships with their clients through showing empathy and positive regard. This means that therapists can place themselves in a client's shoes, and they maintain unconditional respect and caring for clients, regardless of what the clients may share in therapy. In fact, a therapist who shows positive regard and empathy is likely to have a more positive effect on clients.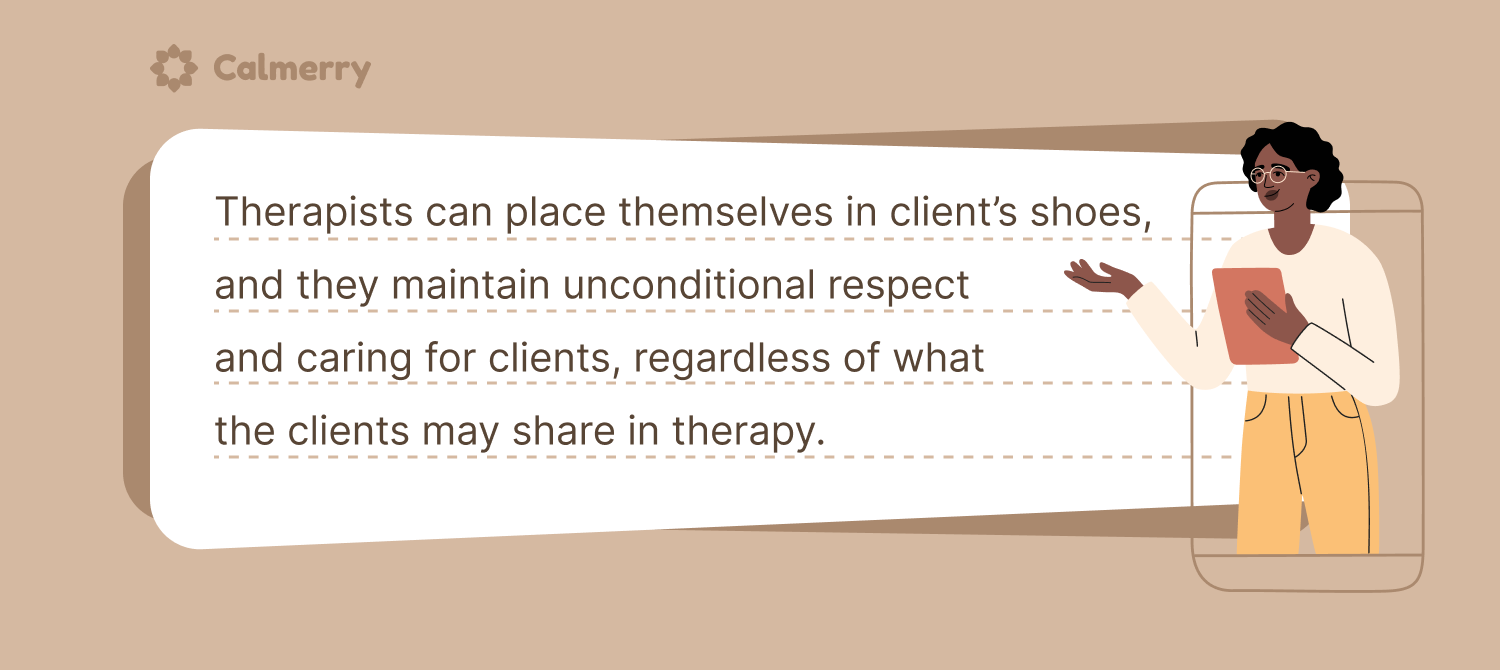 If you have difficulty with the concept of feeling vulnerable in therapy, and you have a difficult time opening up on an ongoing basis, remember that your therapist is not there to pass judgment. They aim to create a safe setting, in which you can be honest and share your deepest concerns, experiences, and emotions.
Develop positive coping skills
Feeling vulnerable after therapy may mean that you sometimes find appointments with your therapist to be stressful. Developing healthy coping skills can go a long way toward making vulnerability a little easier to manage. For instance, you may decide that you need to take some time for self-care after appointments. This may mean meeting up with a friend for coffee, taking a walk or jog around the block, or simply doing something mindless like flipping through the pages of a magazine.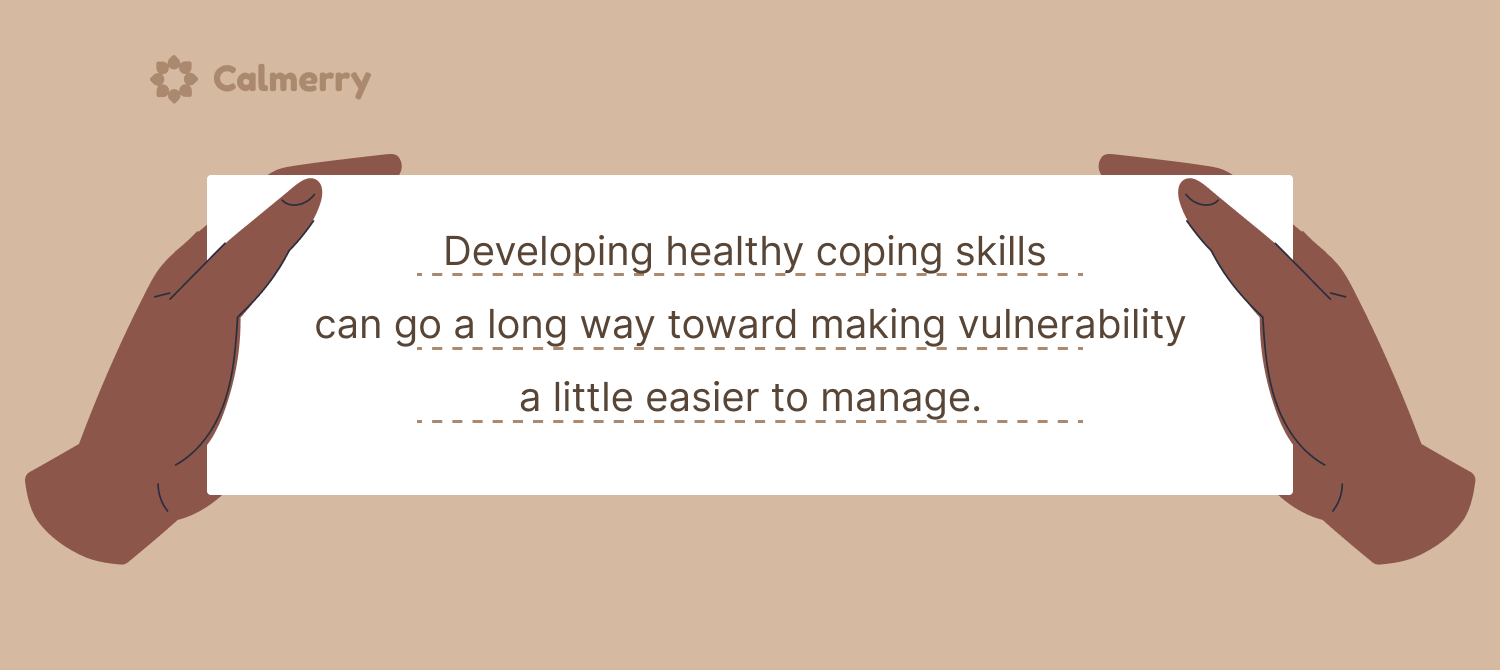 Setting boundaries is also a healthy coping skill that can help you to become more comfortable with vulnerability in therapy. What this means is that you may have to take on fewer tasks, especially on the days when you have a therapy appointment. You might consider scheduling appointments later in the day after you've already fulfilled most of your obligations.
It can also be helpful to give yourself some time to emotionally process after an appointment. This can mean setting a boundary, and saying no to extra commitments or evening activities on therapy days.
Choose the right therapist
Having a therapist you connect with is perhaps the largest determining factor when it comes to whether or not you will be comfortable with being vulnerable. Your therapist should take the time to build a strong relationship with you, and you should feel at ease in your therapy sessions. The therapist should explain what you can expect in therapy, and you should feel as if you can trust them to be nonjudgmental and keep your story confidential.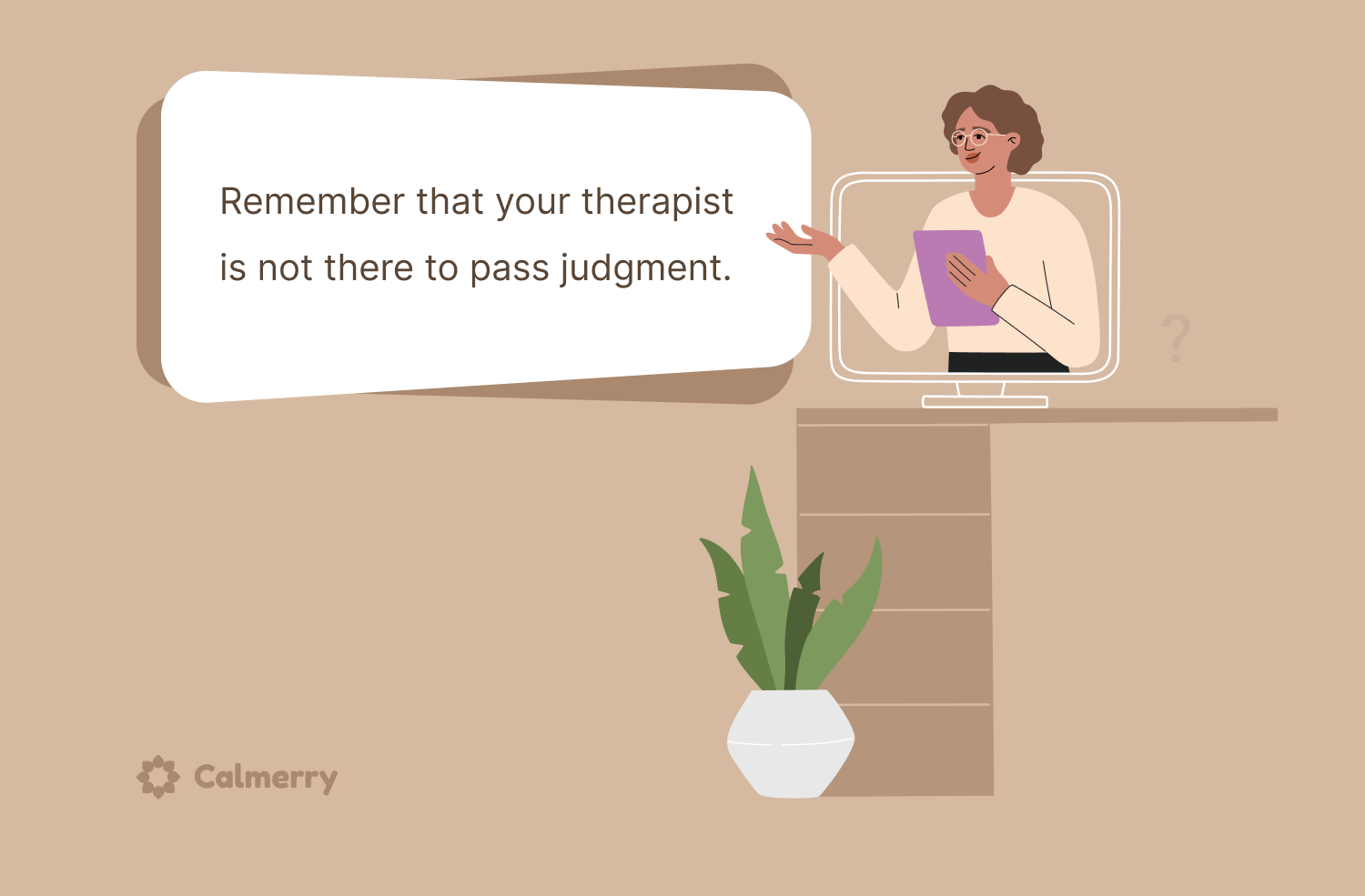 It is helpful if you do some research before selecting a therapist. You might consider recommendations from people you know, or explore online information about therapists in your area to find one who seems to be a good fit. Most therapists provide brief autobiographies on their website, so you can learn more about their treatment philosophies and decide whether a particular clinician is a good match for your needs and preferences.
If you've gone to a few sessions and it seems you just aren't on the same wavelength, it may be time to look for a different therapist.
Practice being vulnerable
If you're not accustomed to opening up to other people, it can take some practice before you're comfortable being vulnerable with your therapist. With practice, you'll notice that sharing your emotions becomes more natural. You can begin by taking the opportunity to communicate your feelings to your therapist.
If there is something going on in your life that is bothering you or causing distress, practice sharing the specific feeling surrounding the situation. Maybe you're feeling hurt by your significant other's behavior, or maybe you're feeling as if your efforts at work aren't appreciated. Whatever it is, communicating exactly what you're feeling is the first step in being vulnerable.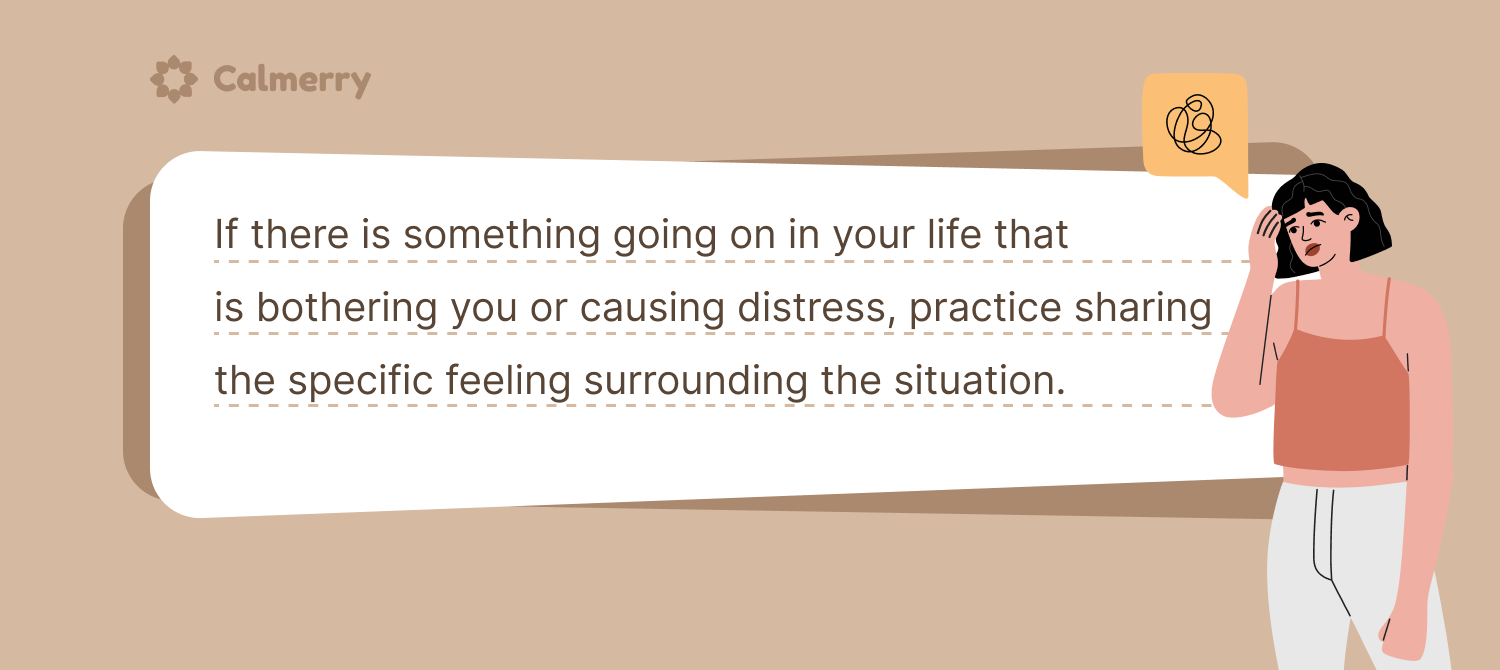 If sharing your feelings out loud is too uncomfortable, it can be helpful to write what you're feeling in a journal. Over time, you'll be able to translate what you've written into meaningful conversation during therapy sessions.

Consider online therapy
Telemental health, or online therapy, is becoming increasingly popular, and this may be a suitable option for those who struggle with feeling vulnerable after therapy. An online session allows you to meet with a therapist from the comfort and privacy of home, which may ease some of your fear and make you more comfortable with the process.
Research has supported online therapy as an effective method for patients with mental or emotional health conditions. In fact, a recent review of research found that clients receiving online therapy reported a strong alliance with their therapists, despite receiving treatment online rather than face-to-face. If you choose online therapy, you can still expect your therapist to have strong skills, including the ability to show empathy and build a trusting relationship with you.
Feeling vulnerable after therapy is a natural response to opening up to a therapist, but this is part of the healing process. If you feel more comfortable opening up in an online setting, Calmerry is here to help. We offer online therapy to treat a variety of problems, including anxiety, grief, and family conflict. Visit our website today to get started.
Сheck your mental well-being for free: