Published February 9, 2023 / Updated March 23, 2023
5 Common Myths about Therapy and Why They're Not True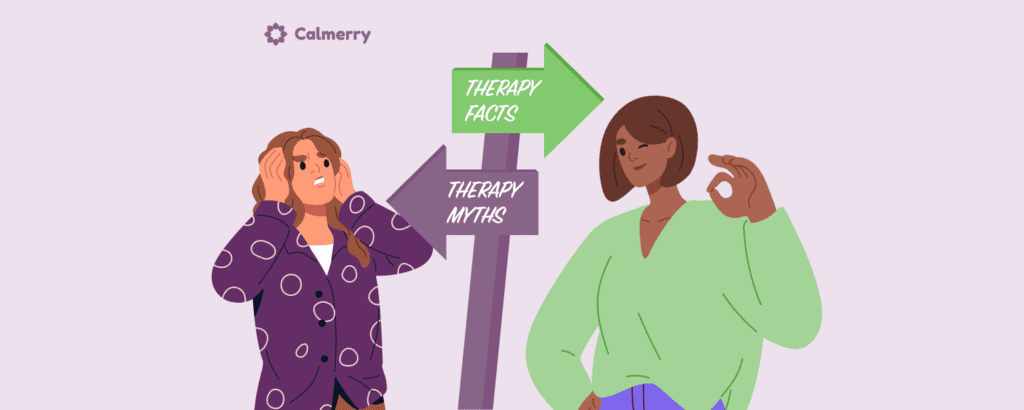 Reading Time:
5
minutes
Therapy gives you a safe space to talk about your experiences and teaches you practical strategies to help you deal with both life's ups and inevitable downs. But there are many common stereotypes and misconceptions about what exactly therapy is, who it is for, and how it works.
These therapy myths aren't true, but they contribute to the stigma surrounding mental health issues and can prevent people from getting the support that can potentially change their life. That's why it's more important than ever that more people know the facts about therapy so they can benefit from all that therapy has to offer.
Here are 5 common myths about going to therapy and counseling to finally stop believing.
Myth #1: My problems aren't serious enough for therapy
Many people believe that therapy is the option for those who have serious mental health problems or are in crisis. That's far from the truth – you don't have to have a serious mental illness to benefit from therapy. Now, getting help is viewed as a sign of resourcefulness, because when it comes to physical and mental health, prevention is always better than cure.
All people struggle from time to time, and psychotherapy can help with a variety of needs, including: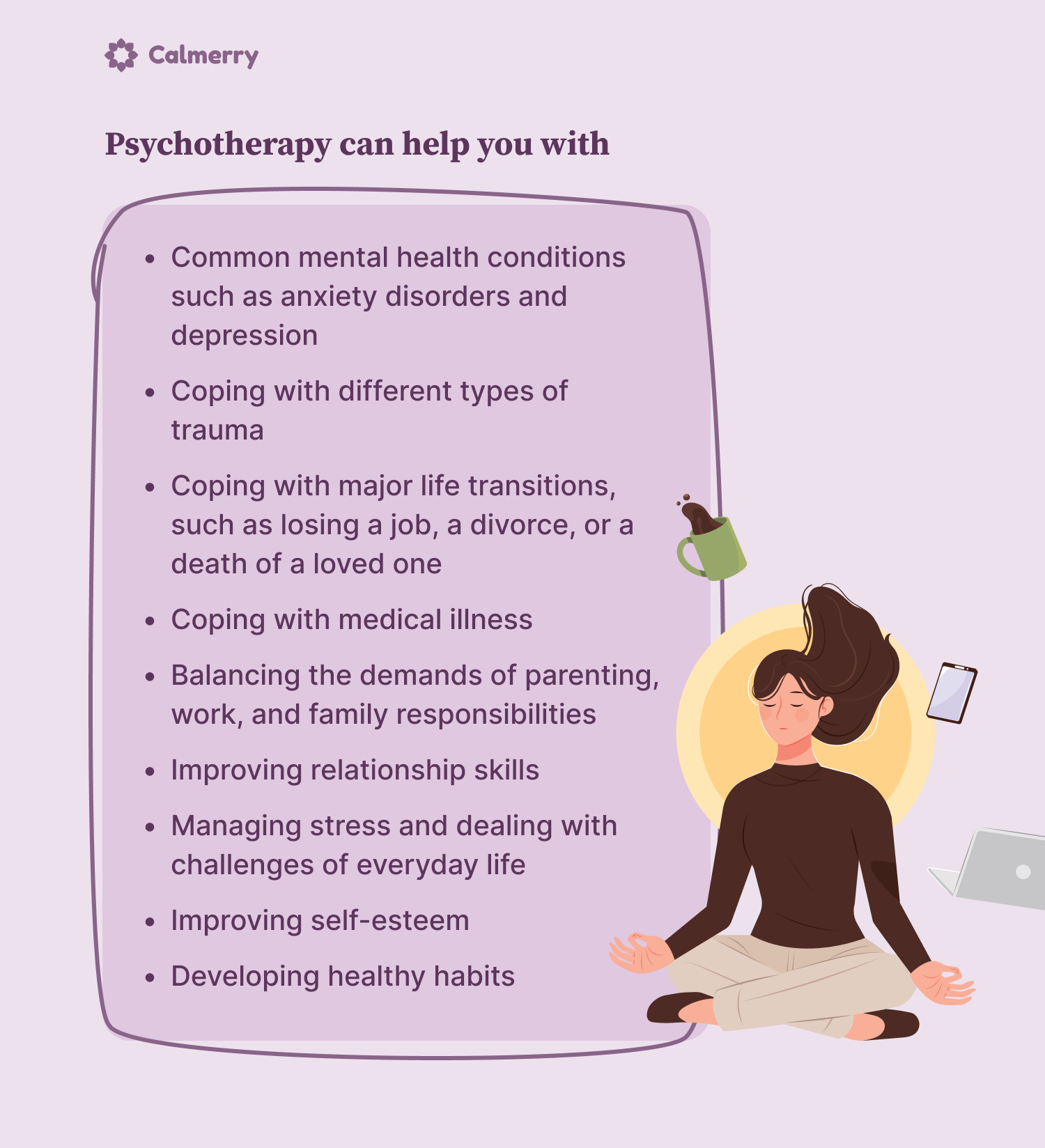 Therapy is also a great place to learn about yourself as a whole, become a better problem solver, set life goals, and move in the direction toward growth.
Myth #2: I can always fix my own problems
We all like to be independent and look after ourselves, so it can be difficult to admit that you may need a little help when you're having a hard time. Asking for help isn't a sign of weakness, so you shouldn't feel like you have to deal with mental health problems on your own. Being vulnerable is, in fact, a sign of strength and a first step toward feeling better.
It's great if you can get support from people who care about you and talk about the problems you have tried to solve on your own for weeks or months with good friends or family, but it's not enough. Your loved ones may not have the tools to respond in the right way.
Struggling with mental health conditions can be really exhausting and overwhelming. You might be dealing with distressing symptoms and negative thoughts and not know how to cope with them, and this is where therapy can help.
A therapist can offer much more than talking to family and friends because they have years of specialized education, training, and experience. Of course, you'll be doing a lot of work by yourself, but your therapist will equip you with evidence-based tools that have been proven to help other people with similar issues. They will help you understand your thoughts and emotions and teach you skills to manage your symptoms.
Myth #3: Psychotherapy can solve problems in one or two sessions
While in some television shows, a character can be "fixed" in a session or two, it doesn't work that way in real life. The first session is basically an intake session, and it's also the time for you to get acquainted with your therapist. It's just a starting point. Also, it might take a few sessions to get to the heart of your problem.
And remember that therapy is typically an interactive, collaborative process – it's a dialogue between you and your therapist, and you are expected to take an active part in joint problem-solving. Together you and your therapist will identify problems and set achievable and measurable goals.
Afterward, it's all about learning healthy coping skills that can help you better manage your emotions and symptoms. Your therapist may give you homework assignments so that you can practice new skills between sessions, for example, using worksheets or reading assignments so that you can learn more about your issue.
Therapy is a safe and non-judgmental space where you can get professional guidance on coping with your mental health problems. It will empower you to change yourself and develop healthier, more effective habits that will help you better cope with whatever mental health challenges arise in the future. Learning new skills and building new habits don't happen overnight, so it may take a few sessions before you start seeing the positive effects.
Myth #4: All therapy is the same
Sometimes, people try one type of therapy, and if it doesn't suit their needs, they start thinking that all therapy isn't effective. But in reality, there are many different types of therapy, and all of them aren't created equal. There is no "best" type of therapy that fits everyone.
Some of the approaches to therapy work best for specific mental health conditions, and others can help with a wide range of issues. The most frequently used types of therapy are:
Cognitive Behavioral Therapy (changing unhelpful ways of thinking)
Psychodynamic Therapy (resolving traumatic childhood experiences and unconscious conflicts)
Interpersonal Therapy (addressing unhealthy ways of interacting with other people)
Person-centered Therapy (helping people find their own solutions to life problems)
Be ready that it may take some trial and error to find the approach that works best for you. But in many cases, the most important thing is to find the right therapist you click with and who will provide you with guidance to help you achieve your goals and become the best version of yourself.
Myth #5: I'll have to stay in therapy forever
This stereotype can be especially troubling for people who are concerned about the costs. But the truth is that psychotherapy is a very individualized process, and everyone moves at a different pace.
Your therapy journey doesn't have to last your whole life or a few years, although it certainly can if you find this approach helpful. But in general, the length of treatment varies and may depend on different factors, such as the severity of your symptoms, your wants and needs, and how quickly you make progress.
For example, Cognitive Behavioral Therapy (CBT) which is used to treat a wide range of issues, is generally considered short-term therapy, and the treatment for one particular problem usually lasts between 6 and 20 sessions. Acute mental health issues usually require fewer therapy sessions than chronic conditions.
You and your therapist can discuss how many therapy sessions may be right for you when developing a treatment plan. And in any case, the goal of therapy is to help you feel better and equip you with tools you can use in the future to help yourself, and not attend a certain number of sessions.
The bottom line
Therapy is used to treat a wide range of mental health conditions, from anxiety and depression to OCD and PTSD. But it can also help if you need emotional support with daily life challenges, want to strengthen your marriage, face problems at work, yearn to accept yourself, or are trying to sort out what to do next in your life.
Subscribe
to our mental health digest
Let us support you on the way to better mental well-being. Get expert tips and insights on mental health delivered to your inbox monthly.
Even though many misconceptions about therapy exist, many of them are grounded in fiction rather than reality, and they shouldn't prevent you from getting the help you need. And although therapy is a challenging process, at the same time, it's a rewarding experience.
Working with a therapist is a part of self-care and an investment in your mental health and your health as a whole. If you are interested in starting your therapy journey online, on Calmerry, you can get matched with a licensed therapist who'll help you grow and guide you on your journey to self-fulfillment.
Сheck your mental well-being for free: