9 Facts About Mental Health, 9 Myths, and Mental Health Trivia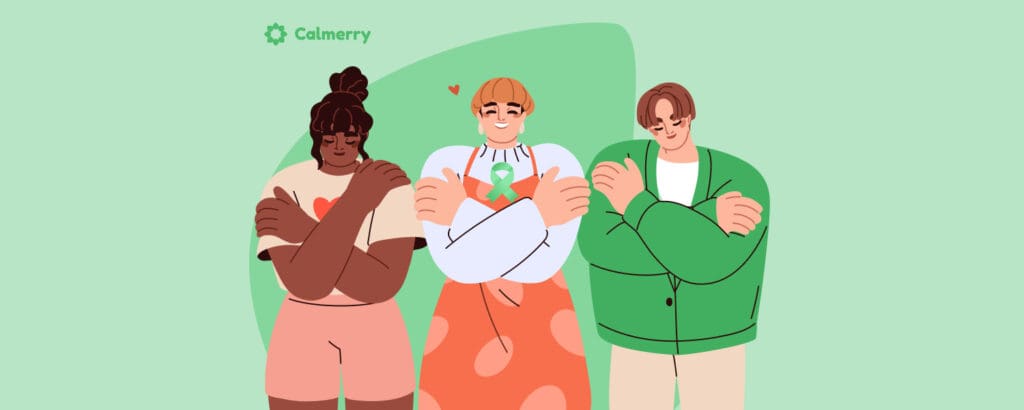 Reading Time:
6
minutes
Even though Mental Health Awareness Month has been celebrated since 1949, the stigma still exists. One way to engage in mental health advocacy is to become aware of the most popular facts and myths about mental health, which you can find below.
First, take this mental health trivia
In recent years, there's been an effort to acknowledge the importance of mental health, and more people have an awareness of the topic. But there's always something new to learn.
To test your knowledge and gain valuable insights, try out a mental health myths and facts quiz developed by the Calmerry Team. Even if you get all the questions right, the quiz gives you a brief explanation that can further improve your understanding.👇
Learn 9 important mental health facts you should know
Nowadays, mental health issues are more and more talked about. Still, stigma and lots of not fact-checked information on social media make it difficult to tell the difference between a fact and an incorrect assumption.
Here are a few interesting facts about mental health you should know:
There isn't one cause of mental health problems. A person is more at risk of developing a mental illness due to biological factors, such as a chemical imbalance in the brain, a history of adverse life experiences including abuse and bullying, genes and family history of mental issues, social isolation, drug and alcohol use, having a chronic health condition and traumatic brain injury.
According to recent statistics, suicide is estimated to be the 11th leading cause of death in the US.
Suicide is also the second-leading cause of death for people aged between 10 and 34.
Men are four times more likely to end their lives than women.
One of the myths about anxiety is that everyone has it. But while anxiety disorders are the most common mental health condition that affects about 40 million people each year, they're a diagnosable problem that requires professional help.
No individual living with the same condition has the same symptoms. For example, one depressed person might eat as much as usual but have a reduced sex drive, while another might experience the opposite.
Children suffer from mental health issues too: 1 in 6 youth aged 6-17 experience a mental health disorder each year.
At least 8.4 million people in the US are caregivers of adults with mental health issues.
New data shows that hospitals don't have enough spaces for mental health patients as they utilize 144% of beds designated for psychiatric treatment.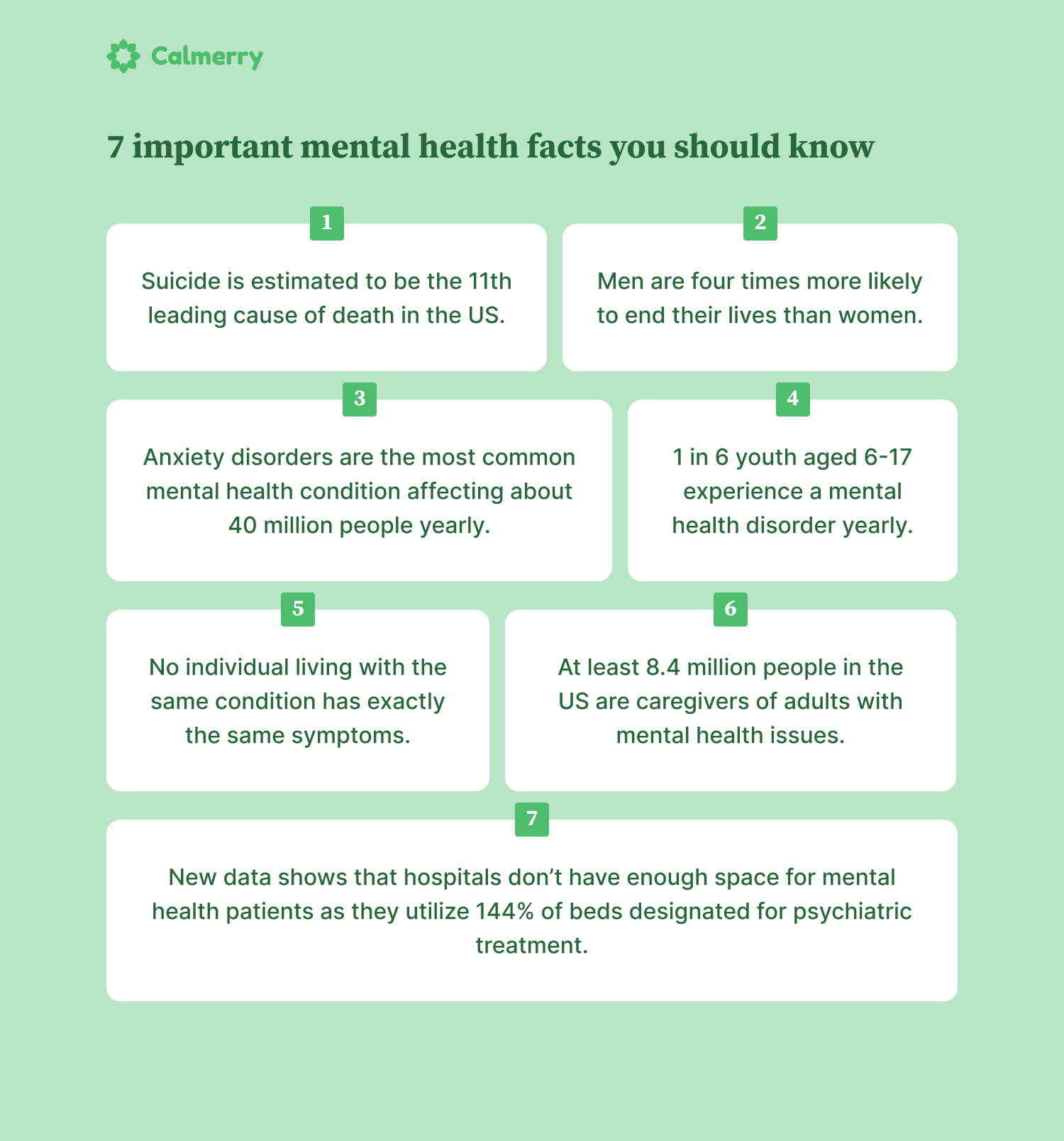 Explore 9 myths about mental health and common misconceptions
Debunking myths about mental health helps raise awareness and destigmatize mental health issues. Here are the most common misconceptions about mental health you might come across: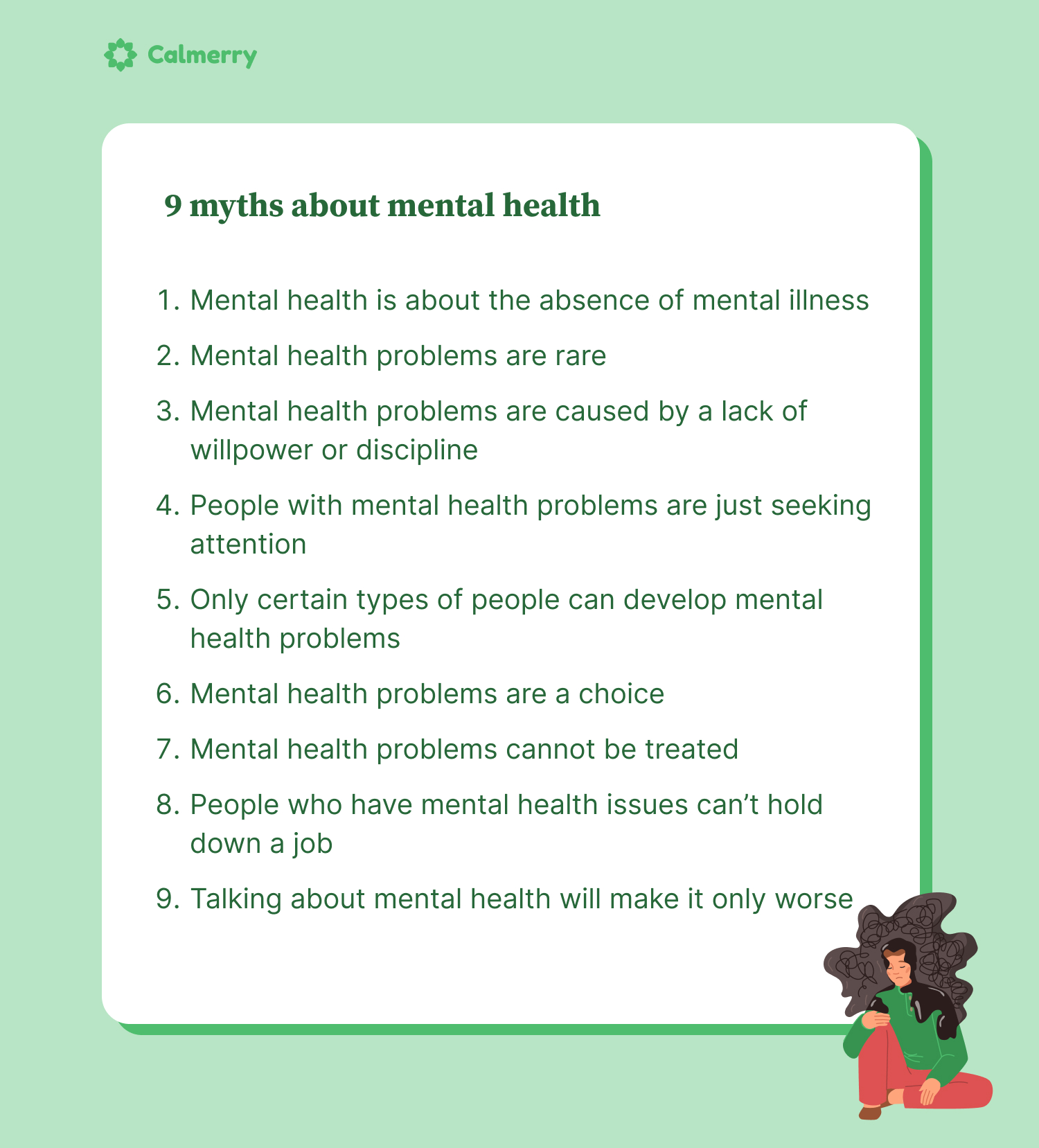 1. Mental health is about the absence of mental illness
While the absence of mental illness is certainly an important component of mental health, it's a broader concept encompassing a range of factors that contribute to an individual's overall well-being and quality of life. Check out the article explaining the difference between mental health and mental illness.
Mental health is a complex spectrum – each person and situation is different. For example, you might experience symptoms that prevent you from working full-time but still manage to keep a job. Or you might feel too unwell to work but still be able to take care of yourself.
Regardless of how much your condition affects your daily life, any self-care activity that promotes well-being can benefit your mental health. Similarly, just because you don't have a mental health condition doesn't mean you shouldn't prioritize your well-being.
2. Mental health problems are rare
Mental health problems are more common than people think. According to the 2023 State of Mental Health in America Survey, about 50 million people live with a mental illness.
Chances are that there's more than one person in your social circle who's struggling.
3. Mental health issues are caused by a lack of willpower or discipline
One of the most important facts about mental health is that mental health issues aren't a sign of weakness or personality flaw.
This is also a common depression myth. Society seems to think that depressed people don't put in enough work to overcome their symptoms. However, believing that it's possible to resolve a mental health problem by trying harder is like advising a person with a sprained ankle to walk it off.
While mental and physical health issues are similar in that they both require appropriate treatment, dealing with a mental health problem often takes more strength due to stigma.
In a way, mental health is the opposite of lack of discipline: it's constant work to get better that requires a lot of resilience and strength.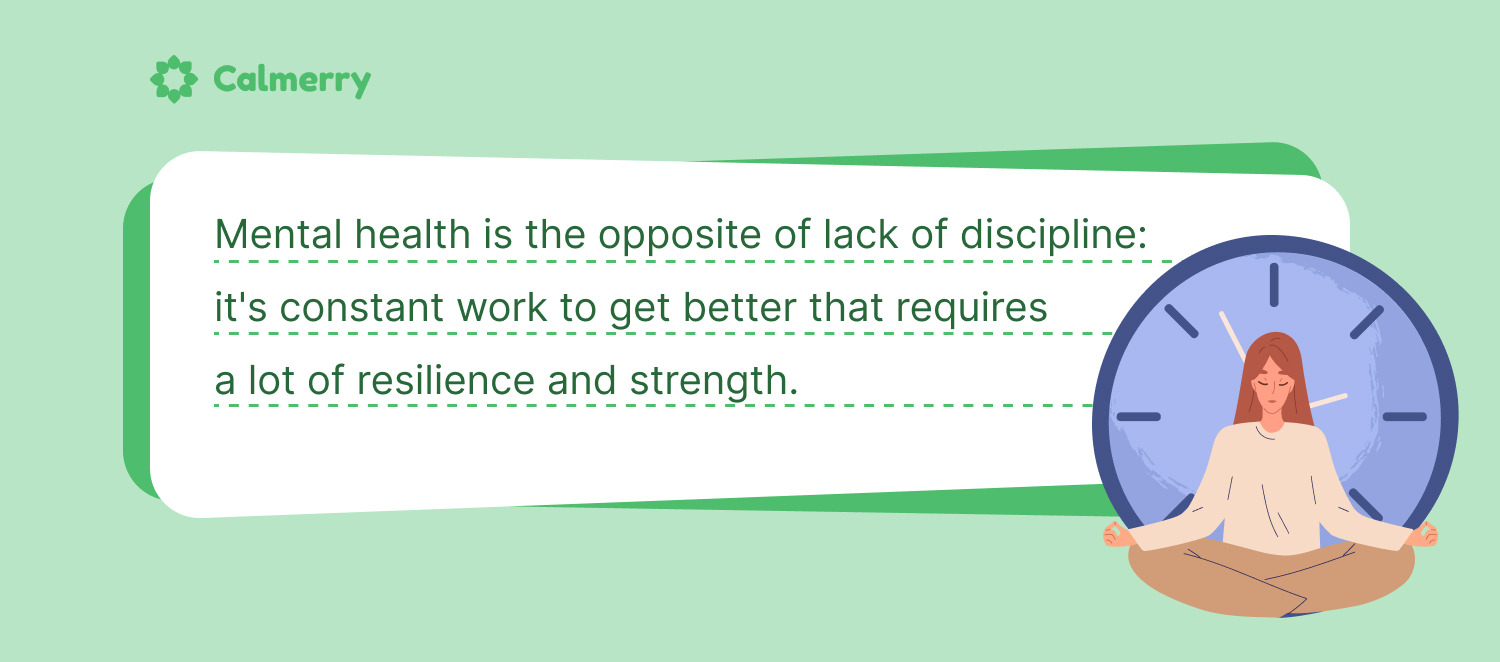 4. People with mental health problems are just seeking attention
Claiming that people living with mental health problems are just attention-seeking is invalidating and dismissive. These problems can cause significant distress and impairment in a person's life.
Besides, we all need emotional support, validation, and understanding throughout our lives. We all deserve it. But people with mental health issues don't always have a support network they can rely on and might reach out to a stranger or turn to followers on social media when they're struggling to cope.
This doesn't mean they're just attention-seeking and should be ignored. It's often a cry for help, and sometimes the person's life might be in danger.
In fact, people experiencing mental health problems may be reluctant to seek help or share their struggles with others because of the stigma. It takes a lot of courage and strength to acknowledge and seek help.
5. Only certain types of people can develop mental health disorders
Among other mental health misconceptions is a belief that people who seem to "have it all," like celebrities and privileged groups, can't have mental health disorders. This couldn't be further from the truth.
Just like anyone can develop physical health problems, mental illness can affect a person of any age, race, gender, religion, and income.
6. Mental health problems cannot be treated
You might be in a bad place right now, but you won't always be feeling this way. Nowadays, there are plenty of effective ways to treat mental health problems, including:
Medication
Coping skills such as journalling, mindfulness, and exercise
Self-care practices to support your well-being
And alternative treatments
There's no one size fits all, but recovery is possible.
Subscribe
to our mental health digest
Let us support you on the way to better mental well-being. Get expert tips and insights on mental health delivered to your inbox monthly.
7. Mental health disorders are a choice
While using drugs or restricting food intake might be a choice for some, becoming addicted to harmful substances and developing eating disorders isn't.
Mental health disorders can arise from various factors, such as:
Genetics
Brain chemistry
Traumatic life experiences
Environmental stressors
And other biological and social factors
Having a mental disorder isn't easy, and no one would choose to live this way. 
8. People who have mental health issues can't hold down a job
Even though people with mental health issues might face additional challenges at work, they're still valuable, capable, and successful employees who thrive in their careers.
Moreover, many people who suffer from anxiety are afraid that showing up late and not completing tasks on time will get them fired – so they might actually be more diligent than others. Additionally, having experience with mental health problems might be useful in the healthcare sector as it allows such employees to better understand what their patients are going through.
It's also important to recognize that mental health issues can manifest differently in each person and can vary in severity, duration, and impact on daily functioning. Some may require accommodations or support to perform their job duties effectively, while others may not.
And as mental health issues are not always visible, many employees may choose not to disclose their condition to their employer or colleagues because of the stigma.
Employers can play a critical role in supporting employees' well-being by creating a safe and supportive workplace culture, providing accommodations when needed, and offering mental health support on online therapy platforms, such as Calmerry.
9. Talking about mental health will make it only worse
Some people are reluctant to seek help because they worry that talking about their mental state will make them dwell on the past and wallow in self-pity. However, this is just a common misconception about therapy, and ignoring the problem won't make it disappear.
Delving into what contributed to a mental health issue and making sense of your emotions is an important part of treatment and one of the ways Calmerry can help improve your mental well-being. Calmerry's therapists are trained in evidence-based therapies and adjust treatments to individual needs: start a brief survey to find a compassionate professional to talk to online.
Research also suggests that talking to a trusted friend can be helpful as social support is associated with a positive effect on people's well-being. Even if you can't afford treatment just yet, it's always worth confiding in someone you trust.

Final Word
Learning about mental health facts and myths can help you understand the magnitude of the problem and become more empathetic to yourself and others.
One day you might be able to help a friend who's struggling or recognize that you need extra support before your symptoms worsen. Let's fight the stigma one step at a time! 💚
Сheck your mental well-being for free: