Published March 28, 2023 / Updated April 21, 2023
8 Myths and Facts About Anxiety – The Truth Finally Explained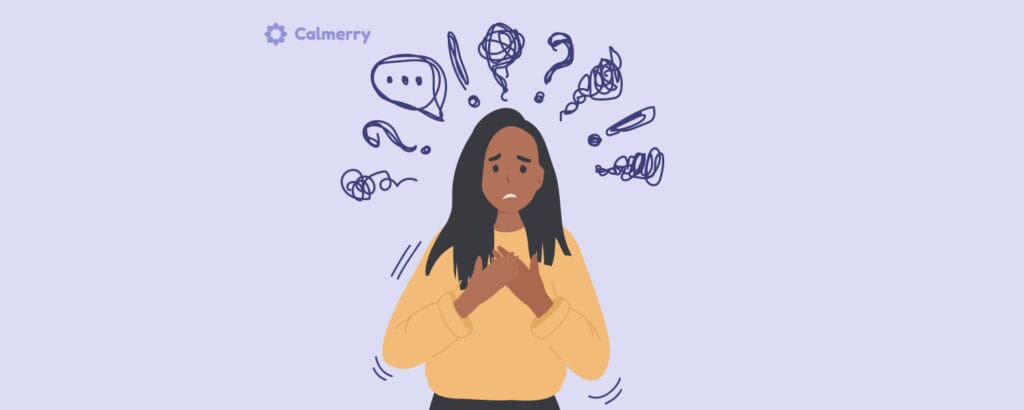 Reading Time:
6
minutes
Myths about anxiety can be harmful because they often prevent people from seeking treatment. If you believe your condition isn't a big deal, you might ignore the problem until it becomes debilitating.
So let's stop spreading the misinformation, fight stigma, and explore some popular myths and facts about anxiety.
Myth 1: Everyone suffers from anxiety disorders these days
One of the most popular anxiety myths is that it affects the whole population.
Even though everyone experiences day-to-day worry, not everyone meets the diagnostic criteria for what's known as a generalized anxiety disorder (GAD). A person who has GAD might suffer from a constant sense of dread and reduced ability to function.
Anxiety is more than worrying thoughts; it can even affect a person's body. Anxious people report physical symptoms such as:
Feeling light-headed
Dizziness
Stomach cramps
Sweating
Hot flashes
Fast and irregular heartbeat
Pins and needles sensation
It's also not uncommon to grind your teeth, use the toilet more often and struggle with sleep due to ongoing anxiety.
Anxiety isn't a normal part of life-related stress. If you suffer from an anxiety disorder, you might be unable to do activities you once enjoyed and become socially withdrawn.
It's important to seek help when you recognize that what you're going through is more than worry or nervousness.
Myth 2: An anxious person is easy to spot because everyone experiences anxiety similarly
Among other misconceptions of anxiety is the myth that symptoms are the same for everyone. Anxiety is an umbrella term for various anxiety disorders, including social anxiety disorder (SAD), separation anxiety disorder, phobias, and generalized anxiety disorder (GAD).
Even if two people live with the same condition, their experiences might still differ. While one person might struggle to leave the house and maintain relationships with others, another might function quite well, and their problem might not even be visible to others.
Many affected people who appear to have it all together struggle internally and can be classified as having a high-functioning anxiety disorder.
For example, a person might always be on time not because they're well-organized but because they fear being late. Another person might never show signs of distress, even when feeling anxious, to avoid embarrassment.
Myth 3: Medication is the only way to treat anxiety
Being prescribed antidepressants to deal with anxiety is common. The pharmacological route might sometimes be necessary to help a person feel well enough to explore other treatment options and start working on reducing stress. However, it's not the only way to treat anxiety disorders.
A study from 2017 found that cognitive behavioral therapy (CBT) offers the same efficacy as a pharmaceutical treatment for generalized anxiety disorders.
CBT is often a treatment of choice since it's effective and has no side effects like medications do. The aim is to help people stop the negative thought cycle and explore how their beliefs about themselves and the world contribute to their problems.
A person can also learn how to make anxiety more manageable by practicing relaxation techniques that increase the feeling of calm. If you have anxiety that prevents you from participating in daily life, online therapy allows you to receive treatment from the comfort of your home.
Many self-help strategies to improve your situation don't involve medication or counseling (although they won't be enough to treat the anxiety disorder independently).
Introducing self-care to your routine can help you boost your self-esteem and give you enough mental space to begin therapy. Similarly, journaling is a great way to release and make sense of some of the emotions you're experiencing.
It's also a good idea to remember to eliminate some habits that might negatively impact your well-being. For example, several studies have linked heavy social media use to an increased risk for anxiety. Those who stay plugged in too often might compare their lives to others and worry they aren't achieving enough.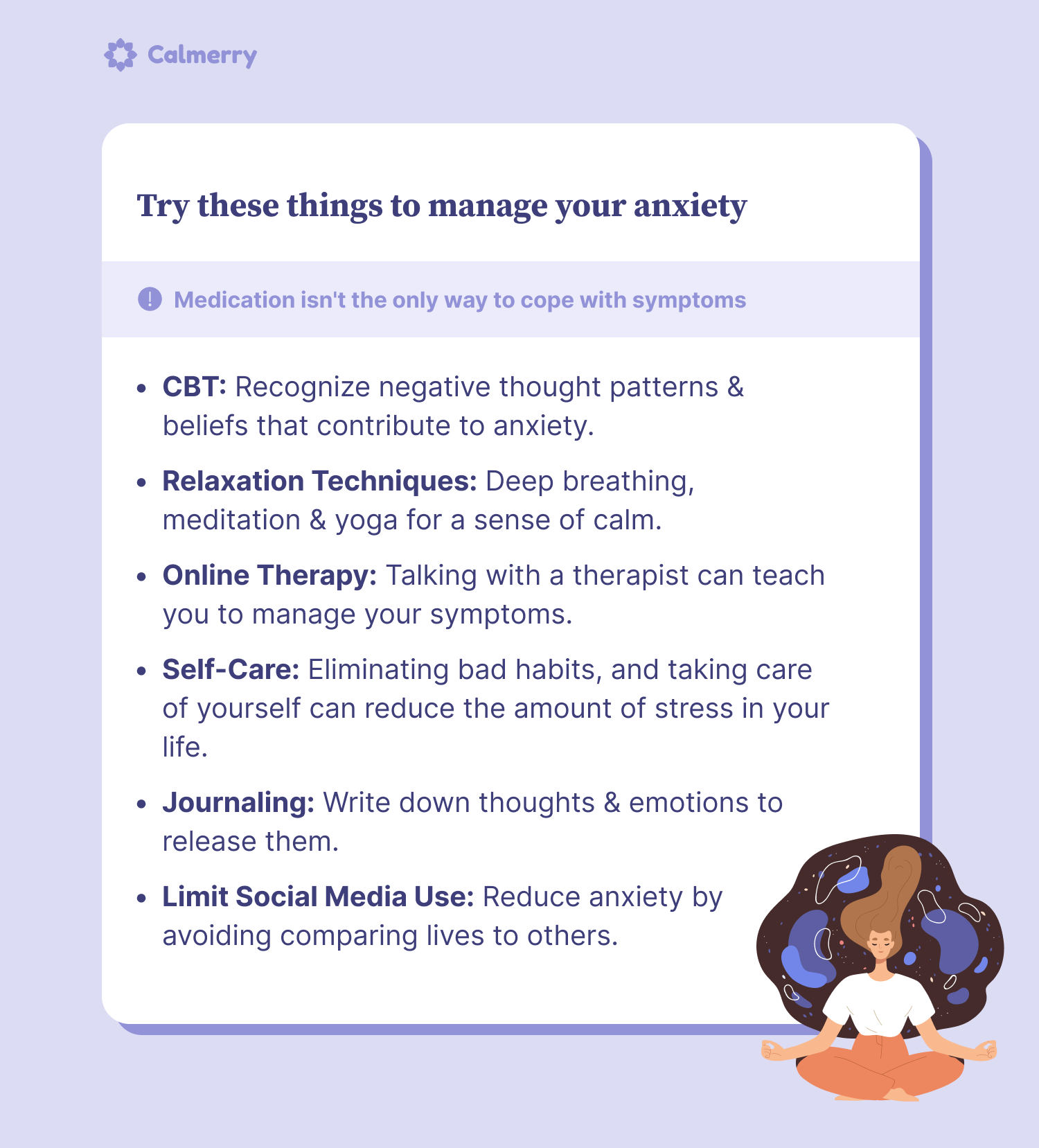 Myth 4: A panic attack is a danger to your health or life
One of the most common misconceptions about anxiety is that panic attacks are harmful. They might come suddenly and result in symptoms such as chest pain and difficulty breathing, which leads many people to believe that a panic attack is a heart attack. The sensation might be so overwhelming that some even fear that they will die.
The good news is that panic attacks are temporary and not dangerous. You're unlikely to faint because the blood pressure rises slightly, and the symptoms gradually subside. Still, finding coping skills you can rely on when they happen is beneficial.
One way to manage a panic attack is to practice mindfulness, the ability to be present in the moment. For example, one of the most effective grounding techniques is taking deep breaths. Remember that breathing too fast might cause hyperventilation: make them slow and deliberate.
Talking with someone you trust, your partner or a friend, can help you calm down and make you feel safer immediately after the attack. Repeating an affirmation, such as 'I am safe,' is also effective as it can give you a sense of reassurance needed to recover faster.
Myth 5: Some people are just more anxious than others and are bound to struggle for the rest of their lives
People are born with different temperaments; while some are optimistic, others might display neurotic personality traits and tend towards anxiety and depression.
Being raised by a family that cultivates a pessimistic mindset also means that you're more likely to view the world in a negative light. Similarly, many previous studies have identified childhood trauma as a risk factor for developing anxiety.
However, just because you've had a traumatic experience or tend to be a worrier doesn't mean that there's nothing you can do to make a difference.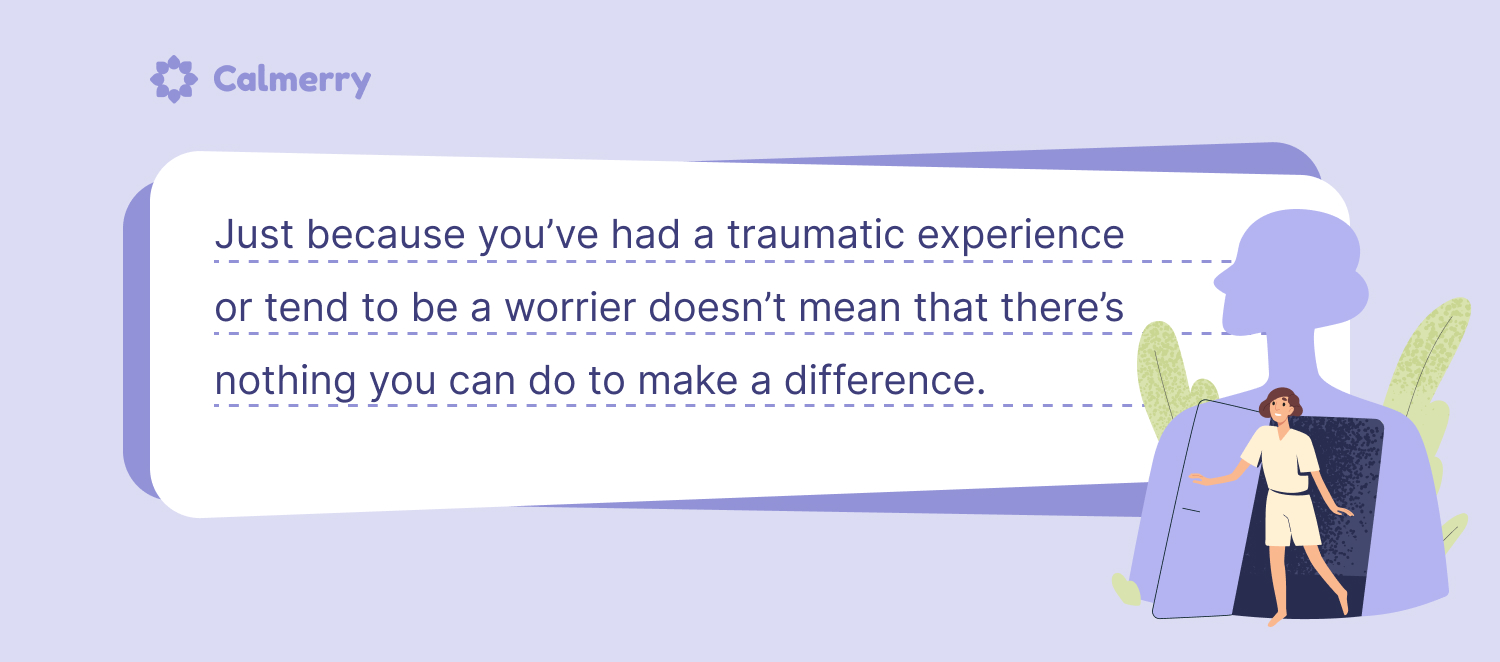 The key to overcoming anxiety is understanding how certain thoughts impact you and learning how to adjust them, which you can do with the help of a trained therapist.
Myth 6: Anxiety is a phase
If you're going through a difficult time in your life, it's natural that you struggle more than usual. But can anxiety go away on its own when your situation improves?
The belief that anxiety is just a phase seems to be somewhat common. People who don't understand it well might assume that once they leave a stressful job, pass the exam, or deal with a family issue, it will go away.
But while reducing stress can help, anxiety is still a mental health disorder that requires professional care.
If you feel like you've done everything to ease your symptoms, from introducing healthy foods to your diet and exercising, but anxiety persists, don't beat yourself up. You might have to learn to increase your tolerance for negative experiences and adjust your thinking patterns to treat the disorder.
One of the most important truths about anxiety to keep in mind is that it's not something you can snap out of just because you improve your lifestyle.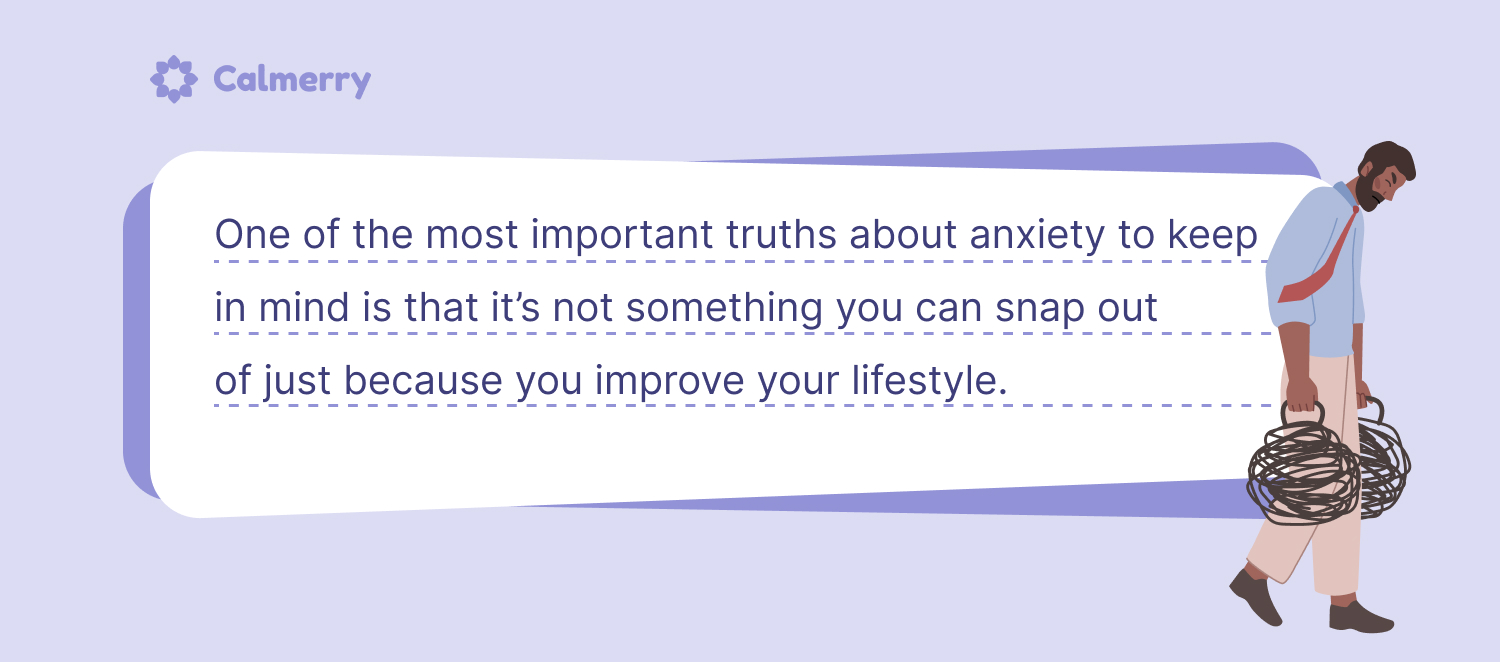 Myth 7: Staying away from the source of anxiety will help cure it
Many people mistakenly assume avoiding their triggers is a good way to deal with anxiety. Unfortunately, avoidance might reinforce the problem and make it worse in the long run.
For example, those who suffer from anxiety in social settings or fear public speaking might refuse to participate in events that put them in triggering situations. This lack of exposure only increases their fear over time. Soon, any type of social interaction, whether big or small, might cause them to feel anxious.
When undertaking a treatment, it's important to understand that it's possible to do things even if they feel unpleasant and that you often have to face your fears to treat anxiety. We all experience negative emotions sometimes because it's our brain's way of helping us respond appropriately. For example, worrying about meeting the deadline can motivate you to start working on a project in advance.
Myth 8: Social anxiety is the same as being shy
Social anxiety is often seen as synonymous with shyness. While both might present themselves similarly, the former is a mental health disorder, and the latter is a personality trait.
Shy people lack self-confidence and struggle with social interactions but might not necessarily experience worry at the same intensity level as people with SAD.
A shy person might feel uncomfortable and nervous at a party. In contrast, a person who suffers from an anxiety disorder is likely to experience debilitating symptoms such as shortness of breath, sweaty palms, and dizziness.
On a final note
Overall, myths about anxiety are harmful because they perpetuate misconceptions and stereotypes and prevent people from seeking help or getting the support they need to manage their symptoms.
Educating ourselves about the realities of anxiety and supporting those struggling with it is important.
Сheck your mental well-being for free: