Published February 10, 2023 / Updated February 11, 2023
How to Ask for Help When You Need It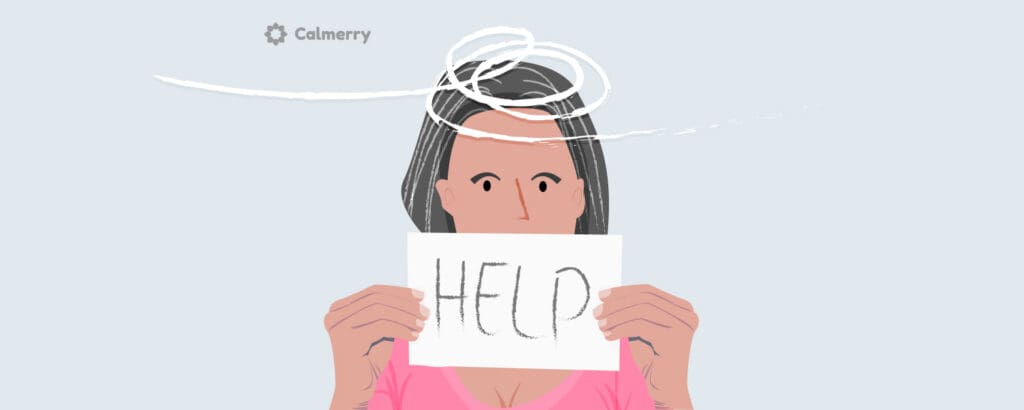 Reading Time:
6
minutes
We all need help from time to time, but a lot of people from all walks of life can struggle to reach out for help even when they really need it. For many of us, asking for help can feel so uncomfortable that we would often rather try to do everything ourselves, no matter how difficult that may be, or suffer in silence despite the fact that most people are naturally inclined to help others and are happy to give a helping hand.
Being highly sociable, humans depend on one another to survive, learn, and grow, so giving and receiving help is absolutely natural. Moreover, helping others actually makes us feel good. So why is it so uncomfortable for us to ask for help when we're in need?
Why asking for help is so hard?
There are many different reasons why we may struggle to reach out for help, and the primary reason is fear. It may be fear of appearing weak, vulnerable, lazy, or incompetent, being judged, being rejected, or burdening others with our problems. We may also believe asking for help is selfish or that others aren't motivated to help us out.
Cultural norms also play a role. Our society praises independence and self-reliance, and we are taught that these traits equal strength and success. That's why a thought of reaching out for help can make us feel like a failure, undermine our confidence and self-esteem, and make us question our abilities.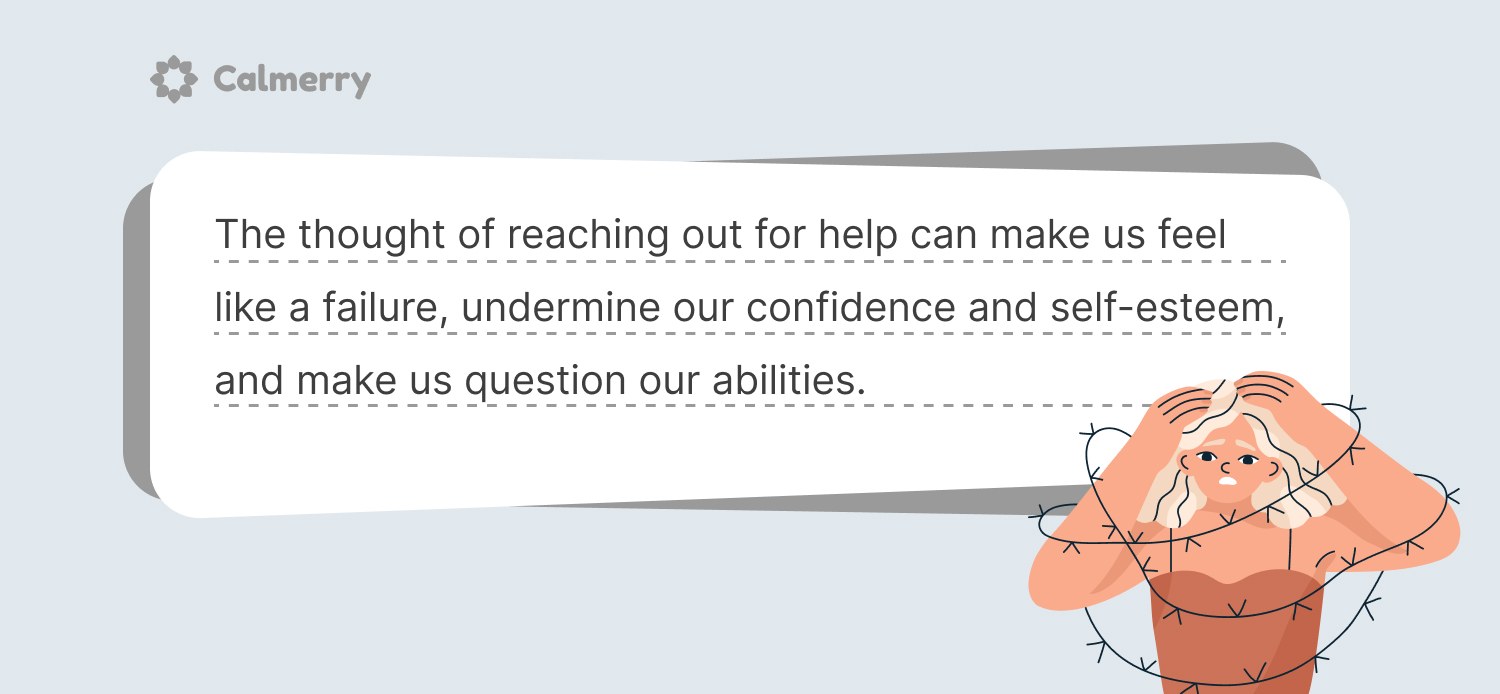 But although our very individualistic culture prides people on handling everything on their own, it's not the only way to approach things. Actually, asking for help is a sign of strength and confidence. It doesn't mean that you've failed. It just means you need help with something specific for a time because you know that trying to do everything yourself is not always the best use of your time, skills, or energy and that it can leave you feeling overwhelmed and stressed so you can't do things properly.
Another reason why asking for help feels so hard is that we are often terrible at communicating our needs clearly so that others can offer constructive aid. It partially happens because of a cognitive bias that is called the illusion of transparency. It's the mistaken belief that our thoughts, feelings, and needs are obvious to other people.
This bias makes us just wait for someone to notice our telepathic plea for help, and when no one does, we inevitably get frustrated. The good news is that most people are surprisingly willing and able to help when asked so you have to let them know and clearly explain what you need help with.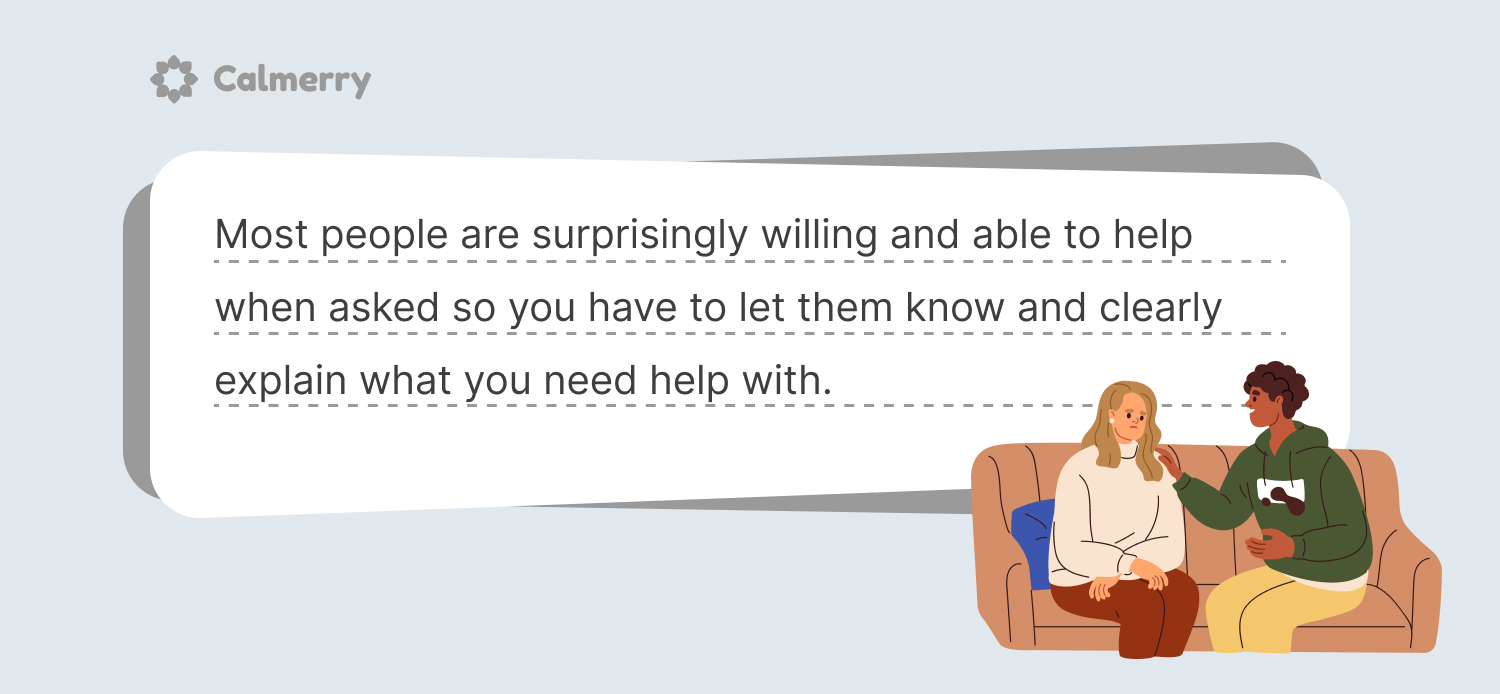 Benefits of asking for help
Learning how to ask for help and accept help is perhaps one of the most valuable skills you can develop. Humans are social beings that crave connection with each other, so a lack of social support can lead to such mental health issues as anxiety, burnout, and depression.
At the same time, research suggests that everyday acts of kindness can increase the well-being of both the recipient and the helper. There are many physical and mental health benefits of helping others, including the so-called helper's high. Science proves that the act of giving and helping may promote feelings of happiness, improve self-esteem, increase social connection, and lower stress level.
No matter what challenges you're facing and what kind of help you need at the given time – a piece of advice, support for mental health issues, an extra hand on a project at work, financial assistance, or help with caring for a child – getting help from others can save you time and effort and provide much-needed emotional support, reassuring you that you don't have to carry the load all on your own.
How to ask for help and feel more comfortable about it
Asking for help can feel uncomfortable, but fortunately, it's a skill that can be improved. Here are some tips that may help empower you to practice it.
Change your beliefs and expectations
If you are reluctant to let anyone know you need help, it's important to examine your thoughts or beliefs that might be getting in your way. You might believe that you should put the needs of others before your own and worry about burdening other people with your needs. You might think that asking for help means you are weak or incapable. Or you might assume that no one is going to want to help you.
Such thoughts and beliefs about asking for help are quite common, but they're often inaccurate and unhelpful. So, when you notice them, remind yourself that they're just your thoughts, not facts, and they aren't always accurate, so you don't have to always listen to them.
Make a SMART request
When you want to ask for help at work, make your request as much as possible SMART because such requests are more likely to benefit both parties. That means your request should be:
Specific – clearly state what you need help with and don't leave any room for interpretation
Meaningful – explain why you're asking
Action-oriented – explain what exactly needs to be done
Realistic – think about what this person may be able to assist with
Time-bound – state your deadline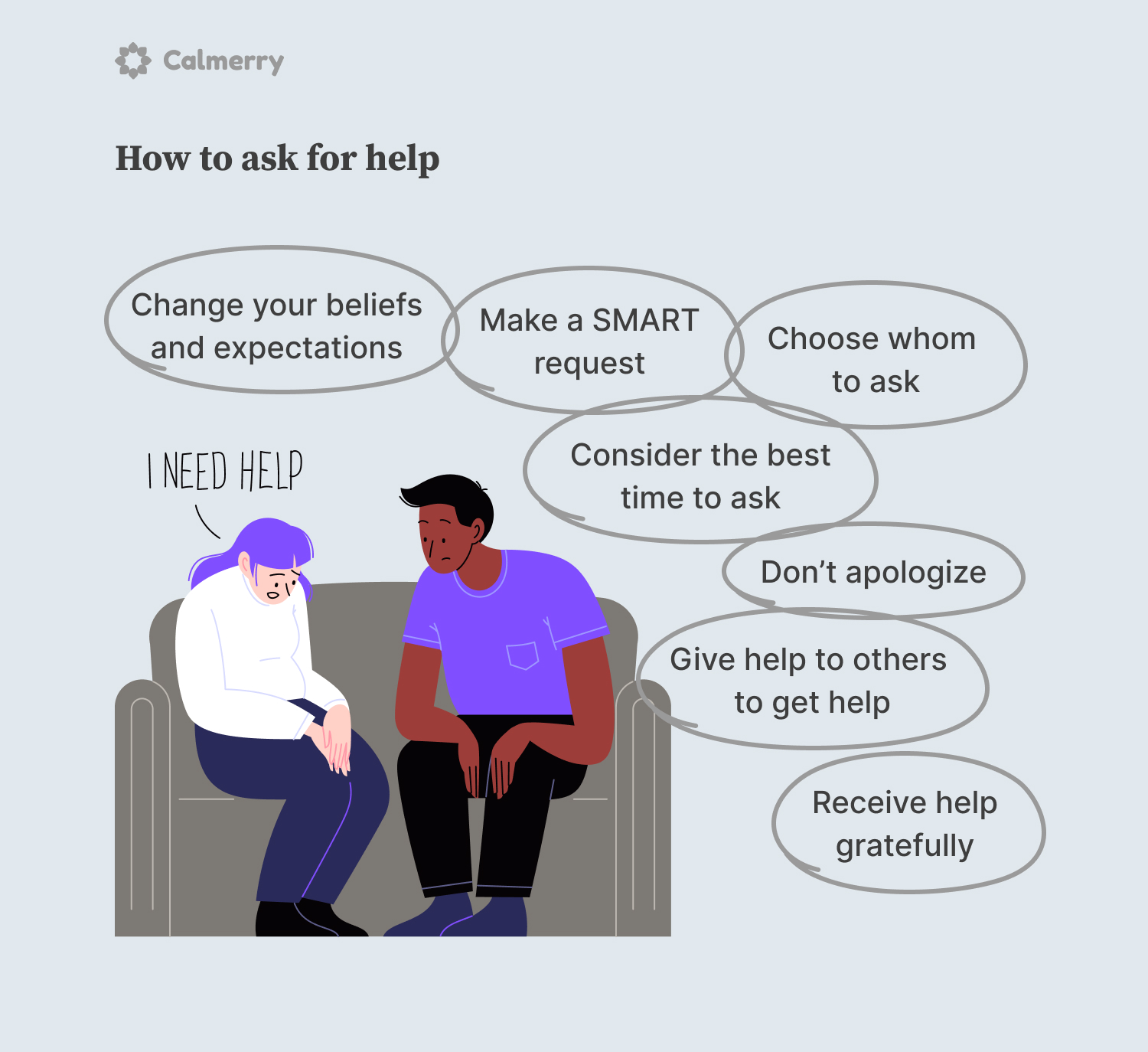 Choose whom to ask
Decide who would be the best person to ask for help. If the choice isn't obvious, think about someone who has the necessary skills or knowledge. Ideally, this person should be someone you can trust. In some cases, when a task requires special skills, it makes more sense to seek professional help. For example, if you are struggling emotionally, and think that the support of your family and friends might not be enough, reaching out to a licensed therapist may be helpful.
Consider the best time to ask
Don't ask for help at the last minute. If your problem isn't urgent, it is better to give someone a lot of time to respond to your request and help you at their own pace. Make sure that the person you're asking for help isn't in a rush or stressed out so they can process your words and make a good decision. If you can, it's better to ask someone for help when you see them in person, rather than over email or text, because face-to-face conversations can help foster a sense of connection and are more successful.
Don't apologize
No one will get excited about a task that the person who is asking feels the need to apologize for. Sometimes, we all need help, and there's nothing to be ashamed of. But if you apologize, it may seem like you're doing something wrong. Avoid such phrases as "I hate to ask…" or "It's just a small thing" because they suggest that such assistance is trivial. Don't ask someone to do you a favor because these words can make people feel obliged to say yes, and don't offer something in return because no one likes the feeling of being indebted to others.
Give help to others to get help
It's likely that other people around you also struggle to ask for help, so make a habit of offering your time and abilities to others. You'll understand what it's like to be on the other side of the coin and know how good it feels to give. You'll also be able to build a reputation as a person who's always willing to give help.
Receive help gratefully
After you receive the help, express your appreciation and gratitude. You can do it with a handwritten thank you note, a text or email, or say thank you in-person. If the help was substantial, you may want to give that person a gift to show how grateful you're. Your appreciation will make someone else feel good, and they will be more likely to help you in the future.
Final thought
Asking for help can feel uncomfortable, but the more you do it, the easier it gets. It's important to remember that there's nothing wrong with admitting that you need support. Moreover, there are more people than you think who are willing to lend a hand.
Сheck your mental well-being for free: