Published September 1, 2022 / Updated February 15, 2023
High Self-Esteem: List of Advantages and Disadvantages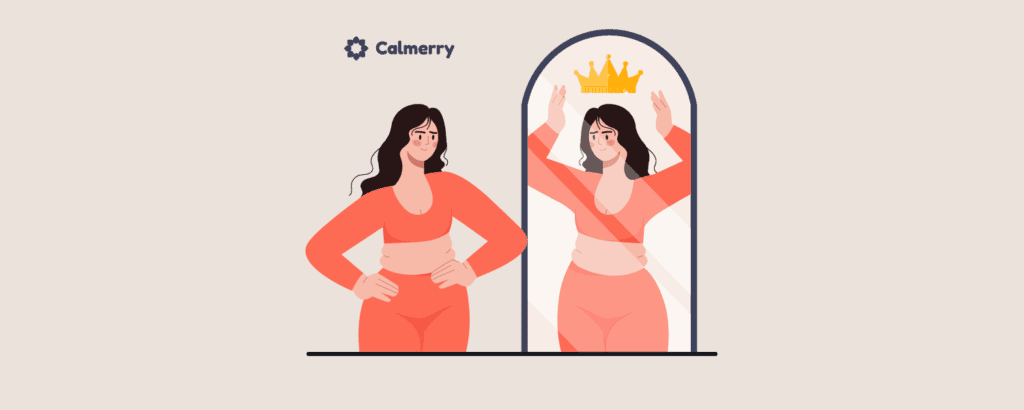 Reading Time:
6
minutes
Everyone has different levels of self-esteem, and it can change over time. Having high self-esteem means having a positive view of ourselves, and research has shown that it can bring many benefits.
However, is it also possible that having overly high self-esteem can lead to adverse outcomes?
In this article, we will look at the pros and cons of having a healthy self-esteem. We'll also explore whether unfavorable personality traits like narcissism and arrogance are really linked to an excessively high level or are, in fact, actually a sign of low self-esteem.
If you're unsure what level of self-esteem you have, you can use this free tool provided by Calmerry.
Pros of high self-esteem
Why is self-esteem important? Here are seven high self-esteem benefits and ways it can help you in life:
1. Better mental health and well-being
High self-esteem contributes to good mental health because it means you see yourself in a positive light.
When you have a favorable opinion of yourself, you're more likely to feel good about your accomplishments, have a healthy body image, be confident in your abilities, and make positive choices in life. This can lead to increased happiness and life satisfaction.
High self-esteem also protects against anxiety and depression. This is because people with healthy self-worth are kind to themselves and show self-compassion, meaning they can better cope with stress and setbacks.
They're also more likely to seek out help when they need it.
2. Assertiveness and being true to yourself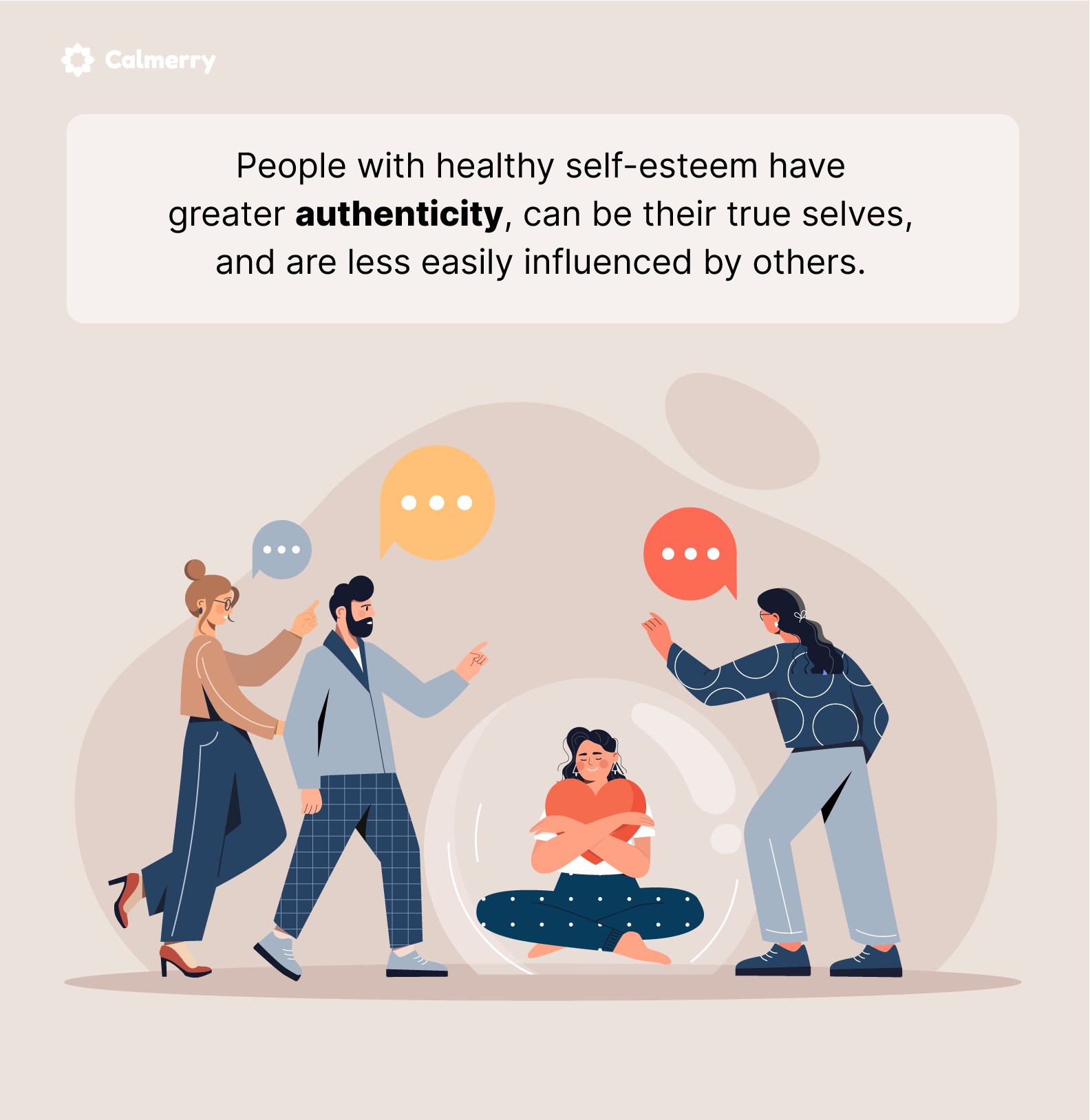 People with low self-esteem tend to have a harder time being assertive than those with high self-esteem for a few reasons. People who don't feel good about themselves may not feel like they deserve to be listened to or respected. They might also be afraid to say no out of fear of rejection or conflict or appearing weak.
On the other hand, people who have high self-esteem are more likely to act assertively. This means they're more likely to stand up for themselves and their beliefs.
They're also less likely to give in to peer pressure. As a result, people with healthy self-image have greater authenticity, can be their true selves, and are less easily influenced by others.
3. Greater resilience
High self-esteem is important not just for feeling good about oneself but also for weathering the storms of life.
People with high self-esteem tend to see challenges as something to overcome instead of something that will defeat them. This inner strength allows them to persevere even when things are tough. And they show less sensitivity and defensiveness when receiving criticism from others.
People with high self-esteem know they deserve to be treated with compassion, kindness, and respect, not only by others but also by themselves. So they don't put themselves down for making mistakes or falling short.
As a result, they're more likely to take risks and try new things, knowing they have the strength to pick themselves up if they fail.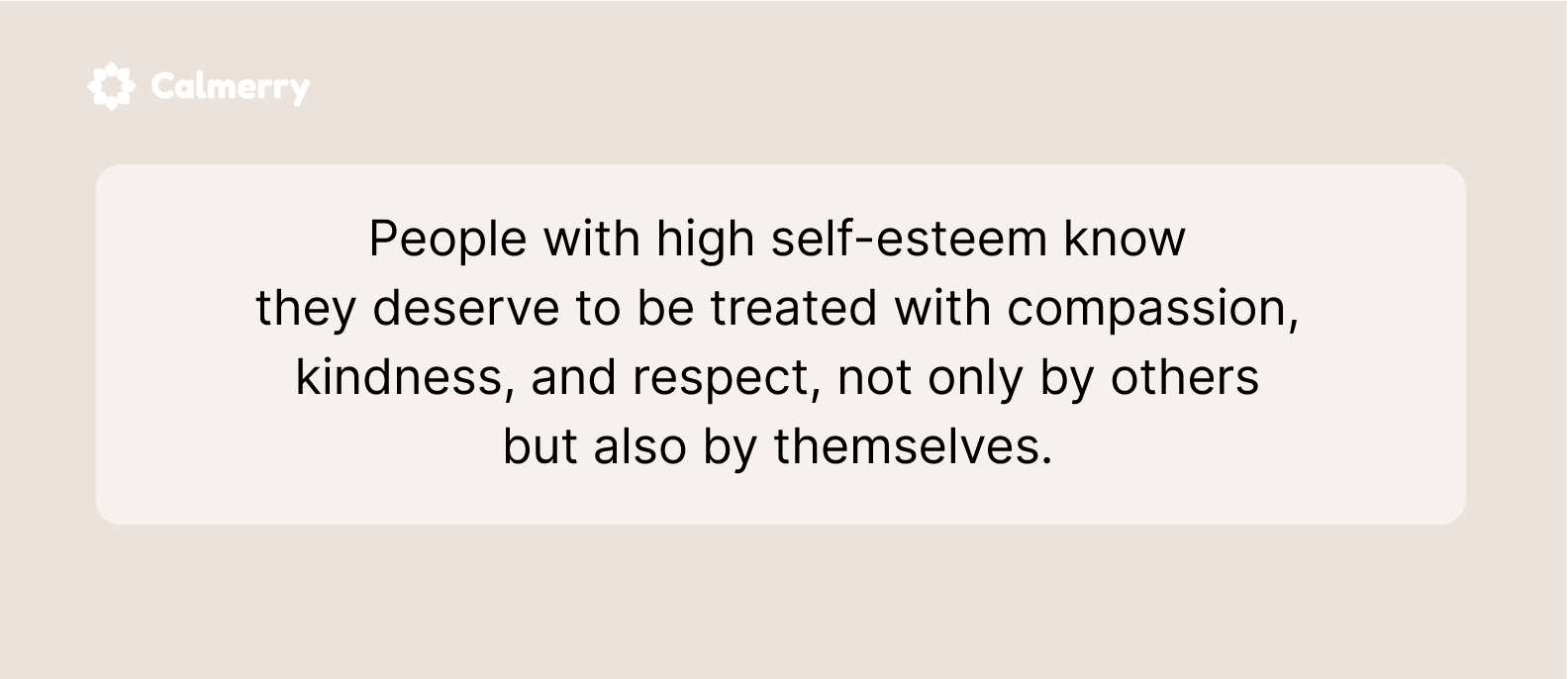 4. Improved social skills and healthier relationships
People with high self-esteem are more likely to be sociable and have better relationships than those with low self-esteem. This is because they tend to see the good in people and be less judgmental. They're also more likely to communicate assertively and set boundaries in their relationships.
In addition, they are less likely to be critical of their partner in a romantic relationship and less insecure about themselves. All of these factors lead to healthier relationships, which in turn lead to increased happiness and life satisfaction.
5. Greater motivation and productivity
A person's level of self-esteem can have a profound impact on their motivation and productivity. People with a high level tend to be more motivated because they believe in their ability to achieve their goals.
They're also more likely to take risks and bounce back from setbacks. This is because they support and encourage themselves, even in the face of failure. Besides, they have an established view of who they are and where they want to go, so they pursue the life they want rather than being controlled by others.
On the other hand, people with poor self-esteem may be overly self-critical and held back by a fear of failure and self-doubt, which can drain motivation and self-confidence.
6. More likely to succeed
Having high self-esteem doesn't guarantee success, but it can give you a better chance at achieving whatever you want out of life. This is because people with high self-esteem are more likely to put themselves in situations where they have the opportunity to succeed.
They have self-belief and are less afraid of failure, which means they're more likely to keep trying until they find success. They also confidently pursue their own dreams rather than doing things to win the approval of others.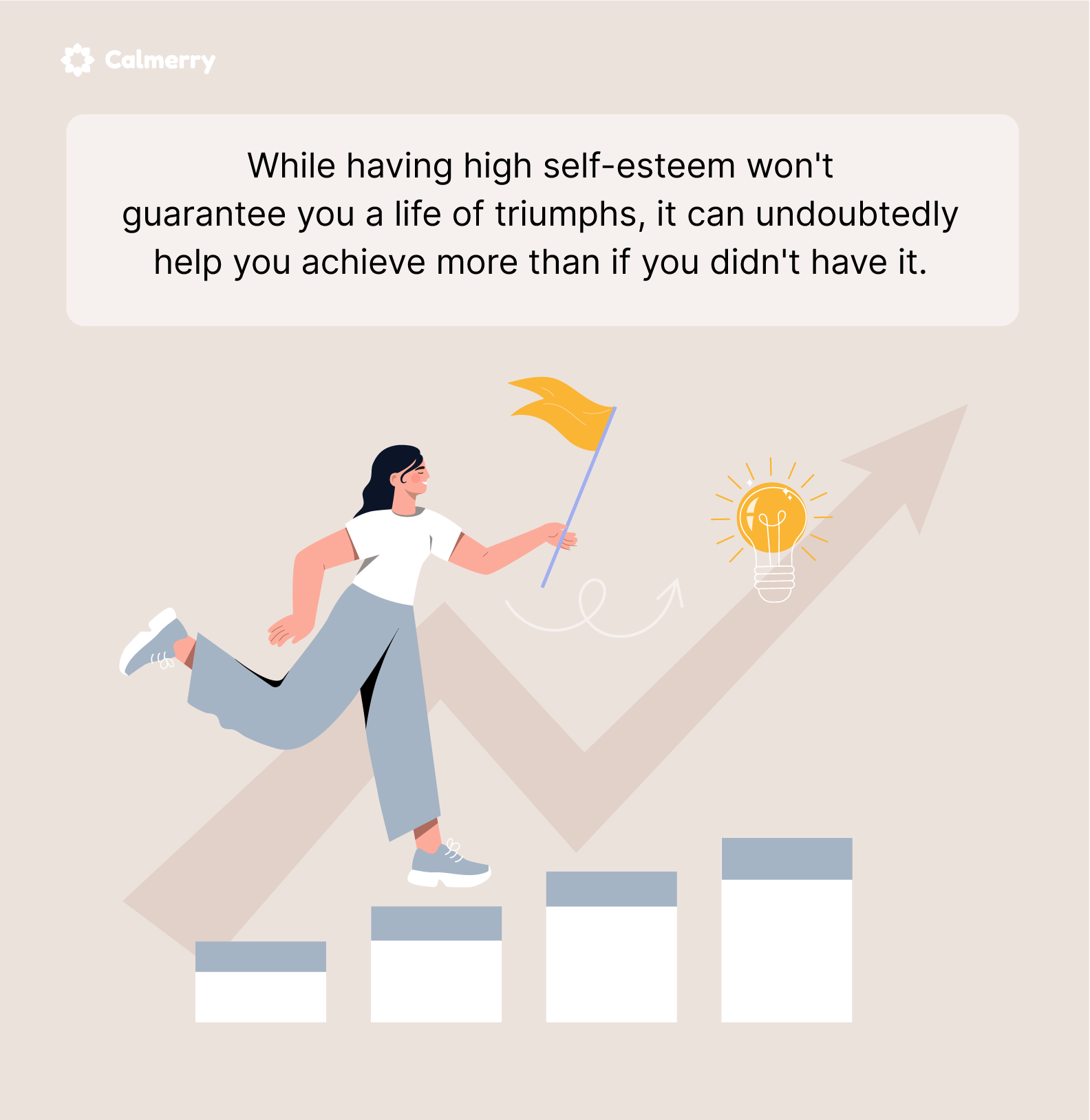 7. Better physical health
People with high self-esteem tend to have better physical health because they make more positive life choices.
They usually strive for living a long, healthy life as they respect and value themselves. They know that their lifestyle choices can lead to better physical health, so they are more likely to choose what will benefit them in the long run.
They are less likely to engage in risky or harmful behaviors, like smoking or drinking, and more likely to take care of their needs with things like a good diet and exercise.
People with high self-esteem also have lower stress levels because their positive outlook helps them cope better. It's well-known that stress is linked to numerous health issues like heart disease and a weaker immune system. And chronic stress can seriously impact physical health.
Are there any cons of high self-esteem?
Sometimes people with high self-esteem are accused of being arrogant, cocky, or narcissistic, but is this really the case? In this section, we will debunk some of the supposed "cons" of high self-esteem.
1. Arrogance and self-esteem
Arrogance is often mistaken for high self-esteem, but the two are actually quite different.
People with healthy self-image usually don't tend to show off because they have strong self-belief and feel they have nothing to prove. They also like themselves and feel comfortable around others instead of being competitive or threatened.
On the other hand, arrogance is based on an unproductive sense of superiority. Arrogant people act as though they are better than others and may put them down in order to feel good about themselves.
However, this behavior is usually a coping mechanism that masks insecurity and low self-esteem.

2. Narcissism and self-esteem
Narcissism is often misunderstood. Although narcissists can come across as very confident and charismatic, this is often actually a mask for low self-esteem, fear of disclosing vulnerabilities, feelings of shame and guilt, constant need for validation, and underlying anger.
Narcissists may try to impress others with their appearance and self-assured behaviors, but this is often surface-level traits. Once people get to know a narcissist better, they usually also begin to see their need for excessive attention, fear of rejection, controlling behavior, perfectionism, lack of empathy, and grandiose sense of self-importance.
Narcissistic people are also more at risk of developing mental health issues like anxiety, impostor syndrome, and depression. In fact, a therapist can help them take better care of their well-being and develop a stronger sense of self-worth.
Subscribe
to our mental health digest
Let us support you on the way to better mental well-being. Get expert tips and insights on mental health delivered to your inbox monthly.
3. Other "cons" of high self-esteem
Overly high self-esteem may also be associated with other unhelpful traits and behaviors, such as being over-confident, pompous, impatient, insensitive, or materialistic.
However, having high self-esteem does not necessarily lead to an inflated ego, poor self-awareness, or warped sense of self. But if you struggle with these issues, a mental health professional can guide you on discovering yourself and building a healthy sense of self.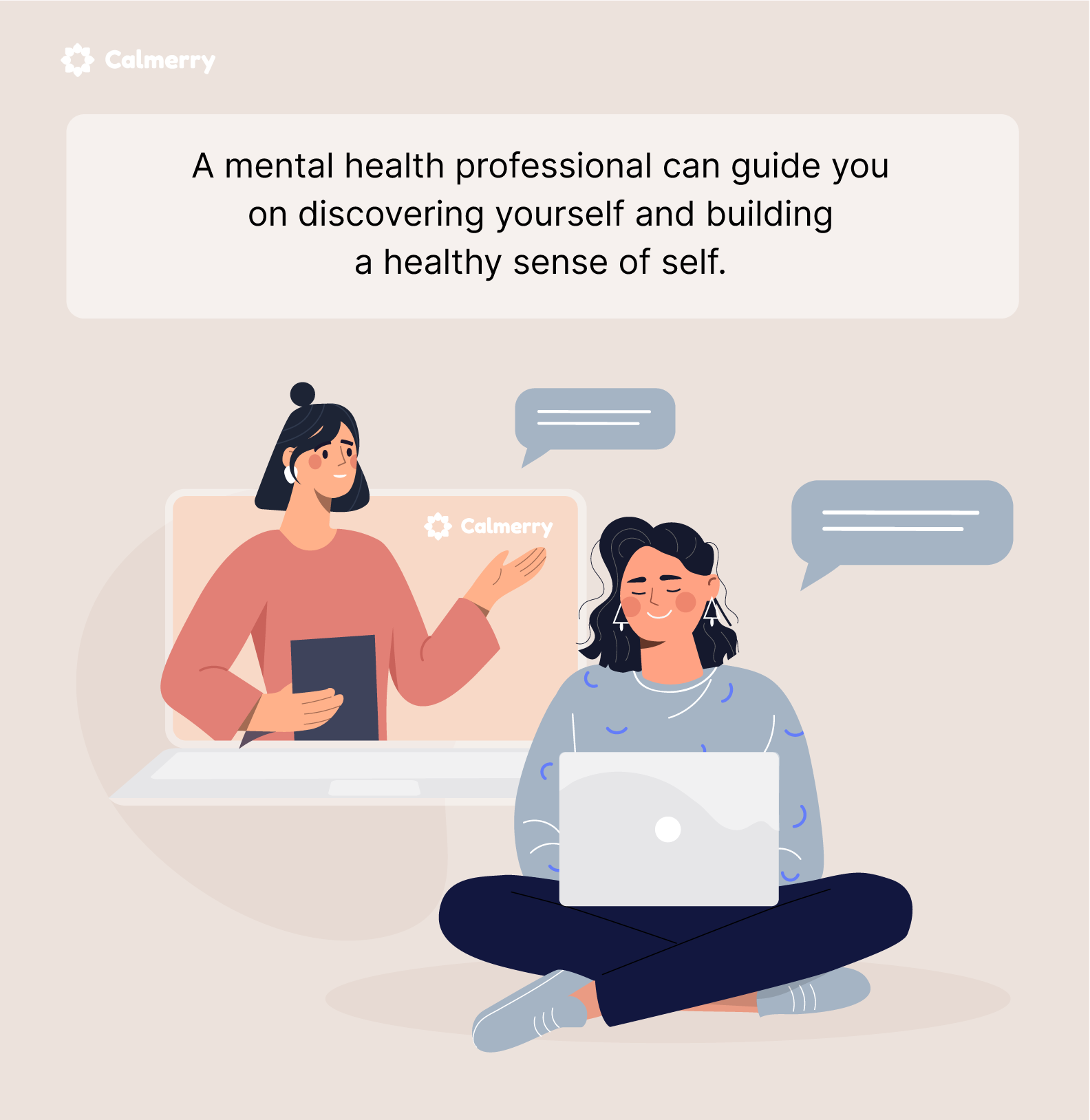 Final thoughts
So what is high self-esteem? It is about being able to love, accept, and value yourself, but that does not mean above or at the expense of others. Instead, it is simply having a healthy respect for yourself and your abilities.
There are many benefits of high self-esteem. People with a high level tend to be happier and more successful in life. They are also more likely to have healthier relationships and be more resilient in the face of adversity. Additionally, they are more likely to take care of their physical health and make positive life choices.
While high self-esteem is often mistakenly associated with some unfavorable traits, this is far from the case. Overall, studies show that high self-esteem is associated with numerous positive outcomes. Seeking self-esteem counseling from a therapist on Calmerry can help you develop a healthy sense of self-worth to enjoy these benefits and find your perfect balance to lead a happy life.
Сheck your mental well-being for free: