Published February 3, 2021 / Updated January 5, 2023
11 Simple Steps to Improve Your Self-Esteem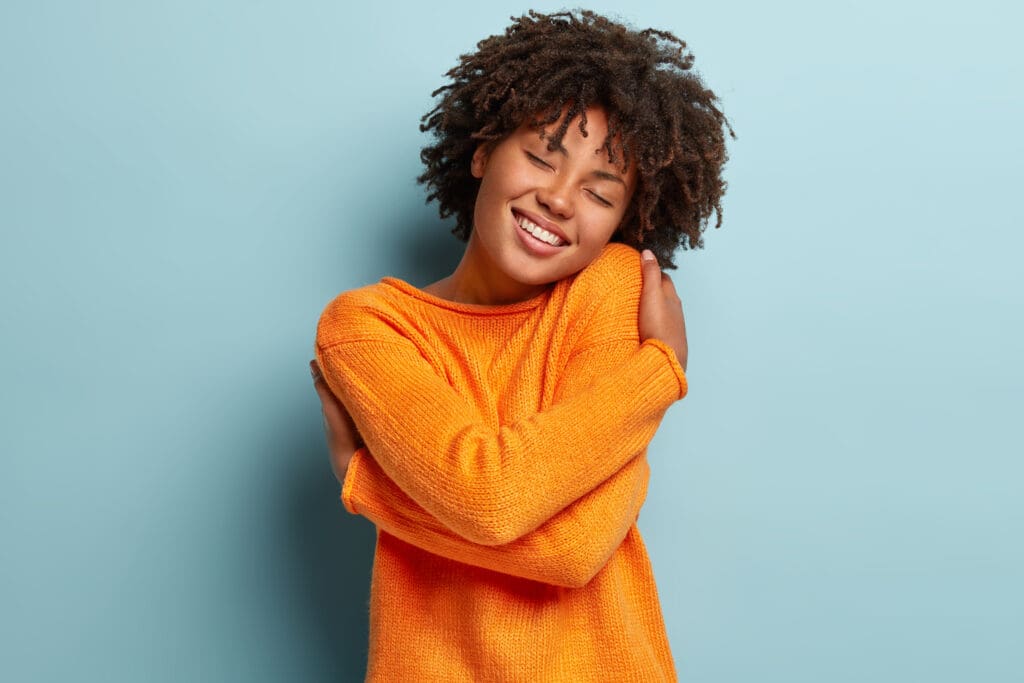 Reading Time:
4
minutes
Self-esteem is the way you value yourself. In essence, your self-esteem implies the opinion you hold regarding your abilities and your sense of self-worth. Self-esteem can be low, high, or somehow in the middle. It encompasses beliefs and opinions about oneself. A person is likely to have healthy self-esteem if they have an appreciative and realistic judgment of themselves, their strengths, and weaknesses. Read the article to the end and you will find out how to improve your self-esteem.
In regards to how you view or value your worth, there are a lot of factors in play, including your mental status, your previous life experiences, as well as your financial position, and your education. You should understand that, in regards to your feeling of self-confidence, there is only one view that matters — your own opinion. However, even your own perspective of self-importance needs to be regularly evaluated as people tend to be their own harsh critics.
Self-esteem influences every aspect of life and people's motivation to succeed, so in this article, we offer some effective tips on how to enhance your sense of self-worth and live a happier life.
Tips To Improve Your Self-Esteem
Although self-esteem is a complex construct influenced by multiple factors, there are proven strategies that can help you improve your sense of self-worth. Here are some of them.
Identify the Situations and Conditions That Trouble You
If you are grappling with a low sense of self-worth, start by looking at possible causes. What could be deflating your esteem?
Some notable triggers to look out for include:
A crisis in the family environment
Pressure from work
Conflicts with loved ones or partners
Changing life situations like loss of a job
Recognize Your Beliefs and Thoughts
If you have already identified scenarios that trouble you, focus on how you think about them. Include self-talk and how you interpret the significance of the scenario. Consider the truthfulness of your thoughts and confront negative or inaccurate opinions.
Create a Plan and Work on Your Goals
Once you identify what could be deflating your esteem, make it a point to work on them. You should create time to work on your values and priorities. You should understand that having high esteem will be the outcome of aligning how you live your life with your values. If you keep lowering your values, you are likely to struggle with a low self-regard.  If, for instance, you have made a goal to work on your physical activity or exercise routine, make time for it. Every time you work towards your goals, you build your feeling of self-worth.
Be Mindful
It is not possible to make changes if you do not recognize the need for change. By recognizing the negative self-talk that affects your feelings of self-worth, you can start to work on the resulting feelings. Be mindful of your thoughts, try to challenge them, and avoid the negative self-talks. Don't be too hard on yourself.
Focus on Growth Rather Than Outcomes
Instead of criticizing yourself incessantly when you don't achieve certain goals, appreciate the progress made, even if little. Goals are there to motivate you, but you shouldn't feel bad when you fall short. Be process-oriented rather than outcome-oriented. What matters is that you are moving in the right direction.
Improve Your Physical Health
Many people find it easy to feel good about themselves when their physical wellbeing has been catered for. Eating healthy food and exercising regularly are important ways of taking care of yourself. Also, research shows that people with low self-esteem tend to neglect themselves. That may be because they feel that they don't deserve to be cared for.
To improve your esteem, consider improving your physical activity and eating right. Also, make time to relax and do something that you really enjoy. Often, people find that simple changes to their schedules can have serious effects on how they look at the world and themselves.
Stop Comparing Yourself to Others
Everyone is unique, with their own abilities. In the same respect, everyone faces a different set of challenges and has varying defense mechanisms. The most important thing to remember is to value yourself and stop comparing yourself to others, especially on social media. Just because someone else seems happy does not mean that they are. People can be experts at masking their true feelings. Constantly comparing yourself to others can only result in stress and anxiety.
Identify and Build Your Competencies
One of the causes of low self-esteem is a lack of faith in one's abilities. You can improve it by learning new skills and showing achievements in various aspects of your life. If you are a good cook, for instance, consider organizing more parties where you can showcase your skills. Identify your talents and work on them to improve your feeling of self-worth.
Learn to Accept Compliments
One way to improve your self-esteem is to accept when you are being complimented by those around you. When people feel bad about themselves, they tend to be hesitant when it comes to accepting compliments. Make a conscious decision to be more tolerant to receiving compliments, even in situations where they make you feel uncomfortable.
Be More Assertive
Assertiveness implies acknowledging and respecting the needs and opinions of others, and expecting the same from them. Understand that this does not mean that you pretend to be someone you are not. Rather, you can learn to be more assertive by taking hints and tips from others.
Subscribe
to our mental health digest
Let us support you on the way to better mental well-being. Get expert tips and insights on mental health delivered to your inbox monthly.
How to improve your self-esteem? Learn to Say No
Also, you need to understand that it is okay to say no whenever you feel overwhelmed. You shouldn't always say yes to people even if you are not okay with it. Those around you will understand the respect your decision. Remember, your interests should always remain a priority.
Building good self-esteem takes time and effort. However, with the simple steps highlighted here and by cultivating a habit of gratitude, this goal is attainable. Also, learn to manage expectations and adjust your beliefs and thoughts. Feel free to seek help from a counselor to help with enhancing your self-regard or working on underlying issues.
Try Calmerry therapy
Сheck your mental well-being for free: