Reading Time:
9
minutes
Do we really know everything about ourselves? Far from it!
Let's say Bob's a perfectionist who tries to do everything just right but can't recognize that this is a self-sabotaging behavior, and it makes them be too hard on themselves.
Jane often tells others that she's fine, but at a particular moment, she can't fully understand what she's really feeling and what makes her feel that way.
Mary gets embarrassed every time someone asks her to introduce herself.
Subscribe to our mental health digest
Let us support you on the way to better mental well-being. Get expert tips and insights on mental health delivered to your inbox monthly.
Kate keeps changing her career path but ends up disappointed with her choices and herself, unable to get in touch with her true passion for marketing.
Andy often snaps at their loved ones and regrets it, thinking he's an awful person, but he isn't aware of the real source of his anger and what to do with it. He can't even name this emotion.
These stories illustrate that the volume of self-knowledge we possess is often just the tip of the iceberg, a starting point for self-discovery. And there are deeper levels to go. We can move from superficial ideas to invaluable insights about ourselves. All we need for exploration is a special skill — self-awareness.
Self-awareness is not only the latest buzzword in Instagram for "living in the present" but also one of the key skills for living life to the fullest. Let's find out why and what you can do to improve yours.
What is self-awareness?
Self-awareness is a cornerstone of emotional intelligence (EQ) and a fundamental component for developing self-concept. Self-awareness is not about possessing all possible knowledge about yourself. Rather, it is the ability to gain insights about your emotions, feelings, needs, strengths and weaknesses, triggers, thoughts, motives, behaviors, dreams, and traits that refer to internal self-awareness. It's also the ability to process feedback from other people and clearly see how they perceive you — external self-awareness.

It starts during the first year of life, when an infant starts differentiating their own movements from their mother's movements. At the age of 18-24 months, a toddler starts discovering themselves and recognizing their own reflection in the mirror. At school age, a child actively relies on conscious experience and memory and begins to develop interests and likes and dislikes, which translates into a sense of self. And during adolescence, one becomes aware of their emotions and learns to be in touch with them, understanding how those emotions affect their lives.
However, the progress doesn't stop at this stage. Given that your self is evolving and dynamic and becomes even more complex as life experiences layer up, there's always something to develop and discover in terms of awareness and consciousness.
Developing self-awareness helps you delve inward, pay attention to the outer world, and monitor your inner self without judgment. It also provides you actionable insights on what drives or drains you, what you need to feel secure, what your likes are, whether your actions align with your standards, why you're angry, how your actions impact the environment, and how you deal with your emotions.
Why is self-awareness important?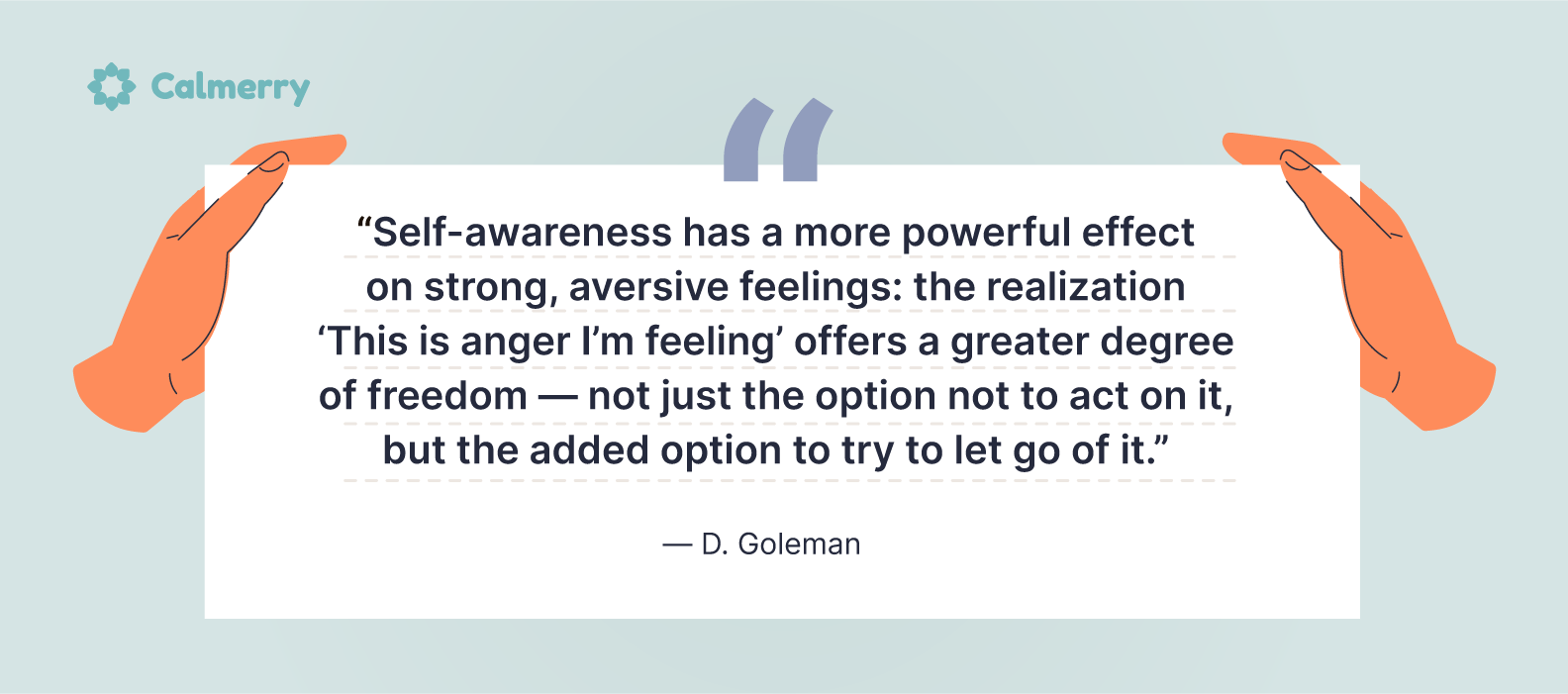 Today, many talk about self-awareness as a vital tool for leaders and as the basis of personal growth and success — and for good reason. Learning to be more self-aware can provide access to the depths of your unconscious, full of useful resources, insights, and potential to unlock.
Self-awareness is at the heart of many important and rewarding things in life. It's a compass that can guide you in moments when you don't have all the answers.
So, practicing being more self-aware can help you:
Know who you are and what you want to accomplish
Stay mindful of your needs
Be in control of your thoughts instead of letting them control you
Recognize what emotions you're feeling at any given time and why
Know the links between your emotions, feelings, thoughts, and actions
Decrease anxiety, stress, and depression levels
Prevent rumination and obsession about it
Give up on a people-pleasing habit
Accept and get value from compliments, candid feedback, or opinions from others more easily
Set healthy personal boundaries and respect those of others
Build self-acceptance and learn to be comfortable with uncomfortable (e.g., "negative" emotions, imperfections, etc.)
Improve your decision-making and make healthy choices grounded in your own values
Know more about yourself and be better equipped to understand others
Nurture healthy self-esteem and self-image
Find out your strengths and limitations
Improve your relationships and communication skills
Be more at peace with the world around you and yourself
Choose how to cope with challenges
And this list of benefits goes on because self-awareness isn't a finite process — it's a lifelong effort that always has more to bring you in different aspects of life.

Meanwhile, people who lack self-awareness tend to stay at unfulfilling jobs they hate or in unhappy relationships, repeat the same patterns, be vague about their feelings and unable to express them healthily. They often get defensive when given feedback, have low confidence, experience challenges with saying "no," and generally find living a truly happy and productive life difficult.
The good news is that the power to understand your inner self and lead a more fulfilling life is in your hands. Find out the strategies for developing self-awareness below.
8 ways to improve self-awareness and make it a habit
According to 5-year research led by organizational psychologist Tasha Eurich, only 10-15% of people are actually self-aware. It's no wonder, since self-awareness requires practice, time, and effort until it becomes second nature, and you learn to get in touch with your true self, discovering the answers — not "inventing" them.
Here's how to be more self-aware:
1. Set "alone" time
One of the most effective ways to increase self-awareness is to spend more time alone. You can use this additional time for various purposes, including self-reflection, meditation, and journaling, but the key is that it provides you with quiet moments when your mind is without distractions and can focus on the important.
2. Be curious about who you are and ask yourself questions
If you're the one who knows you best and worst of all, you're not alone. We always wish to better embrace the universe we see in the mirror. So, to lead your journey to better awareness of your inner self and reap the benefits, you don't have to know everything about yourself, just be open to learning as you go along.
Use wise introspection questions for self-reflection and learn what makes you tick:
Who am I really?
What are my fears?
What matters most in my life?
Which is worse for me: failing or never trying?
When did I last allow someone to violate my personal boundaries?
Have I made someone smile today?
Why does it matter what others think about me?
Yet, there's a trick with "Why" questions: instead of productive self-insight, they may cause more unproductive rumination, self-blame, or even self-loathing. Self-reflection isn't always an easy walk — the process may unleash upsetting moments, depressing feelings, or some things about you that are less than positive. It's okay. "What" questions can help you stay objective and future-focused.
It's not always easy, but keep learning yourself — alone or in therapy. Wondering what it's like to experience the world through your own eyes is an exciting adventure that never ends.
3. Let go of judgment

One of the main principles of practicing self-awareness is that you're not your thoughts. Rather, you have the power to observe them apart from them and without judgment. However, it's often easier said than done: developing a sense of internal and external awareness can sometimes lead to excessive self-consciousness, social anxiety, overthinking, low self-esteem, and self-doubt. Being aware of this can help you take healthier steps to self-reflection.
So, create a space within you that sets you free from the impact of your thoughts and feelings. Watch over your thoughts, just like over the waves in the ocean that come and go. You may describe them briefly, but don't try to suppress or ignore them. Eventually, you'll get better at witnessing and evaluating — not obsessing and judging.
In addition, therapy on Calmerry can provide a safe space for you to explore your thoughts and feelings and help you understand why you act or react in certain ways.
4. Use the magic of "I" statements to express yourself
Therapists often encourage couples to use "I" statements as an effective way to improve communication and manage anger. When you use I statements, you relate to your own experiences and get in touch with your feelings, rather than focusing on the experiences of others or assigning blame.
With the help of "I"-statements, you can become more aware of your thoughts, emotions, and feelings in the present moment and learn to deal with them more productively. Reconnect with yourself by following this structure: "I feel…+ when…+ because… + What I need is…"
If you can't get in touch with your emotions and feel stuck with the first part of the construction, or you want to improve your emotional literacy, use a helpful tool — R. Plutchik's wheel of emotions.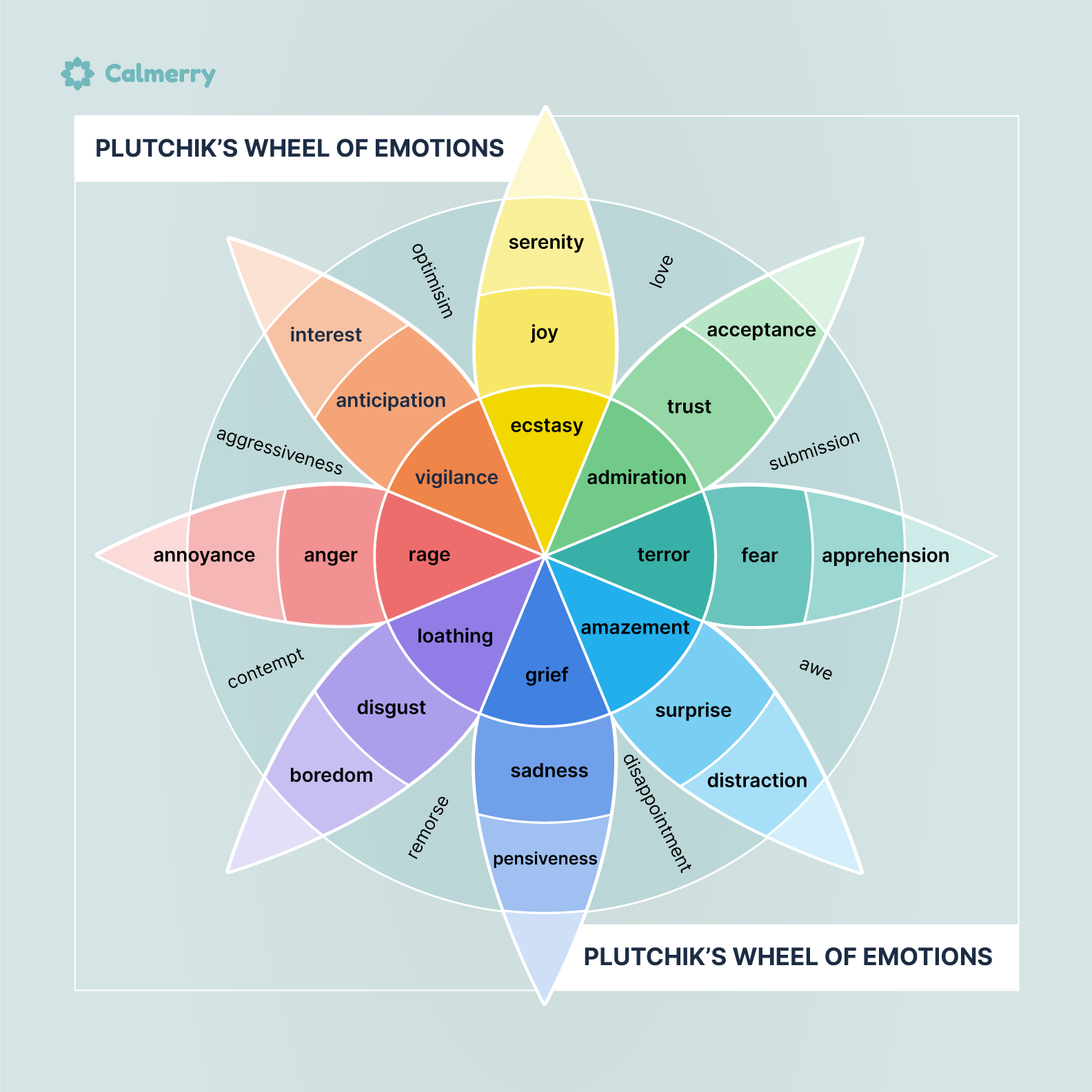 In addition, record your thoughts and feelings in a journal and track how they change over time. This can help you see patterns and understand yourself better. If you need to track your mood and make notes regularly, our Reflection Helper Coa will be of great use to you.
5. Create a mindfulness practice
Most of the time, we operate on autopilot, not recognizing what's going on inside or outside us. To be more self-aware, start asking yourself one simple question: "How do I feel right now?". This basic question can become your daily mantra to train your brain to be aware of your emotions, feelings, bodily reactions, sensations, and triggers.
When you're feeling anxious, bored, or frustrated, try being with the feeling mindfully, without immediately turning to distraction. How does it feel in your body? Is it a tense feeling? Is your heart racing? Is your throat tight? Do you feel muscle stiffness?
You can observe yourself in the moment the way that suits you best — meditation, yoga, conscious breathing, etc. Whichever way you choose, by really tuning in to how you feel, you can learn more about yourself and gain awareness of your experiences, rather than just letting them pass by.
6. Track your priorities and goals
The person you were even a year ago is probably very different from who you are today. That's okay. So, to guide the way you change, create a habit of setting your goals and priorities, writing them down, and checking in with yourself regularly. This way, you'll be able to notice the changes, analyze them, and focus on what really matters to you for now.
7. Ask others how they see you
Internal self-awareness is just one side of the coin. It's easy to get wrapped up in our own perspective, and it's hard to see ourselves objectively. An outside perspective, however competing it may be, is equally important for getting the whole picture of self.
One way to increase your external self-awareness is to ask others how they see you and be open to getting input. This can be a difficult exercise, but feedback from people you love and respect can help you see yourself through the eyes of others and better understand how they perceive your actions, strengths and limitations, and words.
By the way, the ability to see yourself as others see you is associated with improved empathy and leadership skills.
8. Challenge your negative self-talk with compassion
The way you talk about yourself greatly impacts your ability to embrace your potential and make positive changes in your life. When you nurture a positive relationship in your internal dialogue, it helps you flourish. On the other hand, negative self-talk can create serious challenges on your way to self-discovery.
So learn to rechannel your inner dialogue in a healthier, more self-compassionate direction.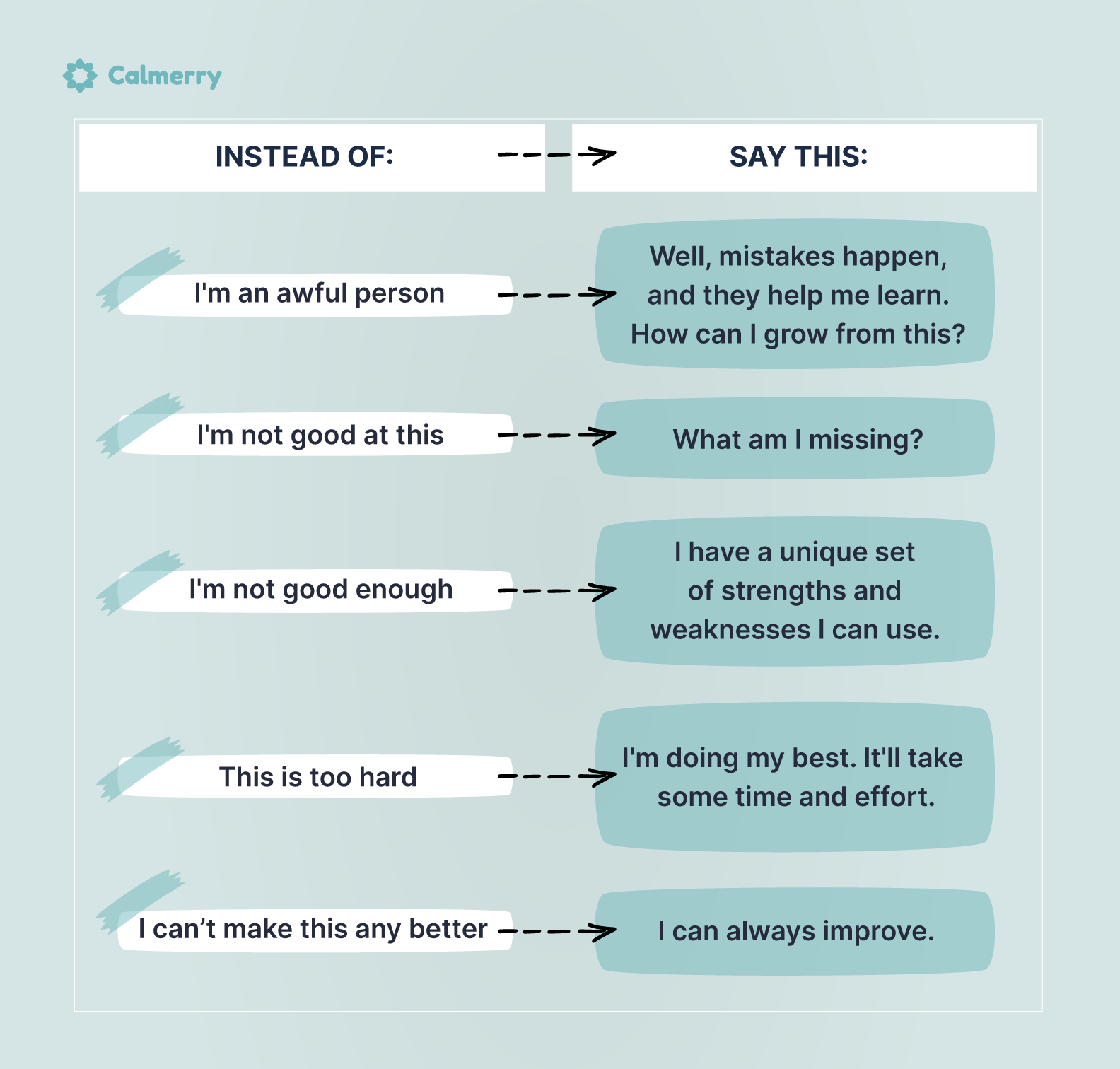 By the way, it's easier to create a space for self-compassion and challenge your negative thoughts with the help of a therapist.
The path to self-awareness may be challenging
Developing self-awareness and a strong sense of self can be a lonely journey. As you keep following the path to self-discovery, be prepared to discover that some people in your social network don't get together with or support you anymore. That's because becoming the best version of yourself may result in significant internal and external changes in your life. It involves re-evaluating your priorities, changing direction, learning to put your needs and desires first, exploring new sides of yourself, and abandoning usual things or old habits that have been holding you back for years. These changes can be hard for others to accept.
But it doesn't mean you're doing it all wrong. Rather, it's a good sign that you're more in tune with your true self and are creating room for some positive changes to come.
In addition, on your journey to self-awareness, you can meet some insights about yourself that may amaze or even frighten you. You may not be comfortable with them or not be sure what to do with all of them — but try to be kind to yourself.
There's always someone to help you
If you need emotional support on your journey, you can get it on Calmerry. Our therapists help people become more aware of themselves and confident in their ability to shape their lives.
Here, you can discover yourself in a non-judgmental, safe space, where you can reflect on who you are, what you want to become, where you're going, the things that make you feel good and bad, and what you need to achieve more of your potential and live a healthier life.
The path to self-awareness may be challenging, but it's one that can lead to a life of greater peace and happiness!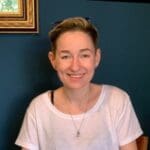 Kate Skurat
Licensed Mental Health Counselor
|
Washington, USA
Kate has a B.S. in Psychology and M.A. in Clinical Psychology from Pepperdine University and has worked in healthcare since 2017. She primarily treated depression, anxiety, eating disorders, trauma, and grief, as well as identity, relationship and adjustment issues. Her clinical experience has focused on individual and group counseling, emergency counseling and outreach.
Read more