Published June 30, 2021 / Updated March 24, 2023
What to Know About Relationship Abuse and How to Get Support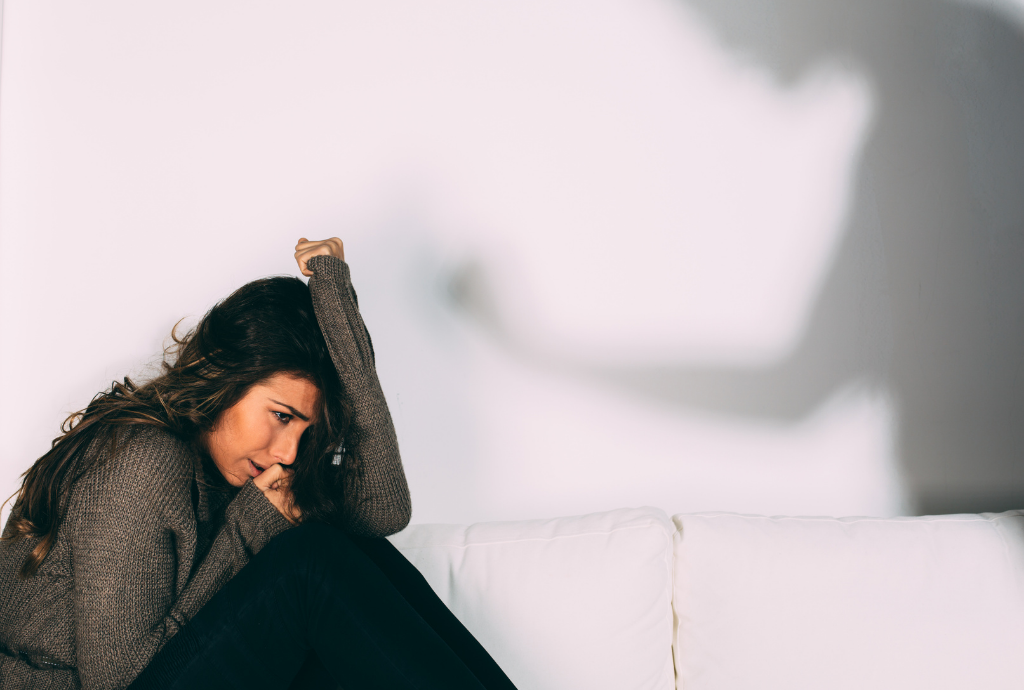 Reading Time:
8
minutes
No one deserves to be abused or threatened. Yet, according to the National Coalition Against Domestic Violence (NCADV), one in three US women and nearly one in four US men have experienced violence at the hands of a partner.
While there is a global predominance of male perpetrators of abuse against female partners, the truth is, people of all sexual orientations and gender identities can experience abuse in their relationships.
Relationship abuse is also not limited to any religion, culture, race, educational background,  or socioeconomic class–it crosses all sectors of society. However, financial insecurity, unstable housing, and lack of childcare can make a difficult situation even worse.
What is Intimate Partner Violence?
Intimate partner violence (IPV) is a pattern of abuse in which one partner in a current or former intimate relationship controls the other through force, intimidation, or threat. It might start out as nearly imperceptible and escalate throughout the course of the relationship.
IPV does not require sexual intimacy or physical abuse to be considered valid. In fact, physical violence is just one form of abuse in a relationship. It can also involve sexual abuse, verbal abuse, emotional abuse, economic abuse, psychological abuse, reproductive coercion, deprivation, and stalking.
Ultimately, IPV is about power and control. An abusive partner might threaten you, isolate you, control your finances, and not allow you your space or privacy, all as a way of exerting power over you.
If your partner has control over your finances, for example, you'll likely have fewer options for leaving the relationship. In fact, economic dependency is a key factor that keeps people in abusive relationships.
If You're in an Abusive Relationship, It's Not Your Fault
Your partner might blame you for their abusive behavior. They might make excuses and say that they were drunk or high, stressed out, or come up with another reason to justify their behavior. If you're feeling uneasy or unsafe in your relationship, you might also feel alone, afraid, hopeless, and full of shame.
It's important to point out that you are not to blame for anyone else's abusive behavior or violence. There is no valid reason that grants anyone the right to hurt you.
Why the Cycle of Abuse is a Misnomer
While most relationships ebb and flow, many victims and survivors of domestic violence experience different aspects of the relationship, which can make it confusing.
In 1979, psychologist Lenore Walker described these different aspects as a cycle of abuse. While this terminology is still invoked by healthcare professionals and other experts, it is somewhat of a misnomer as it implies that abuse is predictable, which is false.
The concepts within the cycle of abuse theory can still be helpful in understanding certain patterns or phases of an abusive relationship that may repeat over and over again or, more often, overlap in a chaotic or convoluted way:
The tension-building phase
The explosion abuse
The reconciliation phase
The calm phase
In the tension-building phase, people often describe feeling like they are walking on eggshells. You might constantly be trying to placate and appease your partner to avoid an outburst.
When the tension gets too high, an explosion phase may occur. This is sometimes called an incident of abuse and includes name-calling, threats, manipulation, physical attacks, and other forms of violence.
The reconciliation, or hearts and flowers phase might involve apologies, promises, gifts, and a concerted effort towards strengthening your relationship. You might feel hopeful when these things happen and experience your partner as kind, loving, and supportive. Perhaps your relationship will be in a calm phase for a while and you'll feel that things have improved and the relationship has taken a turn for the better.
In addition to not usually fitting neatly into a predictable cycle, abuse can also happen in various aspects of the relationship, outside of an acute incident. For example, financial control and manipulation can occur throughout.
The Power and Control Wheel
In the early 1980s, the Power and Control Wheel was developed to display common abusive behaviors or tactics. Physical Violence Sexual is written along the outer edge of the wheel to specify physical expressions of abuse while the eight spokes of the wheel contain different abusive behaviors like minimizing, denying and blaming, or using isolation. Power and Control is written at the center of the wheel to represent the ultimate aim of these tactics.
A limitation of the wheel is that it was created specifically to illustrate male-perpetrated violence on female partners. Therefore, it doesn't address or make room for other forms of abusive relationships.
Signs of Relationship Abuse
It's not always clear when you're in an abusive relationship. You might be confused and think about the times they tell you they love you and do nice things for you. They may offer emotional support or pay your rent. Yet, no amount of attention or good behavior legitimizes their abuse.
Although there are many forms of abuse in relationships, some signs to look out for include a partner who:
Scares, criticizes, or blames you
Has an unpredictable bad temper
Keeps tabs on you and monitors who you spend time with and when you reply to calls and messages
Tells you what to do and may even prevent you from going to work or school
Demands that you offer up your email and social media passwords
Is jealous and accuses you of cheating
Displays controlling behaviors around things like how you spend money, dress, and eat.
Demeans you and insults the way you look or your intelligence
Embarrasses you in front of other people
Gaslights you by calling you overly sensitive, denying an event, or rewriting history
Blames you for their violence
Physically hurts you or threatens to hurt you or your friends and family
Threatens to harm themselves when in a fight with you
Forces or pressures you to have sex or engage intimately when you don't want to
Sabotages your birth control or in any other way controls your reproductive health
Signs of a Healthy Relationship
Sometimes it's easier to understand your relationship in terms of what it is not, especially if you haven't had much experience with healthy relationships. Signs that you're in a healthy relationship include:
Your partner supports your relationships with friends and family
Your partner actively seeks your opinion and is respectful when you disagree
You both contribute to decision-making and share communal resources
You and your children feel safe with your partner
Your partner accepts responsibility when they make a mistake and works to change or resolve it accordingly
Create a Plan to Keep Yourself Safe
If you're contemplating what to do if you are in an abusive relationship, Futures Without Violence created a list of things that you can do to lower your risk of being hurt by your partner. They include the caveat that you are the expert of your own life and are best situated to know what is right for you. Trust your instincts.
If you're in immediate danger, dial 911, and if you're injured get help from a medical provider
Open up to someone in your life–a friend, family member, colleague, therapist, or anyone you trust.
If you have children, create a safety plan with them that includes people they can call in an emergency.
Make a grab-and-go "emergency kit" in case you need to leave suddenly that includes anything you'll immediately need like keys, money, copies of your IDs & legal documents, medications, and a change of clothes.
Additional safety practices you might consider are to:
Clear your browsing history and text messages
Save hotline information under disguised listings like a grocery store
Create a separate and private email account to receive information about resources or to communicate with support people
Seek a network of supportive people including friends, family members, and a therapist
Choose a code word to discreetly tell people that you're in danger and need immediate help
Find a safe and secret location where someone can pick you up
How to Support Someone Else Who Is Affected by IPV
If you're reading this article with a friend, co-worker, or loved one in mind, you're probably thinking about how best to support them. You don't have to be an expert in order to help. You mostly need to be a good friend.
Being a consistent and supportive presence can go a long way in breaking through the wall of isolation. Some other tips include:
Let them know that you care for them and are concerned for their safety
Don't corner the person or force them to disclose their abuse
Listen compassionately and avoid judging their decisions
Don't ever blame them for any part of the abuse–keep in mind that none of the abuse is their fault
Even if you think you know what's best for them, don't tell them to leave the relationship– trust them to make the best and safest decision for themselves
Offer to help explore resources, options, and additional supports
Don't encourage couples counseling, which can be dangerous in abusive relationships
Don't act on behalf of the other person without their consent
Continue to educate yourself
Relationship Abuse Resources and Hotlines
While you can't stop another person's abuse, you can access support and help. Leaving is not always straightforward and the right support network will meet you where you are at in your unique situation.
It's possible that you're economically or legally entangled with your partner, and you might miss them or feel lonely after breaking up. In addition, it can be dangerous to leave and you might be afraid.
If you're wanting to connect to help, even if you haven't decided what you want to do, there are a number of hotlines and online resources that allow you to access support from organizations that specialize in abuse.
National Domestic Violence Hotline
1-800-799-SAFE (7233) or text "LOVEIS" to 22522
The National Domestic Violence Hotline offers confidential assistance by trained advocates to anyone experiencing intimate partner violence or domestic violence. You'll also find support if you're not sure whether or not you're in an abusive relationship. You can call or text, 24 hours a day, 7 days a week, every day of the year. The website offers resources including support in creating a safety plan, local referrals, and a variety of ways that you can seek support.
National Sexual Assault Hotline
1-800-656-HOPE (4673)
Access the 24/7 RAINN helpline by phone or online chat to find confidential support from trained staff, who can offer counseling, resources, local referrals to sexual assault service providers, and information.
Crisis Text Line
Text 741741
If texting is more comfortable than talking, consider the Crisis Text Line. You can text with a live, trained volunteer crisis counselor to get help with any painful emotion and anytime you need support. Note that the service is free–depending on your phone plan–and available 24/7. The first two messages are automated and explain the terms of service and that texts need to be limited to 160 characters. After that, you're connected to a counselor. If you're in Canada, the UK, or Ireland, you can find the correct number to text on the website.
Love is Respect
1-866-331-9474
Text LOVEIS to 22522
Contact Love is Respect by phone, text, or webchat for support, information, and resources relating to teen and young adult dating and violence. Trained advocates are available 24/7 and can help you create a safety plan and access local resources.
StrongHearts Native Helpline
1-844-762-8483
Developed by and run by Native advocates, the StrongHearts Native Helpline for domestic violence is available 24/7 and offers a safe, confidential space for native communities across the United States. Callers connect one-to-one with a trained advocate for culturally relevant support and resources.
Trans LifeLine
1-877-565-8860
The Trans LifeLine offers confidential peer support for trans and questioning people. The hotline is open up to 24 hours a day depending on volunteer availability.
The National Deaf Domestic Violence Hotline
Video Phone 1-855-812-1001
Email hotline@adwas.org
Accessible by video phone, email, or online chat, the Deaf Hotline provides 24/7 confidential support including crisis intervention, resources, education, referrals, and safety planning.
National Parent Helpline
1-855-427-2736
Get emotional support from a trained advocate through the National Parent Helpline which is open Monday through Friday, 10 AM – 7 PM PST.
National Human Trafficking Hotline
1-888-373-7888
Text 233-733
The 24/7 National Human Trafficking Hotline connects victims and survivors of sex and labor trafficking to resources, services, support, and information.
Childhelp National Child Abuse Hotline
Call or Text 1-800-4-A-Child (1-800-422-4453)
If you or someone you know suspects child abuse or neglect, the 24/7 Childhelp National Child Abuse Hotline provides confidential support with professional crisis counselors and assistance in over 170 languages (using interpreters). The counselors offer crisis support, information, and referrals to resources that can help you in your specific situation.
Online Resources
The pandemic has been a particularly challenging time for victims and survivors of IPV who might have been quarantined in an unsafe home situation. If you are interested in locating a domestic violence shelter near you, one place to start is to search: domesticshelters.org.
Additional online resources include WOMAN Inc., which offers remote peer counseling, support groups, and DV classes, and Community United Against Violence (CUAV), which offers remote counseling for LGBTQI+ survivors of violence, domestic violence, hate violence, and police violence.
Heal With Your Online Therapist
If you've experienced IPV, it can be hard to talk about it. You might feel ashamed, alone, or down on yourself which doesn't make it easy to reach out for help. You might even feel like you can't trust yourself or know what's real.
An abusive relationship can damage your mental health as much as your physical health. In addition to acute injuries and chronic health conditions, violence and other forms of abuse can be traumatic and leave you depressed, anxious, stressed, and even contemplating suicide.
You may experience symptoms of Post Traumatic Stress Disorder (PTSD) which include nightmares, insomnia, intrusive memories, flashbacks, negative beliefs about yourself, and a general, overarching feeling of anger, shame, or fear.
While couples counseling is contraindicated for interpersonal violence, a well-trained therapist can support you on an individual basis with the emotional toll that your abusive relationship has taken, whether you're still in it or not.
Try Calmerry therapy
Сheck your mental well-being for free: