Published April 4, 2023 / Updated April 5, 2023
Signs and Effects of Toxic Relationships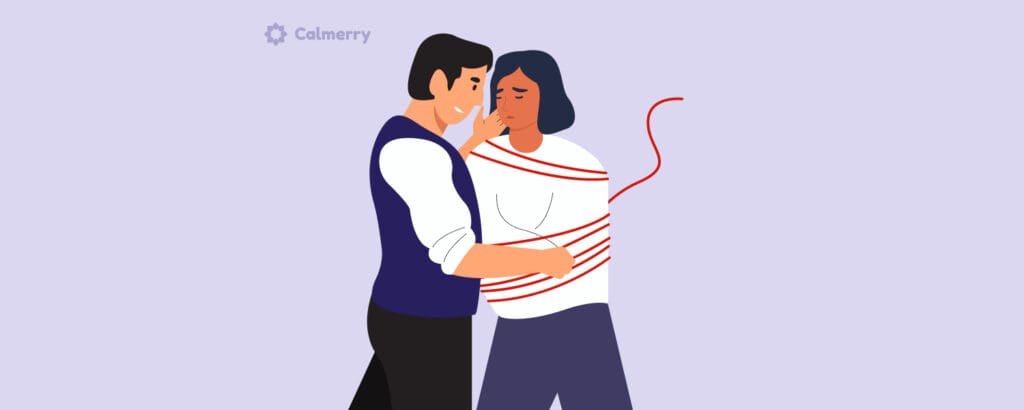 Reading Time:
5
minutes
People in a toxic relationship often know that something is wrong, but they never know how serious the implications of such a union are. You might be feeling unhappy, emotionally drained, unsupported, or undervalued in your current relationship but keep trying to work things out because you do not want to leave. But can a toxic relationship be fixed? Read on to learn how to recognize the warning signs of a toxic relationship and what you can do about it.
What is a toxic relationship?
Every relationship goes through ups and downs and has a level of toxicity, so there's always some work to be done. But a toxic relationship is different – it's constantly unpleasant, and the negative moments in it outweigh and outnumber the positive ones.
A toxic relationship is emotionally, mentally, and possibly physically damaging to one or both partners. It leaves one or both partners emotionally drained, demeaned, and unhappy. It makes you feel misunderstood, unsupported, or attacked.
Toxic partners do not always mistreat the people they love out of malice. They could be battling with issues that make them lash out at others. Depression, anxiety, and other disorders can make them bad partners. In some cases, narcissism plays a role in how they treat their loved ones.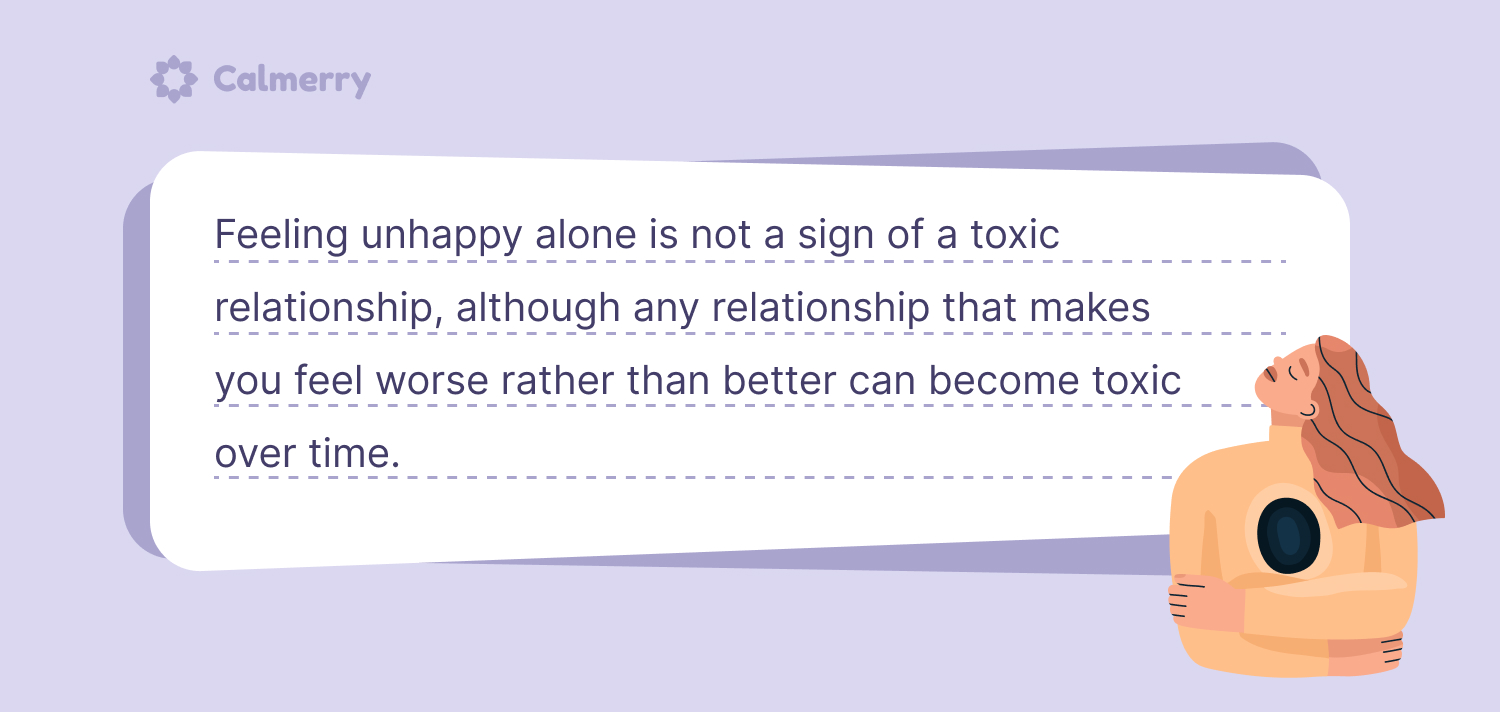 6 Signs of a toxic relationship
How do you know whether you are in a toxic relationship? Feeling unhappy alone is not a sign of a toxic relationship, although any relationship that makes you feel worse rather than better can become toxic over time. Toxic relationships can take many forms, and the signs of toxicity can be subtle or highly obvious. However, if you experience one or more of the red flags listed below, you should be concerned about your well-being.
Hostile communication
Good communication when people are honest about their expectations and feelings is essential to any healthy relationship. And if instead of open communication, mutual respect, and kindness, most of your conversations are fueled with contempt and filled with sarcasm, blaming statements, and yelling, these are red flags.
Dishonesty
When trust breaks down in a relationship, people start keeping secrets from each other. It starts with white lies that are seemingly harmless and grows to big lies that have the potential to end the relationship. There is no openness, and one or both of you constantly have to hide parts of their lives.
Gaslighting
Being manipulated into doubting your sanity can be nerve-wracking. You doubt whether you overreacted to situations when in reality your response was justified. Your partner constantly says you are too sensitive, or that you do not understand their feelings. This emotional manipulation is designed to suppress your reaction and avoid taking responsibility.
Constant criticism
If your partner constantly criticizes the things you do such as how you dress, your interactions, and the decisions you make – it can lower your self-esteem. You might feel like you are not good enough. It can be confusing because at the start of the relationship, they seemed content with everything you did. This is a sign of an unhealthy relationship.
Jealousy
Extreme jealousy can get in the way of your social interaction. Your partner may not want you to interact with friends and co-workers because they fear losing you. This jealousy can get so irrational that they accuse you of infidelity whenever you spend time with others.
Isolation
Bullying you into cutting off friends and family is a trademark sign of a toxic partner. They want you all to themselves and will guilt-trip you into isolating yourself. Isolation happens gradually and you might not notice it until it is too late.
What causes toxic relationships?
In a toxic relationship, both partners treat each other disrespectfully. They develop behaviors that are frustrating and hurtful to each other. The root cause of such toxic behaviors in relationships is a lack of empathy.
Refusing to understand each other's feelings, demanding that your partner lives up to your expectations, and making them feel guilty for not doing so is caused by a lack of empathy. If both partners in a relationship are empathetic and compassionate towards each other, the relationship would be healthy.
Fundamentally, several psychological conditions may lead to a lack of empathy and unhealthy behaviors. Some causative factors are:
Anxiety
Addiction
Depression
Anger issues
Subscribe
to our mental health digest
Let us support you on the way to better mental well-being. Get expert tips and insights on mental health delivered to your inbox monthly.
How do toxic relationships affect mental and physical health?
Toxic relationships negatively affect mental health and can have a harmful impact on your physical health as well. You are in a constant fight-or-flight mode and are unable to relax, and that can lead to anxiety, depression, interrupted sleep, and even weaken the immune system over time.
Toxic relationships can lead to an increased risk of developing heart problems, higher blood pressure, and blood sugar levels and make you more vulnerable to other diseases. Over time, bad relationships can encourage such symptoms as body aches, inflammation, and skin flareups and lead to digestive problems and hormonal changes.
Toxic relationships can destroy your self-esteem and confidence and cause you to seek out conflict in other relationships because you may stop recognizing what healthy behavior looks like. They can also distract you from other relationships in your life, leading to social isolation.
A toxic relationship may negatively impact your ability to take proper care of yourself, so you may sacrifice your normal self-care routine, sleep habits, workout schedule, hobbies, and even personal hygiene.
Can a toxic relationship be saved? Are they worth saving?
Yes, a toxic relationship can be improved. If both partners are willing to put in the work and change the dynamic – they can build a healthy relationship. There are several steps to take to change a toxic relationship into a healthy one:
Acknowledge and take responsibility for your role in the unhealthy relationship
Seek help from a professional counselor
Work on being understanding and compassionate towards each other
Replace unhealthy behavior with healthy ones
But you shouldn't confuse toxic relationships with abusive ones. Emotional or physical abuse is an extreme form of toxicity, and it shouldn't be tolerated by anyone for any reason.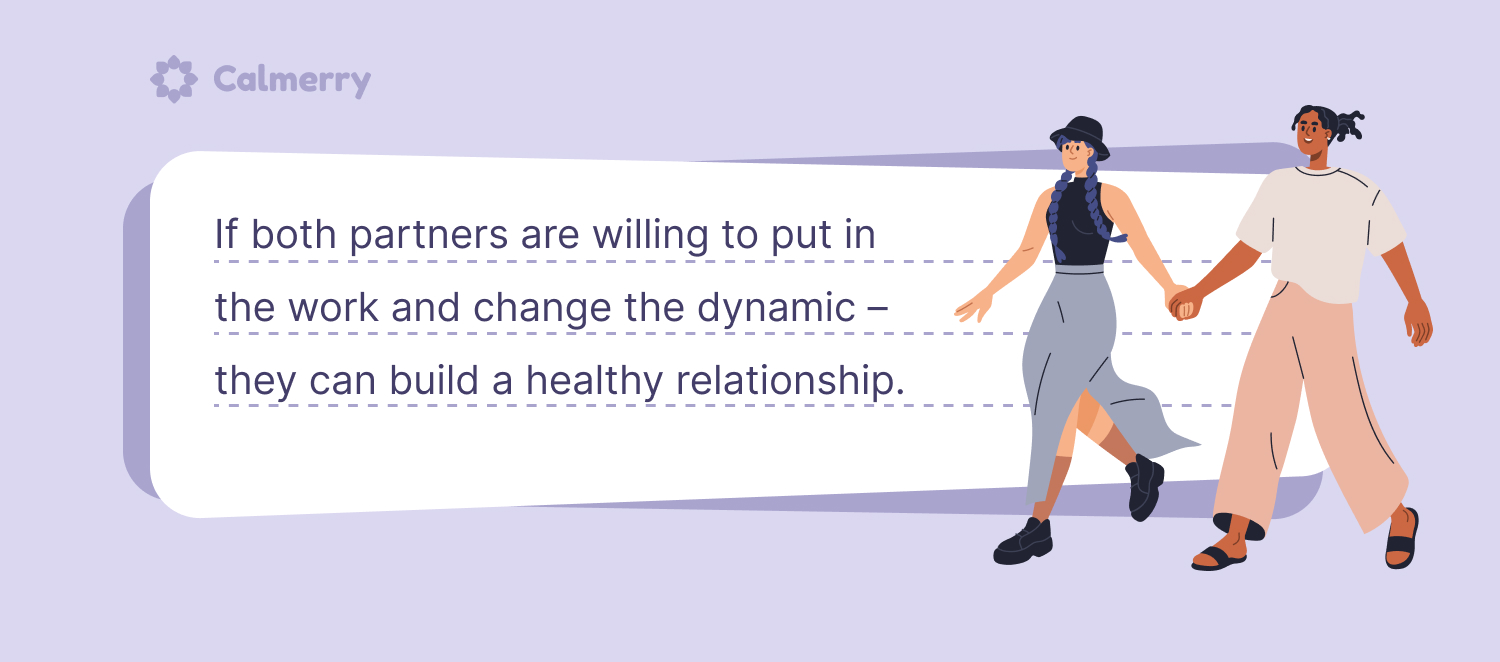 How to avoid toxic relationships?
Emotional maturity can help you identify unhealthy behaviors and avoid them in your relationship. Recognizing psychological triggers early on is a great way of predicting and avoiding unhealthy relationships. Below are some tips that can help you tell whether a situation is potentially toxic:
Know your boundaries and make them clear to your partner
Understand which triggers make you portray unhealthy behavior
Do not ignore red flags no matter how insignificant they seem
Look for happiness within so that you do not rely on your partner for it
Be ready to walk away from a relationship that makes you unhappy
Final thoughts
As human beings, we are not perfect, and even a good relationship may have brief periods of behaviors that could be labeled toxic on the part of one or both partners. But toxic relationships feel bad all the time and are draining. If not corrected, they have the potential to be extremely harmful to our well-being.
The stress you experience in a toxic relationship can negatively affect your mind and body, so it's important to focus on your health and well-being. If you recognize any signs of toxicity in your relationships, a good next step would be working with a therapist who can give you perspective.
It's possible to change toxic dynamics with conscious time, effort, and self-awareness. But it can happen only if both partners are willing to accept responsibility and do inner work to change. On Calmerry, you can get matched with a licensed mental health professional who specializes in toxic relationships and can give you a perspective.
Сheck your mental well-being for free: