Published March 2, 2023 / Updated March 24, 2023
What Is a Highly Sensitive Person, and How to Thrive as an HSP?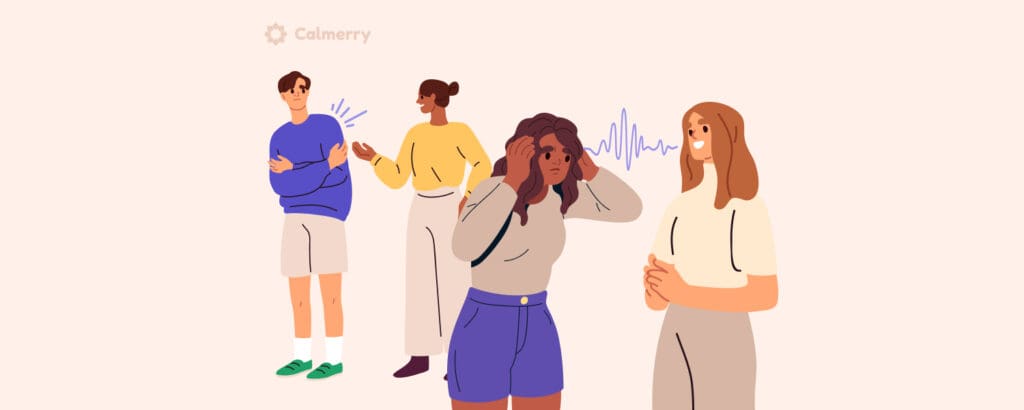 Reading Time:
6
minutes
A highly sensitive person (or HSP) is someone who is more sensitive to physical, emotional, or social stimuli. Being highly sensitive can be considered a personality trait that comes with its own strengths and difficulties.
This article aims to look at what HSP is, the signs that you might be one, and how to thrive as a highly sensitive person.
What is a highly sensitive person?
If you've ever been told that you are "too sensitive" or feel things more deeply than others, then you might be able to relate to some of the other traits that are common in HSPs.
Around 30% of adults are thought to have "high sensitivity" traits, which have their origins in both neural and genetic factors. A highly sensitive person is sometimes described as having sensory processing sensitivity (SPS). SPS and high sensitivity have been extensively researched since they were first coined in the 1990s, and it is important to note that this personality trait is not a disorder.
High sensitivity can lead to feelings of discomfort or anxiety in situations including noisy atmospheres, complicated social situations, or when wearing restrictive or uncomfortable clothing.
HSPs may also feel overwhelmed by hectic work or social calendars when watching intense or violent movies. Or by the strong emotions evoked by nature, art, or literature.
Sadly, in adverse conditions, being highly sensitive can lead to stress and poor health. However, being highly sensitive in supportive, healthy conditions has many benefits.
10 signs of a highly sensitive person
The traits of highly sensitive individuals differ from one another. But if you consider yourself an HSP or think that you may be one, here are ten general signs that you can look into:
Tired and overwhelmed most of the time
Noticing even the most minor details
Often takes things personally
Feels hurt easily
Overreacts to slights and provocations
Extreme criticism-sensitive
Difficulty letting go of negative emotions and thoughts
Experiencing more intense pain than others
Strong smells, loud sounds, or bright lights feel extremely uncomfortable
Large public like amusement parks and festivals are not enjoyable
View this post on Instagram
5 examples of self help-tests for HSP
You can take self-tests to discover your sensitivity profile and develop strategies to live a healthier, more fulfilling life. It may give you insights into why you are feeling this over-sensitivity and why you are experiencing certain physical symptoms to some stimuli.
Or if you are a parent of a highly sensitive child, it will help you understand your child better and offer valuable insights into how to help them.
It's important to remember that psychological tests cannot be considered diagnostic. Only a licensed therapist can come up with a full assessment and/or an accurate diagnosis. It is best to discuss your test results with a therapist to address your feelings and symptoms to develop a comprehensive treatment plan.
The first HSP test battery
In 1997, Dr. Elaine Aron, Ph.D., developed the first HSP test for adults. It's a 27-item questionnaire with HSP Scale from 1 to 7.
There is also a short version HSP self-test for adults based on the same scale from a 27-item questionnaire below. According to this test, you are probably highly sensitive if you answered more than fourteen questions as true of yourself.
A short version of the Highly Sensitive Person Scale (HSPS-10) 
Prof. Mychle Pluess from SensitivityResearch.com features different tests to help children, adolescents, adults, and parents identify their sensitivity levels.
He developed a modified version of the original 27-item test by Aaron with the name "HSP-12." This test consists of 12 items measuring environmental sensitivity in adults over 18.
The group of researchers also developed:
Self-test for adults as a shorter version of the HSP-12
A short self-test for children 8–18 years old to measure their level of sensitivity
Pros and cons of being a highly sensitive person
Being highly sensitive has both pros and cons. Learning more about your personality trait to manage the difficulties and take advantage of the benefits is empowering.
Benefits of being a highly sensitive person
As a highly sensitive person, you naturally have a wide range of traits that benefit you and those around you.
Feeling emotions more deeply
Being more sensitive may mean that you often notice, and therefore appreciate, the small things that others miss. For example, you may see the first blossom petals of spring or notice the tiniest brushstrokes of a painting.
You may feel emotion more deeply by perceiving the subtle beauty all around you. Emotional commercials, films, or novels may move you to tears, as you can truly empathize with what you see.
Stronger relationships
Although experiencing such strong emotions may be upsetting at the time, having a deep, natural understanding of empathy can be extremely beneficial.
You can build a stronger, closer relationship when you can intuitively understand others' feelings, as HSPs often can. Our previous article explored building a relationship with HSP and ensuring both parties remain happy, supported, and understood. By understanding exactly how your partner, family member, or friends are feeling, you can easily develop deep bonds with the important people in your life.
Feeling more gratitude
As an HSP, you will be better in tune with noticing what makes you feel happy, content, or relaxed. You are also likely to pay closer attention to what you have in your life to feel grateful for.
From valuing simple delights, such as a delicious meal or hearing a beautiful song on the radio, to cherishing your home and family, HSPs often do not struggle to see the good in their lives. This can lead to an overall improvement in feelings of well-being and gratitude.
Excellent communication skills
HSPs are often excellent at communicating and picking up on unspoken tension or problems. However, as an HSP, you may find assertiveness challenging.
Having trouble declining requests can lead to problems such as anxiety or burnout if you are overstimulated or stressed. Sometimes communicating via the written word, such as by text, email, or letter, can be easier for someone who is highly sensitive.
More creative
Those who are highly sensitive are often creative, too. Whether it's writing, painting, singing, or dancing, creative outlets are often a way to release or express the emotions that are felt so deeply.
Cons of being a highly sensitive person
Being highly sensitive has many positives but can also cause some difficulties. Below are some examples of the cons of being highly sensitive.
Feeling overwhelmed by social or complicated circumstances
Busy environments or intense social situations such as big parties can feel overwhelming for those with SPS. Talking to multiple people while being subjected to loud music and bright lights can all lead to feelings of stress or exhaustion.
As many HSPs are very sociable, it can be hard to weigh up wanting to see a family with not wanting to face sensory overload. It is, therefore, important to show some self-compassion by setting boundaries.
Chances are you'll never be the last one left on the dance floor. However, you could agree to go to a party for an hour or two to socialize and then head home for some much-needed downtime.
Over-scheduling
A full diary can feel like a nightmare. Having a full day of meetings or being invited to social events five nights out of seven may make you want to hide in a dark room.
Try to stay in control of your diary by ensuring you block out time that's just for you. This way, you can try to avoid burnout. When your diary is too full, you'll either need to decline further invites or re-arrange existing ones.
Criticism-sensitivity and difficulties in saying "no" 
Being highly sensitive can make you feel particularly stressed when there is conflict in a relationship. You may also find it hard to say no to others' demands, as you will likely feel their disappointment and worry that you have let them down.
HSPs tend to be more critical of themselves, too. All of this can lead to low mood, depression, or anxiety. 
How to thrive as a highly sensitive person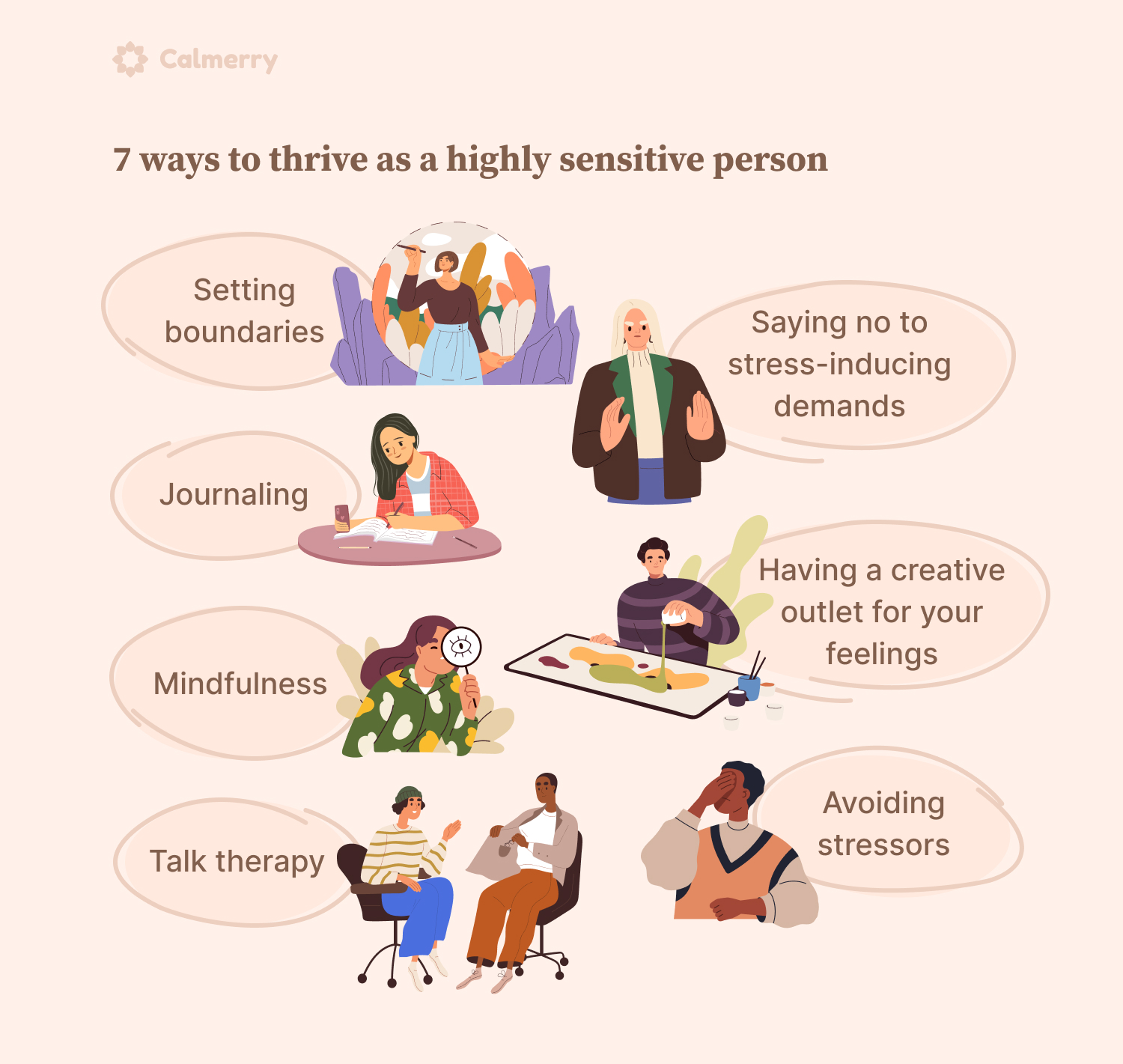 The pros of being a highly sensitive person will likely come naturally to you, but being aware of them may help you make the most of them.
However, it is important to protect yourself against the drawbacks of being more sensitive.
By setting boundaries, you can protect yourself against excessive emotion or stimulation so that your sensory system doesn't feel overloaded.
Some people find journaling helpful to work through the strong emotions evoked by certain situations. Others make time for mindfulness as a form of self-care.
You may need to work on managing situations that lead to internal conflict. This may include:
Being brave enough to say no to demands that will lead to stress or emotional exhaustion
Avoiding stressors, including people who sap your energy or scary movies that will upset you
Factoring in breaks before and after busy social events to "recover"
Having a creative outlet for your feelings
Subscribe
to our mental health digest
Let us support you on the way to better mental well-being. Get expert tips and insights on mental health delivered to your inbox monthly.
Talk therapy can be an effective way to understand your emotions and feelings. Online therapy can be particularly beneficial for those who feel that their sensitive nature is misunderstood or criticized by their friends or family.
For instance, a certificated online therapist in Calmerry can help validate your feelings and support you in using your personality trait in a constructive manner.
Wrapping up
Highly sensitive people are very common but are only sometimes understood. Having sensory processing sensitivity can enrich your life and the lives of those around you.
However, it is vital to ensure you make time for self-care and have personal boundaries to protect your emotional health from over-stimulation.
Сheck your mental well-being for free: