Published January 3, 2023 / Updated March 27, 2023
The Secret to a Happy Relationship with a Highly Sensitive Partner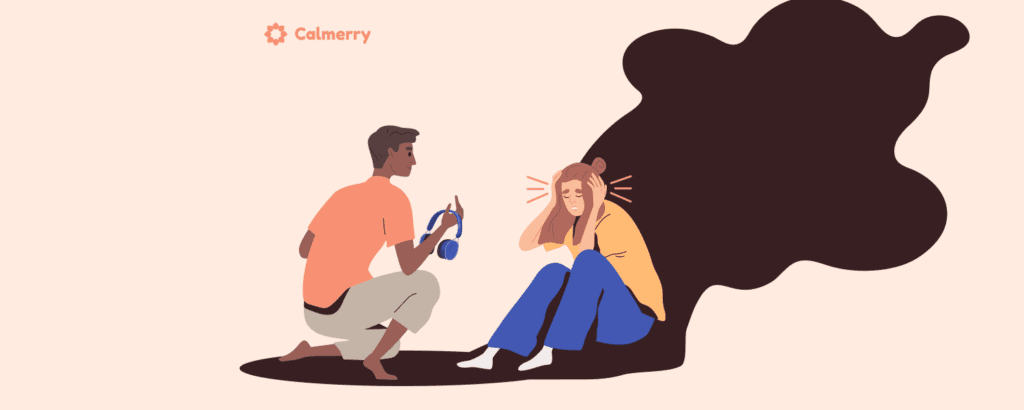 Reading Time:
6
minutes
Befriending a highly sensitive person or being romantic partners with them can offer a truly meaningful, close, and fulfilling connection. However, their sensitivity may also lead to some challenges.
Talking with someone who understands their nuances can provide insight into their unique world. In this article, we will talk about the specifics of such a relationship and how to ensure that both parties remain happy, supported, and understood.
What's great about a relationship with a highly sensitive person?
People who are an emotionally sensitive or highly sensitive person (HSP), make up around 30% of the adult population. Being highly sensitive, or having sensory processing sensitivity (SPS), is a personality trait, not a disorder.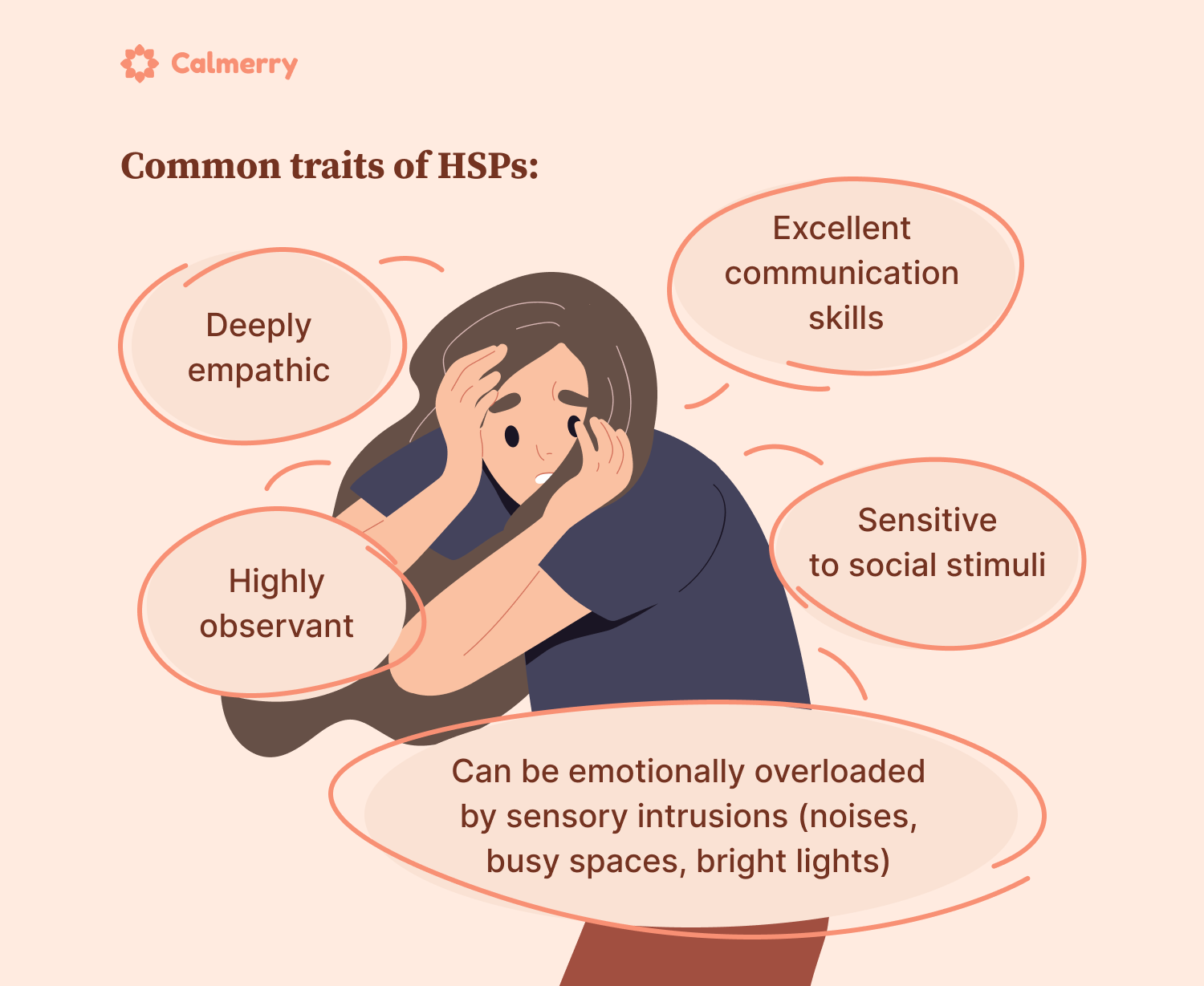 Because they tend to notice things that others don't, a relationship with an emotionally sensitive partner can help you observe the surrounding beauty in a way you haven't done before. And your relationship can offer both of you a close, enjoyable, and deep connection.
However, being highly sensitive also means that some environments can be a bit too much to process – they can become easily overwhelmed by social and physical stimuli. This may occur in city centers, inside busy stores, on public transportation, or at parties.
All these places (and more) have a few things in common: a lot of lights, sounds, sights, and even smells that can be too much to intake simultaneously.
So, your emotionally sensitive partner might require downtime to decompress from such intense stimuli, and they might not always be ready to jump onto the next opportunity to go out again.
Understanding how your emotionally sensitive partner feels is a great way to support them. It's not that they don't want to go to a fun place with you, it's that it takes a huge toll on them.
Being accommodating and letting them explore the world at their own pace is a great way to protect them from feeling burned out or stressed.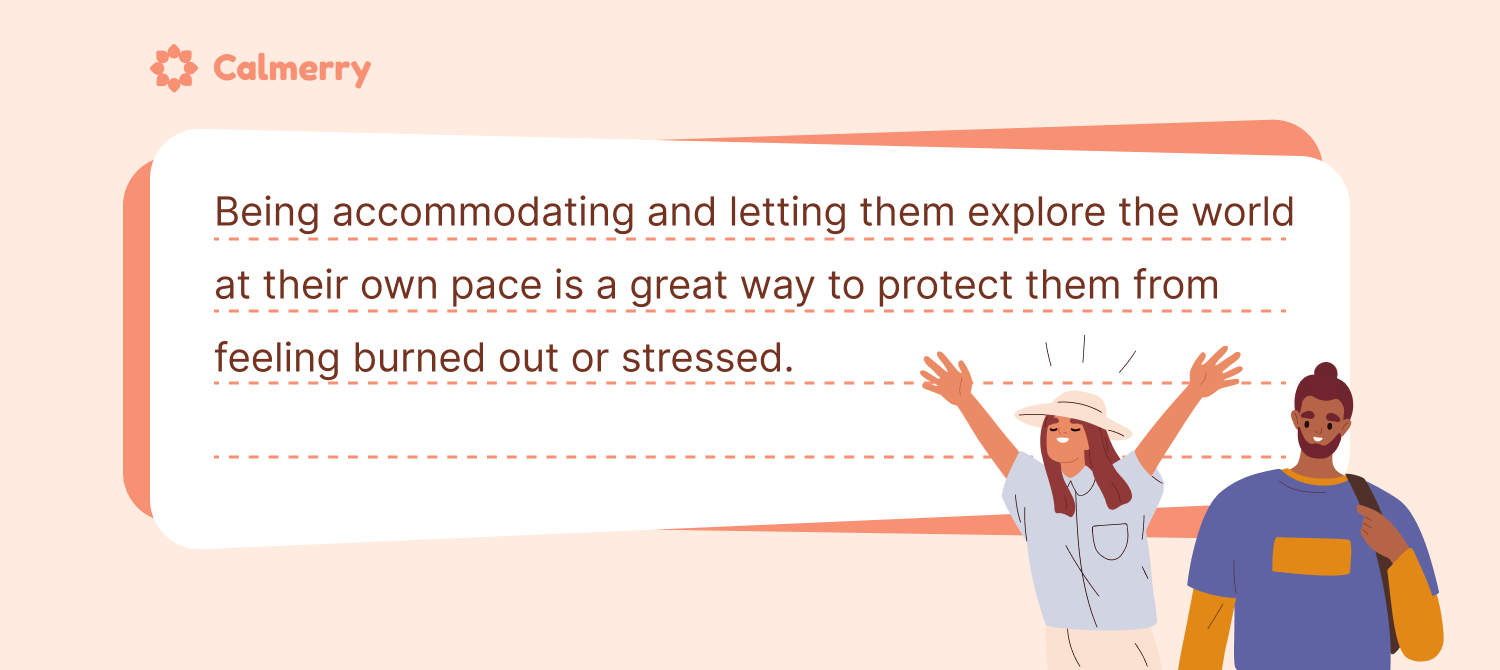 How to deal with an emotionally sensitive partner
If you are wondering how to deal with a highly sensitive partner, the first step is to accept them for who they are. Calmerry understands the importance of embracing your partner's sensitivity.
They did not choose to be highly sensitive; the underlying cause tends to be neural or genetic. You will need to find ways to support their and your needs, and the advice below might be helpful in that regard.
Make home feel safe
When you are highly sensitive, it is important to have a stress-free personal space. After a busy day at work or a crowded party, your partner might need some space to decompress.
A cozy corner away from screens and windows can help them chill and practice being mindful. If your home tends to be noisy, you can consider investing in some soundproofing or buying your partner a pair of noise-canceling headphones.
Too much light is another stimulus that HSPs might not take well to, so things like
Thick drapes
Heavy blinds
Dimmable lights with LED lamps
Can let your HSP partner regulate exactly how much light they want at any time of the day.
Support their need for the quiet time
When you get back home, you may want to watch TV, play video games, or just hang out with your partner. Your partner, however, might have a different need.
It's not that they don't want you to relax, but they might have been overstimulated just a bit earlier, so they need some quiet time for now.
Communication is key here. You need to be open and direct about your boundaries and immediate needs. Finding a compromise – where neither party feels slighted – is the best way to approach the situation.
Depending on your current accommodations and the specific sensitivities of your partner, you can:
Limit screen time to a specific time of the day or by the number of hours
Move the TV into another room, away from their preferred quiet corner
Buy a pair of headphones for yourself so that you won't disrupt their peace
The important thing is finding a balance where you don't feel like your needs are ignored. You're accommodating your partner's needs, so they should do so as well.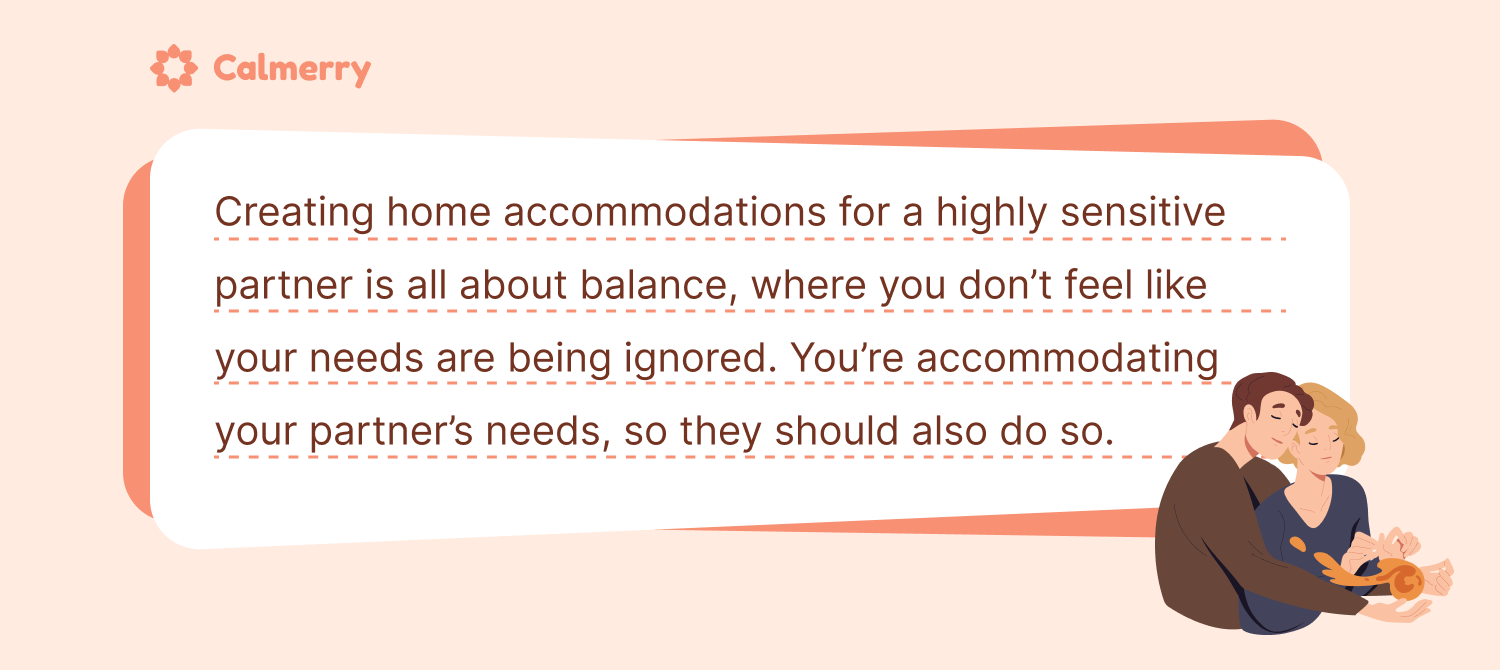 Support your partner in busy situations
Busy situations can result in sensory overload for your highly sensitive partner. Over-stimulation may cause them to feel emotionally or physically drained for several hours or even days afterward.
Be aware that your partner may want to leave busy events early. Talk before the event and decide how you want to approach the situation.
Will you leave independently from one another? Or will you leave together when your partner becomes over-stimulated?
Whatever you decide, try not to take it personally when your partner wants to leave.
It's also worth remembering that emotionally sensitive people can become so over-stimulated that they lose the ability to communicate their needs. Learn to recognize the signs that your partner is ready to leave and support them in making a swift exit.
Don't rush them
As a result of their deep and complex cognitive processing, highly sensitive people process a lot all the time. This means that it can take longer for them to make sense of information and come to a conclusion.
They may need longer to order from a menu or may take hours to reply to a text or email. When a highly sensitive person is processing information, try not to rush them for a response, as this will only increase the pressure they feel, slowing the process down further.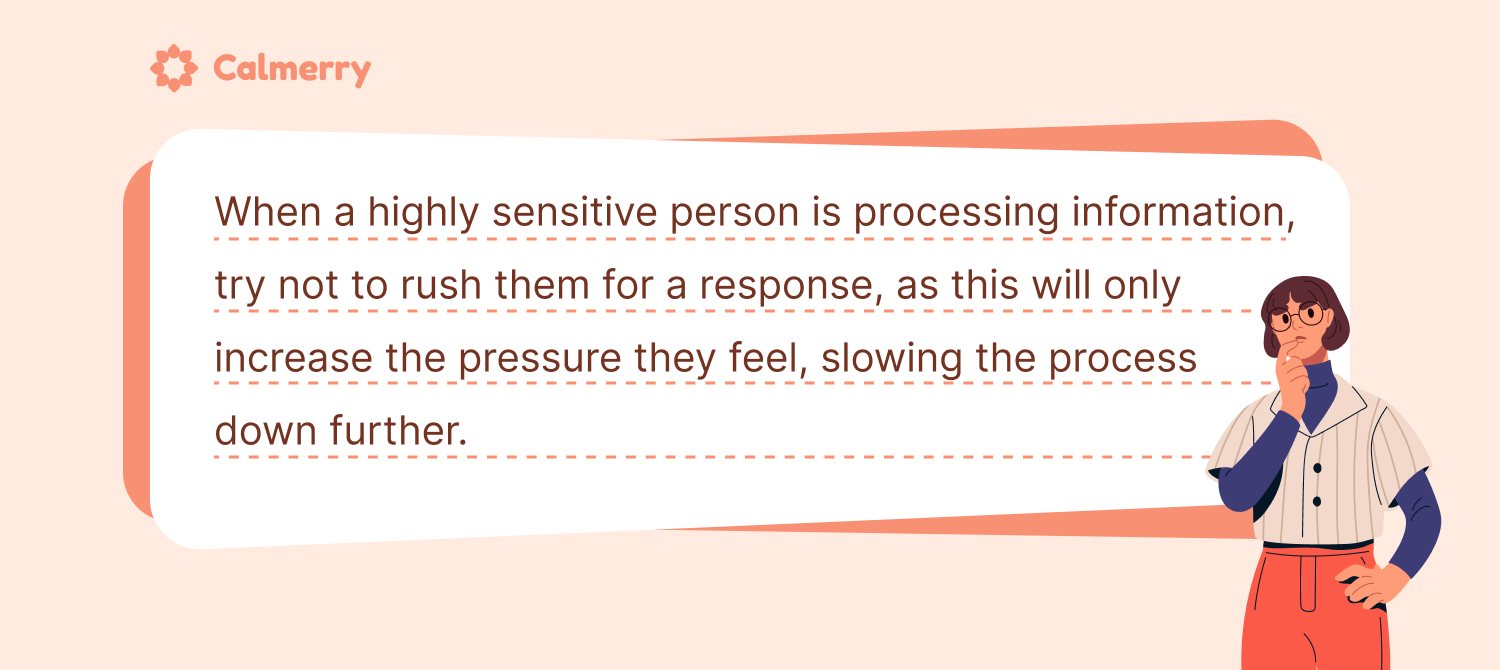 How to communicate with a highly sensitive person
Your partner may have the skills to be an excellent communicator, but conversations need to be held in the right way. That's why it's important to think about what to say and what not to say to a highly sensitive person.
What not to do:
Lash out in frustration because of their sensitivity
Highly sensitive people pick up on emotions easier, but they are also more receptive to them than others. So, be mindful of your own emotions.
As your partner will likely be attuned to any sign of frustration or unhappiness on your part, they may become emotionally alert and distressed if you allow your frustration to cloud what you need to say.
Overwhelm them with information
When there's a lot you want to talk about, make pauses and give them a breather to process what you're saying. If you have ten points you want to discuss, you will be far more successful if you cover two or three at a time.
What to do:
Find the right time to talk about important things
If you want to discuss something important to you, make sure that you have the right timing. If you start a conversation somewhere busy or when your partner is already in sensory overload, the conversation is unlikely to go well. Wait for a quieter moment to talk.
Help them stand up for themselves
Those who are sensitive often find it difficult to say "no" to friends or family. From time to time, check in on your partner's stress levels. They may need you to gently point out that they are at risk of becoming burned out by helping everyone else to the detriment of their health.
Use non-verbal communication
Sometimes, non-verbal communication is best. Even just holding hands on the sofa, or enjoying a quiet walk together, can help you reconnect with each other more than a conversation might. This form of communication can be a great way to decompress after a busy day.
Subscribe
to our mental health digest
Let us support you on the way to better mental well-being. Get expert tips and insights on mental health delivered to your inbox monthly.
Seek support and guidance
If you are struggling to support your emotionally sensitive partner, seeking help in the form of online therapy or counseling may be one of the most effective ways to ensure a successful relationship and take care of your well-being.
Understanding how your partner feels and working through ways to support them while remaining content yourself can make your partnership stronger than ever.
Final thoughts
If you can take away only one thing from this read, know that being with an emotionally sensitive partner can offer you a deep, meaningful connection. But also understand that highly sensitive people don't choose such a sensory-diverse life for themselves. And the things that frustrate you may also be frustrating to them.
So, try to be patient and attentive, and don't force them into situations they aren't equipped to handle. Instead, help them navigate the world that doesn't fully accommodate them.
By doing so, you will develop a deeper understanding of your partner's mind and soul, and your relationship will eventually flourish.
Сheck your mental well-being for free: