Published January 23, 2023 / Updated May 22, 2023
Why It Is Important to Learn to Say No – And How to Do It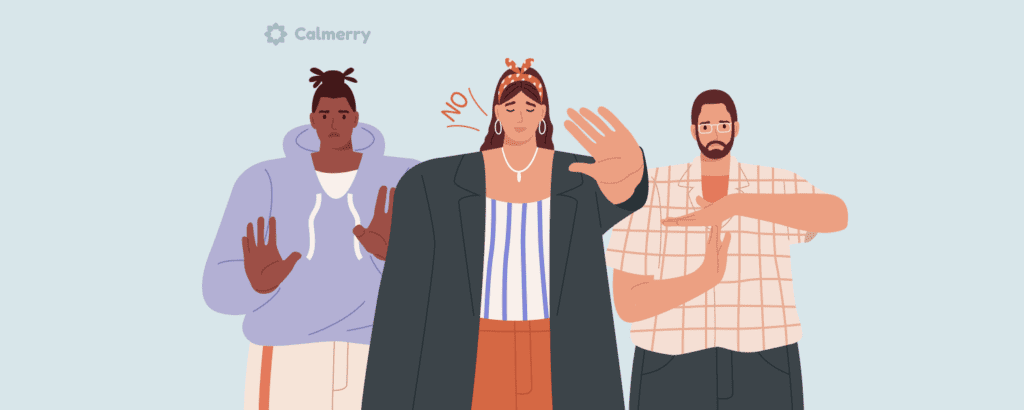 Reading Time:
5
minutes
For many people saying no can be intimidating and uncomfortable, so they often say yes to others only to regret it moments later. If you consciously choose to act this way, giving up your choices simply not to sound rude, in the long run, it will leave you feeling stressed, drained, and unhappy. Saying yes to everything puts unrealistic demands on you and can lead to frustration for everyone.
Why is it so hard to say no?
Many people struggle to say no because they're simply eager to please and are afraid of upsetting others. We're scared that if we do, the other person may get angry or even abandon us, so we tend to say yes to avoid it. Besides, knowing that other people rely on us helps us feel worthy.
Young children find it easy to say no, so if you struggle with it in adult life, this inability is learned. Oftentimes, society teaches us that the word "no" is impolite and inconsiderate. That's why we may feel obligated to agree to something that we don't want to do just to be socially accepted and avoid conflicts.
The inability to say no may have been modeled to you, for example, if your parents were people-pleasers. Or maybe your parents had a demanding parenting style and laid down strict rules for what you could or couldn't do, and there were consequences for refusing an adult.
People-pleasing can be a challenging pattern that often stems from a desire to seek approval and avoid conflict. But it can lead to feelings of self-neglect and dissatisfaction.

Download this worksheet on Overcoming people-pleasing to explore the underlying causes of people-pleasing, gain insights into its impact on your well-being, and discover practical strategies to break free from this pattern.
Signs you are a people-pleaser
Some people hope that saying yes to everything they are asked to do will help them feel accepted and liked, and people-pleasing may become their way of life. They give up the time and energy they could have spent taking care of their own needs and continue doing things for others to feel useful and loved.
Here are some signs that you may be trying too hard to please everyone, and that's a habit that is hard to break:
You feel responsible for how other people feel.
You pretend to agree with other people's opinions despite thinking something different.
You find it hard to say no to requests.
You have a sense that you're not good enough and need praise to feel good.
You try to avoid conflicts at all costs.
You find it difficult to identify your own needs and wants.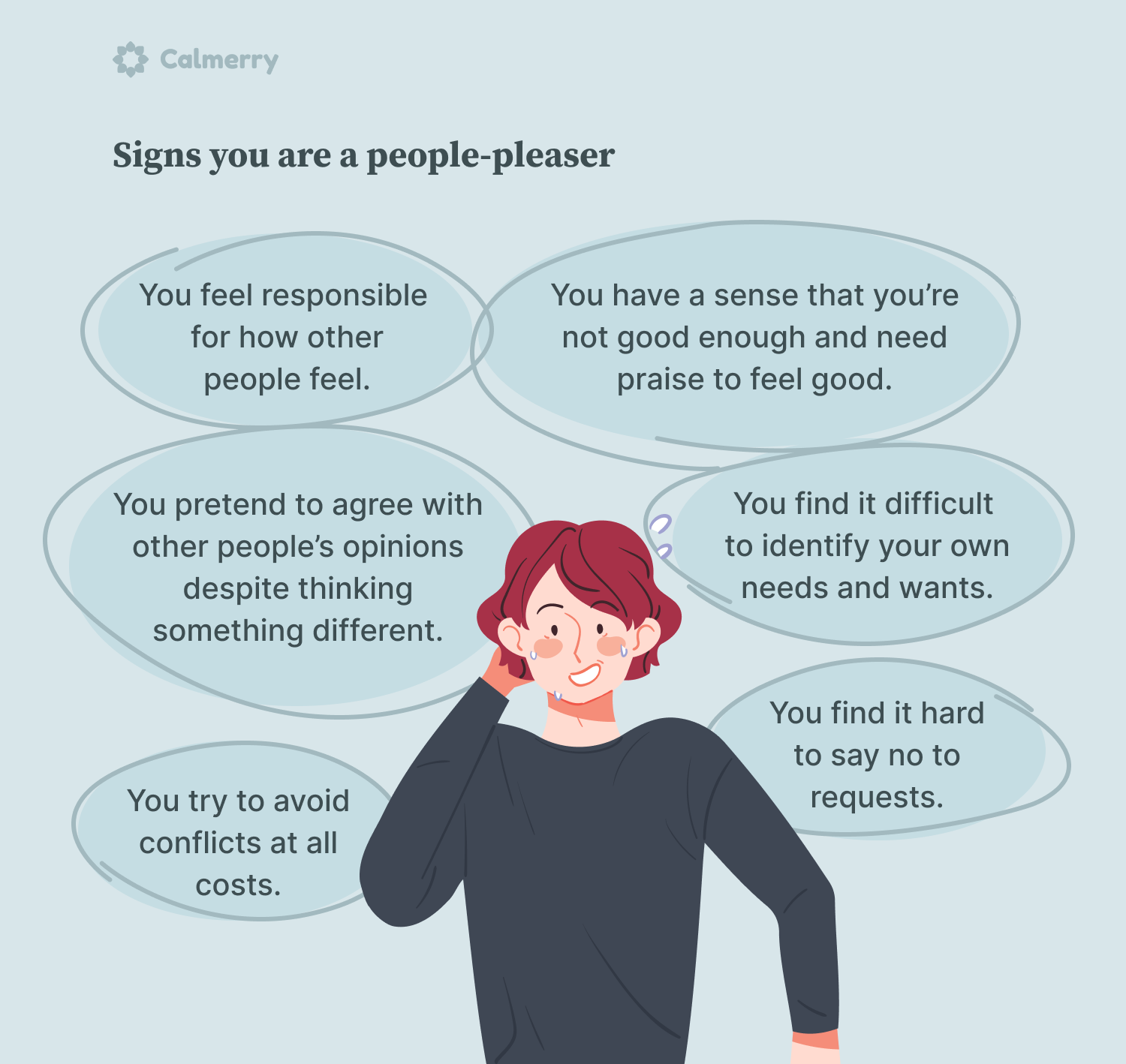 Benefits of saying no
Feeling confident in saying no is important for living a well-balanced, enjoyable, and fulfilling life. Remember that putting your own feelings and needs first isn't selfish because you deserve to take care of yourself, and saying no is one of the best forms of self-care. This strategy can allow you to remain true to yourself because you'll feel more in control of your life and not a victim to other people's demands.
Setting healthy boundaries will help you have more time and energy to do what you really want to do. It will also allow you to have the physical and emotional reserve to continue to care for other people in your life, without losing yourself in the process.
Learning to say no is an important life skill that can empower you to make better choices based on your personal goals and dreams. It will allow you to use your limited time, resources, and, and energy wisely, create time for things that really matter, and prevent burnout.
Ways to say no
Learning to say no saves a lot of stress and wasted time, and your aim when you do so should be to refuse, not reject. You don't have to give an immediate answer, and it's okay to take some time to think about your response and provide a concrete reply in a reasonable time frame.
Your needs are important, so it may be helpful to create a list of your top priorities – the things to which you want to say yes. When someone asks you to do something, you can check to see if it will serve any of the things you wanted to put your time and energy toward. And if the request isn't in line with your objectives, you'll be able to say no with greater ease.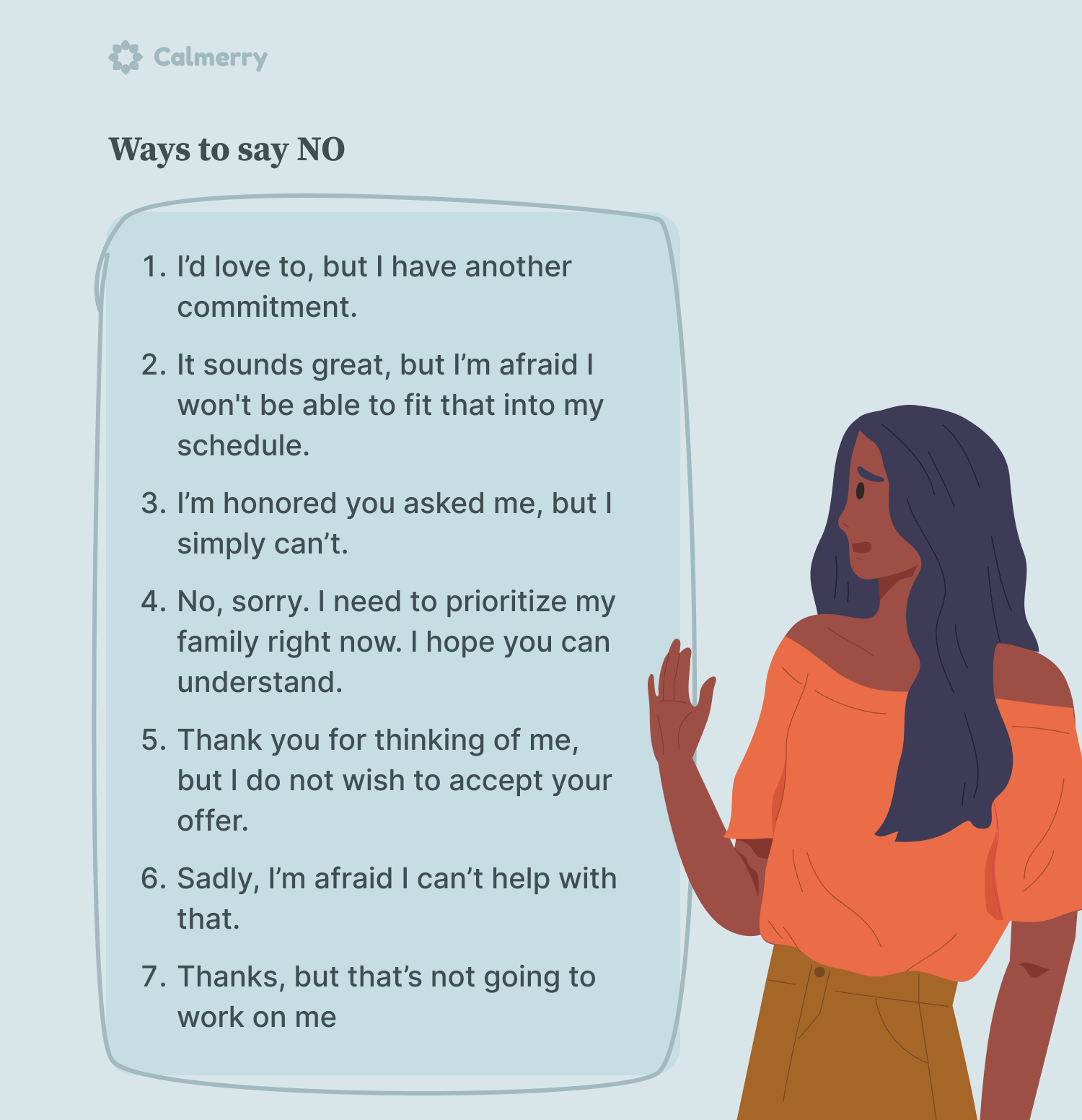 There are different ways to say no, but it's important to find a way that feels natural and authentic to you. If you are looking for ideas on how to say no politely, here are some phrases that you can use to decline a request while still being kind and respectful:
I'd love to, but I have another commitment.
It sounds great, but I'm afraid I won't be able to fit that into my schedule.
I'm honored you asked me, but I simply can't.
No, sorry. I need to prioritize my family right now. I hope you can understand.
Thank you for thinking of me, but I do not wish to accept your offer.
Sadly, I'm afraid I can't help with that.
Thanks, but that's not going to work for me
It's important to be confident, consistent, clear, and concise. There's no need to provide many details to explain your reasoning. But you may say something about some things that you are willing to do, or tell when you might be in a better position to say yes. This way, you let other people know you are acknowledging the request and show respect for them.
Wrapping up
Learning how to say no to others, especially when it's uncomfortable to do so, is one of the most powerful steps you can take for your overall mental health and personal growth. Saying no will help you establish healthy boundaries in relationships and make it clear to other people what they can expect from you.
Remember that you don't always have to say yes to all requests to be a good partner, parent, friend, or employee. You can't spend all your time and energy pleasing other people to keep them happy. You deserve to prioritize your own needs and feelings because you're the most important person in your life.
Saying no may be a daunting thing to do at first, but the more you practice it, the more comfortable it will become. If you need help learning how to say no without feeling guilty, consider online therapy. Calmerry therapists can guide you and equip you with the tools you need to start creating boundaries and improving your self-esteem and confidence.
Сheck your mental well-being for free: