Calmerry x Maavee: Uniting Forces and Values for Employee Wellness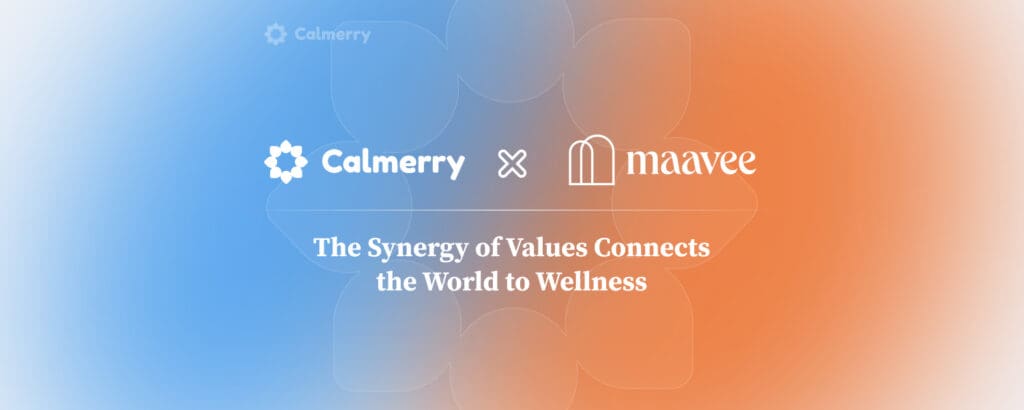 Reading Time:
3
minutes
Exciting news! We are thrilled to announce the partnership between Calmerry and Maavee, two companies dedicated to promoting wellness.
This collaboration brings together the power of the online therapy platform and the total well-being app, creating a unique synergy that will positively impact both employees and employers, organizations, society, and the world.
Maavee is dedicated to curating the best wellness brands, focusing on sustainability and societal impact. And Maavee added Calmerry to the list of the brands they love!
So, through Maavee, employers can now empower their workforce with access to on-demand mental health support on the online therapy platform Calmerry – just find us here.
This partnership enhances the comprehensive well-being experience offered by Maavee and ensures that employees can get quality mental health care alongside other wellness resources.
With our shared values and missions, we are poised to make a difference in people's lives and their journeys.
Promoting employee mental wellness and enhancing SMBs efficiency
There's a strong connection between employee mental health and overall organizational performance.
Did you know that…
According to the American Institute of Stress, approximately 83% of employees in the US report work-related stress, with 25% indicating their job as the major life stressor. They are more likely to experience decreased productivity and job satisfaction and increased absenteeism and turnover.
Underrepresented employees often face additional challenges when it comes to their mental well-being. For example, members of the LGBTQIA2S+ community may face unique challenges related to identity disclosure and acceptance, while individuals from racial and ethnic minority groups may encounter systemic barriers and biases.
According to the AARP, approximately 53 million Americans provide unpaid care to an adult or child each year. Managing work and family responsibilities can lead to chronic stress, emotional exhaustion, and burnout.
And a survey conducted by Deloitte found that organizations investing in mental health support initiatives can see an average annual return of $1.62 for every $1 invested.
This highlights the financial benefits for employers who prioritize employee mental health. But the facts and numbers above also highlight the pressing need for companies to prioritize well-being in the workplace and provide supporting resources for their employees. This is where the Calmerry and Maavee forces unite.
As our Partnership Manager Albina Galiza comments, "In times of uncertainty, starting from post-pandemic Great Resignation to the labor shortage today, it's crucial to support employees' mental health and well-being. Employees who feel valued and heard appear to be more motivated and perform better. We can't build resilience without psychological safety and mental health awareness culture in the workplace."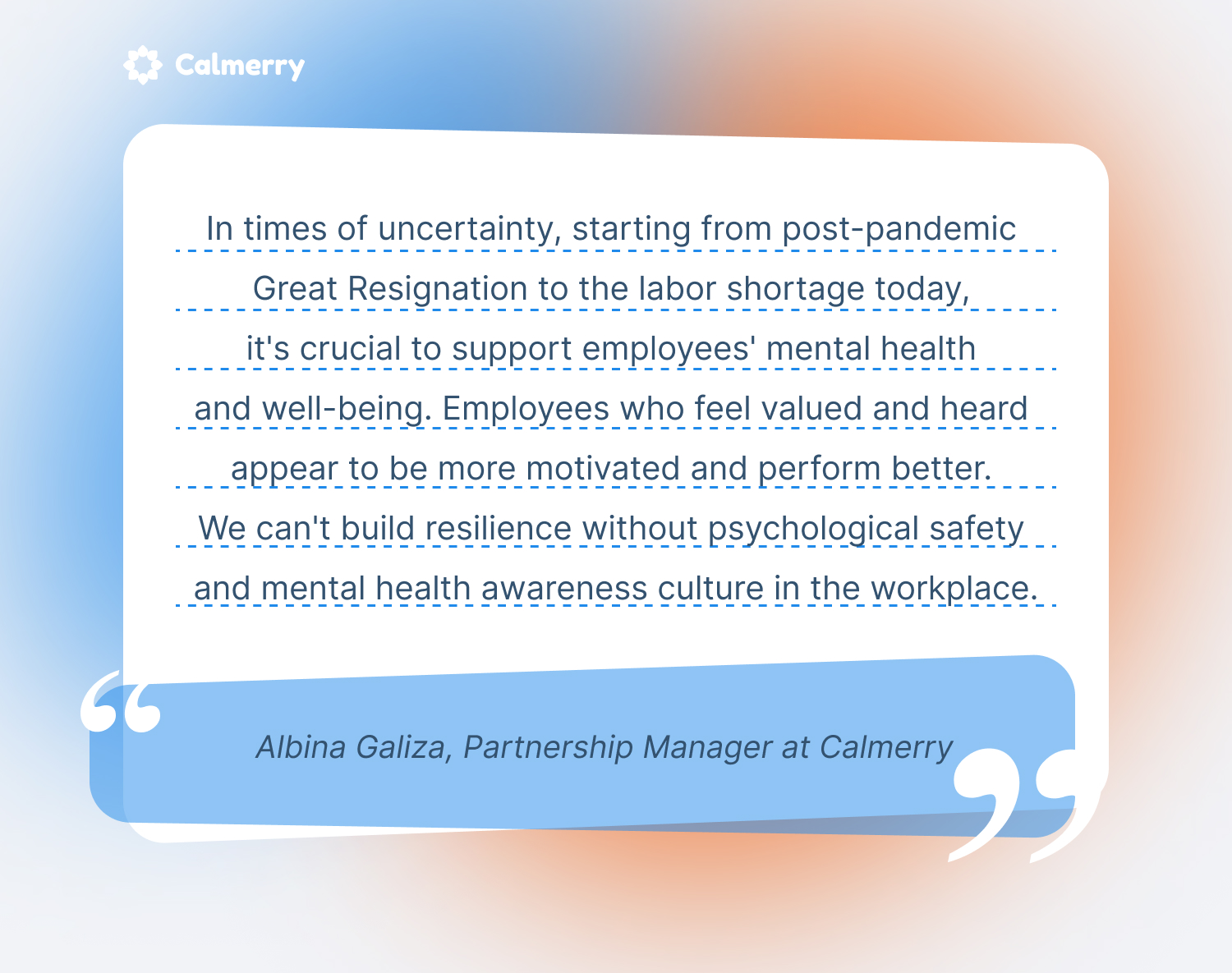 Enhancing access to mental health support tailored to your needs
Together, Calmerry and Maavee are working to ensure that mental health support is easily accessible, personalized, and inclusive for all. Maavee makes it easier than ever to invest in workforce well-being. And we're inspired knowing that employees can now get the tools to proactively manage their mental wellness and get the compassionate help they need to thrive.
We believe in the importance of tailoring mental health care to the unique needs of every person. That's why we offer personalized options for employees and employers, including:
Flexible packages (pay-as-you-go (PAYG) or per-employee-per-month (PEMP) model
Mental health programs
Varied therapy and counseling formats (messaging, video, or both)
Personalized therapy plans
Extensive library of mental health tools and resources (mood tracking, journaling, assessments, worksheets, helpful articles, and more)
Monthly engagement reports
Dedicated account manager and technical support team
Furthermore, our community comprises over 600 licensed and vetted mental health professionals who bring diverse perspectives, representing various racial and ethnic backgrounds, cultural beliefs, and gender identities.
And they specialize in addressing a wide range of issues, including:
Anxiety
Depression
Anger management
Relationship issues
Grief
Trauma
Work-related stress
Work-life balance issues
Parenting and caregiving challenges
Burnout
Decreased productivity
LGBTQIA2S+ unique challenges
Layoff anxiety
….and more!
Aligning values for greater wellness impact
Calmerry and Maavee are proud to share a strong synergy of values. Maavee's mission is to connect the world to wellness and create a global network of partners committed to making a positive impact. And Calmerry is dedicated to making quality mental health care an integrative part of people's lives and their daily routines.
Destigmatization, equality and equity, inclusion, diversity, raising awareness, and promoting wellness are at the heart of our missions and values.
This synergy will help us achieve our shared goal of creating a world where mental wellness is prioritized, accessible to all, and celebrated.
Let's connect
Book a 30-min demo call with us to learn more about our B2B offering and how Calmerry can help take the pressure off your team through flexible, customizable, and holistic therapy.
See a live demonstration of how platform works
Have an overview of our flexible payment models
Get a tailored offer based on your company needs and number of employees
Сheck your mental well-being for free: