Enhanced Insights Await: Calmerry Welcomes Back the Upgraded Self-Help Tips Library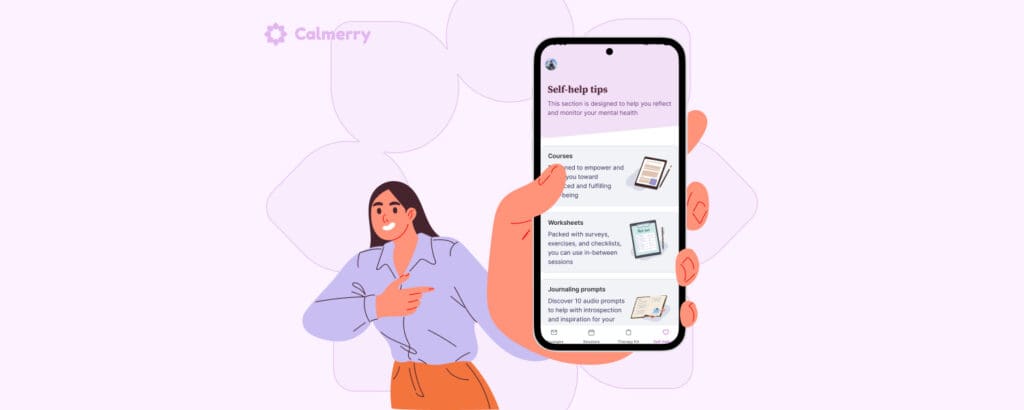 Reading Time:
3
minutes
We have some incredible news to share with you today. As you may know, Calmerry underwent the Great Update in March, and the Self-help tips library was temporarily unavailable for in-depth renovations.
And today, the hidden treasure is back to all Calmerry clients with an active subscription! We're introducing a revamped Self-help tips library that promises to bring an even greater boost to your wellness journey. Whether you prefer traditional therapy or online therapy, these new resources are designed to support your mental health needs.
Are you ready to explore the exciting improvements? This update is now available in the app. Make sure your app has the latest version to unlock a world of new mental health insights.
What awaits you inside?
Within our Self-help tips library, you'll find an abundance of helpful resources available in various formats. Whether you thrive on engaging text, insightful audio recordings, practical handouts with homework, or captivating visuals, everyone can find something for themselves they'd love.
These resources can support your well-being in many ways:
Use them in between therapy sessions to maintain ongoing support and guidance
Incorporate them into your routine for self-reflection, self-monitoring, and self-care
Tap into psychoeducation and get back to the library as your trusted source of knowledge
These are all vital elements for nurturing your mental well-being!
Here's a sneak peek into what awaits you 👇
Courses – unlock a wealth of knowledge for mental well-being
Knowledge is power! And we believe it's one of the keys to mental well-being. That's why we designed a psychoeducational library that offers a comprehensive collection of articles to help you navigate various aspects of your mental health and empower you with the skills needed for personal growth.
Within the Courses section, you'll discover a treasure trove of general helpful information and insights relevant to your therapy needs.
Whether you're seeking guidance on managing anxiety, cultivating resilience, coping with depressive symptoms, healing from grief, enhancing self-esteem, or just growing your mental health knowledge – you can find all these in the Courses.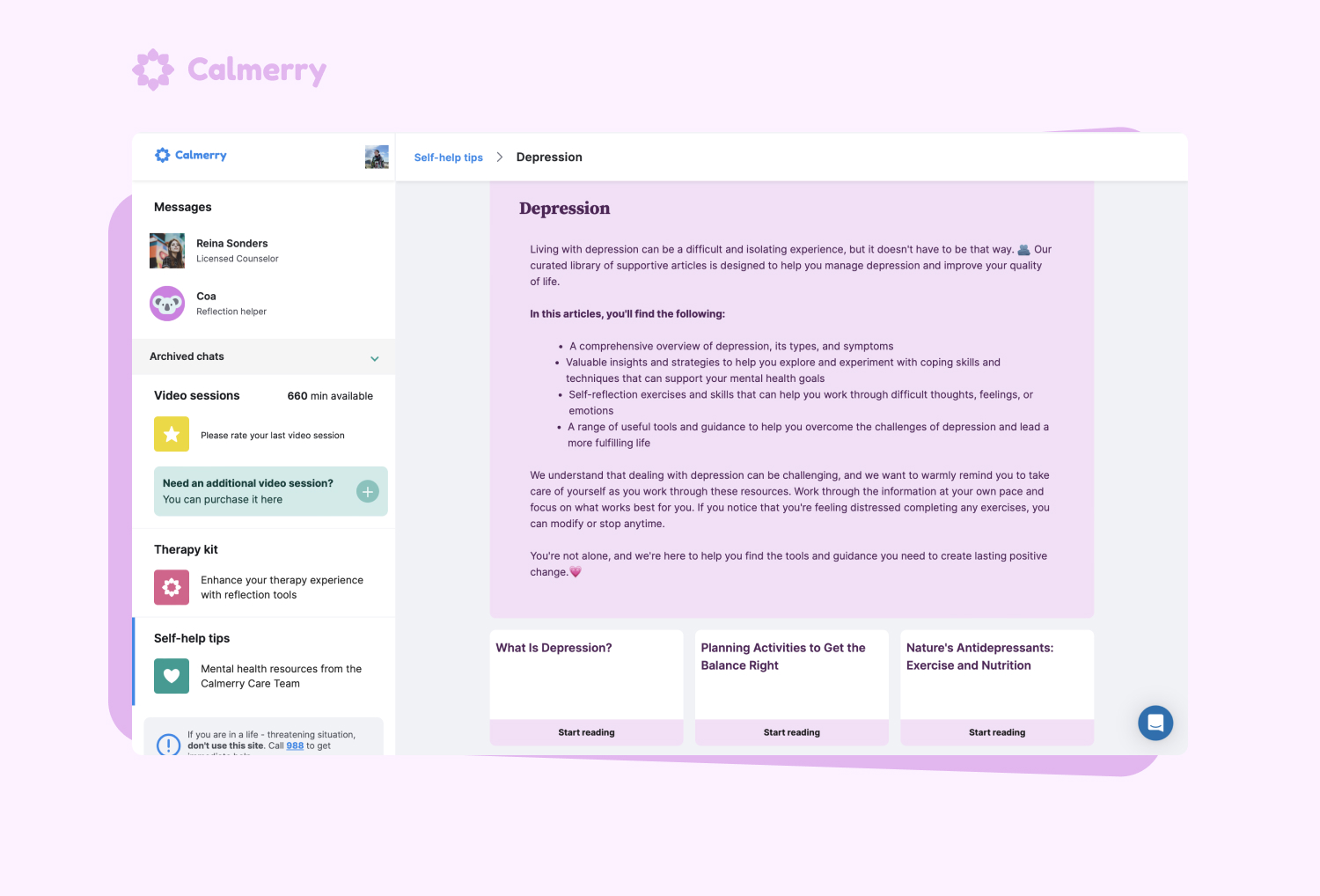 The beauty of the Courses section (which also applies to the Self-help tips library in general) lies in its flexibility. You can explore the materials at your own pace and in any order that suits you best.
The content of articles is meticulously curated by mental health experts. Some articles include exercises and activities presented in downloadable PDF format.
And our team is constantly working to bring you even more insightful content – so stay tuned for more updates!
Worksheets – engage in the growth of your skills interactively
Prepare yourself for a transformative journey with our collection of therapy worksheets, now available as downloadable PDFs. These interactive resources are designed to provide you with a valuable blend of self-reflection, skill-building exercises, and progress-tracking tools.
Within these worksheets, you'll find various activities, including:
Checklists
Helpful handouts
Journaling prompts
Reflection exercises
Insightful guides
…and more! The worksheets library is updated regularly.
Think of them as your own personal growth homework – but fun! They offer an enjoyable and effective way to explore your inner self, practice new skills, reflect on your progress, facilitate self-awareness, reinforce what you've learned in therapy sessions, and collaborate with your therapist.
Some worksheets allow typing in your answers right in the PDFs.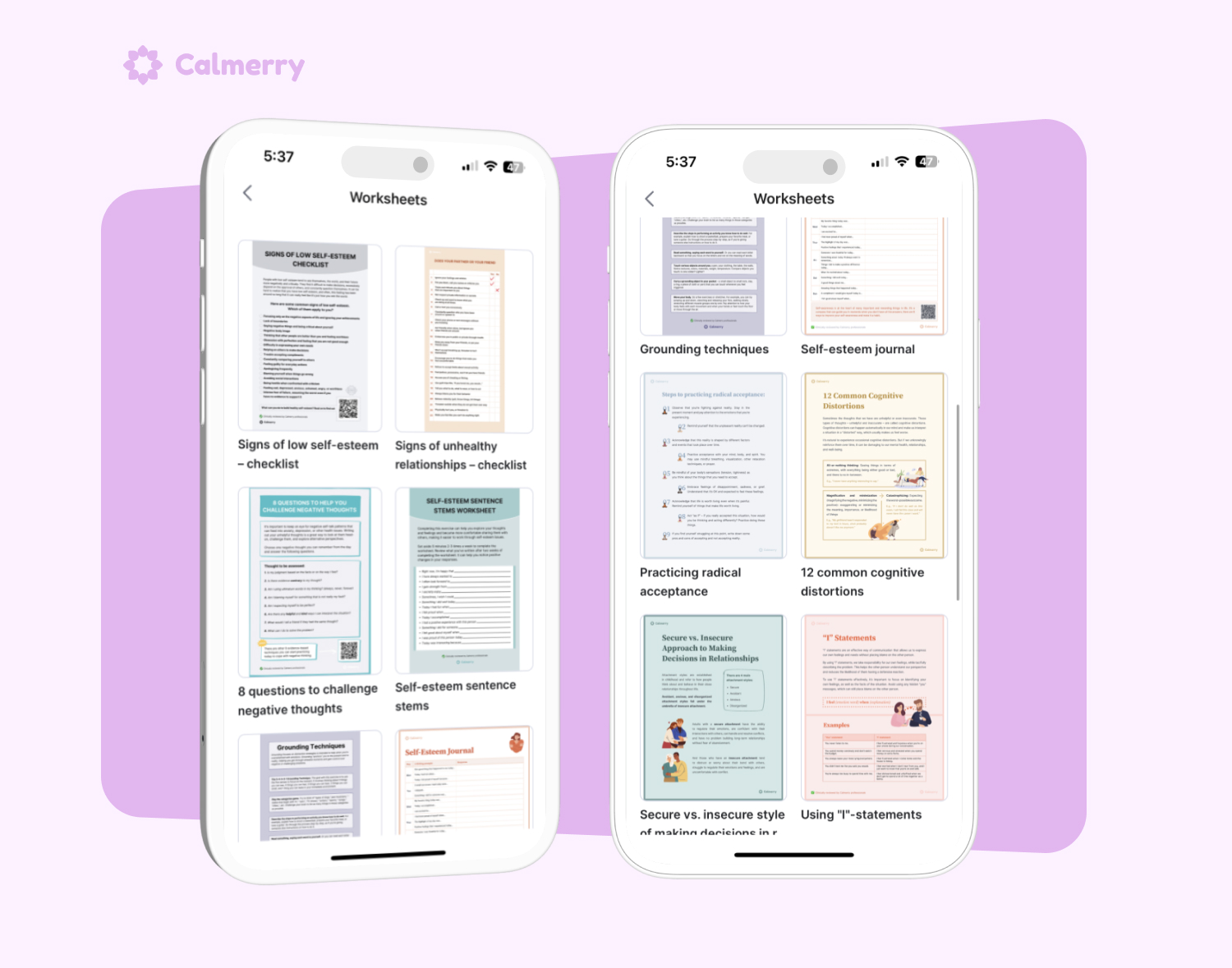 Audio journaling prompts – spark introspection and self-discovery
We recognize the power of reflection in our personal journeys, so we've introduced 10 audio recordings to assist you in this process. These journaling prompts serve as catalysts for contemplation and introspection.
Take the time to listen and ponder the content, allowing it to guide your thoughts. To enhance your reflective experience, consider using the Coa Reflection Helper. Create journal notes there based on your observations and daily reflections.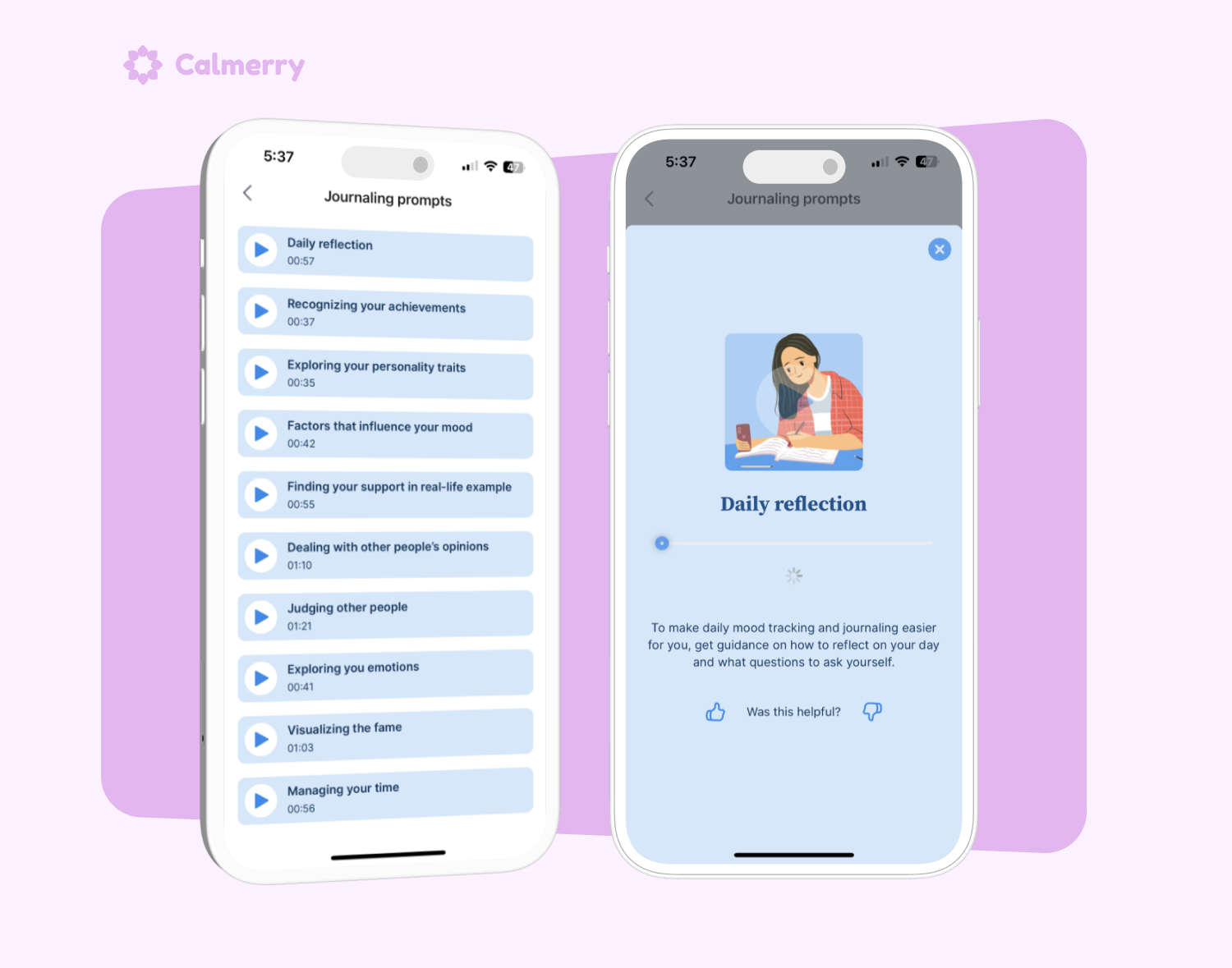 Embrace your journey to wellness with Calmerry
Therapy is a deeply personal and life-changing journey, and that's why we're curating these resources with care and warmth. Whether you're a long-time client or new to Calmerry, our Self-help tips library is here to enhance your therapy process.
Let Calmerry be your companion as you discover new insights, foster personal growth, and find the strength to overcome challenges. Together, we can navigate the path to healing, growth, fulfillment, and happiness. 💜
Сheck your mental well-being for free: