Published October 7, 2022 / Updated March 16, 2023
How Can Therapy Worksheets Benefit Your Mental Well-Being?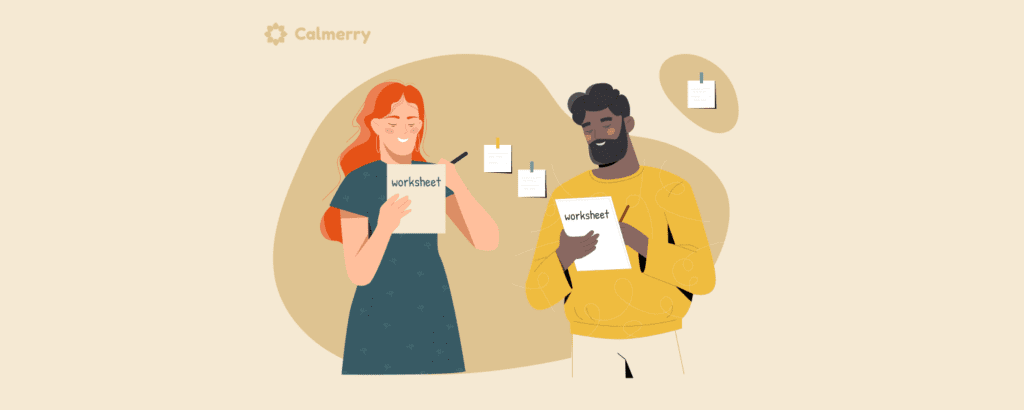 Reading Time:
5
minutes
Worksheets come in many forms and provide structure to therapy. They are effective mental health tools for sessions, handouts, homework, and more.
When you first start therapy to address mental health concerns, worksheets can be helpful for structuring your thoughts. They also inform, clarify, and pinpoint. But the best thing about depression or social anxiety worksheets is that they allow you to take an active role in your treatment.
Why are worksheets important in therapy?
Therapy worksheets are effective learning tools that can deepen your learning and encourage you to implement your new knowledge. Combining psychoeducational information with problem-solving activities or questions, they create unique opportunities for active learning of new skills outside of formal therapy sessions and allow you to make positive progress toward your mental health goals.
Worksheets are invaluable tools for those who are learning healthy skills to cope with different types of mental health issues, such as dealing with depression, managing anger, calming anxiety, eliminating cognitive distortions, and communicating effectively. They can help you understand your thoughts and behaviors, eventually leading to a positive change.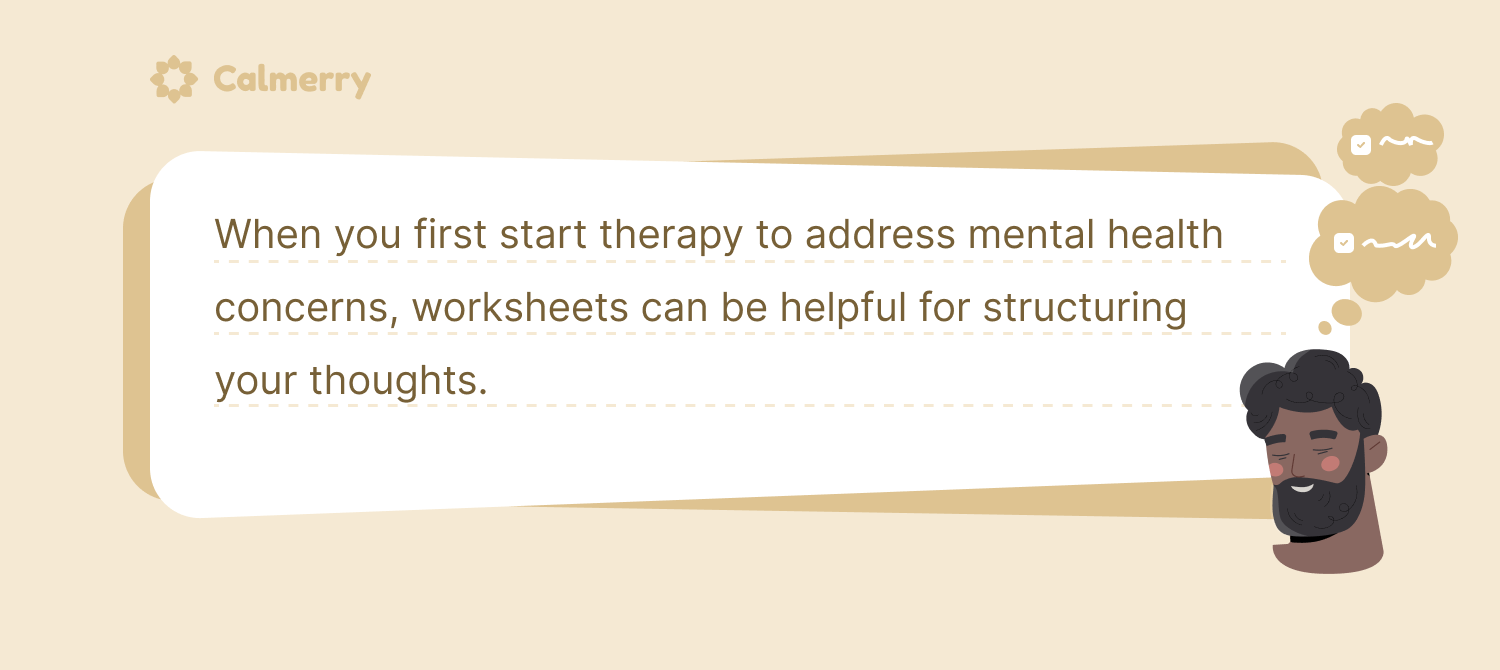 A therapist might assign worksheets as homework. This way, you'll be able to process and expand on the work you do during your traditional or online therapy sessions, and then discuss everything with your therapist. As homework, worksheets can encourage you to apply the strategies you learn in therapy in your daily life.
They also serve as valuable reference materials to aid memory and learning.
Therapy worksheets can also be used as practical steps in asynchronous online messaging therapy, where elements of treatment are delivered as separate 'steps' in time. Then clients have an opportunity to refer back to the worksheets they have completed for insights into their learning or progress. That can help you maintain motivation to continue your therapy journey.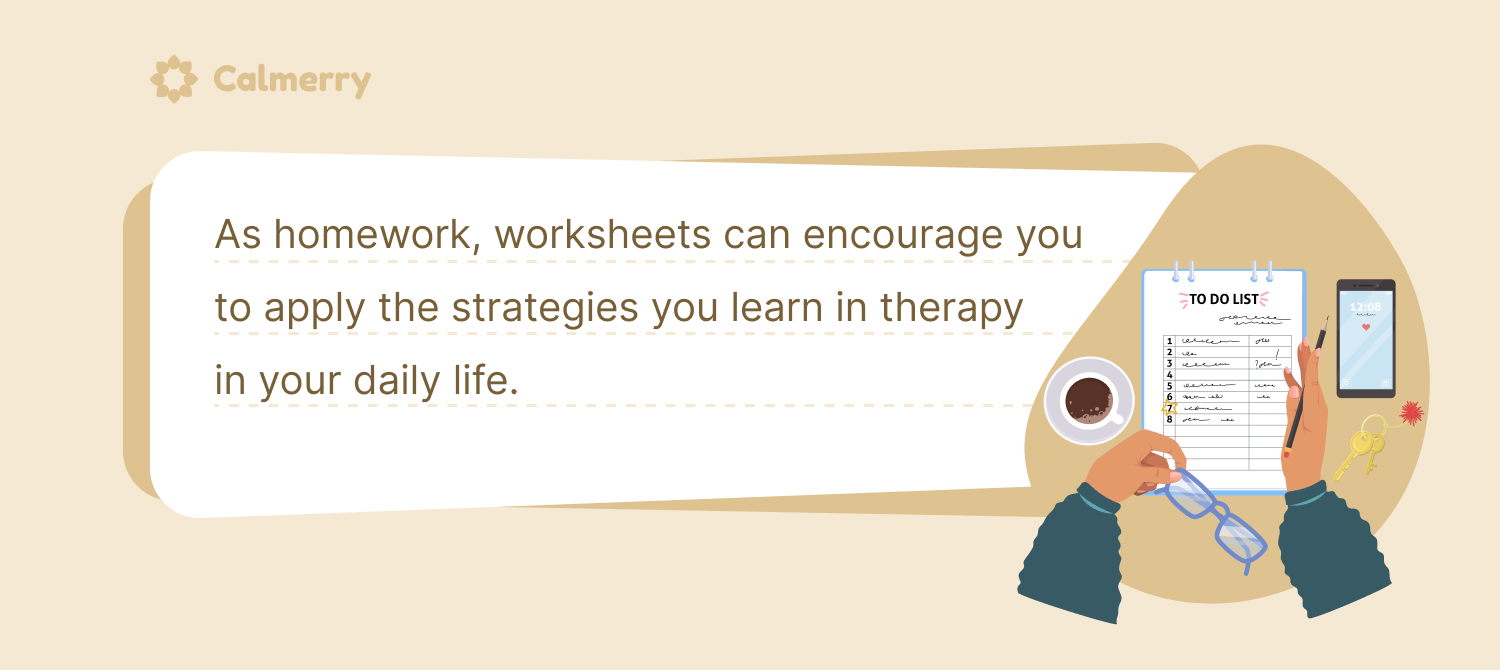 You can also use worksheets and benefit from them without going to therapy. For example, many people use self-esteem worksheets as self-help tools. You can also find many helpful couples therapy worksheets and relationship worksheets in workbooks and online.
Completing them with your partner will help you develop healthy boundaries and improve communication in your relationship.

How completing worksheets can benefit your mental health
Therapy worksheets serve a purpose, helping release you from the trap in which mental health problems lock you. Mental health disorders like anxiety and depression involve, in part, dealing with negative thoughts and intense emotions. By completing worksheets, you begin to do something about your unhelpful thoughts. You learn to recognize them and can address them. Moreover, you are able to make realistic plans for moving past them.
For example, when you complete depression or anxiety worksheets, you get very specific with symptoms, emotions, thoughts, goals, and values. It's different from expressive writing or open-ended journaling because worksheets target specific things.
They help you:
Recognize your symptoms
Identify what triggers your difficult emotions
Understand precisely how the mental health problems you are facing are limiting your life
Identify your life goals and values
Understand what needs to be done to address your mental health concerns
Plan specific steps for moving forward toward achieving your therapy goals
Notice tangible evidence of your progress, for example, changing thoughts
Keep in mind that it's impossible to accomplish all these things at once by completing a single worksheet. There are different types of worksheets that can help you address your symptoms and grow in specific ways.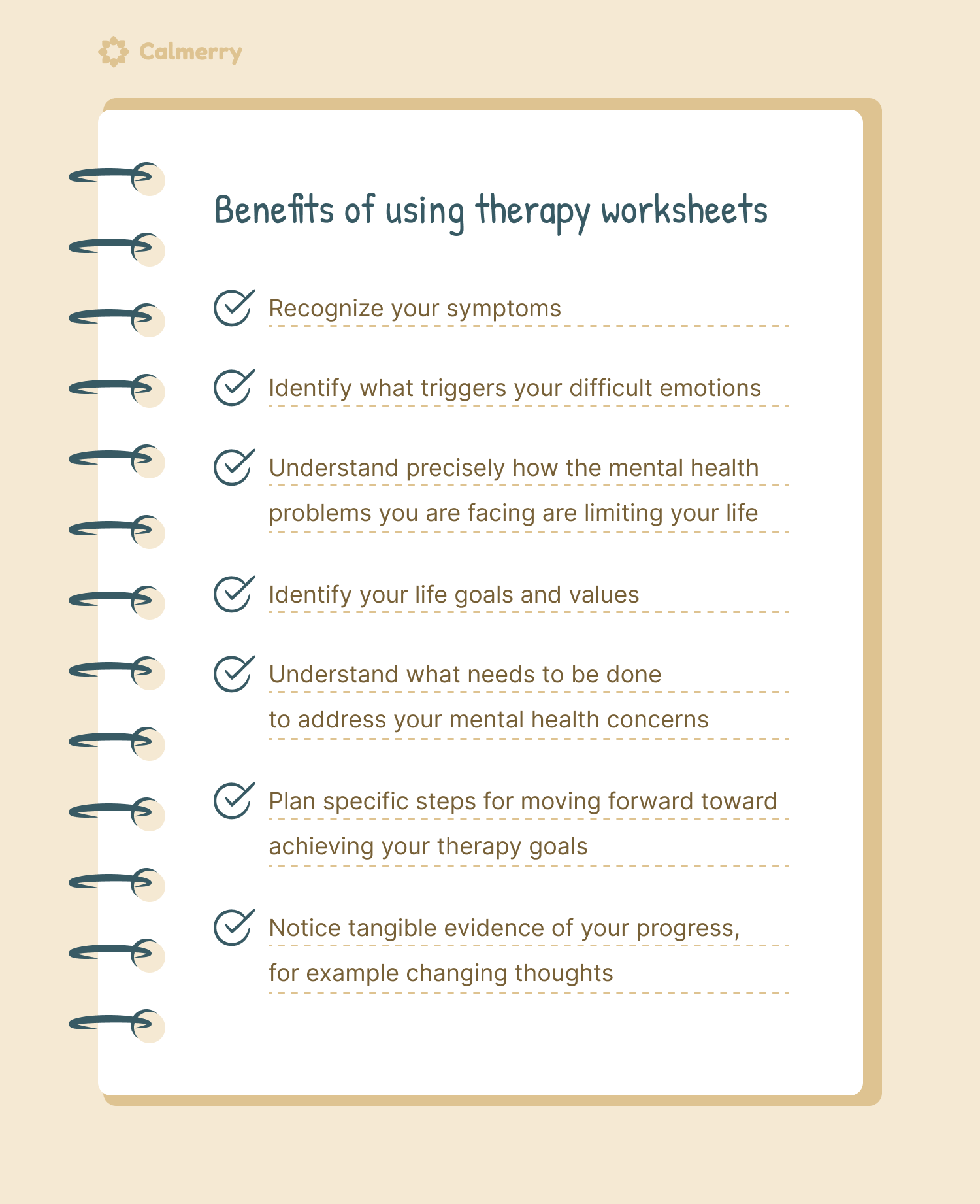 Types of therapy worksheets
Such therapeutic approaches as cognitive behavioral therapy (CBT), solution-focused brief therapy (SFBT), acceptance and commitment therapy (ACT), and rational-emotive behavior therapy (REBT) often use worksheets during the treatment process.
Worksheets in CBT come in many forms. For example, a commonly used worksheet is a thought record. It can help you identify stressful situations, your emotions, and negative thoughts. You have an opportunity to confront your negative thoughts and change the patterns that are keeping you stuck.
And after you learn about the types of automatic thoughts and distorted thinking patterns, a CBT worksheet may ask you to identify an automatic negative thought as you notice it, name the specific distorted thinking pattern, and re-write this thought to make it accurate and realistic.
We all experience cognitive distortions – thought patterns that are not based on fact. They lead us to view things more negatively than they really are. Download this free worksheet to learn about common types of distorted thinking patterns. Identifying these distorted thoughts can help you challenge and change them and improve your mood and quality of life 👉🏼 12 Common Cognitive Distortions Worksheet
Worksheets in CBT can also be useful for tracking a person's activities to find more time to practice self-care. They can be helpful with building a hierarchy of feared situations so you can conquer them in the right order and at the right pace.
ACT is a therapeutic approach that helps people accept certain situations that they can't change. It teaches people to separate themselves from their problems by living mindfully, identifying their life values, and taking effective steps to create a quality life free from anxiety, depression, and other problems.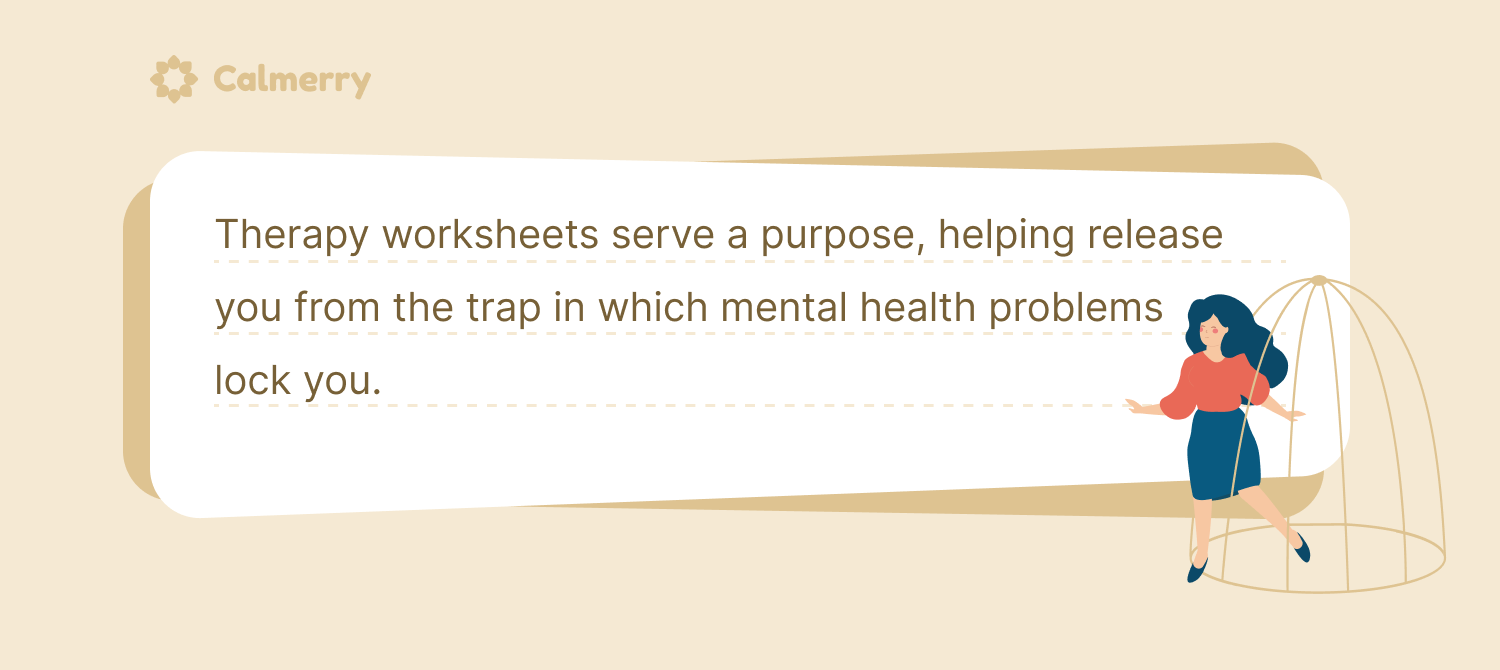 By completing an ACT worksheet, you may be able to reflect on your emotions or thoughts and describe how they affect your behavior. You may also be asked to consider how your depression or anxiety is preventing you from living in your present moment and make a list of reasons why you want to be present.
SFBT helps people focus not on the problems they are struggling with but on solutions to them. You might be asked to complete a worksheet that uses scales to rate the severity of your depression or anxiety. Then you can use it to think about ways that will allow you to move down the scale toward being free from your unpleasant symptoms.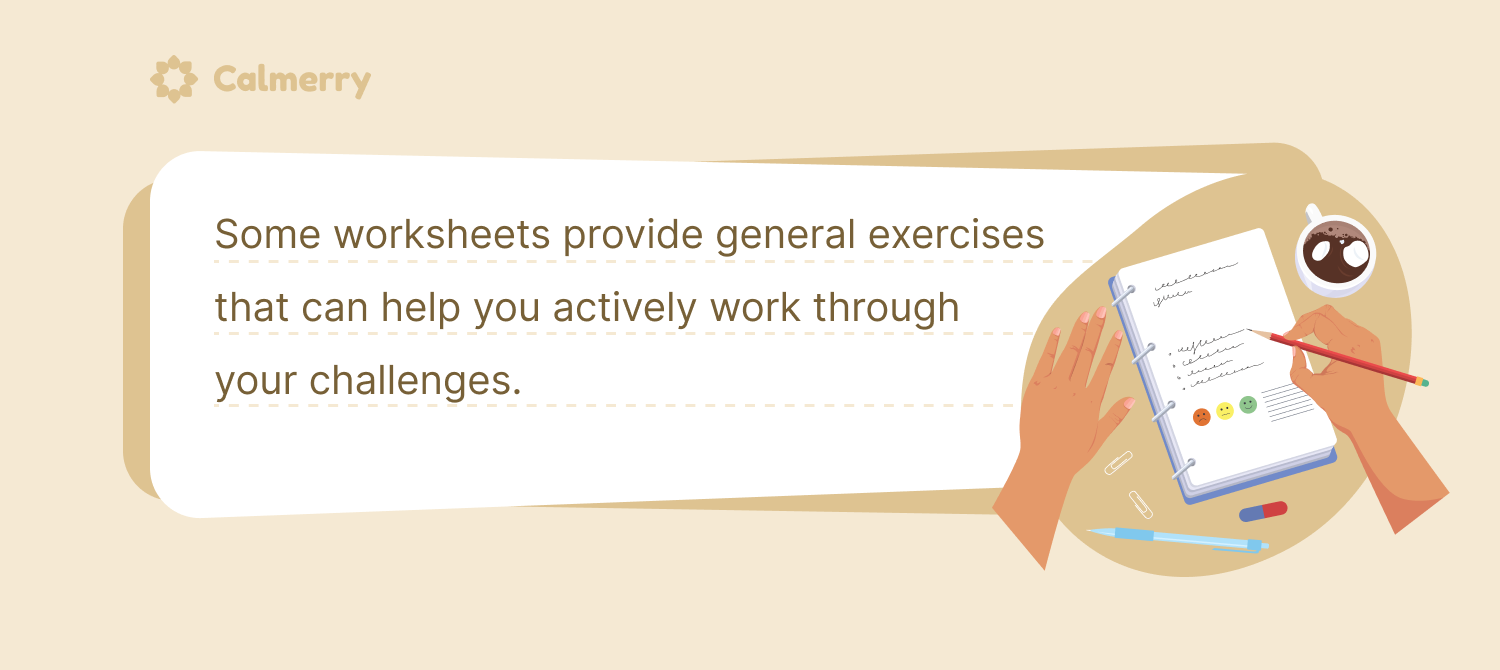 Worksheets in REBT often ask people to identify an "activating event." It's a situation that triggered depressive and anxious thoughts and feelings. Then, you would need to describe your beliefs about the situation to help you see how depression or anxiety clouds your perspective. After that, you might be asked to write about the negative consequences of your beliefs and use your reflections to make changes in how you react to situations.
There are other therapy worksheets that help you identify your strengths and character traits and explore how to use them to overcome your emotional problems. And some worksheets provide general exercises that can help you actively work through your challenges.

Subscribe
to our mental health digest
Let us support you on the way to better mental well-being. Get expert tips and insights on mental health delivered to your inbox monthly.
The bottom line
Successful completion of worksheets isn't the end goal of therapy. The end goal is a positive change when you feel better and accomplish your individual goals.
When you deal with depression, anxiety, or trauma, completing worksheets is often hard work that requires a commitment to delve deeply into yourself and your experience with mental health issues. At times, it can be challenging to examine yourself honestly and openly, but it's really worth it.
Therapy worksheets can help you learn skills to manage your symptoms and actively gain control over your life. Using them, you can confront your problems and work to intentionally define the life you want to live.
Сheck your mental well-being for free: