Published September 5, 2022 / Updated September 14, 2022
What Is Psychoeducation And Why Is It Important?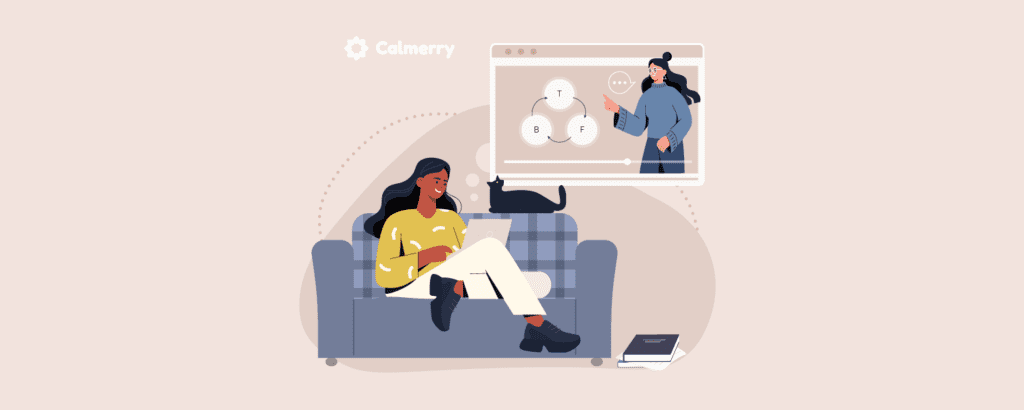 Reading Time:
5
minutes
In mental health, psychoeducation was formally introduced in 1980 by the researcher C. M. Anderson who used it with patients diagnosed with schizophrenia as a method of reducing relapse rates. The study looked at the impact of providing education to family members of the patients, and the results showed this education reduced relapse rates.
Now psychoeducation is recognized as an essential component of the therapeutic process when treating different mental health disorders, but what exactly does it mean? We'll talk about it in this article.
What is psychoeducation in mental health?
Psychoeducation is a therapy intervention that involves the therapist providing people diagnosed with mental health conditions with information about their diagnosis, symptoms, and the treatment methods used. Keep in mind that it's not just sharing information with the client –psychoeducation refers to a structured, systematic, and didactic method of providing knowledge about a specific illness, which also integrates emotional and motivational aspects.
Psychoeducation interventions are used to provide clients with critical information about different psychological concepts and mental health terms, their specific problems, and the relationships between thoughts, emotions, and behaviors. Most major therapeutic orientations, including Cognitive Behavioral Therapy (CBT), Dialectical Behavior Therapy (DBT), Acceptance and Commitment Therapy (ACT), Mindfulness Based Cognitive Therapy (MBCT), Mindfulness-Based Stress Reduction, rely heavily on psychoeducation as part of treatment.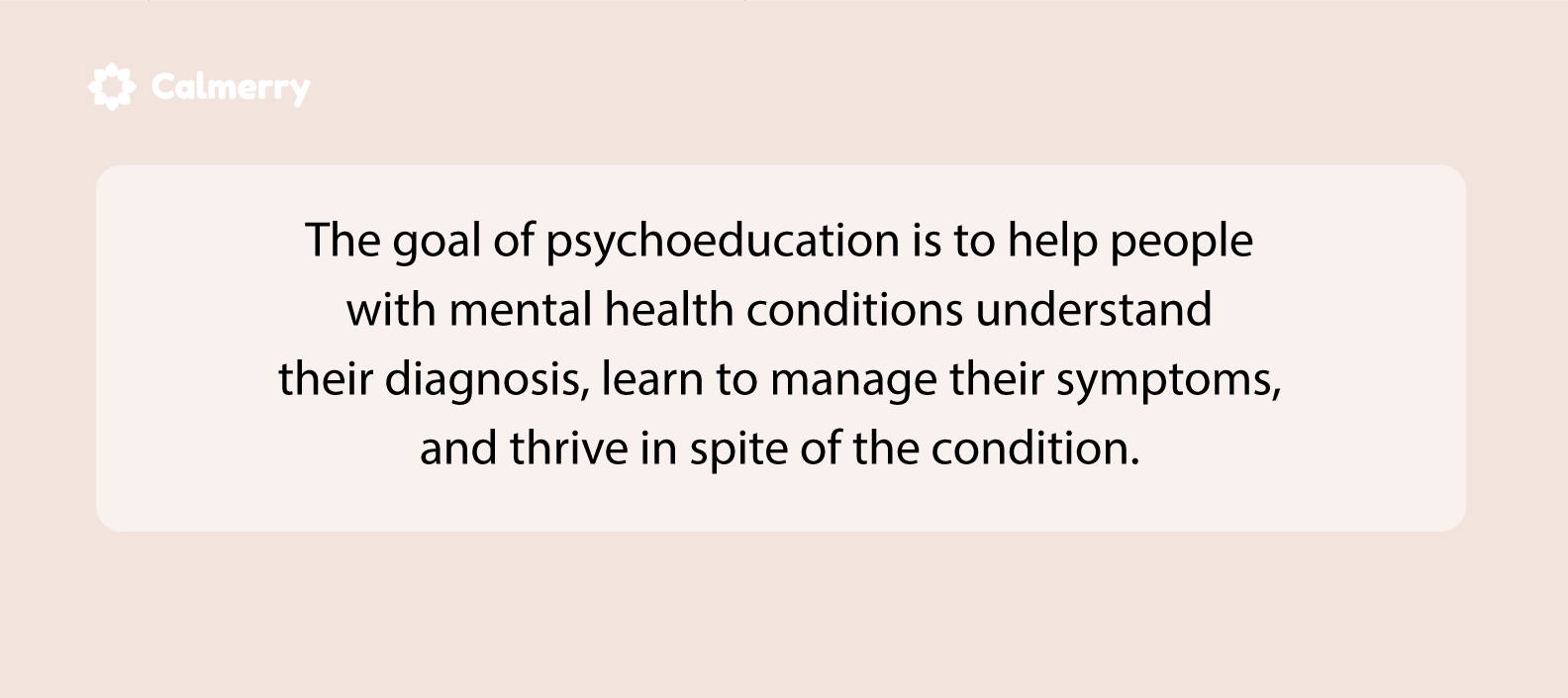 The goal of psychoeducation is to help people with mental health conditions understand their diagnosis, learn to manage their symptoms, and thrive in spite of the condition. You'll get a strong knowledge base that will help you be involved and adhere to treatment and have a sense of control through understanding of what you're experiencing. Psychoeducation can provide you with tools to set your treatment goals, overcome challenges as you progress through therapy, and develop skills to deal with future problems and stressful situations.

Subscribe
to our mental health digest
Let us support you on the way to better mental well-being. Get expert tips and insights on mental health delivered to your inbox monthly.
How does psychoeducation work?
Psychoeducation can take on different forms – it depends on the type of treatment and its specific goals. Most therapy providers educate their clients about their illness or problem and expected course of treatment and the outcome as well as any potential risks they can expect.
Psychoeducation can also mean teaching you specific coping skills that you can use to manage your symptoms. They include problem-solving skills, communication skills, and assertiveness skills. You'll be more likely to use coping skills successfully if you understand why a specific skill might be helpful and how it works.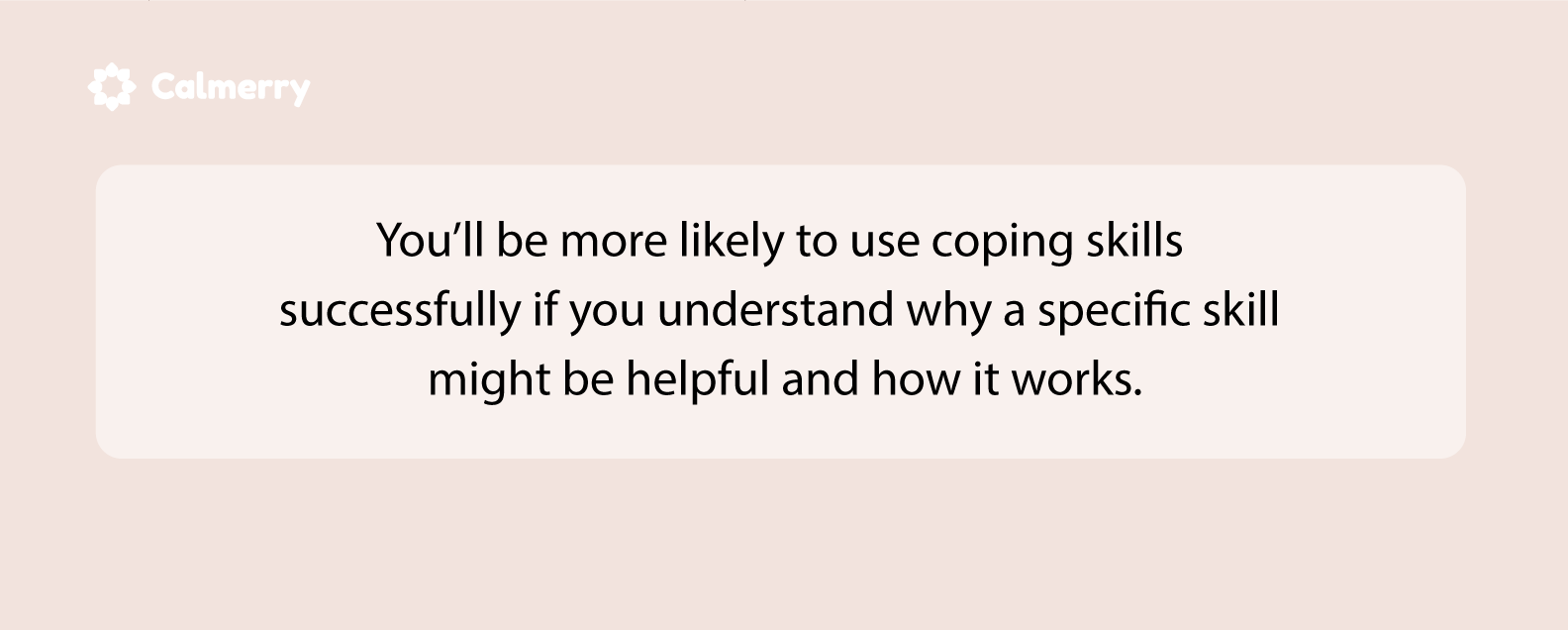 When appropriate, family members can also benefit from psychoeducation. Therapists can teach them how to interact with the client and what to avoid during interactions. Family psychoeducation is especially important in dealing with severe mental disorders.
And if the client is a child, mental health professionals often educate parents about how the child's symptoms might interfere with their learning and school performance and provide recommendations about appropriate discipline. Therapists can also help parents understand how their parenting styles contribute to mental health or behavioral concerns of their children.
Psychoeducation is a powerful tool that educates people about their psychological experiences and treatments available to them and encourages personal self-discovery and growth. It can include a wide range of psychoeducation activities:
Information about treatments, symptoms, resources, etc. that a therapist gives verbally in a therapy session
Interactive videos, audios, and podcasts and written materials, such as information handouts, guides, quizzes to work on new skills between sessions
Exercises or homework tasks where people are encouraged to discover information for themselves, for example, when tracking daily moods, writing about emotions and thoughts in a journal or when completing different worksheets.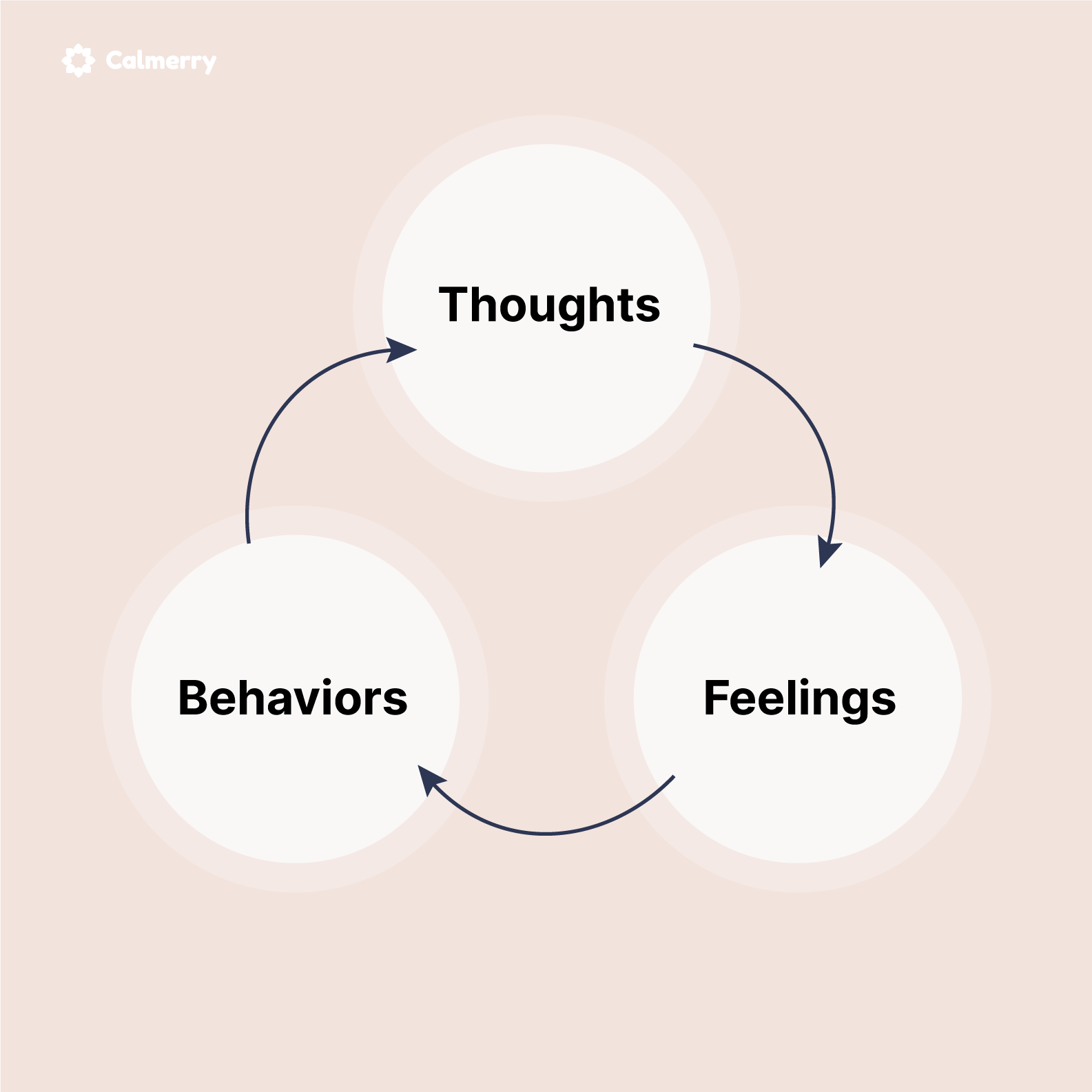 Psychoeducational counseling can occur in individual or group sessions that can include a few clients with similar illness, a client and their family, or several clients and their families (multiple-family groups). Online self-help groups can also be an option. Online psychoeducational interventions include discussion forums, videoconferences, webinars, and interactive tasks.
Is psychoeducation effective?
Psychoeducation is an important component of the therapeutic process because it has been found to improve treatment outcomes for different mental health conditions. Now conditions that are commonly addressed with psychoeducation include:
Psychoeducation can help reduce symptoms of these disorders, improve quality of life, encourage positive attitude toward treatment, develop social skills and problem-solving abilities, and improve self-management behaviors and self-care.
And although psychoeducation occurs in many forms, research shows that people of different ages, backgrounds, and interests can benefit from it. People can better understand the mental issues they are addressing and view their illnesses as treatable conditions rather than shameful diagnosis. They have an opportunity to ask questions about their symptoms and the therapist's recommendations that may help them and are more motivated to adhere to treatment protocols.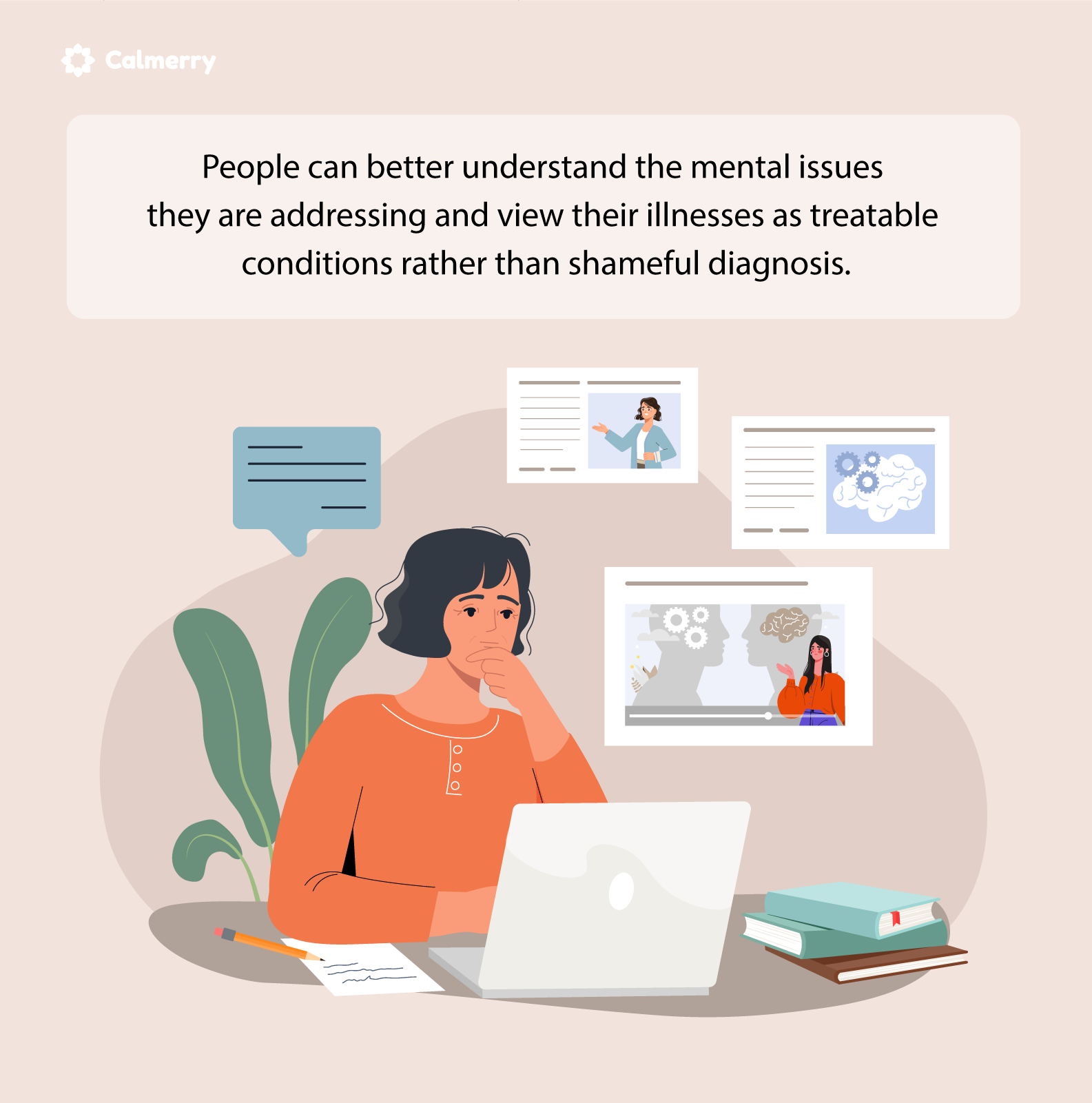 Psychoeducation empowers clients and encourages them to collaborate with their therapist and develop an appropriate treatment plan based on their specific symptoms, unique life experience and needs. A therapist won't tell you what you must do or even should do. They will just provide you with accurate information about your diagnosis and treatment options. And you can use this information to make your own decision about how to move forward and what treatment options to choose.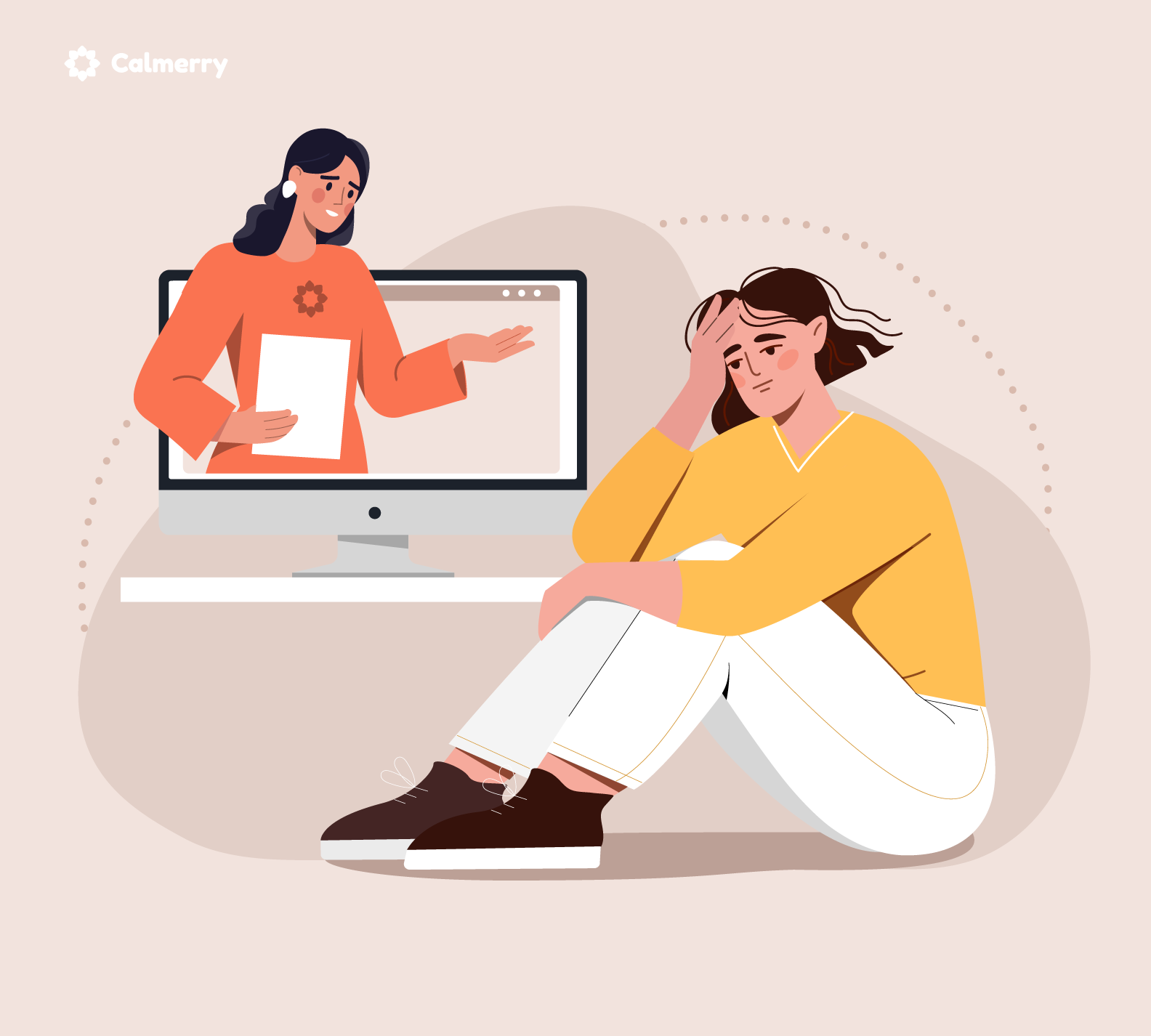 Final thought
Psychoeducation is an evidence-based psychotherapeutic intervention for people with mental illness and their families to help them understand the relationships between thoughts, emotions, and behaviors. It answers their "whys" and equips people and their families with the relevant information and essential skills they need to cope with a variety of mental health conditions.
Psychoeducation can empower people with mental illnesses to take an active role in the treatment process and increase their motivation to develop skills that will help them live a more fulfilling life. You'll get the most out of psychoeducational activities, if you actively participate in them, learn new information, and do homework to practice new skills.

If you have any mental health concerns, Calmerry can connect you with a
licensed therapist online
who can provide you with tools to understand your problems better and manage them in healthy ways.
Сheck your mental well-being for free: