Published September 9, 2022 / Updated December 11, 2022
Put Yourself in Someone's Shoes: What Is Empathy?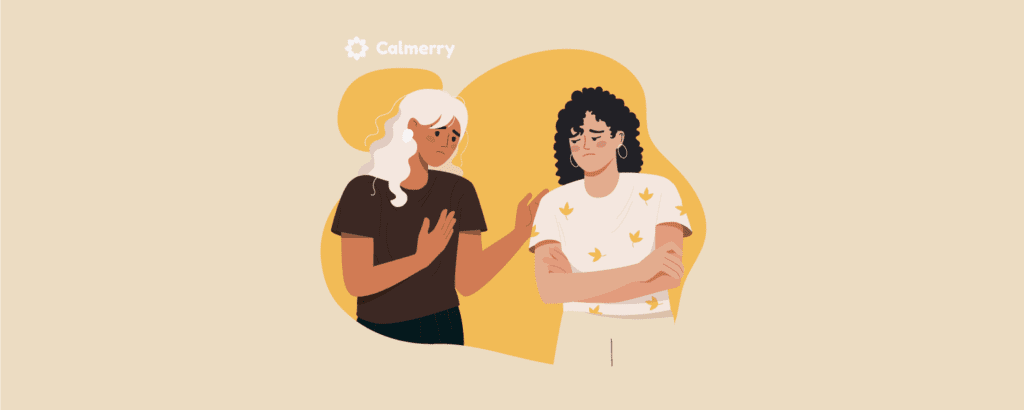 Reading Time:
6
minutes
Empathy is an important human quality that allows us to form bonds with other people at a deeper level. It can also help us succeed both personally and professionally because it's associated with higher self-esteem and life purpose. But empathy is also a complex construct – not all empathy looks and feels the same. It doesn't happen naturally to all people, and it's not as simple as "more empathy is better."
In this blog, we'll talk about different types of empathy and how empathy differs from sympathy and compassion. You'll also learn how to be more empathetic in relationships and everyday life.
What is empathy?
Empathy can be defined as the ability to recognize and understand other people's emotions that is paired with the ability to imagine what someone else might be thinking or feeling. It involves experiencing another person's point of view, rather than just your own.
Examples of empathy include sensing the happiness of someone you care about and being genuinely happy for them, imagining yourself in a struggling person's situation and understanding their emotions, feeling sadness when someone else is sad, and understanding someone else's point of view during an argument.
Researchers believe that empathy is an evolved trait that allows humans to be able to reach out to others emotionally from a young age and understand the situations of others. Several studies have indicated that some animal species, for example, chimpanzees, orangutans, gorillas, rats, mice, elephants, as well as some birds, such as crows, ravens, and jays can also show empathy to other members of their species.
And dogs and cats also demonstrate empathy both toward humans and other animals. This ability can be a survival strategy because it enables animals to anticipate reactions and to form social bonds, protecting them in an unstable environment.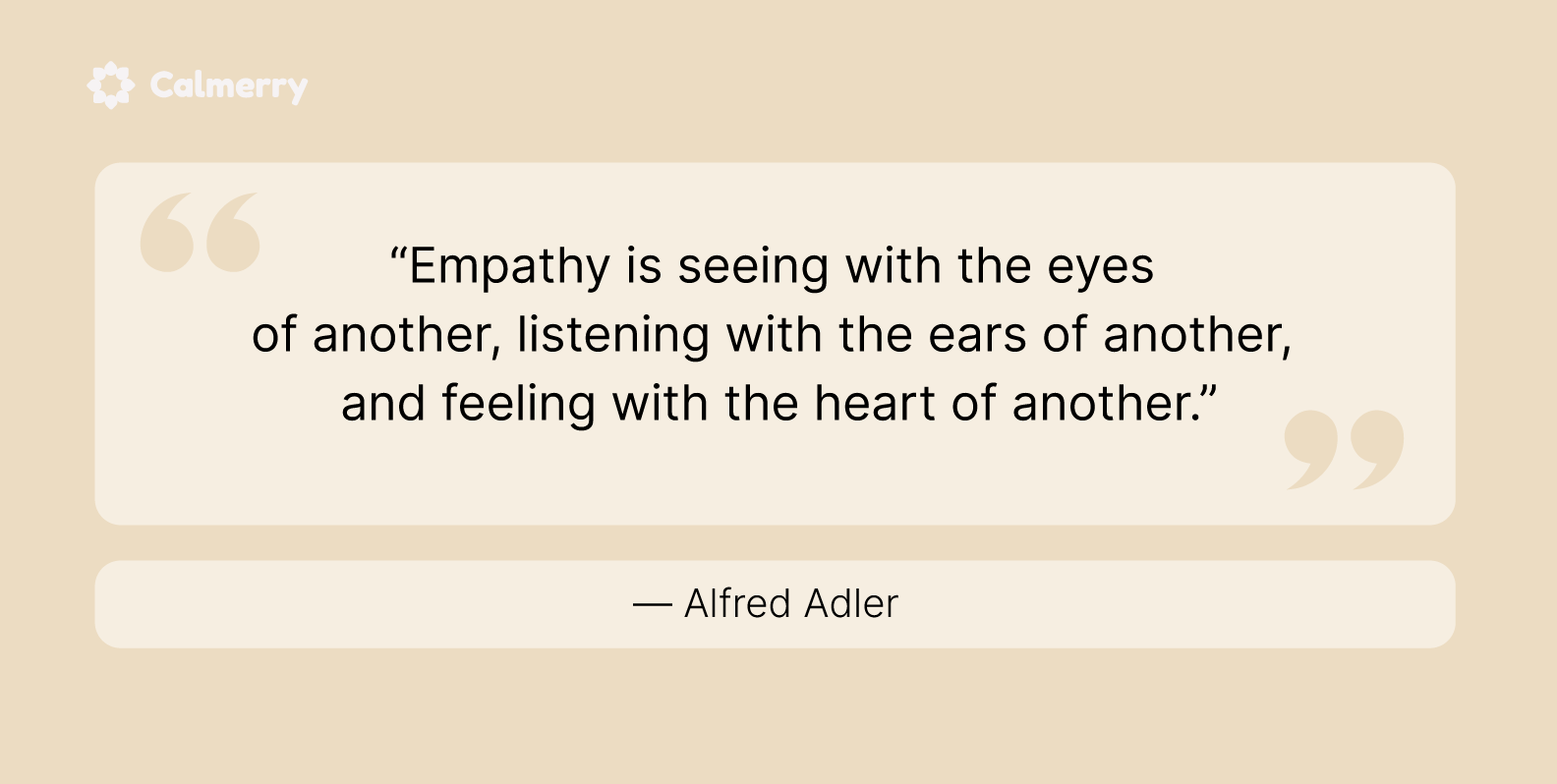 Empathy vs. sympathy vs. compassion
Empathy is often confused with sympathy and compassion. These terms aren't the same although they're often used interchangeably.
Empathy involves seeing someone else's situation from their perspective and sharing their emotions, including their distress.
Sympathy is a feeling of care and concern for another person accompanied by a wish to see this person better off or happier. It doesn't involve shared emotions or a shared perspective.
Compassion builds upon empathy and is associated with an active desire to relieve someone else's suffering and act on their behalf. Compassion is one of the main motivators of altruism.

Types of empathy
We typically think about empathy as the ability to put ourselves in another person's shoes and feel what they're feeling, but contemporary researchers believe that empathy is a broad concept and use this term to describe a wide range of experiences.

Subscribe
to our mental health digest
Let us support you on the way to better mental well-being. Get expert tips and insights on mental health delivered to your inbox monthly.
Cognitive empathy
Cognitive empathy is also called "perspective taking" and refers to how well a person can identify and understand someone else's emotions. It is as much about thoughts as it is about emotions, which means it's a more rational and logical process. Cognitive empathy allows you to put yourself in someone else's shoes but not necessarily feel their emotions. Cognitive empathy makes you a better communicator, helps in negotiations, and motivating other people.
Emotional empathy
Emotional empathy is also known as "emotional contagion." It's when you physically and emotionally feel what the other person is experiencing. This type of empathy helps you build emotional connections with other people in close interpersonal relationships. It's also helpful in careers like marketing, management, HR, and coaching.
In the Encyclopedia of Social Psychology, social psychology researchers Hodges and Myers say that emotional empathy has three separate components:
Feeling the same emotion as another person
Feeling personal distress in response to their pain
Feeling compassion for another person
Compassionate empathy
Compassionate empathy is also known as "empathetic concern." It allows us not only to understand and feel what another person is going through, but also take action to help that person however you can. We can recognize the emotions in others and understand their perspective on a certain situation and then use that insight to support them through challenging situations.
Cognitive empathy can involve too much logical analysis, so it is often considered under-emotional. In contrast, emotional empathy is over-emotional so that it can be overwhelming and inappropriate in certain circumstances. And compassionate empathy strikes the right balance between logic and emotion and enables us to make better decisions and provide appropriate support to other people when and where it's necessary.
That's why it's the type of empathy that we're most often striving for.
Compassionate empathy helps you balance mindfulness with compassionate caring.  You can take the middle ground and use your emotional intelligence to effectively respond to the situation with loving detachment.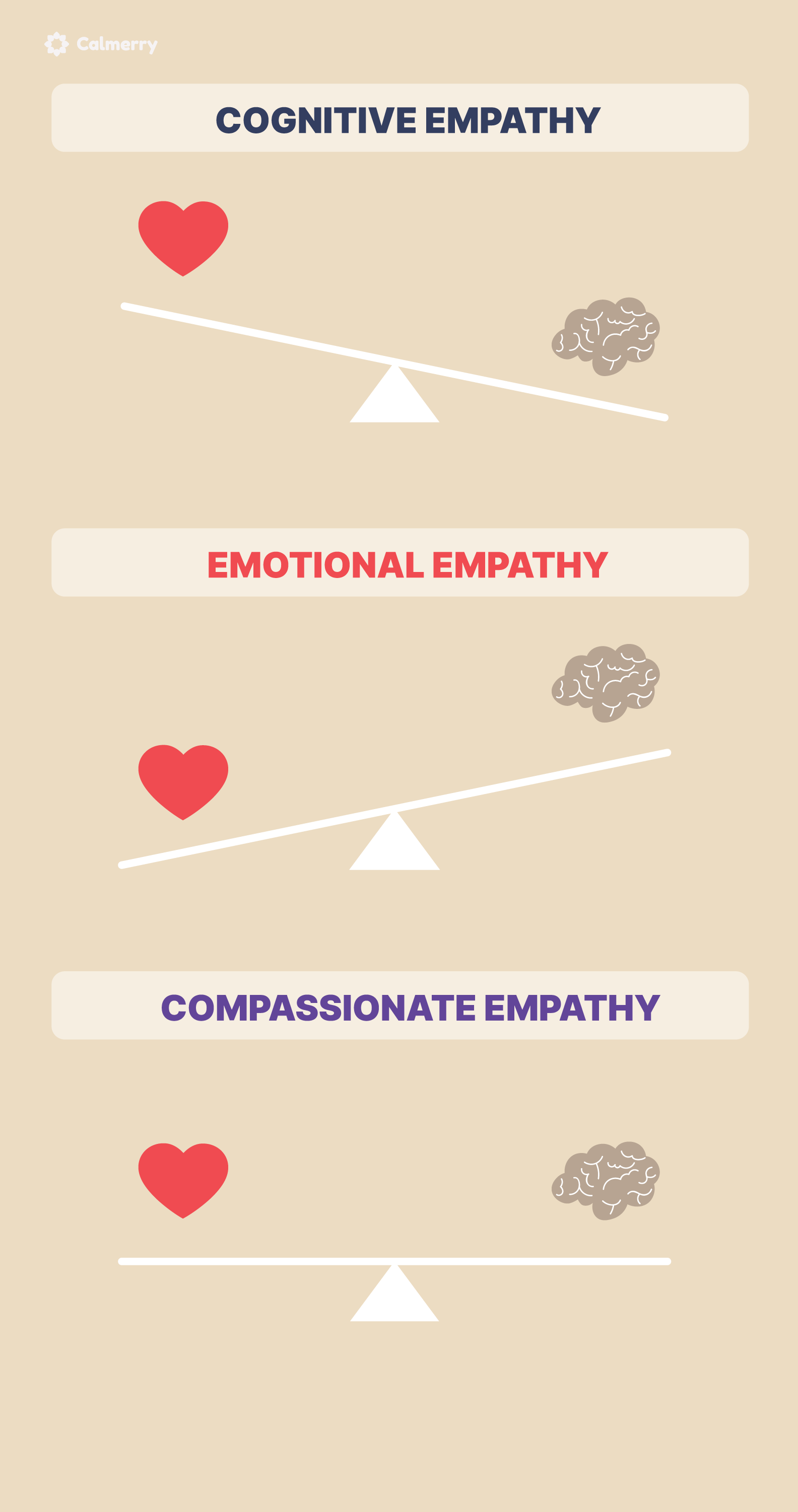 Signs of empathy
Some people naturally tend to be more empathetic than others. Empathetic people are emotionally intelligent, sensitive, compassionate, and warm-hearted. They are also good communicators and have strong intuition.
Wondering whether you are an empathetic person? Here are some signs that indicate you have this tendency:
You listen intently to what other people have to say.
You try to understand how other people are feeling and can usually tell when someone is feeling angry, anxious, or sad.
You have a hard time with people who are not genuine.
People often share their problems with you and ask for advice.
You especially enjoy relationships with your pets and other animals.
You sometimes feel drained or overwhelmed in emotional situations.
You try to help those who are suffering.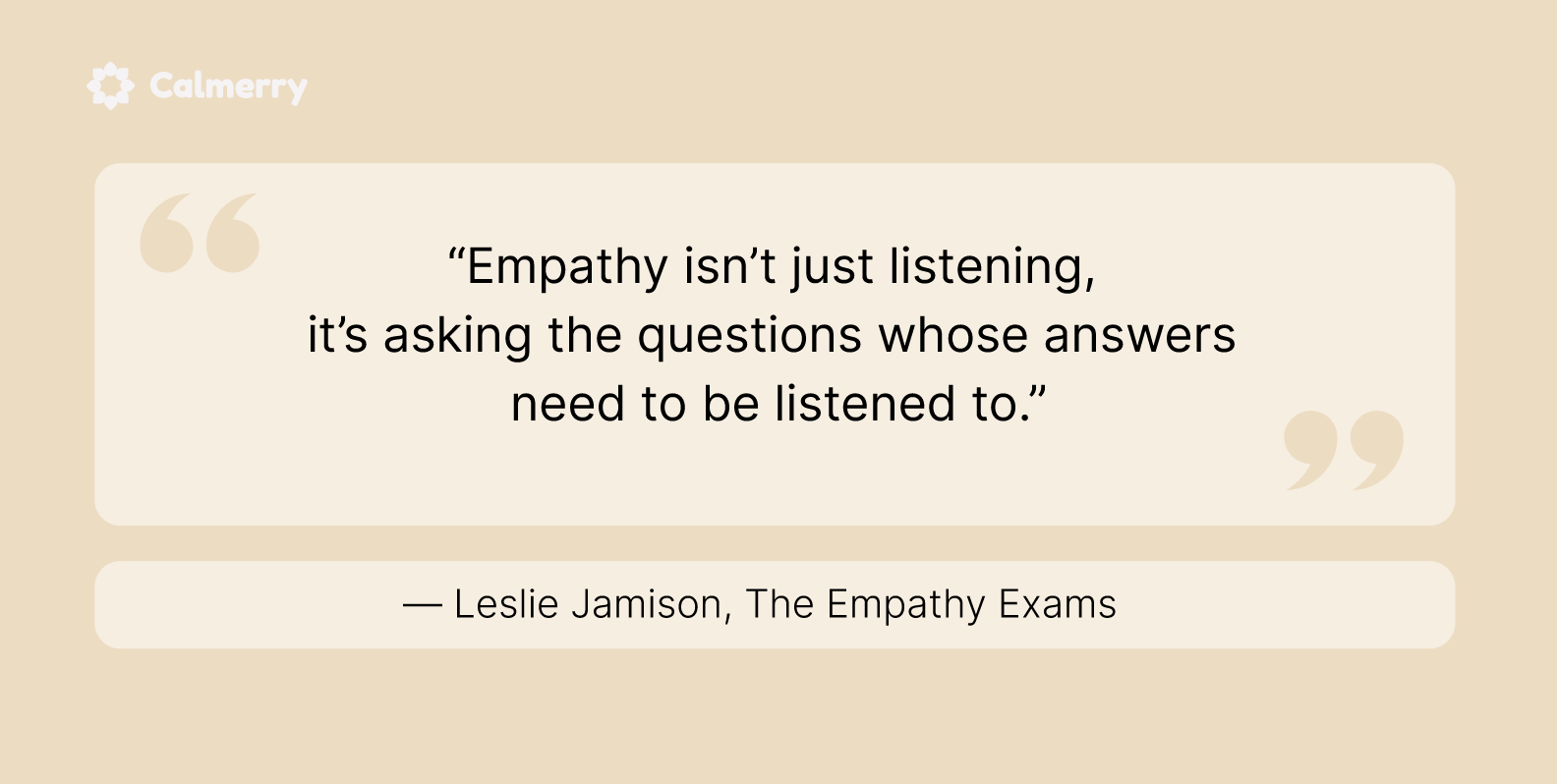 Why empathy matters
Empathy is a crucial human skill that enables us to get on with other people because it helps us understand the perspectives, needs, and intentions of others. It's a key ingredient of successful interpersonal relationships of all types during all stages of life. It helps us build friendships, make moral decisions, and intervene when we see other people being bullied.
People who have high levels of empathy can build better social connections and are more likely to function well in society, help others in need, have more satisfying relationships with others in family and at work, and enjoy greater wellbeing through life. Studies show that people who feel connected to others have lower levels of anxiety and depression. Empathy also deepens intimacy in romantic relationships and is fundamental to resolving conflicts.
Lack of empathy plays a role in several mental health conditions, including antisocial personality disorder, which causes a long-term pattern of sociopathic behavior and violation of the rights of others. Research also suggests that people who have narcissistic personality tend to have significant impairments in emotional empathy, while cognitive empathy seems grossly unaffected.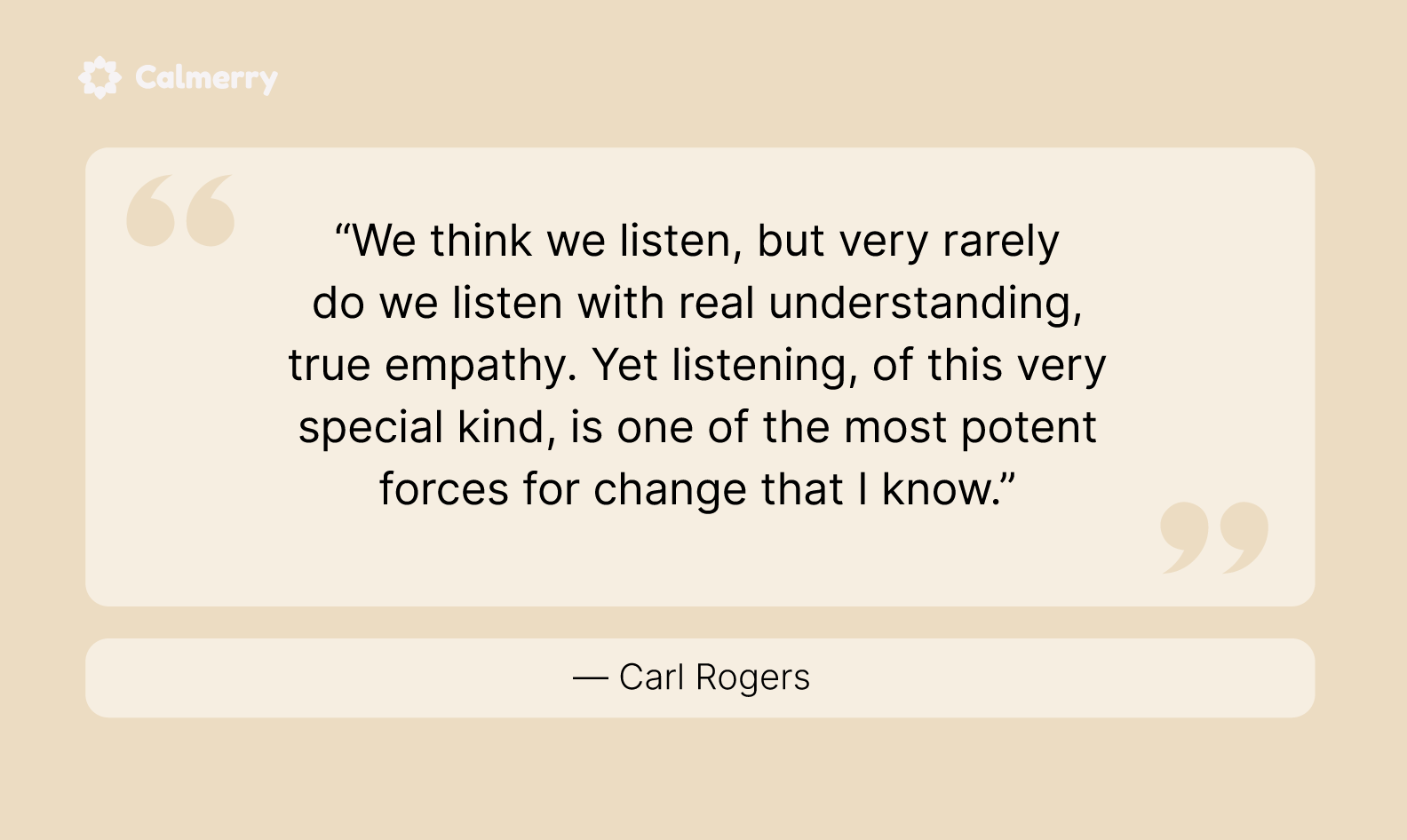 Can empathy be learned?
Some people are genetically inclined to be highly empathic, and there are those who are low on empathy without a mental health diagnosis. In the past, empathy was considered an inborn trait that could not be taught, but now, we know that empathy can be learned with practice, just like most skills.
It's never too late to become more empathetic no matter how old you are. Here are some science-based ways to develop empathy and practice it in your daily life:
Actively listen to people around you without interrupting or trying to provide a solution.
Ask questions to learn more about their experiences and with the intent to understand how the other person is feeling.
Pay attention to body language and other types of nonverbal communication.
Work and socialize with people from different backgrounds and walks of life and try to be non-judgmental.
Avoid making assumptions about those around you.
Be willing to be vulnerable in a relationship, opening up about how you feel.
Be aware of your own biases because they control our thoughts and opinions of other people and, in turn, will affect our actions.
Seek opportunities to practice empathy – volunteer for a cause you care about, pay more attention to your emotions and the emotions of people around you.
Consider seeking guidance from a therapist to further enhance your empathy skills and gain a deeper understanding of your own emotional responses and those of others.

Final thought
Empathy is integral to emotional intelligence, connecting with people you love and work with, and being compassionate. It's one of the most vital emotional skills, especially during difficult times for a person or in the face of a crisis. Some people are more naturally empathetic than others, but researchers believe that anyone can choose to cultivate and prioritize greater empathy.
If you are concerned that you lack empathy, it may be helpful to talk to a counselor. You can do it online without leaving your home on Calmerry that can match you with a licensed mental health professional from your state. They can help you better understand how you react to the emotions of other people and help you learn how to emphasize with others.
Сheck your mental well-being for free: