Gaslighting at Work: How to Spot It, Respond, and Support Yourself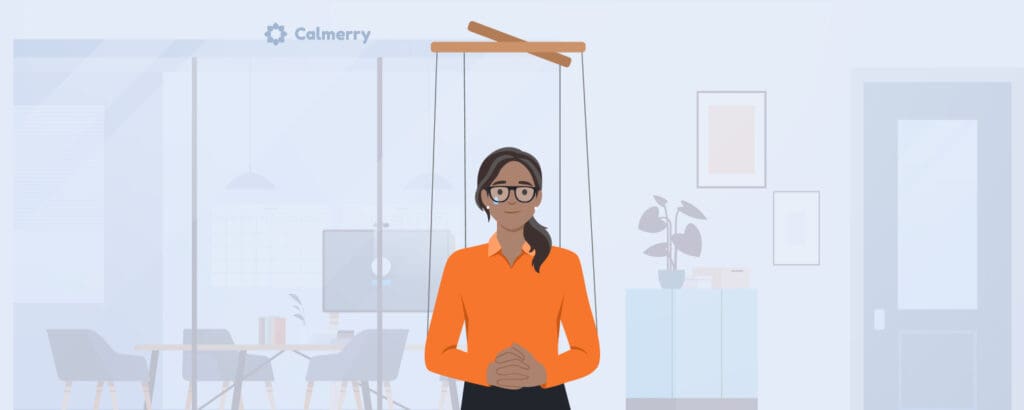 Reading Time:
6
minutes
Has your boss ever told you that you're crazy or too sensitive to criticism? Have coworkers told you that you haven't remembered conversations correctly when you're sure you know exactly what was said? If so, you could be a victim of gaslighting at work.
If you feel you work in a toxic environment, are struggling with discrimination, or are starting to feel burned out, recognizing and knowing how to respond to gaslighting at work will help you manage it in a constructive way.
What is gaslighting at work?
Gaslighting is when someone else manipulates you to the point that you start to question your perception of an event, your memory, or even your sanity.
The term gaslighting originates from the 1930s play "Gaslight," which was later adapted for film. In Gaslight, Gregory manipulates his wife, Paula, into believing she is becoming insane. Gregory moves items around the house and changes the intensity of the gas lamps in their home. Paula sees the changes, but Gregory convinces her that she is deluded and the changes are all in her imagination. Eventually, Paula questions herself and her sense of reality until she is convinced that she is crazy.
At work, a gaslighting boss might tell you that you are sensitive when another colleague behaves inappropriately towards you. They might question your memory of what was agreed upon in a meeting or retell an event so that you end up being blamed for a mistake.
This can make you think you are doing a bad job, causing you to doubt your abilities and even develop imposter syndrome.
Some examples of gaslighting at work
Gaslighting is not the same as having a manager with high standards, it is a form of workplace bullying and discrimination.
If something at work has prompted you to question the validity of your thoughts, perception of events, or whether your memories are correct, you may be experiencing gaslighting. In some cases, you may even wonder if you are emotionally or mentally unstable.
Who is at risk from work gaslighting?
In an article published in 2021, family physician Dr. Sarah Fraser describes being regularly gaslit by other doctors. She recalls specialist doctors using "Their status as an expert to try to convince me of something I know to be false or not in the best interests of my patients."
Dr. Fraser describes gaslighting as being entrenched in power structures. While anyone can be gaslit, patriarchal power structures make women more susceptible.
Those who are younger or more junior, in minority groups, or who have less power to call out gaslighting are at even greater risk.
In 2019, Paige L. Sweet of Harvard University also noted that gaslighting often abuses structural vulnerabilities relating to race, nationality, and sexuality.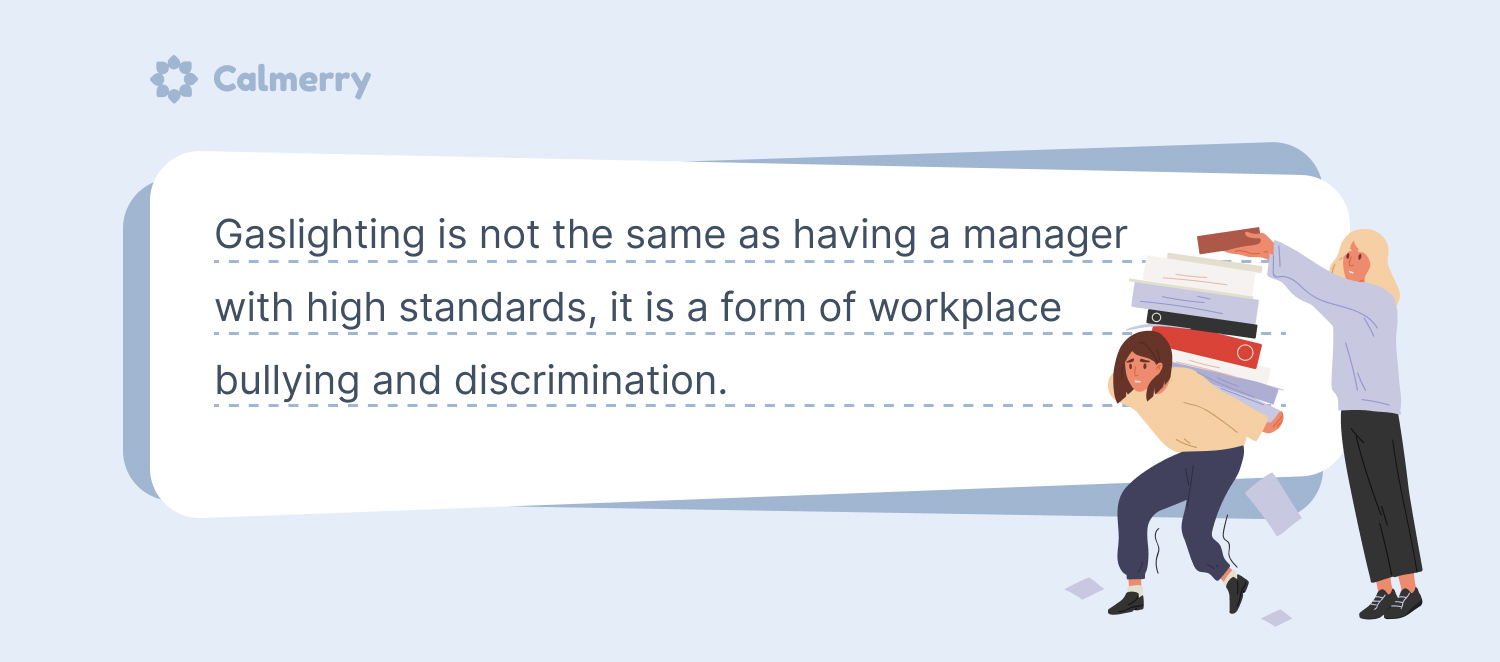 "Gaslighting could not exist without inequities in the distribution of social, political, and economic power," she writes. Furthermore, women are at greater risk of being gaslit because of the archaic association between women and irrationality.
Dr. Fraser concluded that identifying and calling out gaslighting can help prevent the victim from eroding their confidence and self-belief. Recognizing signs of gaslighting at work can help you act on it appropriately.
6 signs your boss or coworker is gaslighting you
Often, bad behavior in personal or work relationships worsens until gaslighting begins.
Gaslighters may have the following characteristics:
A controlling personality
Not coping well when they are not in power
Being manipulative
Feeling insecure
Pointing out other people's flaws to mask their own
Having low self-esteem
Showing signs of narcissism
The following may be signs that your boss or coworkers are gaslighting you.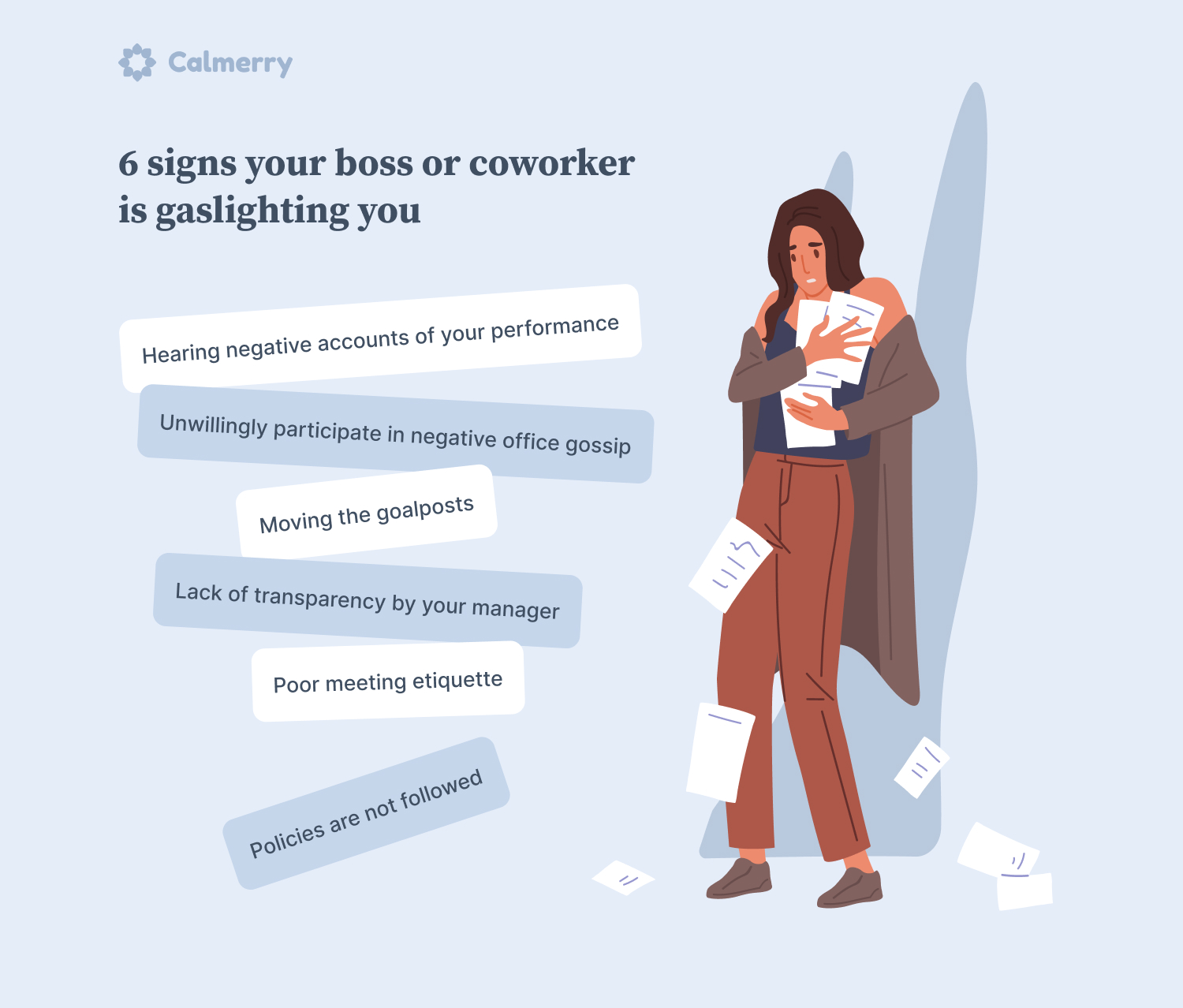 Hearing negative accounts of your performance
This could be gaslighting if your boss or coworkers constantly make negative remarks about your performance. It can be difficult to distinguish if feedback is valid, especially when gaslighting so easily causes us to doubt ourselves.
Ask a different coworker, speak to friends or relatives, and reflect on the feedback you received from previous employers to work out if gaslighting could be occurring. If you do not receive any positive or healthy feedback, be suspicious of gaslighting.
You unwillingly participate in negative office gossip
If you often feel belittled in the office, this could signify workplace bullying or gaslighting. Try to pay attention to the comments that others make.
If you are being gaslit, you may hear comments such as "You're being too sensitive" and "That's not what was said in the meeting," or you may be told that you have forgotten something that was previously agreed when you are certain that the conversation never occurred.
You may also hear others gossiping behind your back. The manipulative traits of a gaslighter may allow them to turn other coworkers against you. If successful, a manager can craftily make you look like the weak link in a team.
Being gaslit by more than one person can lead to low self-esteem and make you feel ineffective at work and even worthless.
Moving the goalposts
If you have ever completed a project only to be told that you did not complete it properly, your boss may have covertly moved the goalposts. This can make you feel like a failure and may reinforce an incorrect belief that you are no good at your job.
Similarly, you might not be consulted on changes to your job description. When you query the change, your boss will say you're overreacting, being difficult, or not being a team player. If you work harder to try to succeed, you may be at risk of work burnout.
Lack of transparency by your manager
If you feel your boss is withholding information or not sharing relevant team or company information, it can cause anxiety at work. If information is withheld that is essential to your overall performance, you have been set up to fail. This feeling is common in people who are being gaslit.
Poor meeting etiquette
Some managers are better at holding meetings than others, but a meeting with a gaslighter is often fraught.
A gaslighting boss may call last-minute meetings but not provide any context. This means you will understandably feel and seem underprepared for whatever your employer springs on you.
You may also notice that your manager does not record any meeting minutes. This means they can later falsely claim that something was said during your one-to-one, despite you feeling certain they are faking.
In other cases, you may be excluded from meetings that you would ordinarily be invited to. This abuse of power can cause anger, irritation, self-doubt, and feeling undermined.
Not following policies
Gaslighters are often on a power trip. For this reason, they may ignore company policy and follow their own rules.
They may jump straight to disciplinary action when an informal chat would suffice or action suspensions or dismissals without following the correct procedure.
How to deal with gaslighting at work
Once you are certain that you are being gaslit, you can take steps to address it.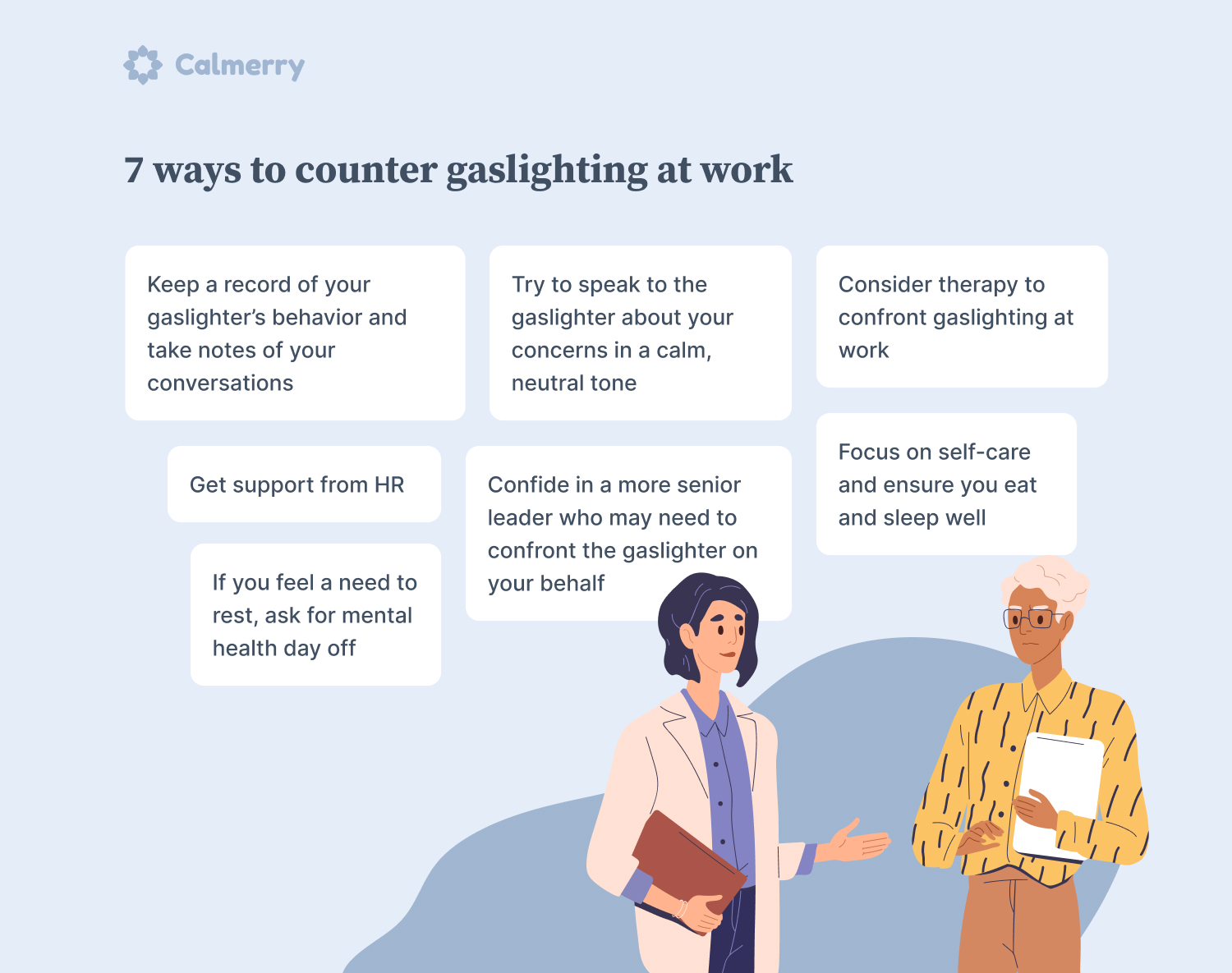 Keep a record
Start documenting your gaslighter's behavior, and take notes of conversations you have with them. Write your own meeting minutes so you are certain of what has been said.
If your gaslighter tries to undermine your recollection, you can check your records to confirm your memory is accurate. Email work across so that you have proof of completion, and ask to record online meetings.
Try to speak to the gaslighter about your concerns
When you hate your job but can't quit, you need to do something to address workplace toxicity. Confronting a gaslighter can be worrying, but if you have clear examples of their behavior, you can discuss these in a calm, neutral tone.
If this feels impossible, take a colleague with you for support, or confide in a more senior leader who may need to confront the gaslighter on your behalf.
Get support from HR
If you feel unable to speak to the gaslighter yourself, or if discussions have broken down or not led to any improvement, consider getting support from HR. Make sure you bring any evidence with you, as HR should focus on employee well-being by putting steps in place to help you thrive at work.
If you are being gaslit because of a protected class like your race, sex, or sexuality, this is discrimination and harassment. HR should take this extremely seriously.
Focus on self-care
When you're feeling overwhelmed at work, make time to focus on yourself. Self-care may take the form of practicing relaxation techniques to reduce work-related stress, including:
Breathing exercises
Meditation and yoga
Setting healthy boundaries at work and ensuring you make time to eat well, stay physically active, and socialize with family and friends are also good self-care tips.
If you feel a need to rest, ask for mental health day off and spend in the way you always wanted.
Consider therapy and get professional support to confront gaslighting at work
Being gaslit can cause stress, frustration, low self-esteem, imposter syndrome, and burnout. If you have been led to believe that you are going mad, have poor memory, or have a warped concept of reality, you may need therapy to rebuild your self-belief.
Online counseling and a licensed counselor at Calmerry can help you develop confidence, assertiveness, self-compassion, and self-worth.
Final thoughts
Gaslighting is a toxic trait that leads the victim to feel belittled and full of self-doubt. Recognizing that you are being gaslit can be difficult because gaslighters are able to manipulate their victim into believing that there is something wrong with them.
Once you know you are being gaslit, record workplace behavior and raise your evidence calmly with colleagues and HR if necessary. In all cases of gaslighting, you will benefit from seeking professional online therapy to process your experience.
Сheck your mental well-being for free: