Published October 26, 2023
Your Mental Health Matters: Building Awareness in the Workplace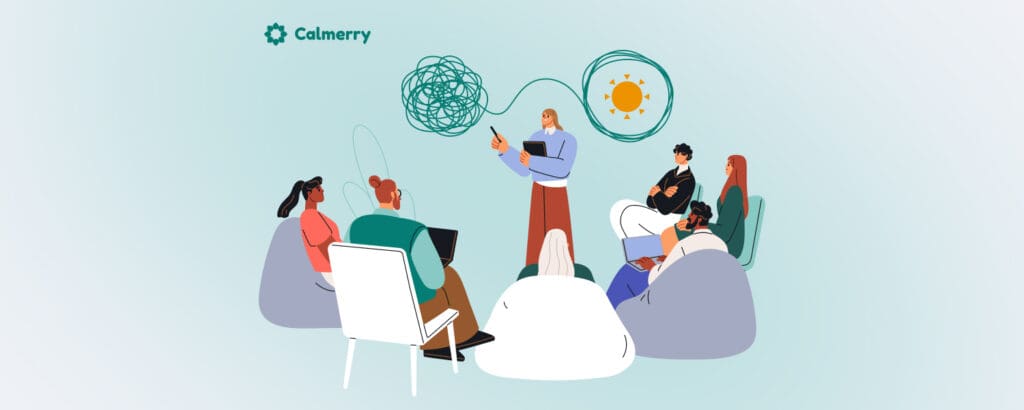 Reading Time:
4
minutes
Employees who live with mental health issues utilize, on average, $3,000 more in healthcare services annually than their colleagues who don't use them, according to a National Safety Council (NSC) survey. [1] New Mental Health Cost Calculator Shows Why Investing in Mental Health is Good for Business – National Safety Council. (n.d.). https://www.nsc.org/newsroom/new-mental-health-cost-calculator-demonstrates-why
Additional expenses like days missed due to absenteeism ($4,783 annually, per employee) and turnover ($5,733 annually, per employee) only aggravate the situation and are eventually borne by the public sector. [1] New Mental Health Cost Calculator Shows Why Investing in Mental Health is Good for Business – National Safety Council. (n.d.). https://www.nsc.org/newsroom/new-mental-health-cost-calculator-demonstrates-why
It's no secret that the workplace can be a source of both stress and fulfillment. Long hours, deadlines, high expectations, and interpersonal dynamics can all impact an individual's mental health.
In the following sections, we'll explore why mental health awareness matters and the actions you can take as a leader to build a mentally healthy workplace culture.
The significance of mental health awareness in the workplace
First, awareness isn't just about recognizing the issues at hand. It's also about understanding that mental health matters for every employee.
Acknowledging this can help employers and employees can collectively create a supportive environment where each team member's well-being is valued and actively nurtured.
Here are the benefits: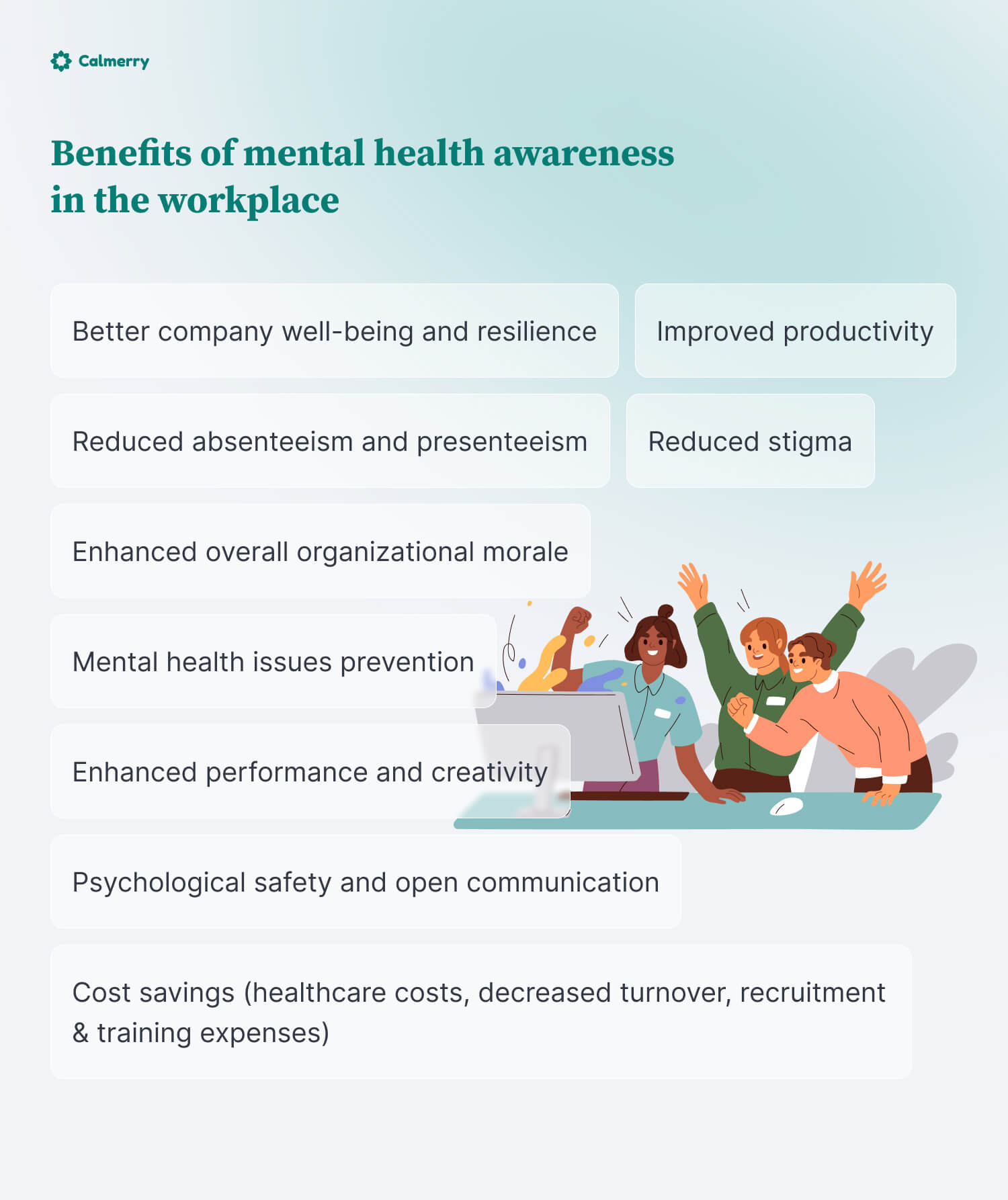 Better company well-being
Mental health awareness promotes a culture of empathy and understanding. It fosters a sense of belonging and psychological safety among employees.
Productivity and engagement
When employees' mental health needs are recognized and supported, they're more likely to be engaged and perform at their best.
Mental health awareness initiatives, such as promoting work-life balance and stress management, can reduce absenteeism, presenteeism, and turnover rates. As a result, this creates a more productive workforce.
Reduced stigma
Promoting mental health awareness helps eliminate the stigma associated with mental health issues. When employees feel comfortable seeking help, they can address their challenges earlier.
And this can help prevent potential crises and long-term negative impacts on their well-being and job performance.
Enhanced performance and creativity
A mentally healthy work environment nurtures creativity, problem-solving, and innovation.
Employees with good mental health can make better decisions and contribute positively to the overall success of the organization.
Cost savings
Investing in mental health awareness can yield cost savings for organizations. Supporting employee well-being can reduce healthcare costs, decrease employee turnover, minimize recruitment and training expenses, and enhance overall organizational morale. [2] Mental health and employers: refreshing the case for investment. (n.d.). Deloitte United Kingdom. https://www2.deloitte.com/mental-health-and-employers-refreshing-the-case-for-investment.html
Legal and ethical obligations
It's important to know that employers have legal and ethical obligations to provide a safe and healthy work environment, including addressing mental health concerns.
Strategies for promoting a mentally healthy workplace culture
Employers should take the lead in creating a culture that values mental health. It starts at the top, with executives and managers promoting awareness and setting a positive example.
Policy and support
Develop and communicate clear mental health policies within the workplace. These policies should outline the organization's commitment to supporting mental health and reducing stigma.
Offer various support services, such as Employee Assistance Programs (EAPs) and counseling services, partnering with mental health startups. These services should be able to cater to the various needs of your employees.
Ensure that employees are aware of these policies and support services and know how to access them.
Regular communication and open discussions
Hold regular meetings or forums where employees can openly discuss mental health topics without fear of judgment.
Create a safe space for employees to share their experiences, challenges, and coping strategies.
Provide channels for anonymous feedback to encourage open communication.
Training programs on mental health awareness
Implement training programs that educate employees on various aspects of mental health, such as recognizing signs of distress and knowing where to seek help.
Offer workshops on stress management, resilience, and emotional intelligence.
Make mental health training a part of the onboarding process for new employees.
Reducing stigma around mental health issues
Launch anti-stigma campaigns to raise awareness about its negative impact.
Share stories of individuals who have successfully managed mental health challenges to inspire others.
Encourage employees to speak out against discrimination and stereotypes related to mental health.
Creating mental health awareness videos to share important messages
Mental health awareness videos are a powerful medium to address these issues head-on. They have the potential to break down barriers, initiate conversations, communicate the mental health benefits, and provide crucial education and support.
Moreover, they contribute to fostering a workplace where employees feel safe, valued, and empowered.
Planning and content creation
Begin with a clear plan outlining your objectives and target audience.
Collaborate with mental health experts, employees, and content creators to develop informative and engaging video content.
Ensure the content is relatable and emphasizes empathy, support, inclusion, and the importance of seeking help.
Utilize video joiner tools to combine video clips into a cohesive and impactful presentation.
Distribution and accessibility of videos
Choose appropriate platforms for video distribution, such as the company's intranet, training modules, or social media channels.
Make videos easily accessible to all employees, ensuring they can watch them at their convenience.
Consider incorporating closed captions and multiple language options to increase accessibility.
Consider using video compressor tools to optimize video file sizes for smoother online streaming.
Best practices in mental health awareness video creation
Keep videos concise and engaging, aiming for a duration that holds the viewer's attention.
Utilize storytelling techniques to make the content relatable and emotionally resonant.
Include real-life employee testimonials or success stories to humanize the message.
Ensure that video content aligns with your organization's overall approach to mental health support.
Ensure that the content reflects diverse people's experiences.

Create from a place of compassion and empathy.

Use MP4 compressor tools to ensure video files are efficiently compressed for easy sharing and viewing.
Regularly evaluate and enhance your mental health awareness efforts
Building awareness about mental health is an ongoing process. So, leaders need to monitor the effectiveness of their initiatives.
Collecting feedback from employees and assessing key metrics, such as engagement and utilization of mental health resources, can provide valuable insights. Use this feedback to continuously improve their awareness campaigns and tailor future benefits, policies, and video content accordingly.
A word from Calmerry: provide flexible and professional mental health support
Mental health challenges can strike anyone, anytime, and they don't keep office hours.
That's why our platform offers flexible online therapy solutions tailored to fit the demanding schedules of today's workforce. With Calmerry, employees can connect with licensed professionals who understand the corporate world's unique pressures and offer effective support sensitive to unique needs.
Our anonymous report system allows you to track how the benefit is used and tailor it better to the needs of your company.
Let's connect
Book a 30-min demo call with us to learn more about our B2B offering and how Calmerry can help take the pressure off your team through flexible, customizable, and holistic therapy.
See a live demonstration of how platform works
Have an overview of our flexible payment models
Get a tailored offer based on your company needs and number of employees
Conclusion
Navigating the intricacies of mental health in the workplace reminds us that this isn't a journey one takes alone. It's a collective effort where both employers and employees come together to nurture a supportive atmosphere.
So let's not just talk the talk. Let's break the stigma and build workplaces where "Your mental health matters!" becomes not just words but a heartfelt commitment.
We curate our articles with warmth and care, drawing from reputable sources and expert knowledge. Explore our editorial process to understand how we prioritize your trust and keep accuracy in every word we share.
Сheck your mental well-being for free: