Published January 25, 2023 / Updated June 19, 2023
Mental Health Day Off: How to Spend It, and Why It May Not Be Enough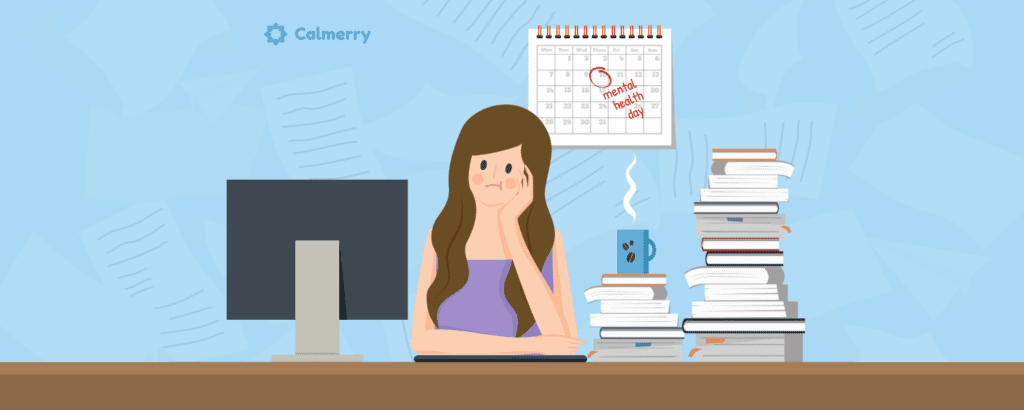 Reading Time:
6
minutes
Our society has come a long way in fighting mental health stigma, but there is still a long way to go. Asking for time off to focus on your mental health can be difficult, but you're not alone.
A 2022 survey found that while 63% of employees have taken at least one mental health day off during the year, 44% gave a different reason due to fear of repercussions.
It's important to note that there are federal laws protecting employees from discrimination based on their mental health condition. Most likely, your company has its own anti-discriminatory policies.
More often than not, taking such a day off can be a sound investment in mental health. In the same survey, almost 80% of employees said it helped them "recharge their batteries."
What is a workplace mental health day?
Employees can use this day off work to care for their mental health. It can give you a much-needed break or provide some space to understand what's behind your current condition and to think of what to do next.
You may need a mental health day if you:
Experience frequent physical issues, like headaches, stomachaches, muscle tension, and a weakened immune system
Always feel exhausted
Are feeling emotionally disconnected or empty
Withdraw from family and friends
Have trouble sleeping
Find it hard to concentrate
Feel unhappy or unappreciated
Are feeling a lack of purpose or meaning in your work
These days are essential to your self-care routine and help you maintain good mental health hygiene.
Taking a mental health day off work
You don't have to talk to your boss and explain that you're taking a day off because of your mental state unless you want to.
You can call in sick or let them know you'll be using personal time off without providing a specific reason. Your employer has no right to demand that you provide one.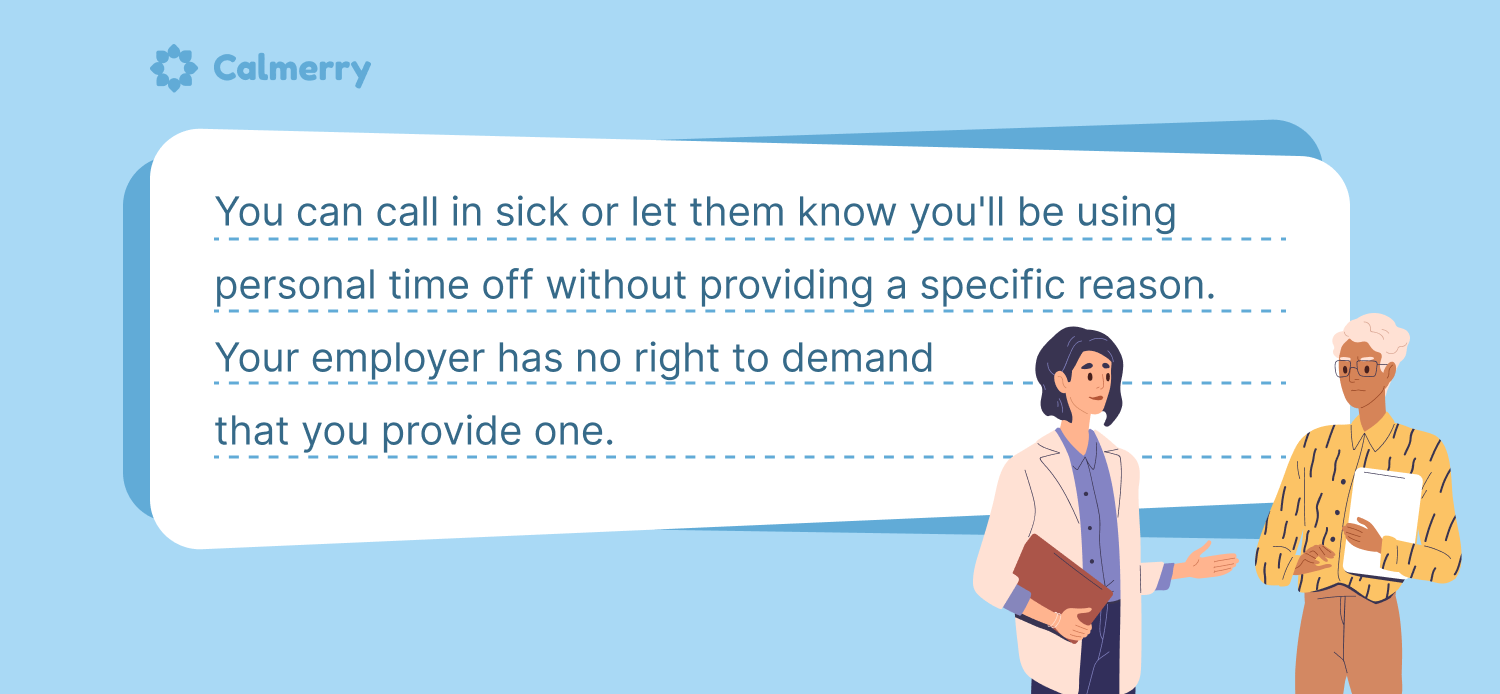 Though many companies boast that their corporate culture promotes mental health awareness, it still doesn't mean you owe them total transparency.
How to spend your mental health day
An excellent way to start your mental health day is to get enough sleep and eat a nutritious breakfast. What you do next depends on your needs and your current condition. Here are a few things to do on a mental health day.
Plan ahead if possible
It's not always possible to schedule a mental health day off in advance. Sometimes, you wake up and know you need to call into work. However, if you have the option, try to plan ahead to ensure your calendar is cleared out.
It doesn't mean you must prepare a perfect plan – it will only cause more stress and will be counterproductive. Instead, try to have some idea about how you want to spend this day. Do you prefer to be alone, or maybe some quality time with your loved ones is exactly what you need? Do you want to relax in bed and read a book or be more active?
Listen to your needs
Create a plan based on your needs to make the most of this day. Try to listen to your body and emotions without self-criticism getting in the way. It probably won't be easy at first, especially if you've been suppressing your needs due to work or other responsibilities.
Start simple and listen to what your body is telling you.
Are you exhausted and need rest? How about staying in bed and taking a nap or reading books?
Or are you buzzing with an anxious energy that needs a healthy outlet? In that case, consider practicing yoga or taking a brisk walk in nature.
Try to avoid stressors and unhealthy activities
After a lot of stress or being overworked, you can feel drawn to unhealthy coping mechanisms. It's a natural and very human reaction, but it's still harmful in the long run.
Spending a whole day catching up on all your favorite shows or scrolling through social media may sound like the kind of rest you need, but it may be a form of avoiding difficult feelings and thoughts. In that case, you're not resting but further suppressing emotions, which can worsen your condition.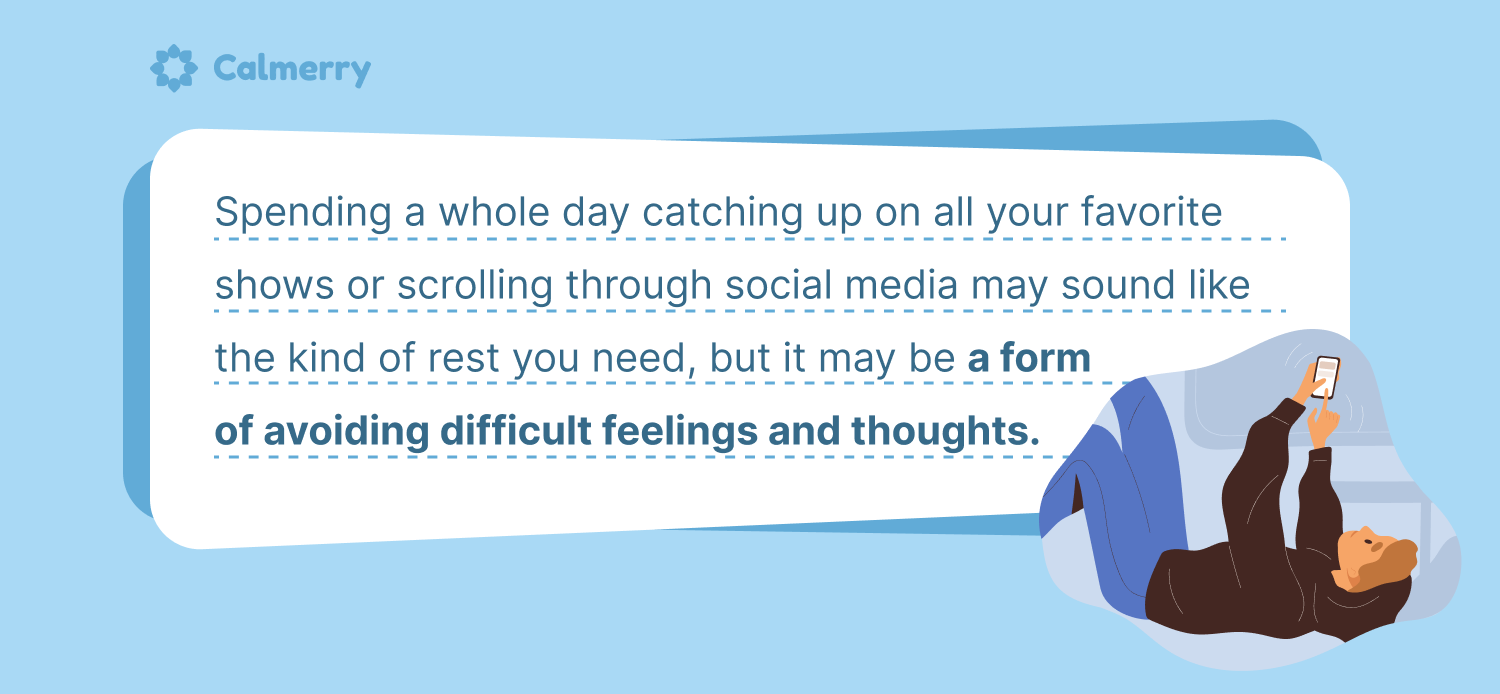 Avoid such maladaptive – unhealthy – coping skills, as well as alcohol or drugs. Instead, try to find adaptive – healthy – ways to cope, like journaling, painting, exercising, or reaching out to a friend.
Talk with your therapist
If you're in therapy, you can ask your therapist for help in coming up with coping strategies.
You can also schedule a meeting with them on this day, especially if your condition worsens and you're unsure of the best course of action.
Declutter your space (and mind)
Organizing your living space has many mental health benefits. It can improve your mood and focus, help reduce anxiety, and increase your sense of self-efficacy, making you feel more in control of your life.
You can also try to "declutter" your mind with journaling. It's a great way to organize your thoughts and put names on your emotions. Writing down your worries or goals may also help with decision-making.
Take yourself out on a date
You don't have to stay home if you don't feel like it. Instead, you can spend the day pampering yourself and making a date out of it.
When was the last time you went to a movie theater, an art gallery, or a museum? You can follow up with dinner at a fancy restaurant or a nice treat in your favorite coffee shop.
If that doesn't sound appealing, how about visiting a spa center or booking a massage? Or, book a spa day or massage, whether at the spa center or homemade.
If a mental health day doesn't help
A mental health day off work is ideal for catching your breath, but it's not a miracle cure. If you're experiencing burnout, depression, anxiety, or other serious mental health conditions, it won't help you fully recover. It will be more like sticking a band-aid on a severe wound.
That is to say, you shouldn't dismiss it just because it won't have a big impact. It can be a great way to carve out some space in your busy schedule to evaluate your situation and consider your next steps.
Subscribe
to our mental health digest
Let us support you on the way to better mental well-being. Get expert tips and insights on mental health delivered to your inbox monthly.
Create a mental fitness routine
Regularly scheduled mental health days can be a crucial part of your mental wellness routine.
Consider incorporating regular physical activity – from walking and yoga to dance classes or gym – into your routine and maintain proper sleep hygiene and a balanced diet.
Additionally, you can identify your maladaptive coping mechanisms and find adaptive coping skills you can replace them with.
Include time with family and friends. We're social creatures and need safe and caring relations to thrive. Focus on strengthening your social support and find ways to nurture new connections.
Finally, schedule regular rest days and longer breaks, like vacations. And if you're in therapy, try asking your therapist for help in coming up with such a plan.
Take a break from work
While there's no mental health leave yet, it's still possible to take an extended break from work due to your mental condition.
Check if you're eligible for a medical leave under the Family and Medical Leave Act, which grants up to 12 weeks of unpaid leave. Some states may offer paid alternatives to the federal FMLA, such as Washington and New York.
Consider therapy
Of course, a great way to take care of your mental health is to try therapy. It may be crucial if you're struggling with depression, anxiety, burnout, or trauma. However, remember that therapy is for everyone if they want to try it. You don't need to go through "something serious" to qualify. We all have different experiences, and our feelings are valid, regardless of how those make us feel.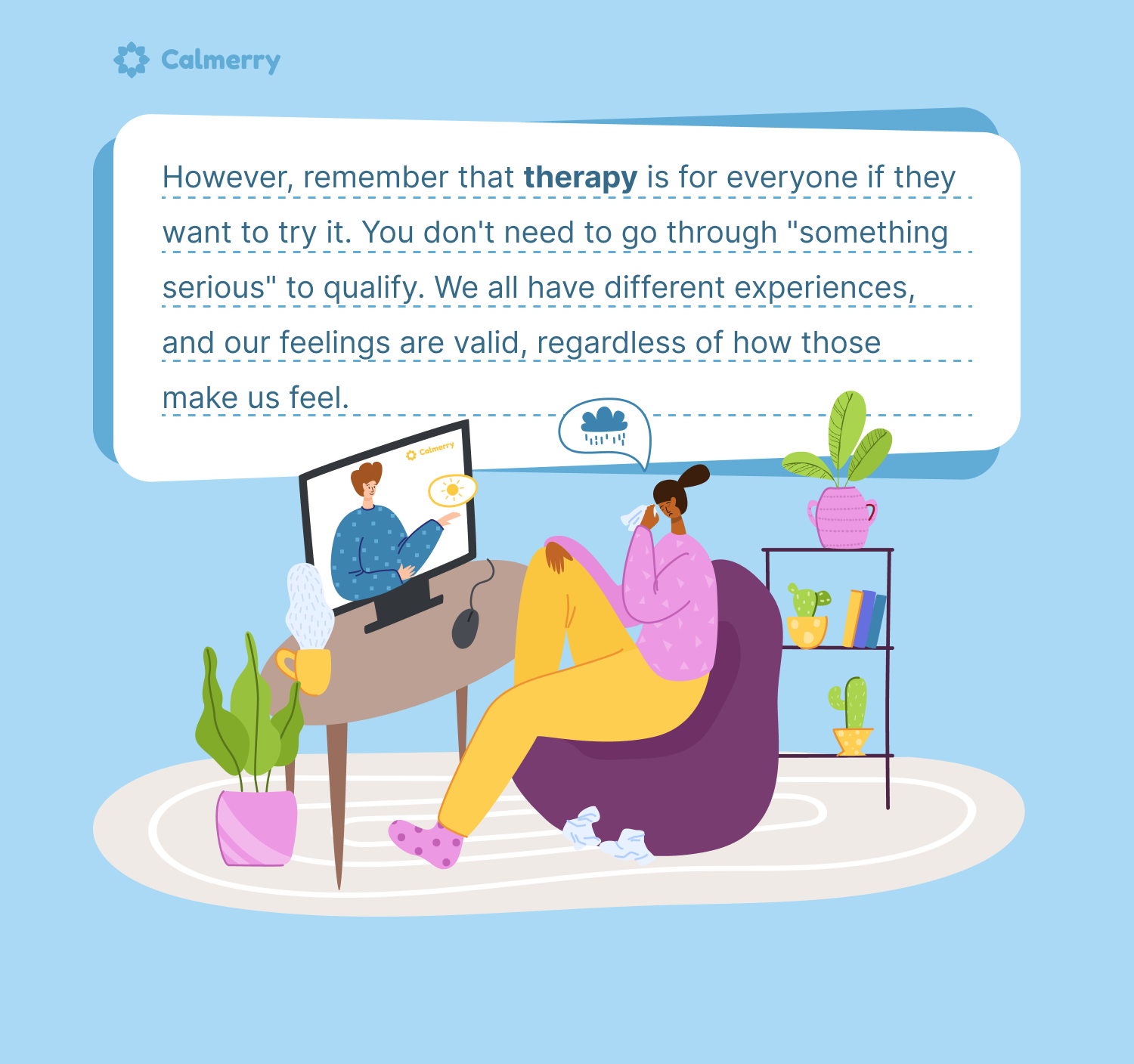 If you're concerned about the cost or time commitment, online therapy is more accessible and gives you more flexibility. It's also a great solution if you want to attend sessions in your safe space – like your bedroom – or are worried about your privacy.
Сheck your mental well-being for free: