Published November 4, 2022 / Updated June 2, 2023
Work Burnout: What Can You Do if Vacation Didn't Help?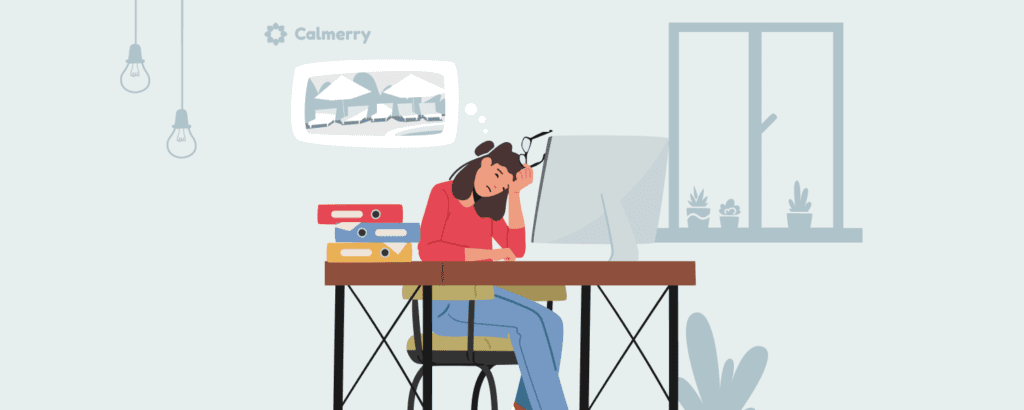 Reading Time:
6
minutes
You return to work after vacation, still stressed and exhausted. To put it plainly, you still hate your job. What now?
That may mean you're not just tired or stressed – you may be burned out. Annual leave is important and can help you recharge, but it may not be enough if you're struggling with burnout. What can you do to take care of yourself in this situation?
Job burnout and its risk factors
It's normal to stress about work from time to time. However, when the stress is constant and builds up – that's when burnout happens.
What is work burnout? In 2019, the WHO defined it as a "syndrome conceptualized as resulting from chronic workplace stress that has not been successfully managed."
It's not only unpleasant but dangerous. It increases the risk of depression, anxiety, cardiovascular issues, or diabetes.
Burnout risk factors
While working too much and barely resting play a significant role in developing burnout, the problem is far more complex. You don't have to be overworked to be under long-term stress.
Other risk factors include:
Poor communication and lack of support
Experiencing or witnessing work harassment
Being undervalued by superiors
Working without proper accommodations
Work that's too challenging (or not enough)
Lack of clarity in terms of expectations
Signs of burnout at work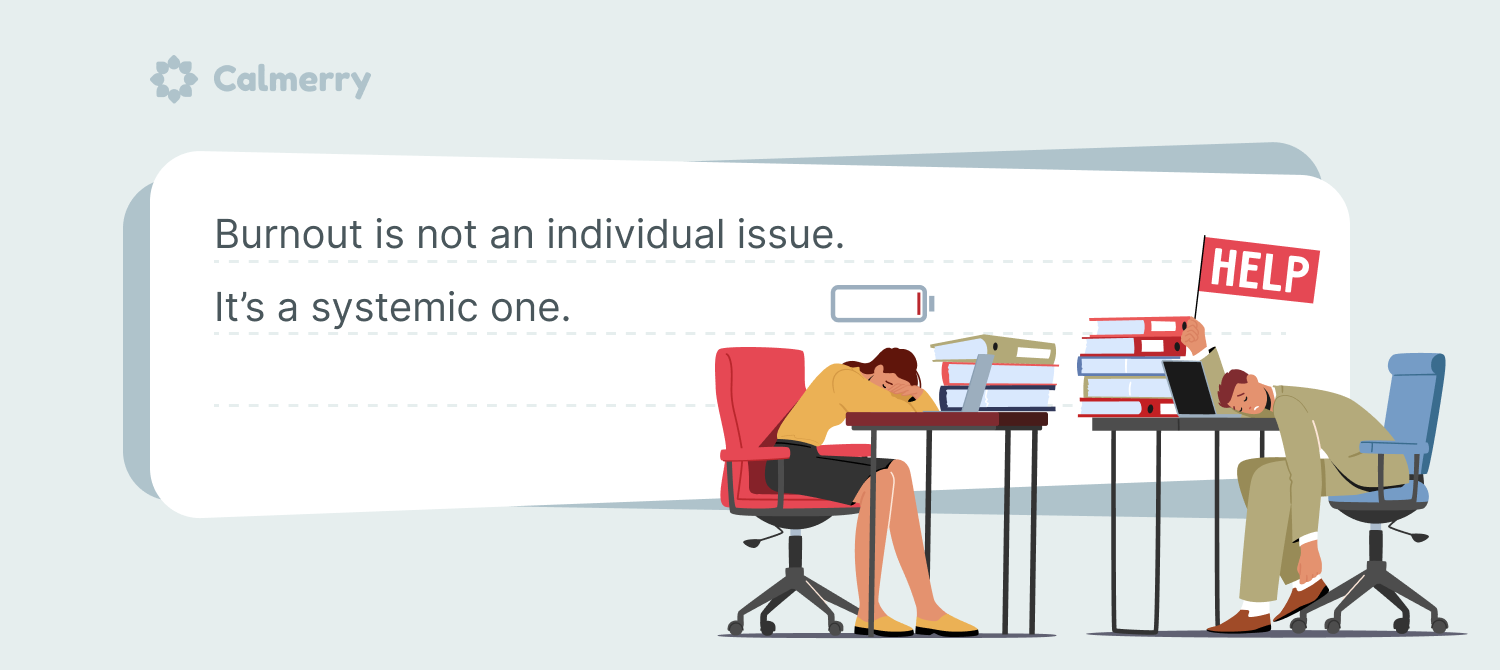 Remember, there's nothing wrong with you if you're struggling. Burnout is not an individual issue. It's a systemic one – our current work culture and organizational dysfunctions are at the core of this problem, resulting in toxic work environments.
Here are some common warning signs of burnout:
Frequent physical health issues, especially gastrointestinal issues and headaches
Bone-deep fatigue and mental exhaustion that doesn't go away
A lack of pride in your work, self-doubt
No sense of purpose, feeling like your work has no point
Trouble with concentration
Procrastination
Low creativity and motivation
Feeling cynical towards your job
Mood swings, often feeling irritated or frustrated
Depressed mood, hopelessness
Note that these symptoms don't necessarily indicate job burnout. They may point to other mental health problems or undiagnosed learning or developmental disorders.
How to deal with burnout at work?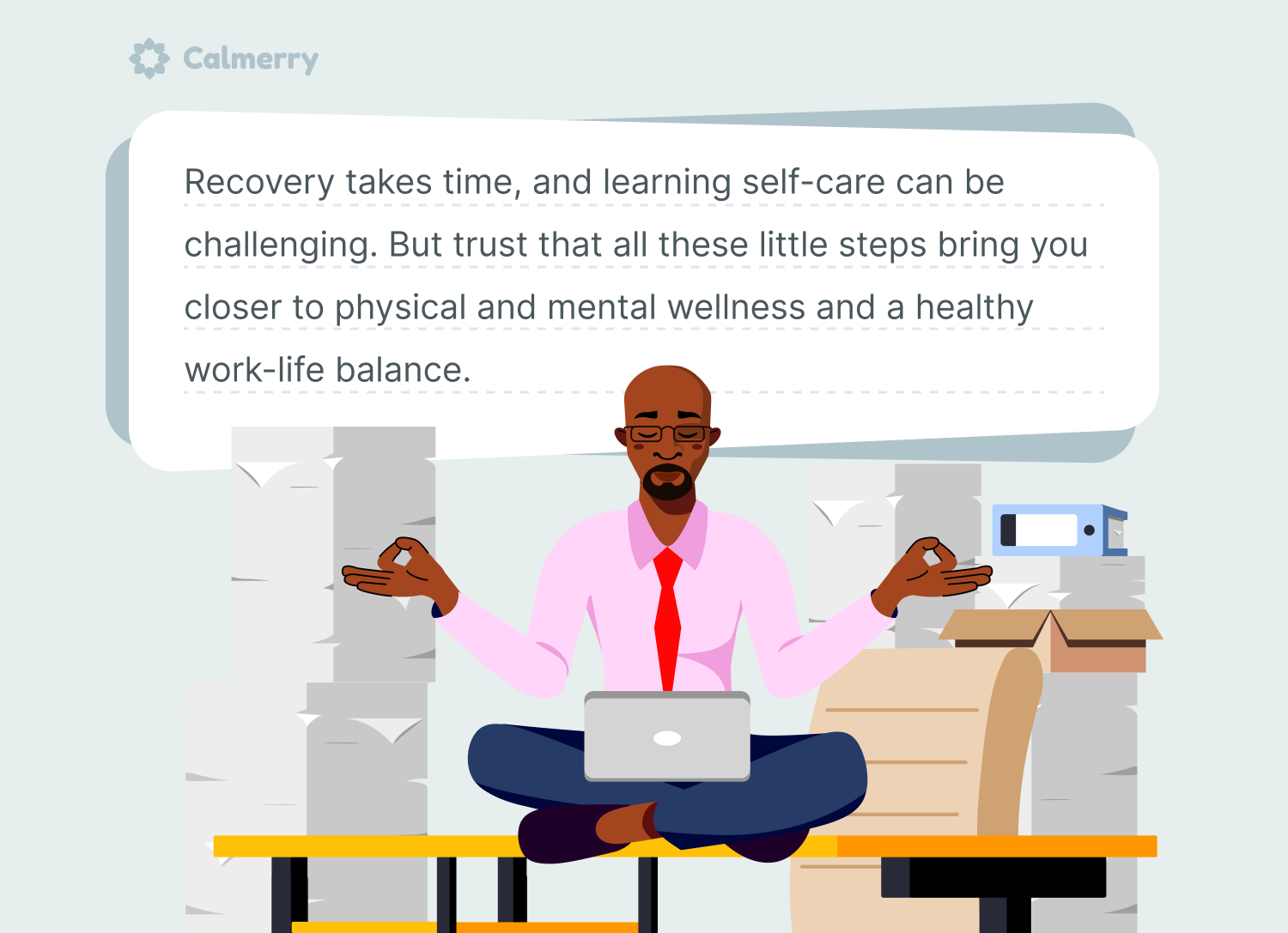 First of all, know it won't be easy. Burnout wreaks havoc on your body and mind. Recovery takes time, and learning self-care can be challenging. But trust that all these little steps bring you closer to physical and mental wellness and a healthy work-life balance.
Of course, there's always the option of quitting your job. Sometimes, that's the only way. It's difficult to heal when you're still in a toxic environment. But what other steps can you take?
Talk to your manager or HR
If you think it's worth a try, reach out to your manager or HR department to ask for changes first. Explain your situation and talk about adjusting your workload or available support.
You can also advocate for a mental health care benefit, flexible work arrangements, or increased paid leave.
Set boundaries
Learning how to set boundaries and be assertive can be scary at first. However, this is one of the most important aspects of taking back control and caring for yourself at work and in any situation.
Download 👉🏻 The Ultimate Self-Help Checklist for Startup Employees in PDF now. You'll find it helpful on your journey to a healthy work-life balance!
Start small: try to leave the office on time or say 'no' the next time your colleague tries to dump their work on you.
Though burnout mainly concerns your job, it influences your whole life. Set boundaries at home, too: for example, discuss how you share chores with your family or housemates.
Acknowledge your current limits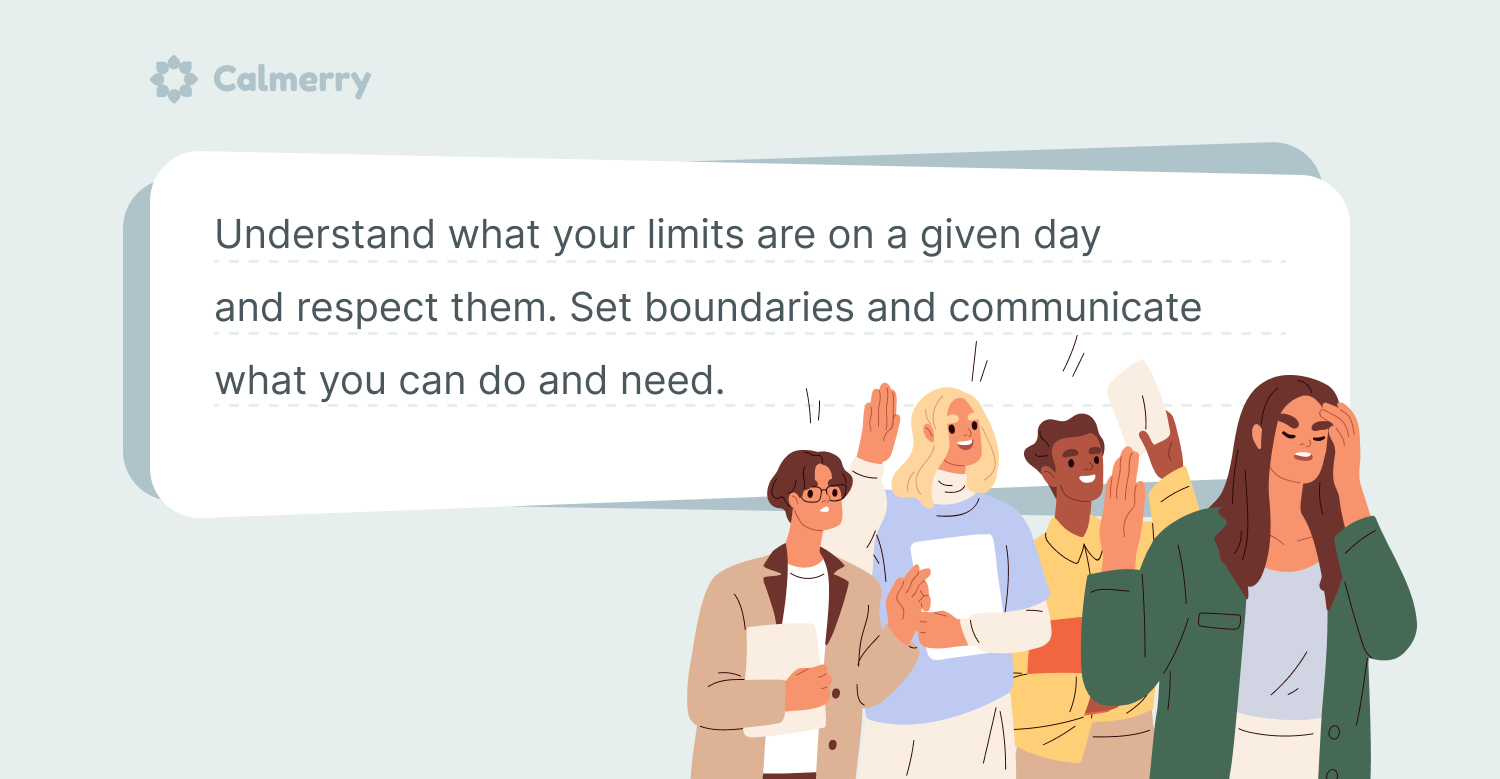 Limits don't make you inadequate or deficient. We all have them, and they're a natural part of being a human. We can't do everything at once, even though our culture may want you to strive to be productive and push your limits over and over to achieve its definition of "success."
We sometimes need to stretch some of our limits to mature. But we must do so with care, patience, and self-compassion while respecting our needs. And do so for our sake, not to fulfill unrealistic expectations of others.
It's also important to remember that your limitations change, sometimes even daily.
Understand what your limits are on a given day and respect them. Set boundaries and communicate what you can do and need.
Learn to rest
Resting doesn't make you less worthy or lazy. You don't have to be constantly busy and productive to have worth as a human being.
Rest is a fundamental human right, not a reward you have to earn. We need it to function properly and, yes, stay productive.
If you can, try to find moments of peace – a short walk, a quick yoga session, journaling, or a nap. Even better, try to schedule at least one day a week to rest and recharge.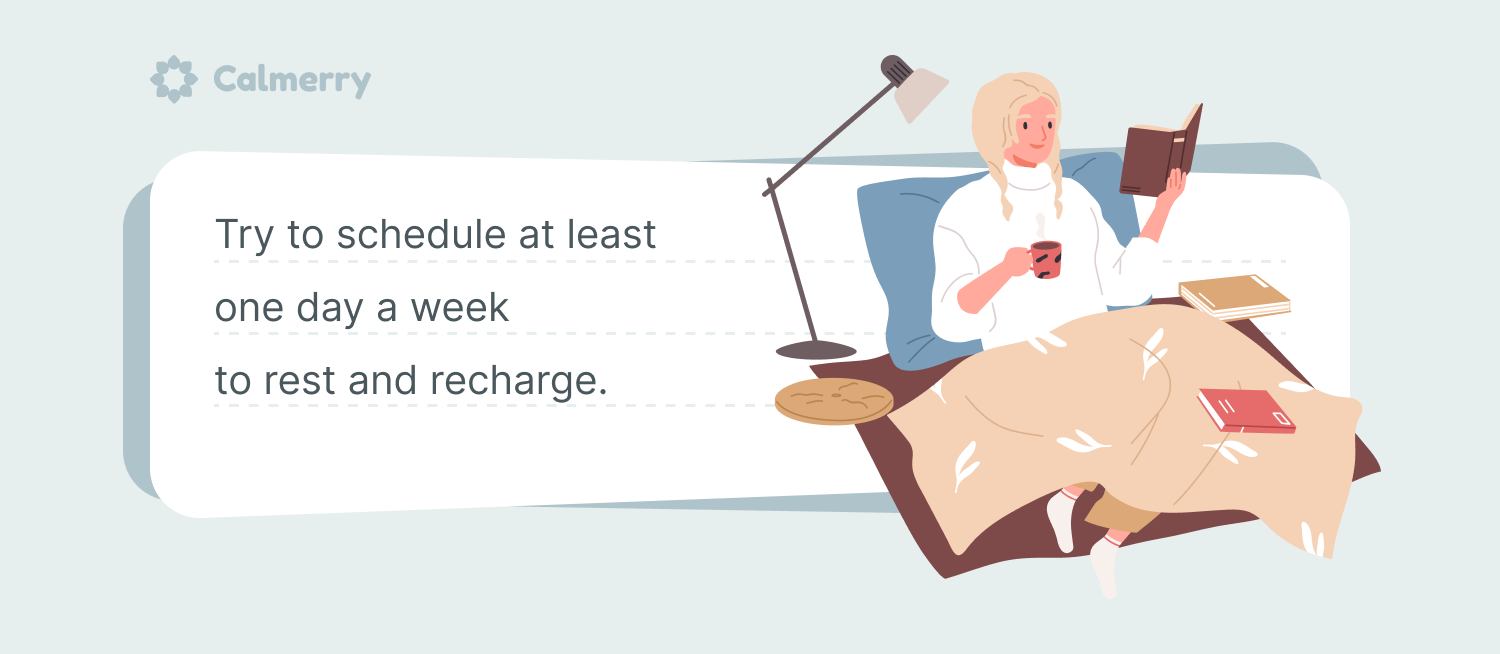 Consider work vacation or medical leave
While vacation alone may not be enough, it's essential to preventing job burnout. If you can, go on an annual holiday every year or try to schedule short but frequent breaks.
Consider medical leave as well. You can't request one due to burnout specifically. However, you can be eligible for a stress leave for employees experiencing physical and/or mental consequences of stress, anxiety, depression, or burnout. For example, the US Family Medical Act Leave (FMLA) allows up to 12 weeks of absence.
Reach out to your support network
Whether to talk about your troubles or to ask for help, don't hesitate to reach out to people you trust. Share what you're going through and discuss together what you can do to change your situation.
Your colleagues can help you at work, and your parents can take care of your children next weekend. So you have some time alone, or maybe one of your friends can recommend you for a new job.
Try therapy
Your support network may also include a professional therapist who can guide you through your recovery and equip you with knowledge and skills to make you more resilient.
Consider online therapy as it's accessible and saves you a lot of time and energy you'd have to spend commuting. Even a few hours and this kind of effort can be too much when trying to rest and recover from job burnout.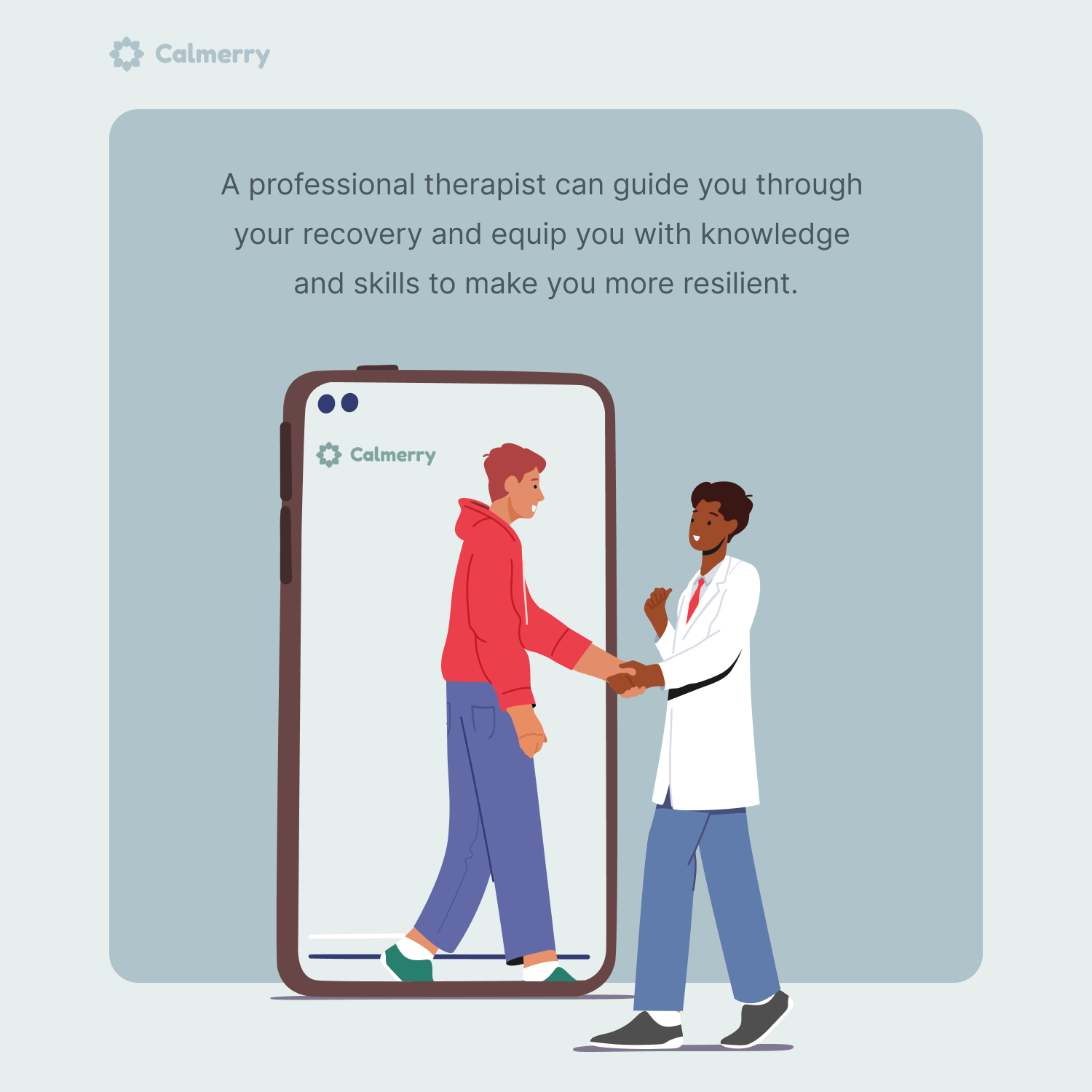 Going back to work after vacation
The perspective of resuming the daily hustle and bustle can be daunting, especially if you're still burned out. If returning to work is unavoidable, there are ways you can make it easier.
Schedule a transition day
Try to set aside a day or two between your work vacation and your return to the office. Use it to catch a breath, do your laundry or shopping, plan the week ahead, or adjust your routine.
Returning after a long absence
If your annual leave was longer or you were on a leave of absence, going back maybe even more intimidating. Reach out to your supervisor and the HR department to create a plan for your return, including the amount of work or hours, available support, or mental health care.
Create a plan with your therapist
Don't be afraid to discuss your return with a therapist. It can be really stressful, especially if you're struggling with job burnout, anxiety, or other mental health problems.
Together, create a plan of action to help you come back to reality.
Subscribe
to our mental health digest
Let us support you on the way to better mental well-being. Get expert tips and insights on mental health delivered to your inbox monthly.
What to do if you still hate your job
What steps can you take if a work vacation doesn't do the trick? We discussed some of them in this article. But perhaps you feel that quitting your job is the solution. If so, reach out to your friends or family so they can support you in changing your job or career.
Consider therapy as well, as your therapist can help you decide what to do next or understand if you're struggling with other mental health issues.
Сheck your mental well-being for free: