Published September 12, 2022 / Updated April 21, 2023
7 Ways to Become Emotionally Mature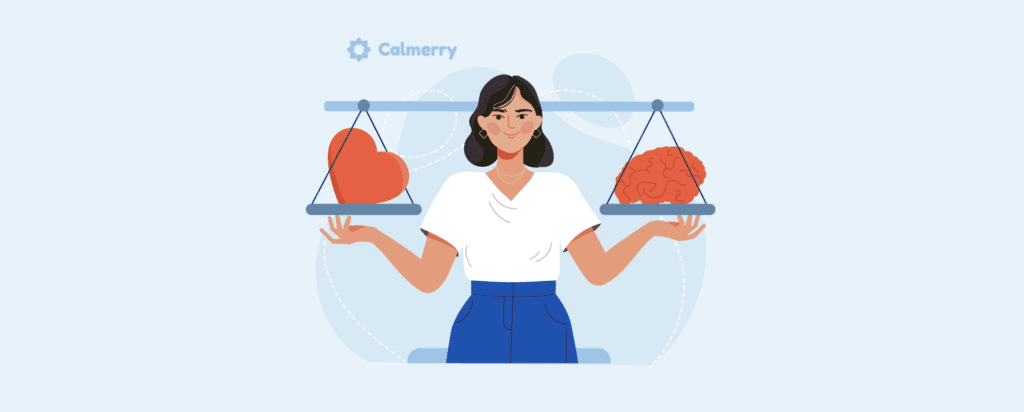 Reading Time:
6
minutes
Here's the bad news: just because you're an adult doesn't mean you're emotionally mature. Unfortunately, this maturity doesn't automatically come with age but with certain life circumstances and hard work.
The good news is: it's never too late to work on your emotional maturity. Is it worth the effort? Definitely! It's essential to a satisfying and fulfilling life, allowing you to achieve your goals and stay resilient no matter what life throws at you.
Ready to become a more emotionally mature person?
What is emotional maturity?
The American Psychiatry Association defines emotional maturity as "a high and appropriate level of emotional control and expression." In other words, emotionally mature people are aware of their emotions and can control them. This ability to self-regulate makes them more resilient in times of stress and sudden change – something we can't escape in the modern world.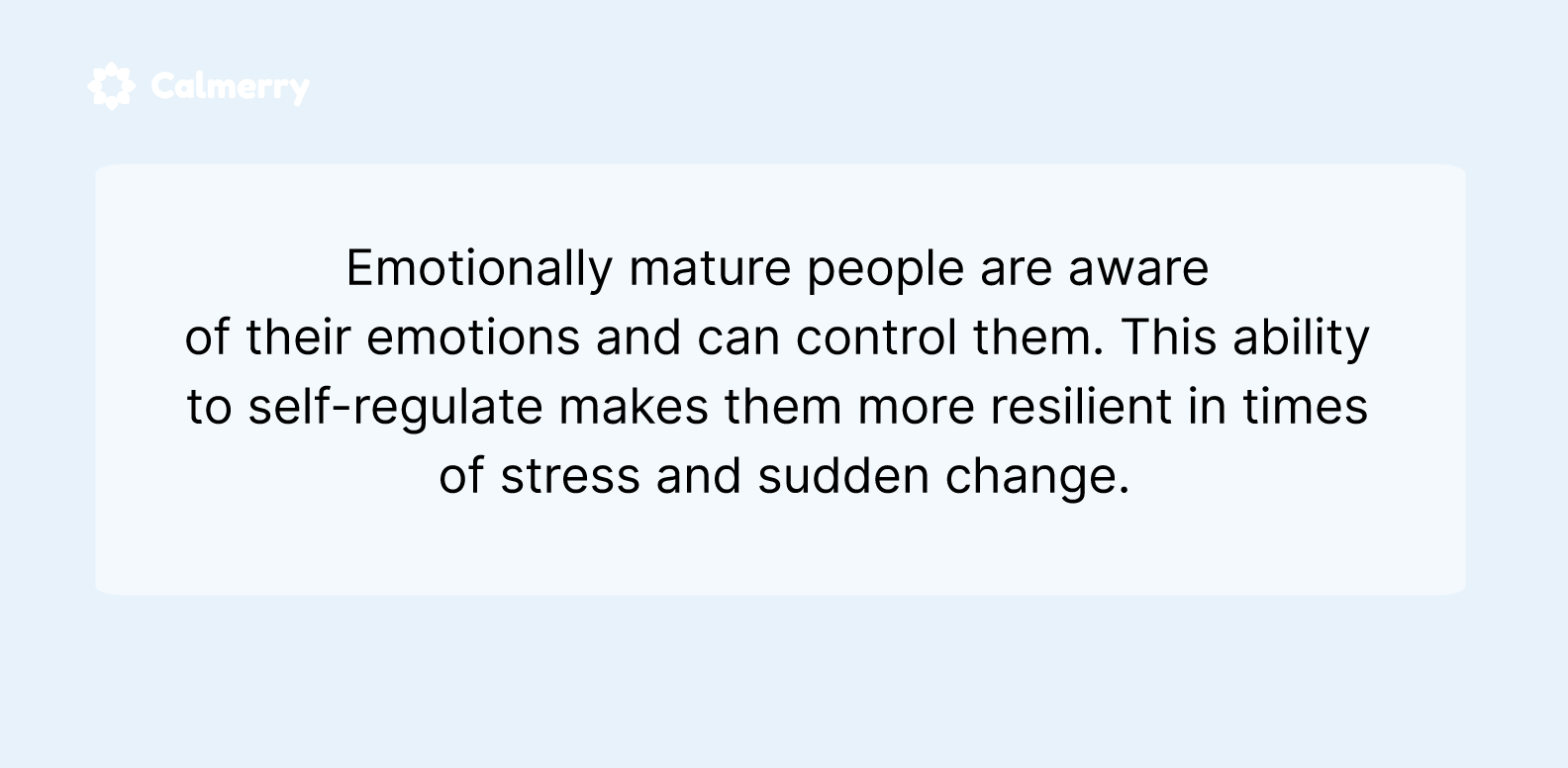 Emotionally mature people are:
Able to regulate their emotions
Flexible and have a solution-based approach
Not afraid to take responsibility
Resilient
Not afraid of vulnerability
Aware of their feelings and needs
Empathetic
Assertive – know how to set boundaries and respect them
Childhood and emotional maturity
The foundations of your emotional maturity develop in your childhood. How your caregivers behaved towards you, whether your needs were fulfilled or not – these experiences heavily impact your resilience and ability to self-regulate.
Emotionally unavailable or abusive and neglecting parents can influence our entire well-being:
Emotional regulation
Attachment style and ability to form healthy relationships
Ability to set boundaries
Cognitive skills, such as working memory
Physical and mental health
When abuse and neglect are significant and begin early, they can result in developmental trauma, making our fundamentals of emotional maturity somewhat shaky.
Here are some behaviors that an emotionally immature person can exhibit:
Doesn't feel responsible for their actions
Can't deal with disappointment, rejection, or losing
Can't stand emotional discomfort
Can't stand criticism
Has difficulties with compromises
Displays frequent avoidance behaviors
Does anything here sound familiar? Don't worry. Remember, these behaviors don't make you a bad person. It's natural to exhibit some of these behaviors while being a reasonably emotionally mature person. For example, you can be highly empathetic and self-aware but still struggle with criticism or sudden change.

How to develop your emotional maturity
If you're still reading, it means you've taken the very first steps in your journey. Check out the tips below to improve your well-being and take control of your life. You may also consider therapy if you need additional support and guidance.
Subscribe

to our mental health digest

Let us support you on the way to better mental well-being. Get expert tips and insights on mental health delivered to your inbox monthly.
Choose a growth mindset
Emotionally immature people often have a so-called fixed mindset – the belief that all is set in stone. You're born with certain intelligence, skills, and abilities, and that's it; there's nothing you can do to change that. It's a term coined by Carol Dweck, Stanford psychologist and author of Mindset: The Psychology of Success.
On the other hand, we have what Dweck calls a growth mindset. It means that you believe you can always grow as a person, become more competent, develop your skills, and adapt to new situations. This outlook on life allows you to build self-awareness, challenge your thinking and assumptions, and give yourself a chance to change and better yourself.

Build self-awareness
To better control your emotions, build resilience and become emotionally mature, you need to dive into yourself and achieve a certain level of self-awareness.
Try studying and examining your emotions, actions, habits, dreams, and past. Here are some questions to start you off:
What emotions are difficult for you?
What do you fear?
What are your triggers – what elicits a strong emotional reaction from you?
Journaling and expressive writing have proven a great way to process emotions and traumas. However, let's not forget that the mind and body are intimately connected. We hold feelings and tensions in our bodies that can manifest as aches, fatigue and even illness.
That's why, to better connect with your emotions and needs and become more aware of your body, it's good to add some body work to your journaling practice. Try activities like yoga, walking, meditation, or dance.
Fair warning: processing trauma can be unpleasant and emotionally draining. If you have experienced trauma, it's good to work on your self-awareness in a safe environment with the help of a mental health professional.
Learn empathy towards yourself and others
Empathy is an essential part of emotional maturity. It means being considerate and sympathetic towards others, helping them, avoiding judgment, and being able to compromise. Avoid forming quick assumptions and approach people with curiosity about their stories.
Equally important is learning how to feel compassion for yourself. But while being empathetic towards others can be as natural as breathing, many people struggle with self-compassion. Our society teaches us to see it as selfish. It is not.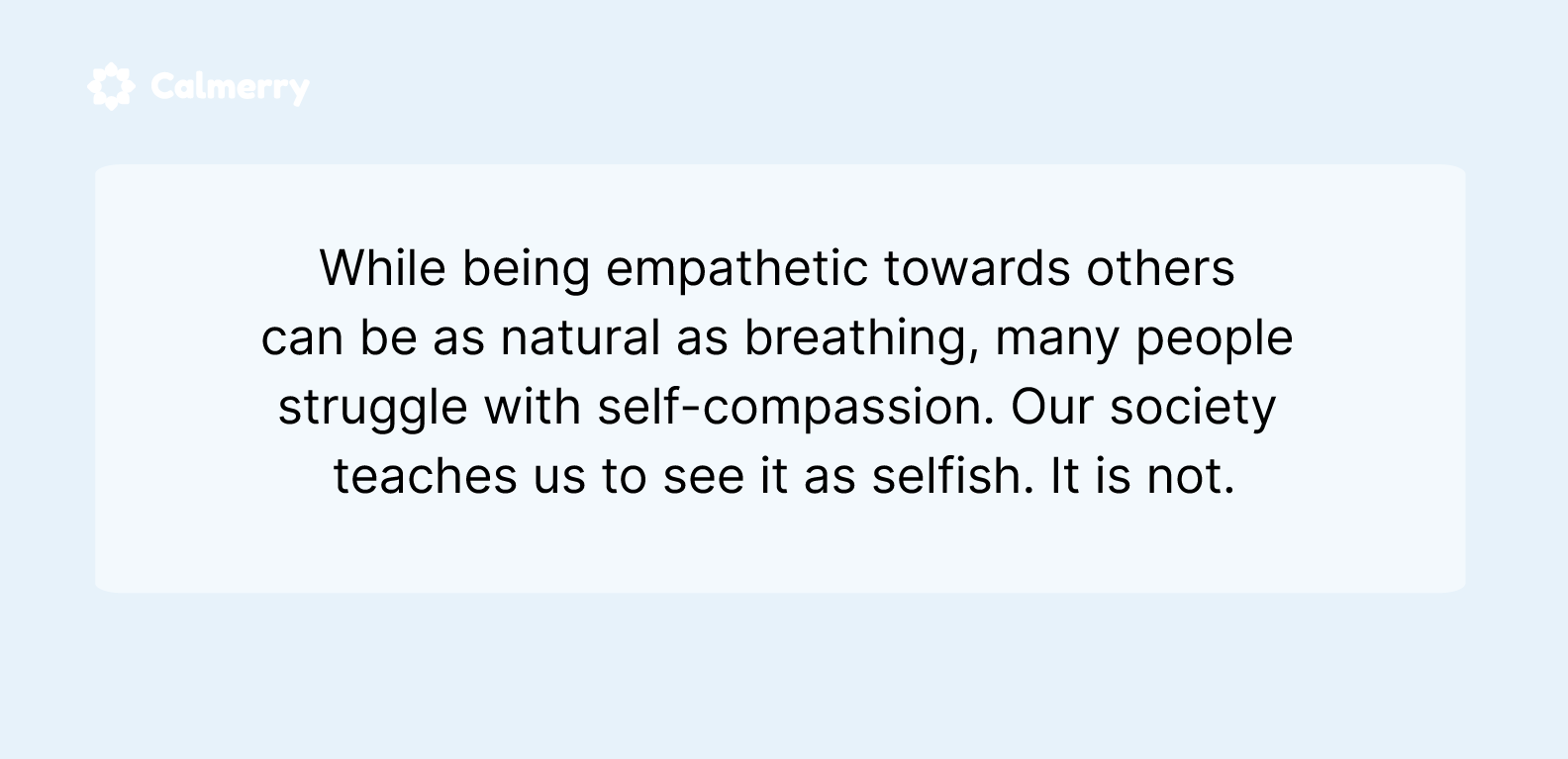 Regaining self-esteem through empathy and self-compassion is a steep learning curve but well worth it. Take small steps but do take them. Challenge your inner critic, set boundaries by being more assertive, take care of your needs or try to understand which habits are helpful to you and which are not.
Take responsibility for your feelings and actions
Feelings appear outside our control, but we can certainly decide what we do about them. Feeling angry or scared doesn't give you the right to lash out, blame or even hurt others. Emotionally mature people try to control their emotions and their reactions healthily.
Of course, we all sometimes allow anger or fear to get the better of us. Emotional maturity means holding yourself accountable when that happens. Don't hesitate to ask for help but take responsibility for your actions – apologize, deal with the fallout, and avoid blaming others.
Nurture your inner child
You may think it's a paradox, but being emotionally mature means embracing the child inside you. The joy, creativity, and curiosity that come from that part of us are essential to our well-being.
It's not an easy feat for many of us, as we're taught to distance ourselves from our 'childish' side. However, it can be genuinely challenging for those with painful and traumatic childhoods. In this case, we often cut ourselves off from this part of ourselves to survive, which can stunt our emotional development.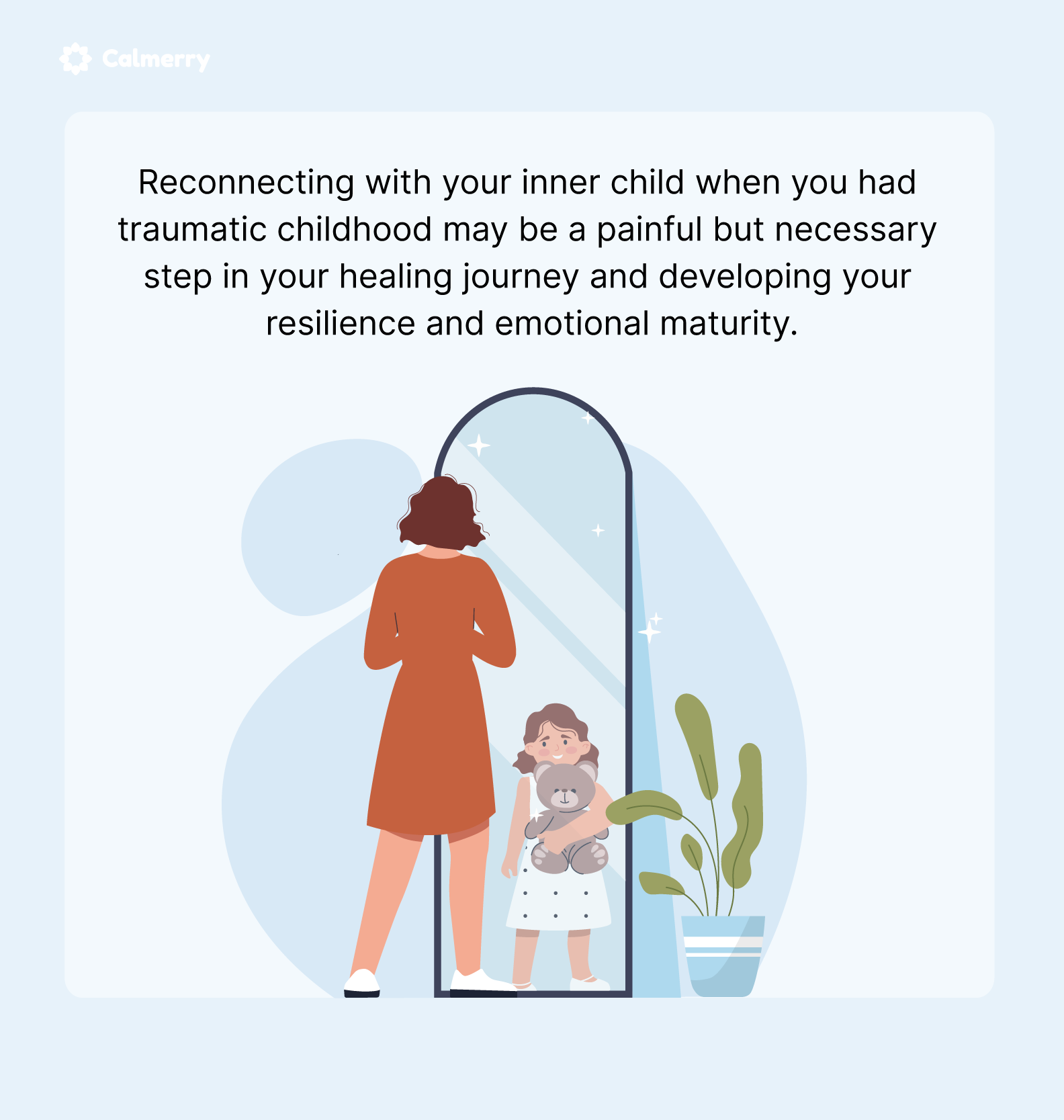 Reconnecting with your inner child when you had a traumatic childhood may be a painful but necessary step in your healing journey and developing your resilience and emotional maturity. We strongly advise you to tread carefully and consider professional support.
Cultivate healthy relationships
All these actions above help us nourish our emotional maturity, a foundation of healthy and satisfying relations with family members, friends, partners, or work colleagues. Not to mention, we need other people in our life to achieve emotional maturity and good well-being. As social beings, it's one of our basic needs, and isolation impacts our health and overall life satisfaction.
How can you nurture healthy relationships? Try to be vulnerable with people you feel safe with, like your family, friend, partner or therapist. Practice communicating your needs and establishing boundaries. Learn to listen actively and approach others with empathy and respect. Take it slowly and be gentle with yourself.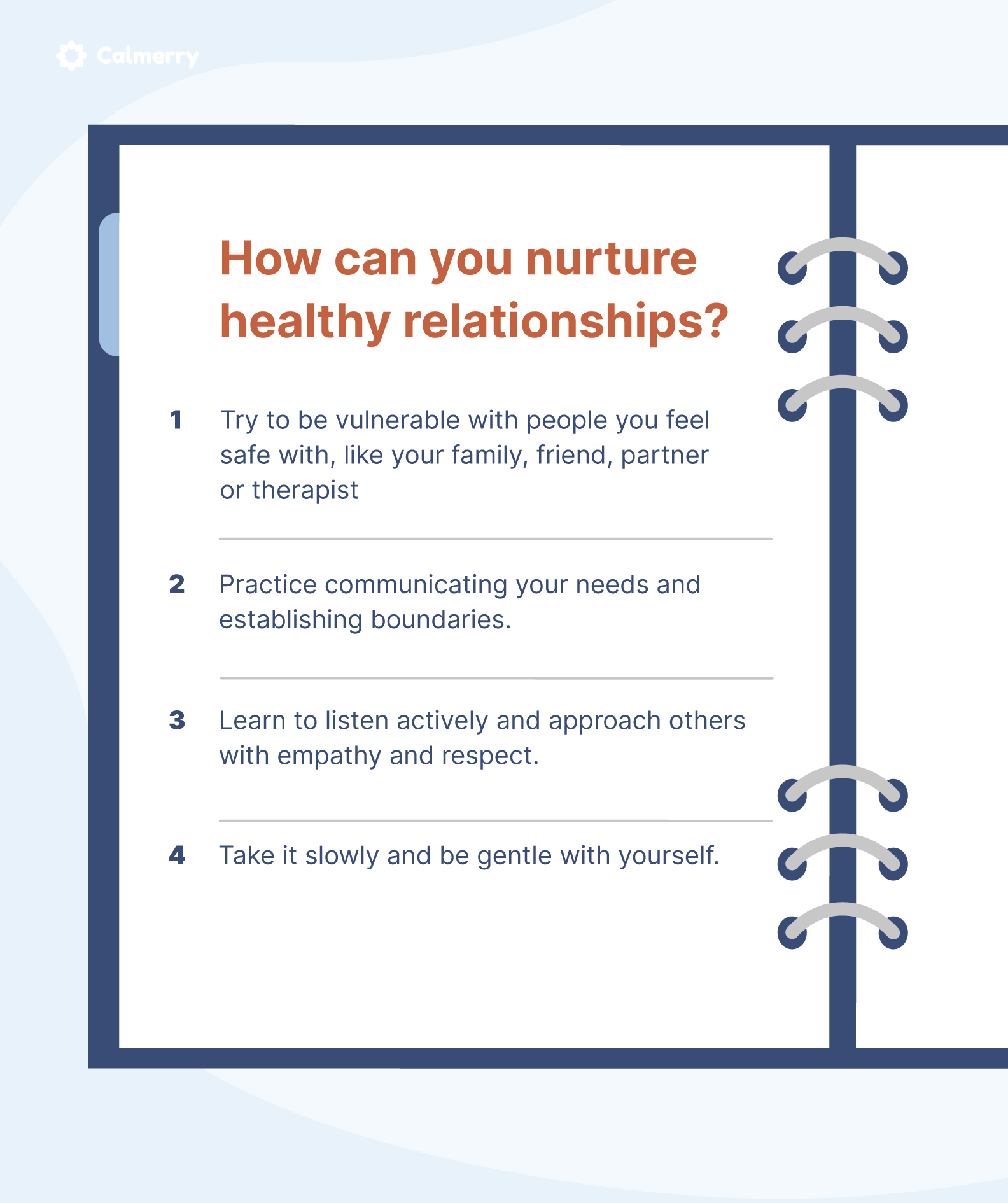 Try therapy
As we've already suggested a few times in this article, sometimes it's safer and more comfortable to have the support of an expert therapist to guide you. You don't need to have a traumatic past to try therapy. It's for you if you need it to help with your problems.
You can try online therapy if you're unsure if you'll be comfortable in a therapist's office. It's accessible and allows you to have a session in the comfort of your safe space – in pajamas in your bedroom, under a blanket on the living room couch, or in your favorite spot in the garden.
Before you go
Remember that you don't have to master all these abilities to mature emotionally. It's okay to get angry or make mistakes – we are all just humans, and imperfection is natural. We are all works in progress!
We know it's easy to say, but the road to emotional maturity can be challenging. Be patient with yourself, and don't push yourself to do more than you're ready for. Take tiny steps and understand you're going to stop, stumble or even take a step back sometimes.
Сheck your mental well-being for free: