Published August 3, 2022 / Updated March 13, 2023
9 Simple but Effective Tips for Dealing with Anxiety at Work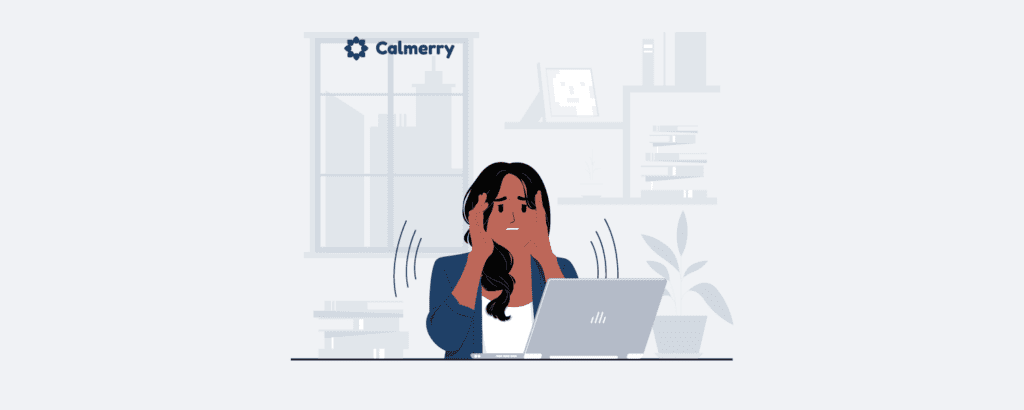 Reading Time:
6
minutes
It is common to feel worried about work-related issues, and many individuals are managing anxiety at work. Whether you have a generalized anxiety disorder, social anxiety, or specific workplace anxiety, there are steps you can take to cope with the way you feel so that work feels more manageable and more enjoyable.
In this article, we will look at why anxiety occurs at work, what your symptoms might be, and how to deal with anxiety at work.
What is anxiety at work?
It is normal to feel nervous or worried before work on occasion. You may feel nervous if you need to give a big presentation, if you're joining a new team, or if you know, you have complex tasks ahead of you that day.
Some people also suffer from mild 'Sunday blues' before returning to work on a Monday. However, in health, you should not dread going to work or feel particularly anxious about your working day.
If you have anxiety at work, or specific job anxiety, it may cause you to feel tense, uneasy, stressed, or to feel a sense of dread before going into the office. The anxiety may be so severe that you find there are days when you cannot face going into the office.
Some people may also feel anxious about a specific part of their role, such as public speaking or communicating with colleagues. It is also common to experience performance anxiety at work, in which you worry that you are not going to be able to fulfill your role properly.

If you struggle with work-related anxiety but do not have a formal diagnosis, you may be one of the many employees with undiagnosed anxiety.
Signs of workplace anxiety
If you have workplace anxiety, you may experience the following symptoms and signs:
Feeling tense, irritable, or frustrated
Physical symptoms, including headaches, nausea (feeling sick), dizziness, muscle aches, and pains
Difficulty concentrating
Forgetting tasks or missing deadlines
Taking days off work because you feel too anxious to go in
The following situations can commonly cause the above symptoms to worsen or feel more intense:
Driving to work or finding somewhere to park on arrival
Talking in front of others in meetings or giving a presentation
Meeting deadlines
Making drinks for others
Having conversations with colleagues
Performance reviews
Eating with others at lunchtime
Why does workplace anxiety occur?
Workplace anxiety does not have to have a specific cause. In the same way that generalized anxiety can cause intense, persistent worrying that is excessive to the situation, workplace anxiety can occur without an obvious trigger or underlying cause.
However, some people may find that they can identify a particular cause for their anxiety at work. A study has shown that the most common causes of work stress include:
Unrealistic demands
Unfair treatment
An imbalance between effort and reward
Lack of transparency
Poor communication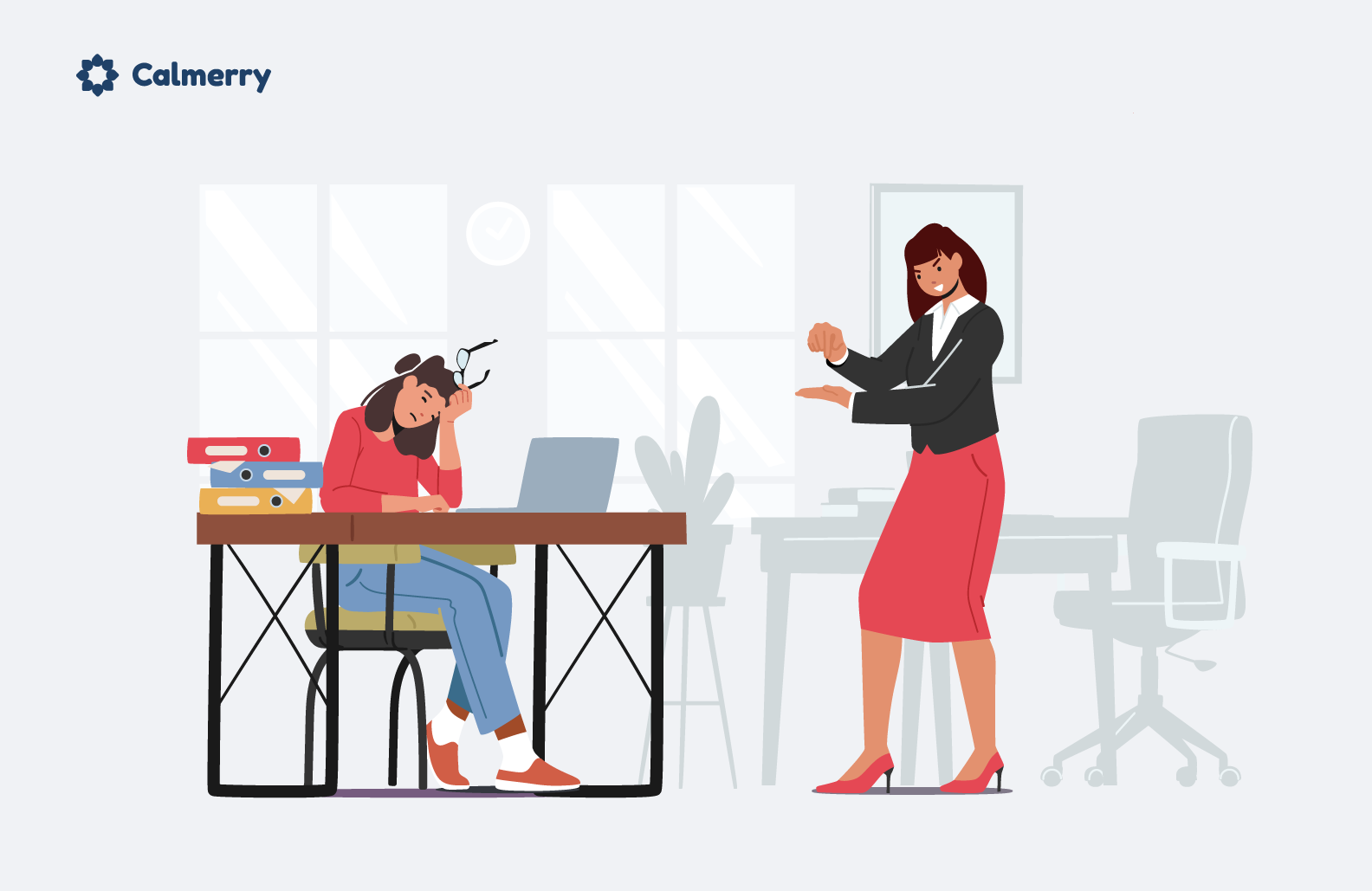 How to deal with anxiety at work: 9 actionable tips
We know that anxiety at work is common, but luckily there are some simple steps you can follow to start feeling calmer when doing your job.
1. Speak to your manager
You may not feel keen to talk to your manager or supervisor about your anxiety. Some employees worry that they will be overlooked for promotions, assumed to be weak, or otherwise negatively impacted by explaining their anxiety to their manager.
However, the Americans with Disabilities Act (ADA) provides protection and prohibits discrimination so that you can enjoy the same employment rights as your colleagues. The law states that you cannot be discriminated against just because you have anxiety.
Speaking to a supportive manager can be very helpful. If your manager understands how your anxiety affects you, they may be able to make changes to make your working day feel easier.
This could include giving you more time to complete a project, offering you a desk space in a quieter location, or being given an allocated parking space to help reduce your anxiety before work.
2. Confide in a co-worker
Whether you feel able to speak to your manager or not, you may also find it helpful to speak to a colleague about how you are feeling.
If you have social anxiety, having someone who is on your side can make you feel much better supported, less lonely, and, therefore, more able to complete your tasks.
3. Ask for help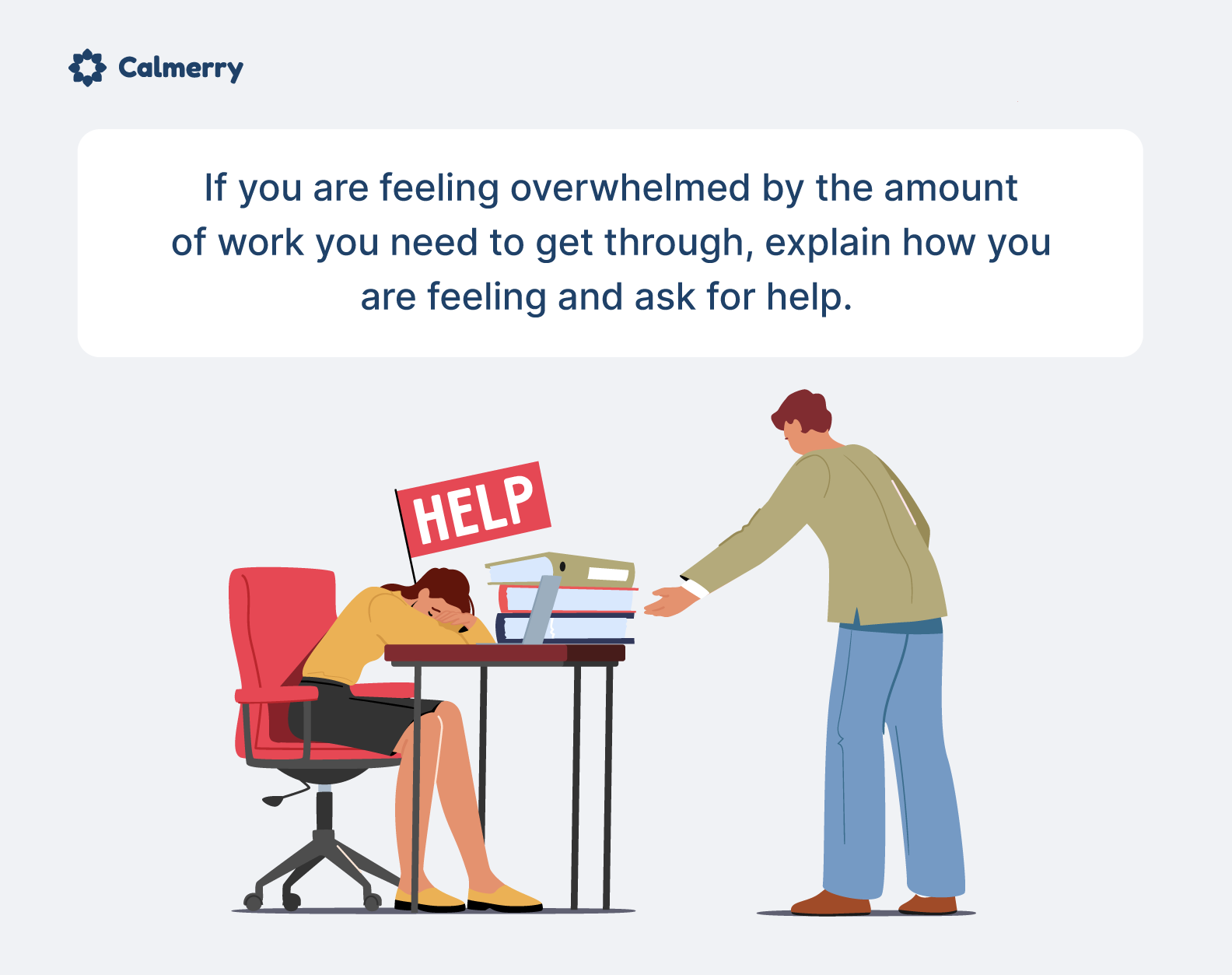 You may need to ask someone else to take a task or help you to finish it, ask your boss for a deadline extension, or see if it is possible for any upcoming tasks to be delayed to reduce the pressure you feel.
You may also find it beneficial to enquire about workplace support from a counselor or therapist who can support you. Alternatively, speaking to an online therapist is a convenient way to get expert help when you need it. Check out Calmerry for business mental health solutions.
4. Be realistic
If you know that you won't have enough time to complete something, push back and decline the work. It can be hard to set boundaries, but by doing so, you can avoid adding additional pressure to your day, and this may ultimately help to avoid burnout.
Set deadlines that are achievable. This will not only increase your motivation but will also boost your chance of successfully completing the task.
5. Keep organized
Being organized will help work feel less stressful. Anxiety at work may feel worse if you have lost track of the tasks you need to complete, are unsure of deadlines, or think you might have forgotten a task you were asked to take charge of.
Get into the habit of keeping your desk tidy, using a sensible filing system for documents, having a to-do list in front of you, and adding all deadlines to your calendar or a tracker.
6. Avoid gossip
Workplace gossip might feel like light relief at the time. But remember that it could create extreme anxiety for someone else. This sort of behavior can also lead to unnecessary conflicts and even to a toxic environment.

7. Find quick coping strategies
If you start to feel anxious at work, it can be helpful to have a few quick coping strategies that you can use as soon as you need to.
Techniques that can help to calm your anxiety might include:
Practicing breathing exercises
Following a brief mindfulness exercise
Going outside for 5 or 10 minutes
Having a break to make a drink or talk to a colleague
Putting a calming song on and listening via headphones
Going for a walk at lunchtime
Subscribe
to our mental health digest
Let us support you on the way to better mental well-being. Get expert tips and insights on mental health delivered to your inbox monthly.
8. Prioritize your health
You will be better able to support your mental health and process emotions if you are looking after your body as well. Prioritize getting enough sleep every night, eating healthy, nourishing foods, reducing the amount of caffeine and alcohol you drink, and trying to exercise regularly.
It is also important to take breaks when you are working. Step outside at lunchtime for a 30-minute walk, and try to immerse yourself in the sounds, sights, smells, and noises around you.
Going for a walk can also be a great time to gain some perspective on work, helping you to feel clearer about how to tackle a project on your return to the office.
Be sure to book regular vacations so that you have a chance to recharge away from work. Try to find ways to include the 7 types of rest as part of your self-care (physical, mental, social, spiritual, sensory, emotional, and creative rest).
9. Celebrate success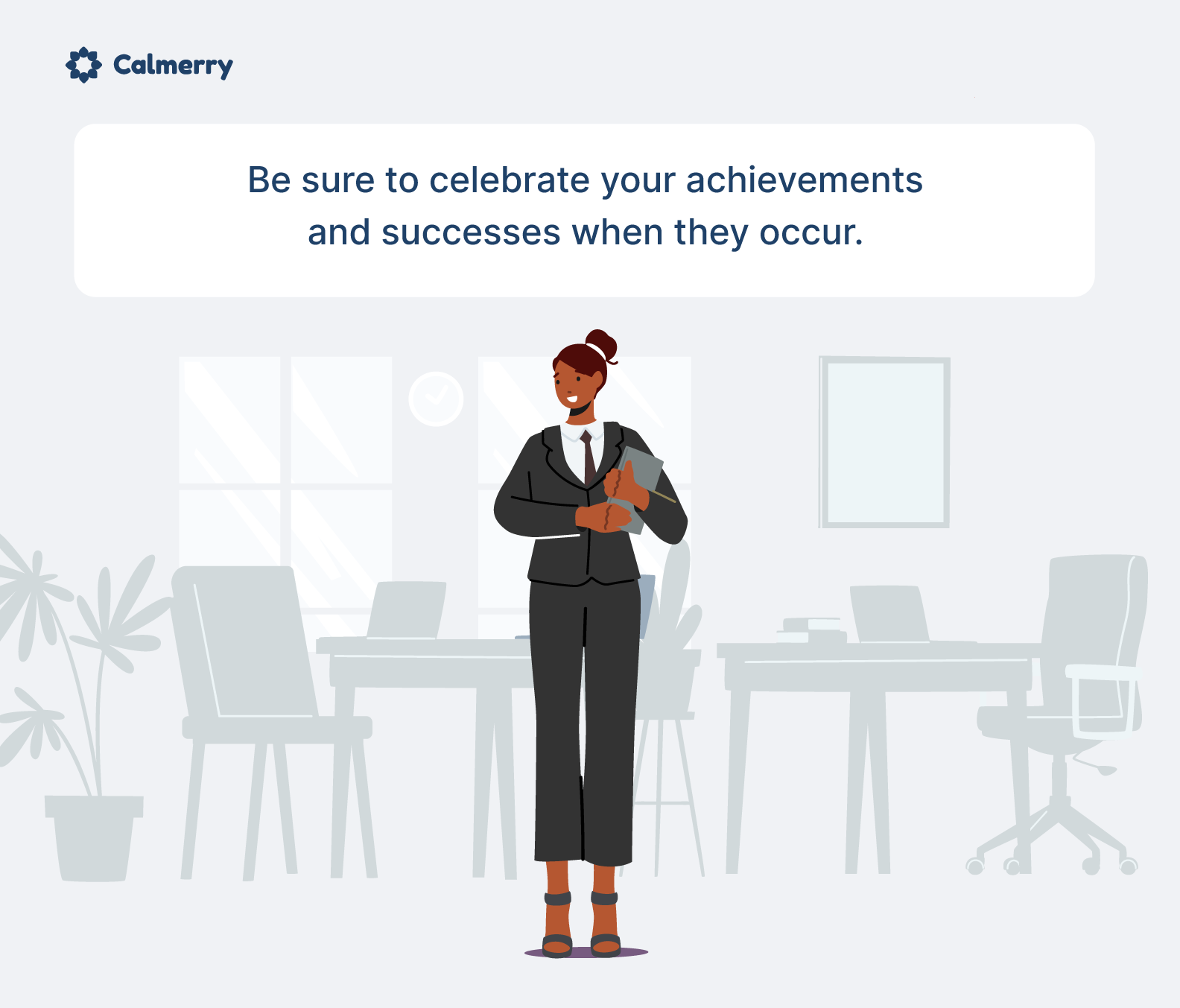 If you have workplace anxiety, your overall performance may be very important to you. Be sure to celebrate your achievements and successes when they occur.
If your career is going well, savor the moment and remember to thank those who have helped you. Try to remember past achievements when you are feeling anxious, as being reminded that you can succeed can be very helpful when stress arises.
Final thoughts
Anxiety is very common in the USA, but it can sadly have a significant impact on your career or ability to manage day-to-day tasks.
By following the steps above, you may feel you are better able to manage anxiety at work. However, if you feel that anxiety is having a detrimental effect on you, it is important to seek help from an experienced counselor or therapist who can provide professional guidance.
Сheck your mental well-being for free: