Published June 1, 2022 / Updated June 19, 2023
High-Functioning Anxiety: What Is It, and How to Cope?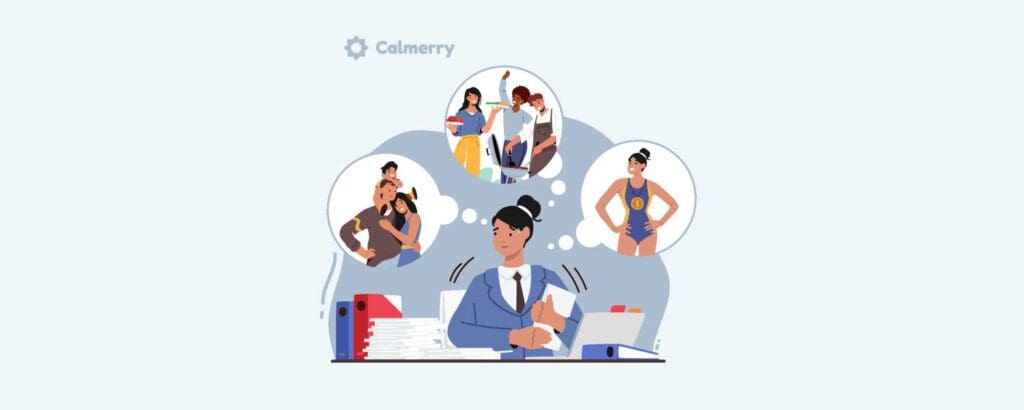 Reading Time:
7
minutes
People with high-functioning anxiety are usually successful in different aspects of their lives. They may have great careers and can balance competing work, family, and social responsibilities. High-achieving and perfectionistic, they appear calm, confident, outgoing, and organized and go about their usual lives as if nothing is wrong. But they suffer in secret, struggling with anxious thoughts and feelings.
Does it sound like you or someone you know? High-functioning anxiety is painful – it takes up a lot of your energy and impacts not only you but also your relationships with people who matter the most. So what should you be doing about it?
What is high-functioning anxiety?
High-functioning anxiety isn't an official diagnosis, so you won't find a lot of research on it. But although it's not recognized as a mental health disorder in the Diagnostic and Statistical Manual of Mental Disorders (DSM-5), it's something that many people can relate to. This term is a fairly recent colloquial expression that is often used alongside other traits that describe similar experiences like workaholism, perfectionism, and type A personality.
People who struggle with high-functioning anxiety might deal with psychologically distressing emotions. Still, instead of letting the anxiety and worry inhibit their lives, they channel them toward accomplishing their goals. Anxiety drives them to perform at high levels to hide visible symptoms and avoid failure, rejection, or disappointing others.

High-functioning anxiety refers to anxiety that doesn't quite meet the criteria for a formal anxiety disorder. When it comes to being diagnosed with a mental health condition, a key criterion is a disruption or impairment of life functions. The main difference between high-functioning anxiety and regular anxiety is that one gets a "diagnosis."
People with high-functioning anxiety experience stress, worry, or have obsessive thoughts on the inside, but they still manage daily life quite well. Nevertheless, the struggle to control intense emotions and perform can affect their overall quality of life.
High-functioning anxiety has both positive and negative characteristics. Some of the positive qualities may appear great, for example, having an outgoing personality, and being detail-oriented, proactive, productive, and loyal in relationships. People with high-functioning anxiety may even think that their symptoms push them to be motivated and driven to perform at high levels and accomplish their goals.

But we shouldn't discount the internal struggles that a person with high-functioning anxiety may be experiencing despite their outward appearance of being successful. Some of the negative characteristics of high-functioning anxiety include:
Overthinking situations and over-analyzing people
Inability to relax or enjoy doing something that they don't consider "productive"
People-pleasing because they are anxious that others can see them in a negative way
Tendency to compare self to others
Having high expectations, so they feel as if they can't do enough to meet them.
What are the signs of high-functioning anxiety?
The signs and symptoms of high-functioning anxiety often closely align with symptoms of a generalized anxiety disorder (GAD). They are characterized by extreme worry and fear that can lead to such physical symptoms as sweating, increased heart rate, and sleep problems.
But often, outsiders can't see the physical or emotional symptoms of high-functioning anxiety when they are present because a person can function well in everyday life and be an overachiever, which is often a desirable trait in today's "productivity-obsessed" society. That's why most people who know them would be surprised to discover the truth about their anxiety issues.
Here are some common signs to look for if you think you or someone you know is experiencing it:
Irritability or anger because of perceived failures or setbacks
Frequent anticipatory anxiety before an event
Feeling worried and anxious even when things are going well
Displaying a false, cheerful disposition that masks pessimistic feelings
Racing thoughts or inability to turn off
Perfectionist traits or constant dissatisfaction with performance in different aspects of life
Constant fear of failure and an obsession with the judgment of others
High achieving, often going beyond what is expected
The need for control over the situation or decisions
Always wanting the best possible outcome
Difficulty saying no to unreasonable demands or requests
Nervous habits such as nail-biting, leg shaking, or hair pulling
What causes high-functioning anxiety?
The causes of high-functioning anxiety include many different biological and environmental factors, from family genetics to traumatic life events and experiences. Some people may have a strong biological predisposition to high-functioning anxiety from birth, and others can develop it because of their life experiences.
Here are some of the most common causes and risk factors of high-functioning anxiety:
Personality traits like shyness or nervousness in new situations
Family history of relatives who have anxiety disorders or other mental health conditions
Underlying medical conditions like thyroid or heart issues
Substance misuse (stimulants like caffeine, cocaine, or medications for ADHD)
High-stress jobs
How to treat high-functioning anxiety
While high-functioning anxiety may look easier to deal with, this is not the case. It still needs proper treatment because if it goes untreated, it can eventually start to take a toll on a person's mental and physical well-being.
It can get worse over time and increase the potential for developing other serious medical or mental health issues. So people who suffer from high-functioning anxiety should seek help and support from a medical or mental health professional if they feel it's affecting their interpersonal relationships, health, or life satisfaction.
Effective treatment options for anxiety disorders include psychotherapy (CBT, DBT, ACT), medications (antidepressants), and some alternative coping techniques like mindfulness and yoga. Many people with anxiety find that it's better to use a combination of treatments to manage their symptoms.
How to cope with high-functioning anxiety
High-functioning anxiety is uncomfortable and painful, but there are ways to keep it in check, addressing the symptoms before they have a chance to impact your functioning. If you recognize the impact of anxiety in your life, there are some strategies you can try to manage it. Try these tips to help yourself get better.
Explore your expectations
People who might be vulnerable to high-functioning anxiety are typically highly ambitious. They're driven to succeed and put a lot of pressure on themselves, often raising their bar of expectations to unattainable and unsustainable levels. The problem is that they set incredibly high standards for themselves – they would never expect from others many of the things they demand of themselves.

So you should take a moment to reflect and explore your values and perspectives to understand whether your way of living is consistent with the type of person you really want to be. Maybe you have taken on more obligations than any person can reasonably tackle on their own. The essential step is to drop the impossible expectations, which you may have subconsciously inherited from your parents and society, especially if they don't serve you any longer.
Think about how you can balance your personal and professional goals. Are there ways to do things differently and know that you're living a meaningful life? Slow down and make the most of your time to appreciate the small things that make your life full of value and contribute to your overall happiness.
Set smaller goals
It's critical to reduce your obsession with perfectionism and ambitious goals at work. Try to be realistic and honest with yourself about what you can achieve, without feeling overwhelmed. Break your big goals down into bite-sized pieces. After accomplishing each of them, you'll experience a feeling of achievement.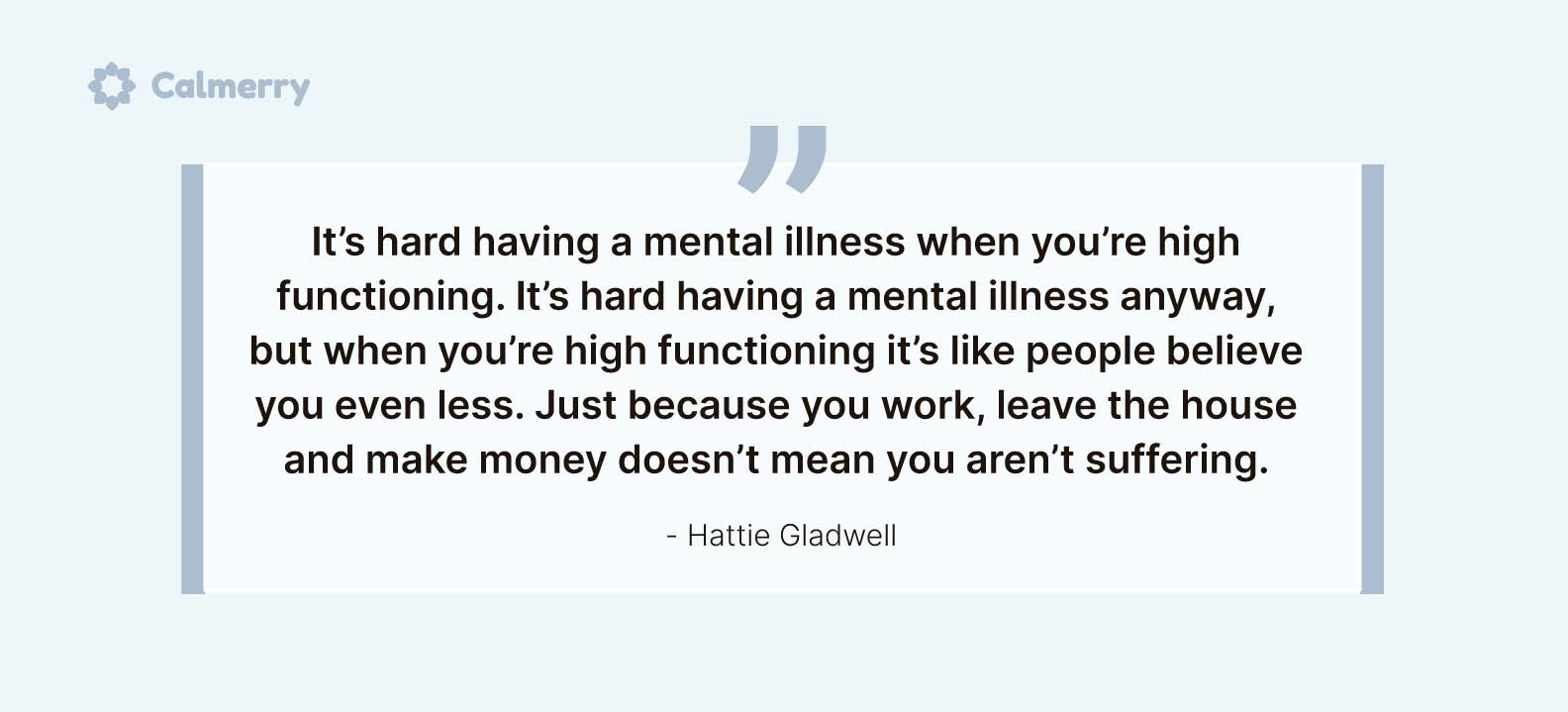 Embrace a healthy lifestyle
People with high-functioning anxiety can get so focused on success that their work-life balance suffers. You should focus more on self-care and create a daily routine that prioritizes your well-being. Eat a healthy, balanced diet, drink plenty of water, and limit your caffeine intake because it's known to increase anxiety symptoms.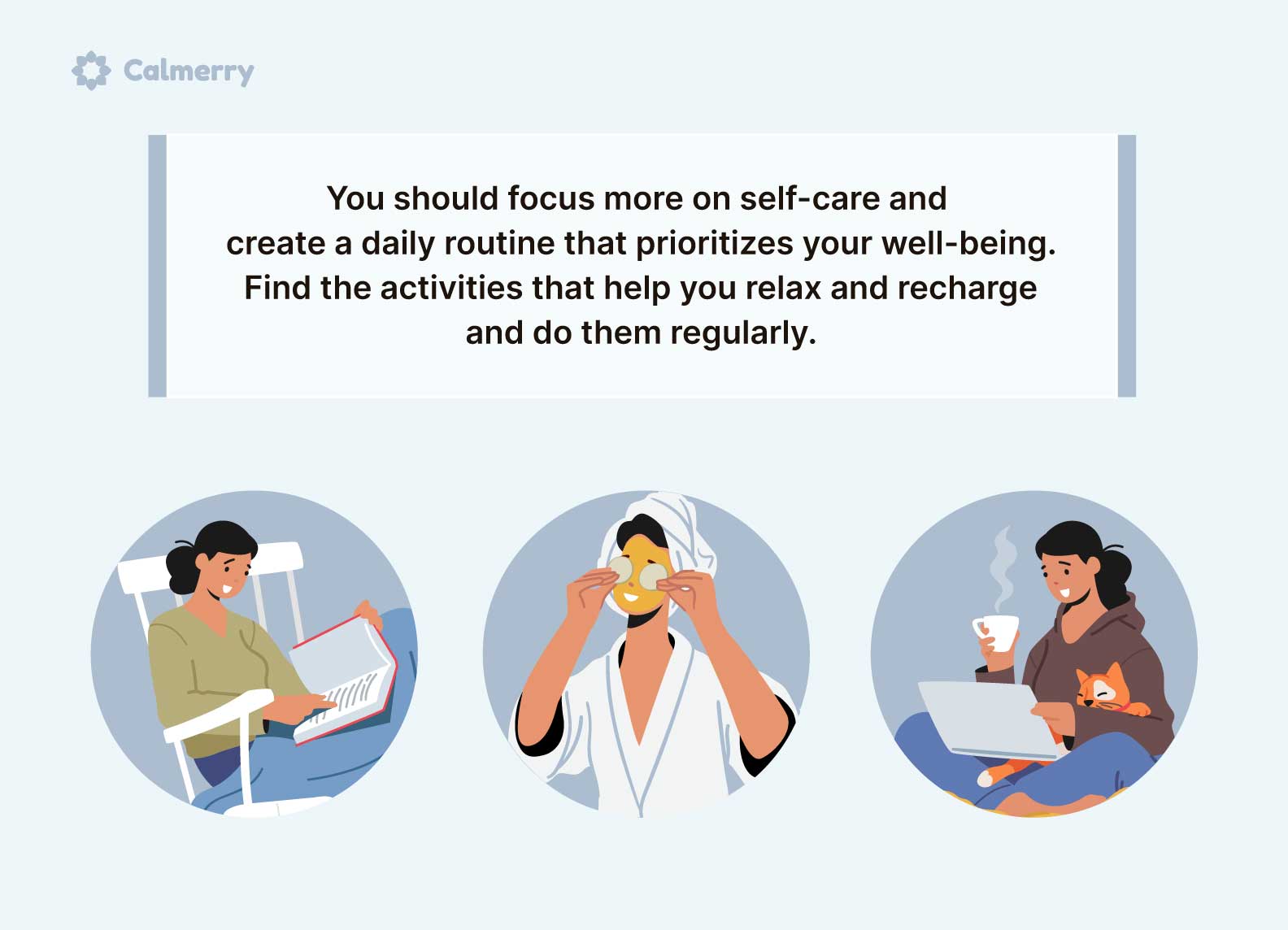 Engage in regular physical activity that stimulates the production of the brain's feeling-good hormones. Stick to a regular bedtime routine and get enough sleep. Try such healthy practices as yoga and meditation and spend time in nature. Find the activities that help you relax and recharge and do them regularly. These simple lifestyle changes can help you reduce anxious thoughts and find a calmer state of mind.
Question your thoughts
Anxiety only gets worse when it's resisted or denied, so you should acknowledge your anxious thoughts. Try to identify negative thought patterns when they occur and ask yourself why you are having these thoughts. Notice when you catastrophize, expecting the worst possible result and worrying about it.

Try countering negative thoughts when you notice them with something more realistic or helpful. For example, if you find you have such a thought as "I must never miss any deadlines," counter it with "I always meet deadlines, so if I miss this one, it won't be the end of the world."
Practice mindfulness
Anxiety is about the future – you worry about the hypothetical things that have not happened yet. So you can combat anxiety by bringing yourself to the present moment using mindfulness practices.
Mindfulness is a meditation technique that focuses on breathing, being focused on the present, and self-compassion. It helps reduce stress and address the symptoms of anxiety, especially worry, rumination, and restlessness. Mindfulness works well for managing aspects of life that can contribute to feelings of anxiety.
Subscribe
to our mental health digest
Let us support you on the way to better mental well-being. Get expert tips and insights on mental health delivered to your inbox monthly.
Summary
High-functioning anxiety isn't recognized as a specific condition by medical and mental health professionals. But it's a form of anxiety that exists on a spectrum. Although high-functioning anxiety can look and feel different, it may be just as disruptive and challenging to deal with as other types of anxiety.
If left untreated, anxiety can lead to other physical and mental health concerns, including depression, so you should definitely seek professional help if you feel you can't control it. Calmerry therapists use effective evidence-based approaches and can help you overcome anxiety and improve your quality of life.
Сheck your mental well-being for free: