Published April 10, 2023 / Updated June 19, 2023
Caregiver Burnout: Symptoms, Prevention, and More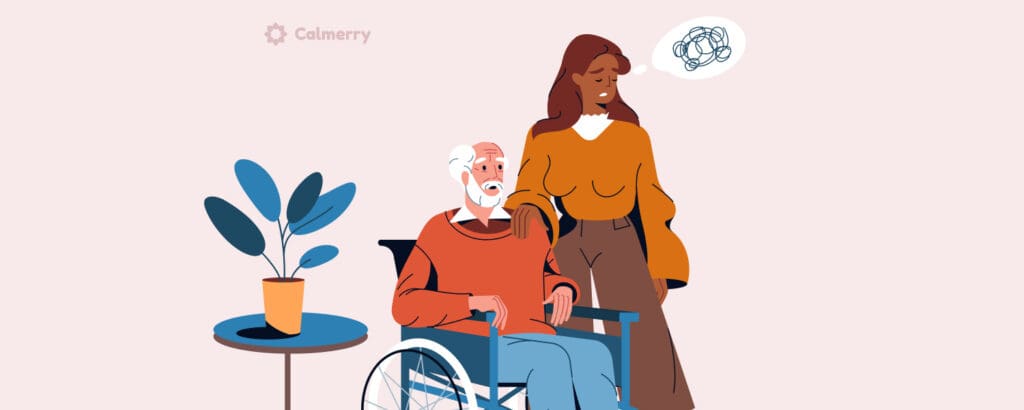 Reading Time:
5
minutes
According to a 2020 report by the National Alliance for Caregiving and AARP, nearly 1 in 5 Americans – about 53 million people, up from an estimated 43.5 million in 2015, provide unpaid care to adults with health or functional needs. While caring for a loved one can be very rewarding, it also involves many stressors and strains even the most resilient people.
In addition to caregiving responsibilities in providing help to an ill spouse or partner, a disabled child, or caring for a parent with dementia at home, informal caregivers might also deal with financial strain, changes in family dynamics, and general disruption in family life. Moreover, 61% of family caregivers are also working.
And since caregiving is a long-term challenge, it results in chronic stress that, if unchecked, can lead to caregiver burnout that would negatively affect the caregiver's ability to provide good care and potentially place their health at risk.
What is caregiver burnout?
Caregiver burnout or caregiver fatigue is a state of physical, emotional, and mental exhaustion brought about by unrelieved stress and the burden of caring for a loved one with a serious chronic illness or disability, or an elderly family member. It may be accompanied by a change in attitude to the person they look after, from positive and caring to negative and unconcerned.
Burnout occurs when unpaid family caregivers take on too many mentally and physically demanding tasks, try to do more than they are able financially, or don't get the help they need. Informal caregivers with burnout may feel alone, unsupported, or unappreciated. They may experience stress, fatigue, anxiety, and depression. Many caregivers might even feel guilty when they set aside time for themselves.
Symptoms of caregiver stress and burnout
As a caregiver, you are under a lot of stress, which can lead to health problems. But you may be so focused on giving and on providing support to others that you don't take time to take care of yourself and don't realize that your own health and well-being are suffering.
That's why it's important to learn to recognize the signs of caregiver stress and burnout. Then you can take immediate action to prevent things from becoming worse. Here are the warning signs to watch for:
Lack of energy and overwhelming fatigue
Losing interest in activities you used to enjoy
Withdrawal from friends, family, and other loved ones
Feeling sad, irritable, hopeless, and helpless
Feeling constantly anxious or overwhelmed
Neglecting your own needs and health
Feeling you're losing control of your life
Changes in eating habits: gaining or losing weight
Sleeping too much or not enough
Feeling impatient or resentful with the person you care for
Having frequent headaches, bodily pain, or other physical problems
Using alcohol or sleep medications too much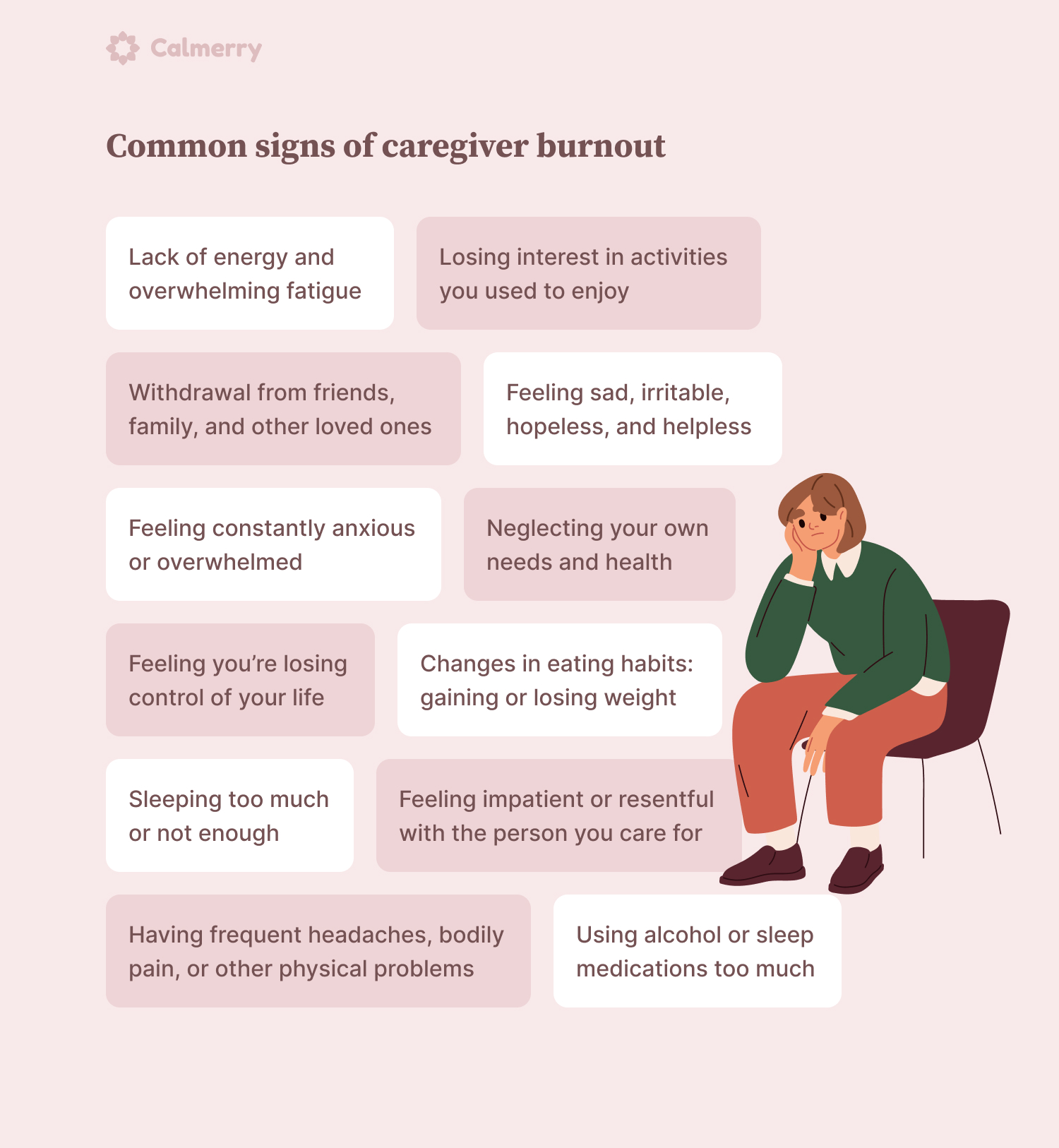 What causes caregiver burnout?
Being a caregiver is hard, and they are often so busy caring for others that they tend to neglect themselves and ignore symptoms of stress-related problems. They don't take a break to reduce stress, which leads to overwhelming emotions, fatigue, hopelessness, and ultimately burnout.
Other things that make caregiver stress worse and can lead to burnout include:
Role confusion. It can be hard to separate your roles as a caregiver from your roles as a spouse, a friend, or a child.
Lack of control. You can feel frustrated that you lack the resources and skills to plan, manage, and organize your loved one's care effectively.
Unrealistic expectations. You may expect that your care can have a positive impact on the health and happiness of your loved one. But this may be unrealistic for people suffering from a progressive disease, for example, Alzheimer's.
Unreasonable demands. You may see providing care for your family member as your exclusive responsibility and take on too much.
Although anyone can experience caregiver burnout, some unpaid caregivers may be more vulnerable to it because of added external pressures, including
Those who care for an elderly family member with dementia
Those who care for a spouse
Caregivers who experience financial stress
So-called sandwich generation caregivers who have to juggle caring for an aging adult with raising a child.
How to prevent caregiver burnout
Caregiving for an ill, disabled, or elderly family member is a demanding job and is never stress-free. That's why self-care for caregivers is critical. You need to care for your own well-being, or you won't be able to care for anyone else properly. Here are some tips that can help you manage stress, find more balance in your life, and prevent caregiver burnout.
Ask for and accept help from others
Remember that you don't have to do everything. So make a list of your daily caregiving tasks and see if you can delegate any of them. Turn to others for help and try to get as many family members involved as possible. Use day care or respite care so you can take time for yourself.
Join a caregiver support group
It's a great way to stay socially connected and find people who are going through similar experiences each day and understand what you may be going through. You'll be able to share your troubles, discuss your feelings, and give support and encouragement to others.
Give yourself a break
Give yourself permission to regularly take time off, even if it's just an hour or two, to de-stress and do things that you enjoy. After a break, you'll feel more energetic and focused, and you will be able to accomplish more and make up for your relaxation time. Spend your time off to go to a movie, visit a friend, work in the garden, listen to music, or do something else that brings you enjoyment.
Take care of your own health
Get regular medical and dental checkups. Remember that you need to be healthy to take good care of your loved one. Eat a healthy diet, drink enough water, get enough sleep, and try to get some exercise every day, even if it's just a short walk around the neighborhood. Exercising is a great way to enhance your mood and boost your energy level.
Practice relaxation techniques
Practice them every day to relieve stress and improve your well-being. You may try yoga, tai chi, deep breathing exercises, progressive muscle relaxation, or mindfulness meditation. These mind-body practices help build physical health and deepen the awareness and connection between the mind and body. Regular mindfulness practice, even if it's only a few minutes in the middle of an overwhelming day, can help reduce anxiety and improve your mood.
Wrapping up
Caregiver burnout rarely comes suddenly – it results from the chronic stress built up over months and even years and can have a negative impact on your physical and mental health. It's important to be aware of the warning signs of burnout so you can recognize them and take steps to improve the situation.
Small changes in your lifestyle can make a positive difference. Pay attention to your own needs, make your health a higher priority, and ask others for help when you need it. Take short breaks, make time for hobbies that bring you happiness, try mindfulness, yoga, or other relaxation techniques, eat well, stay active, and get quality sleep.
Talk to a therapist or counselor if needed, and if it's hard for you to find enough time for traditional therapy sessions, consider online therapy. Calmerry therapists can help you process your emotions and cope with the stresses of caregiving.
Сheck your mental well-being for free: