Published September 28, 2022 / Updated June 19, 2023
6 Science-Backed Secrets for Healthy Aging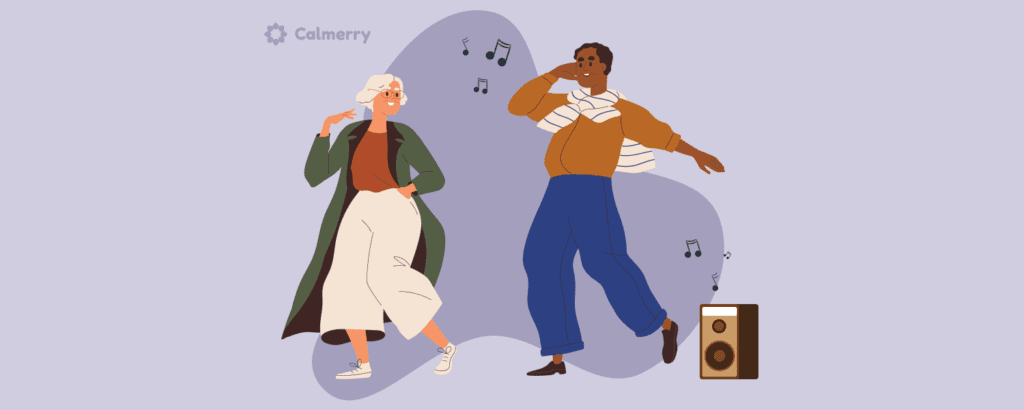 Reading Time:
5
minutes
Society has a tendency to talk about aging as if it's a negative experience. This may lead you to dread making the transition from middle to late adulthood. Perhaps you worry that you won't be able to enjoy life anymore, or maybe you imagine spending the last half of life feeling isolated from others.
The truth is that you do not have to buy into the stigma surrounding older adulthood. In fact, with some tips for aging gracefully, you can enjoy mental, physical, and spiritual well-being well into later adulthood.
What does aging gracefully mean?
Much of the writing and research on healthy aging mentions the concept of aging gracefully. When we think of graceful aging, we probably imagine maintaining a youthful appearance, but what scientists have found is that older adults actually value remaining healthy and physically capable over maintaining a youthful appearance.
Given this fact, it can be beneficial to think of aging gracefully as taking steps to maintain health and functioning in older adulthood. The tips below can be helpful for staying physically and mentally healthy throughout the aging process.

Subscribe
to our mental health digest
Let us support you on the way to better mental well-being. Get expert tips and insights on mental health delivered to your inbox monthly.
6 healthy aging tips
If you want to maintain physical and mental health as you age, consider the strategies below. They're all science-backed, and they can help you to stay engaged, happy, and strong during the older adult years. Incorporating these strategies doesn't have to be difficult, and you may even enjoy adding some of these healthy habits to your life.
Take up an exercise routine
Most of us know that physical activity is important, but it can be especially helpful for healthy aging. A review of 48 different studies, published in the journal Neurobiology of Aging found that exercise improves both physical and cognitive functioning in older adults. The effects of physical activity are so strong that the authors of the review referred to exercise as being a "panacea for aging well."
Maintaining your physical fitness in later adulthood doesn't have to be challenging, and you can pick something that works for you. Perhaps exercise means a nightly walk after dinner, or you might prefer to participate in a group exercise class, such as cycling or tai chi.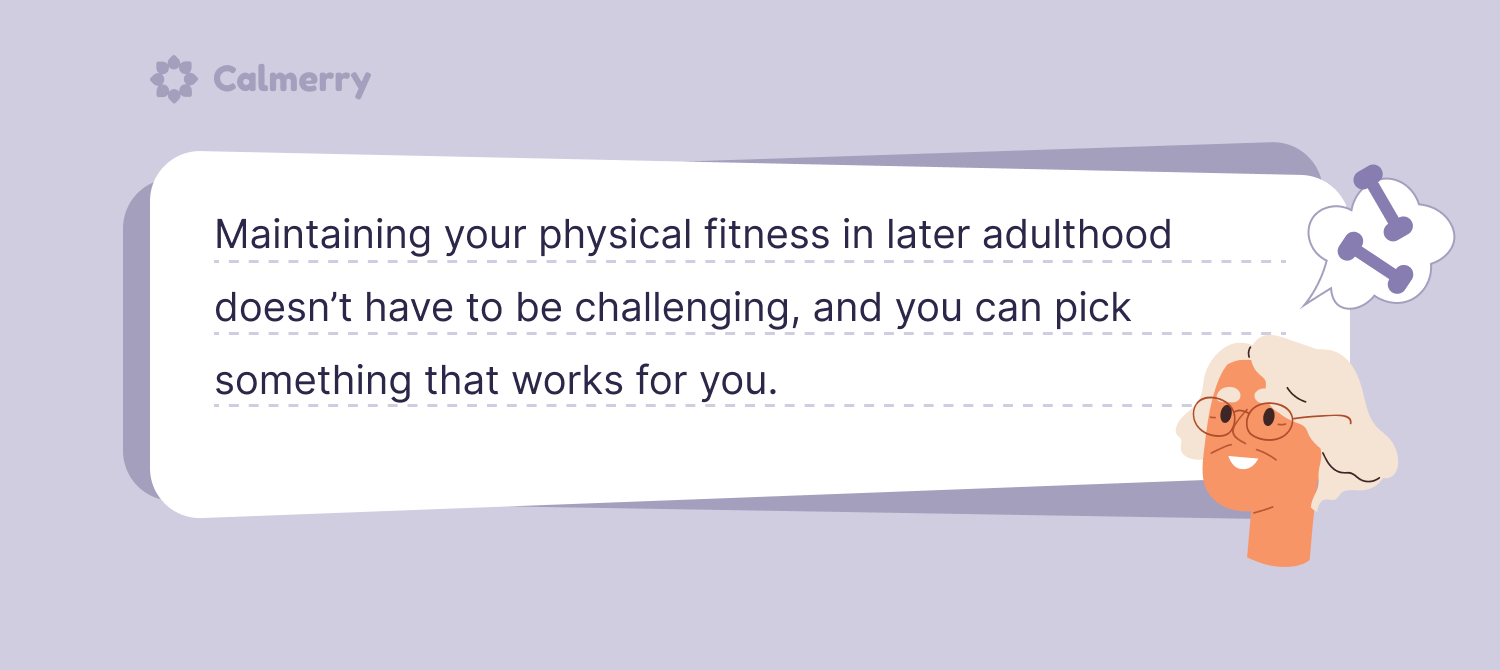 Whatever you choose, there are options that are suitable for various interests and ability levels. It's not so much what you do, but rather that you find a way to stay active.
Keep a gratitude journal
Healthy aging doesn't mean that life will be perfect or that it will be exactly like it was in the younger years. You may experience challenges, or changes to your health and functioning, as you age. Rather than focusing on losses or negative changes, take time to practice gratitude, and you'll likely notice the benefits.
A recent study in the Journal of Happiness Studies found that keeping a gratitude journal increased the well-being for older adults. Take a few moments each day to write about things you're thankful for, whether it's time with your adult children, an enjoyable weekend getaway, or something simple like quiet time on the back porch. Recognizing the blessings in life can give you a more optimistic outlook, as well as the strength to tackle any challenges that come your way.
The benefits of optimism are so strong that they can even help you to live a longer life. Older adults who have an optimistic disposition have been found to be at a lower risk of dying from any cause, but they have an especially reduced risk of dying from heart disease.
Creating a more optimistic outlook through gratitude journaling can protect both your physical and mental well-being as you age.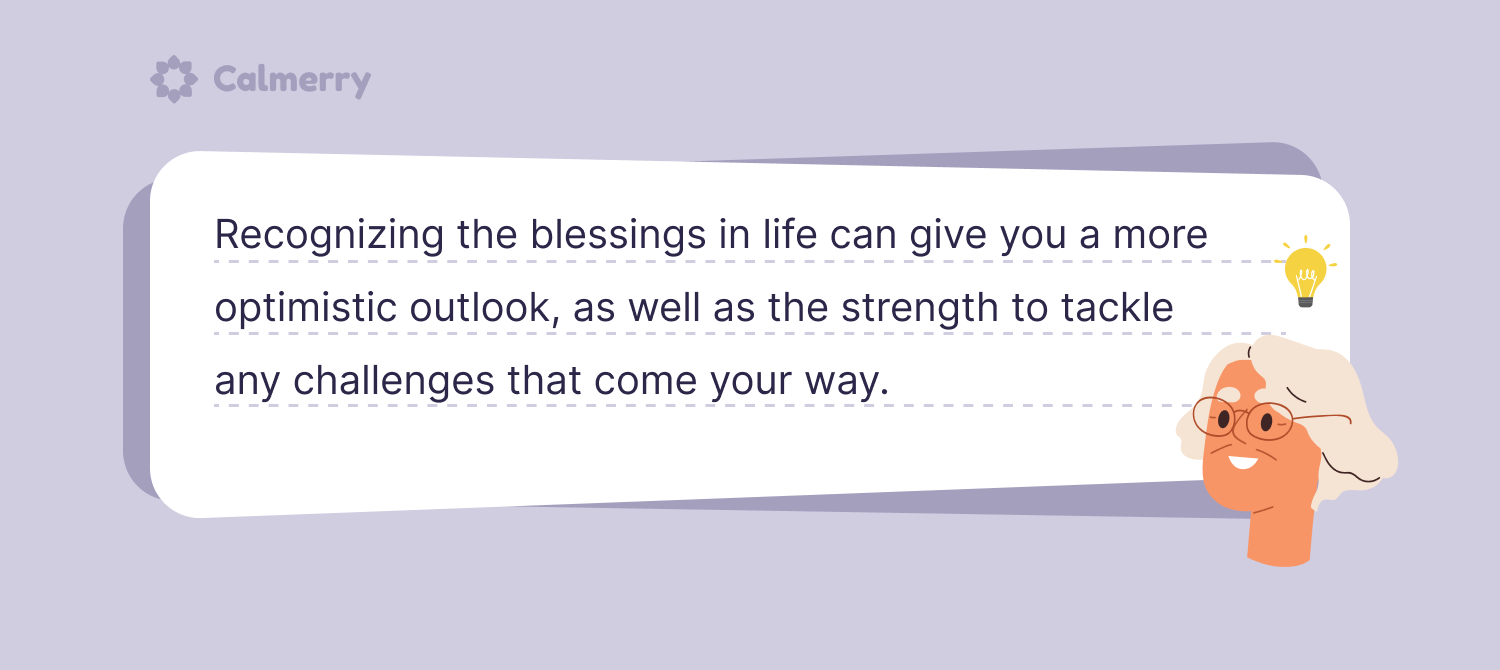 Nurture your important relationships
Social connection is one of the key ingredients for learning how to age well. In fact, studies show that staying socially engaged plays an important role in maintaining cognitive functioning during the aging process. It helps to maintain an area of the brain called the hippocampus, which is responsible for memory.
Socializing can also ward off problems like loneliness, which can contribute to depression and poor mental health.
Given the relationship between socializing and brain functioning, it's beneficial to stay engaged with friends and family. Be intentional about planning get-togethers, attending family functions, and participating in activities that allow you to connect with others.
Staying invested in hobbies, such as sports, baking, or outdoor activities, can provide additional opportunities for social connection and the benefits that come along with it.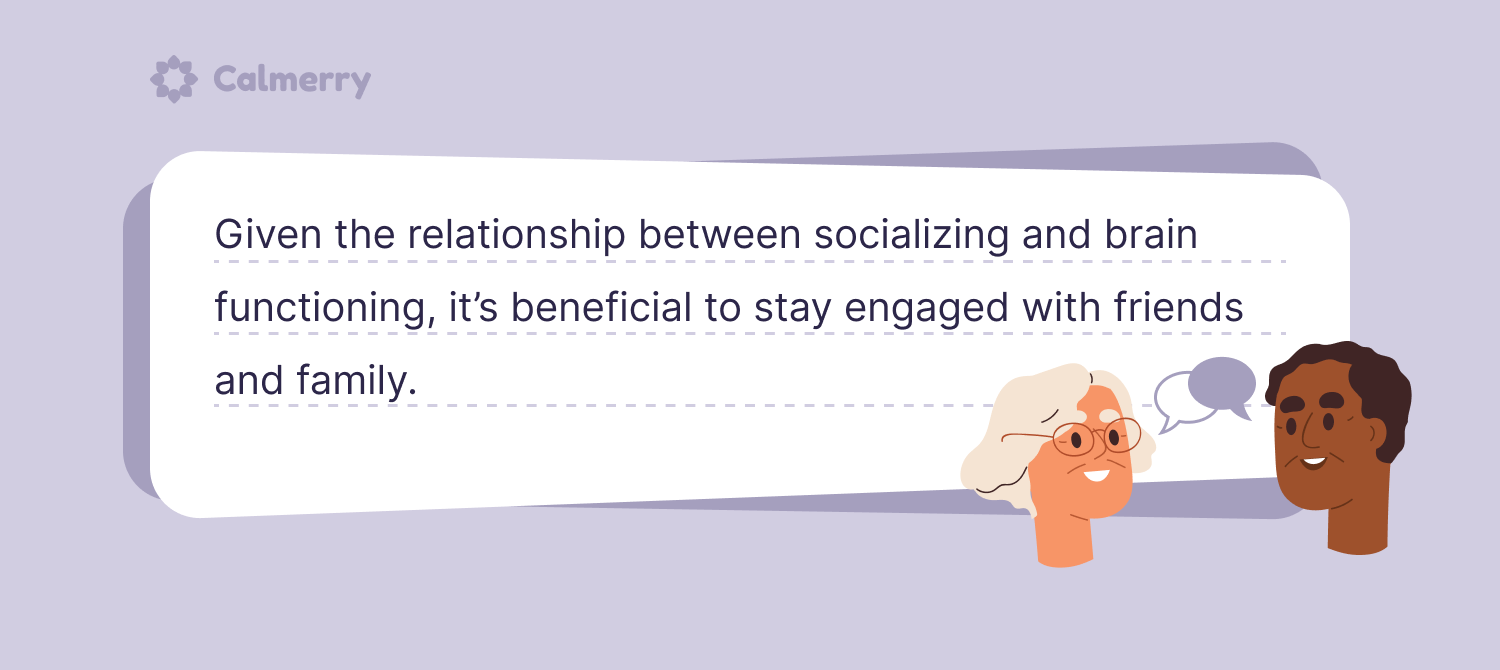 Practice mindfulness
Mindfulness teaches us to live in the present moment, letting our thoughts come and go without judging them, and it is beneficial for stress reduction. It can also play a role in healthy aging. Some research suggests that mindfulness can be useful for slowing cognitive decline as we age, and as little as 10 minutes, five times a week, of practicing a mindfulness intervention can make a difference.
There are various different ways to practice mindfulness, including meditation, yoga, and deep breathing exercises. Attending a yoga class can teach you the basic concepts of mindfulness. You may also benefit from online videos that teach meditation or deep breathing to help you become more mindful.
Find leisure activities that you enjoy
Making the transition from middle age to later adulthood can mean retirement and stepping away from paid work. For some people, these transitions can lead to the loss of a sense of purpose, which can negatively affect mental health and well-being. On the other hand, staying involved in leisure activities can help with healthy aging.
One study found that individuals who were retired experienced a decline in sense of purpose, but those who stayed engaged in activities did not experience as much of a decline.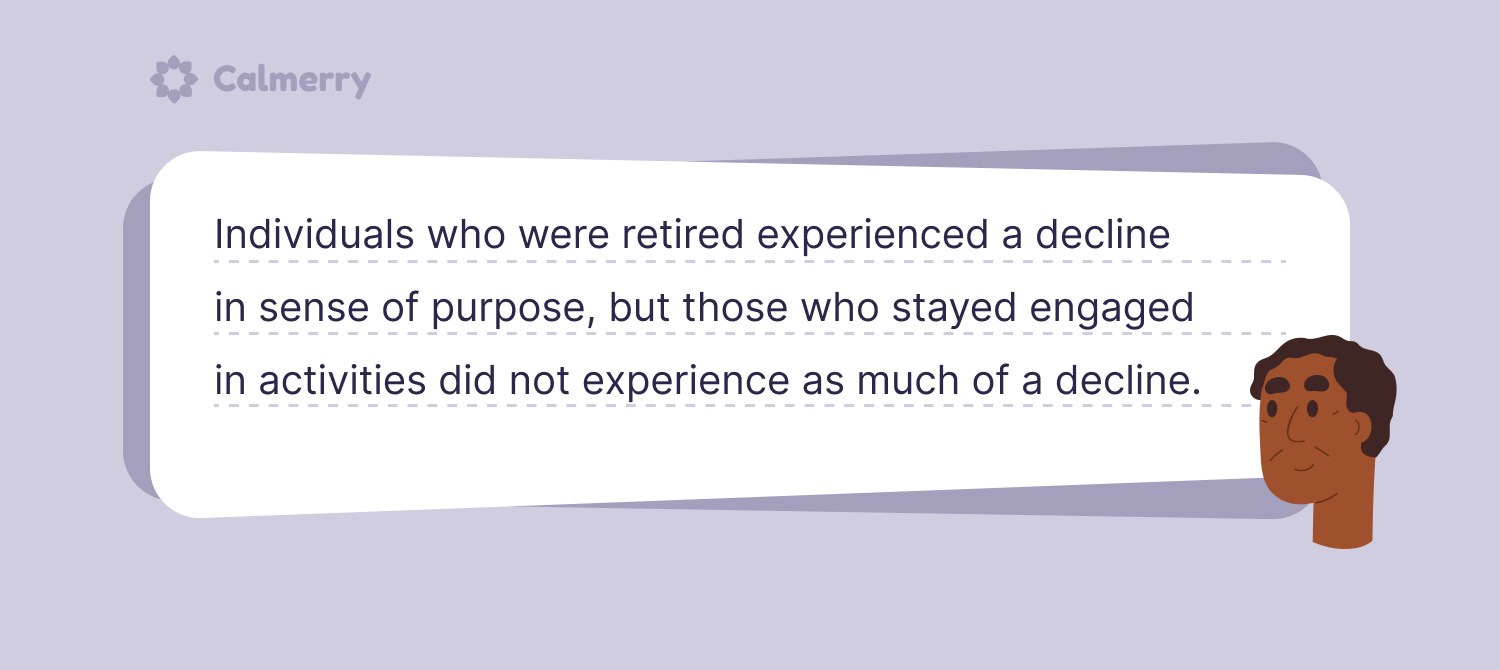 Participating in enjoyable leisure time activities, such as sports, hiking, arts and crafts, volunteer work, outdoor exploration, gardening, and caring for pets can restore the sense of meaning that is lost when one steps away from a job to enter retirement.
Prioritize a healthy lifestyle
Healthy lifestyle habits are important at any age, but they become even more critical during middle and older adulthood as the risk of chronic disease increases.
One recent study evaluated the relationship between healthy lifestyle habits and healthy aging, which was defined as the absence of chronic disease and debilitating pain, combined with independence, good physical and cognitive functioning, lack of depression, and perception of good health.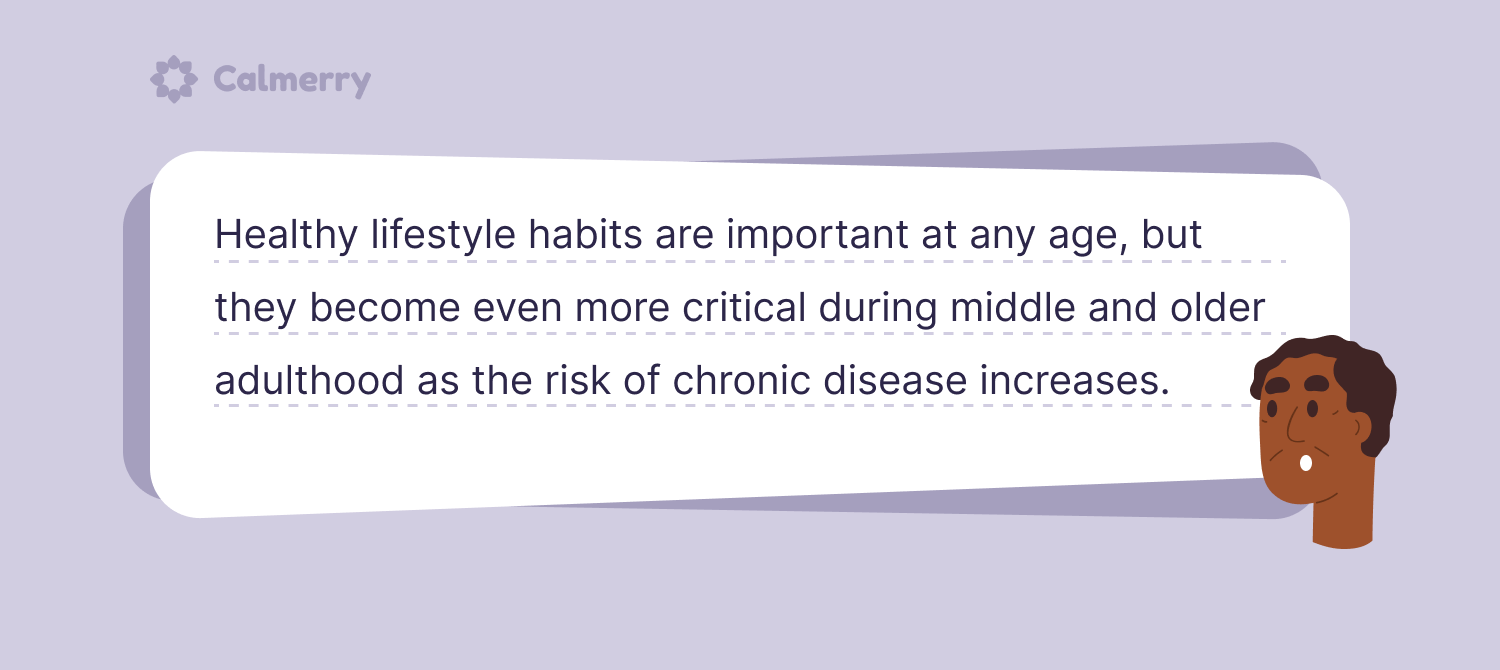 Study results found that healthy lifestyle factors like a nutritious diet, regular exercise, and abstaining from smoking were linked to a higher likelihood of healthy aging. If you have questions about diet, exercise, and other methods related to a healthy lifestyle, it's important to talk with your doctor.

Seeking additional support
Many people find that making an intentional effort to practice healthy lifestyle habits and stay socially connected are beneficial strategies for healthy aging. Still, some people may determine that they need additional support beyond the healthy aging tips discussed herein.
If you're experiencing difficulties coping with the aging process, managing symptoms of a chronic illness, or living with symptoms of depression, talking with a counselor can help. At Calmerry, we offer 100% virtual counseling, so you can receive support from home.
Сheck your mental well-being for free: