Published March 3, 2023 / Updated April 28, 2023
That Joie de Vivre: Why Do We Get Happier as We Age?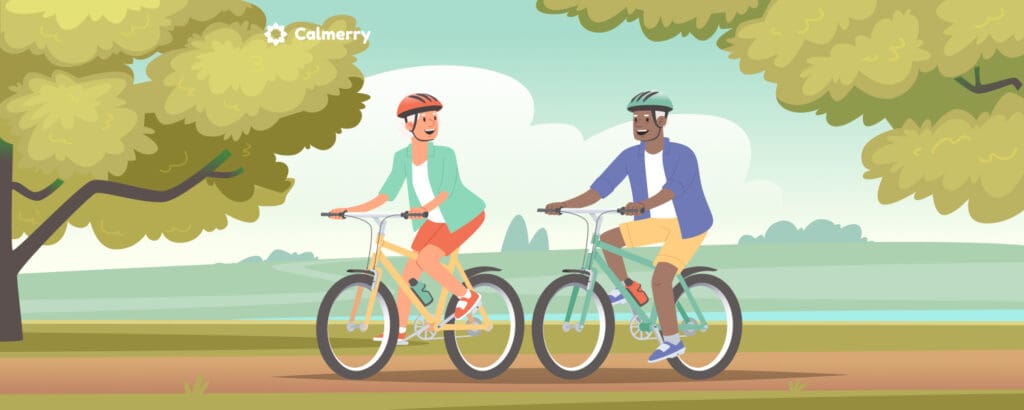 Reading Time:
7
minutes
Have you ever noticed that older adults just seem to have a kind of positivity and certain joie de vivre? They just seem to take life in stride and find joy in the simplest things. Simply put, they just seem happy – really happy. And in a lot of ways, they are. In fact, happiness and aging seem to go hand-in-hand for a lot of people and for reasons that might surprise you.
Is there a secret to happy aging?
It might seem counterintuitive, but there is a connection between happiness and aging. Our world is very much dominated by a "youth culture" that places a lot of value on being young and vibrant.
Your youth is a time of tremendous growth and activity. When you're young, you have your whole life ahead of you, as they say. As we age, some of that vibrancy of youth fades, the body begins to show some wear, and life changes. It wouldn't be far-fetched to think that happiness would fade, right?
In fact, happiness seems to actually increase with aging for a lot of people. While aging brings some challenges, it also brings a unique perspective and unexpected benefits that actually encourage happiness. Is there a secret to happy aging? So what can we learn from older adults and embracing happiness?
This thing called happiness
If you look up "happiness" in the dictionary, you'll find it defined as "the quality or state of being happy" or something similar. But just what does it mean to be happy? Happiness is one of those things that, like beauty, is a uniquely individual experience, so defining it isn't simple.
We sometimes use words like joy or contentment to describe the feeling of happiness, but it's more than that. In a broader sense, happiness is defined more in terms of a subjective well-being, a concept that is used in positive psychology to describe happiness.
Sonja Lyubomirsky, an expert in happiness research, describes happiness as "the experience of joy, contentment, or positive well-being, combined with a sense that one's life is good, meaningful, and worthwhile." Happiness is even influenced by one's social and cultural experiences, and even the people around you. And it goes up and down.
Why older people stay happier: What does research show?
The abundance of happy old people hasn't gone unnoticed by researchers who study human behavior. And it's not a new phenomenon. Why older people stay happier is an area that has been studied since at least the early 70s. What they've found is that happiness is not just for the young, nor is it a linear process. In fact, happiness tends to follow a U-shape rather than a straight line and goes something like this.
People tend to be pretty happy through their 20s. From there, happiness seems to take a significant dip and reaches its lowest point in the late 30s and into the 40s. Around age 50 or so, happiness starts to climb again.
This U-of happiness seems to follow a pattern related to the experiences we have at each stage of life.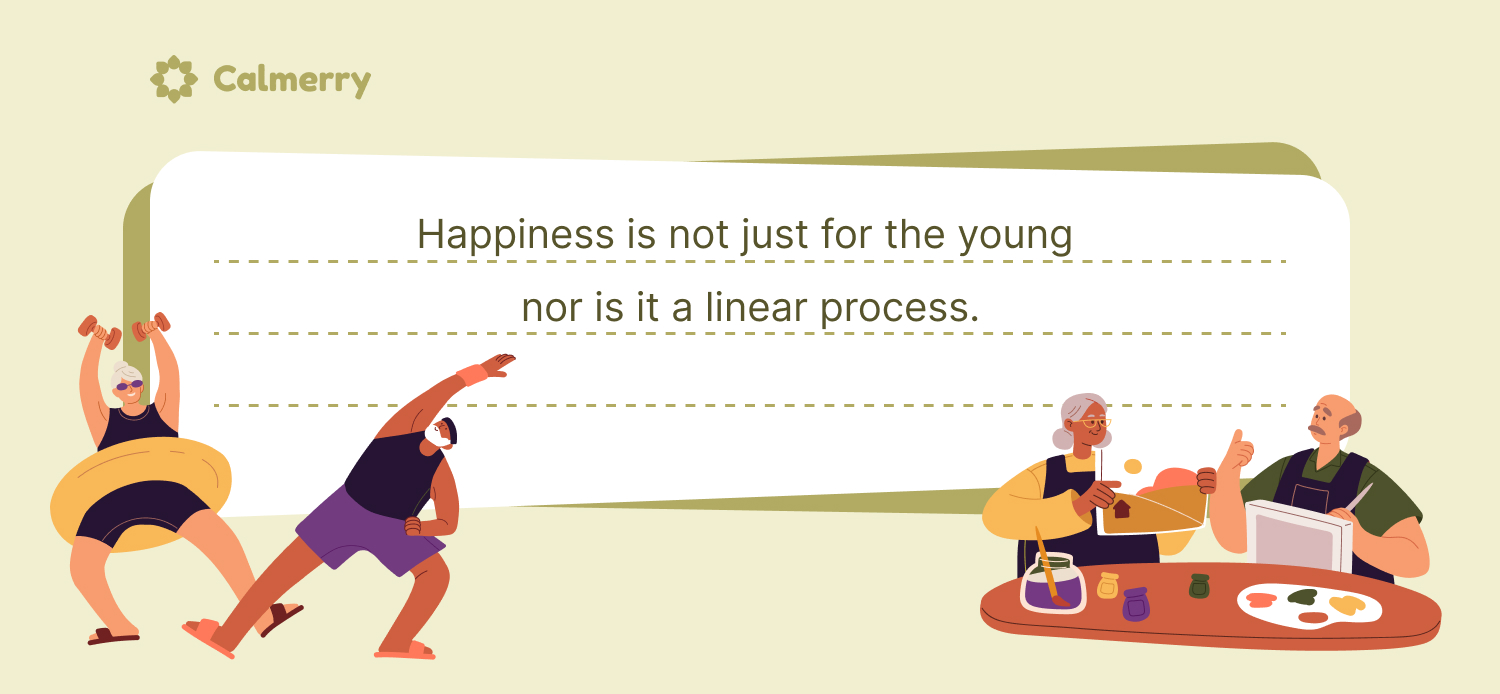 In our 20s and 30s, you're living life and building a life. Emotions run high, and you're all in. Lots of positive things are happening – jobs, relationships, love, maybe marriage and children. While hectic, these tend to be happy times. As you get deeper into your 30s, your time becomes focused on those priorities and how to manage it all. There's a lot of pressure to make money to maintain the lifestyle. You may find your social circle dwindling. It's all about work and family now. The future seems so far away.
Midlife brings a lot of things into focus. It's a time of coming to terms with what was not accomplished and becoming aware of time moving too quickly. Big changes tend to occur during this time – breakups, empty nests, career peaks or changes. Midlife tends to be a time when traumatic events and stress really show up, maybe for the first time, and we often aren't prepared. This is a transitional time when people begin to take inventory and begin to think about what the future holds.
Not surprisingly, people in their 30s and 40s tend to seek out professional and self-help resources more than other age groups. They are at higher risk of developing mood disorders and use of antidepressants. Ironically, the very things that they're doing in the quest for happiness may actually contribute to their unhappiness.
In our 50's or so, the U starts its gradual rise, and happiness increases. The pressures of life are easing. Careers are winding down. Kids have probably struck out on their own. Many people begin downsizing during this time and embracing a "less is more" lifestyle.
Life experience has brought confidence and a serenity that we weren't able to embrace earlier in life. There's an increasing acceptance of what is. The reality of death and dying becomes more relevant. Finding meaning and happiness in old age becomes a priority. There is now time to stop and smell the roses, to make new friends, and have some adventures. Enjoying life becomes the focus.
Why older people manage to stay happier: What's their secret?
If aging brings happiness, there must be a secret!
Why older people manage to stay happier seems to be rooted in their experiences but also in their outlook on life. Think about an older person you know. Chances are, they've shared a few nuggets of wisdom with you over the years. How do they know these things? They've lived it.
Mature adults have the benefit of experience, and that wisdom helps them to see the bigger picture in a way youthful adults can't yet. It's simply a matter of time and lived experience. Their decisions and wisdom are grounded in experience that has given them skills to cope. Older and wiser, as they say.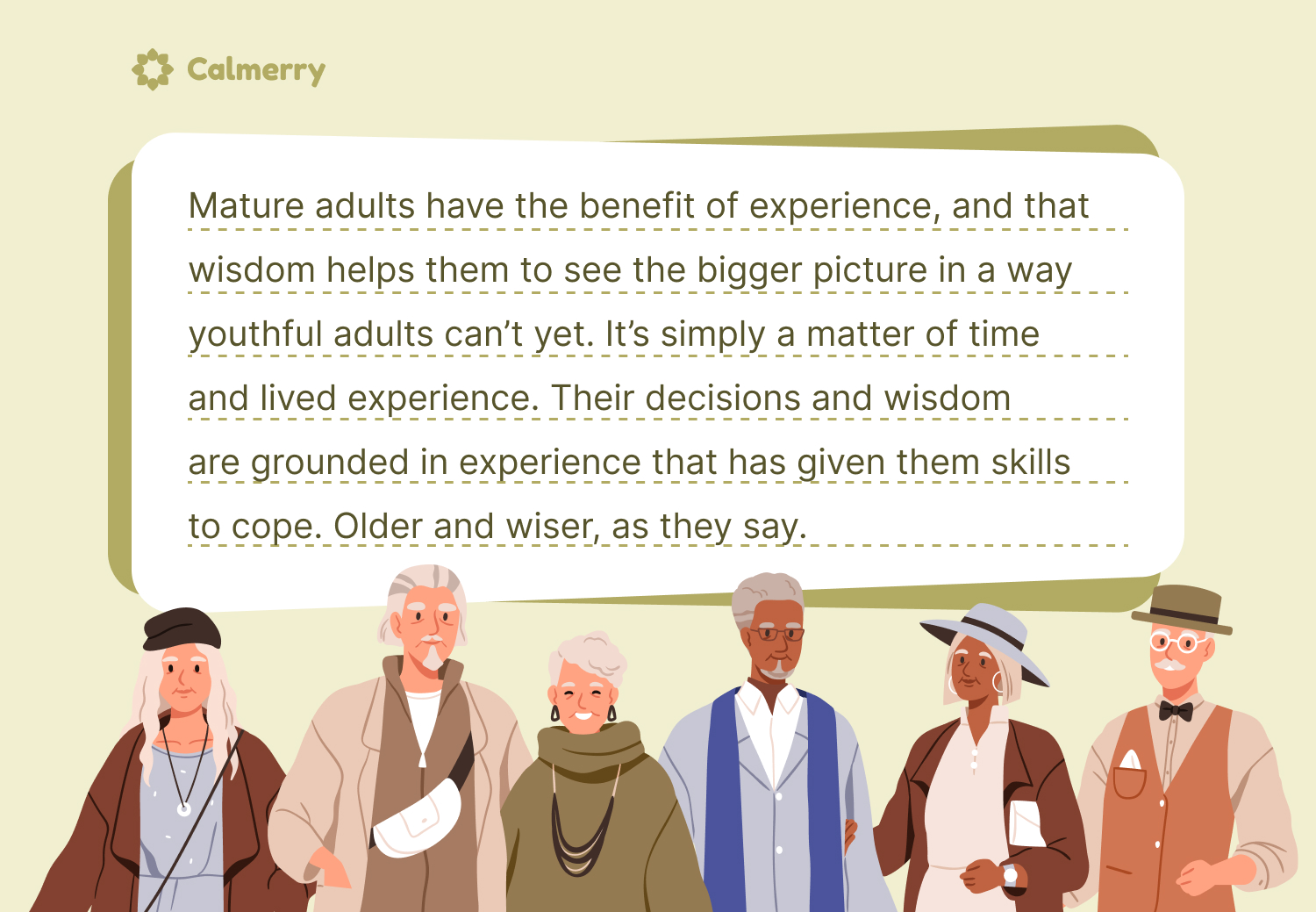 That sentiment of youth, "You have your whole life ahead of you", ironically, is also a key driver in the happiness of older adults. Aging brings clarity to the idea that our time here is limited. As we age, we tend to focus more on the positive and less on the negative. Older adults seem to embrace this notion, and spending time doing things that bring joy takes on a new significance.
The secret to aging well is, simply put, to live your life in healthy ways that bring you happiness and joy. Doing things that are empowering and boost self-esteem, and research suggests that maintaining a positive sense of self-worth can help minimize some of the negative effects of aging.
7 Secrets to finding happiness as you age
There are plenty of things that we can do to stay happy and healthy at any age. Here are some tips for finding your joie de vivre:
Life on your terms
You've probably heard the phrase, age is just a number. And in many ways, it is. You don't have to abide by some arbitrary notion of happiness being reserved for youth. You can go and do what your heart desires.
Find your purpose
With aging comes a change in priorities and perspectives. As you enter the later years, you may find yourself becoming more mindful of your place in the world and seeking purpose. Finding purpose in life is an important way to bring new meaning to your experience and grow as a person.
Surround yourself with positivity
Positive thinking is a powerful ingredient for happiness, and science says that older adults seem to have their own ways of encouraging happiness.
Brain imaging studies have found that older adults tend to turn their gazes toward happy images and away from sad or negative ones. They tend to make choices that encourage happiness and engage in more positive thinking. Surrounding yourself with happy and positive images and experiences can boost happiness.
The GLAD technique is an acronym for four ways of finding joy and balance by paying attention to certain positive aspects of life, especially those that frequently go unnoticed.

Download this free worksheet and use it as journaling prompts 👉🏽 The GLAD Technique – worksheet. Practicing the GLAD technique daily or at least 3 times a week can help you develop and more positive mindset and increase happiness.
Get connected
One of the things we know about healthy aging is that people who have healthy social connections and regularly socialize with others tend to be both happier and healthier. People with social connections tend to live longer, experience less depression, and are better able to cope with challenging issues. This connection can be especially important for people who find themselves without a romantic partner. While you may not meet someone new, you will have a circle of friends for support.
Maintain healthy habits
Aging naturally brings changes and sometimes, health challenges. Taking care of your health means that you can stay active as long as possible.
Here are some tips from the National Institute on Aging (NIA):
See your healthcare providers regularly.
Exercise regularly at a level that's right for you. According to the NIA, regular physical activity can help reduce stress and anxiety, improve balance and lower the risk of falling, improve sleep quality, enhance feelings of well-being, and may increase longevity.
Maintain a well-balanced diet.
Get good quality sleep.
Take care of your brain
Taking care of your brain means doing things that keep your cognitive functioning sharp and agile. According to the NIA, physical health is an important part of brain health and may help to reduce the risk of Alzheimer's disease.
Engaging in activities might help with brain health. And although the research isn't definitive, there does seem to be support for keeping the mind active.
A fun way to help keep your brain healthy is to keep your mind active. Look for activities that engage your brain and require you to think about things in different ways or do something in a new way. Read a book. Play brain games or brain teasers. Learn a new skill or hobby. Whatever you choose, choose something that's fun and interesting to you.
Subscribe
to our mental health digest
Let us support you on the way to better mental well-being. Get expert tips and insights on mental health delivered to your inbox monthly.
Have some fun
The idea of fun might seem out of place at first, especially for older people who have spent their lives caring for others, and might come with a twinge of guilt or shame. Learning how to enjoy life might even be a new experience and a little intimidating. It can also be an adventure!
They say variety is the spice of life, and why not now? Try something you've always wanted to do. Take that trip. Reconnect with old friends or create new friendships.
What's next in your journey?
Today, maybe more than any time in history, getting older doesn't have to mean that you have to sit on the sidelines. It's easier than ever to go and do whatever it is that calls you.
Still, getting older is not always easy and brings challenges you didn't expect. If you find yourself struggling with aging, or preparing for the next season of your life, counseling can help. A trained counselor can help you sort through the issues and help you find the solutions that are right for you.
With the rise in access to therapy via online resources, help is more accessible than ever before. Online therapy allows you to access care when and how it makes sense for you. And online therapy has been shown to be as effective as traditional in-person counseling. When you feel ready, there is hope, and there is help.
Сheck your mental well-being for free: