Published December 2, 2022 / Updated June 19, 2023
Breaking Generational Cycles: How to End Family Trauma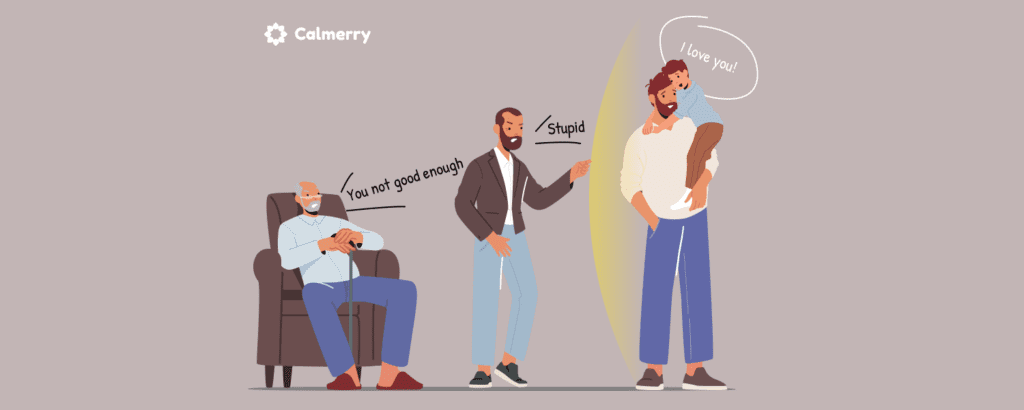 Reading Time:
7
minutes
As mental health experts and policymakers put forth a continued effort to help the public understand the importance of psychological health, you've probably heard of the concept of trauma-informed care.
This way of thinking acknowledges the fact that we must consider a person's life experiences, and their exposure to trauma, to understand how to treat them, engage with them, and communicate with them in a variety of settings, including in the realm of healthcare, workplaces, and schools, while recognizing the importance of talking with someone who may have experienced trauma.
When we imagine trauma-informed care, we often think of trauma symptoms that come from some sort of abuse or adverse childhood experience that happens to an individual person. While it is certainly possible for just one person within a family to experience abuse and the trauma that arises from it, in many instances, family trauma becomes a cycle that is repeated in multiple generations.
In this case, it is often referred to as generational trauma. If no one ever steps forward to break the cycle, generational trauma can continue indefinitely.
Fortunately, there are methods for breaking generational cycles to create a healthier family dynamic for future generations.
What is generational trauma?
Before learning how to correct unhealthy family patterns, it's helpful to understand what generational trauma is. This concept is also referred to as transgenerational trauma, because it describes trauma symptoms that are passed from one generation to the other.
Psychology research has shown that children whose parents have a history of trauma are more likely to experience post-traumatic symptoms, depression, anxiety, hyperactive behavior, and conduct problems.
This fact suggests that intergenerational trauma is a legitimate concern within families, because parents can transmit their own symptoms to children.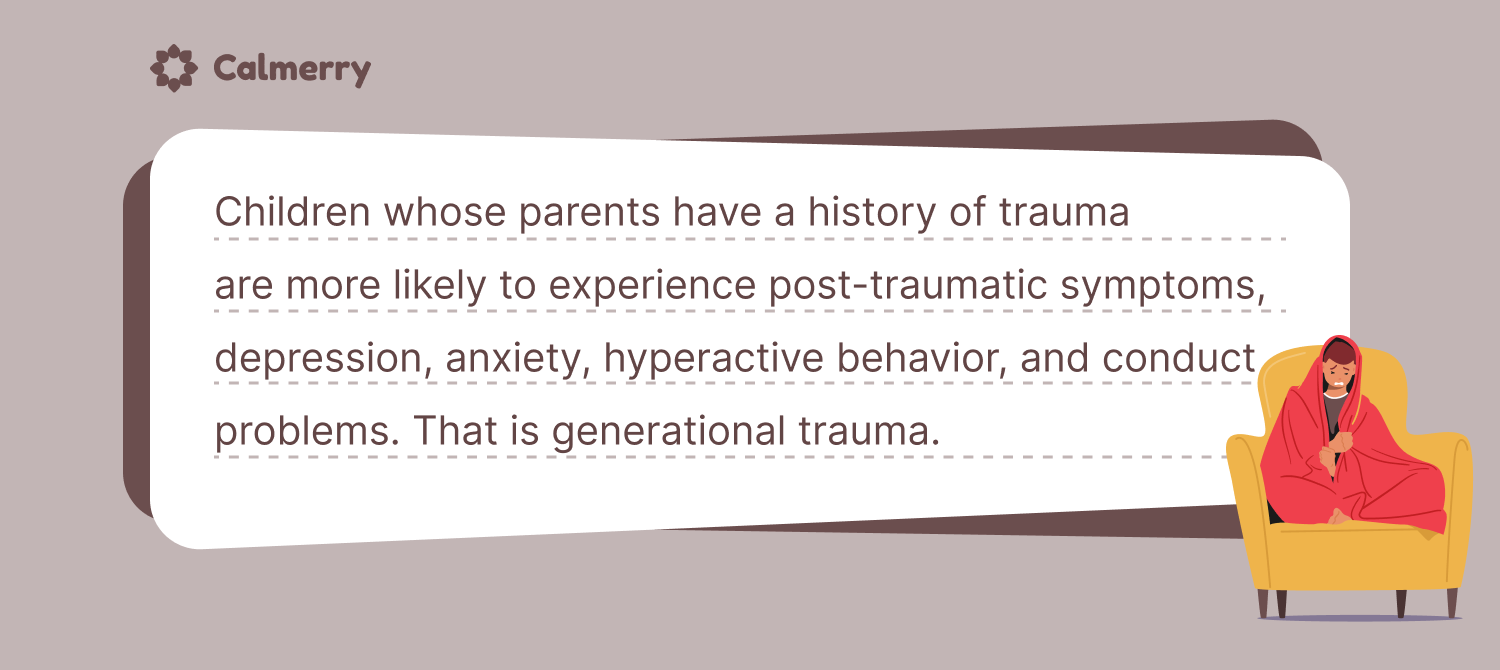 So, what causes generational trauma?
Researchers in psychology have proposed that the psychological damage from trauma can interfere with parents' capacity to nurture their children. Wounds from trauma prevent parents from forming healthy attachments to their children, because parents are wrapped up in their own mourning, fear, anxiety, and depression.
The trauma associated with violence and war can make families particularly vulnerable to the unhealthy transmission of intergenerational trauma. Not only are memories of traumatic experiences haunting. A parent who is plagued by these memories is grappling with their own fear, coupled with survivors guilt arising from the knowledge that they lived while others passed.
In summary, the research on inherited trauma has concluded that the following factors contribute to patterns of trauma within families:
Attachment issues arise when parents are partially inaccessible because of the wounds of trauma. This leads to a child having a difficult time forming a healthy attachment bond and establishing a sense of safety with their parent.
A child who struggles to feel safe with a parent who is wrestling with their own trauma may end up taking responsibility for the parent's emotional regulation or performing a caretaking role for the parent.
Holocaust research suggests that physiological changes from trauma can be passed from parents to children, making children more vulnerable to fear.
PTSD symptoms in mothers lead mothers to focus on their own survival and self-regulation, which can make children feel alarmed and perpetuate the cycle of trauma.
A word on racism and family trauma
The conversation on intergenerational or ancestral trauma would be incomplete without addressing the topic of racism. Studies have found a strong relationship between trauma and the experience of racism.
In minoritized families and communities, the fear and lack of safety associated with racial discrimination and oppression can lead to the transmission of trauma between generations.

Effects of transgenerational trauma
Breaking cycles of family trauma is essential for healing and for the well-being of future generations. To understand just how important cycle breaking can be, it's helpful to take a look at the effects of transgenerational trauma.
Research with second and third-generation Holocaust survivors has found the following to be true regarding intergenerational trauma:
Children who have a mother who is a Holocaust survivor are vulnerable to psychological distress.
Children who have two parents who are Holocaust survivors report their mothers and fathers are less accepting of them and less encouraging of independence. They are at greater risk of attachment problems and poor self-perception.
While the experience of being a Holocaust victim may be extreme, the truth is that other forms of family trauma can also have lasting consequences.
A study that examined the effects of generational trauma arising from a mother's childhood experience of abuse or neglect found that adult children of these mothers experienced the following consequences from inherited trauma:
Increased numbers of abusive and neglectful experiences during childhood
Interpersonal trauma during adulthood
Higher risk of domestic violence
Strategies for breaking generational cycles
Based on what we know from research, it is clear that family trauma can be passed between generations, which creates lasting distress, reduces parenting capacities, and damages marital and family functioning.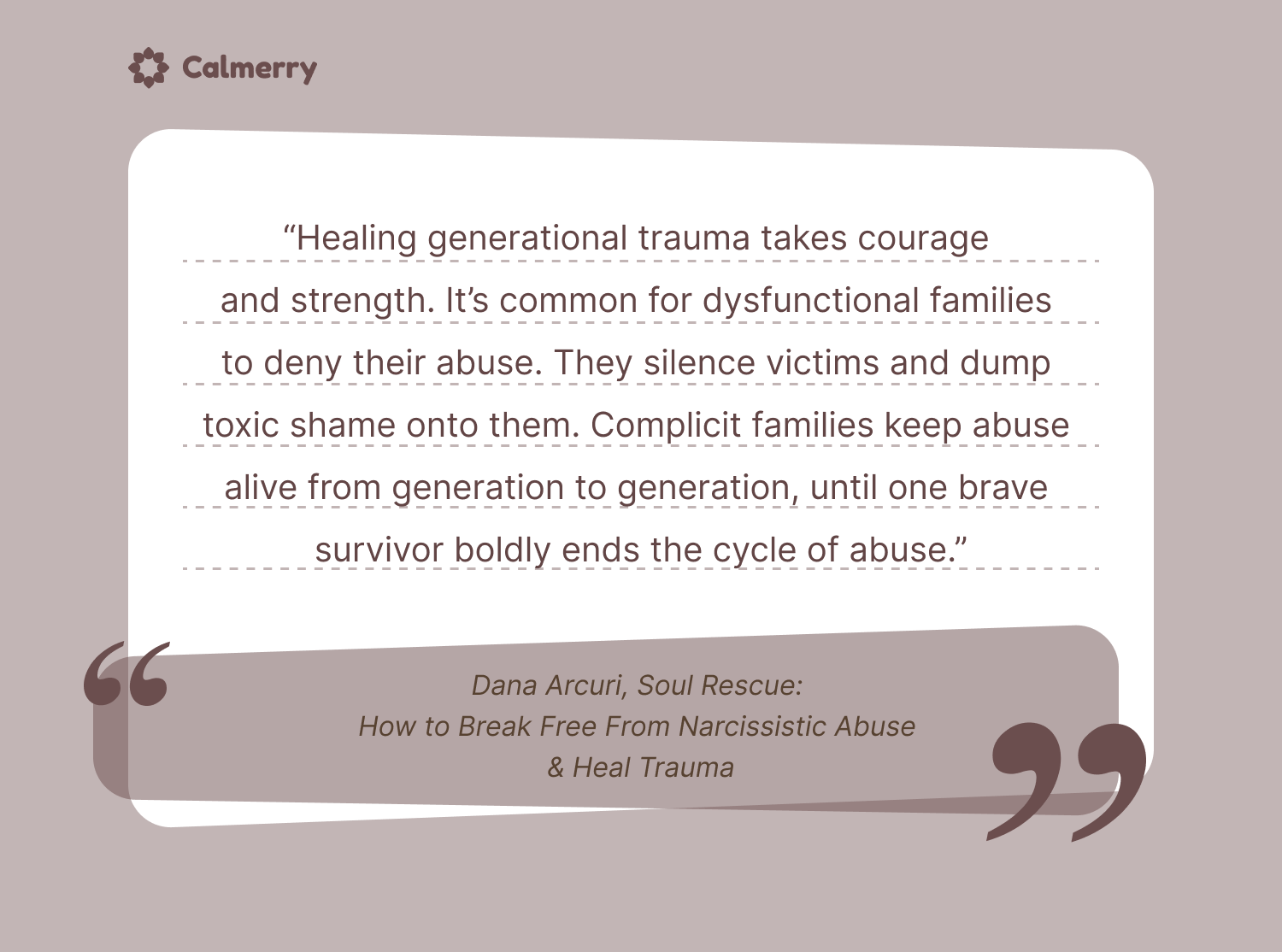 While this may be the case, the truth is that you have the ability to be a cycle breaker, putting an end to the toxic patterns that have existed within your family history.
Below are some strategies for breaking generational cycles of trauma.
Cultivate mindfulness
If you've been wrapped up in the patterns associated with family trauma, you likely experience symptoms like stress, anxiety, and difficulty regulating emotions. You may feel as if you are always tense or on edge, and you're constantly on the lookout for signs of danger. If this is the case, cultivating mindfulness can help you to turn your attention toward the present and create a greater sense of safety.
Studies exploring the effects of mindfulness have found that this practice enhances awareness of the present moment, reduces stress, and improves emotional regulation abilities. Based on these findings, practicing mindfulness can help you to overcome the negative effects associated with inherited trauma and allow you to move toward healing.
You can learn to cultivate mindfulness through guided meditation videos, many of which are free on the Internet. You might also benefit from attending a mindfulness meditation class, participating in yoga, or working with a practitioner who teaches mindfulness.
By cultivating a mindful disposition, you can calm your anxiety, develop stronger coping skills, and begin to overcome some of the consequences of generational trauma. When you become more in tune with your own emotions, you'll be able to be more present and nurturing with your children, putting an end to generational cycles.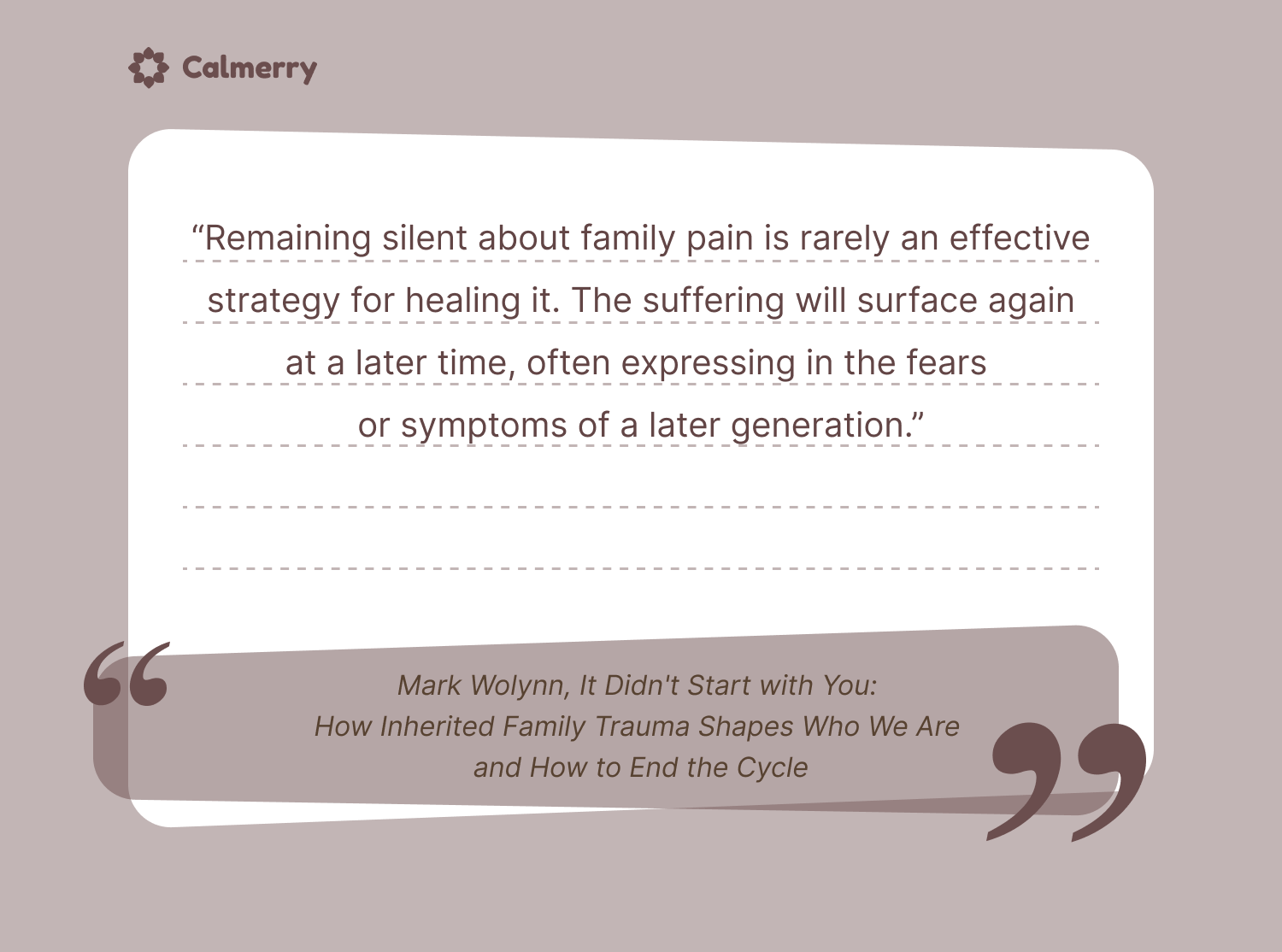 Decide the type of parent you'd like to be
One of the problems with generational trauma is that it can lead us to subconsciously carry on with dysfunctional family habits. Without even realizing it, you may end up parenting your own children in the same way that you were parented. While this may be the default, the truth is that you do not have to raise your children the same way you were raised.
If you want to break the cycle of trauma within your family, you may have to do some self-reflection. What sort of parenting did you have as a child? How did it affect you? Do you notice yourself repeating any of the same patterns with your own children?
Once you become aware of unhealthy family patterns, you can be intentional about correcting them with your own children.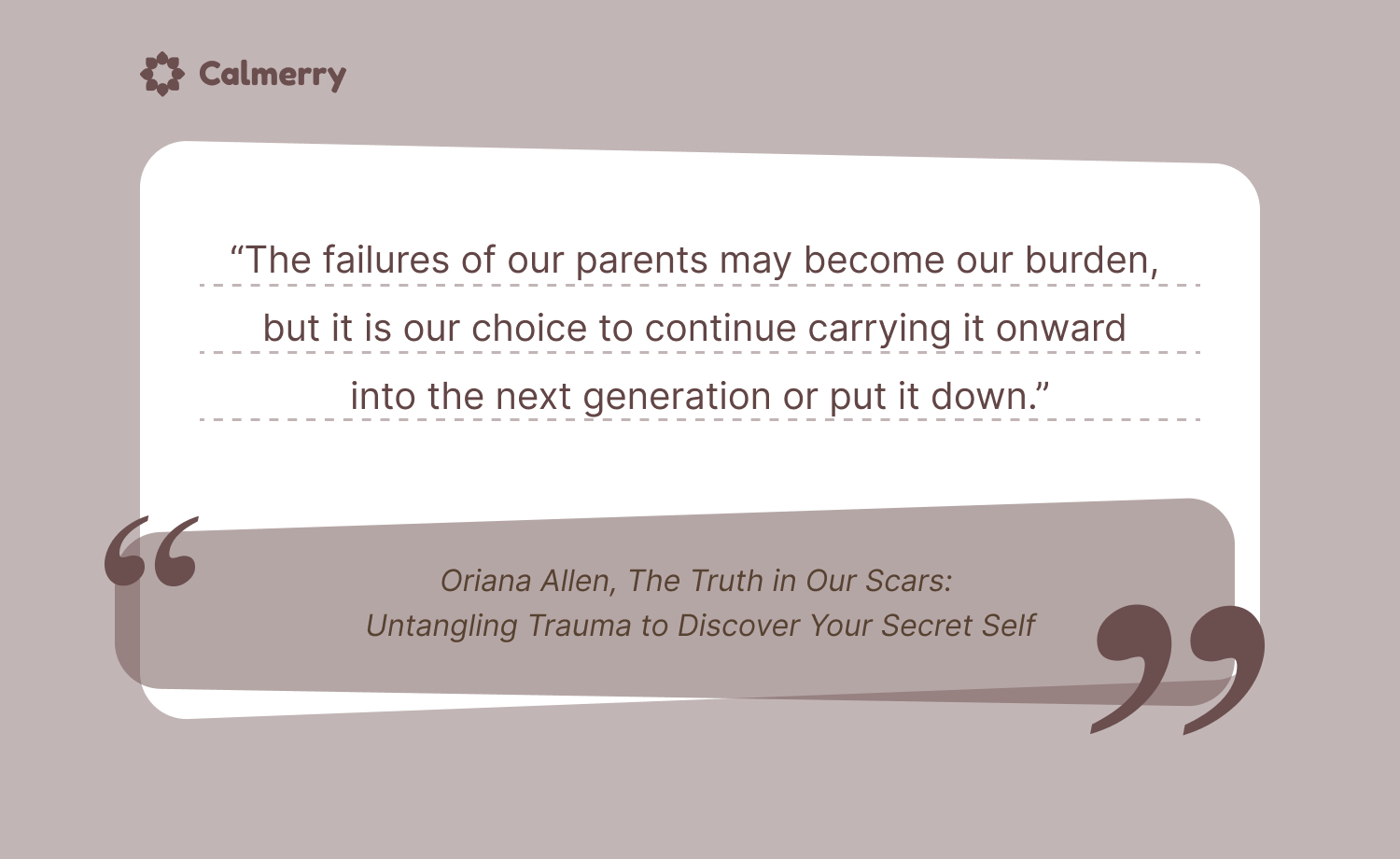 Be prepared to set boundaries
Sometimes family trauma can exist within the context of repeated instances of abuse. For example, grandparents may have been abusive to parents, creating symptoms of trauma in these parents, who later go on to pass symptoms of generational trauma to their own children. Traumatized parents may be abusive and neglectful to their children, creating significant distress for these children as well.
If your experience of generational trauma involved ongoing abuse from your parents, you may need to set boundaries with them as an adult, especially if you want to heal from your own trauma. In some cases, parents or other family members still caught in the cycle of ancestral trauma will try to make children feel guilty for trying to break the cycle.
You have every right to set boundaries with family members who discourage you from engaging in your own healing. This means that parents or other relatives who insult you, call you names, or otherwise try to prevent you from growing up don't have to be a part of your life.
You might have to tell relatives that if they engage in certain behaviors, such as frequent put-downs or other forms of emotional abuse, you will no longer communicate with them.

Subscribe
to our mental health digest
Let us support you on the way to better mental well-being. Get expert tips and insights on mental health delivered to your inbox monthly.
Seek therapy
The work of healing from family trauma can be heavy, and it's not a process you have to endure on your own. If you're trying to cope with generational trauma, you may benefit from reaching out to a trauma-informed therapist. In therapy sessions, you can explore your family patterns, process your emotions, and receive guidance and feedback from a trained professional.
A trauma-informed therapist can help you to identify unhealthy family patterns and uncover dysfunctional ways of thinking that are contributing to trauma-related symptoms. You may benefit from working with a professional trained in internal family systems therapy, who can help you identify family interaction patterns and uncover dysfunctional behaviors within your family system.
Doing the work of healing from generational trauma allows you to develop healthy emotional regulation strategies as well as more functional ways of thinking and behaving. Making an effort to heal will stop the cycle of family trauma and set your children up for a better future.
If you're looking for a therapist, Calmerry is here to help. We offer online therapy sessions with licensed, credentialed professionals so that you can access support from the comfort and safety of your home.
Сheck your mental well-being for free: