Published December 1, 2022 / Updated April 28, 2023
Self-Care for Menopause: How Can I Help Myself During Menopause?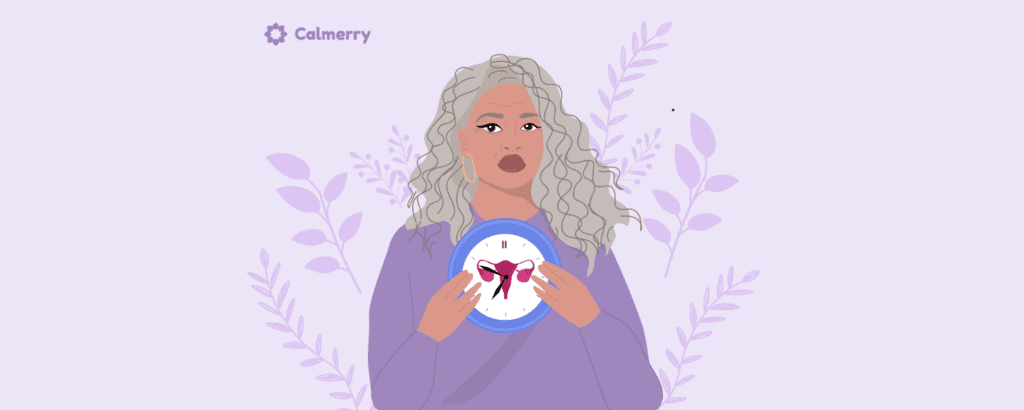 Reading Time:
6
minutes
Menopause is a natural part of getting older. Women can experience a great number of symptoms, but a key marker of the peri-menopausal period is the irregularity and, eventually, the end of your periods.
In industrialized countries, the average age of menopause is between 50 and 52 years.
Affecting 1.5 million women per year, it is important to understand how the menopause transition might affect you. It is normal to feel anxious, tired or confused by the changes that are occurring. But our menopause self-care tips will help you take care of your mental health during this natural stage in life.
What is menopause?
The word menopause comes from the Greek words pausis (pause) and men (month). It signifies the time in a woman's life when her monthly periods cease.
For many women, the significance of the cessation of one's child-bearing years can be met with a variety of emotions and reactions, from anxiety to happiness or relief.
Subscribe
to our mental health digest
Let us support you on the way to better mental well-being. Get expert tips and insights on mental health delivered to your inbox monthly.
Defining menopause: Terms to describe the time around menopause
The medical definition of menopause is when a woman hasn't had a period for one year or longer. However, there are several terms used to describe the time around menopause.
Premenopause. This is the time before any signs, symptoms, or hormonal changes associated with menopause occur. Premenopause spans from a young woman's first period to the beginning of perimenopause.
Perimenopause. This means "around the time of menopause". During perimenopause, hormone levels will fluctuate until the ovaries produce smaller amounts of the hormones that regulate ovulation and menstruation. Periods become irregular, and other symptoms, including hot flashes, might begin.
Menopause. Menopause is defined as the cessation of menstruation. Menopause is said to have occurred when a woman has not had a period for 12 months.
Post-menopause. This period of life begins when you haven't had a period for over a year. Some women continue to experience other symptoms associated with menopause.
Peri-menopause often starts several years before your last period, with the average woman entering perimenopause at 47.5 years old.
However, some women will enter perimenopause in their mid-30s, while others won't experience it until they are in their 50s.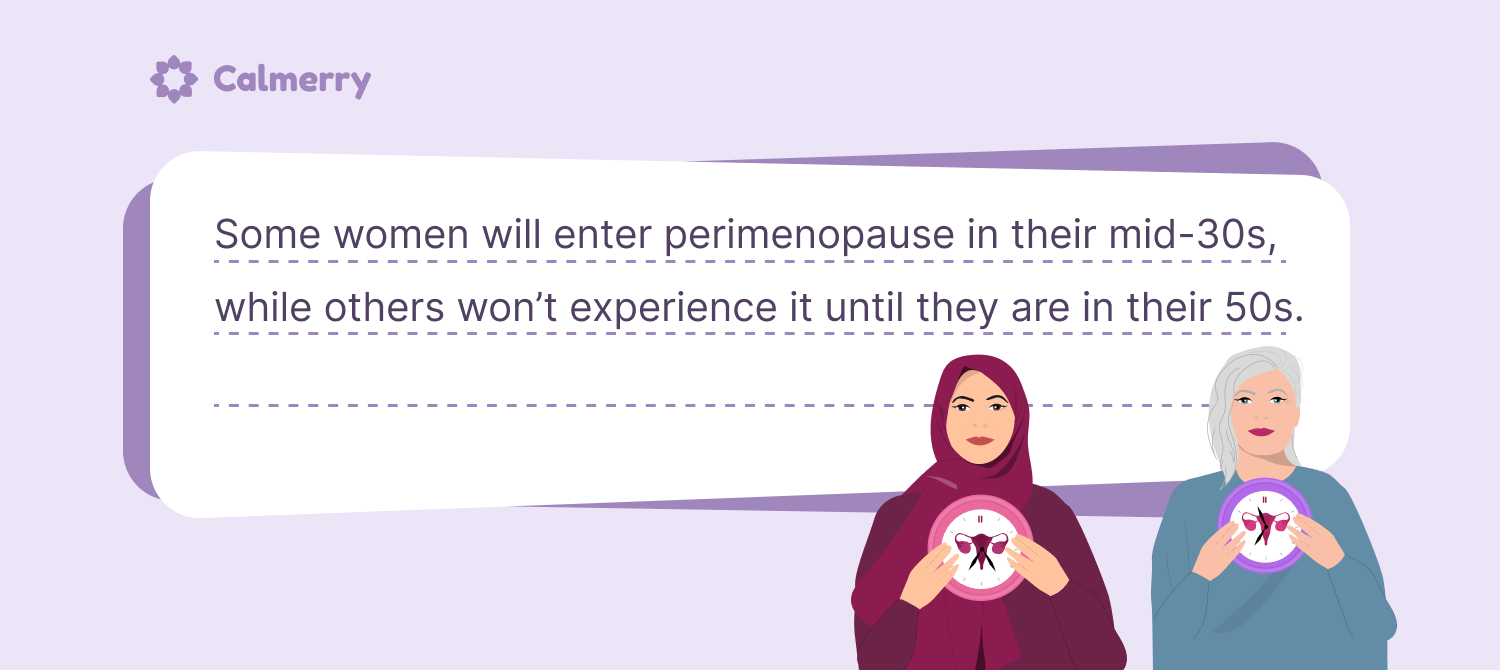 Emotional and physical symptoms of menopause
The function of the ovaries begins to decline during perimenopause, leading to fluctuating hormone levels that can greatly affect how you feel about yourself.
Much like the emotional and physical symptoms you may have experienced as part of pre-menstrual syndrome (PMS), many women will notice body changes around the time of menopause.
Symptoms of perimenopause include:
Periods becoming irregular or stopping
Periods becoming heavier or lighter
Vaginal dryness
Fatigue or tiredness
Poor sleep or insomnia
Hot flashes and night sweats
Joint pain
Low mood or depression
Difficulty conceiving
With all of these symptoms, it is not surprising that many women find it difficult to manage their emotional well-being during menopause.
Menopause and mental health
As women, we are all unique. This means that your experience of menopause will share similarities, while also being different, to that of your female friends and family members.
Menopause and depression
A study into menopause has shown that although depression is most common in young adults, there is a "3-fold risk for development of a major depressive episode during perimenopause compared with premenopause".
This signifies that perimenopause can make women vulnerable to changes in mood and depression.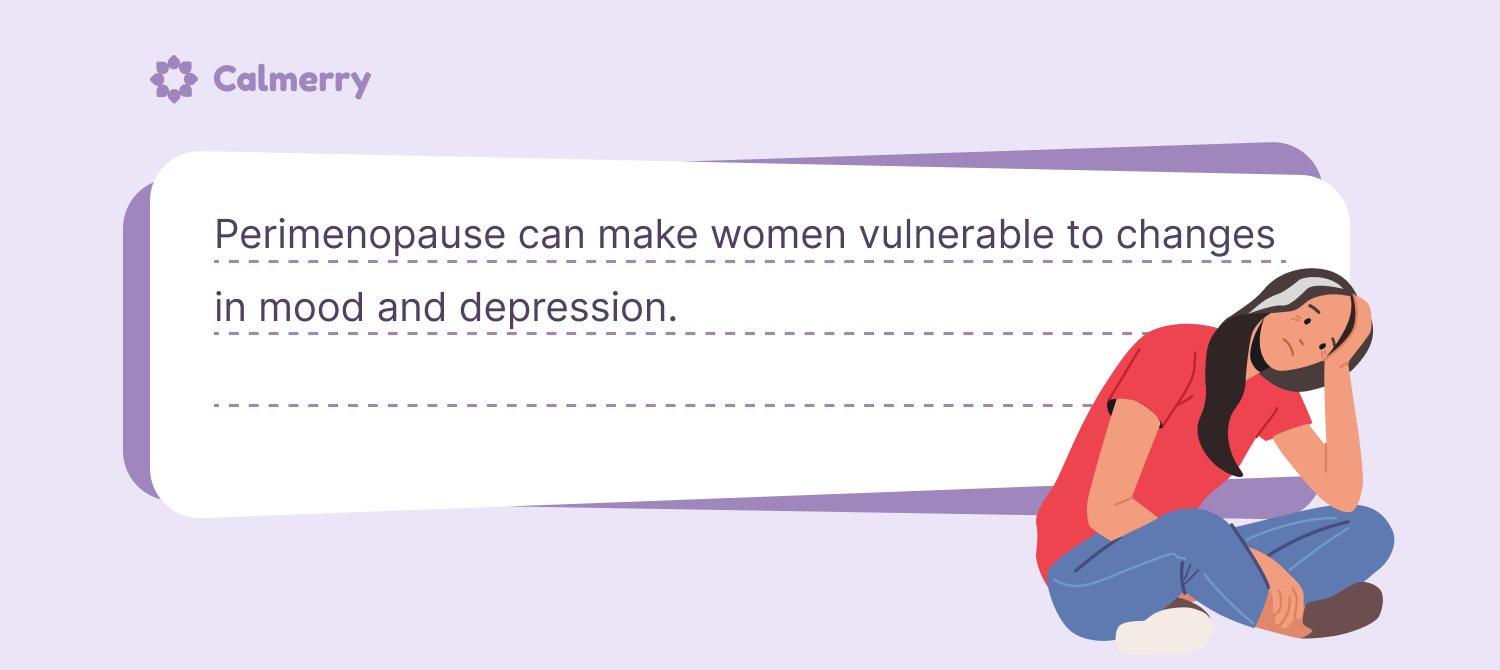 If you are affected by depression or low mood, you may notice the following symptoms:
Feeling down or sad
Poor sleep
Reduced or increased appetite
Changes in weight
Feeling worthless or that life is hopeless
If you are concerned about low mood or depression, it is important to seek medical advice. Your doctor may recommend counselling or therapy to help you manage your feelings or recommend a course of treatment to support your mood or manage low hormone levels.
Can menopause cause anxiety?
Many women find that menopause and anxiety go hand in hand. Women who have previously not struggled with stress or anxiety, despite working in high-pressure environments or juggling multiple roles, may now find themselves feeling anxious about simple tasks.
Like depression, anxiety during perimenopause is caused by the dip in hormones, including estrogen. This can have a knock-on effect on other hormones within the brain, such as the 'happy hormone' serotonin.
You may find that as a result of anxiety, you also feel irritable or angry, finding it difficult to manage your mood. If this is having a significant impact on you, speaking to a counsellor or your doctor may help you find ways to cope.
How to improve your mental health
Menopause, and the perimenopausal period, is a time of huge change. You may be faced with new physical symptoms, a volatile mood, and an awareness that you are entering a new stage of life that you may or may not feel ready for.
There are many forms of menopause self-care that you can try at this time to make your transition to the postmenopausal period smoother.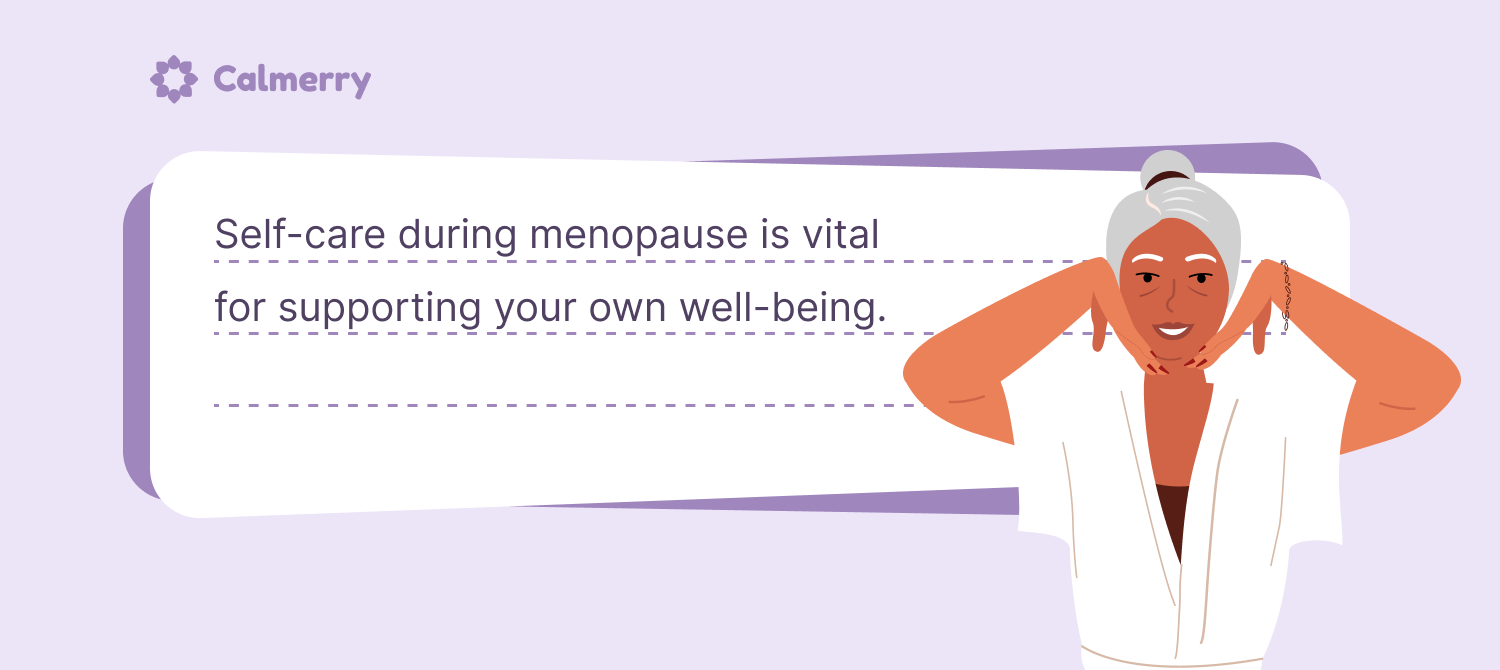 Work on self-awareness
As women, we are often guilty of taking care of the needs of everyone else before we think about ourselves. Self-care during menopause is vital for supporting your own well-being.
The best form of self-care will depend on your needs, symptoms and personality:
Journaling. Some women turn to journaling around the time of perimenopause. Recording your symptoms, feelings and thoughts around menopause can be a positive way to acknowledge the changes that are occurring.
Practicing gratitude. You may also be able to acknowledge any gratitude you feel towards your body for everything she has done and is continuing to do. This can also help you recognize if you need more support from family or friends. Or if you should speak to a counsellor or medical professional.
Meditation. Similar to journaling, meditation is a good way to process the changes in your life. Meditating is a great way to put your own needs first, making time for reflection or space to acknowledge how you are feeling.
Set boundaries
You may feel that you have a little too much on your plate. If so, setting boundaries is vital. Get help to run the committee at work, say no to attending events that feel overwhelming at present, and consider asking whether your partner can pick up some of the extra chores at home.
Peri-menopause won't last forever, and it is vital that you take care of yourself during this time. The good news is that many women find that once they have been through menopause, they begin to feel more like themselves again.
Practice self-acceptance
Menopause is a natural stage in a woman's life. Historically, we have not talked about menopause enough, and it was even thought of as a weakness or deficiency. Sadly, this hangover still exists in some circles.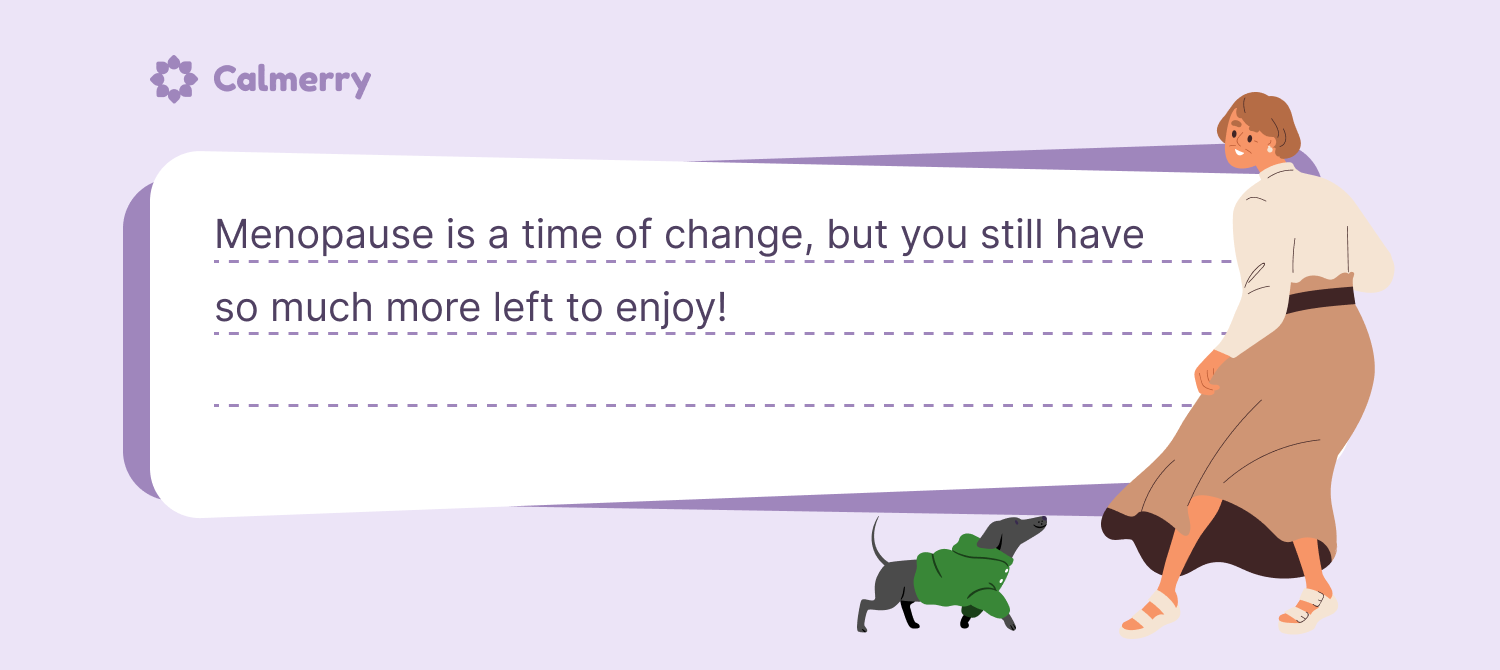 In accepting, discussing, and even embracing menopause, women can support each other through the transition period, making it an easier journey.
Try acts of self-love
Your body and mind will go through a lot during menopause. Find ways to show self-love and treat yourself.
Whether you choose a hiking trip, a soak in the bath, time to read a new novel, or going out for dinner with friends, show yourself some love and appreciation for all that you do.
Consider therapy
The challenges of menopause on top of an already full schedule can feel too much at times. Seeking online therapy gives you time and space to focus on your own needs, worries and desires with guidance from a trained professional.
This may help you to find new tools to manage your feelings, as well as a chance to reflect on the relationship between menopause and your mental health.
The beauty of online therapy is that you can attend a session from a location to suit you. This may make it easier and less stressful to accommodate in your weekly schedule.
Final thoughts
Menopause, and the perimenopausal period, is a natural process that tends to occur in a woman's 40s or 50s. Despite being a rite of passage, it can cause unwanted and unpleasant symptoms and may also have a significant impact on your mental well-being.
It is possible to practice self-care during the perimenopausal period to help make the transition easier. This might involve journaling or meditation, acts of self-love, including making quality time for yourself, and setting boundaries to avoid feeling overwhelmed or burned out.
Many women also find that the perimenopausal period is a good time to prioritize working on personal growth and self-acceptance.
This may be the perfect opportunity to invest in yourself by booking online therapy with a counsellor who can help you navigate the way you are feeling now. A professional may also be able to help you explore any goals or dreams you might have for the future.
Сheck your mental well-being for free: