Published March 8, 2023 / Updated May 2, 2023
Happiness: What Is It, and Why It Matters?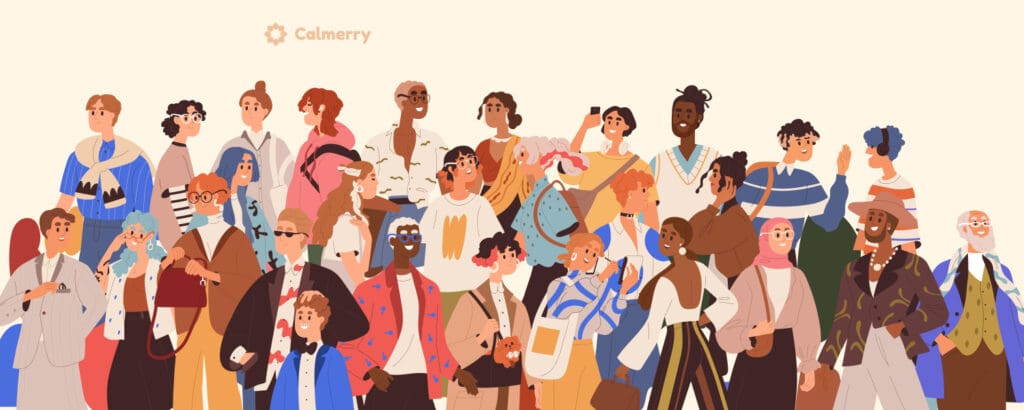 Reading Time:
8
minutes
While feelings of joy and contentment often characterize happiness, it is difficult to define and measure. As everyone experiences it differently, there is no single or universal definition of what happiness really is or what happiness feels like.
Although it relates to positive emotions, it is more than just a fleeting mood or feeling. Furthermore, living or pursuing a happy life is not about denying or avoiding negative emotions.
In this article, we talk about the signs, benefits, and keys to happiness.
What is happiness?
Happiness is a concept that has been debated over usage and meaning, as well as cultural differences. Happiness has a range of definitions, but it is often associated with fulfillment, positive emotions, and, of course, life satisfaction.
Psychologists define life satisfaction as the extent to which a person finds their life high-quality and meaningful. Higher life satisfaction makes our lives happier and more enjoyable, and it can also have a positive impact on our physical and mental health.
If you want to measure your life satisfaction, take this Life Satisfaction test.
Is happiness a feeling?
The answer to whether someone is happy will probably come from how they imagine themselves feeling. When someone is unhappy, they will remember the associations with feelings of sadness and other negative feelings and emotions.
But is happiness feeling, actually?
Daniel Kahneman states happiness is "what I am experiencing right now." This definition is prevalent in dictionary definitions of happiness. For instance, the Merriam-Webster dictionary defines "happiness" as a state of well-being and contentment." It refers to feeling pleasure and positivity or a state of well-being and pleasure.
A relatively new branch of scientific study called "positive psychology" centers on helping people lead happier and healthier lives. According to them, happiness is the same as SWB or subjective well-being. SWB is a scientific term for happiness with three elements or components. SWB include:
Life satisfaction – being content with life and career (income)
Positive affect – being able to enjoy life and having healthy connections
Low negative affect – having fewer worries or anxieties and rarely feeling angry or sad
Some may experience all three elements, but some experience just one or two of them. And unfortunately, some people experience none. There is no single cure that can create all these components. People need to obtain each of the elements that drive or cause it.
The two views of happiness
There are two popular views and definitions of happiness: hedonia and eudaimonia. Positive psychology views happiness from both concepts, and many experts agree that people need both hedonic and eudaimonic happiness to prosper or flourish.
Hedonia 
Hedonia defines happiness as the absence of pain or the opposite of suffering. It is associated with pleasure in the present moment and engaging in experiences or activities that provide satisfaction or positive feelings without misery.
Hedonia has developed a bad reputation due to its focus on seeking pleasure through any available means. However, this is not quite true, as hedonic happiness could also mean self-care or attending to your needs and desires.
Eudaimonia 
Eudaimonia translates to flourishing or having a well-lived life. In this view, happiness is defined as the pursuit of being a better person or fulfilling your potential. It is driven by a higher purpose and is associated with practicing virtues such as kindness, wisdom, courage, moderation, and others.
Eudaimonia may seem superior to hedonia, but both are connected and required for a fulfilling life.
What happiness is not
Being happy does not mean ignoring sad and negative emotions or pretending everything is joyful. Humans are emotional creatures and experience a range of emotions.
We need to be able to identify, face, and embrace pain, sadness, heartbreak, and other uncomfortable experiences, because these so-called "negative emotions" are part of being human. They can motivate us to change or improve our lives, be the important signals that help us defend ourselves, and make happiness feel more real.
"Negative" and "positive" emotions are a natural part of life, and we need to experience both to have a rich and full life.
8 common signs of happiness
Although perceptions of happiness may differ from person to person, psychologists look for certain key indicators. There are eight common signs of happiness:
In general, you experience positive feelings more often than negative ones
You appreciate even small things in your life
You tend to be in healthy relationships with people in your life
You're satisfied with your life's conditions and generally with your life
You proud of other people's achievements and progress
Your priority is to live in the present
You know how to calm down when something is stressing you out
You're taking care of yourself and treating yourself with kindness and compassion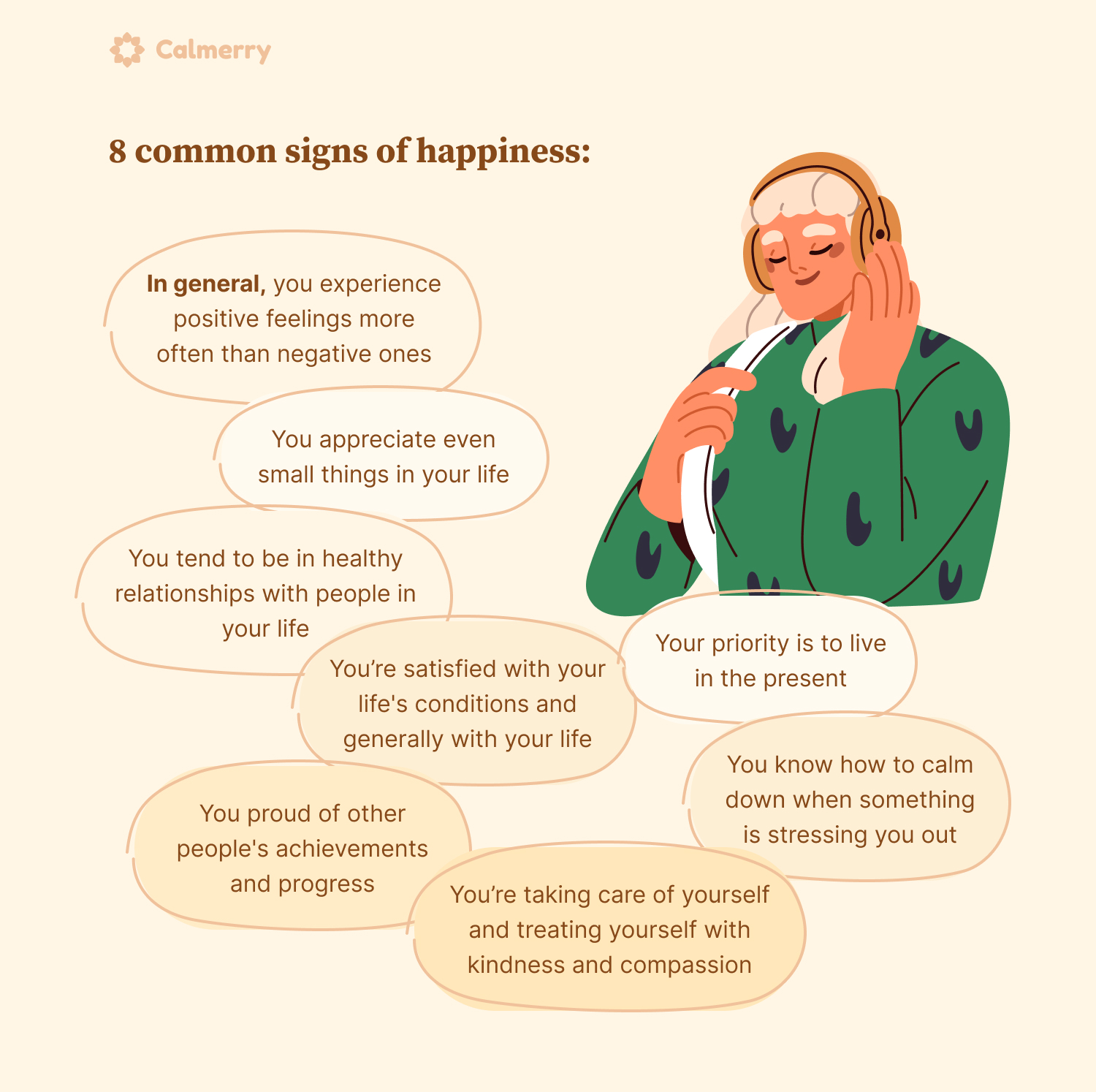 Why happiness matters – 7 benefits of happiness
Now that we have explored happiness and its two concepts let's dig into why it matters. And it does matter – much scientific evidence supports this, bringing many benefits associated with living a better life and creating a healthy and productive society.
Here are some reasons why happiness is important and beneficial for us.
1. Happiness promotes success
Happiness fuels or precedes success. It increases your chance of being successful, as being happy can help you function better, be more productive and make sound or wiser decisions.
While having more money or becoming famous can give you a sense of achievement, it doesn't guarantee long-term happiness. Spending most of your life chasing goal after goal can lead to burnout and can fuel your anxiety even more. Maintaining your health will allow you to have a focused mind, feel energetic, and strive for things that give meaning to your life.
Here is a lovely ebook with helpful insights from therapists 👉🏽 Strategies for Building a Life Worth Living.
Tiffany Lovins, Licensed Mental Health Counselor, shares six expert strategies for building a life worth living. Download this free guide in PDF.
2. Happiness helps people maintain healthier and stronger bonds
Relationships are essential to both mental and emotional well-being. Healthy and loving bonds allow you to enjoy life and develop attitudes and behaviors that can help create even better and stronger connections. And being happy enables you to bring out the best in yourself and others, which benefits your relationships.
Studies also suggest a strong link between happiness and marriage satisfaction. Happy people tend to have better social and emotional support and are more content with their friendships and group activities. So, those who express more happiness are more satisfied with their partners.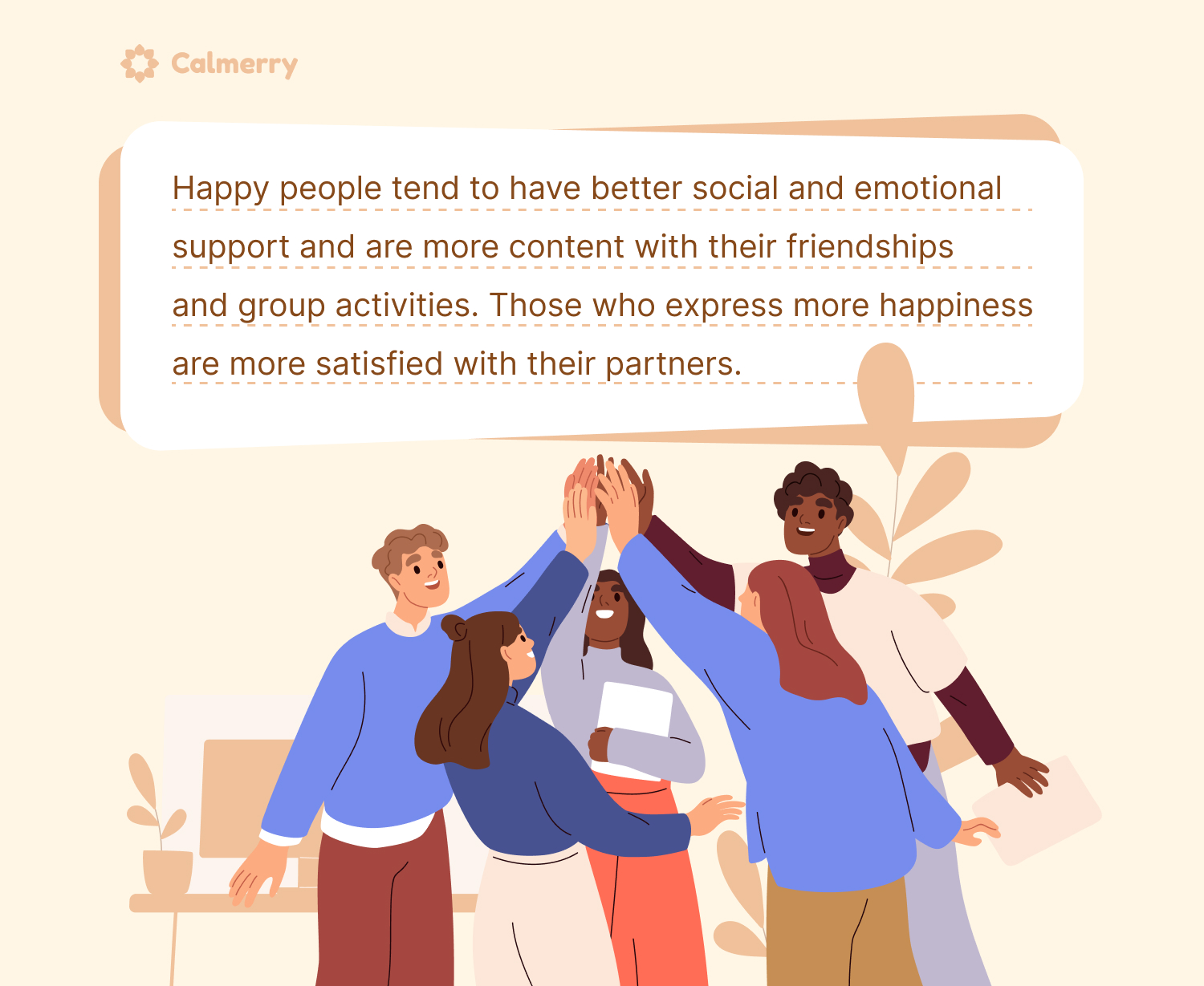 3. Being happy lowers your stress levels
Your cortisol (stress hormone) level increases when the body is under constant stress. This can lead to symptoms like aches and pains, mood swings, exhaustion, etc.
Being happy or displaying an optimistic attitude is related to lower hormone levels, which benefits your physical and mental health. Happiness can lower your stress level and help you build resilience.
In addition, this explains why many of the things that promote happiness help ease stress. These include exercise or physical activity, spending time with friends and loved ones, relaxing, performing acts of kindness, or just doing something you're good at.
4. Happiness leads to increased productivity and creativity
Research suggests that happy people are 12% more productive. They are less likely to experience burnout symptoms.
It is also worth noting that employees perform at higher levels when they are happy and engaged. And they are more collaborative in working with others to achieve the company's goals.
In addition to improved productivity, happiness can also make you more creative. There is a link between optimism and being open to new ideas and experiences, which can promote healthy habits and cognitive responses. Creativity can give you a sense of purpose, promote positive emotions, and lower stress and anxiety.
5. Happiness may lengthen life expectancy
The study found that people with more positive than negative experiences lived longer. Optimism is also associated with a reduced risk of stroke and heart disease and a longer lifespan.
Optimists, moreover, tend to age gracefully and enjoy more years free from chronic disease or disabilities. One of the main reasons for this is that optimistic people feel more satisfied and content with their lives. They also tend to be healthier or make healthier life choices – a factor in a longer life expectancy.
There is also a link between improved health and positive emotions, which include lower blood pressure, better blood sugar levels, and better heart health.
6. Happiness promotes good overall health
As previously mentioned, when we feel good, we tend to make better and more conscious decisions about our life and health. We take better care of our bodies by being more active, getting enough sleep, and eating healthily. As a result, there are fewer chances of relying on unhealthy food or substances, or other unproductive habits to uplift the mood or numb pain.
Another reason why happiness benefits overall health is it helps reduce stress. Thus, this translates to lower levels of stress hormones, which means less pain and unpleasant physical and mental health concerns.
Being happy can also promote better mental health with a reduced risk of developing symptoms associated with anxiety, depression, and other mental health illnesses.
7. Happy people are more generous or altruistic 
Doing nice things can make us happy. Studies have revealed a strong connection between selfless acts and happiness. Being generous activates an area of the brain linked with satisfaction and the reward cycle. This gives us a warm feeling that can help improve our mood and well-being.
Helping or giving can make you and the recipient happier. Volunteering, donating, and joining community services are ways people give and display generosity. It is a cycle, as acts of kindness generate more happiness and even motivate you to help others more often.
How to be happy, or 5 simple keys to happiness
If you're not naturally happy or cheerful, here are a few things – the keys to a happier living – you can use to cultivate happiness.
Exercise and sleep more
This benefits your body and mind. Regular physical activity can also improve your mood and help ward off symptoms of anxiety or depression.
Adequate sleep is essential to emotional well-being and good overall health. Aim to get 7 to 9 hours of sleep every night and maintain a consistent sleep-wake schedule.
Pursue the goals that motivate you 
Immerse yourself in enjoyable experiences that can lead to your personal growth and benefit the welfare of others. Pursuing goals can increase your happiness and give you a sense of purpose.
Maintain healthy connections with people who bring joy to your life
Strong relationships can improve your health, reduce stress, and increase happiness. Connect with people who make up a strong support network for you. Also, recognize and take steps when relationships negatively affect your health and well-being.
Spend some time outdoors 
Studies suggest that spending time in nature for just 30 minutes benefits your mental well-being. Taking a step outside for half an hour every day can help lower blood pressure and reduce anxiety and some symptoms of depression.
Practice mindfulness and express gratitude 
Spending too much time worrying about things or your future may rob the joy of our lives. A good way to deal with worries is to focus on the present.
Also, showing gratitude even for the little things can greatly improve your mood. You can do this by keeping a gratitude list or journal, appreciating or enjoying simple moments, or repeating a gratitude mantra.
Subscribe
to our mental health digest
Let us support you on the way to better mental well-being. Get expert tips and insights on mental health delivered to your inbox monthly.
Therapy as a key to happiness 
Therapy can be an invaluable tool in rediscovering happiness. If you're faced with an emotional problem and feel like you can't progress or get through it, consider talking to a mental health professional. Online therapy provides a safe and more accessible platform to get expert help in the comfort of your own home.
You don't have to be diagnosed with depression or mental health conditions to seek therapy. Mental health professionals can help you navigate your emotions and healthily deal with them so you will enjoy a better quality of life and better relationships.
Furthermore, therapy can help you recognize your destructive habits or thought patterns and replace them with positive or helpful ones, making your life happier and more joyful. 
Don't hesitate to seek online therapy or professional guidance if you feel stuck. Help on Calmerry is always available.
Сheck your mental well-being for free: