Published January 30, 2023
Guided Journal for Mental Health – How and Why to Try?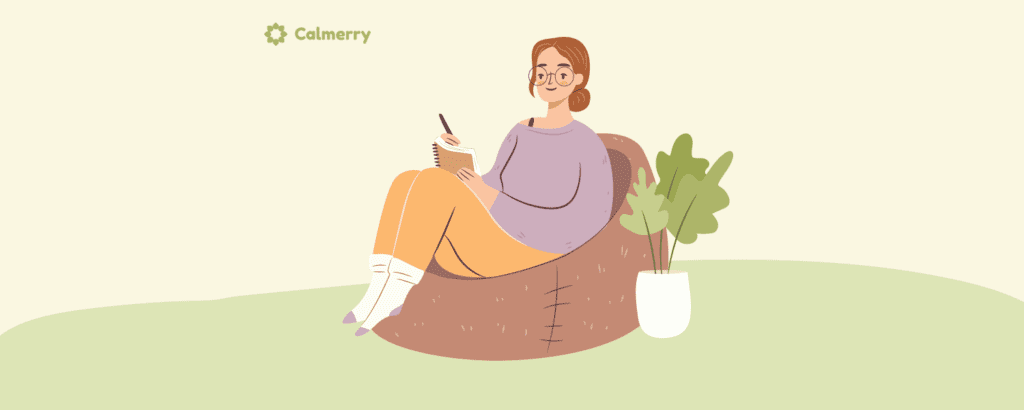 Reading Time:
5
minutes
When practiced regularly, journaling is a tried-and-true form of self-care that has significant physical and mental health benefits. It's a proven way to build self-awareness and explore your experiences, express your emotions, sort out your thoughts, or simply reflect on your day.
A journal can be a powerful tool for setting and achieving your goals because it gives you a chance to turn vague desires that you have into well-articulated targets and record the progress you've made. There's also evidence that for some people, writing about their thoughts and feelings can help heal from stresses and trauma.
Yet, for many, stream-of-consciousness journaling (when you write without structure, everything that comes into your mind) doesn't come easily. You just don't know what to write about and how exactly you should be doing it, and may need some direction and encouragement.
That's where guided journaling prompts and questions for self-reflection can help you out. Guided journaling provides more structure and makes it easier to get started and stick with this habit.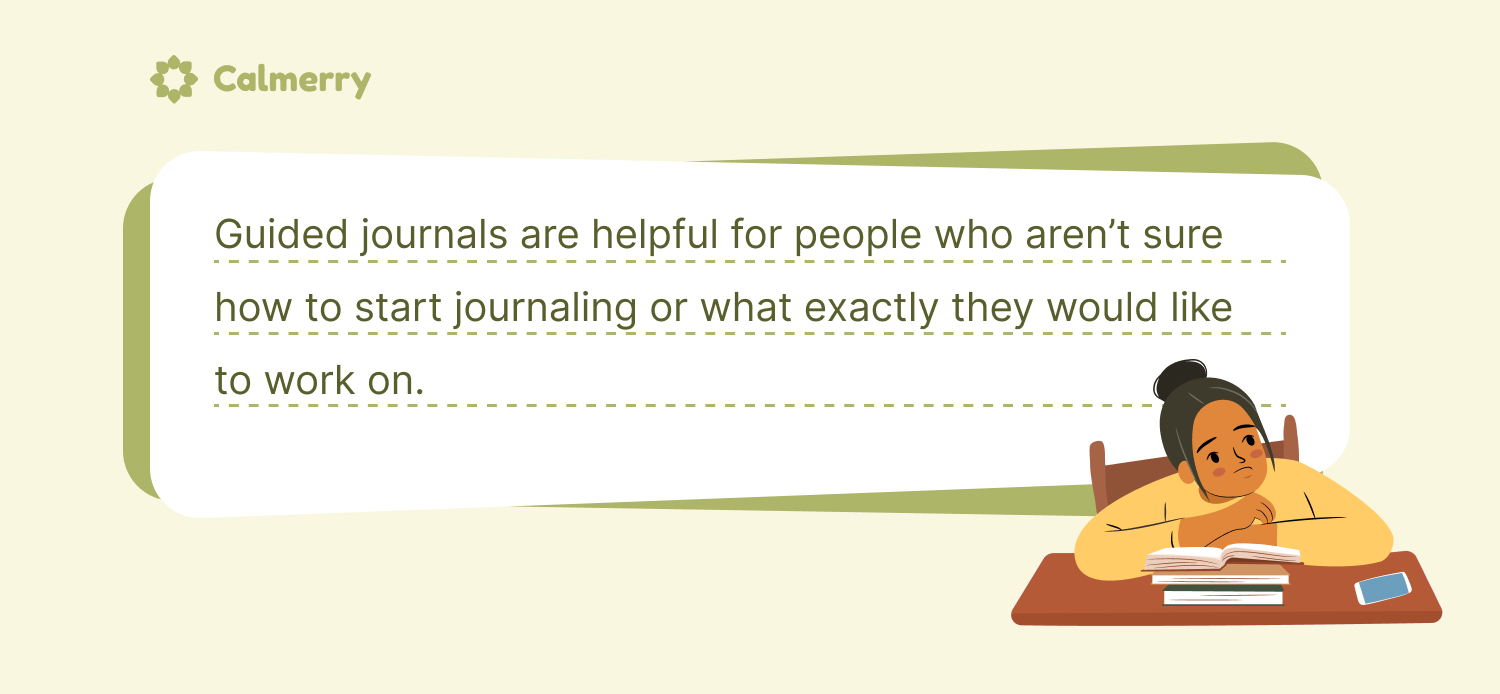 Why try guided journaling?
Journaling gives us an opportunity to put our experiences, thoughts, feelings, beliefs, and desires into words and sentences. Doing it regularly helps us understand and make sense of our experiences, and get insights that help us grow. Journaling can also increase mindfulness so that we can become more self aware of our thoughts, action urges, and feelings in the moment rather than reacting on impulse. Helping us to strengthen our mental muscles so to speak!
The simplest technique is freestyle journaling, but if you usually feel "stuck" getting started with a blank page, a guided journal might help and do the hard work for you.
Guided journals are helpful for people who aren't sure how to start journaling or what exactly they would like to work on. Such journals offer thought-provoking prompts, questions, positive affirmations, and topics to journal about to guide the process and keep you inspired and motivated.
There are a lot of different guided journals out there, so it's important to pick one that suits you at this point in your life. Just choose the aspect of your life that you want to work on and try a journal that helps address that. For example, if you want to become more grateful, choose a gratitude journal. And if you want to introduce more kindness and self-compassion into your life, you may try a self-love journal.
Is guided journaling effective?
A guided journal can support you on your personal journaling journey and guide your direction. It also provides a very creative way to get to know oneself and the world because journal prompts encourage curiosity and new ways of thinking. Guided journals also help us open our minds to new ideas and allow us to look at our situations from a new perspective.
Research supports the powerful therapeutic benefits of expressive writing and structured journaling. But it's important to remember that it's not a substitute for therapy and other treatments. Besides, not every guided journal can be a good fit for you and align with your goals and values. So it may be helpful to talk to a therapist before you embark on this type of reflective practice.
What are your options?
Journaling for self-care and self-discovery doesn't just come in the form of a notebook and a pen clipped over its side. You don't actually need a journal to get started because there are many journaling apps that you can use to work through your thoughts and feelings.
For example, the Calmerry Reflection Bot Coa, which is free for all Calmerry users, gives them the power to write and review everything on their smart devices. Users can record their daily mood and behaviors and write journal entries to record their reflections or use journal prompts for mental health to guide their journaling practice.
If you're ready to start journaling but aren't sure where to begin, start today with Calmerry's Reflection Helper, which will help you keep a meaningful journaling practice. Journaling prompts can encourage you to examine some parts of your experience that you may not have looked at before and uncover new insights about yourself.
Daily journal prompts to try
Keeping a journal is one of the most useful and cost-effective tools that can help us create a better, more emotionally healthy life. It's also one of the easiest ways to implement mindfulness, cultivate a sense of inner peace, and practice self-love.
You may use these prompts to guide you in your practice:
List three things or people that you're grateful for today.
What are three beautiful things that you saw today?
Name three things that make you unique and admirable?
What was something that made you smile today?
What is something you're good at?
List five ways your life is awesome.
When do you feel most proud of yourself?
Write about your favorite feel-good activity and think about how you can do it more.
What was your biggest success this week?
Name five things that made you feel peaceful today.
What are three great compliments you have received?
List five things your family admires you for.
What and who do you value in life?
What are your three greatest strengths?
How can you take better care of yourself?
What does your "dream life" look like?
Describe your perfect morning routine. What can you do to make it happen?
What advice would you give your younger self?
Write a thank-you note to yourself.
What are three good habits you'd like to cultivate?
How to journal for mental health
It's important to make journaling practice a part of your daily routine. Look at your writing time as the time when you can de-stress and unwind.
Try these tips that can help you make journaling a habit:
Pick a part of the day that suits you best. It's helpful to set a regular time, but it's also okay to be flexible.
Start small. A few minutes can be quite enough time to express oneself and reap the benefits.
Don't worry about punctuation and spelling. You're writing for your eyes only so no one will judge you.
Find a journaling technique that works for you. Experiment with writing on paper, using a journal app, or recording your spoken thoughts.
Write about anything that comes to your mind or use journal prompts that can inspire you and help you overcome the writer's block.
Get creative with journaling and don't be afraid to express yourself. It's not only writing prose, but it can be poetry, sketching, or doodle art.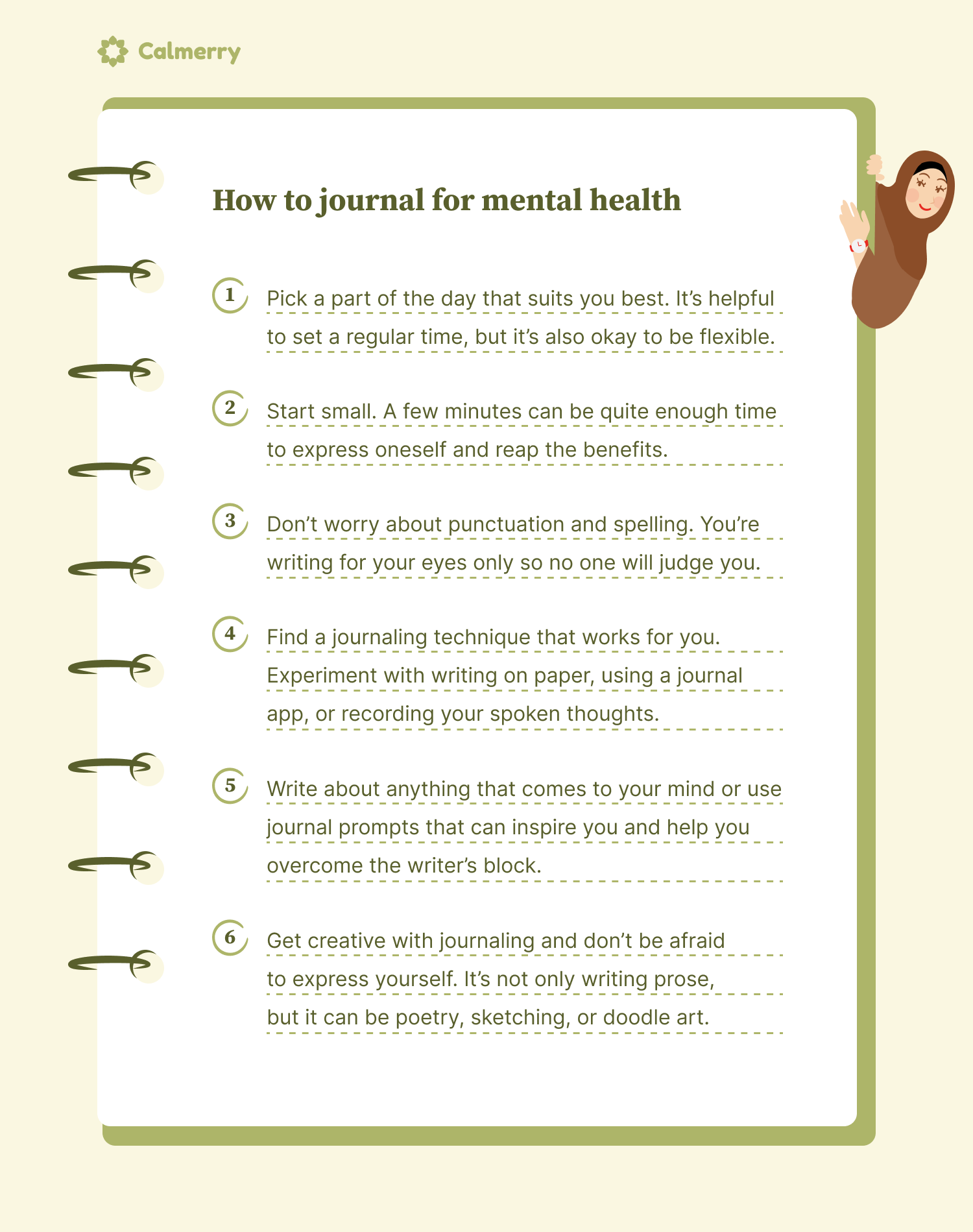 Wrapping up
Writing a journal is incredibly beneficial for your mental health and well-being. Regular journaling practice allows you to separate yourself from your thoughts and feelings and process them in a different way, which helps you see the situation more clearly and leads to a healthy and holistic view of yourself.
Subscribe
to our mental health digest
Let us support you on the way to better mental well-being. Get expert tips and insights on mental health delivered to your inbox monthly.
Guided journaling can be the first step to building a regular habit because it helps you get started and trains the brain to have reflective thinking routines. Guided journaling prompts for self-discovery and self-reflection offer a meaningful and effective way to practice mindfulness and increase self-awareness and self-compassion.
Journaling can also be a way to work toward practicing loving kindness and compassion to others who may have caused you harm or have contributed to deep negative emotions that have been difficult to let go of and heal. This exercise helps to shift neural pathways and thus the emotions attached to our thoughts over time.
Сheck your mental well-being for free: