Published September 11, 2023
70 Self-Care Activities for Every Aspect of Your Well-Being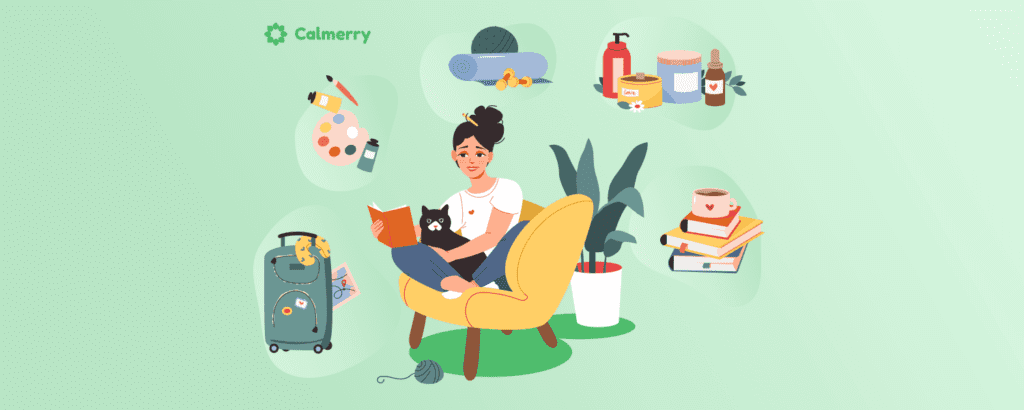 Reading Time:
5
minutes
We can think of self-care activities as a mosaic of actions – each piece contributes to the vibrant picture of well-being. As you navigate through the 70 self-care activities listed below, consider each one a potential tile for your well-being masterpiece.
There's something here to add color and texture to your self-care journey. Dive in, and pick the activities that resonate with you the most.
Mental health self-care
Picture a calming scene or a place where you felt the most relaxed. Imagery can transport your mind to a peaceful state, helping you detach momentarily from the present stressors
Visualize your worries floating away, like leaves on a river. This metaphor helps in understanding the transient nature of concerns, allowing mental relief
Reflect on a positive memory from the past week. Positivity boosts serotonin, a neurotransmitter associated with happiness
Schedule regular check-ins with your mental health professional. Consistency in therapy can provide a structured approach to managing mental health
Try coloring books or doodling. Artistic activities activate the brain's relaxation pathways
Dedicate a few minutes to deep breathing or progressive muscle relaxation. These relaxation techniques counteract the body's stress response, promoting calmness
Engage in forest bathing (shinrin-yoku), focusing on the sounds and sights of nature. Nature has therapeutic effects, rejuvenating the mind
Dedicate a personal space for relaxation and reflection, free from interruptions
Craft an affirmative mantra and repeat it daily
Pay deep attention to physical sensations to help release pent-up stress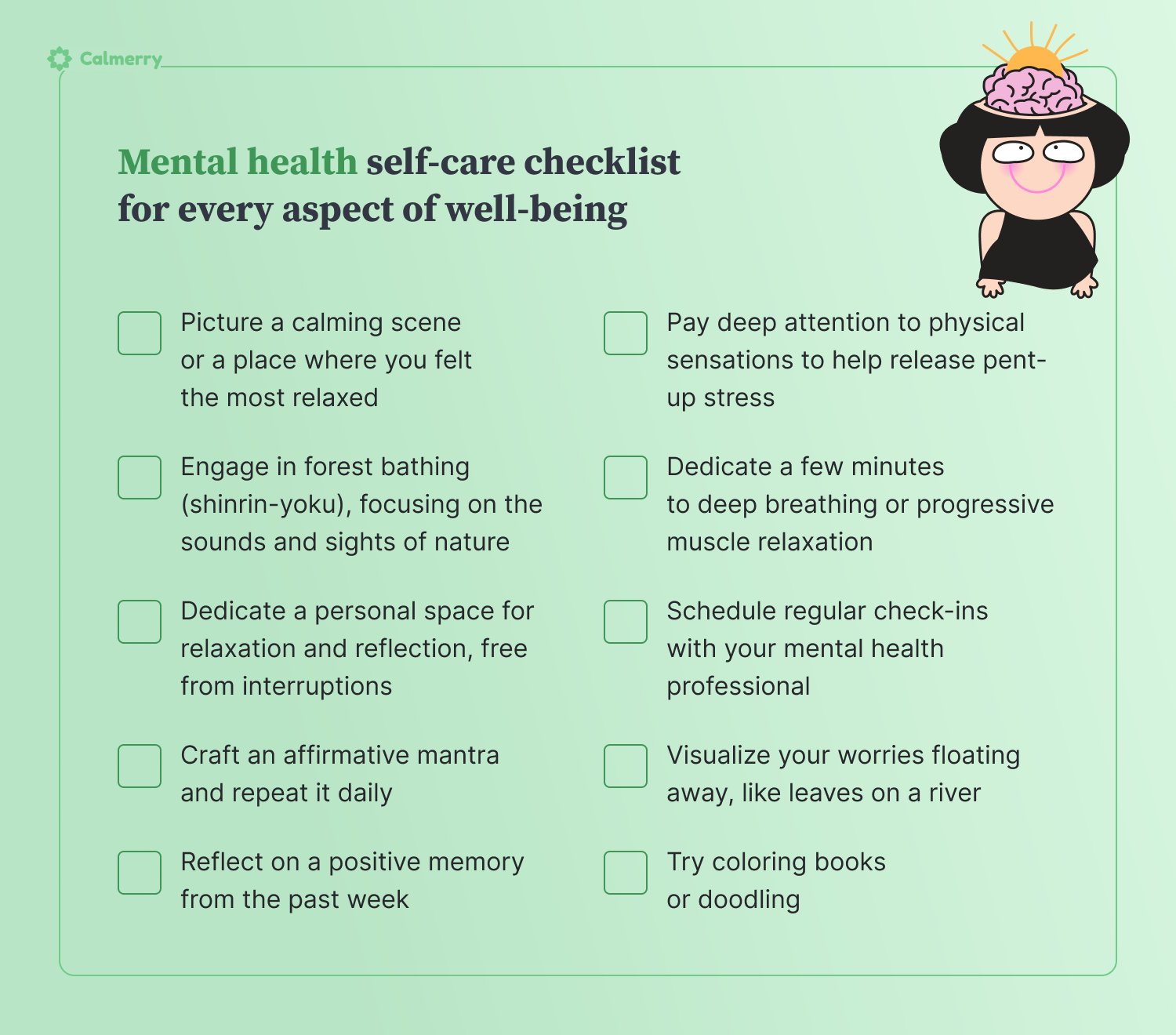 Physical health self-care
Follow a 15-min morning stretch, focusing on the neck, back, and legs. Stretching can enhance circulation and alleviate muscle tension
Take naps and breaks when you need them. Rest is essential for cellular repair and rejuvenation
When exercising, mind your body needs, sensations, and limits
Join a weekly yoga class to improve flexibility and calmness. Yoga combines mindful movement with deep breathing, enhancing mental and physical health
Go for regular medical check-ups. Preventive care can detect potential issues early, ensuring longevity
Choose sports activities that fit your mind, body, and soul for genuine enjoyment and commitment
Dance at home, whenever you want and however you like
Incorporate trusted apps that help you stay on track for structured guidelines and motivation
Create bedtime rituals for sleep: dim lights, read, or sip herbal tea. Rituals signal the body to prepare for rest, improving sleep quality
Even on tough days, aim for small steps in basic personal hygiene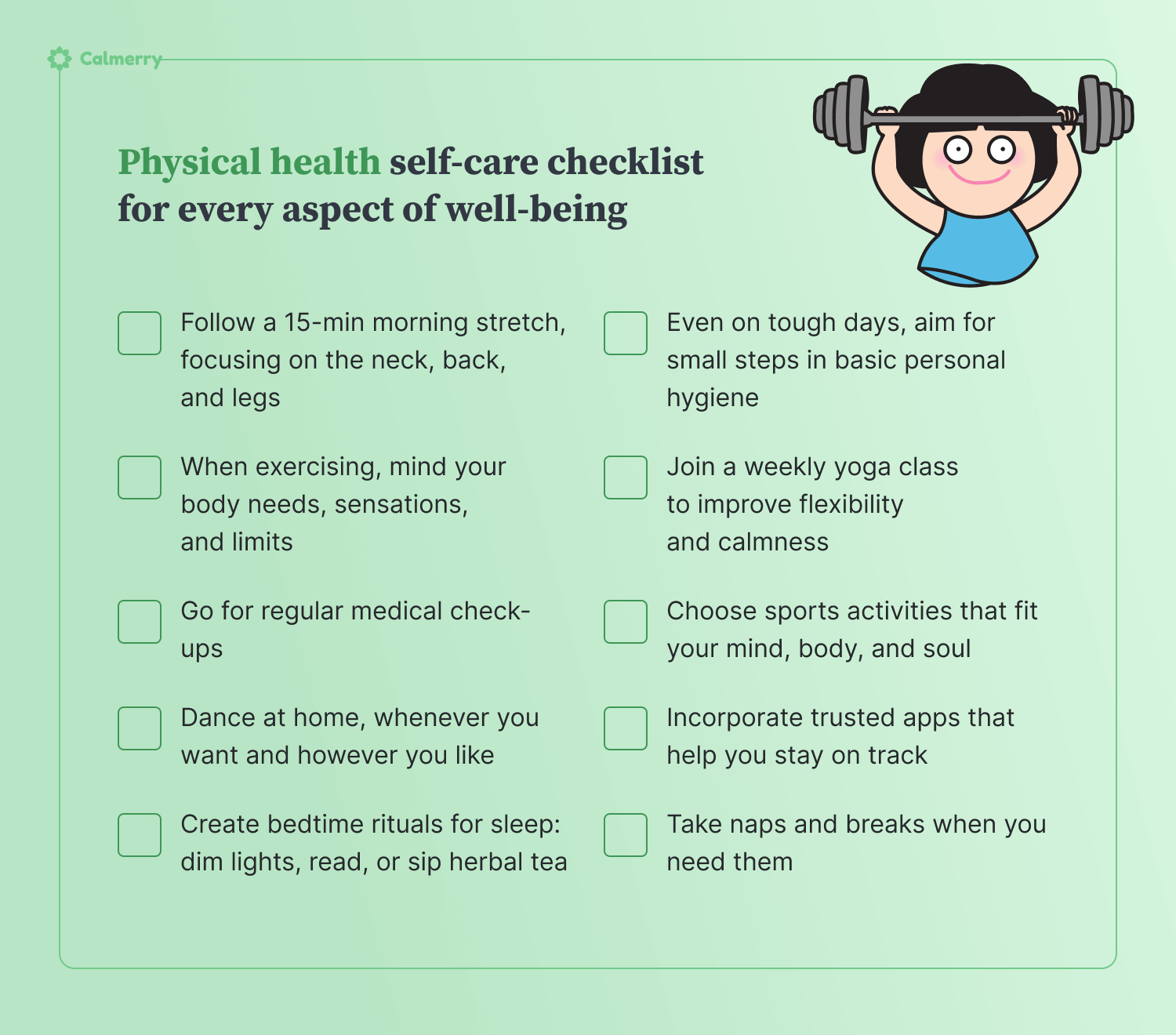 Social self-care
Plan regular catch-ups with friends. Social connections release oxytocin, the bonding hormone
Limit exposure to energy-draining people, nurturing connections that uplift
Take breaks from social commitments when overwhelmed
Volunteer in your community. Altruistic actions boost self-esteem and a sense of purpose
Take a class or workshop in a group setting
Go on a group retreat or trip with friends for deeper bonds and lasting memories
Schedule regular "date nights" with your partner to strengthen romantic connections
Reach out when feeling isolated, even via text. Connection, even minimal, can reduce feelings of loneliness
Learn healthy communication tips. Effective communication forms the bedrock of fulfilling relationships
Talk to a "no-judgment" friend on tough days. Venting can offer relief and clarity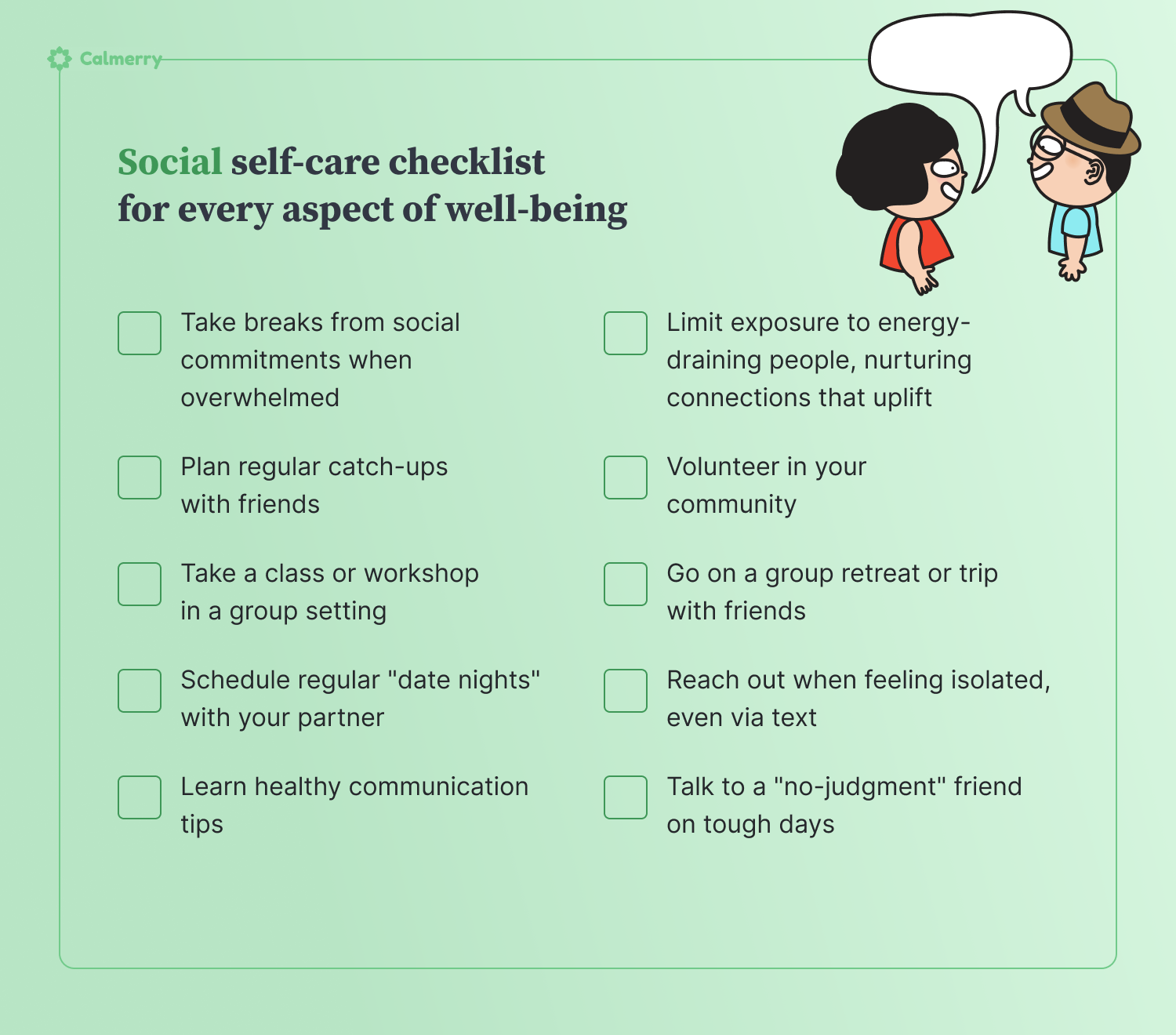 Emotional self-care
Express your feelings through art or writing. Creative outlets provide a safe space for emotional exploration and expression
Engage in activities that make you laugh. Laughter releases endorphins, which are natural mood boosters
Take time to acknowledge, validate, and process emotions to foster emotional resilience
Practice forgiveness towards yourself and others
Journal daily to reflect on your emotions for clarity and self-awareness
Listen to music that resonates with your mood
Seek therapy or counseling for guided emotional exploration. Professionals offer tools and perspectives to navigate emotional challenges
Create a "mood board" to visualize your feelings
Use mindfulness or meditation to center yourself
Take moments to self-soothe during emotional peaks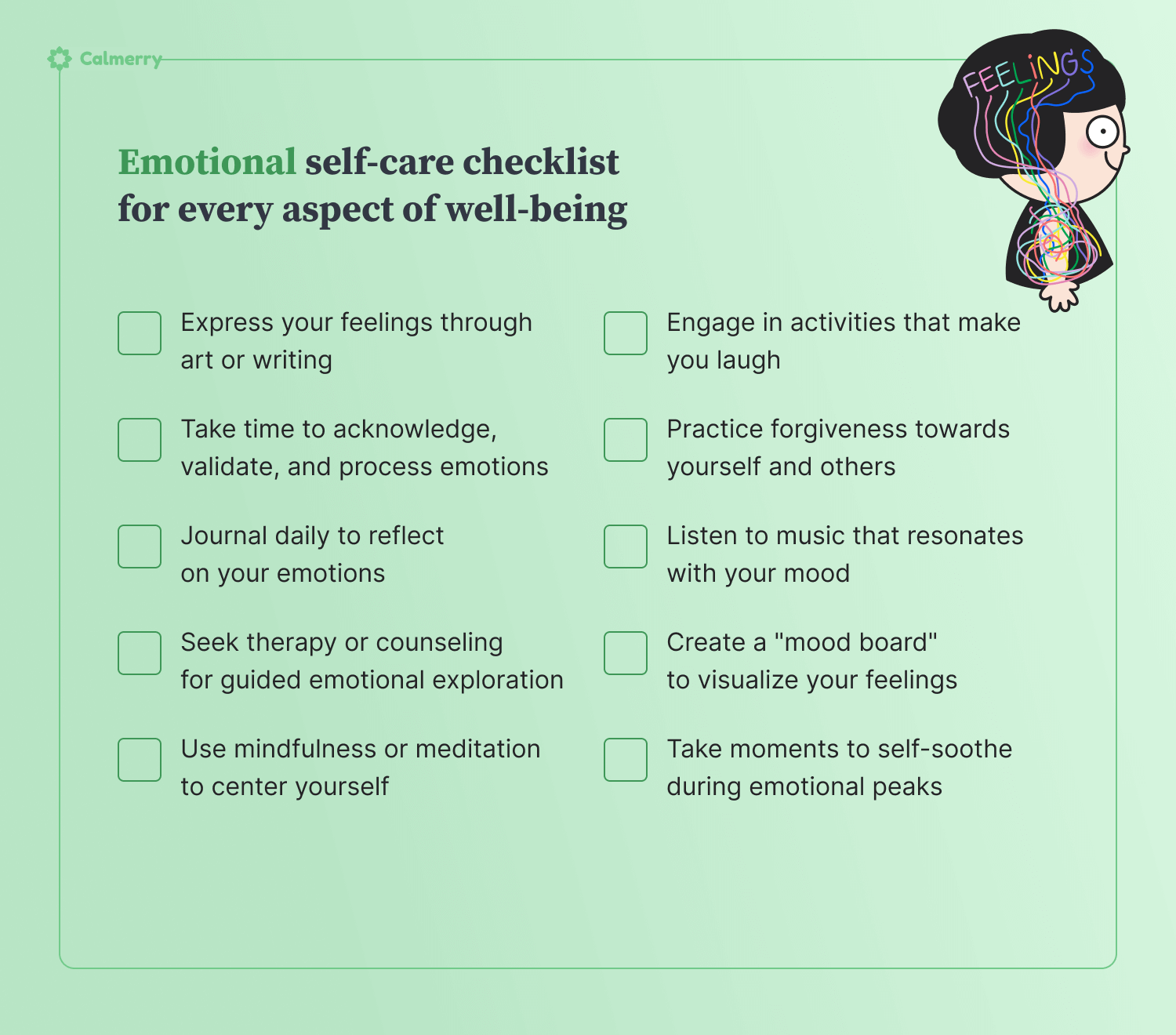 Spiritual self-care
Engage in prayer or personal reflection time. Spiritual practices offer solace and can deepen inner connection
Journal about your beliefs and values. Reflecting on core beliefs can reinforce purpose and direction
Take nature walks to feel connected with the world
Read spiritual literature or sacred texts
Participate in community service or acts of kindness
Set aside time for daily gratitude reflections. Gratitude shifts focus to life's blessings, promoting contentment
Attend workshops or retreats that align with your spiritual interests
Connect with a spiritual mentor or guide. Guidance can offer clarity on the spiritual path
Practice yoga or tai chi to combine physical and spiritual well-being
Engage with a like-minded spiritual community or support group for shared growth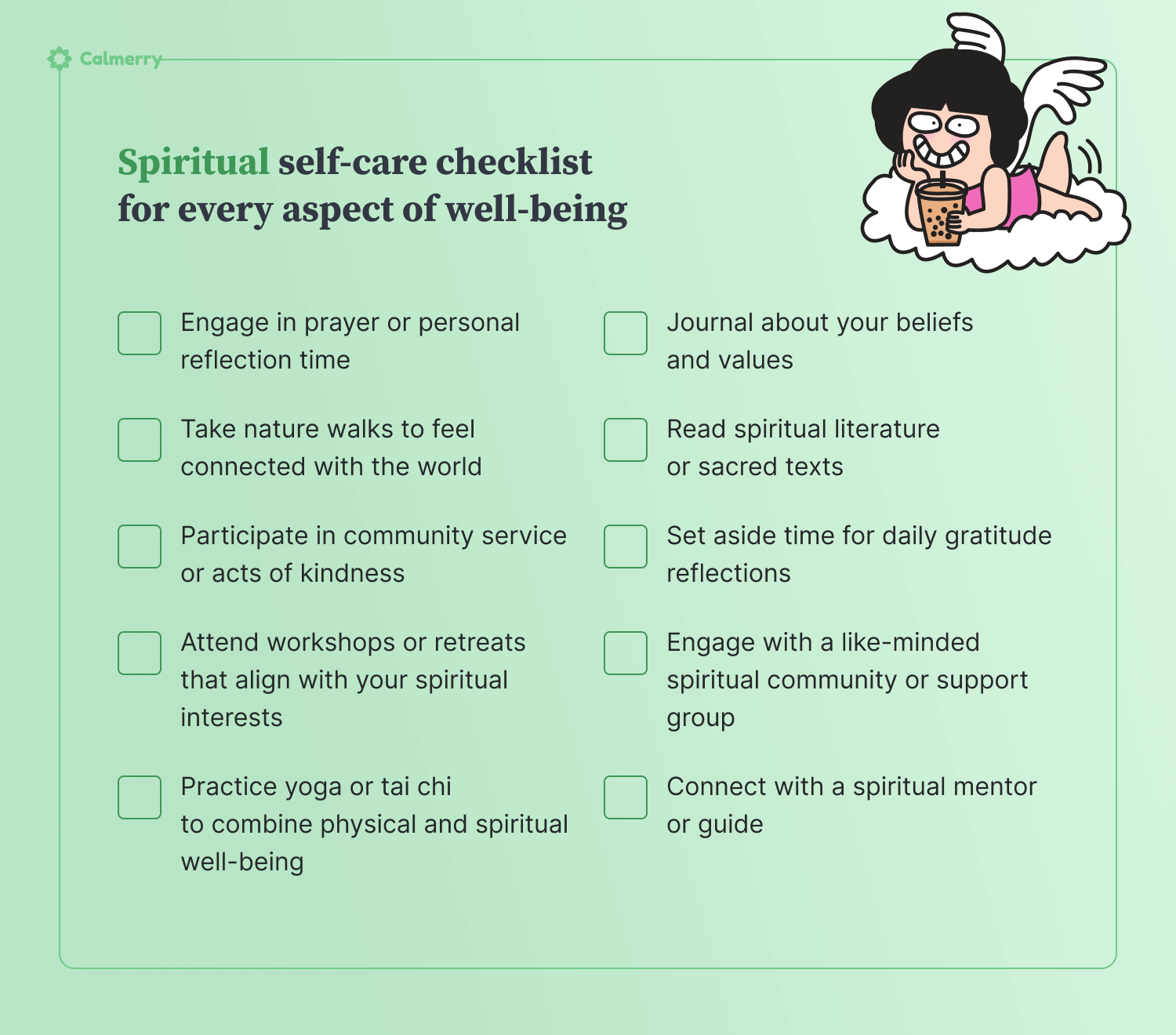 Professional/intellectual self-care
Take regular breaks during work to rejuvenate the mind and productivity
Set clear professional boundaries to ensure work-life balance
Attend workshops or courses for personal growth. Continuous learning fosters intellectual expansion
Network with peers in different fields for new ideas and perspectives
Set and review your goals/aspirations/desires
Organize and declutter your workspace for clarity and focus
Seek mentorship or guidance for experience-based insights and direction
Celebrate professional achievements to boost motivation and self-esteem
Explore more interests/languages/skills.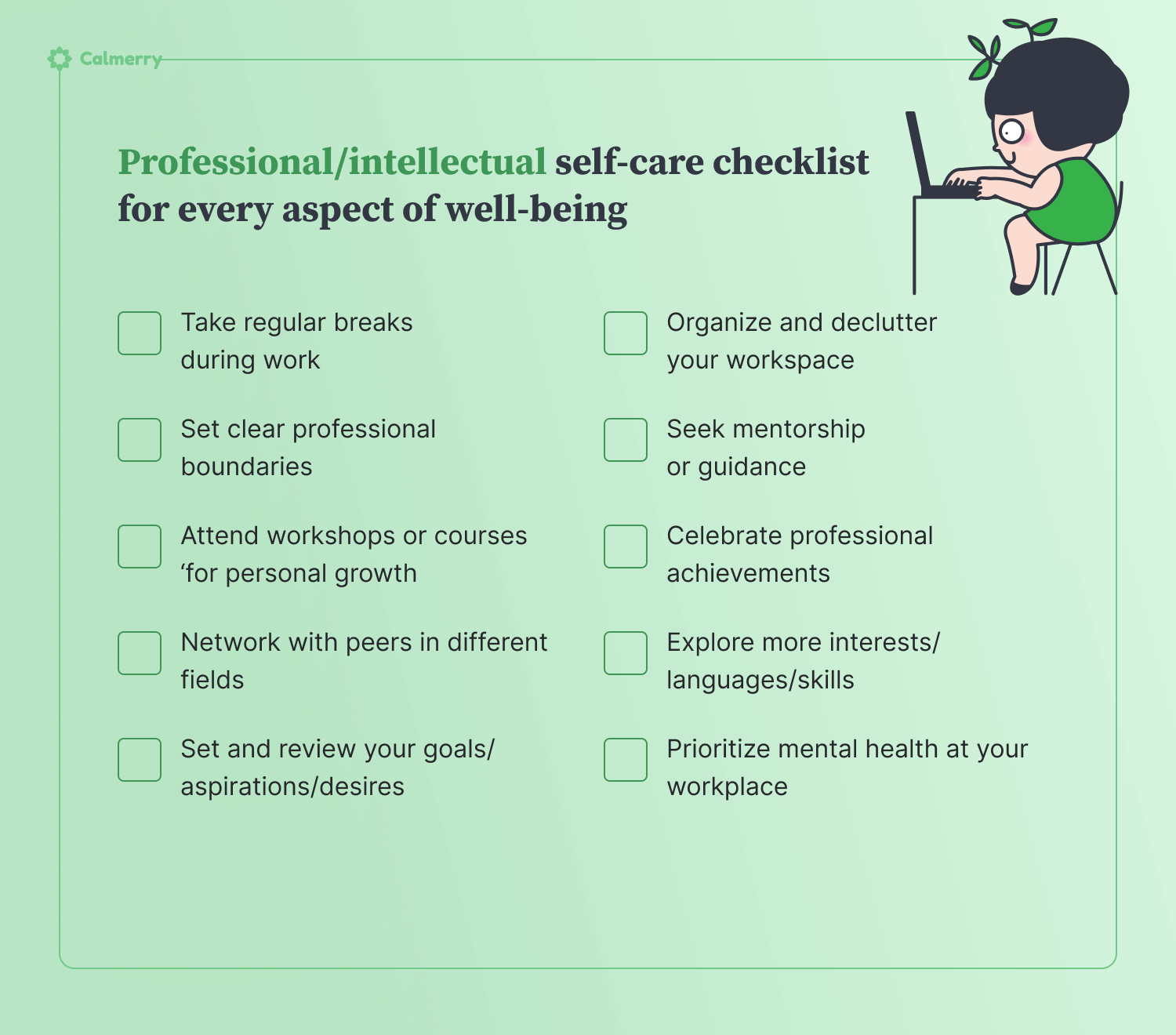 Financial self-care
Create your personal budget
Set financial goals
Review and organize bills to prevent overspending and late fees
Build an emergency fund. A safety net reduces stress during unforeseen events
Set aside a certain amount for personal treats
Consult with a financial advisor for informed financial decisions
Educate yourself on investments. Knowledge reduces financial risks and maximizes returns
Celebrate financial milestones. Recognizing progress reinforces healthy financial habits
Monitor and improve your credit score for better financial opportunities.
Periodically declutter and sell unused items for extra cash.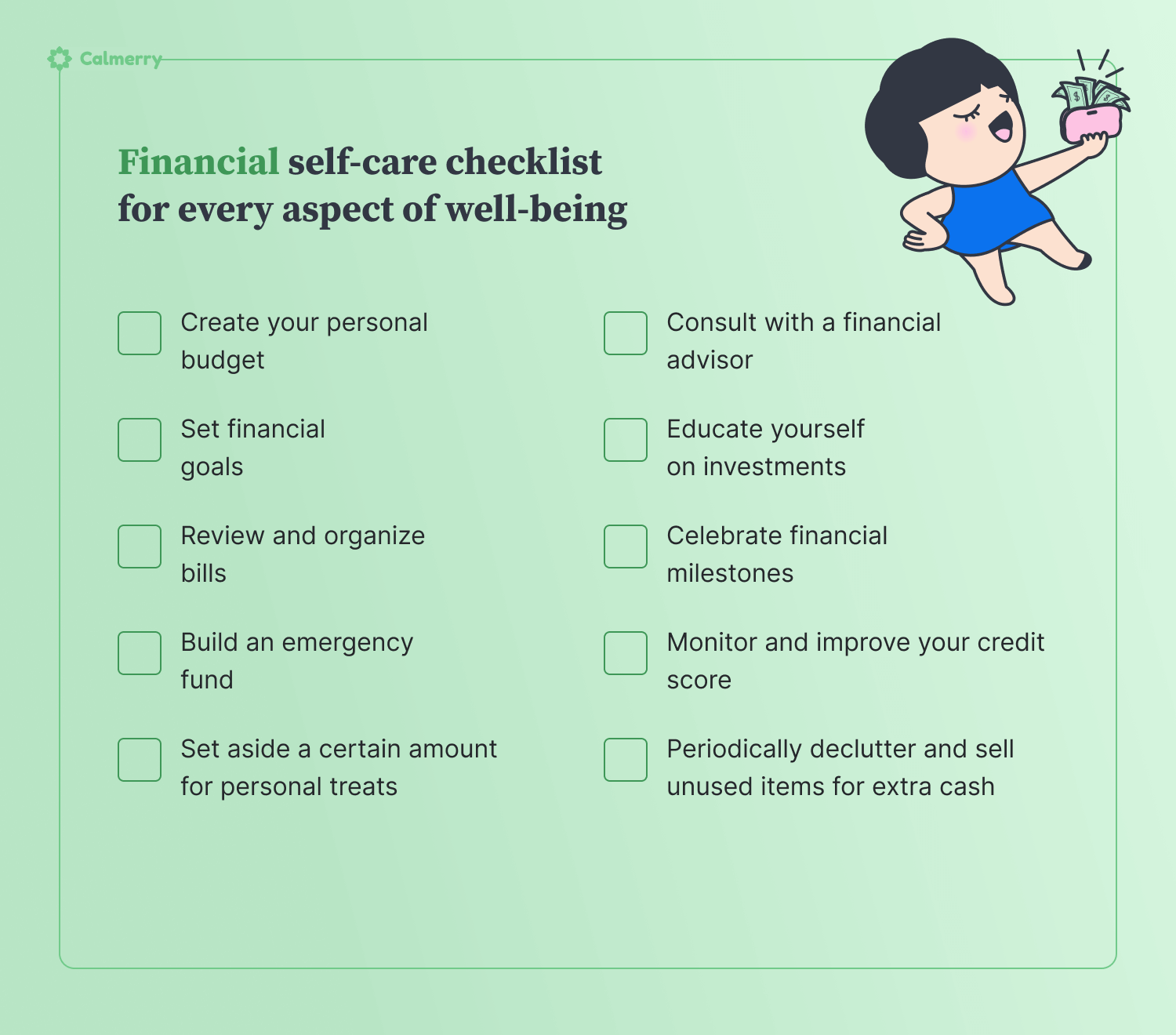 When to consider professional help
While the self-care activities listed can significantly enhance your well-being, there may be times when they aren't enough.
If you find yourself persistently overwhelmed, anxious, burned out, or feeling down, it might be time to consider professional help. This is especially true if these symptoms interfere with your daily activities, relationships, or physical health.
Professionals, such as therapists, counselors, and doctors, have the expertise to provide coping strategies, tools, and guidance tailored to your specific needs. They offer a safe space to explore and address deeper concerns that might be affecting your well-being.
If you feel you need a deeper level of support, don't hesitate to reach out. Calmerry's mental health professionals are ready to guide you through any challenges you might be facing.
Investing in your mental well-being is a powerful act of self-care. Start your journey to a happier, more balanced life today.
We curate our articles with warmth and care, drawing from reputable sources and expert knowledge. Explore our editorial process to understand how we prioritize your trust and keep accuracy in every word we share.
Сheck your mental well-being for free: