Creative Expression: 7 Mental Health Benefits of Creativity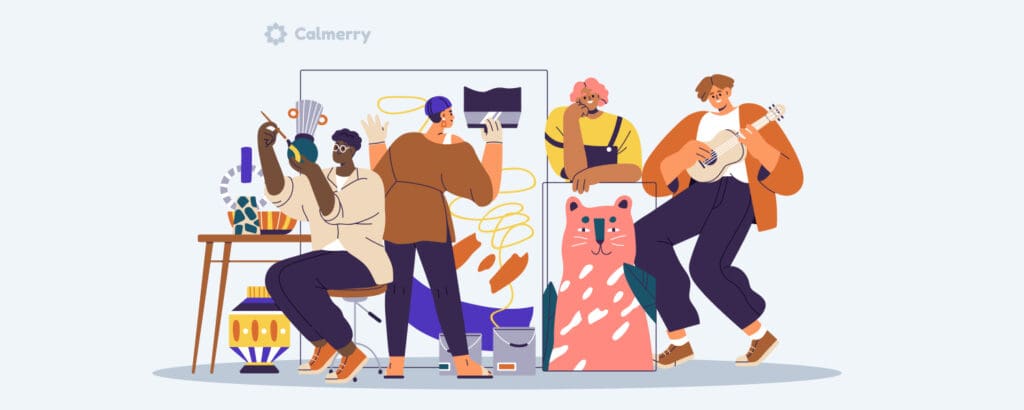 Reading Time:
6
minutes
Artists have understood the connection between creativity and mental health since time immemorial. They use art to express their experiences and emotions or reactions to social and political issues.
Now, with the help of science, we're starting to understand the many health benefits of creativity. Why is self-expression so essential, and how can you practice it on your own?
What is a creative expression?
Who do you see when you think of creative people? Artists, actors, writers? The truth is we're all capable of creativity in many shapes and forms.
Creative expression is about being aware of your emotions and being able to manifest them by drawing, expressive writing, or dancing, but also cooking or gardening. It's often a way of making sense of the world around you as well.
7 mental health benefits of creativity
Creativity is vital to our well-being. Sometimes it may seem that giving in to emotional numbness and disconnecting from your feelings will bring relief. While it may help you function for some time, it's still a survival tactic that is harmful in the long run and can cause burnout.
Instead, find healthy and creative ways to process your emotions and let them out.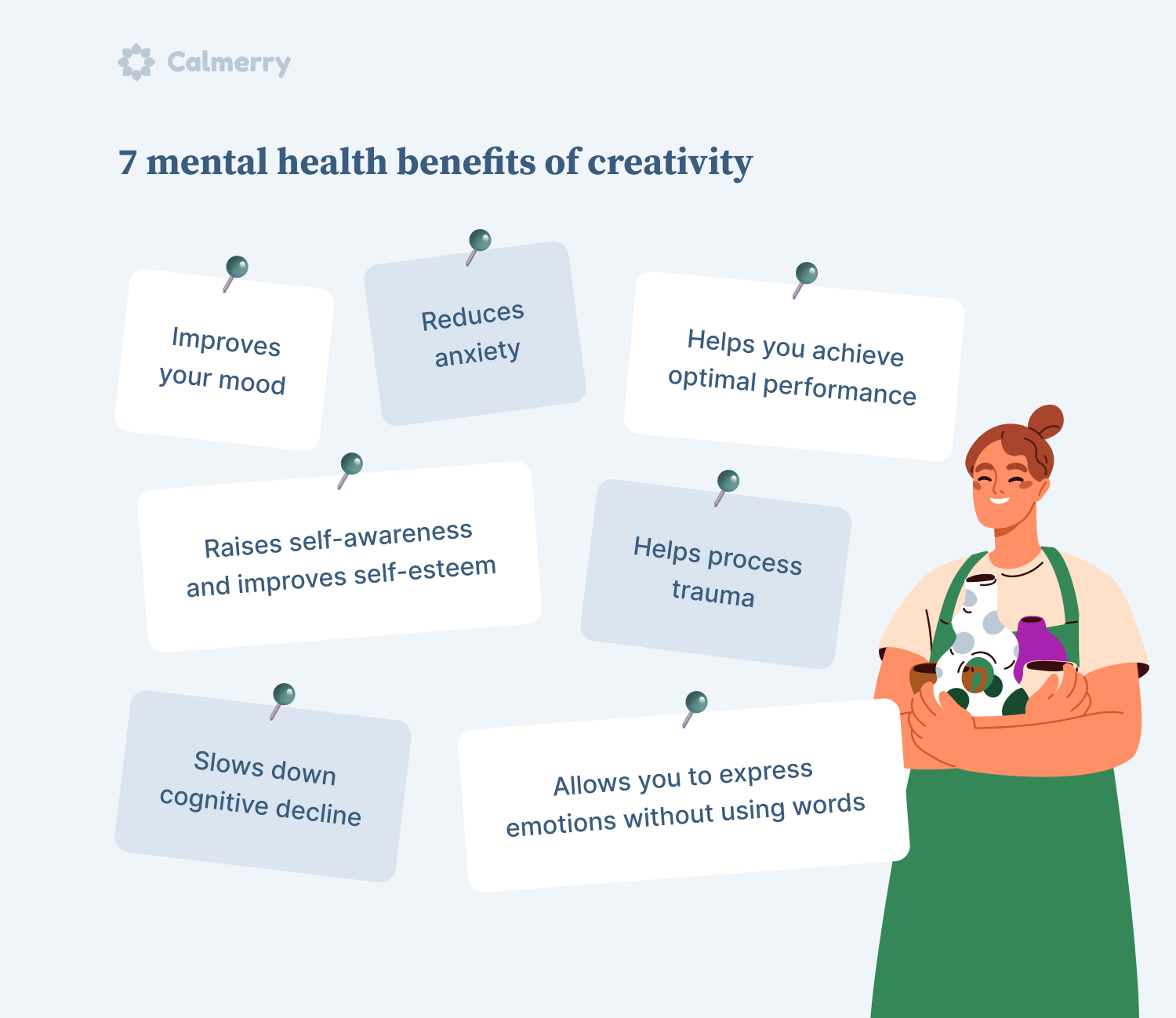 Improves your mood
If you struggle with depression, you know how challenging the simplest tasks can be. Creating may be the last thing you want or have the strength to do. However, research shows creative expression is an effective way to manage depression, especially alongside therapy.
What's more, some studies reveal that engaging in such activities may help manage pain, which can, as a result, improve mood and lower stress as well.
Reduces anxiety
Focusing on a creative task is also a great way to practice mindfulness, which may be beneficial if you experience anxiety.
Research has also shown that creative expression may help reduce stress and regulate emotions. It can be a great addition to your inventory of coping skills.
Helps you achieve optimal performance with the flow state
The concept of flow was created by Mihaly Csikszentmihalyi, a Hungarian-American psychologist famous for his research on happiness and creativity. When experiencing flow, you are "in the zone" – wholly immersed in the activity.
What's important is that it must be something you enjoy and that matches your current skill set. If it's too easy, you'll get bored. If it's too difficult – you'll get frustrated.
In the flow state, your brain releases significant amounts of endorphins, serotonin, and dopamine – hormones connected to pleasure and focus. This allows you to reach optimal performance levels and derive great satisfaction from the activity.
Flow means forgetting about anything else as you focus entirely on the task. Mindfulness, on the other hand, entails becoming more aware of what is happening around you.
Interestingly, while those two states seem like total opposites, studies show that practicing mindfulness can help achieve the flow state.
Creative expression is about being aware of your emotions and being able to manifest them by drawing, expressive writing, or dancing, but also cooking or gardening. It's often a way of making sense of the world around you as well.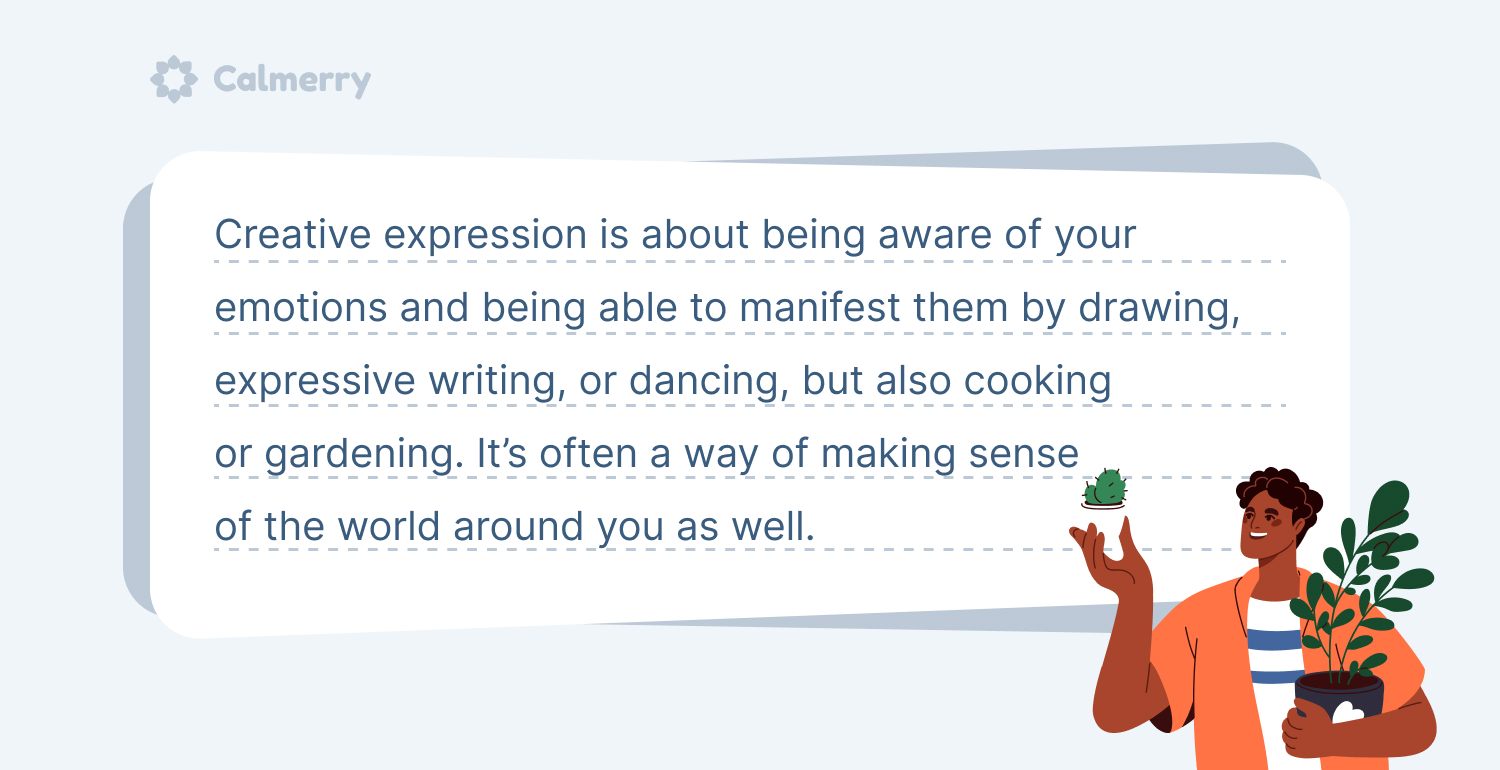 Raises self-awareness and improves self-esteem
Diving deep into your mind and opening yourself to vulnerability by creating allows you to become more aware of your emotions and needs.
It can also improve your self-esteem. Drawing, writing, dancing, cooking, or engaging in other forms of creativity can help you become more accepting of yourself.
Remember that you're doing this to give form to your feelings or breathe life into an idea. You don't need to share your creations with others if you don't want to or show them only to people you trust – friends, family, or a therapist. What's important is that you don't self-censor your ideas.
Helps process trauma
Trauma can heavily impact your creativity. It may seem like you lost that part of yourself, making you feel even worse and miserable. Fear not, for your ability to create is still there. However, it can take some time and effort to reconnect with it.
Translating your experiences and emotions into words, music, movement, or images can help you process them healthily and safely. And it lessens the shame, anger, and guilt often present in the wake of traumatic events.
Slows down cognitive decline
Cognitive abilities and memory can also benefit from creative expression. Certain studies have shown that along with a healthy diet, exercise, and maintaining social connections, engaging in activities like painting, sculpting, quilting, or ceramics helps slow cognitive decline.
Allows you to express emotions without using words
Sometimes our feelings escape words. In such a case, you may be inclined to suppress emotions causing you distress. After all, you can't quite talk about them.
Thankfully, plenty of creative ways exist to express yourself without uttering a single word.
Artistic activities like drawing or painting are a great way to start. Or maybe you prefer singing? Instead of lyrics, convey your sadness or anger by humming or vocalizing.
How can you practice creative expression?
It may take practice, but try to let yourself create without judging. Self-expression is not about talent or ability – you don't have to make a perfect masterpiece. What's important here is that you focus on the process. It can be a time of playing, experimenting, curiosity, and joy.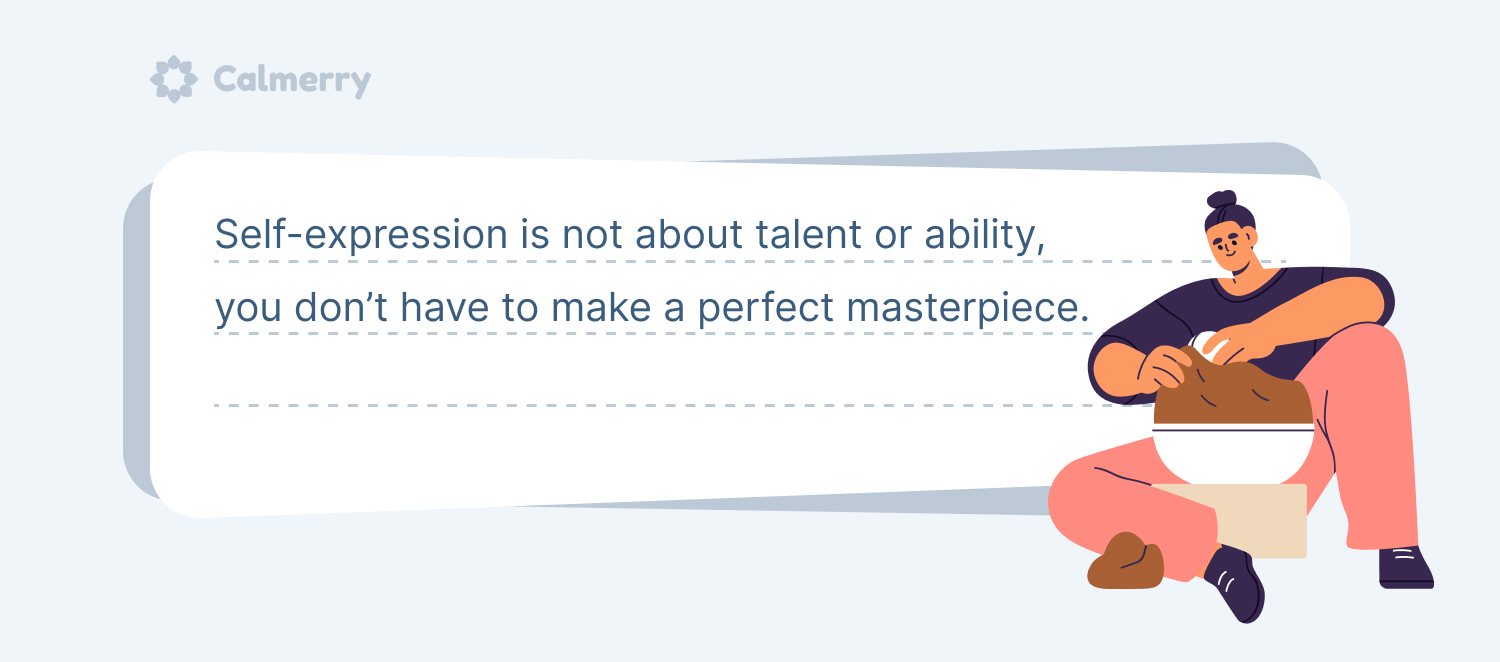 Here are some creative expression activities you can try:
Expressive writing
Writing is one of the most accessible forms of creative self-expression. Use a sheet of paper, a notebook, or even an app on your phone whenever you feel the urge to name your emotions or describe your experiences.
You can start a mood journal or try your hand at crafting a story or a poem. You may write about what you need now or needed in the past: a heroine using her wit to save the day, a teenager finding his chosen family, or an ordinary person discovering a world of magic.
Don't think about other people's opinions about your ideas. The only limit here is your imagination. If you need inspiration, plenty of free expressive writing prompts are available online.
Here are several journaling prompts to get you started:
Write down five things you're grateful for
Write a letter to your younger self expressing self-compassion
Make a list of things you like about yourself or of your achievements
Identify negative thoughts you have about yourself and try to counter them with positive ones
Describe your one goal and the ways you can achieve it.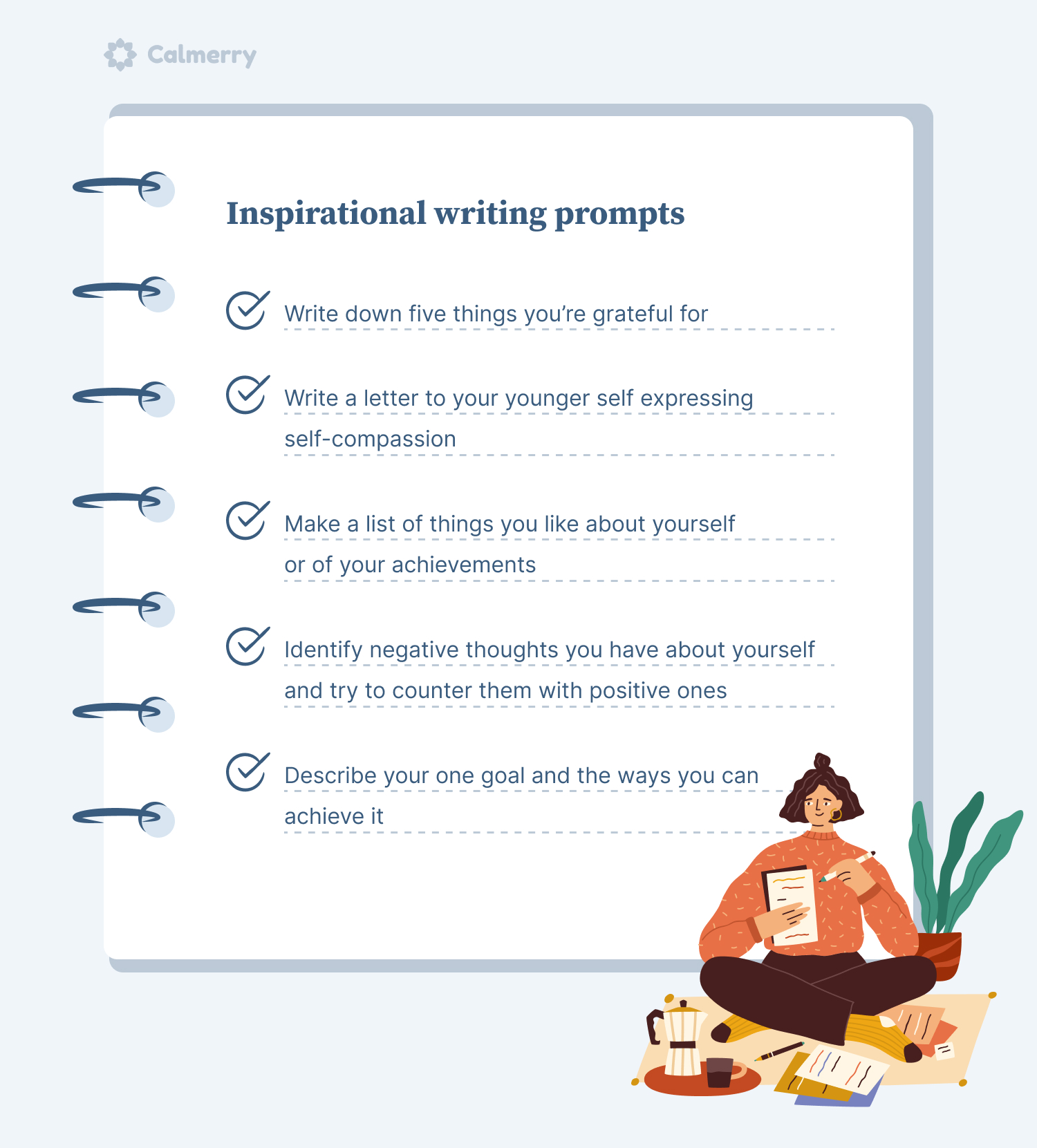 Musical expression
Studies show that musical expression – especially alongside standard treatments such as therapy – can significantly improve depressive symptoms and help manage pain.
Listening to music may be beneficial, but as with other creative activities, it's far better to participate actively.
How about learning an easy instrument like the ukulele? You can also write a song or sing along to pieces that move you the most or even paint to the music.
Visual arts expression
Painting and drawing, sculpting or ceramics, photography or arts and crafts – there are countless ways to express yourself by engaging in visual arts.
You can start simple with a quick session of sketching or doodling (with eyes open or closed) or trying to paint with your dominant and non-dominant hands. Allowing yourself to make imperfect or silly pictures can be a form of self-love.
How about starting a longer project? You may take a photo or make a drawing every day that expresses your emotional state.
Here are a few other ideas to start you off:
Depict a certain emotion
Make a portrait of a person you love
Create a picture of your safe space
Paint with your fingers
Make a sculpture of your family
Create a motivational collage (for a specific goal or a general one).
Creative movement as a form of expression
Sometimes, when you're bursting with feelings, moving your body may seem like the only way to let them out. Particularly as a trauma survivor, you may benefit from movement to process your experiences and improve your mental and physical integration.
How about dancing? Don't think about looking silly or not being graceful. You're dancing for yourself, not an audience.
Acting can also be therapeutic for survivors or people struggling with such issues as low self-esteem. Playing a role and connecting with a character can increase emotional intelligence and empathy.
Another benefit is that acting is usually a group activity, which means meeting new people and fostering social connections, which are also vital to your well-being.
Subscribe
to our mental health digest
Let us support you on the way to better mental well-being. Get expert tips and insights on mental health delivered to your inbox monthly.
Why to consider therapy
There are many ways in which creativity helps mental health. Nurturing your creative side can make you feel happier, less stressed, and healthier.
And talking to a Calmerry therapist about your experiences, thoughts, and habits can be even more beneficial. By the way, you can start recording and tracking them in the free mood-tracking and journaling bot Coa 🐨 and then discuss them with a professional.
However, if you've experienced trauma, depression, or other serious mental health problems, please consider getting help from a licensed provider and trying online therapy to start healing properly and learn how to manage your symptoms.
Сheck your mental well-being for free: