Published February 14, 2023 / Updated April 26, 2023
Attraction Five Ways: Why Attraction Matters in Your Relationships
Reading Time:
8
minutes
Have you ever wondered just why you're drawn to some people more than others? Or you find yourself attracted to someone that you didn't expect to be? If so, you're not alone.
Attraction to others is part of the human experience. We most often think of attraction in terms of sexual attraction and romantic relationships, but attraction is so much more than that. 
Attraction is a complex experience that helps us to connect with others and is a key player in relationships of all kinds. What makes attraction even more complex is that attraction isn't one "thing." Rather, there are different types of attraction, each with its own influence on you and how you navigate your relationships with others.
Understanding attraction can help you to understand what attracts you to someone and how to build strong relationships.
What is attraction, and why is it so important?
We can't have a discussion about attraction without addressing the question we all have – is there such a thing as "love at first sight"? About 52% percent of us believe in it.
Research says it's more likely a really strong initial attraction that feels like love at first sight. You've probably had the experience of meeting someone and feeling an immediate "pull" toward that person. You might not even be immediately aware of what's happening, you just know that you feel drawn to them in some way.
People can form an impression about someone in about 100 ms (milliseconds) – before you're even aware of what your brain is doing! Attraction is the first step in relationship building. Will it be a love relationship? Maybe. But without attraction, you'll never find out.
So, just what is attraction? Simply put, attraction is what draws you to someone. It actually starts deep in the brain, triggering neurochemicals that turn your attention to that person.
You might not even know why they've caught your attention or why you want to connect with them in some way. More than just biological, attraction is also rooted in our psychological, social, and cultural experiences, too.
These influences help us to develop an idea of our "types," and over time, we begin to seek out partners with those characteristics – our "type." Not very romantic, but true.
What is the importance of attraction in everyday life?
More broadly, attraction is what helps us form attachments with others. How we are attracted to someone and what qualities we might focus on depend on what is attractive to us.
Research tells us that we tend to be attracted to people who are similar to us and, often, similar to people who are important to us, like parents, exes, and friends. Attraction can also be influenced by how someone looks or sounds, or even smells (hello, pheromones!).
Attraction plays another role too. Attraction helps you to see what you like and don't like. Understanding your experiences can help you gain insight and become more self-aware of your own feelings, preferences, and patterns.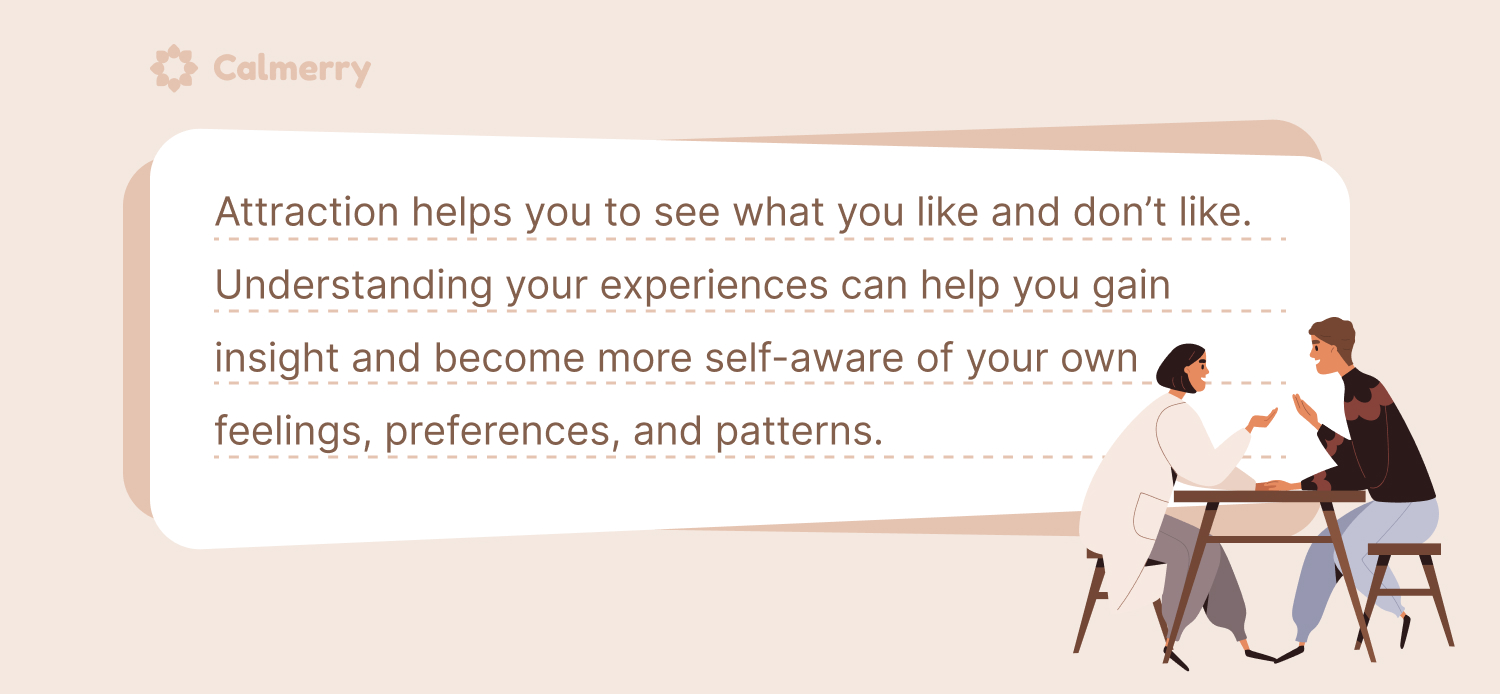 Being able to see how your attraction works can help you uncover patterns that might not be working for you or places where you might need to set better boundaries in relationships.
It's also important to know that attraction can change over time. Sometimes feelings change, or what you find attractive changes. When you are in touch with your own preferences and needs, you're better able to manage change and make healthy decisions.
While attraction is a universal experience, it's also uniquely individual. How you experience it will be grounded in your own influences and needs. The goal is to connect with others in ways that bring happy and healthy relationships.
Types of attraction
Attraction isn't a singular or "all-or-nothing" experience. Just as there are different types of relationships, there are different types of attraction that influence how you're attracted to someone.
You can be attracted to someone in many ways and on many levels, sometimes experiencing several types of attraction all at once.
Attraction is generally viewed along five main types: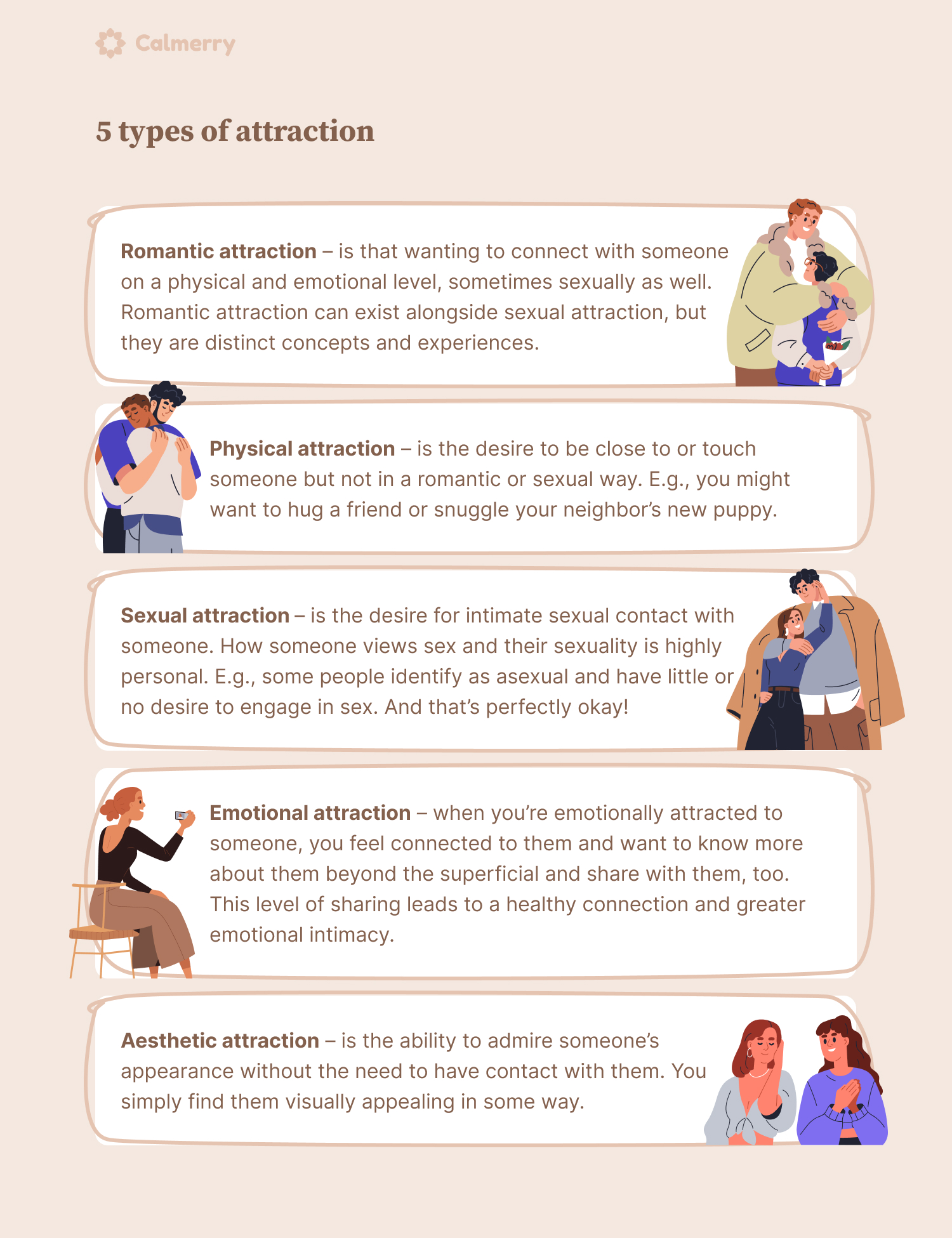 Romantic attraction
Just what is romantic attraction if it's not sex? Romantic attraction is that wanting to connect with someone on a physical and emotional level, sometimes sexually as well.
Romantic attraction can exist alongside sexual attraction, but they are distinct concepts and experiences. For example, you can be sexually attracted to someone but not desire a romantic relationship with them. However, when there is romantic attraction, along with a healthy sex life, it sets the foundation for long-term relationship satisfaction.
Like most things involving the human condition, romantic attraction is uniquely personal and can be experienced in many ways, depending on your preferences for romantic relationships.
It might surprise you, but not everyone has an interest in romantic relationships. For example, some people rarely experience romantic attraction. Others identify as aromantic, meaning that they have little or no desire for a romantic relationship.
Physical attraction
Physical attraction is the desire to be close to or touch someone but not in a romantic or sexual way. For example, you might want to hug a friend or snuggle your neighbor's new puppy. It's a desire to experience closeness, and it's a human need.
Ways of experiencing physical attraction include:
Intimacy – the desire to be physically close or connected to other people (not in a sexual way)
Sensuality – the desire to touch someone or be touched (not in a sexual way). Touch is an important part of social interaction and social relationships. (Think a pat on the shoulder, the gentle squeeze of a hand.) In fact, touch has been shown to relieve stress and is thought to be a kind of social "safety signal" that things are OK.
Subjective physical attraction – this attraction, based on your interactions with someone, results in feelings of admiration or affection for someone and the desire to be around them.
Objective physical attraction – this attraction occurs when lots of people find someone physically attractive, but you may not. Think of a celebrity that lots of people find physically attractive and want to be near, but you don't.
Sexual attraction
This is probably what you think of when you hear "romance" or "attraction." Sexual attraction is the desire for intimate sexual contact with someone.
Sexual attraction can be:
Subjective – You develop sexual feelings for someone based on your interactions with them. An example would be someone you're in a relationship with.
Objective – Lots of people find someone sexually attractive, but you may not. Think of a celebrity or movie star that many people find sexy but you don't so much.
Lust – This is the experience we often equate with sexual attraction. Lust is the experience of intense sexual desire and passion for a specific person.
How someone views sex and their sexuality is highly personal. Some people identify as asexual and have little or no desire to engage in sex. Some people don't need to feel any emotional or other attraction to be sexually attracted to someone. People who identify as demisexual need to form an emotional bond before being able to feel sexual attraction.
Can you have a healthy relationship without sex or sexual attraction? That depends. A relationship needs intimacy to thrive, but intimacy comes in forms besides sexual intimacy.
Sexual intimacy can enhance a relationship, but not all couples desire that connection. If one partner desires sex and the other doesn't, then that can spell trouble.
The good news is relationship counseling can help when there's a disconnect.
Aesthetic attraction
Aesthetics is a concept grounded in philosophy and is often associated with beauty and the senses. Have you ever seen a picture of your favorite singer and thought how attractive they are? Or noticed a beautiful piece of artwork? You've experienced aesthetic attraction.
In relationships, aesthetic attraction is the ability to admire someone's appearance without the need to have contact with them. You simply find them visually appealing in some way.
We all have a "type" or those preferences or qualities that we find appealing and attractive. Aesthetic attraction is often the catalyst for initiating a connection, but it alone can't sustain a relationship.
Emotional attraction
Emotional attraction might be the most important attraction of all. We all have a need for someone who we can be fully open and honest with, sharing deep thoughts and feelings, knowing that we are safe to do so.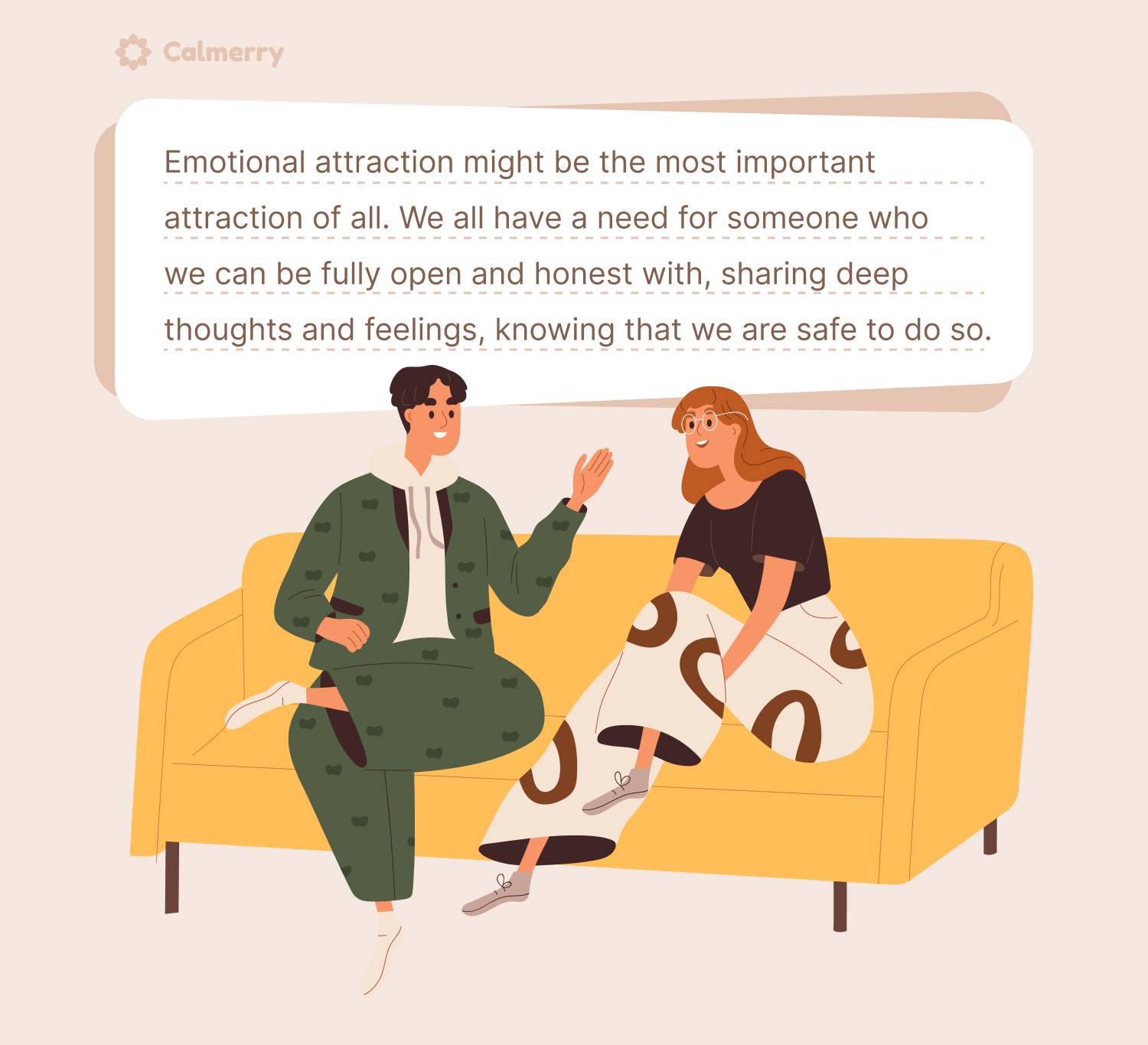 When you're emotionally attracted to someone, you feel connected to them and want to know more about them beyond the superficial. You want to share with them too. This level of sharing leads to a healthy connection and greater emotional intimacy.
Emotional intimacy is the glue that can keep a relationship healthy and thriving. Being able to connect on a deep, meaningful emotional/feelings level creates a sense of safety, security, and emotional safety.
Emotional connection is especially important for couples. When you're emotionally connected and invested in the relationship, you're more likely to get to know your partner on a deeper, more personal level.
By asking those deeper questions, you can learn each other's likes, dislikes, hopes and fears, and dreams. Learning each other's love languages has been shown to boost satisfaction too. Not surprisingly, spending quality time together talking is something that happy couples often do.
Research has found that being emotionally available is more important than even sex in relationships, especially for women. By the way, a lack of emotional connection is often cited as a reason for divorce.
How attraction can work for you
Attraction can sometimes be confusing. You might find yourself attracted to someone and not understand why. What does it all mean?
Here are some tips for sorting it out:
Become more self-aware
Take time to learn more about your feelings and needs. What is it that you most want or need in relationships with others?
Set your boundaries
Understanding your experience with attraction and relationships can help you to recognize where and when you need to set boundaries in your relationships. Communicate them clearly and be willing to hold firm in what you need.
Avoid the absolutes
Attraction is not "right" or "wrong," "good" or "bad." We experience attraction in lots of ways and for lots of reasons. One isn't better than another. What works is what works for you. 
Take time to understand your feelings and needs so that you can make choices that work best for you.
Remember that change happens
What works for you today might not work down the road. Feelings and needs very often change over time, and that's ok. The important thing is to keep the conversation flowing and open with your partner.
Subscribe
to our mental health digest
Let us support you on the way to better mental well-being. Get expert tips and insights on mental health delivered to your inbox monthly.
Get insights from a professional
If you still find yourself struggling to understand attraction and how it's influencing you, there's help. Talking with a therapist can help you sort through your feelings and understand how attraction might be playing a role in your relationships with others.
Couples can struggle with these issues, too, and relationship or couples counseling can help. Working with a relationship expert can help you to understand what's keeping you from connecting in the ways you want to, learn new ways of connecting, and bring you closer to that happy, romantic, and satisfying relationship you desire.
Today, getting help is easier than ever. Online counseling makes seeing a counselor convenient and comfortable. You can see your counselor from the comfort of your home, and at times that makes scheduling easy.
Best of all, online counseling has been shown to be at least as effective as traditional in-person therapy. You can have the healthy, happy relationships you want. Counseling can help you get there.
Сheck your mental well-being for free: