Published February 7, 2023 / Updated March 10, 2023
The Science of Emotional Intimacy: What It Is and How to Build It in Your Relationships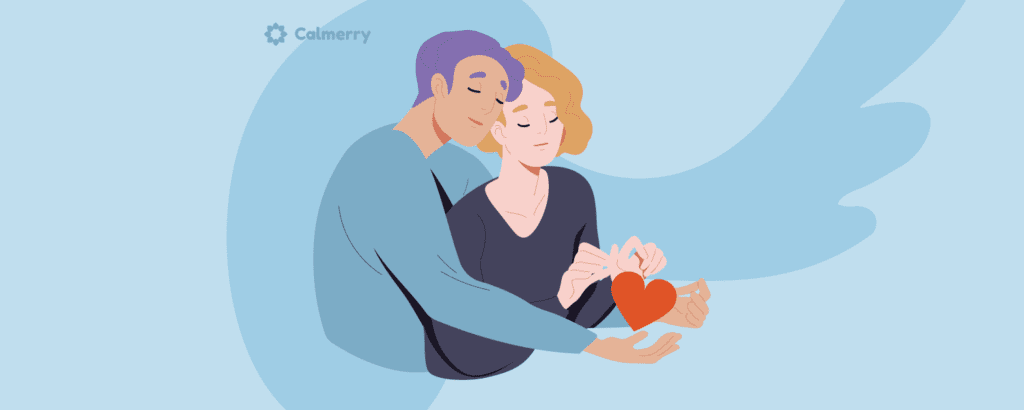 Reading Time:
7
minutes
When you think of intimacy, what comes to mind? If you're like most people, it's probably will be sex. And yes, sexual intimacy is an important part of a romantic relationship. But it might surprise you that intimacy is much more than sex.
Intimacy is the degree of emotional closeness that exists between you and other people or groups that allow them to enter your personal space without causing discomfort. Intimacy is a key aspect of close, familiar, and usually loving personal relationships and requires a deep understanding of each other. This intimacy is at the heart of how we connect with others; and requires a willingness to be emotionally vulnerable.
People are multifaceted, and so is intimacy. After all, you can make connections with someone on many levels. Intimacy in relationships is generally considered along several dimensions, including:
Physical Intimacy – the degree of physical closeness, and yes, this includes sex, but this also includes acts of affection like hugs, hand-holding, kisses, snuggling, etc.
Emotional Intimacy – the degree of bonding or connection on a deep, meaningful emotional/feelings level
Intellectual Intimacy – the ability to come together to share thoughts and ideas
Experiential Intimacy – the degree to which you share each other's interests and spend time together
Spiritual Intimacy – the degree to which you share views about life's purpose and connection.
In a romantic relationship, you might think a good sexual connection is key, right? While sex is an important part of a relationship, it is not the only intimacy that matters. And in fact, it isn't even the most important. That designation goes to emotional intimacy; it's a part of every important relationship, not just a couple's relationship.
It turns out that emotional intimacy is kind of the secret sauce to keeping a relationship healthy and thriving. And the good news is that you can nurture emotional intimacy in your relationships!
What is emotional intimacy?
Emotional intimacy is the foundation of intimacy and connection in relationships. It is a personal, shared connection between two people to feel safe to share their deepest thoughts and feelings. It is that place where you feel safe, protected, honored, and heard.
This level of emotional closeness requires self-awareness, trust, and acceptance of whom each of you is. It is a place of emotional vulnerability and the willingness to let someone "see" the real you.
The idea of being that open and vulnerable can feel uncomfortable, or even scary, for some people. The fear of emotional intimacy is real and can hold you back from truly being able to bond with others emotionally.
It turns out that emotional intimacy isn't just something that "happens." In fact, there's science behind our bonding. The ability to connect is thought to form very early in life, rooted in the attachments we form with our earliest caregivers — usually mom and dad. Early separation, trauma, abuse or neglect, or other adverse experience influences our ability to form secure, healthy attachments later in life and can affect relationships.
For example, someone with a fearful/avoidant attachment style wants intimacy and connection; but at the same time struggles with trust and emotional closeness. They tend to avoid strong attachments for fear of getting hurt.
When you think of emotional intimacy, your thoughts probably gravitate straight to romantic relationships. The fact is, emotional intimacy can develop between any two people – friends, parents, their children, and even friends. These relationships are about closeness and connection, too, but are platonic in nature. They play an important role in our emotional growth and well-being.
If you have had a BFF, you've probably experienced platonic emotional intimacy. The ability to establish emotional intimacy between friends is something that actually starts in early adolescence as part of the developmental process. It is during this time that we learn how to connect on an emotionally intimate level with another person.
Sometimes referred to as "intimate friendship," these close and trusting friend relationships aid in psychosocial development. They've even been shown to set the stage for developing healthy romantic relationships moving into adulthood.
Signs of true emotional intimacy in relationships
So how do you know if you have good emotional intimacy in your relationships? Some important signs of emotional intimacy can include:
Mutual trust in each other
Validation and acceptance of each other for who you each are
A sense of emotional safety to share your most personal thoughts and feelings without fear of judgment.
You feel safe and secure in the relationship
You're emotionally available to each other
You openly express your feelings, care, and affection for each other
You share experiences
You support and encourage each other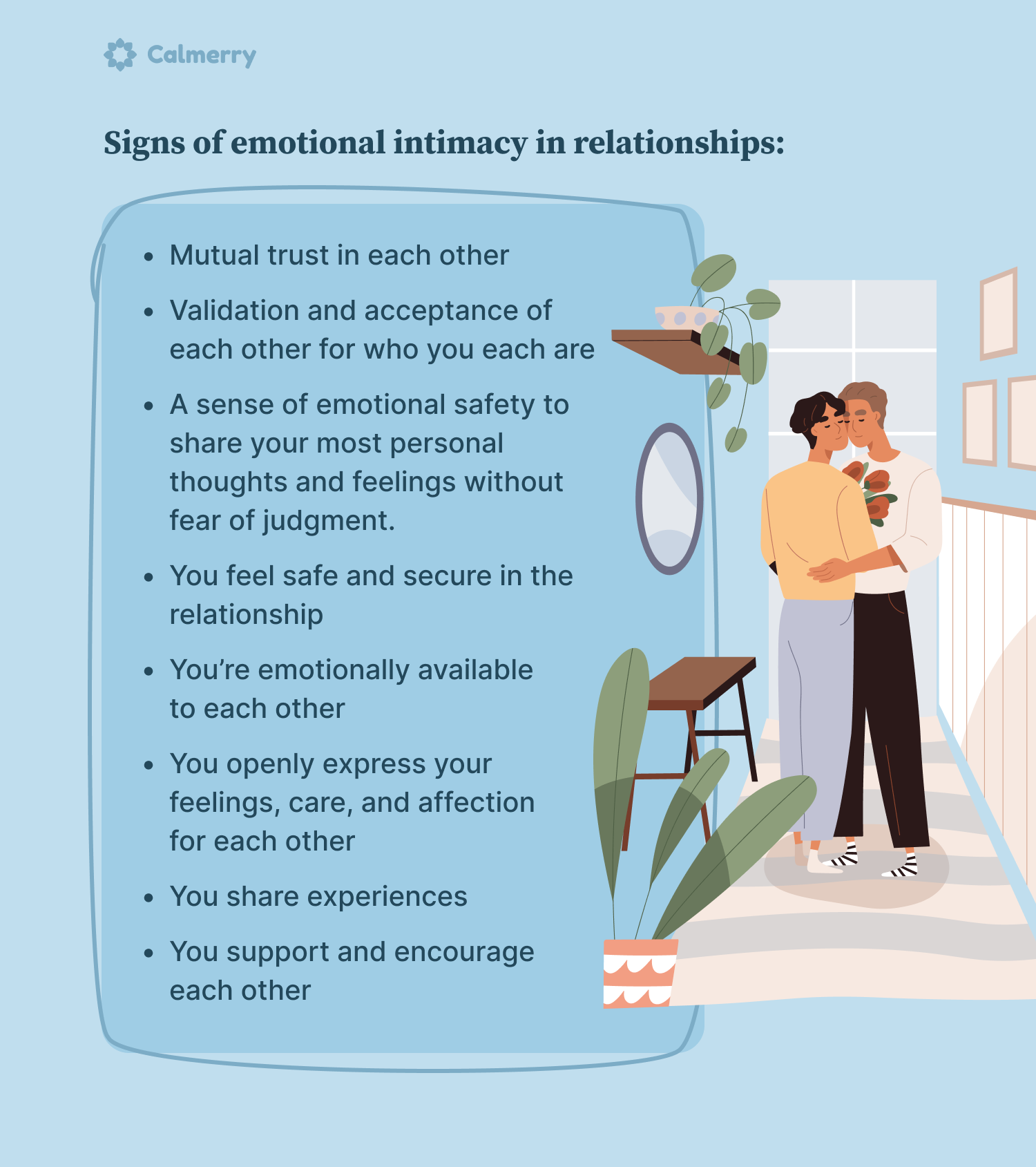 Being emotionally connected to someone is not the same as having a codependent relationship. Codependency involves an unhealthy pattern of consistently putting another person's needs ahead of your own while neglecting your own.
Healthy intimacy is more balanced. Sometimes your partner's needs will need to take priority. Other times, it will be your needs, and your partner will support you. In healthy relationships, you support each other.
Where lack of emotional intimacy in a relationship can lead
Relationships of all kinds need attention and nurturing. A lack of emotional intimacy in a relationship can spell trouble. Without that connection, your interactions are superficial and fraught with insecurity. A lack of connection in friendships can leave you feeling disconnected or isolated from others, wondering why you can't seem to connect.
Emotional intimacy in marriage and other couples' relationships is critical to success. Study shows that being emotionally available is more important than sex in relationships, especially for women. Also, this study has found that while men are more likely to leave a relationship due to sexual availability, women are more likely to leave due to emotional distance. Not surprisingly, a lack of emotional connection is often cited as a reason for divorce. 
If your relationships lack that emotional bond, all is not lost. There are things you can do to build emotional intimacy in your relationships.
How to build emotional intimacy
If you're looking to build better emotional intimacy and connection in your relationships, check out these tips. While some are better suited for couples, many can be applied to any important relationships you want to nurture.
Appreciate each other
Appreciation is more than words. In fact, intimacy is built from a thousand tiny, but meaningful gestures. Showing appreciation for someone can be anything from directly saying "I appreciate you" to doing those little things that mean so much to them.
Here are some ideas:
Hold your partner's (or parent's or child's) hand when you're walking
Leave a sweet note in their bag or where they'll find it
Bring them a sweet treat or little gift "just because"
Send a text during the day just to say, "I'm thinking of you" or "Good luck" if they're facing a challenge that day
Be kind even when it's hard
Subscribe
to our mental health digest
Let us support you on the way to better mental well-being. Get expert tips and insights on mental health delivered to your inbox monthly.
Be open
Create space to open with each other genuinely. Vulnerability, being open, and sharing those deep thoughts and feelings, fears, hopes, and dreams, are at the heart of emotional intimacy. It allows you to really "see" each other beyond the surface.
When you create and honor this safe space, you're getting to know each other and nurturing your feelings of trust and emotional safety with each other.
Make time for each other
In the hustle and bustle of life, relationships can sometimes get pushed down the to-do list. Make spending time together a priority as you would any other important event.
Coming together is an opportunity to check in and reconnect:
Have a day or night out together (e.g., date night, girls' night, etc.)
Make it a point to share a meal or set aside time to talk at the end of the day
Plan an overnight or weekend getaway
DO fun things together, just the two of you
Do something together you haven't done before – make new memories
Whatever you choose, the important thing is that you make and prioritize the time to do some things with each other.
Talk about feelings
When people get emotionally disconnected, conversations move away from the deeper, more meaningful, and maybe painful discussions. Now is not the time to avoid. Lean in.
Talk to each other about how you're feeling and what you need. Ask back what they need. It's ok to ask the hard questions, and it's not to have all the answers. The important thing is to keep the lines of communication open.
Ask questions
Whether you're in a new relationship or your current relationship is struggling, asking questions can get things moving. Sometimes, asking the right questions can help open lines of communication and reveal things you might have missed otherwise.
In fact, asking meaningful questions and listening to their responses is a powerful way to enhance closeness and understanding between two people.
Meaningful questions require more than a simple yes or no and can help you dig a little deeper and really get to know and understand the other person.
Wondering just how to get started? Here are some deep questions to get to know someone:
What do you think is your greatest accomplishment so far?
What are you most grateful for?
Who is the person who has most influenced you?
What is your biggest regret?
What do you consider your best quality and why?
What do you value the most in a relationship and why?
If you could have one dream come true, what would that be?
What is your most important goal?
Are you happy with the path you're on now?
What do you consider your biggest flaw? How do you work on that?
What is something people don't know about you, but you want them to know?
Any question that helps you understand the other person is ok. Remember, you're asking them to be open with you. Be sure to listen attentively and with the goal of understanding.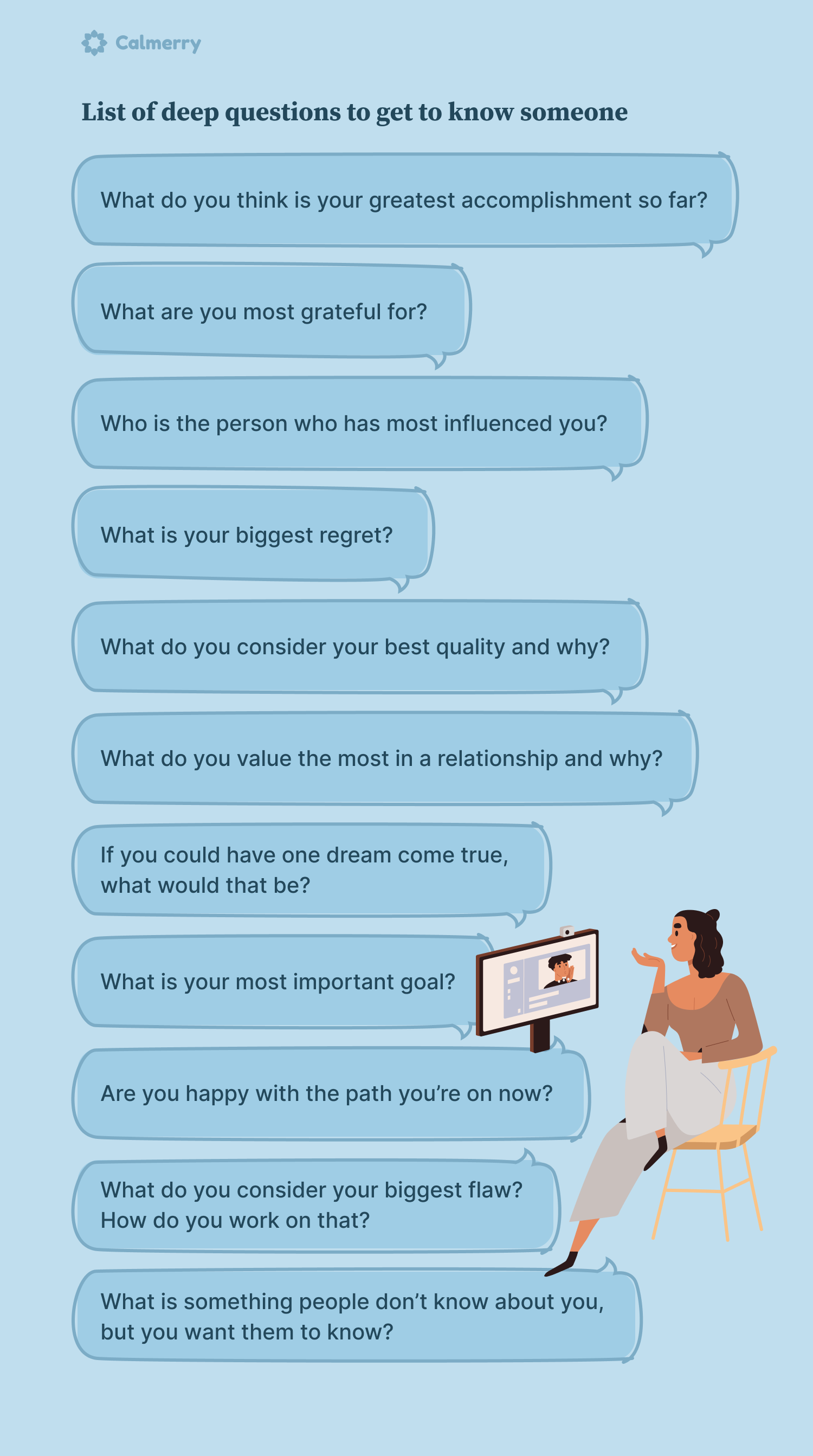 When you just can't connect…
Sometimes, emotional intimacy seems to stay just out of reach. You both want to connect but just can't get there. When that happens, frustration can set in, and the relationship breaks down.
Don't be afraid to consider counseling. Working with a relationship expert can help you to understand what's keeping you from connecting in the way you want to and bring you closer to that happy relationship you desire.
Today, getting help is easier than ever. Online counseling with Calmerry makes seeing a counselor convenient and comfortable. You can reach your counselor from the comfort of your home and on time, which makes scheduling easy.
Best of all, online counseling has been shown to be at least as effective as traditional in-person therapy. You can have the healthy, happy relationships you want. Counseling can help you get there.
Сheck your mental well-being for free: