Published May 12, 2022 / Updated April 28, 2023
5 Steps to Overcoming the Fear of Intimacy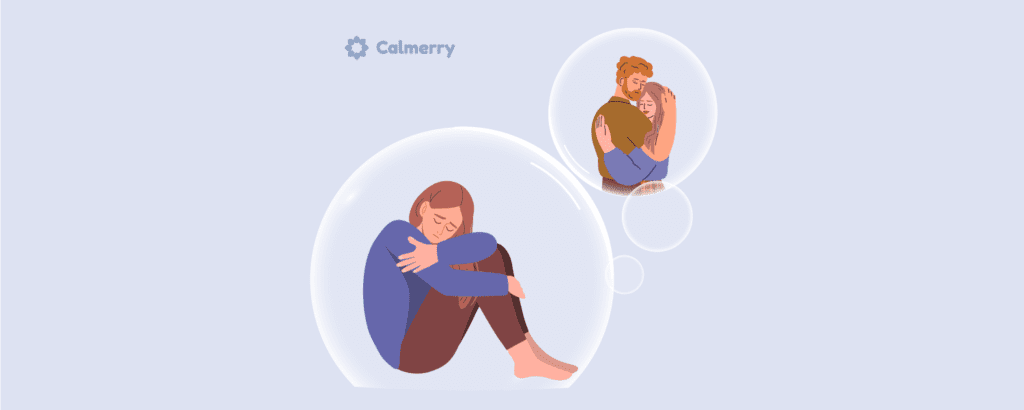 Reading Time:
7
minutes
Intimacy is considered a fundamental human motivation. Some go to great lengths to achieve it by signing up for dating apps, taking part in social events, or pursuing partners who aren't interested.
On the other hand, a lot of people avoid intimacy altogether or choose superficial relationships over deep emotional connections. What makes us so afraid of closeness?
In this article, we'll talk about the fear of intimacy and ways to overcome it.
What is intimacy?
Intimacy can be defined as the ability to be vulnerable to another person.
The most common types of intimacy are physical and emotional intimacy:
Physical intimacy involves any type of physical touch that conveys affection, from holding hands to sex.
Emotional intimacy refers to a deep emotional connection that can be developed by expressing your thoughts and feelings.
Both types of intimacy require partners to feel safe with each other and reveal some parts of themselves they might be ashamed to show. If you fear intimacy, you are afraid of getting too close to someone.
What causes fear of intimacy?
People are wired to need connection with others. So why do some of us find it so difficult to let someone in?
Fear of intimacy might be caused by a variety of factors and is often a response to upsetting life experiences such as abuse, a loss of a parent, a divorce, or any other traumatic experience.

Most commonly, it's a coping mechanism you learned from your parents – if your caregiver made you feel like your emotions weren't important or made you fear expressing them, you might have conditioned yourself to ignore your needs.
This kind of upbringing also translates into an insecure attachment style that makes it difficult to form relationships in adulthood.
You're also more likely to struggle with intimacy if you don't feel comfortable in social situations. Previous studies found a correlation between social phobia and fear of intimacy: those who are socially anxious are afraid of scrutiny, which prevents them from sharing personal information and getting close to others as a result.
Signs of fear of intimacy
It's not uncommon to struggle with intimacy at some point in your life. Maybe you end up dating someone who prefers when things move faster than you do, or a recent breakup made you distrustful of other people.
However, if a bad experience persistently prevents you from forming and maintaining close relationships, it might indicate a deeply-rooted fear of intimacy.
If you're unsure whether this sounds like you, have a look at these common signs:
You struggle to express your emotions
Talking to another person about what you're feeling is difficult, even for someone who feels comfortable being close to them otherwise. Still, most people recognize that developing their communication skills is an important aspect of healthy relationships.
Those who fear intimacy might find it challenging to understand the way someone's behaviour affects them and consequently fail to communicate their needs.
Low self-esteem and perfectionism

Have you ever heard the saying, you have to work on yourself before you can be loved by someone else?
Some people take this view to the extreme and believe that they don't deserve affection unless they've dealt with their insecurity and become the perfect versions of themselves.
If you're afraid of intimacy, you might have been taught that you can only receive your parent's approval if you get good grades or behave well, which is why you might now feel like you don't deserve to be loved simply for who you are as a person.
Fear of сommitment
Perhaps you're a lone wolf who prefers keeping to yourself or maybe you're a serial dater whose relationships are intense but short-lasting.
Whichever your pattern is, it brings you a sense of safety because you believe that a lack of commitment means that you won't get hurt. Unfortunately, avoiding connection and being emotionally unavailable only leaves you feeling empty in the long run.
You might sabotage your relationships
Just like your relationships don't typically last long, they might also be unstable.
The fear of intimacy might make you subconsciously try to push your partner away when you sense that they're getting too close. This might look like picking fights over minor issues or being overly critical of your partner.
You fear abandonment
If you tend to escape a situation as soon as you notice yourself growing close to someone, it might also be a sign that you have a fear of abandonment.
While it's natural to be afraid of rejection, trying to protect yourself from heartbreak by avoiding an emotional connection means that you struggle with intimacy.
How to overcome the fear of intimacy
Intimacy is a concept that can mean different things to different people. Some might see it as merely an ability to navigate the social world, while others see it as a key to happiness in romantic relationships. But whatever your view is, remember that there's no shame in wanting to be close to others, especially since being intimate can benefit you in various ways.
For example, studies show that it reduces stress and has a positive effect on your mental well-being in general.
On the other hand, a lack of close relationships might put you at more risk of developing mental health issues such as anxiety and depression.
So here's what to do if you want to overcome your fear of intimacy:
1. Get to the root of the problem
When it comes to fear of intimacy, it's always a good idea to reflect on your past to try to address the underlying cause first. Our childhood experiences have a big impact on how we relate to other people in the future. Hence, it's worth considering if some aspects of it could have contributed to your fear: your parents' communication style or a traumatic experience such as bullying.
Journaling is a great way to put your thoughts to paper — if you keep at it every day, you'll eventually see some patterns emerge.
Think back on your past and consider if you felt loved and understood as a child. If you didn't feel heard and like you couldn't express your emotions, shutting down might have become your coping strategy. This kind of experience might have also affected your self-esteem and made you feel like you aren't worthy of love.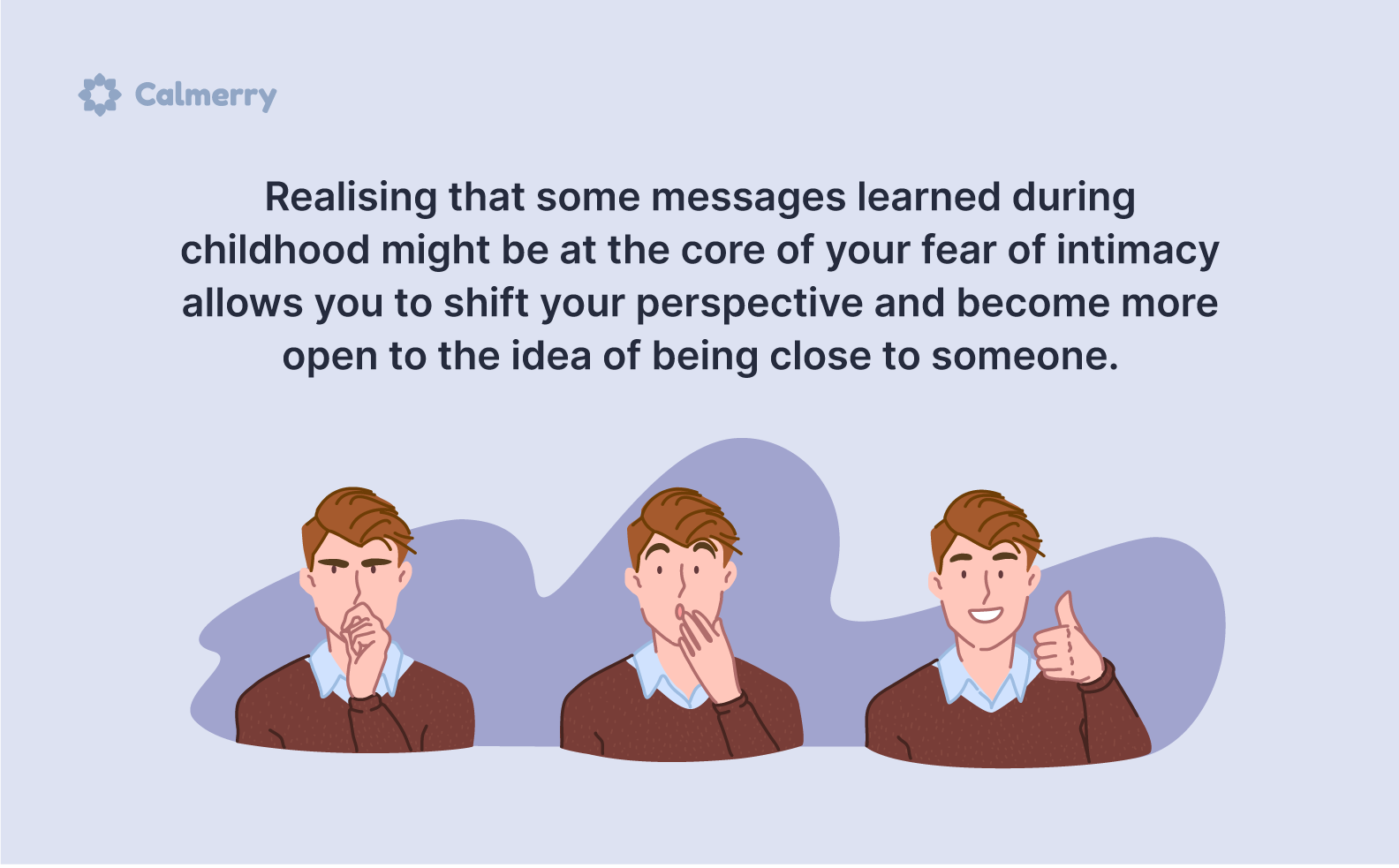 While this kind of defense mechanism was useful to you back then, you can recognize that you don't need it anymore.
2. Get in touch with your emotions
The key to overcoming fear of emotional intimacy is taking baby steps. Since one of the main features of fear is the inability to share and express emotions, you should go back to the basics and learn how to name them. This can be achieved by practicing being mindful.
Take a deep breath and try to focus on what you're feeling and what goes through your mind without judgment. When you've become more comfortable with labeling your emotions, progress to practicing with other people. Avoid saying that you're 'okay' or 'fine' and try to be more specific: 'I feel a bit down today', 'I'm feeling sad', 'I'm anxious'.
Being mindful can help you accept that vulnerability is a part of developing a bond with other people.
Additionally, the more aware of your emotions you are, the easier it will be to recognize if your behavior, such as pushing someone away, stems from fear of intimacy or if it simply means the relationship isn't working.
3. Explore self-compassion
You aren't perfect, and you don't have to be to have fulfilling relationships with other people. Instead of focusing on your flaws, become your best friend and challenge your internal narrative.
Whenever you catch yourself thinking that you aren't good enough or that your date probably won't like you, replace those judgments with words of encouragement. Tell yourself that you're a worthwhile person and that you'll be fine no matter what happens.

Let yourself take things easy. For example, if you struggle with fear of sexual intimacy, don't rush things just because it's what other people do.
Additionally, remember that it's impossible to connect with everyone. Even if your relationships don't work out, chances are they have taught you something valuable, whether it's what you like in another person or how to approach it differently in the future.
Treat it as a learning experience and gradually introduce intimacy to your life.
4. Make time for social life
People who fear intimacy often avoid social interaction and prioritize their work or hobbies to fill in the void, or worse, engage in unhealthy coping skills, which might lead to substance use disorder.
If this sounds familiar, try to make some time to meet people in your schedule. You don't necessarily have to start going on dates, but it's always a good idea to catch up with an old friend or perhaps sign up for a class where you get to broaden your social network.
The more you gently expose yourself to your fear, the easier it will get to be intimate.
Subscribe
to our mental health digest
Let us support you on the way to better mental well-being. Get expert tips and insights on mental health delivered to your inbox monthly.
5. Consider therapy
Sometimes full recovery requires you not only to come to terms with your problem but also to reach out to a mental health professional.
This might not come easy to everyone, especially people who were taught to view vulnerability as a weakness. Still, it's necessary if the fear prevents you from having a social life.
And even if you feel like you're coping just fine, there's no harm in talking to a therapist who might pinpoint patterns you haven't noticed before and help you come up with strategies to overcome your fear.
Сheck your mental well-being for free: