Published January 23, 2022 / Updated March 27, 2023
What Is Closure and Why Do We Need It after a Relationship Breakup?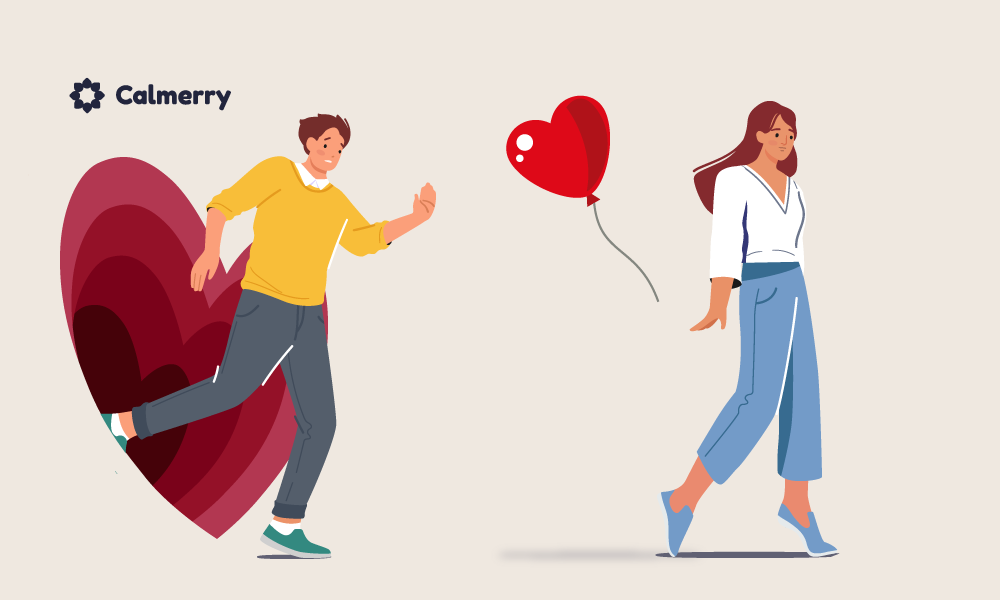 Reading Time:
5
minutes
The end of a relationship is understandably a challenging time, especially if one partner wanted the breakup and the other did not. Emotions run strong, and if you don't know the reason for the breakup, it can be difficult to move forward.
Closure from an ex can make it easier to process feelings of grief when a relationship ends, and there are psychological reasons for this.
Learning more about why we need closure can be helpful if you're going through a breakup or trying to help a loved one experiencing sadness from the loss of a relationship.
What is closure in a relationship?
The first part of understanding why we need closure when relationships end is knowing what exactly closure in relationships is. Think of closure as representing certainty.
For example, when a relationship ends, having closure means that you know the reason for the end of the relationship, and you know for certain where life is headed afterward.


When we have closure after a break-up, our partner has told us the reasons the relationship has ended and what will happen moving forward.
People who receive closure after a breakup may make plans to remain friends. Or, perhaps, they will decide to go their separate ways, knowing that it simply wasn't meant to be.
Why we need closure during a breakup
So, closure gives us a sense of finality and an understanding of why the relationship had to end, but why do we need it?
Psychological research from decades ago revealed that people have a strong need for closure, and they tend to seek it out as soon as possible. They also prefer closure to be lasting, and this need arises from a desire for "definite knowledge" on an issue. In the case of closure in relationships, the brain has a need to know, with certainty, why the relationship has ended.
Research with individuals who have undergone breakups shows that people tend to need closure to be "okay" or come to terms with ending the relationship. For some people, finding closure helps them come to an understanding that the relationship was not right. Or, it helps them to realize the finality of their ex's decision to end the relationship.

Having closure represents a turning point: the brain, and perhaps also the heart, come to the understanding that the relationship is over. In addition, closure ties up any loose ends and provides explanations for unanswered questions for both people in a couple. The person on the receiving end of the breakup isn't left wondering if there is anything they could have done differently, or if the relationship might resume at some point in the future. There is peace in the certainty that comes with closure.
Beyond the fact that closure answers any questions we may have about the end of a relationship, it is simply the right thing to do. In healthy relationships, we form a secure attachment bond with our partners. We have a right to know what went wrong, and why the person we bonded with no longer wants to continue the partnership.
Benefits of closure after a breakup
It seems that people need the answers that come with closure, and there are well-being benefits associated with receiving them after a breakup. Consider the following positives that come along with closure in relationships:
Closure allows both parties to move forward
When a relationship ends, there are often two different roles: the role of the person breaking off the relationship, and that of the person on the receiving end of the breakup.
Without closure, it can be difficult for both parties to move on from the relationship. The person initiating the breakup may continue to receive contact from their ex, who still wants questions answered. And the person who was broken up with may be so hung up on the lack of closure that they can't move on with life.
Closure gives both parties a sense of finality, so they can leave the relationship in the past.
It allows for the rewriting of life stories
Humans, by nature, are storytellers. All of us have stories in our minds about ourselves, our experiences, and our close relationships. When a breakup occurs, we have a need to finish the story or edit it to incorporate the breakup.

Receiving closure allows us to close out the chapter that included our former relationship and begin writing the next one, whatever it may be.
With closure, we know what to do differently next time
When a relationship fails, sometimes it's because two people simply weren't compatible, or maybe they were heading in different directions. Other times, there were ongoing problems or conflicts.
While we may want to blame our former partner for all of the relationship problems, the reality is that it takes two people to contribute to a relationship breakdown. Closure gives you an understanding of what went wrong on your end, which can help you to grow and avoid making the same mistakes in future relationships.
Closure benefits emotional well-being
It's no secret that breakups are difficult, but they can be even more challenging without closure. A study conducted at Lindenwood University found that declines in well-being following a breakup were related to uncertainty, or lack of closure, over why the breakup occurred.
Therefore, it is reasonable to conclude that emotional benefits are associated with a sense of closure.
How to manage issues related to closure from ex
There is no doubt that it's helpful to have closure when a relationship ends, but that doesn't mean that you'll always get it. If you feel you haven't gotten the closure you need, you might consider reaching out to your ex and telling them that you need it.
If they don't want to meet in person, hopefully, they'll at least agree to a phone call so you can tie up loose ends and both of you can move forward.
If your ex doesn't agree to a discussion so that you can get the closure you need, you may have to create your own sense of closure. For example, you may simply tell yourself that the relationship was not meant to be and it's time to focus on yourself so that you can process your grief and prepare for what the future holds.
When you're struggling with a lack of closure or with the end of a relationship in general, it's helpful to practice some self-compassion. You've just lost someone you developed a bond with, and it's natural to experience some grief during this time. Reach out to supportive friends, take time to do things you enjoy, and focus on a new goal you have in mind to help you heal.
If the end of your relationship was traumatic for you, or if you're experiencing long-lasting grief that you cannot seem to manage on your own, it may be time to seek individual counseling to help you process your emotions surrounding the breakup.
Counselors at Calmerry are trained to listen and offer support while remaining empathetic and nonjudgmental, which might be just what you need to work through your feelings.
Сheck your mental well-being for free: